30 Landmarks in New Orleans, Louisiana, to Visit
Destguides may receive commissions from purchases made through affiliate links in this article.
From the vibrance of Bourbon Street to the magical history of Marie Laveau's House of Voodoo, New Orleans is a diverse city with much to offer. However, it can be difficult to figure out what you should see first, especially if you're just discovering that NOLA is a city of culture and art extending far beyond its Mardi Gras celebrations.
To help you narrow down your options so you can create the perfect trip itinerary, keep reading. Here are 30 landmarks in New Orleans, Louisiana, you won't want to miss the chance to see.
30 New Orleans Landmarks
Famous Landmarks in New Orleans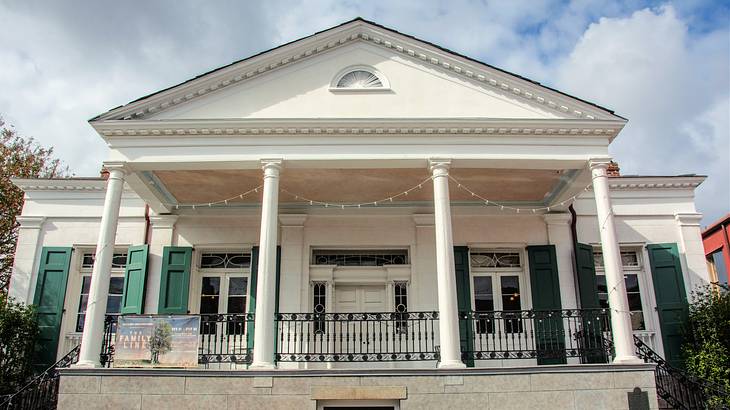 BK Historic House and Gardens
Also known as the Beauregard-Keyes House, this historic New Orleans museum helps preserve the history of the city's French Quarter. Originally owned by a convent, the house's complex would eventually become the home of numerous immigrants who came to the city after the Civil War.
Among its most notable residents are Pierre Gustave Toutant Beauregard, the first tenant in the building, and the beloved author Frances Parkinson Keyes.
Congo Square
Congo Square's significance during the city's pre-Civil War era has made it one of the most famous places in New Orleans. This open area was once a market and meeting place where enslaved men and women of color were able to gather and socialize.
Even after the war, the square remained an important place for Louisiana's African-American community. It even served as a place of inspiration for some of NOLA's famed jazz artists.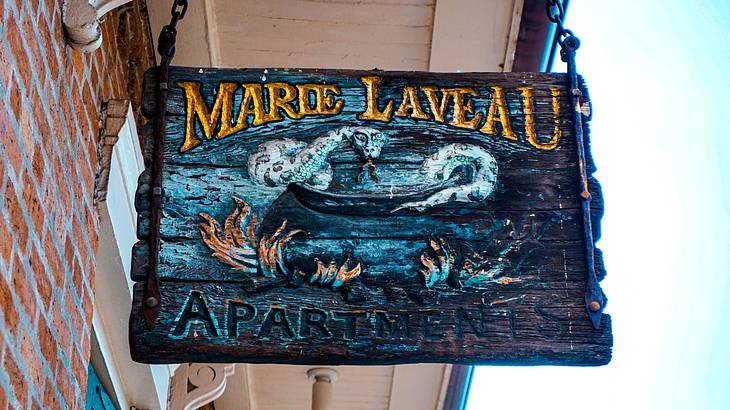 Marie Laveau House of Voodoo
The Marie Laveau House of Voodoo is, perhaps, one of the most underrated buildings along historic Bourbon Street. In the 1800s, Marie Laveau was known as the Voodoo Queen of New Orleans, having inherited the title from her mother.
A practitioner of Voodoo, Laveau had a loyal base of followers who would come to this very shop for rituals and spiritual guidance. The building remains a shop today, selling voodoo items, like voodoo dolls, and offering psychic readings.
New Orleans City Park
Spanning 1,300 acres, this massive green space is one of the most-visited urban parks in the United States. The park is home to the city's botanical gardens and offers a calm place for locals and tourists to relax away from the excitement of the city. The park is also famous for its oak tree forest, which boasts specimens that are over 600 years old.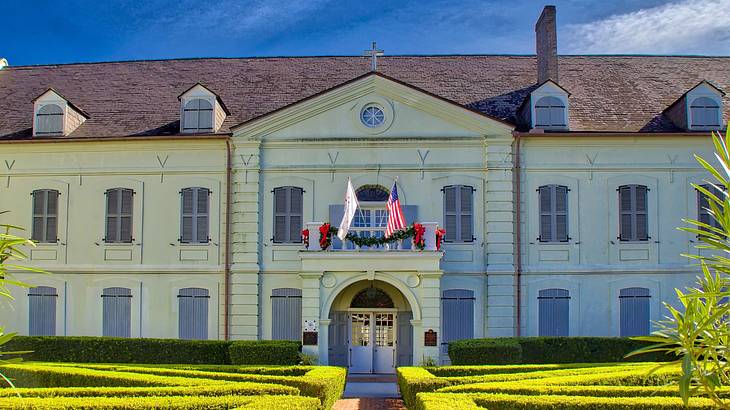 Old Ursuline Convent Museum
During the 18th century, the New Orleans Ursuline Convent was created by Louisiana Governor Étienne Perier to be a place of health, spirituality, and education. Though the first building was built in 1727, the convent's second structure, built nearly 20 years later, has become one of the most well-known historical sites in New Orleans.
Today, this building is regarded as one of the few remaining examples of architecture linked to the French colonial period in Louisiana.
The National WWII Museum
Opened in 2000, the National WWII Museum is located just outside the city's Central Business District. It pays homage to the contributions made by US soldiers throughout the war.
The museum is housed in five pavilions that span six acres of land. The pavilions include exhibits as well as research and restoration centers to help preserve artifacts from this time in history.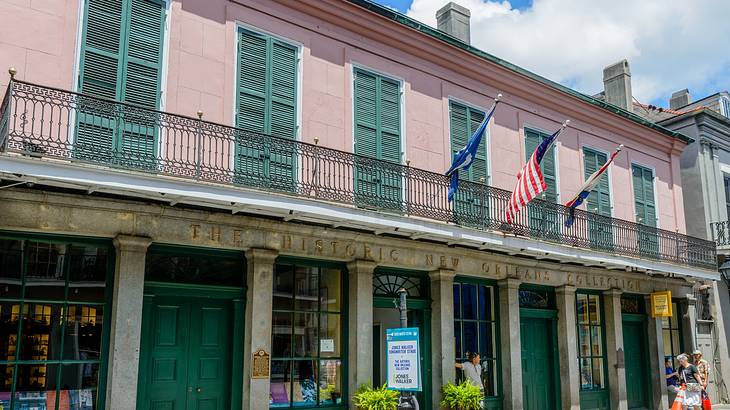 The Historic New Orleans Collection
Also known by its abbreviation, THNOC, this museum aims to educate visitors about the history of the country's Gulf South region. In fact, the center has amassed a collection of 35,000 documents and over 350,000 other types of artifacts, like photographs, since it was first established in 1966.
Due to its important educational contributions, the museum also serves as a research facility to help historians better understand Louisiana's past.
New Orleans Jazz Museum
The New Orleans nickname, the Birthplace of Jazz, exists for a reason! It's believed the genre was created in the city, and NOLA has a rich history connected to jazz.
You can learn more about jazz in the city at the New Orleans Jazz Museum. This landmark offers visitors a chance to see how jazz changed the music industry. Containing five rotating exhibits, the facility celebrates the genre using multi-media displays, including films, music recordings, and artwork.
The museum also houses one of the largest and most eclectic collections of instruments played by legendary jazz musicians. Among these artifacts are the first cornet Louis Armstrong ever played and the crown worn by the King of Zydeco.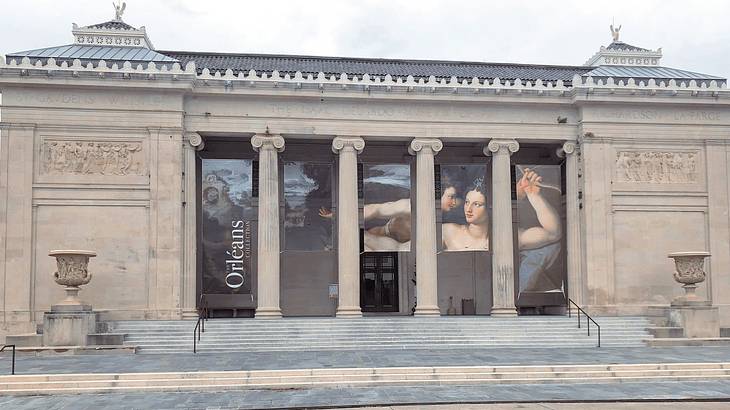 New Orleans Museum of Art
Housing over 40,000 pieces in its 46-exhibit facility, this Louisiana landmark is the New Orleans' premier fine art center. While much of the art displayed at the New Orleans Museum of Art, or NOMA, is from French and American artists, the facility also has a notable collection of African and Japanese art.
It's additionally become famous for its sculpture garden, which displays 90 statues among centuries-old oaks, pines, and magnolias.
Mardi Gras World
The Mardi Gras Parade is perhaps the city's most well-known event. In fact, the timing of this event is often a deciding factor for many when trying to pick the best time to visit New Orleans.
Luckily, Mardi Gras World brings the magic and excitement of the parade to life all year. This 300,00-square-foot workshop is where the famed floats that travel through the city's streets are made.
As a visitor, this self-guided tour lets you see some of the most beloved costumes of the past as well as those that will be used in upcoming festivities.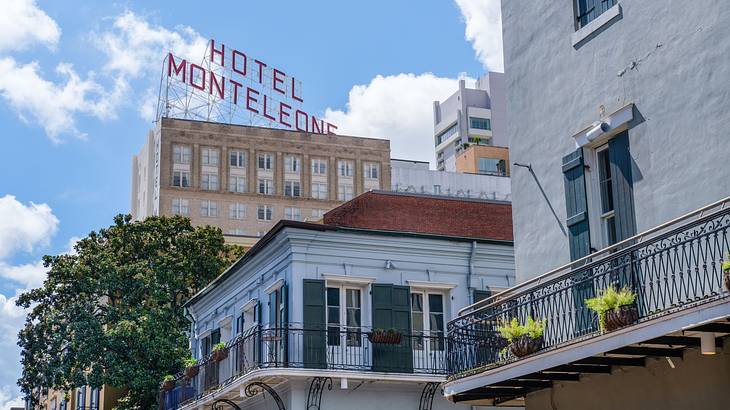 Hotel Monteleone
Hotel Monteleone in New Orleans has long been one of the most popular places for artists and writers from all over the US South to gather. From Faulkner to Anne Rice, the creative minds that have frequented this establishment have helped make it one of the most renowned historical landmarks in New Orleans.
Today, the hotel is still operational, but you don't have to be a guest to enjoy its history and 20th-century opulence first-hand. If you're 21 or older, consider spending an evening at Monteleone's famous Carousel Bar & Lounge and watch its rotating bar while enjoying a signature Vieux Carré cocktail.
New Orleans African American Museum
The New Orleans African American Museum aims to preserve the stories of the countless men and women who contributed to the city's culture and history. Its location, in the Tremé neighborhood, is also significant as it's the oldest African-American community in the US.
The museum has an impressive collection of art and artifacts that tell the stories of community members that may have otherwise been forgotten. This landmark is also a site on the Louisiana African American Heritage Trail.
New Orleans Historical Sites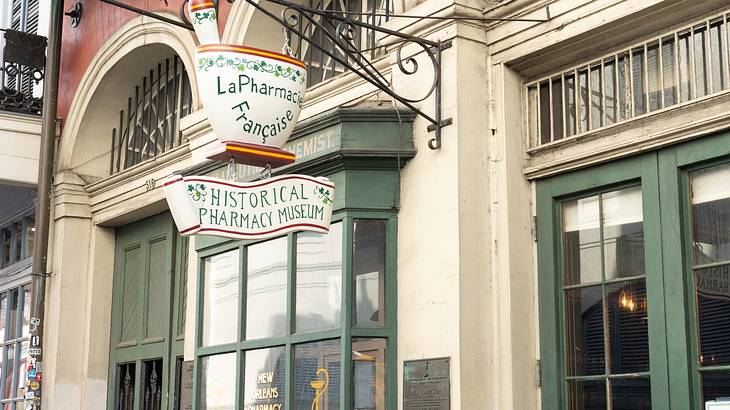 New Orleans Pharmacy Museum
Over the years, this apothecary has become a beloved New Orleans landmark. Initially the place of business of Louis Joseph Dufilho, Jr., the country's first licensed pharmacist, this museum now displays artifacts depicting early medicine.
It doesn't just show the history of early medical science, however. You can also learn about superstitious treatments and supposed magic that were once relied on to cure ailments.
Longue Vue House & Gardens
The Longue Vue House & Gardens are the work of famed landscape artist Ellen Biddle Shipman. The beautiful outdoor space and Classical Revival property are now one of the most famous attractions in New Orleans.
Initially built in 1924 by the Stern family, the land underwent renovations a decade later. It was during this time that Shipman began working on redesigning the gardens.
This would eventually lead to the current home being built to allow the Sterns to enjoy the new design. Today the property is preserved with its original furnishings, and the gardens are still maintained according to Shipman's meticulous designs.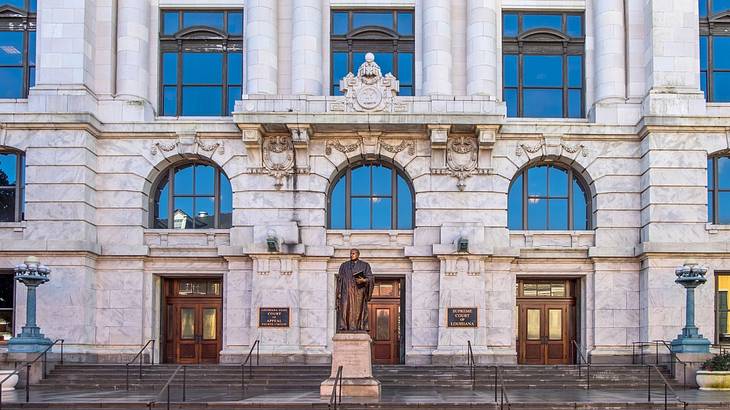 Louisiana Supreme Court
First convening in 1813, Louisiana's Supreme Court has a long history of overseeing the state's judicial system. Originally, the court was held near the riverfront.
However, with the turn of the 20th century came a new courthouse built in the Beaux Arts style and spanning 160,000 square feet. Though this courthouse fell into disuse in the 1950s, restoration efforts have brought it back to its former glory, and it's once again the court's official seat.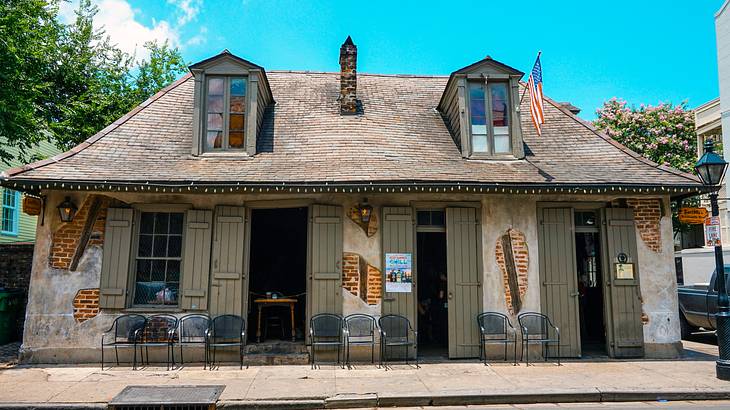 Lafitte's Blacksmith Shop
Nestled on the corner between St. Philip and Bourbon Street, Lafitte's Blacksmith Shop is one of the oldest buildings in the city. While no one knows exactly when the structure was erected, the reigning theory is that it was likely built by Spanish colonists in the 1770s.
The building's murky past has allowed it to become the center of numerous local legends. While some think it was used as a blacksmith shop, others believe it was used as a smuggling point for contraband.
St. Louis Cathedral
It's a commonly known Louisiana fact that the New Orleans French Quarter is one of NOLA's most famous places. So, one of its iconic buildings, St. Louis Cathedral, is instantly recognizable, even if you don't know it by name.
Founded in 1720, this cathedral's architecture ranges from Spanish Colonial to Renaissance, reflecting the styles of the nearly 75 years it took to be fully completed. Today, it's not only the seat of the Archdiocese of New Orleans but also tied as the oldest continually-used cathedral in the US.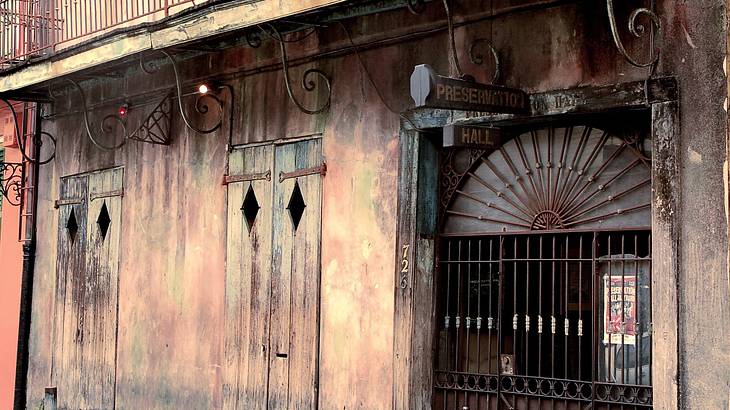 Preservation Hall
Since 1961, New Orleans' Preservation Hall has been one of, if not the most famous building in New Orleans when it comes to jazz music. From George Lewis to Sweet Emma Barrett, countless artists that helped define the genre have graced this venue. To this day, you can catch a live concert nearly any night of the year.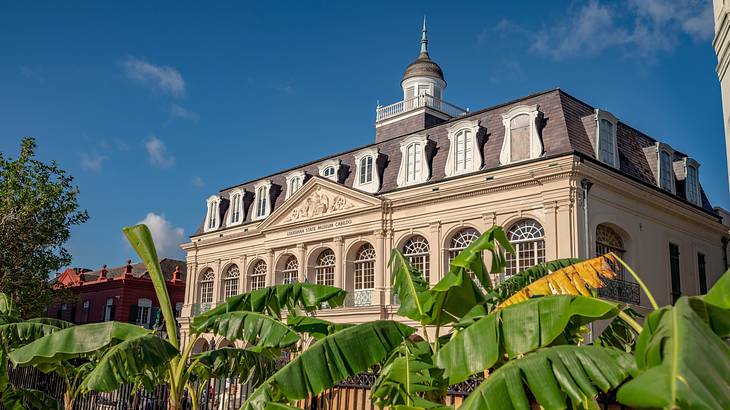 Louisiana State Museum
In a state with as diverse a history as Louisiana, a state museum can't just be contained to a single building. As such, exhibits can be found throughout the state, with a number of them located in New Orleans.
Founded in 1906, the homes, businesses, and other sites that make up the museum contain thousands of artifacts that help preserve Louisiana's past and culture.
Monuments in New Orleans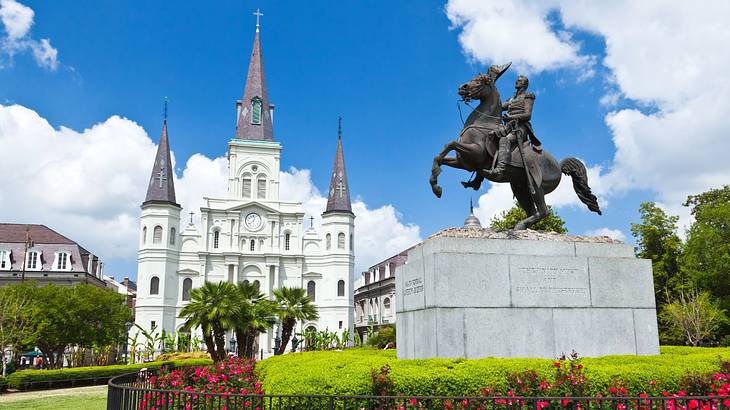 Jackson Square
Formerly known as Place d'Armes, Jackson Square is an open area park that gained notoriety in New Orleans as a center for commerce and the city's social life. It was even the site where the agreements to make Louisiana a US territory were officially made.
Today, its central location and proximity to many of NOLA's other must-see landmarks make a trip to the square a perfect addition to any New Orleans itinerary!
Saint Louis Cemetery No. 1
To fully absorb New Orleans' history, you need to visit the city's cemeteries. Typically made up of above-ground tombs circled by walls, these graveyards preserve culture and family heritage.
Perhaps one of the most famous in the city is Saint Louis Cemetery No. 1. That's in large part due to the notable historical figures that have been laid to rest here, including Etienne de Boré, the city's first mayor, and the Voodoo Queen Marie Laveau.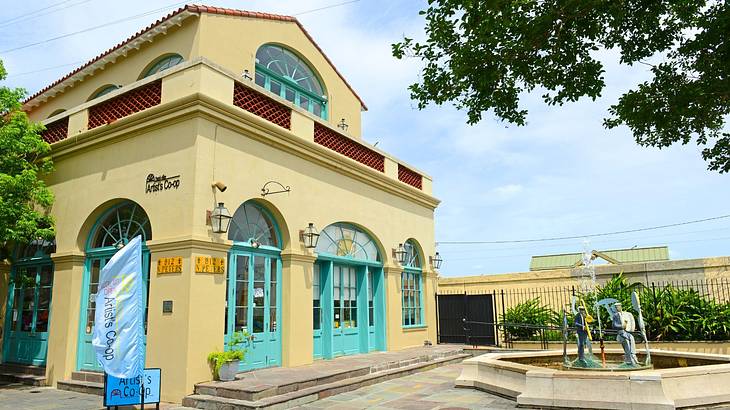 New Orleans Jazz National Historical Park
Created in 1994, the New Orleans Jazz National Historical Park honors the evolution jazz music has undergone throughout its history. The park stretches over four acres of land and consists of a visitors' center, a concert venue, and multiple historic buildings.
While the park is worth visiting at all times of the year, it occasionally hosts performances and cultural events that really bring it to life.
Lafayette Cemetery No. 1
Founded in 1833 in the New Orleans Garden District, Lafayette Cemetery No. 1 is a perfect representation of the New Orleans tendency to utilize above-ground tombs.
The cemetery's striking mix of somberness and beauty has even made it the setting for numerous movies, TV shows, and music videos. However, it is currently closed to visitors. Due to its age, the area is undergoing extensive renovations, but it is on track to re-open soon.
New Orleans Buildings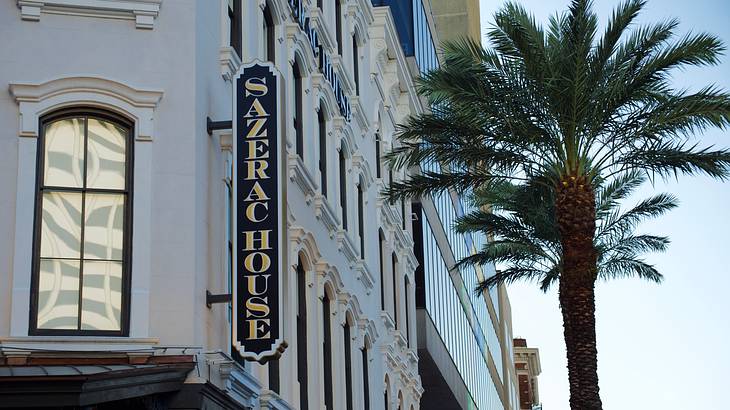 The Sazerac House
New Orleans is famous for many things, one of which is its Sazerac cocktail, traditionally made with cognac, sugar, and various bitters. Created in the 1830s, this drink is widely considered the oldest cocktail in America.
Its lore and legacy are on display at the Sazerac House, a museum for visitors aged 21. During a visit, you can learn about and even taste New Orleans' official cocktail.
House of Broel
While on St. Charles Avenue, it's hard to miss the House of Broel, affectionately dubbed the New Orleans "Wedding Cake House." This Victorian mansion was originally built in 1850, though additions and renovations continued until the turn of the 20th century.
Today, the estate serves multiple purposes. Visitors can marvel at intricate dollhouses handcrafted by the current owner, visit the on-site fashion museum, or tour the antique furnishings that still adorn much of the property. The mansion is even used as a wedding and event venue.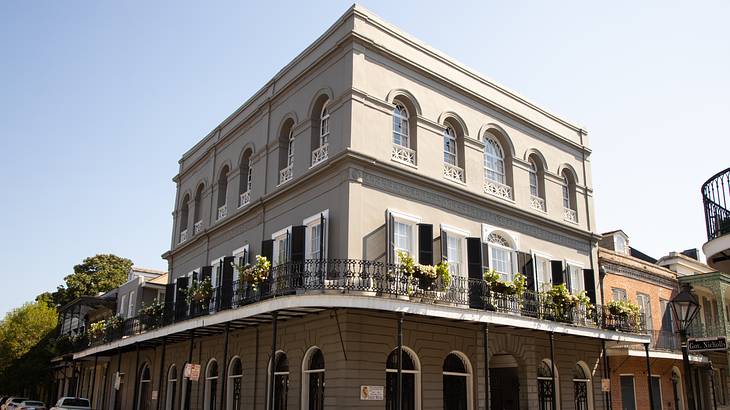 Lalaurie Mansion
Considered one of New Orleans' most haunted places, the LaLaurie Mansion has an infamous past. The mansion was once the home of Marie Delphine Macarty, a local socialite who has gone down in history as one of the area's most prolific serial killers.
In the 1830s, when firefighters responded to flames on the premises, evidence of her cruelty was found, which resulted in her being chased out of the city by its citizens.
The Cabildo
Louisiana is often associated with France's colonies in the Americas, but it was under Spanish rule for nearly 40 years. During that time, Spanish settlers established their own governments in the name of their king. The Cabildo is a prime example of this, as it served as the city hall.
The building's importance remained even after the territory was returned to the French. So when the Louisiana Purchase was finalized, the transfer ceremonies were held on the Cabildo's property.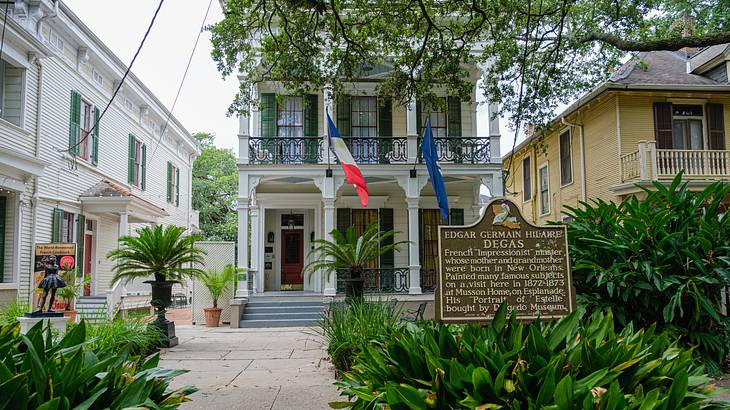 Degas House
Edgar Degas is considered one of the most influential artists of the 19th-century Impressionism Movement. Originally from France, he came to New Orleans in 1872 in search of inspiration while visiting family in the area.
For the five months he was in the country, he called this humble building in the Esplanade neighborhood home. During his stay in the city, he completed 22 works of art and solidified his place as an Impressionist master.
Gallier House
The Gallier House gets its name from its designer, James Gallier Jr., a prominent local architect who built the home for his family in the mid-1800s. Even when it was first built, the building was an architectural marvel for its use of cutting-edge technology that was virtually unheard of in this part of the country.
Today, this Italianate and Greek Revival home has been fully restored. It's also listed on the National Register of Historic Places and is a National Historic Landmark.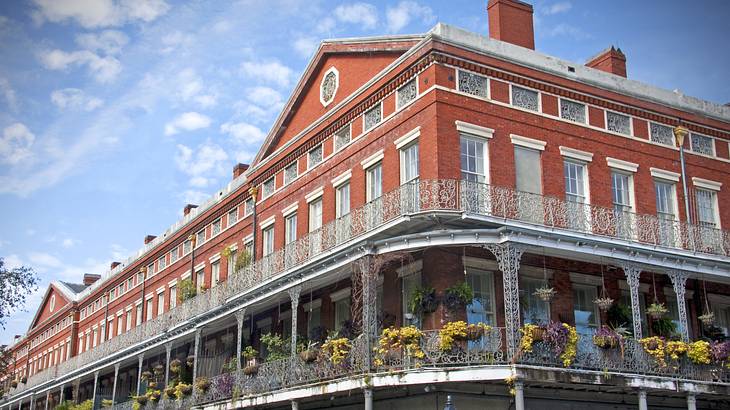 Pontalba Buildings
The Pontalba Buildings have become an instantly recognizable landmark in New Orleans. They're most notable for their red-brick construction spanning a city block just off Jackson Square.
Originally built as apartments, they take their name from Baroness Pontalba, the businesswoman responsible for their creation. Unfortunately, after she died in 1874, the buildings fell into disrepair for many years before they were turned over to Louisiana State Museum, which restored them to their former glory.
In Summary
NOLA is a one-of-a-kind city that's full of history and culture unlike anywhere else in the world. Whether you're a music fan checking out the New Orleans Jazz Museum or you're ready to go on a ghost tour at the LaLaurie Mansion, there's no shortage of things to experience in this part of Louisiana.
Hopefully, this list has helped you figure out what landmarks deserve a spot on your must-visit list. All you have to do now is book a trip and see what NOLA has in store for you!
Give us feedback about this article
Learn more about New Orleans:
More articles about Louisiana:
Read more articles about the United States:
More articles about landmarks:
---
---
Want to keep exploring?
Subscribe for discounts on tickets and hotels and our latest guides.
Thank you for subscribing
We will be in touch soon with discounts on tickets and hotels and our latest guides.
Want to keep exploring?
Subscribe for discounts on tickets and hotels and our latest guides.
Thank you for subscribing
We will be in touch soon with discounts on tickets and hotels and our latest guides.
Related Articles