15 Baltimore Landmarks for Your Bucket List
Destguides may receive commissions from purchases made through affiliate links in this article.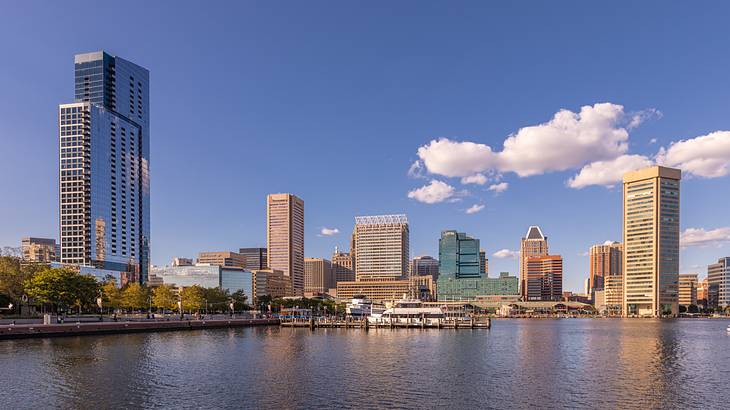 Founded in 1729, Baltimore is one of the oldest cities in the United States. With that much history, it's not surprising there are near-countless things to do, see, and experience while visiting.
If you're an art and culture aficionado, you'll love the Baltimore Museum of Art's impressive collection of 95,000 works of art from around the world. On the other hand, if you're more of a history buff, you can tour the city's monuments like Fort McHenry National Monument and Historic Shrine or Douglass Place.
Keep reading if you're interested in seeing "Charm City" or want to learn more about the East Coast metropolis. Here are 15 Baltimore landmarks for your bucket list.
15 Landmarks in Baltimore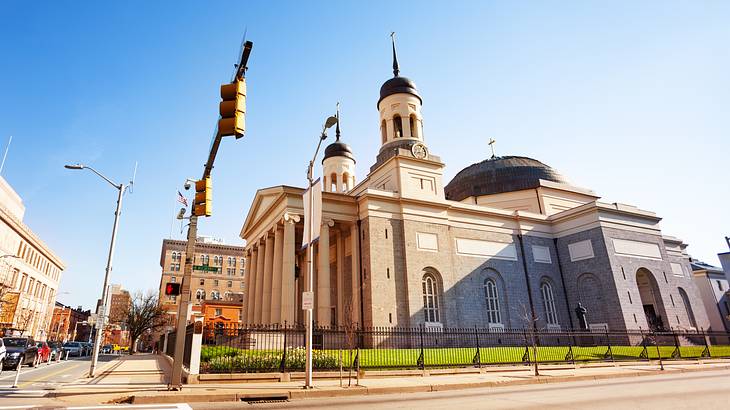 The Baltimore Basilica
This basilica is among the must-see Baltimore city landmarks. When it was constructed between 1806 and 1863, it was one of the first Roman Catholic cathedrals in the country. Not only that, but it was also one of the first churches built after the US declared and won its independence.
Carroll Mansion
Charles Carroll is an often under-appreciated founding father of the US. As one of the men to sign the Declaration of Independence, he helped make history.
Though he spent most of his life in Annapolis, he lived a portion of his last years at his daughter's home in Baltimore, and this residence later became known as Carroll Mansion, which is now open to visitors for tours.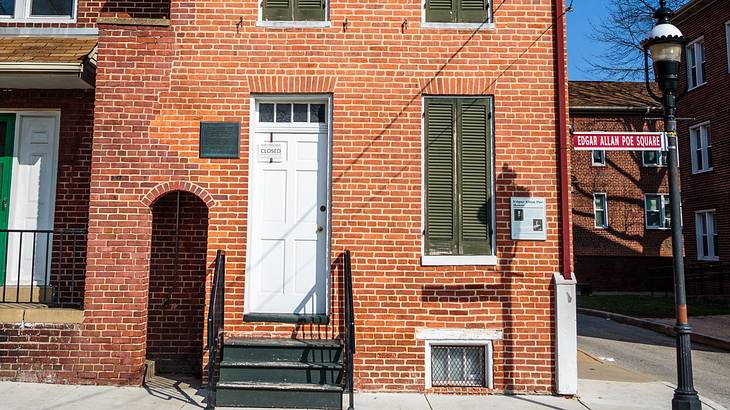 The Edgar Allan Poe House & Museum
Edgar Allan Poe is one of Baltimore's more well-known former residents. While the famed writer only lived in this residence for two years, fans of his work successfully petitioned to turn it into a museum honoring his life and career. The attraction also hosts the annual International Edgar Allan Poe Festival & Awards.
Douglass Place
After escaping slavery in Maryland, Frederick Douglass became a revered figure in the abolitionist movement. In 1892, he returned to Baltimore and dedicated himself to building homes for freed African-Americans. These homes still stand today in the neighborhood he lived in before finding freedom.
Baltimore Museum of Art
While the Downtown and Inner Harbor areas are popular places to stay in Baltimore, you can also find landmarks outside of these areas, like the Baltimore Museum of Art near Johns Hopkins University.
This art museum is a renowned Baltimore landmark with one of the world's most important collections. That's largely due to the impressive number of works by the painter Henri Matisse housed in the facility. Of the 1,007 Matisse paintings in existence, the Baltimore Museum of Art has 1,000 of them.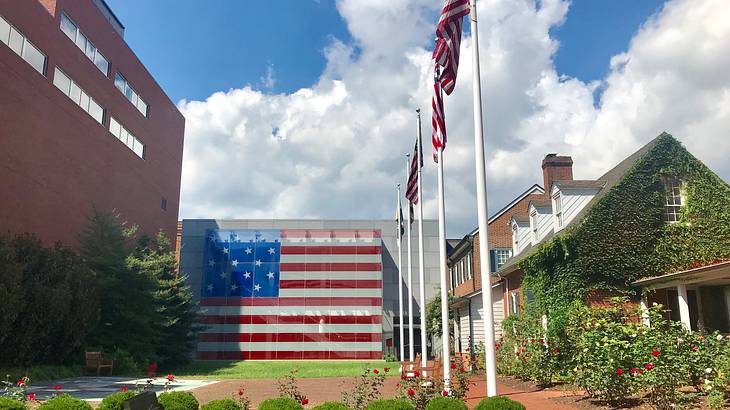 Star Spangled Banner Flag House
When Mary Young Pickersgill first moved to this Baltimore residence, she had no idea she would later play an important role in American history. In this home, she and 13-year-old Grace Wisher sewed the flag that would later be known as the Star Spangled Banner, proudly flown over Fort McHenry during the War of 1812.
Baltimore Phoenix Shot Tower
It might be hard to believe, but this red brick structure is one of the most famous Baltimore monuments. At just over 234 feet, it was the tallest building in the United States when it was built in 1828. The tower was meticulously designed to produce the lead shots for muskets and today serves as a symbol of the city's history.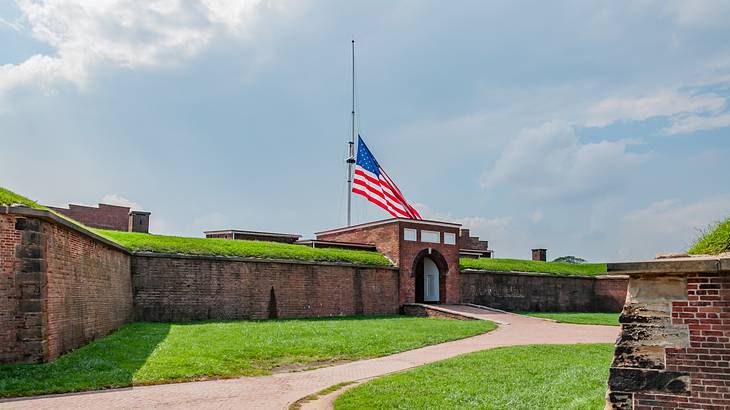 Fort McHenry National Monument and Historic Shrine
Fort McHenry pays tribute to veterans who fought throughout the country's history. More specifically, many of the monument's exhibits and displays are dedicated to the War of 1812. The fort protected Baltimore from naval attacks during that conflict with Great Britain.
Mother Seton House and Historic Seminary Chapel
Mother Seton House and Historic Seminary Chapel is an important historical landmark in religious and national history. The home was originally built as the residence of Elizabeth Ann Seton, the first American woman to be honored by the Catholic Church. The house is also on the grounds of the country's first seminary.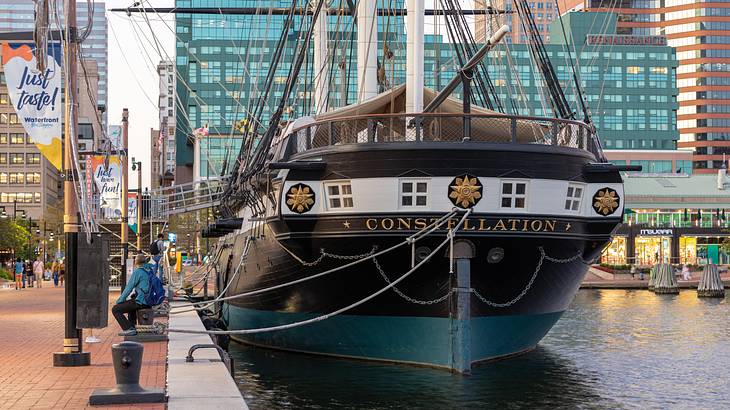 USS Constellation
Baltimore's Inner Harbor is home to numerous attractions well worth visiting. However, the USS Constellation is, perhaps, the most popular among visitors. Built in the 1850s, this boat is one of the last remaining warships used by the US Navy. Since decommissioning in 1955, it's been converted into a naval history museum.
Historic President Street Station
Historic President Street Station is one of the most important Baltimore historical sites in more ways than one. Firstly, it was built in 1849, making it one of the oldest railway stations in the US. Additionally, it was an essential stop on the Underground Railroad system as its trains transported enslaved people to find freedom in the North.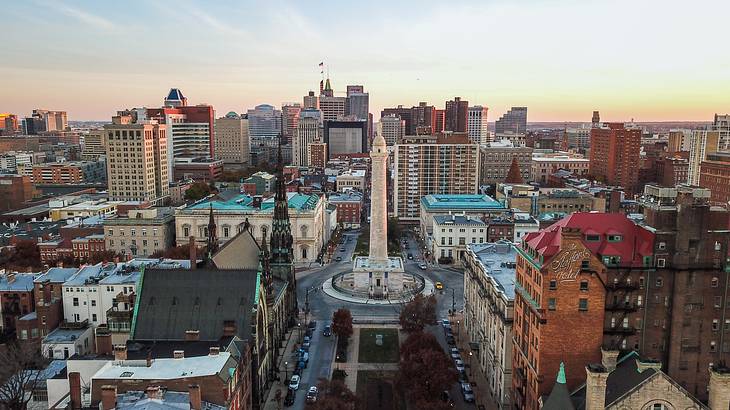 Washington Monument and Mount Vernon Place
Many are familiar with the Washington Monument in DC, but the Maryland landmark of the same name also has an important place in US history and is well worth visiting in Baltimore.
Built between 1815 and 1829, this 178-foot sculpture was the first landmark in the US specifically dedicated to the nation's first president. You can even enter the monument and climb to its lookout point for a unique view of the Vernon Place neighborhood.
Historic Charles Street
Charles Street, also known as Maryland Route 139, is one of Baltimore's busiest and most important roads, a reputation it's maintained since 1730. At that time, it was called "Forest Street." It stretches nearly 11 miles between North Avenue and Lutherville and takes visitors on a scenic drive through the city.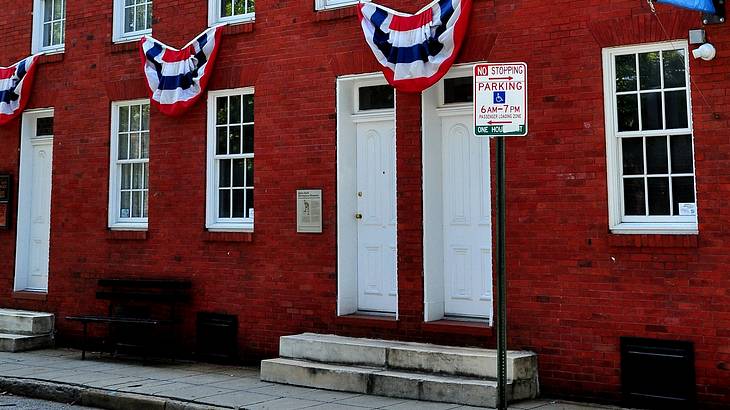 Babe Ruth Birthplace and Museum
Baltimore natives love sharing the fact that Babe Ruth was from Maryland. Known as the greatest baseball hitter in history, he went on to become one of the first celebrity athletes in the country.
However, before becoming a sports legend, he was just a kid from Baltimore; his birth home has been transformed into a museum to honor his heritage and achievements.
Arch Social Club
Due to its association with the city's segregation history in the early 1900s, Arch Social Club is a must-visit landmark in Baltimore. When it opened in 1905, African-American men and women weren't allowed into many establishments.
To foster a sense of community, areas like the Arch Social Club were created to provide a safe place to talk and watch live entertainment.
In Summary
When it comes to landmarks, Baltimore lives up to its motto, "The Greatest City in America." From the USS Constellation to the Edgar Allan Poe House & Museum, there's something to pique anyone's interest in "B'more."
This article has surely brought you one step closer to visiting Baltimore to see and experience everything this historic city offers!
Want to keep exploring?
Subscribe for discounts on tickets and hotels and our latest guides.
Thank you for subscribing
We will be in touch soon with discounts on tickets and hotels and our latest guides.
Want to keep exploring?
Subscribe for discounts on tickets and hotels and our latest guides.
Thank you for subscribing
We will be in touch soon with discounts on tickets and hotels and our latest guides.