35 Fun Date Ideas in Baltimore, Maryland
Destguides may receive commissions from purchases made through affiliate links in this article.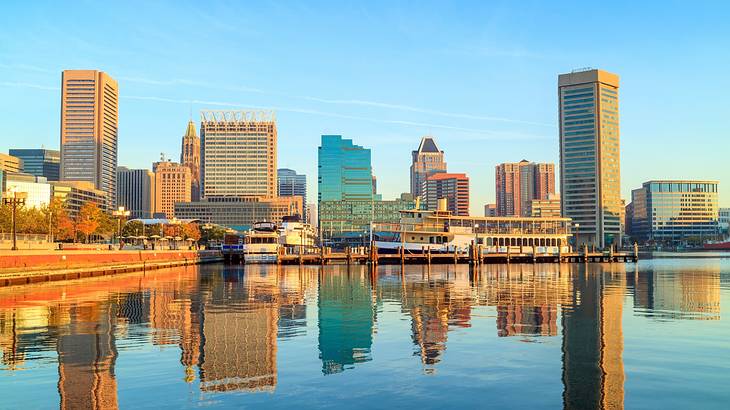 Are you looking for fun date ideas in Baltimore, Maryland? Then this article is for you! Charm City has an array of excellent places to go on a date, whether you're planning your first date or are doing something with your long-term partner.
During the day, you can shop at Broadway Market, enjoy spa treatments at The Ivy Hotel, or chat over coffee at Pitango Bakery + Cafe. Evening date ideas range from going on a dinner cruise to watching the Baltimore Symphony Orchestra. To discover all of the couples things to do in and around Baltimore, keep reading!
35 Fun Date Ideas in Baltimore, MD
Best Date Ideas in Baltimore, Maryland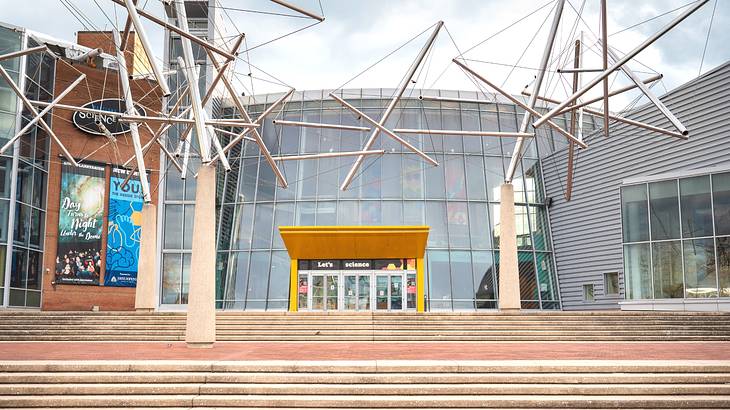 Learn new things at Maryland Science Center
The Maryland Science Center is a fun place to explore with your date during the day. It features three stories of exhibits on a range of fascinating science topics. There's also a planetarium and observatory, and you can watch some interesting movies in the IMAX theater.
Eat the best dishes in Baltimore on a food tour
Couples that like finding the best eateries will be interested in joining a Baltimore food tour. This excursion takes you around the Fells Point area to some top restaurants and Broadway Market. At each stop, you can try signature dishes, and you'll also learn more about the neighborhood's history as you move from stop to stop.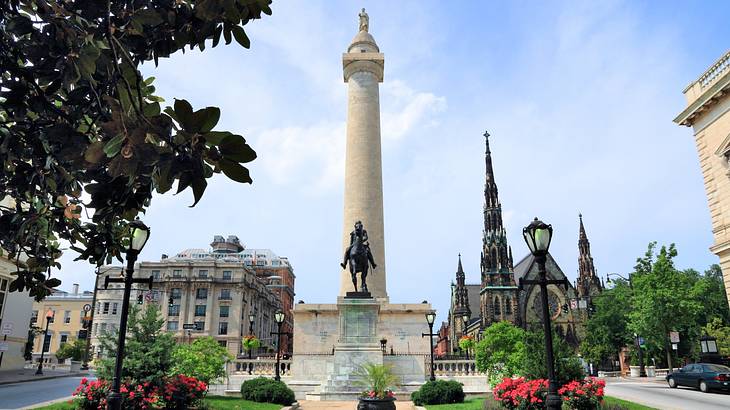 See the city's top attractions and landmarks on a sightseeing tour
Sightseeing on a guided tour is one of the best date ideas in Baltimore, MD, for couples visiting the city. This small group tour will take you around the most well-known neighborhoods.
As you explore, you can see famous landmarks, visit attractions, and learn more about Baltimore's history and culture. Your guide may even teach you a few interesting Baltimore nicknames!
Appreciate artworks at the Baltimore Museum of Art
There are lots of great indoor attractions in Baltimore to visit together. The Baltimore Museum of Art is one of the best and a must-visit for all couples!
While exploring this Baltimore landmark, you'll see a vast array of works, from Ancient Egyptian pieces to contemporary art. Temporary art exhibits and interesting events are also hosted frequently.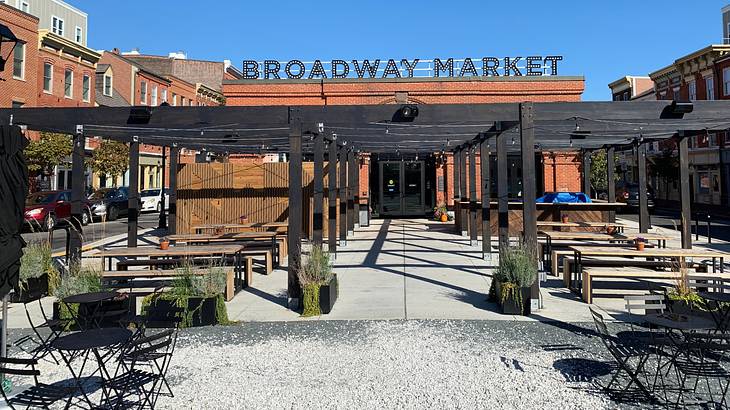 Check out the vendors at Broadway Market
Broadway Market is a famous Baltimore landmark that opened in 1786. Today, the indoor marketplace houses a range of food and drink vendors.
Wandering around the market with your date, and picking up dishes for lunch or dinner, is one of the fun and laid-back couples activities in Baltimore that will appeal to most people. You can find many cuisines to try, with dessert items and craft cocktails also available.
Tour the Sagamore Spirit Distillery
Baltimore is home to a few spirit producers, like Sagamore Spirit Distillery. Touring the distillery is a unique daytime date idea, although you can also visit in the early evening for drinks.
The distillery specializes in American rye whiskeys, and you can learn more about the interesting distilling process as you tour the facility. After the tour, head to the bar to taste samples and try a whiskey cocktail.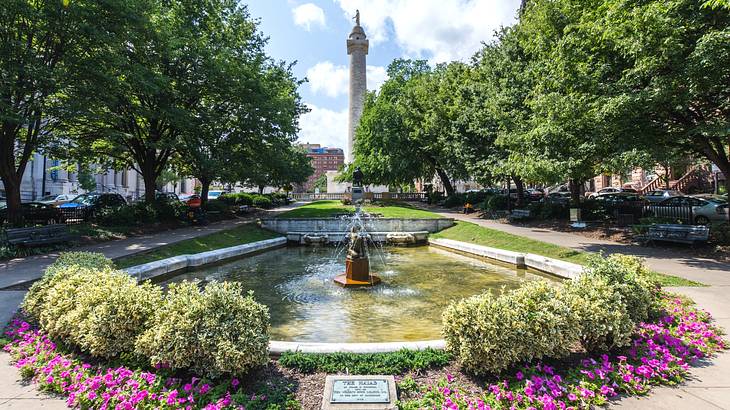 View the landmarks at Mount Vernon Place
Mount Vernon Place is another fun neighborhood to explore together. This area is home to numerous landmarks, including Baltimore's Washington Monument. After seeing famous sites, you can check out local shops, cafes, and bars.
There are also urban parks to hang out in, and Mount Vernon happens to be one of the best areas to stay in Baltimore if you're looking for accommodation options.
Be amazed at the American Visionary Art Museum
Art enthusiasts won't want to miss taking their partner to the American Visionary Art Museum, especially if you like unique artwork. This Maryland landmark focuses on "outsider art" and features quirky modern artworks and installations that are sure to amaze!
Wander around Upper Fells Point
Also known as Fells Prospect, Upper Fells Point sits next to the Fells Point neighborhood and is well worth checking out. As you explore with your partner, you'll get to see charming 19th-century homes and lots of unique street art. You'll also discover independent shops, cozy coffee shops, and trendy bars and restaurants.
Baltimore Date Night Ideas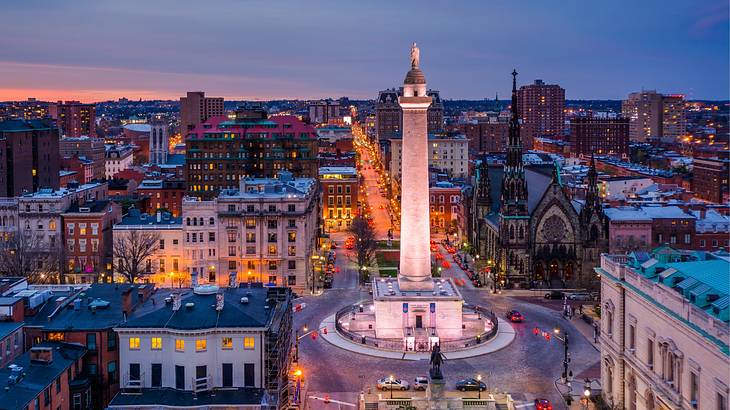 Hear spooky stories on a ghost walk
Experiencing a ghost walking tour together is one of the most fun and unique date night ideas in Baltimore, MD! This spooky hour-long excursion will take you to the city's most haunted places. Your guide will then tell you more about each stop's eerie history and stories of ghost sightings and other paranormal activity.
Brewery hop around Baltimore's top breweries
If you and your date like craft beer, spending the evening visiting Baltimore's best breweries on a brewery tour is a must. You'll go to three breweries, where you can learn about the brewing process and taste lots of samples. Snacks are also included to accompany your drinks!
Have drinks at Bar 1801
There's no shortage of trendy and unique bars in Baltimore, like Bar 1801. Planning a drinks date here is a must, especially if you and your partner like craft cocktails. Along with delicious drinks, you can order food like salads, burgers, and truffle fries or poutine.
Bar 1801 also specializes in vinyl records. You'll be able to listen to great music during your date and can buy records as well.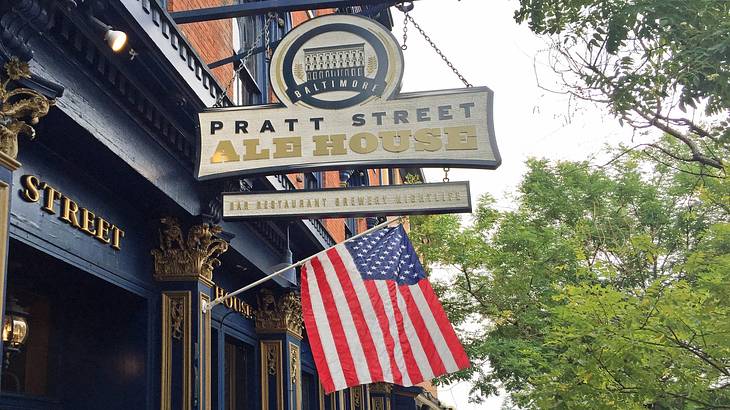 Get dinner and drinks at Pratt Street Ale House
Pratt Street Ale House is a laid-back pub serving pub food, British-style ales, beer, and more. It's the perfect spot for a relaxed dinner and drink date.
To drink, you can also get wine or cocktails, and there's a good selection of whiskey. Food options include soft pretzels, fish and chips, and crab mac 'n' cheese. Sporting events are also often on the TV if you both want to catch an evening game.
Watch a movie at Harbor East Cinemas
When planning a date night in Baltimore, MD, going to the movies is always a good idea! Downtown, you can go to Harbor East Cinemas to watch new releases, plus foreign and independent films. Before the film begins, you can get movie snacks as well as soft and alcoholic drinks from the cinema bar.
Enjoy a performance by the Baltimore Symphony Orchestra
The Baltimore Symphony Orchestra plays at Joseph Meyerhoff Symphony Hall, and watching them perform is a must for classical music fans. The orchestra performs around 130 shows a year, so there will be lots of chances for you and your date to see them live. Some excellent restaurants are nearby if you want dinner before or after the show.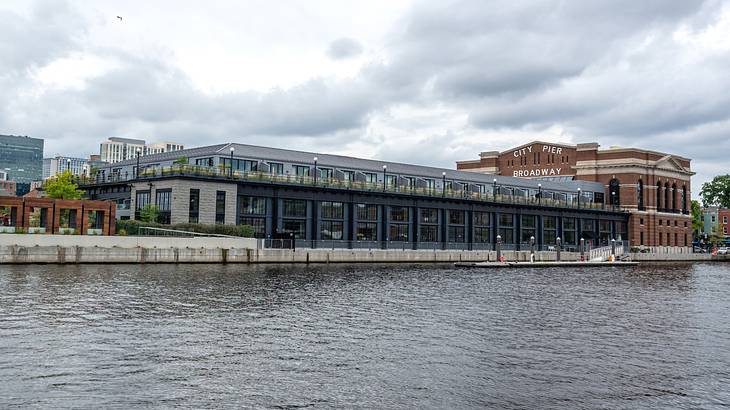 Sip on whiskey at the Cannon Room at the Sagamore Pendry
Another excellent evening drink date spot is the Cannon Room at the Sagamore Pendry Hotel. This sophisticated bar specializes in whiskey and bourbon, with neat drinks, whiskey cocktails, and whiskey flights available. You can also order wine and sharing dishes, like sourdough flatbread pizza or Chesapeake oysters.
Chat over drinks at The Horse You Came In On Saloon
A fun fact about Maryland is that the state is home to one of the oldest saloons in the United States, The Horse You Came In On Saloon. The bar, opened in 1775, is located in Baltimore and is a must-visit spot for a drinks date.
A variety of beers and cocktails are available, as well as bar food. Live music acts also perform daily. During your visit, don't forget to soak up the history of this almost 250-year-old bar!
Romantic Things to Do in Baltimore for Couples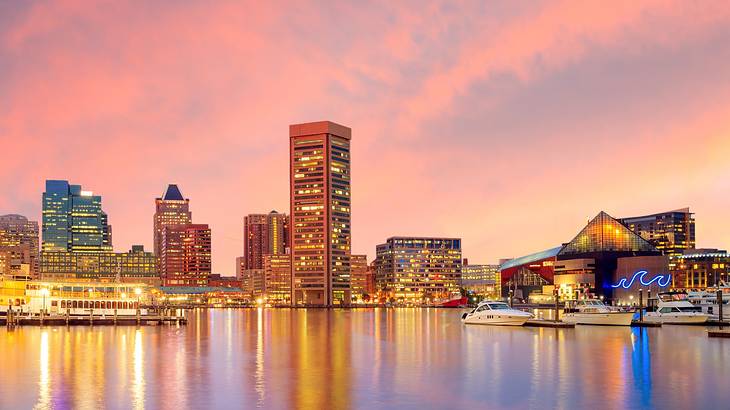 Sail around the Inner Harbor on a dinner cruise
If you're looking for highly romantic date night ideas, taking a sunset dinner cruise around Baltimore Inner Harbor is the perfect thing to do. You'll get to sail through the water with your other half, admiring the skyline views as the sun goes down. A delicious dinner and drinks are also provided, and there's live music aboard as well.
Stay at the Four Seasons Hotel
Couples that are visiting Baltimore and looking for a romantic hotel should consider booking a room at the Four Seasons. This five-star hotel is centrally located and has stylish rooms that offer a stunning view of the Inner Harbor.
Amenities at the hotel include a full-service spa, rooftop pool, and multiple bars and restaurants. The Four Seasons is also pet-friendly if you're bringing your pup with you!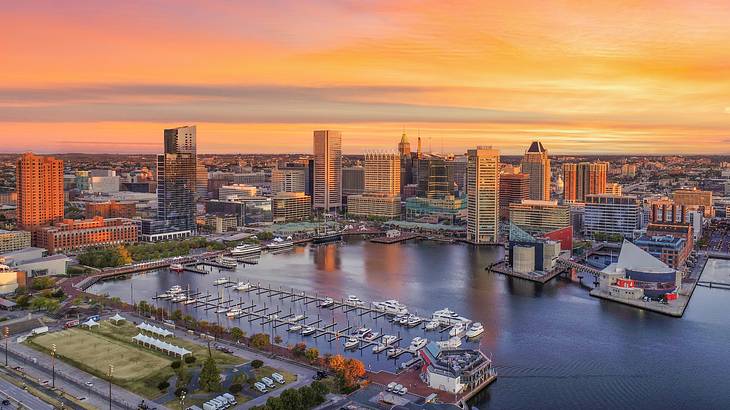 See the city from above on a helicopter tour
Another of the romantic things to do in Baltimore, MD, is treating your partner to a helicopter tour. You can book your tour at almost any time during the day or evening, including a sunset. Once aboard, you'll fly over Baltimore, spotting a range of landmarks like Fells Point, the Inner Harbor, and M&T Bank Stadium.
Luxuriate on a sunset sail
Couples that want to see the sun go down from the water, instead of opting for a dinner cruise, can book a sunset sail around Chesapeake Bay. While taking in the views, your captain will tell you about the history of the sites you see. You can also bring wine, with glasses and corkscrews provided, to enjoy as you admire the sunset.
Relax with spa treatments at The Ivy Hotel
While there are an array of exciting date ideas in Baltimore, unwinding with spa treatments at the luxurious Ivy Hotel is perfect for couples who want to relax after a long week. Massages, facials, scrubs, and more are on offer. After your spa session, you can go to the hotel restaurant for a delicious meal.
Most Romantic Restaurants in Baltimore, Maryland
HalfSmoke
HalfSmoke is a small chain with locations in Washington, D.C., Bethesda, and Baltimore. The contemporary eatery serves classic American dishes with a twist and has to be on your list of Baltimore date night restaurants to visit.
Menu options range from crab fries, loaded tater tots, and mac n cheese bites to salads, sandwiches, and sharing platters. HalfSmoke also has a bottomless happy hour, with unlimited appetizers and drinks, and serves brunch.
Sotto Sopra
If you and your other half love Italian food, a date night at Sotto Sopra is a must. The Italian restaurant has even been named one of the most romantic restaurants in the world!
At this quintessentially Italian spot, you can order delicious appetizers, meat and fish main courses, and various kinds of pasta and pizza. Many white and red wines are also available, and there are opera nights once a month with live performers.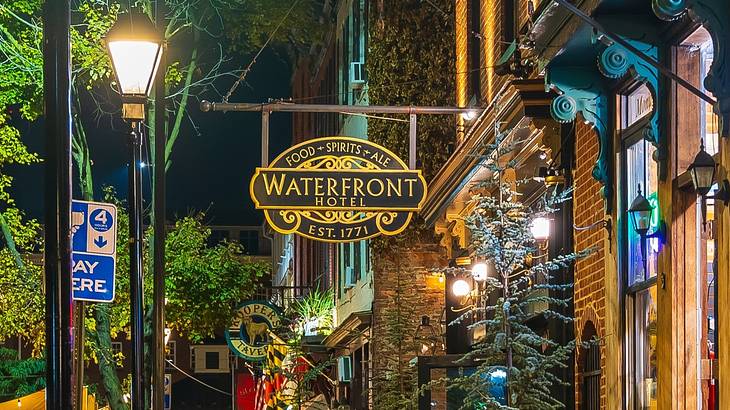 Waterfront Hotel
As the name suggests, the Waterfront Hotel sits right on the waterfront next to the Patapsco River. It has cozy indoor seating and a pretty outdoor patio to dine on when the weather is nice.
The menu features fresh seafood like oysters or yellowfin tuna tartare. You can also get Maryland crab cakes, burgers, and more. Cocktails and other alcoholic drinks can accompany your meal, and there's often live music to enjoy.
Petit Louis Bistro
Another of the most romantic restaurants in Baltimore, MD, is Petit Louis Bistro. This fine dining restaurant focuses on French cuisine, serving dishes like French onion soup, steak frites, and rainbow trout with almond brown butter. Of course, there's also an extensive wine list of French wines.
Cute Date Ideas in Baltimore, Maryland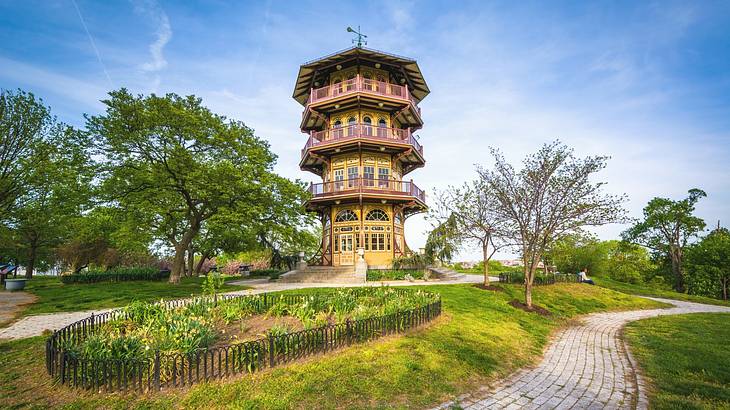 Have a picnic in Patterson Park
On a warm and sunny day, having a picnic at Patterson Park is the ideal romantic date idea! This vast green space sits in a neighborhood of the same name and has picnic benches and many grassy areas to sit down and eat.
After your picnic, you can take a scenic stroll and see notable park features, like the Patterson Park Pagoda.
Treat your date to ice cream at The Charmery
Getting ice cream together is one of many cute date ideas in Baltimore, MD, and The Charmery is one of the best places to do so. The ice creamery has three locations in Baltimore and serves classic and more unique flavors of ice cream.
You can get your ice cream in a waffle cone or as an ice cream sandwich, sundae, or milkshake. Decadent hot chocolate and ice cream pies are also on offer!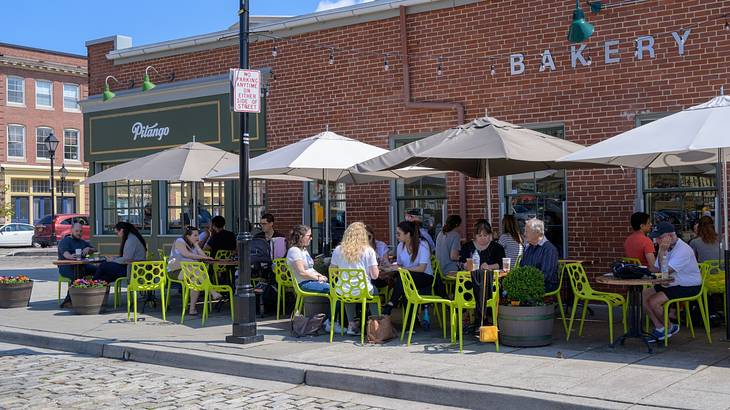 Get coffee and cake at Pitango Bakery + Cafe
A cute and laid-back date that almost all couples will love is getting coffee and snacks at Pitango Bakery + Cafe. Many coffee and tea drinks are on offer, along with baked goods like cookies, croissants, and banana bread.
Savory dishes, such as sandwiches and topped toasts, can be ordered as well. Pitango also has gelaterias in Baltimore that are well worth visiting for another fun date!
Shop at one of Baltimore's farmers' markets
Wandering around a farmers market is a cute thing to do on a date for all couples, from those on a first date to long-term partners. There are many markets to choose from in the city, with some on the weekends and others running during the week.
Popular options include the Fell's Point Farmers Market and Baltimore Farmers' Market. Items to purchase range from fresh produce to baked goods and flowers.
Fun Things to Do Near Baltimore, MD, for Couples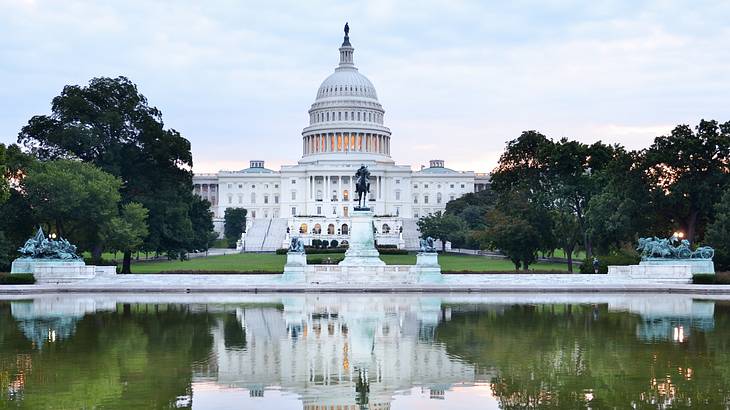 Plan a trip to Washington, D.C.
While there are many fun things to do in Baltimore for couples, you could also plan a romantic trip to a nearby destination. For example, the nation's capital of Washington, D.C., is only an hour from Baltimore when driving and makes a fun couples getaway location.
Best of all, you can find many things to do in Washington, D.C., on a date from visiting the National Gallery of Art Sculpture Garden to strolling along the National Mall or having a dinner date at one of many high-end restaurants. If it's your first time in the city, going on a Washington, D.C., tour together is also a great idea!
Experience indoor skydiving
Going indoor skydiving is a memorable thing to do on a date and a great rainy day activity. At iFly, your guide will start by teaching you the basics. You and your partner can then practice skydiving in a state-of-the-art wind tunnel. If you enjoy the experience, you could try skydiving from an airplane next time!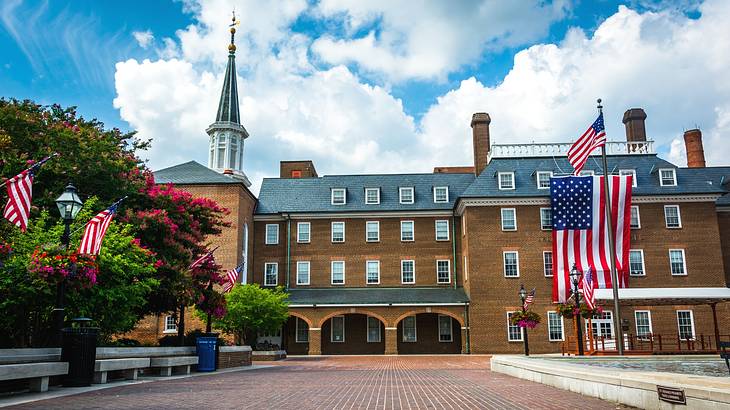 Organize a day or overnight trip to Alexandria
Alexandria is another trip destination near Baltimore in Virginia. You can reach this charming city in about an hour when driving or stop there on the way to or from Washington, D.C.
Fun things to do in Alexandria include shopping at Old Town Farmers' Market, walking through Green Spring Gardens, and checking out cool local breweries. You can also book some unique tours and excursions in Alexandria.
Spend the day wine tasting in Maryland's Wine Country
If you're happy to plan a day trip and you and your date love good wine, booking a Maryland Wine Country tour is an excellent idea. You have to make your way about 45 minutes outside Baltimore to Bowie, Maryland, for pickup.
You'll then be transported to nearby wineries, where you can learn about the production process and tour the vineyards. Of course, you can also do wine tastings and purchase a few bottles of your favorite wines to enjoy on your next date night.
Paint amazing artworks at Painting with a Twist
Creative couples can spend the evening creating fantastic paintings at Painting with a Twist. Located about minutes outside central Baltimore, the venue offers instructor-led classes where you'll follow along to paint various designs, from pretty landscapes to your own pets. As you paint, you can sip on wine or other beverages, as Painting with a Twist has a BYOB policy.
In Conclusion
This article should have given you an idea of all the fun things for couples to do in Baltimore, MD. Whether you're looking for memorable daytime date ideas, romantic things to do together, or date night activities, you'll find many places to go with your other half in Baltimore!
---
---
Want to keep exploring?
Subscribe for discounts on tickets and hotels and our latest guides.
Thank you for subscribing
We will be in touch soon with discounts on tickets and hotels and our latest guides.
Want to keep exploring?
Subscribe for discounts on tickets and hotels and our latest guides.
Thank you for subscribing
We will be in touch soon with discounts on tickets and hotels and our latest guides.
Related Articles