25 Famous Landmarks in Maryland You Shouldn't Miss
Destguides may receive commissions from purchases made through affiliate links in this article.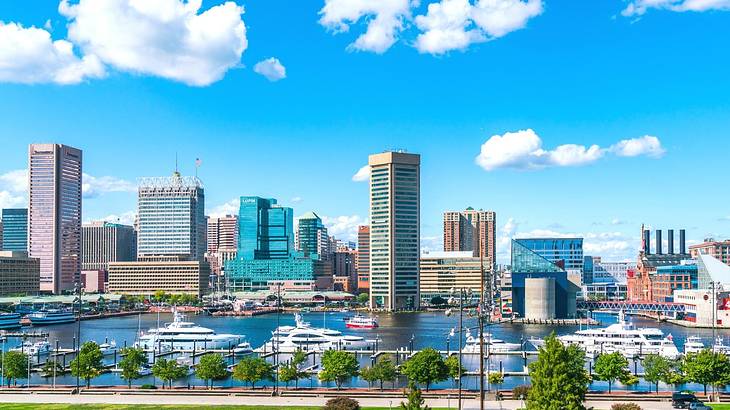 While not a large state, Maryland spans from the shores of the Atlantic Ocean in the east to the heart of the Appalachian Mountains in the west. It's been called "America in Miniature" for its small-scale representation of the country's natural and cultural diversity.
It also addresses the traveler's eternal question: mountains or beach? The answer: Maryland! Its mountains are small but rugged, and its Atlantic beaches are warmed by the Gulf Stream flowing northward from Florida and the Caribbean.
If you're planning a visit, let this list of 25 famous landmarks in Maryland be your guide! Read on to find out just how many important and exciting places the country's ninth-smallest state has packed into its oddly-shaped borders.
25 Famous Maryland Landmarks
American Visionary Art Museum
The American Visionary Art Museum is not your typical museum. It features exhibits that combine art, philosophy, science, humor, and social justice in an enchanting and enjoyable way.
The art on display takes various forms, from more traditional paintings and visual arts to its annual kinetic sculpture race in the Baltimore harbor. It's one of Maryland's landmarks you won't want to miss, and visiting with your partner is one of the best date ideas in Baltimore!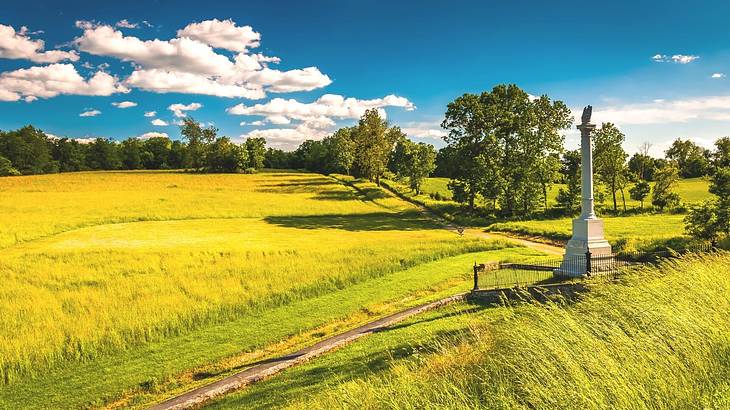 Antietam National Battlefield
Just twelve hours of combat on September 17th, 1862, left nearly 23,000 soldiers wounded, missing, or dead at Antietam Creek in Sharpsburg, Maryland. After well over a hundred years, it remains the bloodiest single day of battle in American history.
Tours and Ranger programs are available for visitors who want to visualize the Union Army repelling the first Confederate invasion into the north.
Benjamin Banneker Historical Park and Museum
Benjamin Banneker was born in Baltimore County in 1731, the son of a free Black woman and a formerly enslaved person who had been captured in Guinea. Banneker was a mathematician, astronomer, and author of a series of popular almanacs.
In the years following the Declaration of Independence, Banneker corresponded with Thomas Jefferson, pleading to extend its ideas to enslaved Black people. The modern 142-acre park and museum feature restored colonial buildings and exhibits to celebrate his life and works.
Clara Barton National Historic Site
Clara Barton gained notoriety for her efforts during the American Civil War to provide treatment for wounded soldiers. She became known as the "Angel of the Battlefield" due to her habit of timely assistance, and she went on to run the Office of Missing Soldiers and found the American Red Cross.
This National Historic Site commemorates her unparalleled contributions to education and first aid in a time and among people who thought her place was in the home.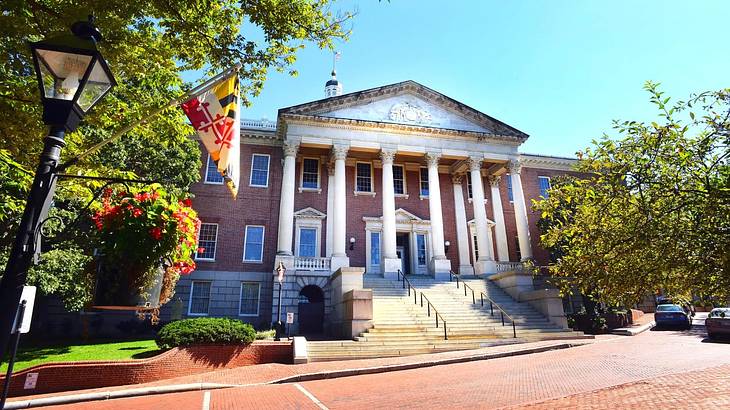 Colonial Annapolis Historic District
Annapolis is one of the most historic places in Maryland, serving as its capital since before statehood. In 1965, the downtown area and much of the waterfront were declared a National Historic Landmark to aid its preservation.
The streets radiate outward from the Maryland State House, a pattern admired by George Washington and imitated in the design of the national capital in D.C.
Deep Creek Lake
One of the top Maryland tourist attractions is Deep Creek Lake, found in Maryland's mountainous west. It's a four-season attraction, so you can take your skis on the slopes or out on the lake.
Likewise, fishing can be done traditionally from a boat or through a hole in the ice, as dictated by the time of year. Hiking, biking, and whitewater rafting are just a few of the other activities to do at this very versatile landmark.
First Unitarian Church Baltimore
This historic building first opened its doors in Baltimore in 1818, becoming the first church Unitarian church built in the United States. Its cubic shape, domed roof, and pillared entryway make it an impressive work of architecture. Inside, the stucco walls and open space have made it a modern favorite as a wedding location.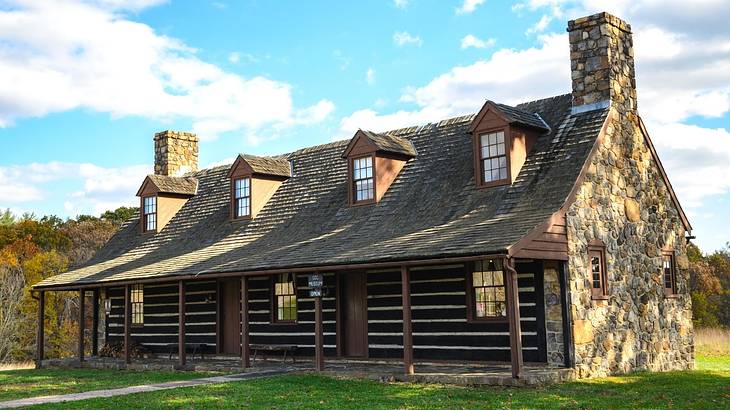 Fort Frederick State Park
In western Maryland, Fort Frederick State Park preserves a time when the Appalachian mountains served as the colonial frontier. A 250-year-old fort has been restored to what it may have looked like in colonial times as an outpost during the French and Indian War. Military re-enactments and other live events await visitors to this park, making it one of the Maryland historical sites you shouldn't miss!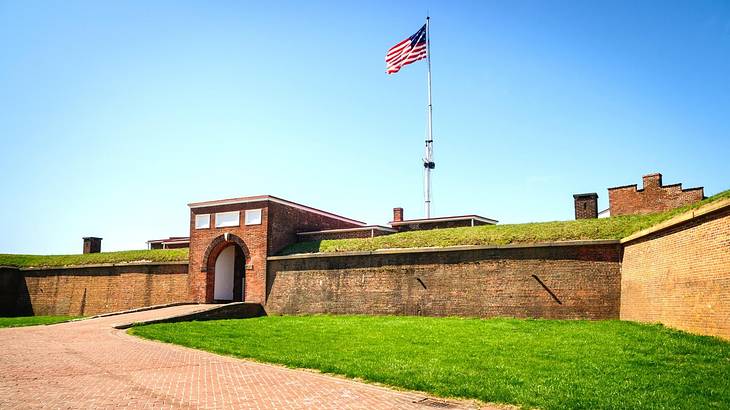 Fort McHenry National Monument and Historic Shrine
The War of 1812 was fought between the relatively new United States and Great Britain. While Britain maintained the upper hand for most of the conflict, a turning point came after an American victory in the Battle of Baltimore in 1814.
An observer of the conflict named Francis Scott Key witnessed a 25-hour British bombardment of Baltimore harbor from aboard an American truce ship. When it was over, he saw Fort McHenry's garrison raise the American flag, and "The Star Spangled Banner" anthem was born.
Today, you can visit this Baltimore landmark to tour the grounds and learn more about the site's rich history.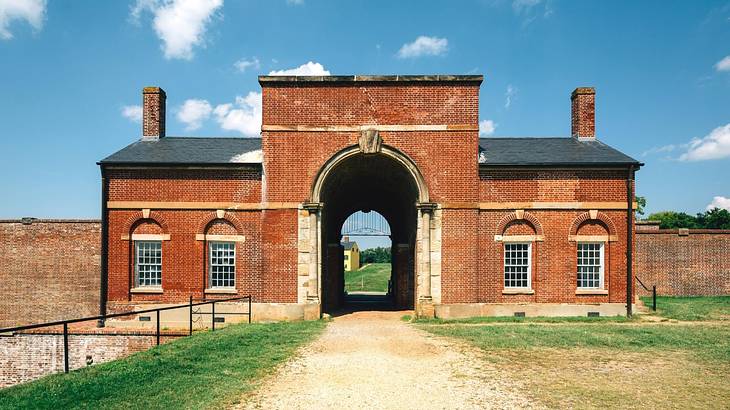 Fort Washington Park
Fort Washington is one of the most interesting national landmarks in Maryland. It was built in 1809 to defend Washington, D.C., from a naval invasion via the Potomac River. Despite this geographic significance, the fort was neither well-manned nor well-armed when it was needed in the War of 1812.
The captain of the garrison fled the post when a British fleet approached and destroyed the original structure on his way out. The fort was rebuilt (and better supplied) by 1824.
Frederick Douglass-Isaac Myers Park Museum
This national heritage site pays homage to Frederick Douglass and Isaac Myers, two influential Black Marylanders whose careers straddled the slavery and post-slavery eras.
The museum is a Living Classrooms Campus, emphasizing hands-on learning about social justice issues in Baltimore and Washington, D.C.
Resultingly, the museum not only chronicles the lives of Douglass and Myers, but it digs into the history of the African American community in Baltimore.
Gaithersburg Latitude Observatory
The Gaithersburg Latitude Observatory is one of the most unique national historic landmarks in Maryland.
Formerly the International Latitude Observatory, scientists here worked in union with similar observatories in Ohio, California, Japan, Italy, and Russia from 1899 until 1982. Each of these was located at the same latitude, allowing the cooperating institutions to gather information about the earth's wobble.
Today, this phenomenon is monitored by satellites, and the observatory hosts educational and stargazing events for the community and visitors.
Hampton National Historic Site
In the early days of the United States, the Hampton mansion was the largest private home in the country. The estate sprawled out over 25,000 acres and was used as an ironworks and a quarry in addition to the plantation-style farming of tobacco, grains, and orchard fruits.
The 24,000-square-foot mansion was simultaneously a symbol of wealth and oppression, and the stories of the owners, enslaved people, and indentured servants are preserved by this national historic site.
Harriet Tubman Underground Railroad National Historical Park
Before the American Civil War, Harriet Tubman worked to usher enslaved people to freedom as a conductor on the Underground Railroad. After escaping slavery herself, she returned from Pennsylvania to her native Maryland on thirteen rescue missions.
By the end of her life, she had secretly brought seventy relatives, friends, and strangers safely to the north, where slavery had been abolished. This national historic park chronicles the bravery, secrecy, and risks that these journeys entailed.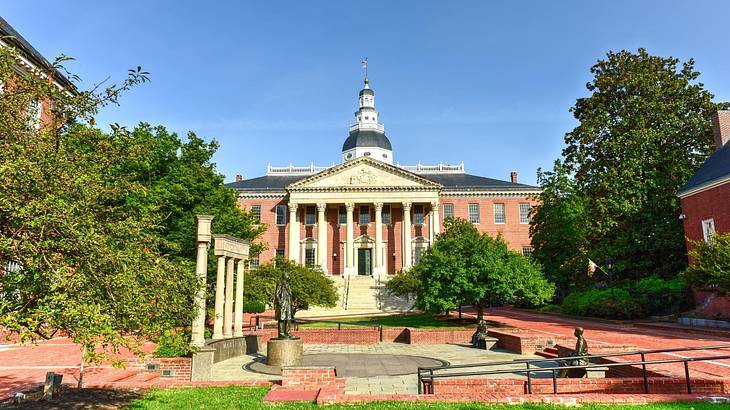 Maryland State House
The Maryland State House in Annapolis is the country's oldest state capitol in continuous legislative use. It also briefly served as the national capitol from 1783-1784 and was where the Continental Congress signed the treaty that ended the Revolutionary War against Britain.
Today, it's the site of the Maryland General Assembly, with offices for Maryland's governor, the president of the Senate, and the speaker of the House of Delegates.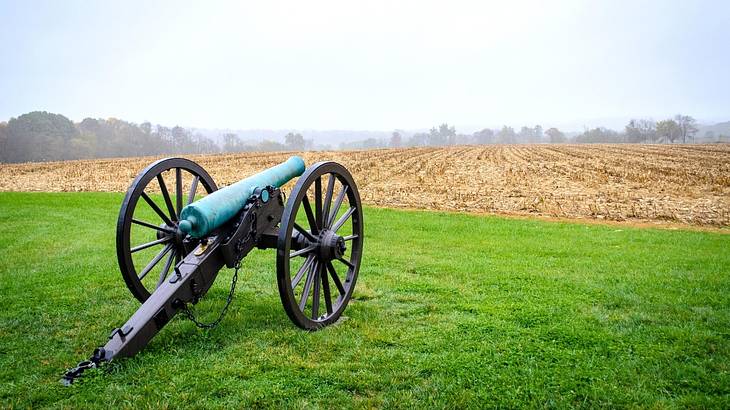 Monocacy National Battlefield
By 1864, the US Civil War was moving in favor of the Union, but the end was far from decided. With much of the fighting moved into the west, Confederate General Robert E. Lee suddenly pivoted and planned an attack on Washington D.C.
About 6,600 Union troops advanced toward 15,000 Confederate troops coming from Virginia, cutting them off at the Monocacy River and holding them off until more reinforcements could reach Washington, D.C.
Star Spangled Banner Flag House
In 1813, Mary Pickersgill was commissioned to sew a large American flag for the garrison at Fort McHenry in Baltimore. It was this flag that was seen rising by Francis Scott Key after a 25-hour British bombardment. It inspired what would become the country's national anthem.
After being purchased and preserved by the city of Baltimore in 1929, the house has become a National Historic Landmark and museum. This historical event is so important to the state that the Maryland nickname, the Star-Spangled State, was created.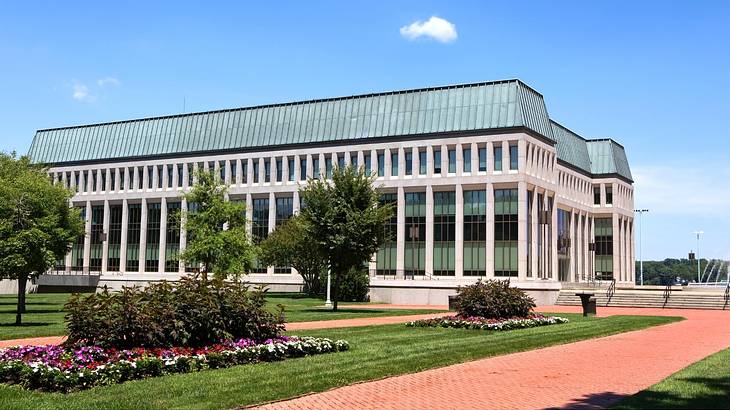 US Naval Academy
The US Naval Academy in historic Annapolis is the undergraduate college for aspiring officers in the naval service. More than that, it's one of the most important historical landmarks in Maryland, preserving several monuments and buildings open to the public.
These structures mark important moments in the history of US Naval combat as well as the sacrifices made by soldiers and sailors.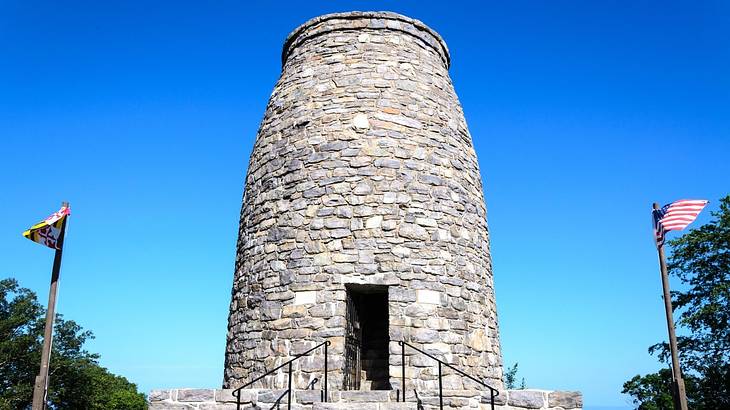 Washington Monument State Park
The Washington Monument in D.C. might get more tourists, but the Washington Monument near Boonsboro, Maryland, was the earliest monument dedicated to the country's first president.
The forty-foot stone tower is found along the Appalachian trail near the summit of South Mountain. It was completed in 1827, predating its more famous namesake in the capital by almost sixty years.
William Paca House & Garden
Restored by the Historic Annapolis organization, this house and its grounds once belonged to William Paca, a signer of the Declaration of Independence and Maryland's third governor.
Visitors can tour through the parlor, kitchen, and many bedrooms on a docent-led tour. It is one of the most important historic places in Maryland, filled with the stories of those who once lived in this Anne Arundel County mansion.
The Book Thing of Baltimore
The Book Thing of Baltimore has a pretty amazing deal for customers: come, take up to 150,000 books at a time, and you're not allowed to pay.
Their mission is to put unwanted books into the hands of people who want them, and the only rule is that you're not allowed to sell any of the books you take.
Edgar Allan Poe's Grave
Delirious, semi-conscious, and wearing another man's clothes, Edgar Allan Poe's demise in 1849 was as mysterious as the stories he wrote.
His last correspondence indicated he was traveling from Richmond to New York and would return to Virginia for his upcoming wedding. He never made it out of Baltimore.
Another series of oddities marked the way to his final resting place in Westminster Hall, belatedly established in 1874 in the city that both launched his career and ended it.
Dr. Gloom's Crypt of Curiosity
This collection of peculiar artifacts was assembled by archaeologist Dr. Augustus Gloom, who displayed his collection in Indiana until a freak Ferris wheel accident claimed his life in 1977.
As weird as that intro sentence was, the collection is even more bizarre, and it includes a mummified Fijian mermaid and the third nipple of Elvis Presley. It can now be found as part of the First Call Paranormal & Oddities Museum in Havre de Grace.
Assateague State Park and National Seashore
In 1933, a violent storm tore through Ocean City, Maryland, washing away a stretch of land and creating Assateague Island to the south.
Assateague Island has since been set aside as one of the natural landmarks to display the shoreline of this unique Maryland region, drawing visitors with its herds of wild horses. Previously domesticated, these survivors of a shipwreck have turned tough and feral on an island with much more sand than pasture.
The Ministry of Brewing
St. Michael's Church was built in 1857 and was one of the oldest churches in Baltimore before it was finally abandoned in 2011.
The opportunity was seized by the Ministry of Brewing, who renovated the building to hold its brewing tanks while keeping and restoring much of its spiritual art.
They have also maintained many of the non-religious aims of the former church, using their space to bolster the community and host educational and philanthropic events.
Conclusion
Maryland has much more to offer than just this list, but these top 25 famous landmarks will get you off to a great start! Whether you want to explore its colonial past, head to the beach, visit a mysterious grave, or just drink a good beer in an old church, Maryland has you covered!
Maryland may be eclectic, but as its native poet Poe once wrote, "There is no exquisite beauty...without some strangeness in the proportion."
Give us feedback about this article
More visual stories related to this article:
---
---
Want to keep exploring?
Subscribe for discounts on tickets and hotels and our latest guides.
Thank you for subscribing
We will be in touch soon with discounts on tickets and hotels and our latest guides.
Want to keep exploring?
Subscribe for discounts on tickets and hotels and our latest guides.
Thank you for subscribing
We will be in touch soon with discounts on tickets and hotels and our latest guides.
Related Articles