Where to Stay in Baltimore, Maryland - 8 Best Areas & Hotels
Destguides may receive commissions from purchases made through affiliate links in this article.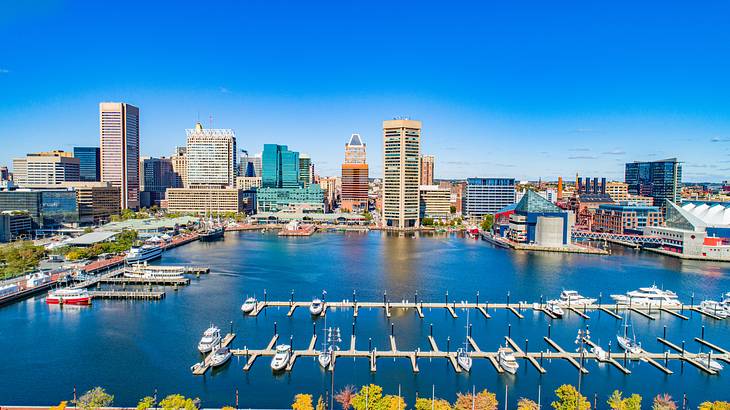 Baltimore, Maryland, is known for its quirky traditions, wonderful shopping, and excellent tourist attractions. The city is an eclectic mixture of rich cultural heritage and modern innovation.
The neighborhoods reflect these characteristics in their personal charms. Whether you prefer the hustle and bustle of Downtown or want to stay somewhere more quiet and tranquil, there's a neighborhood for everyone.
However, it can be challenging to narrow down where to stay in Baltimore for your individual needs. Considering your travel goals, timeline, and other preferences is crucial. Continue to read to find the neighborhood that is the perfect fit for you.
8 Best Places to Stay in Baltimore, Maryland
Best Areas to Stay in Baltimore, MD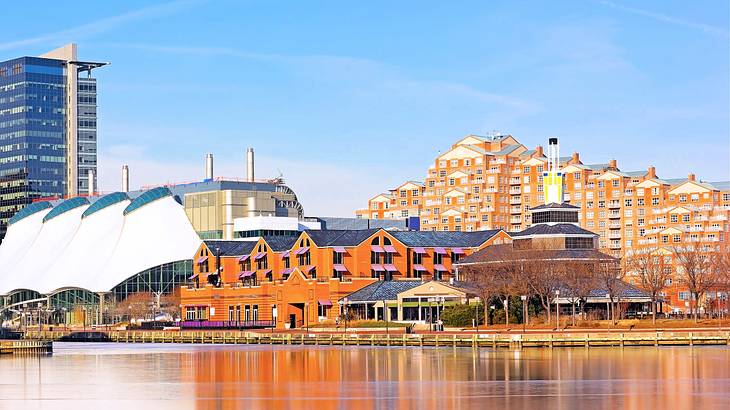 Inner Harbor (Harbor East)
The Inner Harbor is a bustling waterfront neighborhood on the east side of Baltimore. This region is widely known for its popular attractions, waterfront activities, and entertainment options.
This is the best part of Baltimore if you enjoy being centrally located in the city. There are accommodations for every budget, from hostels to luxury hotels. This area is ideal for a traveler who enjoys being in the center of the action.
Many of the popular destinations, such as the National Aquarium and the Maryland Science Center, are within this neighborhood. The Top of the World Observation Level is another main attraction of the area, which offers panoramic views of Baltimore.
Additionally, the Baltimore Convention Center sits on the edge of Inner Harbor, and Harbor East, with many attractions, is located next to Inner Harbor. There are also many excellent dining options ranging from locally sourced to international cuisine.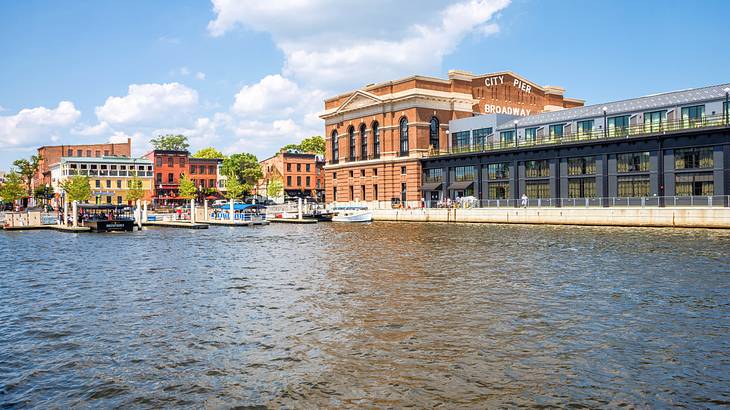 Fells Point
Nestled to the east of the Inner Harbor is the neighborhood of Fells Point. Known for its historical background and nautical ambiance, this area charms everyone who steps foot along the cobblestone streets.
Fells Point is an ideal location to stay for those looking to explore Baltimore's nightlife. There are a wide variety of bars, live music venues, and pubs just outside your door.
There are hotels in Fells Point as well as cozy bed and breakfasts. These accommodations cater to travelers at all price points. Fells Point serves as a great base for your Baltimore exploration and nightlife experience.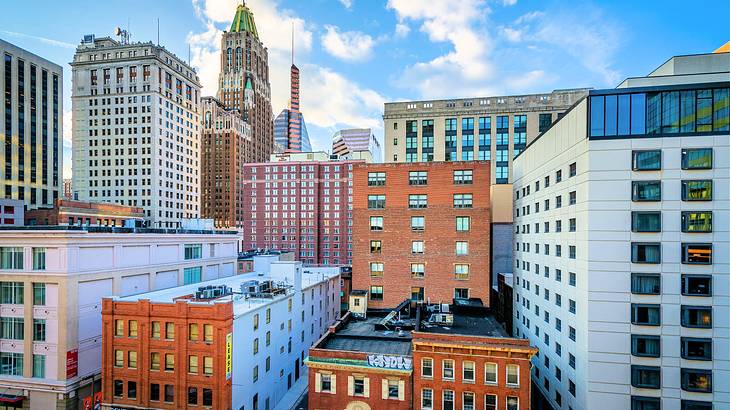 Downtown Baltimore
Downtown Baltimore is full of vibrancy, its lively atmosphere is contagious. Restaurants, bars, and music venues line the streets, which assure you will never be bored. By staying Downtown, you will be close to all the nightlife excitement.
You can also find many of the city's top landmarks and attractions here, like the Baltimore Basilica and the Port Discovery Children's Museum. Additionally, there are excellent hotel accommodations with something for everyone. There are also hostels Downtown, which are a great option for travelers on a budget.
First-time visitors and those looking to be in the center of the action will want to stay Downtown. This area is home to the business district, making Downtown the best place to stay in Baltimore if you are traveling for work. There is easy access to public transportation, and many office buildings are not more than a short walk away.
If you are on a budget, Downtown Baltimore has hostel accommodations available. This is perfect for individuals looking for inexpensive lodging.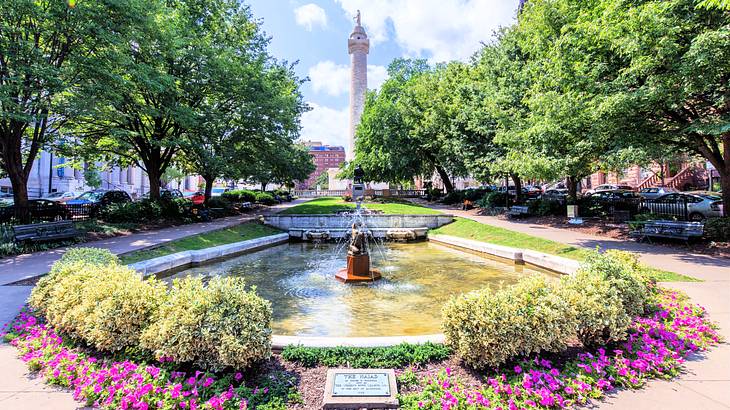 Mount Vernon
The cultural center of Baltimore, Mount Vernon, is located north of the downtown area. This is where to stay if you want to see history come to life. The ambiance is elegant and ideal for learning about Baltimore's past.
Mount Vernon is home to an array of museums and institutions that will encompass you in its culture. From exquisite artwork at The Walters Art Museum to seemingly endless artifacts at the Maryland Center for History and Culture, the exhibits will leave you in awe.
This neighborhood is a perfect way for first-time visitors to introduce themselves to Baltimore. There is an array of hotels and B&Bs that cater to every budget. In addition to fabulous museums, there are delicious restaurants in Mount Vernon that will make your visit even more enjoyable.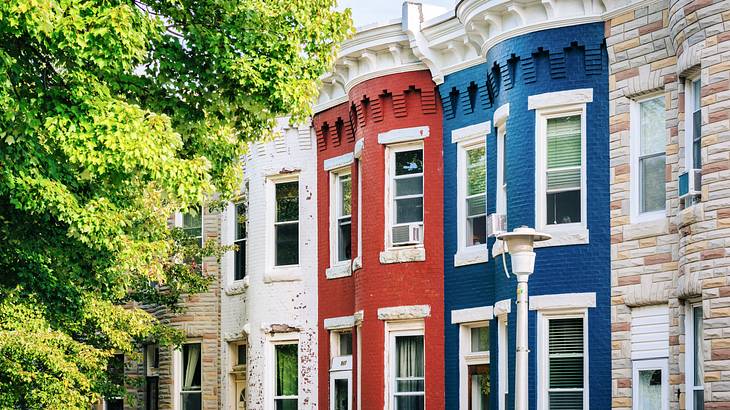 Hampden
Hampden is one of the best neighborhoods to stay in Baltimore if you enjoy an eclectic yet authentic ambiance. Wandering along The Avenue is a great way to get yourself accustomed to the city. The Avenue is easily walkable and offers vintage shops, buzzing breweries, and excellent eateries.
The neighborhood is also home to multiple events throughout the year, such as HonFest and HampdenFest, which are unique to Hampden. These events occur during the summer months and are sure to be the cherry on top of your vacation.
From the abundance of quirky vintage stores to the engaging festivals held in Hampden, you will find a sense of home during your stay. There are hotels as well as Airbnbs around the region that are relatively inexpensive for travelers on a budget.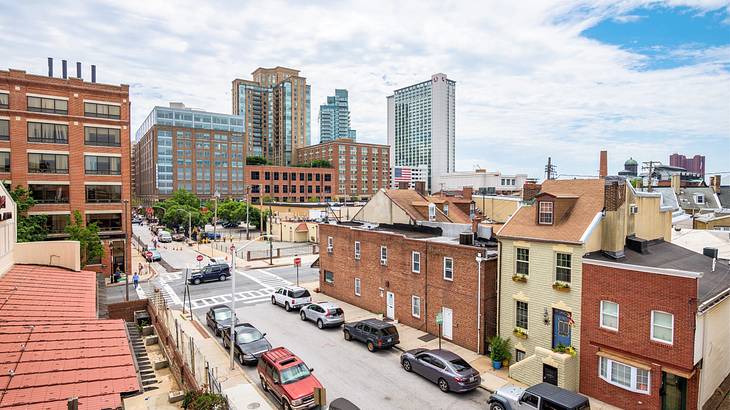 Little Italy
Located a few blocks from Baltimore's Inner Harbor is the charming section of the city called Little Italy. This is the haven of Italian culture in the city.
Little Italy is a foodie's paradise. From Italian pastries to excellent pizza and pasta, your tastebuds will thank you for staying here. Vaccaro's Italian Pastry Shop is a must-stop location if you have a sweet tooth.
Beyond the delicious food, Little Italy is close to many popular attractions, such as the Historic President Street Station and the Star-Spangled Banner Flag House. During your stroll from place to place, you will notice colorful murals lining the neighborhood. These vibrant artworks bring the town to life and serve as an excellent way to connect with the atmosphere of Little Italy.
Accommodations here are a bit more scarce than in other areas but are reasonably affordable. You can find a few hotels as well as some apartment rentals.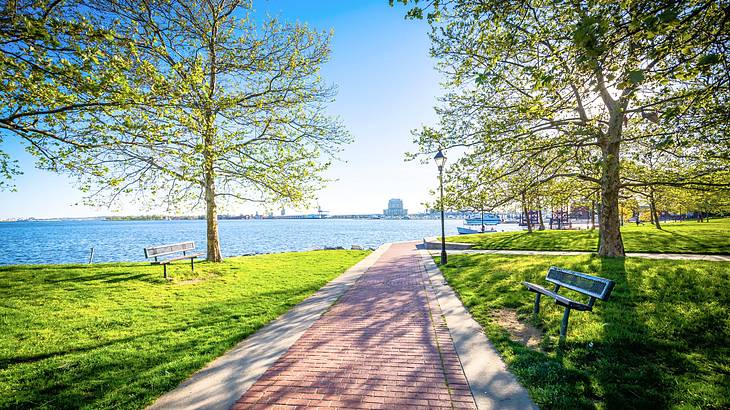 Canton
Along the southeastern side of Downtown is a trendy neighborhood called Canton. This waterfront community is outside of the hustle and bustle of the inner city but is just as vibrant. It also is relatively close to Downtown, making traveling into the city's central part a breeze.
Canton is easily walkable, so it is ideal for exploring the area's boutiques, trendy cafes, and parks. During your stay, you will find world-class restaurants that serve delicious cuisine. There truly is something for everyone.
As Canton is right on the water, enjoying the breathtaking views of the waterfront is a must-do during your stay as well. You can get the best views by going to Canton Waterfront Park, where you can also walk in nature or have a picnic. Being in this neighborhood additionally means that you're right on the edge of Patterson Park.
The hotels in Canton can run a bit more expensive than other regions of the city, which is important to consider.
Roland Park
Located further outside of the central city region is Roland Park. This neighborhood has a rich cultural heritage and historical background. It was one of the first planned suburbs in all of North America and boasts a variety of beautiful architecture.
Roland Park is the best neighborhood to stay in Baltimore if you prefer a quiet, historic setting. There are charming, reasonably-priced B&Bs that will make you feel at home. The peaceful environment is ideal for those who prefer to stay removed from the bustling city.
Though Roland Park offers a more tranquil ambiance, there is still much to see and do during your stay. You're close to Cylburn Arboretum and many other outdoor attractions. From Roland Park, it is easy to drive Downtown to explore the attractions located there.
Where to Stay in Baltimore, MD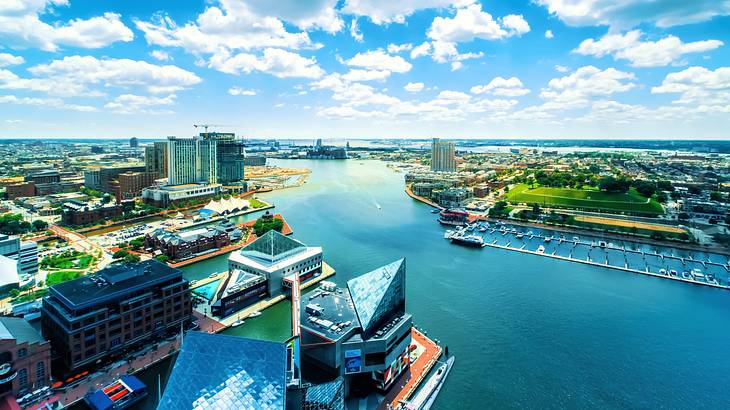 Where to stay in Baltimore with family?
Baltimore is a wonderful place for families to visit. There are a multitude of kid-friendly attractions and activities that will keep everyone engaged. Inner Harbor is the ideal location for families to stay during vacation. This neighborhood is very centrally located without as much bustle as you would find in Downtown.
Inner Harbor is close to kid-friendly destinations such as the National Aquarium, the Maryland Science Center, and Historic Ships in Baltimore, a maritime museum. There are also companies that offer pirate-themed cruises and boat tours, which are fun for the entire family.
Just south of Inner Harbor is the popular Maryland landmark, the American Visionary Art Museum. This museum is another engaging destination for families, and the Port Discovery Children's Museum can be reached on foot from Inner Harbor. It is certain that you will always be able to find a kid-friendly activity to do during your visit to Inner Harbor!
Where to stay in Baltimore for a romantic getaway?
Fell's Point is a wonderful destination for those looking to take a couples getaway. The cobblestone streets, picturesque waterfront views, and charming rowhouses create the perfect romantic ambiance.
There are a variety of boutique hotels in Fell's Point that serve as an excellent home base for your visit to Baltimore. One fun Baltimore date idea is to take a food tour and enjoy the tastes of the city.
Fell's Point has a distinct atmosphere unlike any other in Baltimore. The quaint shops, vibrant nightlife, and stunning scenery make it the ideal location for your romantic getaway.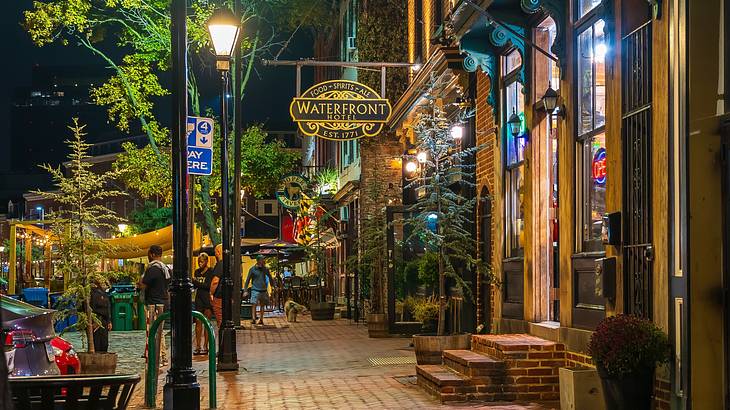 Where to stay in Baltimore for nightlife?
The nightlife of Baltimore radiates excitement. The best area to stay in Baltimore to experience this is Fell's Point.
No matter what nightlife scene you enjoy, there is something for you in Fell's Point. If you enjoy bar hopping, there are numerous sports bars, Irish pubs, and historic taverns. Live music venues and late-night eateries are also popular in the area.
One interesting fact about Maryland is that Fell's Point is home to "The Horse You Came In On," which is the oldest operating saloon in the United States. Its historical significance and charm make it a must-see location on a night out.
Your night on the town will be unforgettable in Fell's Point. Many of the bars and restaurants in Fell's Point also offer stunning waterfront views as well as fabulous entertainment!
Where to stay in Baltimore on a budget?
Baltimore is a wonderful destination to explore and can be done on a budget. If you are looking to save some money during your stay, there are affordable hostels and bed and breakfasts Downtown.
It is necessary to note that Downtown Baltimore is not always the safest location at night, but it is relatively safe during the day. Be sure to read reviews and research your accommodation before booking.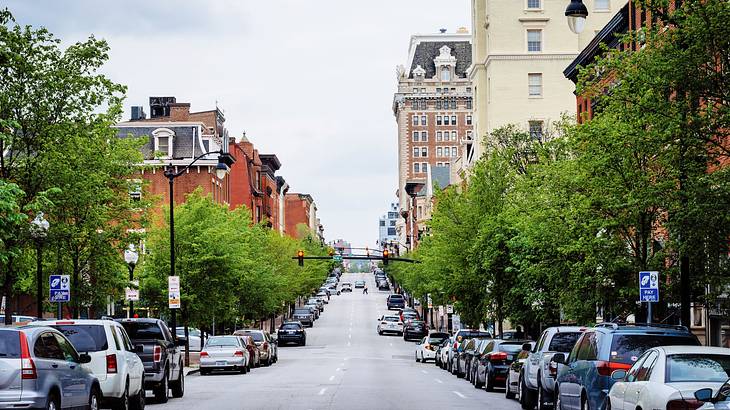 Where to stay in Baltimore for first-timers?
Mount Vernon is the perfect destination for first-time visitors. This neighborhood is the cultural epicenter and serves as a wonderful way for newcomers to acclimate themselves to the environment.
The Baltimore/Washington International Airport is within a 20 to 25-minute drive, which makes it an ideal location for first-timers who want an easy commute to their accommodation. Mount Vernon also has a great public transportation system and is within walking distance of popular destinations.
Travelers experiencing Baltimore for the first time will enjoy the excellent selection of attractions and institutions such as the Baltimore landmark, Historic Charles Street, and The Walters Art Museum. The neighborhood also offers a variety of creative restaurants and cozy bars that make all feel welcome.
Where to stay in Baltimore for shopping?
If you are looking for a shopping-focused trip, there are two neighborhoods that you should check out.
The first is Inner Harbor (Harbor East) which is known for its upscale shopping. The area has luxury boutiques, trendy shops, and designer stores. When you stay in this neighborhood, you are within walking distance of these stores which makes it easy to shop till you drop.
Another location that is excellent for shopping is Hampden, which is well known for its quirky shop and eclectic flare. The Avenue offers over one hundred shops, each with its own charm. It is easy to get lost for hours wandering through the aisles of each store.
In Summary
Whether you are looking for a romantic getaway, traveling with a family, or simply exploring on a budget, Baltimore has something to offer you. The locals are friendly, and the atmosphere is welcoming.
Each neighborhood has its own charm and offers different perspectives of the city. From Little Italy to Mount Vernon, you will find something to love about each one.
There are so many wonderful places to stay in Baltimore. No matter where you stay, Baltimore's mix of rich history, culture, and attractions combine to create one unforgettable travel experience.
Give us feedback about this article
Learn more about Baltimore:
More articles about Maryland:
Read more articles about the United States:
More articles about places to stay:
---
---
Want to keep exploring?
Subscribe for discounts on tickets and hotels and our latest guides.
Thank you for subscribing
We will be in touch soon with discounts on tickets and hotels and our latest guides.
Want to keep exploring?
Subscribe for discounts on tickets and hotels and our latest guides.
Thank you for subscribing
We will be in touch soon with discounts on tickets and hotels and our latest guides.
Related Articles