41 Fun Things to Do in Reno for Couples
Destguides may receive commissions from purchases made through affiliate links in this article.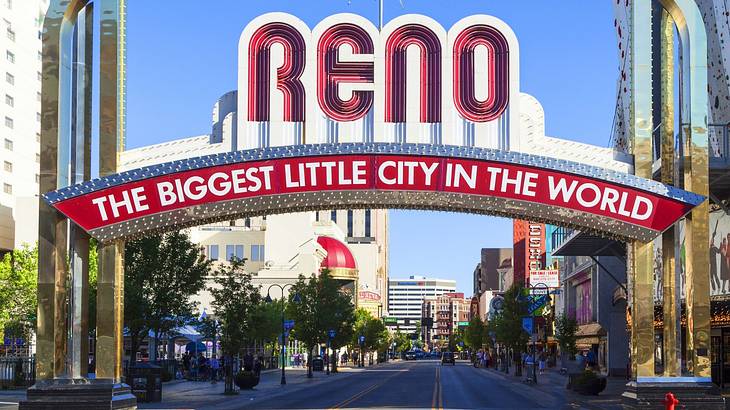 Located along the California-Nevada border, Reno is an interesting city to explore, especially with your other half. Fun things to do in Reno for couples range from dining at romantic eateries to enjoying winter sports or hiking through Rancho San Rafael Regional Park.
You can also plan some couples day trips together, like visiting nearby South Lake Tahoe or even Sacramento. If you're looking for date ideas in and around Reno, Nevada, read on for 41 unique activity suggestions!
41 Fun Date Ideas in Reno, NV
Romantic Things to Do in Reno, NV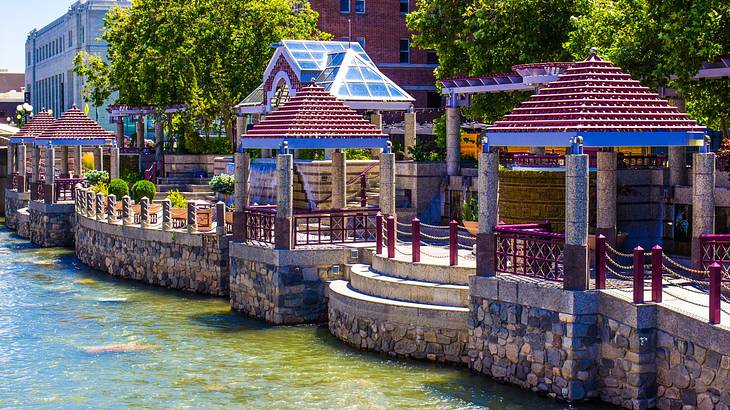 Stroll along the Riverwalk
Located in the Riverwalk District along the Truckee River, the Riverwalk is a romantic place to go for a walk together, especially around sunset. You'll be able to take in the beautiful views, and there are lots of places to sit and chat. After your walk, you can explore the rest of the area, which has shops, bars, and restaurants.
Unwind with spa treatments at Spa Toscana
Spa Toscana is located at Peppermill Resort Spa Casino and is the ideal place to relax with your other half. Treatments available include various types of massages, scrubs and body wraps, and skin treatments, like facials.
A couples spa package is also available, and you can enjoy a swimming pool and hot tub after your treatments.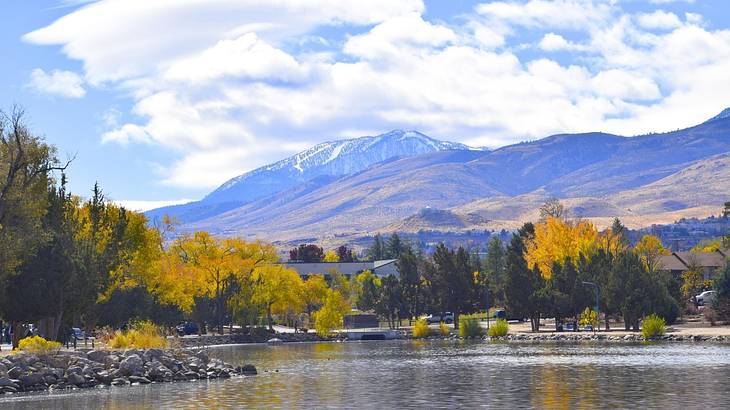 Have a picnic at Virginia Lake Park
Virginia Lake Park, also known as Lakeside Park, is one of the most romantic and scenic places to spend time outdoors. The main feature of the park is a lake that has walking trails around its perimeter. There are also places to sit and enjoy a picnic together, taking in the views and appreciating the warm weather.
Treat your date to confectionary at Pangolin Cafe
Visiting Pangolin Cafe is another of the romantic things to do in Reno, Nevada, that will appeal to most couples. The charming cafe sells confectionery that you can gift your partner, with options including Turkish delight and toffee.
After buying some sweets, you can grab drinks, from coffee or tea beverages to unique drinks like pistachio latte or rose water and lavender sparkling lemonade.
Most Romantic Restaurants in Reno, NV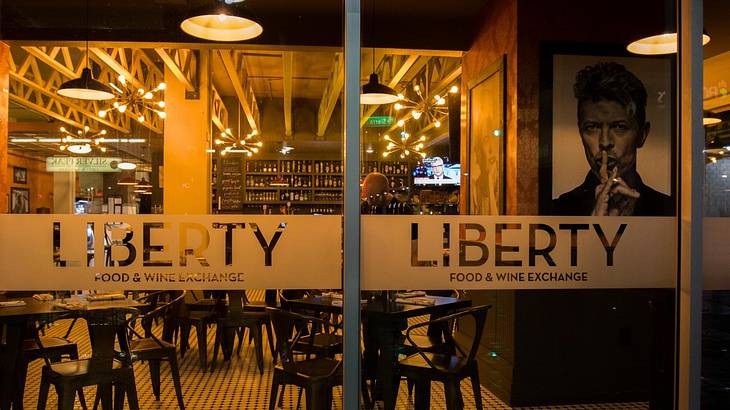 Liberty Food & Wine Exchange
Couples that like sharing plates have to check out Liberty Food & Wine Exchange. The trendy eatery has delicious sharing dishes, from roasted cauliflower and shishito peppers to shrimp with chili and garlic.
Charcuterie boards, plus pasta dishes and pizza, are also on offer. If you can't make it for dinner, you could visit for brunch on the weekend.
Wild River Grille
Wild River Grille is a great spot for a dinner date in Reno. Located in the Riverside Hotel, the restaurant serves dishes like beetroot and feta salad, seafood truffle risotto, and various cuts of steak.
You and your date can finish your meal with a decadent dessert, and there are lots of drink options, plus daily happy hour deals.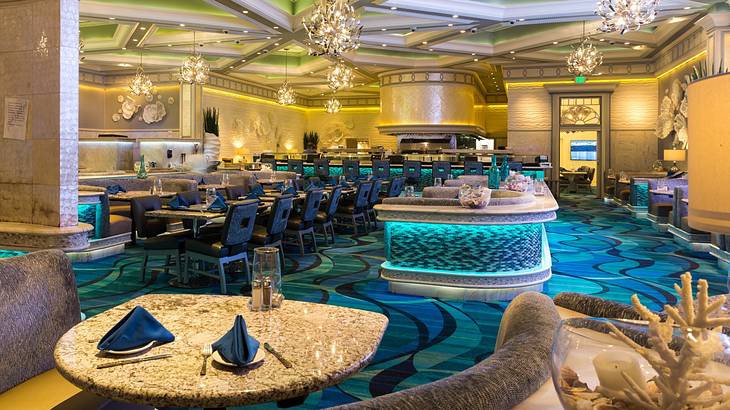 Oceano
Located at the Peppermill Resort Spa Casino, Oceano is a high-end eatery that's one of the most romantic places in Reno, NV, for a dinner date. You can order from a long list of seafood dishes during your date, with a few meat dishes also on the menu. To finish, you can share delicious desserts like banana caramel trifle or coconut cheesecake.
House of Mexica
If you and your date eat plant-based or just enjoy meat-free dishes, House of Mexica is a can't-miss eatery. The 100% plant-based menu includes options like tamales, various types of tacos, and spicy chick'n sandwiches. It's the perfect place for a laid-back yet romantic dinner date with many comfort food dishes!
Land Ocean Restaurant
Land Ocean Restaurant is one of the top fine-dining restaurants in Reno. Menu options include steakhouse-style dishes and appetizers, with delicious desserts to finish. To drink, you can treat your date to a signature cocktail or choose a bottle from the extensive wine list.
Things for Couples to Do in Reno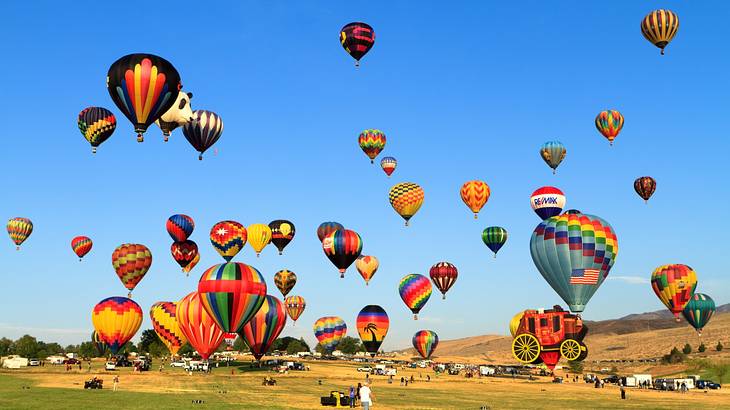 Attend the Great Reno Balloon Race
The Great Reno Balloon Race is held annually, usually in September, and is the world's largest free hot-air ballooning event. Attending the event is a fun and unique thing to do together. You'll get to watch colorful balloons in the sky above you and can check out other interesting events relating to hot air ballooning.
Stay at the Atlantis Casino Resort Spa
Booking a room at the Atlantis Casino Resort Spa is an excellent idea for couples visiting the city. This luxury hotel features stylish and romantic rooms as well as a full-service spa, swimming pool, and multiple bars and restaurants. There's also an on-site casino to enjoy.
Taste spirits at a local distillery
Couples that like craft spirits won't want to miss going to High Mark Distillery & Barrel House. You can try a range of beverages during a visit, including single-barrel bourbon, vodka, and moonshine.
There are also some unique fruit blends on offer, like a blueberry cobbler moonshine. Before you leave, don't forget to pick up a bottle of your favorite beverage.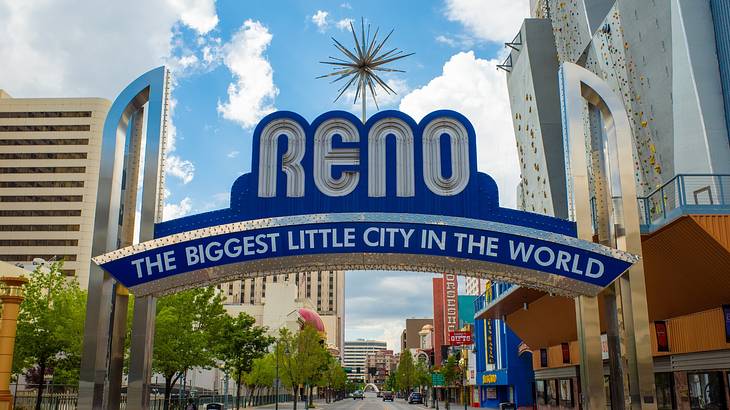 Take a tour of downtown
Taking a downtown Reno tour is a top date idea for those visiting Reno and for couples that want to learn more about their home city. As you explore downtown with your guide, you'll learn lots of facts about 'The Biggest Little City in the World' and will get to see landmarks like the Reno Arch and the Reno Riverwalk District.
Explore Rancho San Rafael Regional Park
Exploring the 570 acres of space at Rancho San Rafael Regional Park is one of the most fun things to do in Reno, NV, for couples. At the park, you can hike or bike along trails through fields and woodlands and past scenic ponds.
There's also a dog park if you or your date are bringing your pup with you, and you'll spot lots of wildlife as you hike or bike around.
Share brunch at Stone House Cafe
If you're planning a daytime date, going to brunch is always a good idea! One of the most popular brunch spots in Reno is Stone House Cafe, which has indoor seating and a cute patio.
Things to order range from various types of pancakes and waffles to omelets, enchiladas, and avocado on toast. Dinner is also available here if you're meeting later in the day.
Book a room at the Whitney Peak Hotel
Staying at the Whitney Peak Hotel is another excellent idea for couples visiting the city. The trendy hotel has modern rooms and great amenities, from bars and restaurants to a steam room and sauna and even a rock climbing wall!
Pets are also welcome if you're visiting with a furry friend, and the hotel is conveniently located in central Reno near the Reno Arch.
Appreciate artworks at the Nevada Museum of Art
Couples that love art will want to visit the Nevada Museum of Art at least once. This Nevada landmark houses artworks from the 19th century through to the present and also has interesting temporary art exhibits. Pieces to see range from paintings and drawings to photographs and multimedia artworks.
Tackle an escape room
Playing an escape room game is a laid-back date idea that will appeal to most couples. You can find a few venues to check out in Reno, including Puzzle Room Reno and Escape Room Reno. At all venues, you'll get to choose from multiple themed rooms and can work together to solve puzzles and use clues to escape.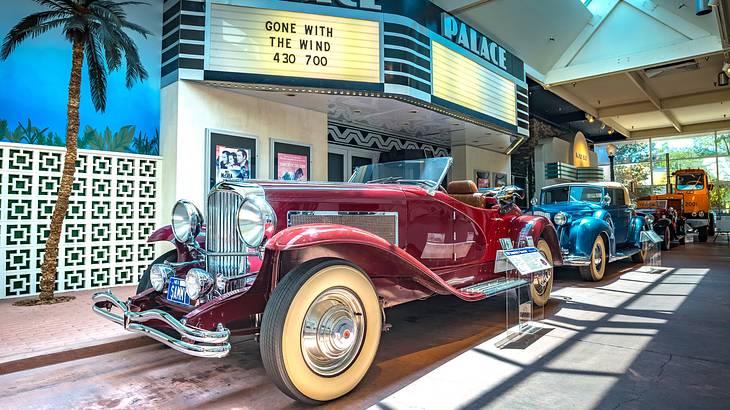 Visit the National Automobile Museum
The National Automobile Museum is one of many unique and interesting attractions to visit together in Reno. The museum showcases a vast collection of over 200 vintage automobiles, some of which date to the 1890s.
You can also see some cars previously owned by celebrities, like Elvis Presley's 1973 Cadillac Eldorado and Frank Sinatra's 1961 Ghia L6.4.
Have a game of mini-golf at Magic Carpet Golf
Playing a round or two of mini-golf at Magic Carpet Golf is a relaxed afternoon or early evening date idea. Interestingly, it's Nevada's largest mini-golf course and features lots of fun sculptures and obstacles, from bridges and arches to dinosaurs! You can choose from playing a 38-hole, 47-hole, or 66-hole course.
Rock climb at Mesa Rim Climbing Center
Climbing at Mesa Rim Climbing Center is one of the top dates in Reno for couples that enjoy adventure activities. The indoor rock climbing center has various climbing walls for all ability levels.
You can also take climbing classes together to improve your skills, and yoga and fitness sessions are also hosted at the center.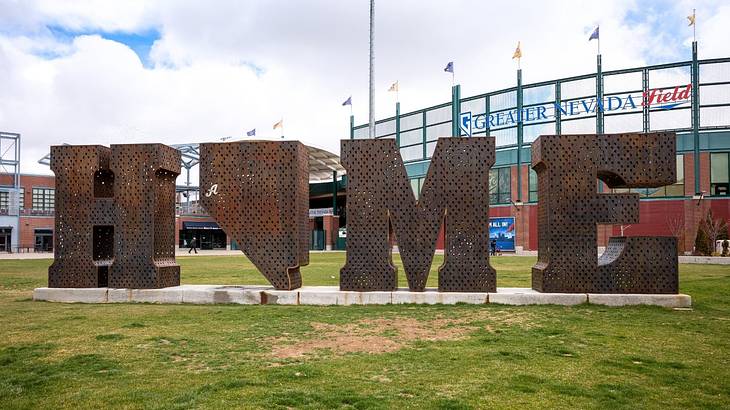 Catch a baseball game at Greater Nevada Field
Greater Nevada Field sits next to the Truckee River and is home to the Reno Aces. The Minor League Baseball team is an affiliate of the Arizona Diamondbacks MLB team and plays between April and September in the regular season.
Even if you and your date aren't the biggest baseball fans, going to a game is a fun afternoon or early evening activity to enjoy together.
Learn new things at The Discovery
Also known as the Terry Lee Wells Nevada Discovery Museum, The Discovery is a fascinating science museum to explore with your other half. Topics to learn about include wildlife and ecosystems, the human body, and energy. There are temporary exhibits as well, and you're both guaranteed to leave knowing some new science facts!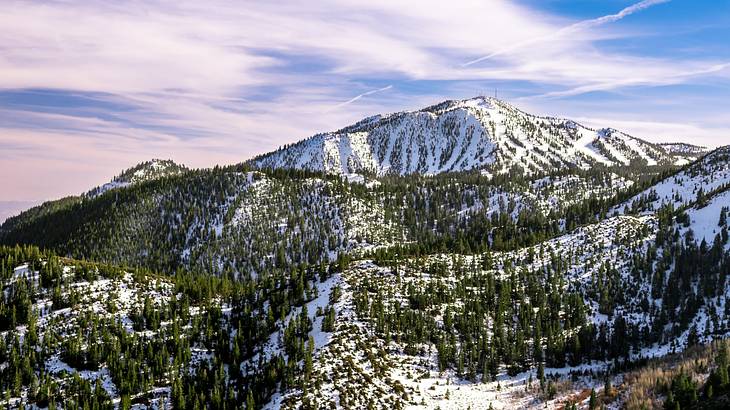 Ski or snowboard at Mt. Rose - Ski Tahoe
Winter sports enthusiasts can ski or snowboard in Reno at Mt. Rose - Ski Tahoe. The mountain has around 1,200 acres of ski and snowboard runs with something for all abilities. There's also a snowboard park for those that like doing tricks. Lessons are also available if you're new to winter sports or want to improve.
Fun Date Night Ideas in Reno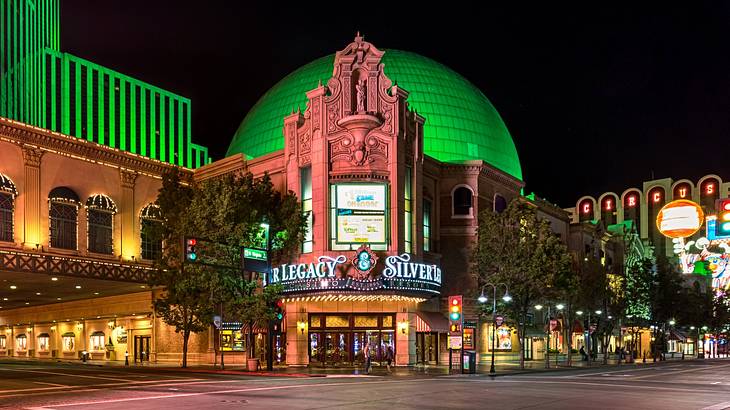 Spend an evening at Silver Legacy Resort Casino
The Silver Legacy Resort Casino is one of the best places to spend the evening with your date, enjoying the many amusements found there. As the name suggests, there's a casino with a range of games on offer.
Other things to do include dining or getting drinks at on-site bars and restaurants, catching a concert or comedy show, and going to a nightclub like Aura Ultra Lounge.
Play games at Press Start Arcade & Bar
Going to Press Start Arcade & Bar is one of the most fun and laid-back Reno date night ideas. At the arcade and bar, you can enjoy retro games and pinball. While you play, you and your partner can get craft beer or cocktails.
Laugh at a comedy show at Laugh Factory
There are lots of great bars and restaurants for a date night in Reno. However, doing something a little different, like going to a comedy show, is a fun idea as well.
At Laugh Factory, you can see local and nationally known comedians perform. The comedy club is found at the Silver Legacy Resort Casino, so you can also enjoy the complex's other amenities before or after the show.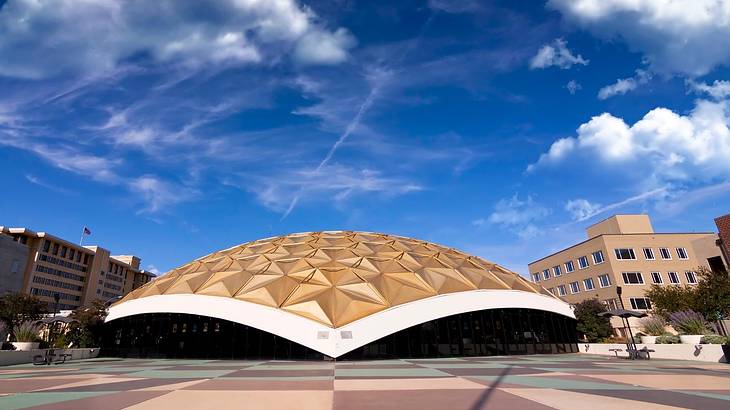 See a show at the Pioneer Center for the Performing Arts
Catching a show at the Pioneer Center for the Performing Arts is a fun idea that will appeal to most couples. At the venue, you can watch Broadway shows, plus comedy shows, ballets, and more.
As the theater is located centrally in Downtown Reno, you'll also find bars and restaurants to stop at for dinner and drinks before or after attending a performance.
Grab a beer at Virginia Street Brewhouse
Virginia Street Brewhouse is one of the most popular craft breweries in Reno. At the brewhouse, you can order from an extensive beer menu with around 20 beers on tap at one time. The venue also hosts live music acts and DJs and stays open until 3 AM on Friday and Saturday.
Sip cocktails at Death & Taxes
Couples that like craft cocktails will want to plan at least one drinks date at Death & Taxes. The stylish speakeasy-style bar serves up inventive cocktails, with unique non-alcoholic cocktails also available.
If you prefer neat spirits to mixed drinks, there's also an extensive menu, with options from tequila and gin to bourbon and Japanese whisky.
Cute Date Ideas in Reno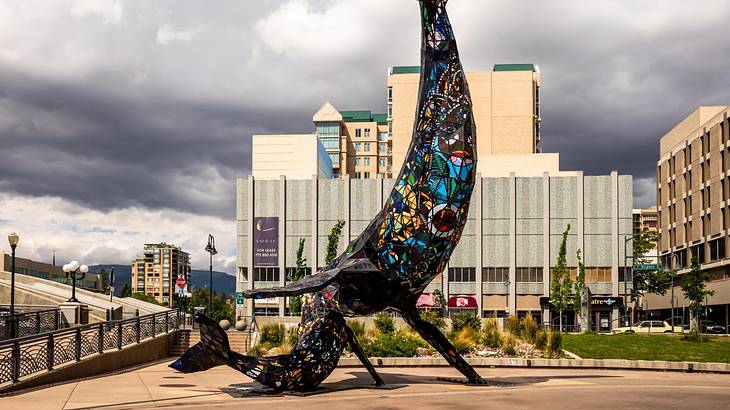 Snap a picture with The Space Whale
There are an array of great spots in Reno to take cute couples pictures together, like next to The Space Whale. Located in front of City Hall by the Riverwalk District, this artwork comprises colorful stained glass whale mother and calf statues.
The Reno landmark was constructed by Matt Schultz and becomes illuminated at night, meaning you can take cool pictures whether your date is during the day or at night.
Hang out at Idlewild Park
On a sunny day, hanging out at Idlewild Park together is a must. The 49-acre park sits just outside of downtown and has trails, including those around a scenic lake, and a beautiful rose garden.
You can also enjoy sports facilities, like basketball and tennis courts. Taking a picnic to share in the park is also a romantic idea.
Meet Raptors at a Falconry session
If you and your date like animals, plan a unique date at a falconry session. During this experience, you'll get to see various raptors, from falcons and hawks to owls. You'll also learn more about each bird and raptors in general.
Chat over coffee at JoStella Coffee Co.
Hanging out with your other half and enjoying coffee is always a fun date idea. There are many places to choose from for a coffee date in Reno, like JoStella Coffee Co.
Coffee beverages on the menu include classics like cappuccino and caffe latte and more unique drinks, such as lavender and vanilla latte or mocha milkshake. You can also get food, including many types of topped toast and baked goods.
Cuddle with cats at Enchanted Cat Cafe
Going to Enchanted Cat Cafe is another excellent date idea for couples that love animals. After picking up a beverage, with beer and wine on offer as well as coffee, tea, and soft drinks, you can head into the cat room where you can pet and play with cute kitties.
All cats are adoptable, so if you and your partner bond with one of the cats, you may be able to adopt them!
Fun Things to Do Near Reno, Nevada, for Couples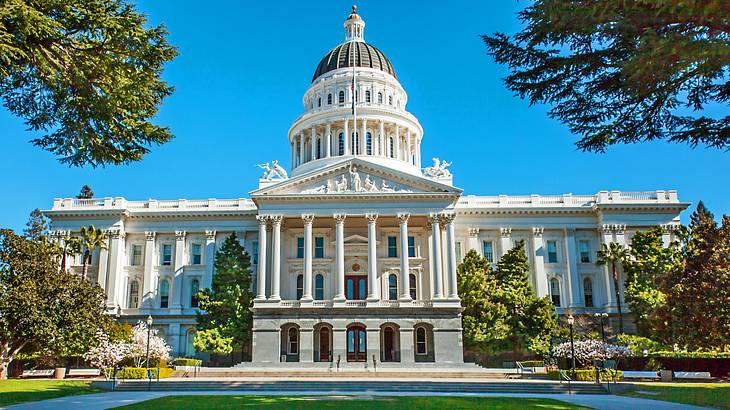 Plan a trip to Sacramento
If you want to plan a weekend getaway from Reno, Sacramento is a great option. You can reach the California state capital in just over two hours when driving.
Once you arrive, you'll find many things for couples to do in Sacramento, from walking through the World Peace Rose Garden to catching a Sacramento Kings game. You could also tour the State Capitol Building or book one of many other Sacramento tours and excursions.
Go to South Lake Tahoe
South Lake Tahoe sits on Lake Tahoe and is around an hour from Reno. It's a cool place to visit for the day. South Lake Tahoe is also one of the best places to stay in Lake Tahoe, so you could stay overnight for an extended getaway.
Things to do together include hanging out by the lake, enjoying watersports, and going to El Dorado Beach. You can visit local bars, shops, and restaurants as well. In addition, there are places to ski, snowboard, or do other winter sports during the colder months.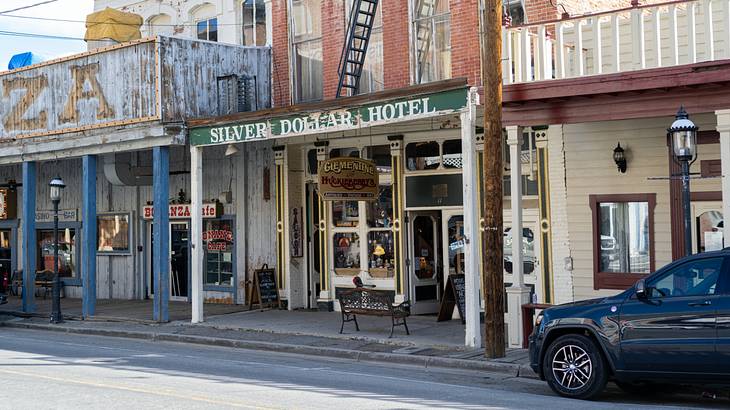 Step back in time with a visit to Virginia City
Virginia City is another fun city to check out that's located about 40 minutes from Reno when driving. The unique destination has many 19th-century buildings that now house independent shops and museums.
After visiting attractions, you can stop for food and drinks at saloon-style bars and restaurants. You can also pick up sweet treats, like old-fashioned candy, fudge, and caramel apples.
Follow the Tahoe-Pyramid Trail
Hiking or biking the Tahoe-Pyramid Trail is another fun outdoor activity to enjoy together near Reno. Although the trail is located in California, you can reach it in about 20 minutes when driving from Reno.
Covering 114-mile long-distance, the trail follows the Truckee River and connects Lake Tahoe to Pyramid Lake. You can follow as much of the trail as you like and will be rewarded with beautiful views no matter how long you hike or bike for.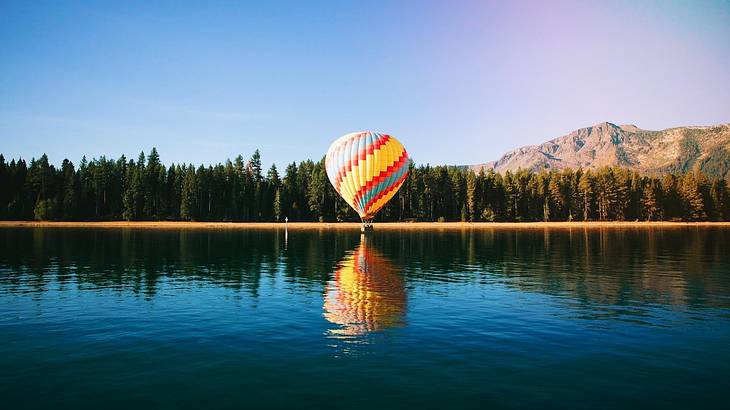 Experience a hot air balloon ride
Flying above Reno on a hot air balloon ride is definitely one of the most romantic things to do in the city. One of the best companies around Reno is Lake Tahoe Balloons, with flights operating in the summer months.
You can reach the start point of the flight in about an hour and a half when driving from Reno. During your flight, you'll get to fly over Lake Tahoe and see Reno in the distance. After your balloon ride, you can enjoy a day at Lake Tahoe.
Hike through Tahoe National Forest
There's no shortage of outdoor attractions in and around Reno. Another place for outdoor adventurers to check out is Tahoe National Forest, situated about two hours from Reno when driving.
At the almost 900,000-acre forest, you and your partner can hike or bike, with the forest having both flat and elevated trails that take you to mountain peaks.
While exploring, you'll get to admire fantastic views and see many plant and animal species, including bears. You can also camp or rent a cabin if you want to stay overnight.
In Conclusion
Whether you're looking for first-date ideas in Reno, NV, or are planning to do something with a longer-term partner, this list should have given you lots of activity suggestions. From relaxing at the spa or dining at a romantic restaurant to exploring the Nevada Museum of Art and skiing at Mt. Rose - Ski Tahoe, there's something for every couple to enjoy in Reno!
---
---
Want to keep exploring?
Subscribe for discounts on tickets and hotels and our latest guides.
Thank you for subscribing
We will be in touch soon with discounts on tickets and hotels and our latest guides.
Want to keep exploring?
Subscribe for discounts on tickets and hotels and our latest guides.
Thank you for subscribing
We will be in touch soon with discounts on tickets and hotels and our latest guides.
Related Articles