22 Famous Landmarks in Nevada You Must Visit
Destguides may receive commissions from purchases made through affiliate links in this article.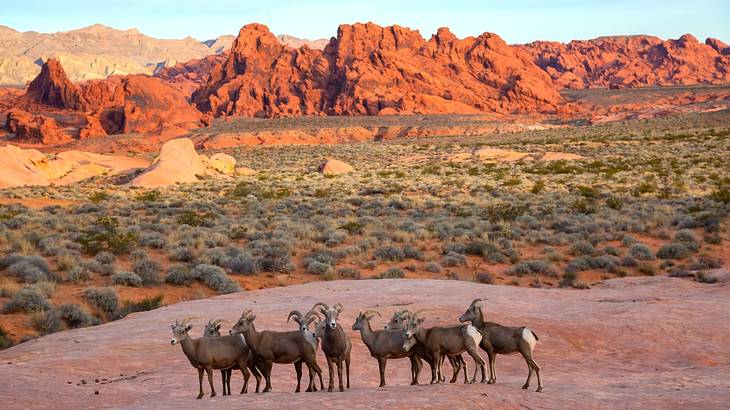 Nevada is vast, and its correspondingly diverse landscape makes it a must-see for serious travelers in the Western United States. Famous landmarks in Nevada like Las Vegas, Lake Tahoe, and Hoover Dam get much-deserved attention, but the state offers far more than just these destinations.
Whether you're looking for nature, solitude, off-beat adventures, or urban jungles, these 22 Nevada landmarks and monuments are sure to give you a trip to remember!
22 Famous Nevada Landmarks
Berlin-Ichthyosaur State Park
Berlin, Nevada, is a monument to many things dead and gone. Berlin itself is a ghost town, abandoned by prospectors after only a decade but reasonably maintained by their company.
In 1970, the land was acquired by Nevada and combined with the large deposit of Ichthyosaur fossils nearby to become a state park. These ancient marine reptiles thrived here millions of years ago when the desert was underwater.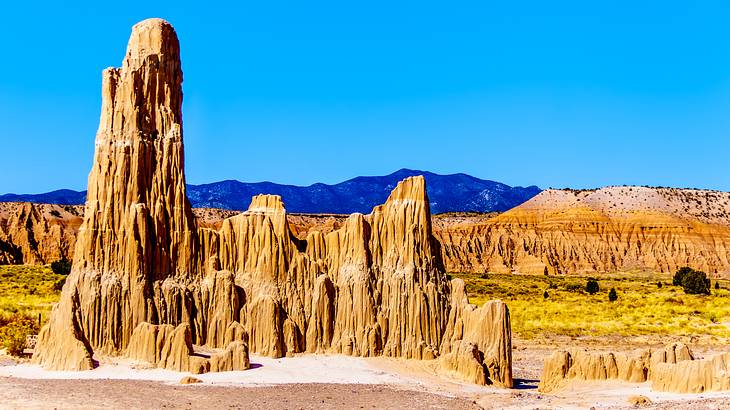 Cathedral Gorge State Park
From afar, Cathedral Gorge State Park is difficult to distinguish from the many desert canyons, ravines, and monoliths that dot the American west.
Closer in, though, visitors will find a unique formation providing texture to these rock walls. Thousands of cathedral-like spires reach skyward inside the gorge, making this one of the most impressive natural landmarks in Nevada.
Cave Lake State Park
Cave Lake State Park near Ely is a great year-round fishing destination in eastern Nevada. In the summer, you can cast your rod from a boat, and wintertime finds visitors ice fishing for the thirty-two-acre reservoir's ample supply of trout.
There's more than fishing here, too, with hiking and biking trails in the summer giving way to snowmobiling and cross-country skiing in the winter.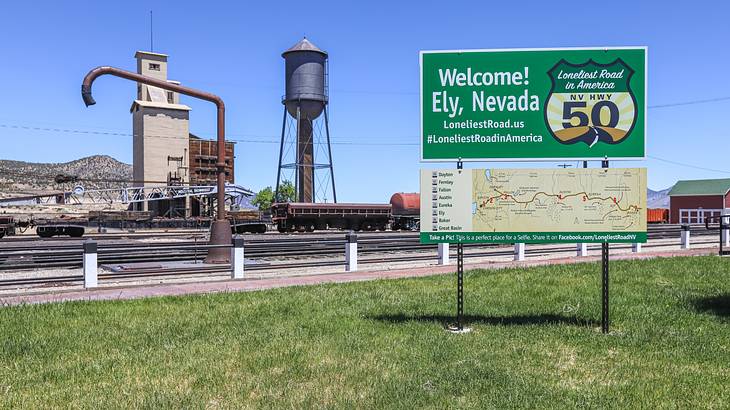 East Ely Railroad Depot Museum
The Nevada Northern Railway played a crucial role in the West, transporting most of the copper ore used to electrify American cities.
Today, the East Ely Railroad Depot Museum educates visitors about the demands of running a railroad at a remote outpost. While the railroad is under less stress these days, you can book a train ride and get pulled along by one of the original locomotives.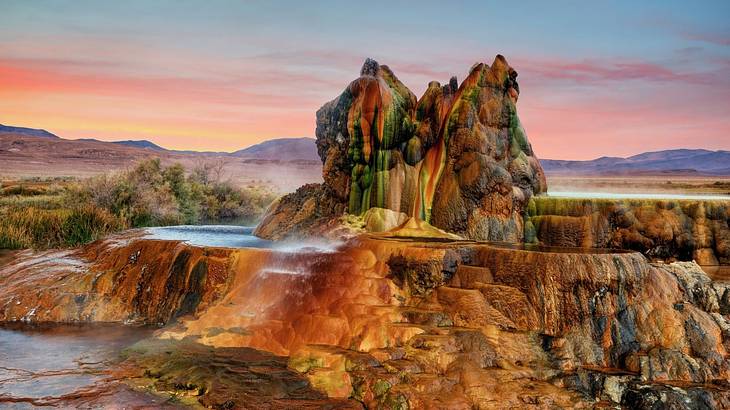 Fly Geyser
When the residents of Fly Ranch tried to dig wells to irrigate their desert crops in 1916, they accidentally created the first Fly Ranch Geyser when the water they found was too hot and somewhat explosive.
The exotic colors and steamy travertine pools around the steadily growing geysers seem out of place in the otherwise dreary landscape, and their shapes resemble some kind of pod or egg that look more likely to hatch than erupt.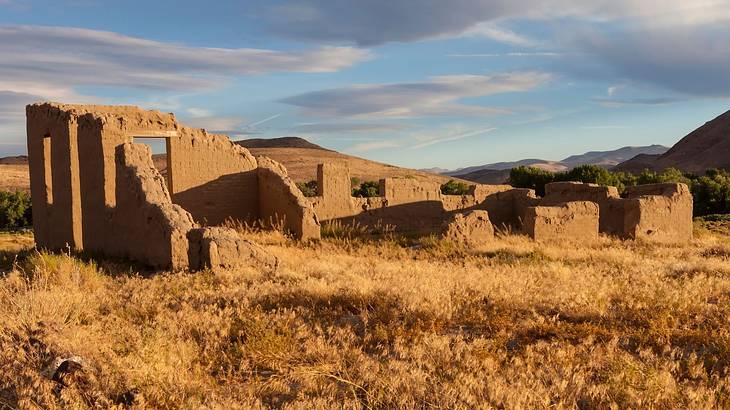 Fort Churchill State Historic Park
Built in 1861 and preserved in their state of decay, the ruins of Fort Churchill are among the historical sites in Nevada you won't want to miss.
The soldiers garrisoned here were assigned to protect early European settlers of Nevada and secure routes for the Pony Express postal system. There is a campground near the ruins and a Visitor Center where you can learn more about the fort's long history.
Gold Point Ghost Town
After thriving for decades, Gold Point became a ghost town during World War II when the government ordered all gold mines to shut down to support the ongoing war effort.
It was saved in the late 1970s, though, after someone struck it rich - not from a literal gold mine, but after hitting the jackpot in Las Vegas.
Herb Robbins and his business partner Chuck Kremin used the winnings to buy and preserve many of the vacant buildings, offering modern visitors an authentic glimpse into the past.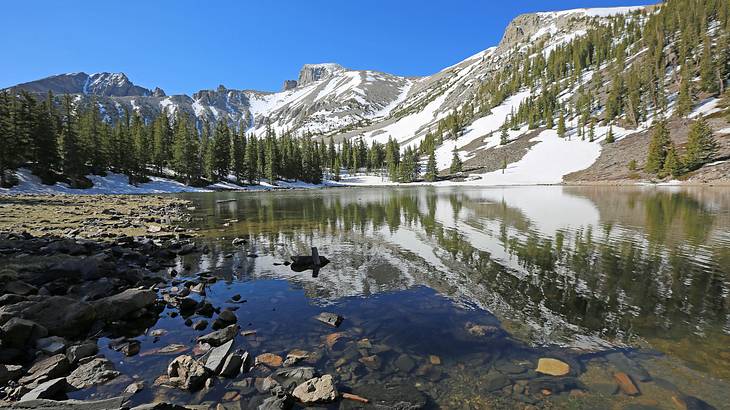 Great Basin National Park
Great Basin National Park is a powerful reminder of the diversity of Nevada's landscape. You can contact the National Parks Service to learn more about its extensive backcountry hiking and camping, vast cave system, and the soaring 13,000-foot Wheeler Peak. This is one of the points of interest in Nevada that you won't want to miss!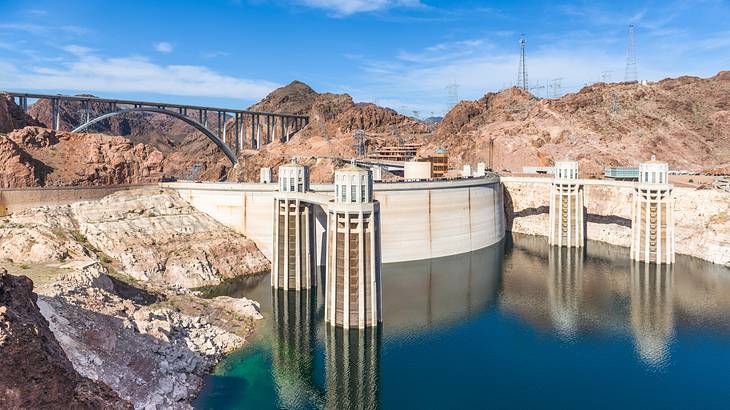 Hoover Dam
Hoover Dam was built between 1931 and 1936, creating Lake Mead, the largest freshwater reservoir in the United States.
Today, visitors to the dam can learn about its construction and engineering and why it's one of the most famous landmarks in North America.
The dam is within a one-hour drive from Las Vegas, making a great day trip and photo opportunity within striking distance of the neon city.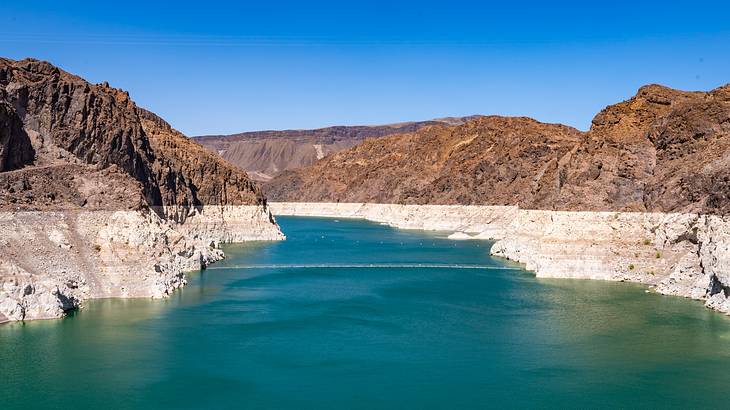 Lake Mead
Lake Mead was created by the construction of the Hoover Dam, filling the once dry basin to depths of up to five hundred feet.
It became the country's first National Recreation Area, with boating, fishing, and water sports being popular breaks from the desert heat.
It's also one of the best freshwater scuba diving locations in the country and, as a fun fact, has an underwater ghost town to explore.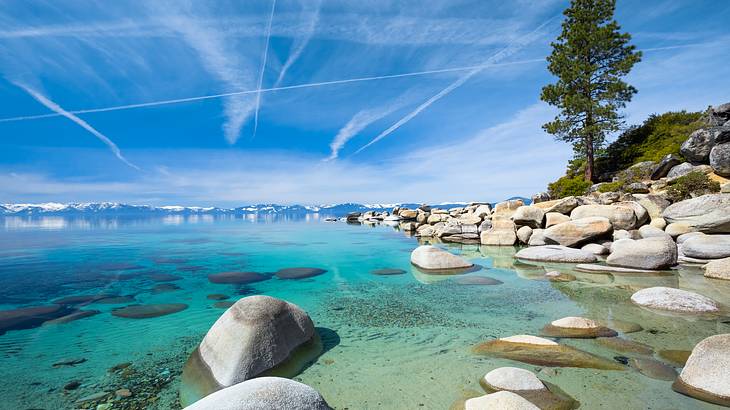 Lake Tahoe
Straddling the state border near Carson City, Lake Tahoe is one of the most famous landmarks of Nevada and California.
Winter skiing and snowboarding give way to summer hiking and swimming along this beautiful, naturally diverse lake. If you really want to spend a relaxing day on the lake, you can book a cruise to more fully appreciate the views.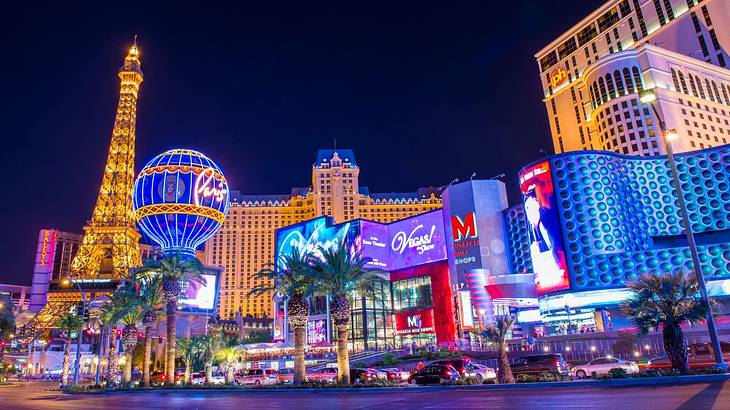 Las Vegas Strip
Visitors come from all around the world to try their luck, catch a show, treat themselves to luxury by staying in a swanky hotel or visiting free attractions on the Las Vegas Strip.
Whether you're looking to see a specific Las Vegas landmark or just have a sampler of this entertainment capital, booking a tour will help you navigate Sin City's infamous adult playground.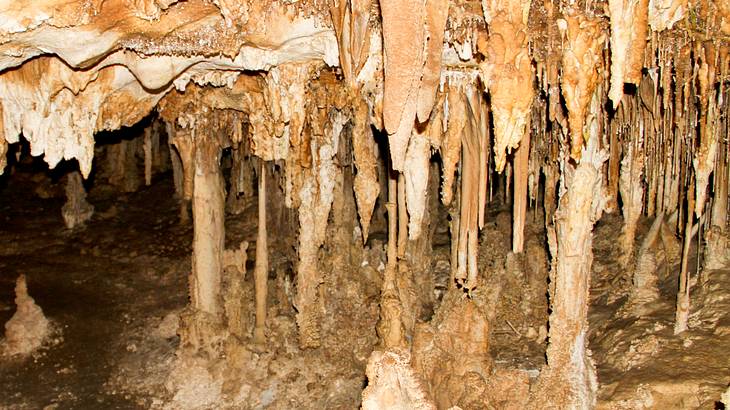 Lehman Caves
The Lehman Caves in Great Basin National Park take visitors deep into the bowels of the earth. Stalactites and other mineral deposits decorate the caverns in the large, underground cave system.
There is wildlife to be found here as well, with chipmunks, bats, and even some cave-dwelling insects that have never seen the sun.
Lunar Crater National Natural Landmark
In central Nevada, Lunar Crater National Natural Landmark is a 400-acre crater that has been used to train American astronauts for moon landings.
The Lunar Crater Backcountry Byway takes visitors here and through a surreal moonscape of Nevada landmarks and attractions. The region is pockmarked with volcanic craters and streaked with ancient lava beds.
Mormon Station State Historic Park
Mormon Station State Historic Park marks the site of Nevada's first permanent European settlement. It initially provided some relief and comfort for travelers coming through the vaunted Sierra Nevada range, and today it houses a replica of the original outpost.
Additionally, it is home to the annual Candy Dance Arts and Crafts Faire and the Cowboy Festival.
Thunder Mountain Monument
Rolling Mountain Thunder, aka Frank van Zant, was a World War II veteran. He was also a descendent of the Creek Nation, a hippie icon, and an enigmatic visual artist.
There is no mountain to be found here, only a nod to the name of the installation's charismatic and tragic founder. Thunder Mountain Monument is his artistic life's work, now run by his children after taking his own life in 1989.
The Mob Museum
Keeping tradition with Washington, DC's Spy Museum in spilling dirty secrets, the Mob Museum in Las Vegas details Sin City's complicated history with the mafia.
The museum not only details the illicit activities but also the law enforcement and intelligence operations that were birthed to counter them. You will enjoy an escape-room-style experience on a visit to one of the underrated historical sites in Nevada.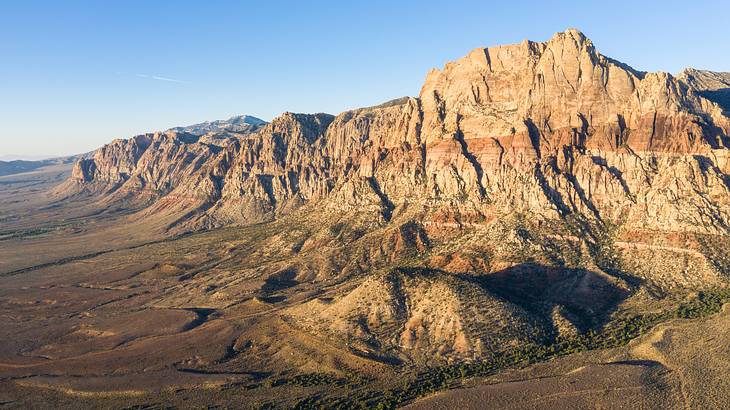 Red Rock Canyon National Conservation Area
Less than twenty miles off the strip of Las Vegas, Red Rock Canyon is a beautiful way to escape the neon city and find one of the most important places in Nevada for conservation.
Over two million visitors come each year (including couples) to enjoy the hiking, biking, and climbing opportunities offered by Nevada's first National Conservation Area.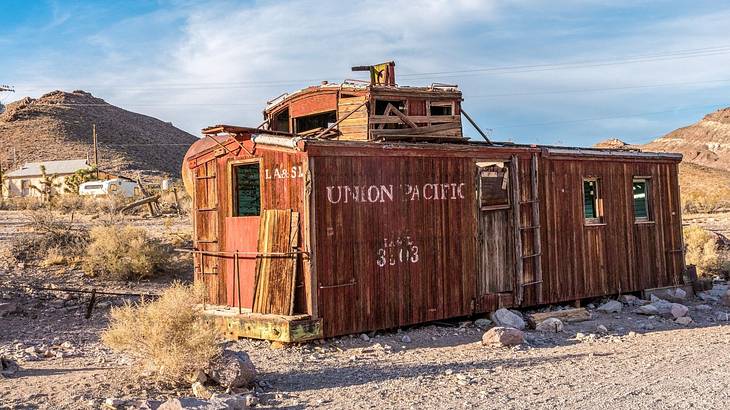 Rhyolite Ghost Town
Mining was once a booming industry in the state, so much so that the Nevada nickname of the Mining State was created. As the mining industry winded down, whole mining towns were abandoned, leaving ghost towns.
One of the most famous ghost towns is Rhyolite Ghost Town. It gets its name from the volcanic rock in the area. However, it became a boomtown when the news said that the abundant quartz was laced with gold.
After the financial panic of 1907, the mines and banks closed, and the town's glory days quickly dwindled into destitution. Visitors can still see the collapsed remains of the three-story bank and the town's jail.
Sloan Canyon National Conservation Area
Only recently named a National Conservation Area in 2002, Sloan Canyon and its surroundings form the mountainous skyline visible to the south from Las Vegas. The conservation area includes a petroglyph site and the nearly 15,000-acre North McCullough Wilderness. Here, you can find ash falls, lava flows, and volcanic glass.
Stokes Castle
Stokes Castle is located along Nevada's portion of Highway 50, self-styled as the Loneliest Road in America and asserting itself among Nevada historic landmarks.
The castle was built by Anson Phelps Stokes, who spent only a month living there with his family before moving on to greener - or golder - pastures.
Virginia City Historic District
Virginia City Historic District is kind of like a greatest-hits compilation of Nevada ghost towns. The mining towns of Gold Hill, Silver City, and Dayton all accompany Virginia City in one of the most historic places in Nevada.
Today, over four hundred buildings survive from this bygone time, with museums, mine tours, annual festivals, and train rides awaiting wild-west enthusiasts.
Conclusion
Nevada is hard to beat for its scale, natural diversity, and cultural opportunities. Its desert is infamous and its gambling notorious, but like many of the world's most amazing places, you have to dig deeper to find its true (or complete) nature.
While the excesses of Las Vegas defy most rules for civilization, the state's many ghost towns serve as stark reminders of its unforgiving landscape.
Visitors have the unique experience of enjoying one of today's most extravagant spectacles in the midst of yesteryear's abandoned dreams.
Give us feedback about this article
More visual stories related to this article:
---
---
Want to keep exploring?
Subscribe for discounts on tickets and hotels and our latest guides.
Thank you for subscribing
We will be in touch soon with discounts on tickets and hotels and our latest guides.
Want to keep exploring?
Subscribe for discounts on tickets and hotels and our latest guides.
Thank you for subscribing
We will be in touch soon with discounts on tickets and hotels and our latest guides.
Related Articles