Where to Stay in Lake Tahoe? 7 Best Places to Stay in Lake Tahoe
Destguides may receive commissions from purchases made through affiliate links in this article.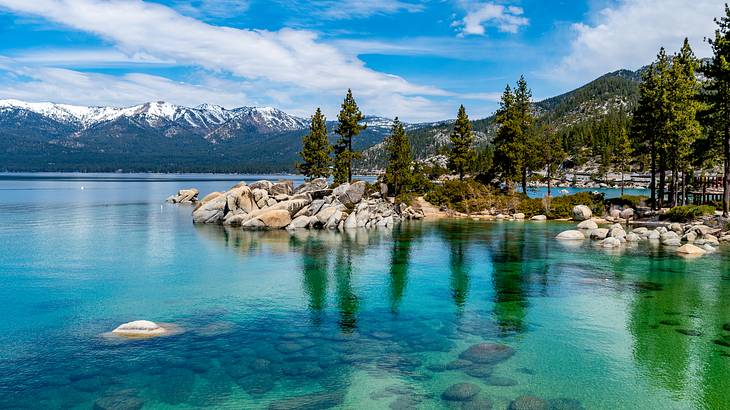 Lake Tahoe offers year-round appeal to residents and visitors alike. As the largest alpine lake in the U.S., it provides over 70 miles of shoreline and straddles the border between California and Nevada. Summers are sunny and warm, while winters bring abundant snowfall.
Conveniently located about two hours from Sacramento and only an hour from Reno, Lake Tahoe has several distinct areas. If you are planning a visit, you may be wondering where to stay in Lake Tahoe.
Those searching for skiing and snowboarding are typically drawn to the lake's northern sides, including Incline Village and Truckee. Summer seekers often head to the southern spots of South Lake Tahoe and Stateline, with plenty of outdoor and nighttime activities.
This post will describe what the different areas in Lake Tahoe offer, including the key attractions and other highlights. Read on to discover which of these iconic areas most appeals to you.
7 Best Places to Stay in Lake Tahoe
Best Areas to Stay in Lake Tahoe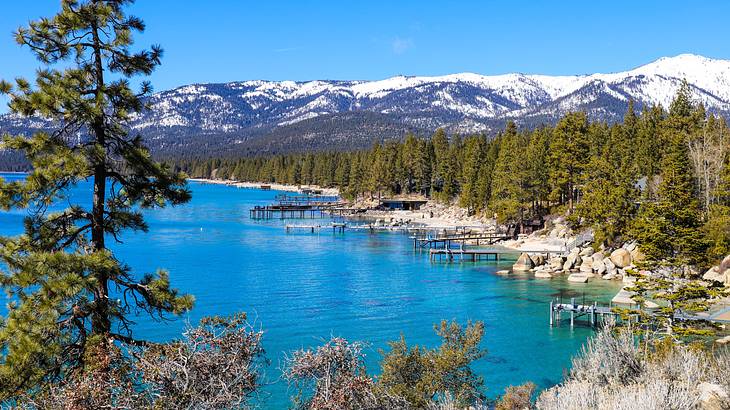 Incline Village
Incline Village is an upscale community in North Lake Tahoe in Nevada. An interesting Nevada fact relating to this area is that it's one of the largest towns surrounding the lake and the closest to Lake Tahoe State Park. The state park has incredible lake views, sunbathing and swimming opportunities in the summer, and access to the Sand Harbor Beach and boat launch. Burnt Cedar Beach is also in this area.
Avid skiers, snowboarders, and sledders will enjoy the perks of the Diamond Peak Ski Resort. The Flume Trail is a popular spot for bikers, with mountain bike rentals and trail run shuttles available. When you're ready to relax, Incline Village offers boutique shopping, casually elegant dining, and relaxing spas.
Incline Village is perfect for those seeking a luxury vacation spot within easy reach of fine dining and shopping, premier beaches, and ski slopes. Vacationers ready to splurge will find a mix of high-end resorts, lodges, and short-term rentals.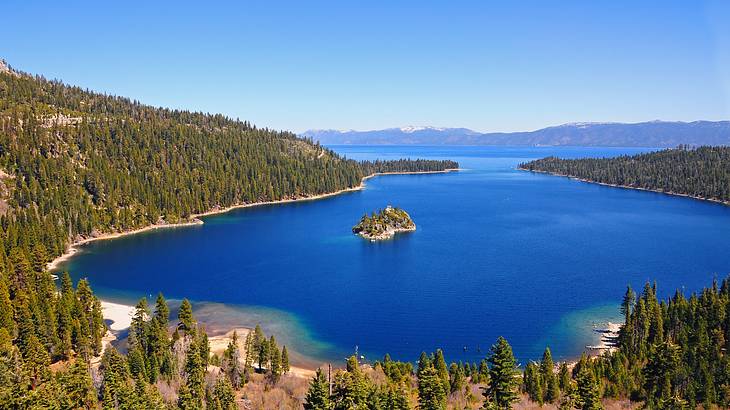 South Lake Tahoe
South Lake Tahoe is located on the lake's southeastern corner, right at the California border. This may be one of the top places to stay in Lake Tahoe, with its resort feel tucked between the second deepest US lake and the mountain range.
The Heavenly Ski Resort offers premier skiing in the winter, while summer goers should take advantage of the 2.4-mile gondola ride's incredible views of the Sierra Nevada. You could also plan a day at Emerald Bay State Park, just a few miles from the city. Alternatively, tour the Vikingsholm estate to see the stunning Scandinavian architecture or take the easy trail to the spectacular Lower Eagle Falls.
South Lake Tahoe offers a larger city feel with amenities of the nearby lake and mountains. This city is excellent for first-time visitors looking for a mix of dining, shopping, nightlife, and outdoor recreation. Accommodations range from luxury resorts and high-end hotels to affordable motels and cabins.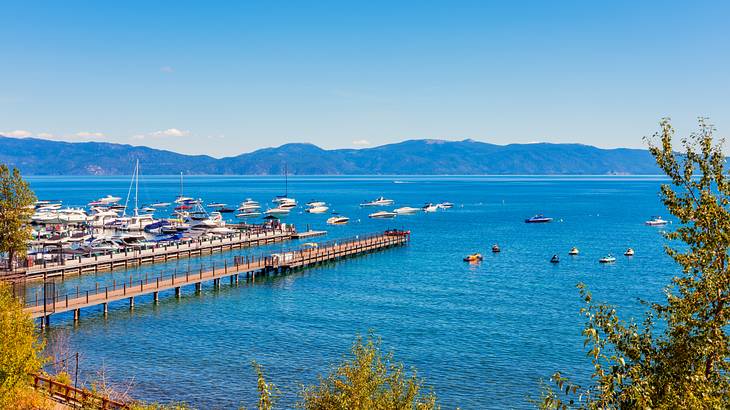 Tahoe City
Tahoe City is on the California side of the lake on the upper northwest shore. You will find a small-town feel with high walkability. Many lodges and hotels are near Downtown, the lake, and the Truckee River.
You can visit some museums in Tahoe City as well, including the interesting Gatekeeper's Museum. Additionally, the Granlibakken Tahoe provides skiers with downhill and backcountry options. After a day of activities, you can enjoy some of the best waterside dining in Tahoe City, whether you are looking for an elegant experience or a more casual evening out.
If you want a small-town community feel, Tahoe City is the best place to stay in Lake Tahoe. Active vacationers and families are also drawn to Tahoe City for its incredible access to the outdoors. Budgets of any size will find what they want here, including breathtaking resorts, cozy cabins, and intimate bed-and-breakfasts.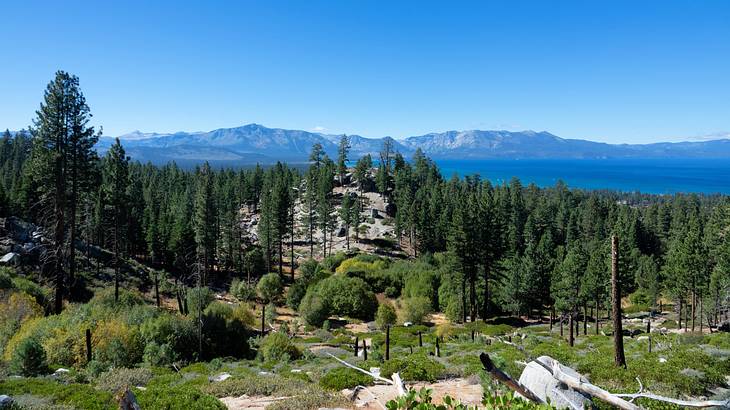 Stateline
Stateline, Nevada, is almost adjacent to the city of South Lake Tahoe at the southeastern corner of the lake. This town offers the most abundant nightlife in the region, including casinos, gambling, and shows.
Stateline has multiple casino resort lodging options with spas and scenic views. Various restaurants dot the area, ranging from elegant steakhouses to casual pubs.
When you're ready to head outdoors, the Rabe Meadows Trail runs an easy two miles along Burke Creek. Leash up your dog or take your bike to enjoy the beautiful views. The Edgewood Tahoe Resort will also thrill golfers with its championship course in the scenic mountains.
Head to Stateline if you want nighttime restaurants, gambling, and entertainment within easy reach of your Lake Tahoe vacation. Best of all, there is a range of accommodation options to suit any budget, whether you are looking for a modest hotel, vacation rental, or a luxury resort.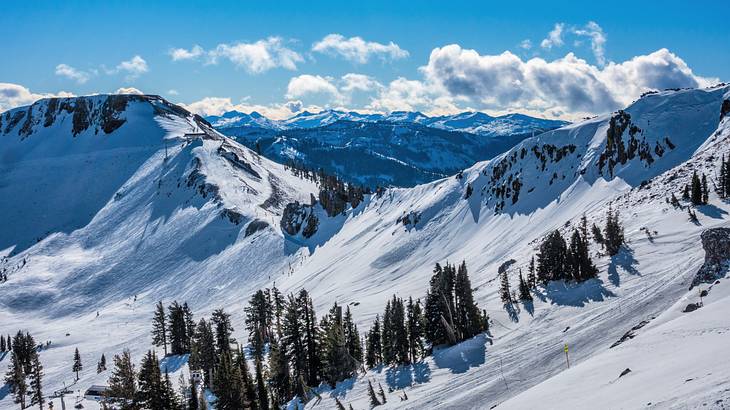 Olympic Valley
Olympic Valley is a premier destination located about eight miles northwest of the shores of Lake Tahoe. This is the second-largest ski area in Lake Tahoe and hosted the 1960 Winter Olympics.
Formerly known as Squaw Valley, Olympic Valley boasts the Pallisades Tahoe Resort. You'll find 3,600 acres of skiing across its mountain peaks. This resort, and many others in Olympic Valley, provide ski-in, ski-out access.
Take the Aerial Tram from the valley floor to check out the high camp where many Olympic competitions were held. After skiing or hiking, head to one of the many bars, restaurants, or shops in the Village at Pallisades Tahoe.
Olympic Valley is where to stay when visiting Lake Tahoe if you want immediate access to outdoor recreation without being on the lake. Affordable hotel options are available here, but you'll need to spend more if you want immediate ski access.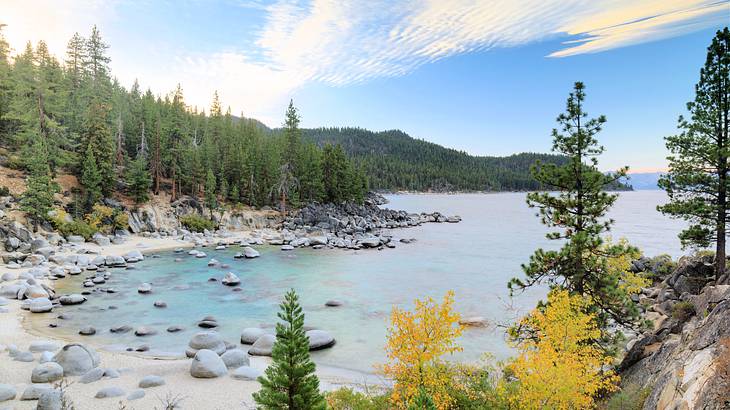 Carson City
Carson City, the capital city of Nevada, is conveniently located about 20 miles east of Lake Tahoe at the foot of the mountain range. You'll also find a good amount of attractions and things to do here.
History buffs will be drawn to the Kit Carson Trail in the historic district, which features nearly 50 Nevada landmarks dating back to the 1860s. Golfers will find many choices with the Divine 9 Golf Courses designed by top pros. You could also hike along the Kings Canyon Waterfalls Trail or relax and soak in the Carson Hot Springs.
Multiple lodging options can be found here, ranging from luxury resort casinos to budget-friendly hotels. History buffs and families will find plenty to occupy them in Carson City. This is also the perfect spot for those looking for affordable accommodations and a variety of dining options.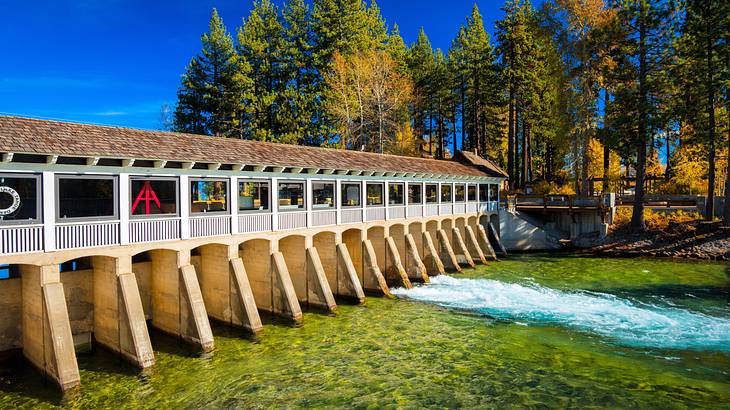 Truckee
Truckee, California, is northwest of Lake Tahoe in the high Northern Sierras. Many ski resorts, including one of the country's largest cross-country ski resorts, Royal Gorge Cross-Country Ski Resort, are nearby. Originally a mining town, Truckee is also close to the historically significant California landmarks Donner Pass, and Donner Memorial State Park.
Situated along the namesake Truckee River, kayakers and rafters enjoy the rapids during the summer. The Boca Dam and Reservoir offer premier trout and salmon fishing, while rock-climbing enthusiasts will find a variety of spaces to explore.
You can additionally stroll the historic, Old-Western downtown area to browse art galleries, pick up a souvenir, or relax with a craft beer. Truckee is the best area to stay in Lake Tahoe If you're looking for a smaller town with fewer crowds and easy access to the river and skiing. You'll find budget and luxury hotels within reach, along with vacation rentals too. A few campgrounds are also in the area.
Where to Stay in Lake Tahoe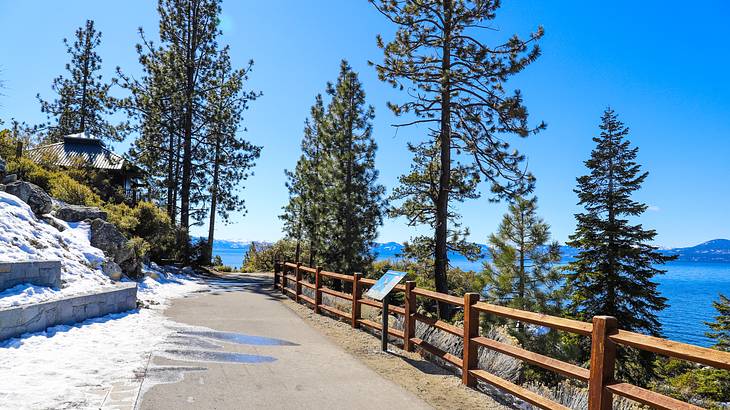 Where to stay in Lake Tahoe in winter?
If you're headed to Lake Tahoe during the winter, check out the northern part of the lake for optimal snowfall. Incline Village is near Diamond Peak, a popular option for skiers and snowboarders. This is an especially great option if you want to spend more on a truly luxurious vacation.
Olympic Valley is perfect for those who want to maximize their time outdoor time by going straight out of their resort rooms and onto the slopes. Alternatively, Truckee provides a small-town mountain feel with fewer crowds than you might see closer to the lake. Truckee is within range of seven world-class ski resorts, so you can pick your favorite or try them all.
Where to stay in Lake Tahoe in summer?
The best places to stay in Lake Tahoe in the summer are on the south side. South Lake Tahoe is near the beautiful Emerald Bay State Park, a haven for swimmers, kayakers, and boaters.
You can find hiking and biking trails, scenic vistas, and tourist attractions here too. The waters in the park are perfect for snorkelers and scuba divers, who can check out historic sunken watercraft below the surface!
Stateline across the border in Nevada is the best part of Lake Tahoe to stay in if you enjoy nighttime entertainment. If you are drawn to river rafting or rock climbing, staying in Truckee would be your best bet. You'll be close to the mountains, the river, and the lake to take advantage of hiking trails and water activities.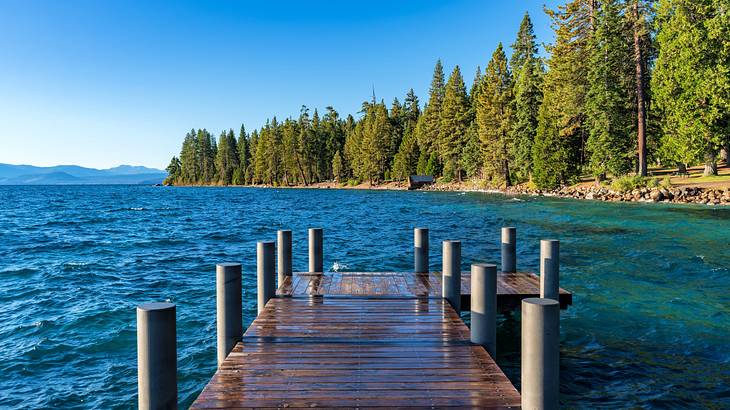 Where to stay in Lake Tahoe for cheap?
South Lake Tahoe should be your first choice if you're looking for more affordable options. Accommodations here range from high-end resorts and lodges to chain and low-budget hotels. Relatively affordable rental housing is also readily available. Visitors will find a variety of casual eateries to choose from, along with grocery stores if you'd rather prepare your own meals.
Carson City is another excellent choice. It's a larger city, set away from Lake Tahoe, so you'll also discover a wide range of accommodations here. There are typically fewer vacationers in this area, meaning hotel and rental prices are typically lower than you'll find closer to the lake itself. Carson City has enough restaurant, dining, and grocery options to fit any vacationer's budget.
Where to stay in Lake Tahoe with family?
Families headed to Lake Tahoe have a variety of options to choose from. If you're looking for a small-town feel, head to Tahoe City. It offers a winter sports park with cross-country skiing, a skating rink, snowshoeing, and sledding.
Kids will also enjoy Tahoe Treetop Adventure Parks, where they can safely clamber on rope swings, suspension bridges, cargo nets, and climbing walls.
Carson City is one of the best places to stay on Lake Tahoe if you prefer fewer crowds and more affordable accommodations. It's home to Washoe Lake State Park if you are interested in water sports, fishing, hiking, or horseback riding. Additionally, the Children's Museum of Northern Nevada has interactive exhibits, play areas, and a STEM room.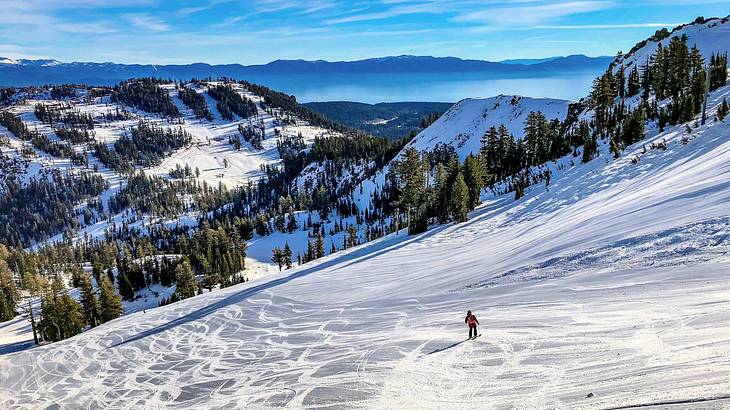 Where to stay in Lake Tahoe for skiing?
Skiers should stick to places on the northern side of the lake, like Olympic Valley, for the best snowfall and longest ski seasons. A fun California fact relating to Olympic Valley is that it was host to the 1960 Olympics! It's also the second-largest ski area in the Lake Tahoe region, making it the ideal place for a skiing vacation. You can take your pick of resorts that offer ski-in and out facilities.
Truckee is another excellent option, given its proximity to seven premier skiing resorts. Spend the day on the slopes, then head to historic Downtown Truckee for a bite. If you want luxury, plan your getaway to Incline Village. This exclusive community is close to the premier Diamond Peak Ski Resort.
Where to stay in Lake Tahoe for beaches?
Incline Village is a top choice for beach lovers near Lake Tahoe. Nearby Kings Beach is one of the largest in the state, with a beautiful shoreline, a playground, and barbecue spots. You can also walk to one of the many shops, restaurants, and hotels nearby. Or take in the picturesque coves and rock formations as you stroll the boardwalk.
Sand Harbor offers one of the best beaches on the lake. Its 55 acres host a visitor center, picnic tables, swimming areas, and a boat launch. You'll find sunny and shady spots to lay down your towels. The clear blue waters of the cove in Sand Harbor are a must-visit if you are SCUBA certified.
South Lake Tahoe is another best place to stay at Lake Tahoe in summer, with its close proximity to the beautiful Emerald Bay State Park.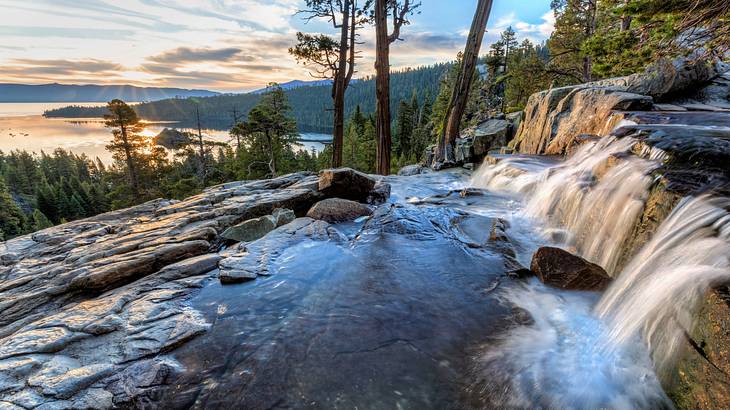 Where to stay in Lake Tahoe for camping?
Campers can't go wrong if they're planning a trip to Lake Tahoe. You will need to make reservations for most sites, so plan accordingly.
South Lake Tahoe is home to larger campgrounds, especially if you need family-friendly amenities. Emerald Bay State Park includes the Eagle Point Campground for RVs, trailers, and tents. The state park also has a boat-in campground. Sugar Pine Point State Park also has camping sites on reserve.
If you would prefer a low-key setting with fewer neighbors, check out Tahoe City. The Tahoe State Recreation Area offers lakeside spots with access to a pier and hiking trails. If you'd like even more seclusion, head to the Lake Forest Campground, about a half-mile inland.
In Summary
Whether you are looking for a small-town resort vibe, a vibrant nightlife, or a destination with historical significance, you'll find it in Lake Tahoe. The northern areas of Incline Village, Olympic Valley, and Truckee appeal to winter vacationers who prefer immediate access to recreation.
Carson City suits those seeking relief from the crowds with affordable accommodations, dining, and a variety of recreation. Stateline and South Lake Tahoe tend to draw in visitors who enjoy a mix of the outdoors and vibrant nightlife. No matter your preference, you will surely enjoy a vacation to Lake Tahoe!
Give us feedback about this article
Read more articles about the United States:
More articles about places to stay:
---
---
Want to keep exploring?
Subscribe for discounts on tickets and hotels and our latest guides.
Thank you for subscribing
We will be in touch soon with discounts on tickets and hotels and our latest guides.
Want to keep exploring?
Subscribe for discounts on tickets and hotels and our latest guides.
Thank you for subscribing
We will be in touch soon with discounts on tickets and hotels and our latest guides.
Related Articles