30 Best Fun Things to Do in Bend, Oregon
Destguides may receive commissions from purchases made through affiliate links in this article.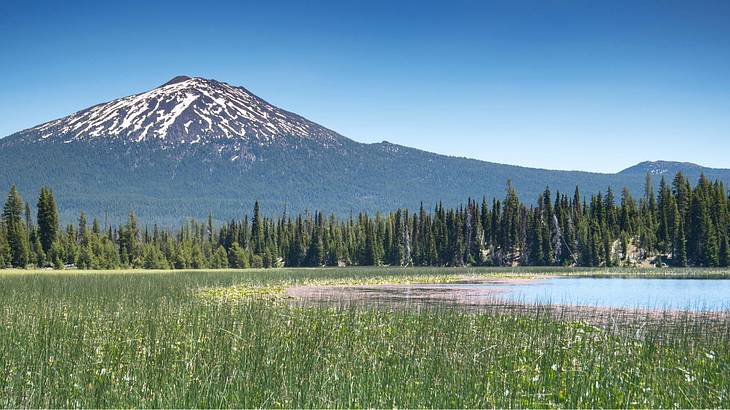 The city of Bend manages to feel both comfortable and rugged at the same time, with its modern-yet-historic charm making it one of the fastest-growing cities in the West.
Bend is situated at the edge of the high desert, just where it runs into old-growth forests and towering volcanic peaks. This makes Bend an ideal starting point for the adventures that each of these features invites, and a zeal for the outdoors is pervasive among the city's residents.
If this sounds like a place you'd like to visit, read on for 30 fun things to do in Bend, Oregon!
30 Best Things to Do in Bend, Oregon
Grab a craft beer at Bend Brewing Company
Bend is a city that loves craft beer and has the highest number of breweries per capita in the state of Oregon.
One of the oldest and best of these is Bend Brewing Company. Its beautiful setting along the Deschutes River is a great place to order pints or flights from its expansive tap list.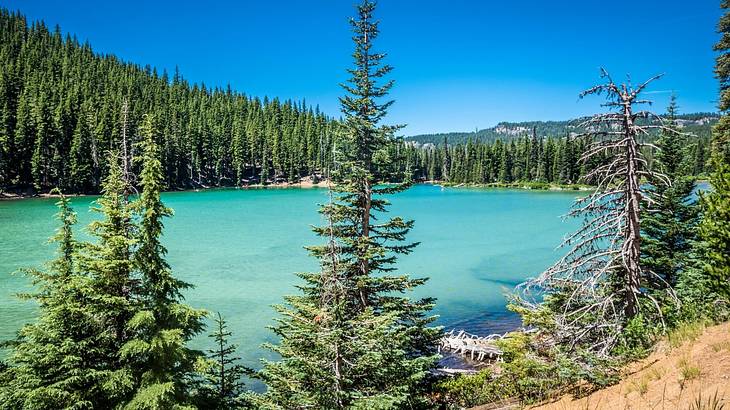 Take a drive along Cascade Lakes National Scenic Byway
The Cascade mountain range extends from Northern California all the way through Oregon, Washington, and across the border into Canada.
Perhaps the most impressive section, though, is along the sixty-six-mile drive through central Oregon. It offers spectacular views of the surrounding 10,000-foot peaks, with pull-off access to alpine lakes that will beg you to stop the car and go exploring.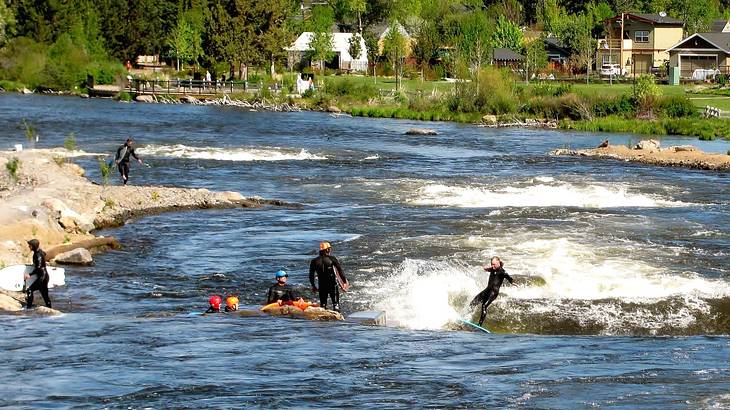 Enjoy river sports at Bend Whitewater Park
Surfing is one of the top Bend attractions despite being over one hundred miles inland from the Pacific Ocean.
At Bend Whitewater Park, surfers and kayakers can ride the standing wave that's been engineered in the Deschutes River, where it cuts through town. For a more relaxed option, another section of the river is devoted to tubing and floating.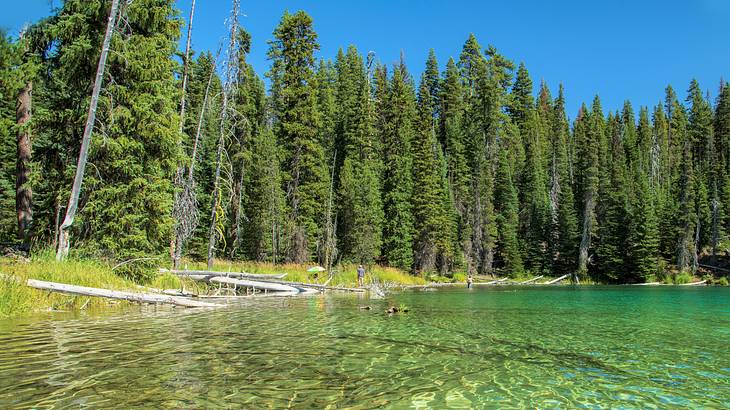 Take a hike in Deschutes National Forest
Bend sits in Oregon's high desert but is almost completely surrounded by national forests. The closest is Deschutes National Forest, covering a sprawling 1.6 million acres to its west and south.
Its old-growth forests, lava fields, and glacier-fed lakes are popular destinations for hikers, campers, and nature enthusiasts in Bend.
Become a "Bendite" in Downtown Bend
When the city at the "Bend" of the Deschutes River was incorporated in 1904, it consisted of a bank, a post office, an inn, and about 300 residents.
Today, Downtown Bend is the thriving cultural hub of Central Oregon. It's packed with breweries, bookstores, and boutiques, and building ordinances ensure that it stays true to its small-town, old west roots.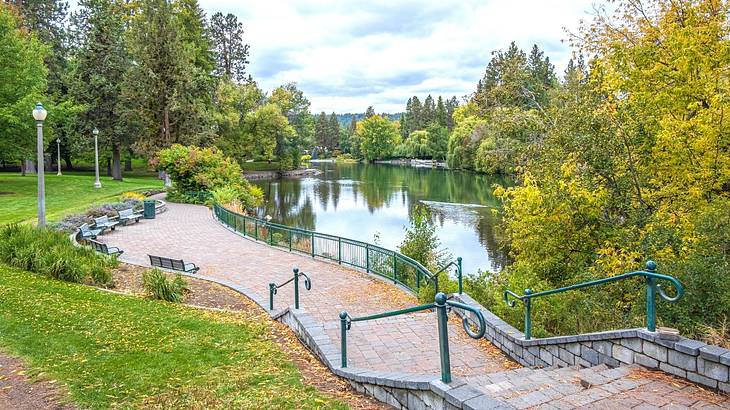 Take a break in Drake Park
This park is central to Bend, both in geographical terms and in its commitment to outdoor enjoyment. It backs up to the downtown shops, letting people take a nature break among its towering Ponderosa pines.
It covers about thirteen acres, with much of it open space and walking paths along the shoreline of Mirror Pond.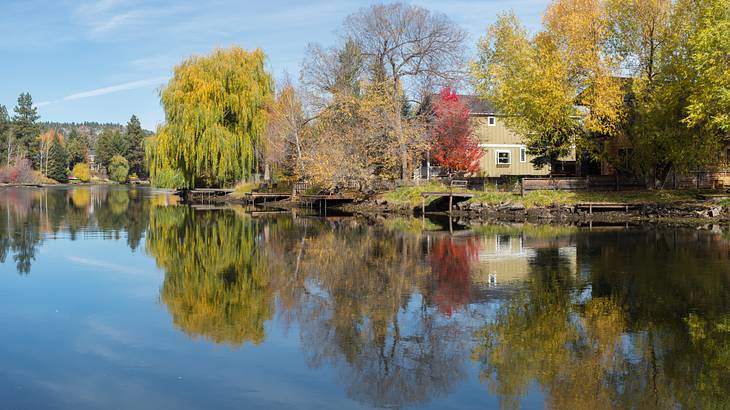 Go paddling or fishing in Mirror Pond
Created by Bend Hydro Dam, Mirror Pond is the standout feature of Drake Park, and heading here is one of the top things to do in Bend, Oregon. It's great for a lazy trip on a paddleboat or for trying to snag some Rainbow Trout from its deeps.
Learn about the region at the High Desert Museum
The High Desert Museum on the south side of Bend is an incredible project that promotes the preservation of regional wildlife and the acknowledgment of the indigenous land it sits on.
Its outdoor habitats include rescued otters, raptors, and other high-desert creatures, while its indoor exhibits largely educate about the Confederated Tribes of Warm Springs, who were the historical stewards of the plateau.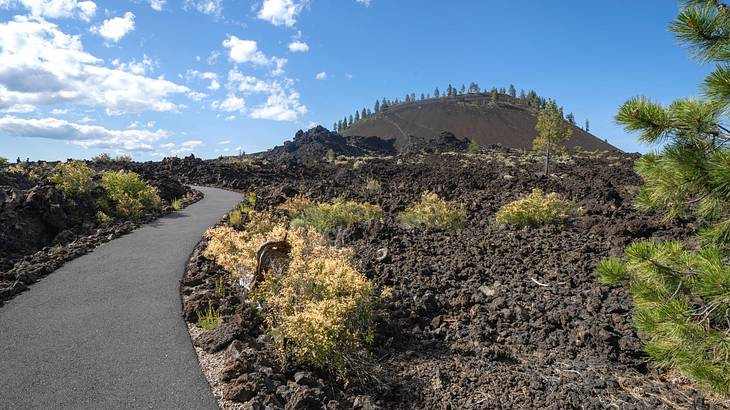 Feel small in Newberry National Volcanic Monument
Found in the massive Deschutes National Forest, the Newberry National Volcanic Monument is a mind-bending tribute to the region's fiery past. Lava fields, alpine lakes, volcanic buttes, and the Newberry Caldera can all be seen from its highest point, Paulina Peak.
More forebodingly, the Newberry Volcano itself still sits actively beneath this landscape, with its 1,200 square mile breadth roughly equaling the size of Rhode Island.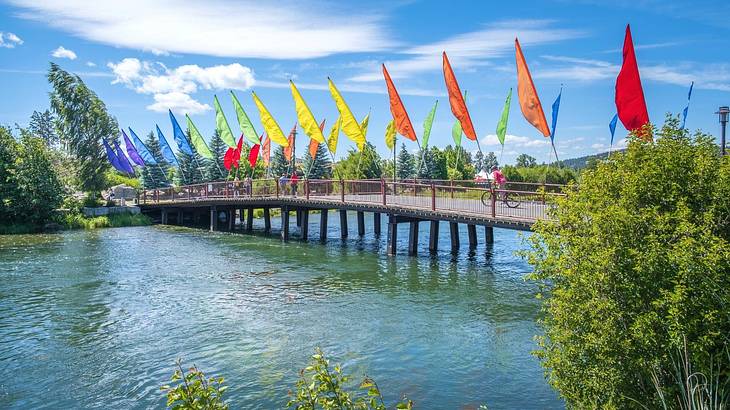 Shop in the Old Mill District
Like many towns and cities in the twenty-first century, Bend has had to walk the line between modernizing and maintaining its ties to the past.
The lumber mills have mostly moved away, but the Old Mill District that used to house them remains as a focal point of Bend's new "outdoor chic" evolution. Restaurants, shops, and an REI now fill the space beneath the mill's still-standing smokestacks.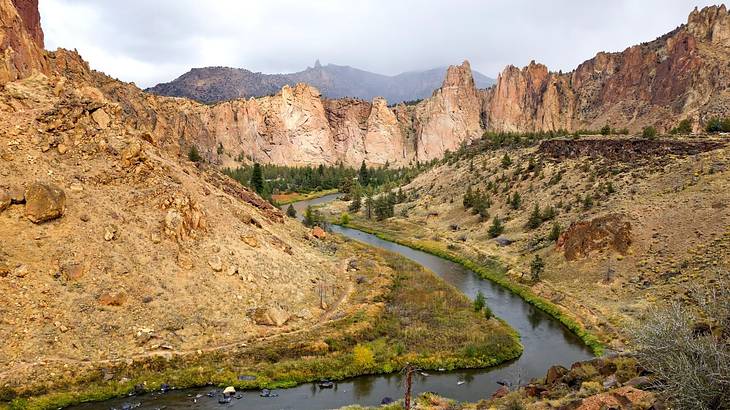 Climb at Smith Rock State Park
Smith Rock State Park in nearby Terrebonne is one of the most popular things to do around Bend, Oregon. It is also one of the famous landmarks in Oregon.
The dubiously named Misery Ridge Trail will take hikers through thinning air to the top of the desert monolith. From here, you can simply enjoy the views or take advantage of over a thousand bolted rock climbing routes.
Go off-grid in Oregon Badlands Wilderness
If it's open spaces you're after, you'll love Oregon Badlands Wilderness. This public land is seen to by the Bureau of Land Management and allows for free dispersed camping (camping outside of established campgrounds) for up to two weeks.
Its rugged landscape of desert brush and lava rock is riddled with hiking trails, and the isolation would make for a relaxing weekend of stargazing.
Get 360-degree views at Pilot Butte State Scenic Viewpoint
An old cinder cone called Pilot Butte rises from the Earth just east of downtown Bend, offering a panorama of the surrounding high desert.
All roads and hiking paths lead to the summit, with rewarding views of the Cascade range. The Three Sisters (North, South, and Middle), Broken Top, Mt. Hood, and Mt. Jefferson are all visible from here on the many clear days enjoyed in the desert city.
Climb Tumalo Mountain
In a land of towering, glaciated volcanos, Tumalo Mountain provides a great summit opportunity without technical equipment.
From the trailhead off of Cascade Lakes Scenic Byway, you'll hike two miles and ascend from 6,375 feet to 7,755 feet. From the peak, you'll have up-close views of Mt Bachelor (9,068 feet), Broken Top (9,177 feet), and South Sister (10,358 feet).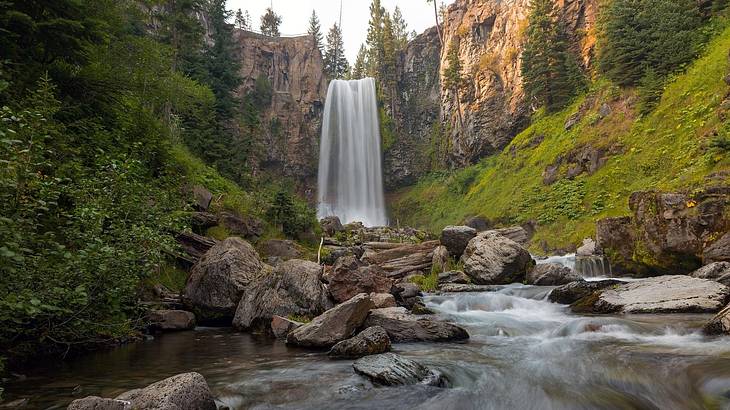 Hike to Tumalo Falls
For an even less intense hike in the region, taking the trail to the thundering ninety-seven-foot Tumalo Falls is one of the top activities to do in Bend, Oregon.
The 6.5-mile out-and-back trail to the falls viewpoint is open all seasons, with the trek or snowshoeing adventure taking approximately three hours.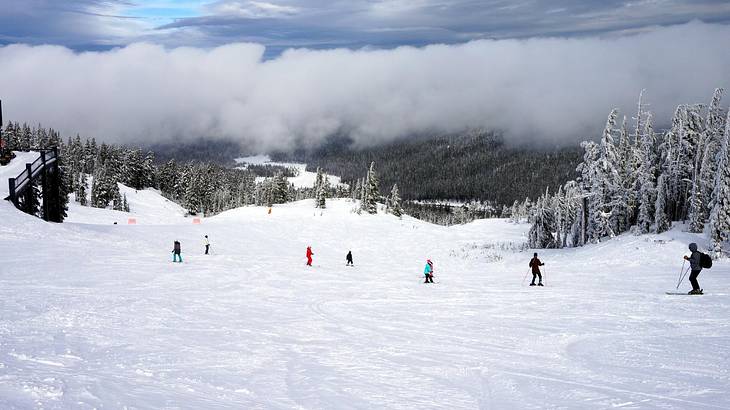 Hit the slopes at Mt. Bachelor
Just outside of Bend, Mt. Bachelor offers world-class slopes with over a hundred unique runs for skiing and snowboarding. It's the sixth-largest ski resort in North America and the only one to have 360 degrees of runs from its nearly 10,000-foot summit.
Snow tubing and cross-country skiing are also popular ways to enjoy the mountain, with special areas for the former and groomed trails for the latter.
Take a snowshoeing and bonfire tour
Residents of Bend appreciate each of its four distinct seasons, making a pair of snowshoes nearly required equipment for staying active during the cold, snowy winter.
If you're visiting, this guided snowshoeing and bonfire tour is a great introduction, with a much-appreciated fire in the woods to warm you up at the end.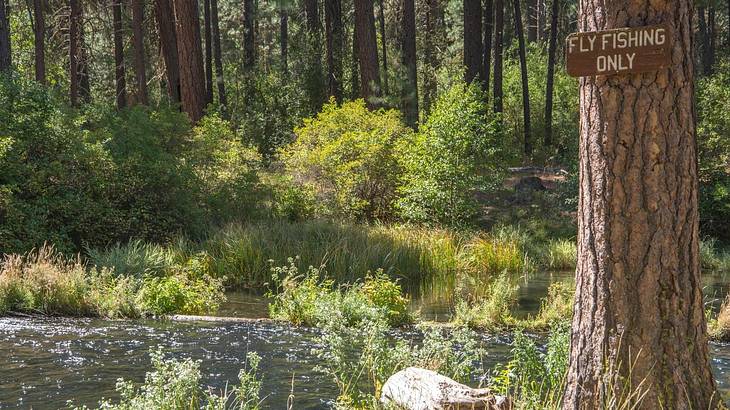 Go fly fishing
Bend has been rated one of the top ten fly fishing towns in the United States, with the Deschutes River alone offering 252 miles of fishable water. The bubbling, spring-fed streams, and rivers of the region are full of rainbow and bull trout, making this an angler's dream.
Go mountain biking
With all of the surrounding peaks, it should come as no surprise that mountain biking is one of the top Bend, Oregon activities.
There are over 900 miles of mountain biking trails in Central Oregon, so you're sure to find something that fits your experience and comfort levels.
Eat, drink, and be merry at Munch & Music
Munch & Music at the Drake Park amphitheater brings together food trucks, craft beer, and live music each Thursday during the summer.
The concerts are all free, with a variety of performances from about 5:30 until 9:00 pm. When it's over, downtown Bend is just a hop, skip, and jump away.
Go on a Whitewater Rafting tour
The rapids of the Deschutes River provide adventure-minded travelers with a memorable whitewater rafting half-day tour.
When you're not negotiating the cascading river, keep your eyes peeled for osprey, bald eagles, and the distinct "stepping stones" of basalt rock formations through the deep canyons.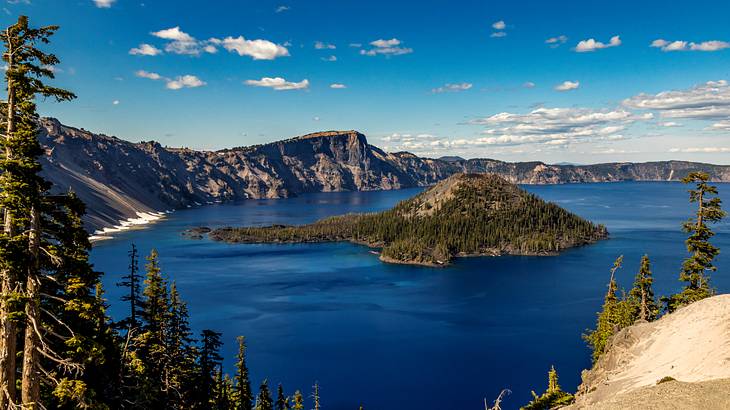 Take a day trip to Crater Lake National Park
Crater Lake National Park is consistently ranked as one of the best National Parks of the West Coast. It's simultaneously the deepest lake in America and one of the highest, with the caldera being fed by an average snowfall of forty-three feet per year.
This famous national park in Oregon is about two hours to the south of Bend, making it a feasible day trip.
Get inspired at BendFilm Festival
The BendFilm Festival is a small but growing celebration of independent movie-making. If you're an amateur or aspiring filmmaker, it's a great way to get exposure for your projects.
If you're a movie enthusiast who appreciates both feature-length and short films, this festival is one of the best places to visit in Bend, Oregon.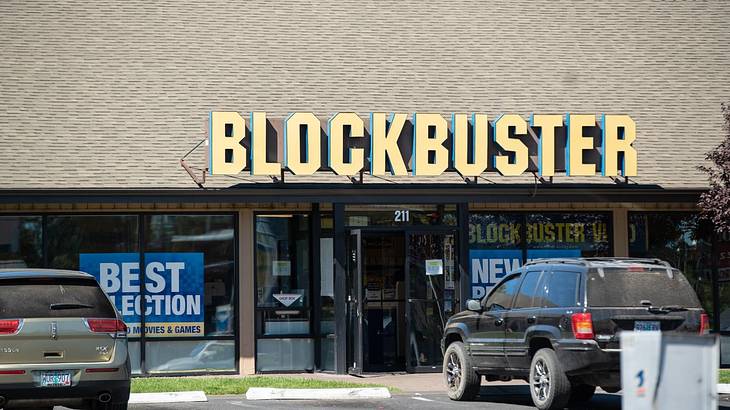 Rent a movie from "The Last Blockbuster"
Before gaining fame from the Netflix documentary (the irony!), the last Blockbuster on Earth had to get creative to remain open.
At one point, they rented the store out as an Airbnb full of movies for just $4, giving new meaning to the term "Blockbuster rental." The store still offers rentals but now survives mostly on merchandise and 90s nostalgia.
Cowboy up at Sisters Rodeo
While Bend is typically seen as a modern cultural center in the region, the signs of its old west origins are all around.
One such sign is the annual "Biggest Little Show in the World" in the nearby town of Sisters. Stop by during the second week of June for a parade, beauty pageant, and an impressive display of cowboying.
Take a riverside horse ride
Horses were the main mode of transportation in Bend not that long ago, and today visitors can get a feel for this history on a half-day Deschutes River Horse Ride tour.
No prior horseback riding experience is necessary for this scenic saunter along the river towards Aspen Meadow.
Visit the Sunriver Nature Center and Observatory
Nearby Sunriver Nature Center and Observatory is a wonderful place to visit. It is one of the best things to do in Bend, Oregon, with kids.
They rescue and rehabilitate local animals, have nature trails and a botanical garden to wander through, and an observatory complete with a planetarium. Their passion for both the region's wildlife and its night skies is contagious.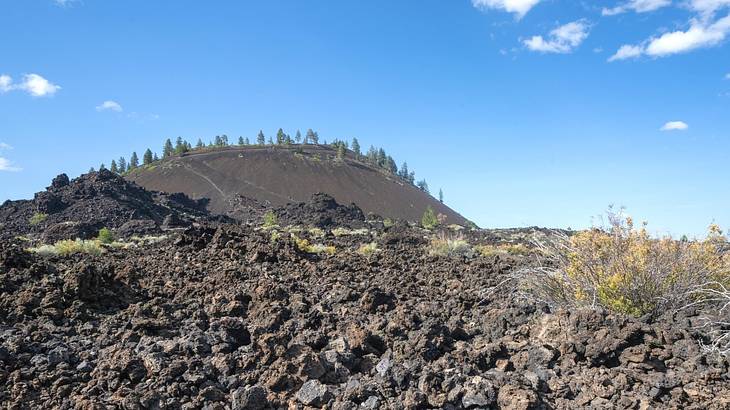 Learn violent geology at Lava Butte
The eruptions that formed Lava Butte to the south of Bend 7,000 years ago would have been terrifying to behold, with mounds emerging from the Earth in every direction to spew lava and ash at unfortunate onlookers.
The lava field at the base of Lava Butte has an interpretive trail that's open year-round for visitors to visualize the often terrifying geology of the region.
Play pickleball
Pickleball has quietly taken the world of recreation by storm, being named one of the fastest-growing sports in America since 2020. It's kind of like tennis but merged with ping pong and played on a badminton-sized court.
Bend has fully embraced this emerging sport, with Pickleball Zone and other courts popping up in the town's parks.
Visit raptors at Eagle Watch
The high desert provides an ideal environment for birds of prey who make their roosts in the tops of Ponderosa pines and utility poles along the highways.
For a closer look at these raptors, Eagle Watch is an annual event in nearby Redmond with golden eagles, great horned owls, and other species whose habitats they work to preserve.
Conclusion
Bend and its surroundings offer a near-perfect balance between feeling the pulse of society and unplugging entirely.
The rugged individualists who arrived by covered wagon have given way to Millennials in camper vans, but the spirit remains the same.
The 30 Bend activities on this list demonstrate that mindset and the desire for something more in a city than just a place to live and work.
Give us feedback about this article
Learn more about Bend:
More articles about Oregon:
Read more articles about the United States:
More articles about things to do:
More visual stories related to this article:
---
---
Want to keep exploring?
Subscribe for discounts on tickets and hotels and our latest guides.
Thank you for subscribing
We will be in touch soon with discounts on tickets and hotels and our latest guides.
Want to keep exploring?
Subscribe for discounts on tickets and hotels and our latest guides.
Thank you for subscribing
We will be in touch soon with discounts on tickets and hotels and our latest guides.
Related Articles