35 Fun Date Ideas in Pittsburgh, PA
Destguides may receive commissions from purchases made through affiliate links in this article.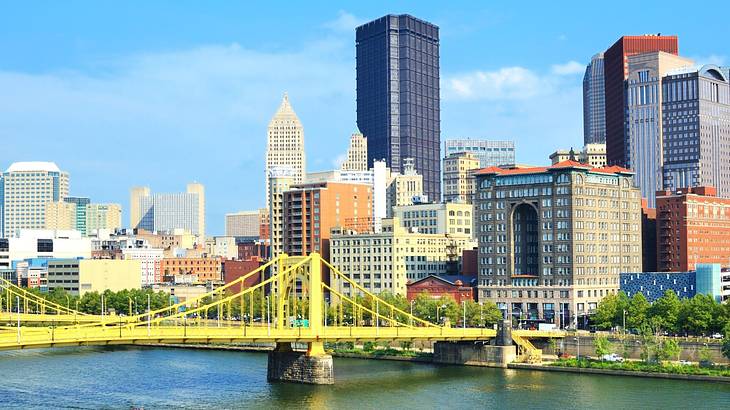 Pittsburgh is an exciting and unique destination found in Pennsylvania, United States. The bustling city offers something for everyone, with attractions ranging from parks to museums and top restaurants.
You can also find many fun date ideas in Pittsburgh, PA, to try. Things for couples to do include visiting trendy bars, watching local sports teams, and exploring parks. No matter what you and your other half like to do, there's a great date idea for you to enjoy in the Steel City!
35 Fun Pittsburgh Date Ideas
Fun Dates in Pittsburgh, PA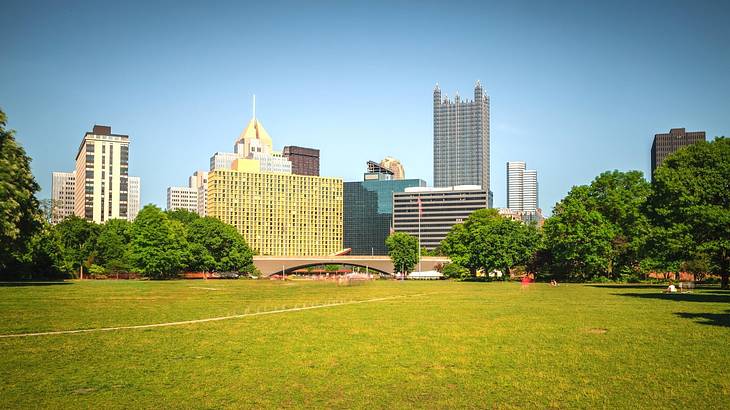 Hang out at Point State Park
If you're after a laid-back date idea, spending some time at Point State Park is recommended. The 36-acre park in downtown Pittsburgh includes walking and biking trails, lots of green space, and views of the Allegheny and Monongahela rivers.
Point State Park is the ideal place to chat with your other half as you follow a trail or relax on the grass. You can also access the Three Rivers Heritage Trail from here.
Learn something new at Carnegie Science Center
Carnegie Science Center is a fascinating attraction with exhibits on an array of scientific topics. Exhibits range from those on space and robotics to displays on the human body and much more.
The museum also hosts adult evenings where the Science Center stays open late for over 18s only.
Discover iconic artworks at the Andy Warhol Museum
Going to the Andy Warhol Museum, located on the North Shore, is one of the best Pittsburgh date ideas for art lovers. The iconic pop artist was born in Pittsburgh, and this gallery pays homage to his works and achievements.
As you explore, you get to view numerous art pieces and will also learn more about Warhol.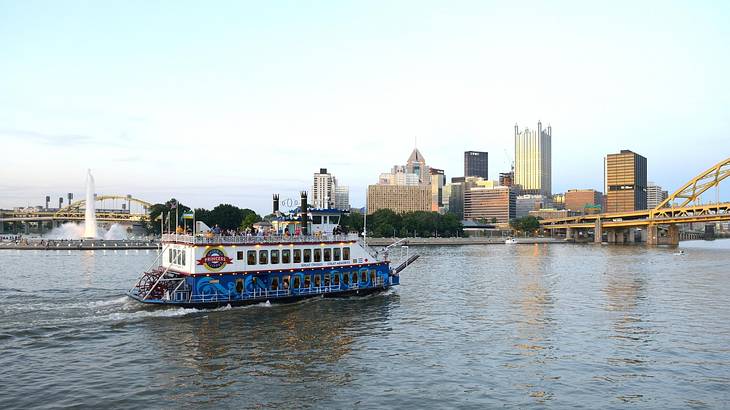 Go on a Gateway Clipper Fleet cruise
Getting out on the water will offer you and your date great views of the city. If interested in doing so, one of the fun things to do in Pittsburgh for couples is going on a Gateway Clipper Fleet cruise.
Once aboard the iconic Pittsburgh riverboat, you'll sail past various famous Pennsylvania landmarks. You can also choose from a selection of cruises, including a sightseeing cruise or dinner cruise.
Work together to get out of Escape Room Pittsburgh
What better way to bond than working together to get out of an escape room? At Escape Room Pittsburgh, you and your date can choose from multiple escape challenges.
Options include an Egyptian tomb-themed room and a diamond heist challenge. No matter which room you choose, you and your loved one are sure to have a great time completing your escape game!
Wander along the Three Rivers Heritage Trail
Pittsburgh's Three Rivers Heritage Trail is a scenic rail-trail that runs down the city's riverbanks for 33 miles. No matter what part of the trail you join on, you and your date will get to enjoy stunning views of Pittsburgh as you wander along it.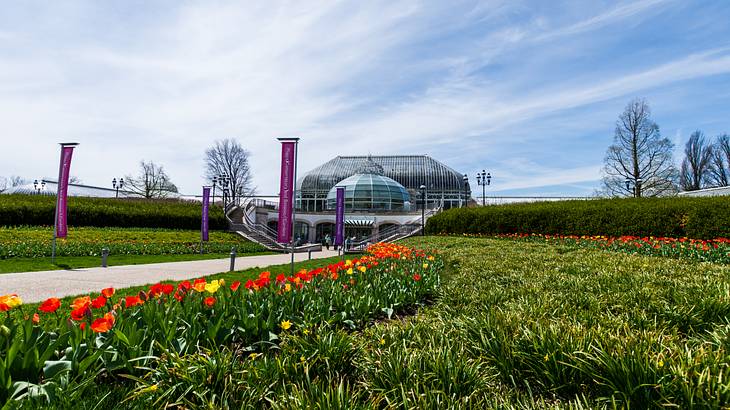 See floral displays at Phipps Conservatory & Botanical Gardens
A trip to Phipps Conservatory and Botanical Gardens can't be missed! The array of stunning floral and plant displays makes it a romantic place to take your date.
At the botanical gardens, you can wander around indoor and outdoor areas featuring plants from across the world. Taking pictures together here is also recommended as the vibrant flowers make for a pretty backdrop.
Hang out at Allegheny Commons Park
Another great park to visit is Allegheny Commons Park. Opened in 1867, this Pittsburgh landmark is the oldest park in the city. At the park, you and your other half can walk scenic trails and relax next to charming ponds. There are also fun events held frequently at the park, like outdoor yoga sessions, that you can attend together.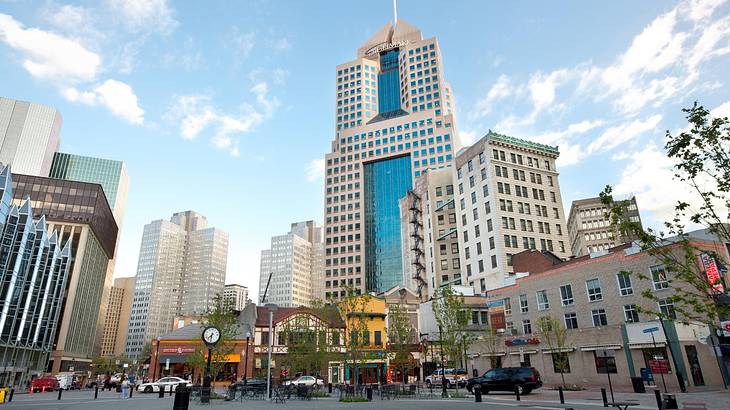 Relax at a yoga class
One of the fun outdoor things to do in Pittsburgh with your date is taking a yoga class. Between May and October, you can attend a free yoga session in Market Square. This activity is the ideal way to relax and unwind.
Visit the Carnegie Museum of Natural History
Do you both like going to museums? Then one of the fun things to do for couples in Pittsburgh that will appeal to you is taking a trip to the Carnegie Museum of Natural History. This educational museum features exhibits on paleontology, wildlife, and ancient Egypt, among many other topics.
Laugh the night away at Arcade Comedy Club
Arcade Comedy Club, or Arcade Comedy Theater, is a popular venue in Pittsburgh. The comedy club hosts various shows, including improv performances, stand-up nights, and sets by famous comedians.
A date night at Arcade Comedy Club is sure to please any couple. If you want, you can even take comedy classes here too!
Pay a visit to the charming Schenley Park
Schenley Park is a beautiful park complete with hiking trails, flower gardens, water features, and more. It's a perfect place to spend some time with your date while enjoying the surroundings. There may be events while you're in the park too, like the weekly farmer's market.
Take a class at Pittsburgh Glass Center
Taking a class at the Pittsburgh Glass Center is one of the Date ideas in Pittsburgh, PA, that's perfect for crafty couples.
You and your date can choose from multiple glass art classes, like those that teach you how to make wine stoppers, bowls, or ornaments. This activity offers a great way to learn a new skill together and create a date night souvenir.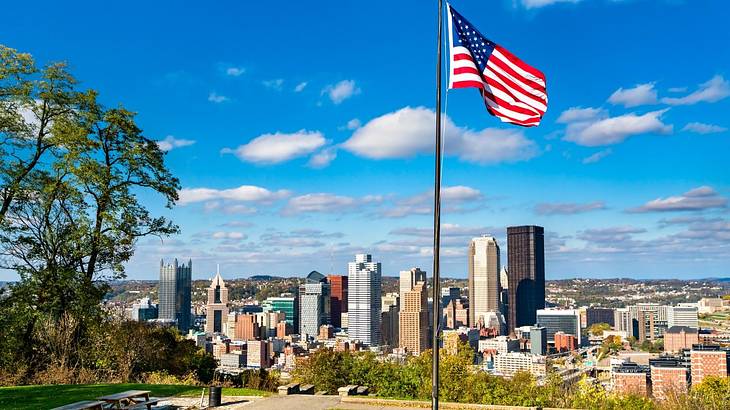 Admire the views from Emerald View Park
One of the many Romantic spots in Pittsburgh is Emerald View Park. This park features an observation deck that provides stunning views of the skyline. Visiting the lookout just before sunset allows you and your date to watch as the sun goes down over the city.
Attend a performance in the Pittsburgh Cultural District
The Pittsburgh Cultural District is an area of the city housing museums, theaters, and other cultural landmarks. A fun date night in Pittsburgh idea to try here is going to a Pittsburgh Symphony Orchestra performance.
This renowned orchestra plays at Heinz Hall, and there are many types of shows to choose from. Even if you aren't the biggest classical music fan, seeing the orchestra perform is sure to impress.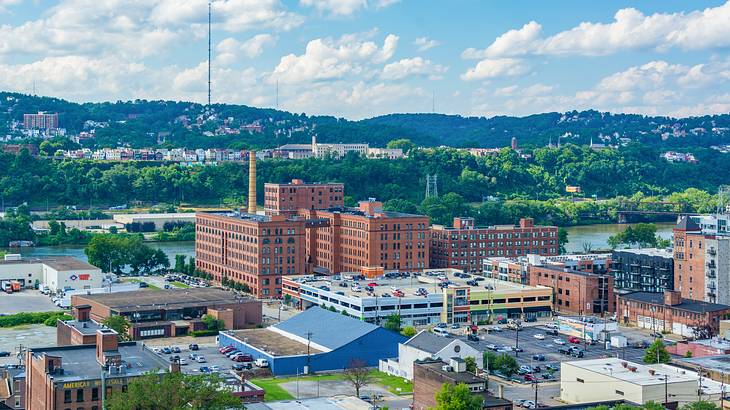 Bar hop in the Strip District
The strip district is a trendy area of Pittsburgh filled with independent shops, unique eateries, and great bars. A cute date idea in the Strip District is grabbing a drink at a few of the many bars in the area.
Popular spots include Bar Marco, Cioppino Restaurant and Cigar Bar, and Pennsylvania Market.
Stargaze at the Allegheny Observatory
An interesting place for a unique date is the Allegheny Observatory. Despite being a research facility, the public can take tours and learn about astronomy. You and your partner can also use some of the observatory's telescopes. Looking up into the galaxies at stars and planets is both educational and romantic!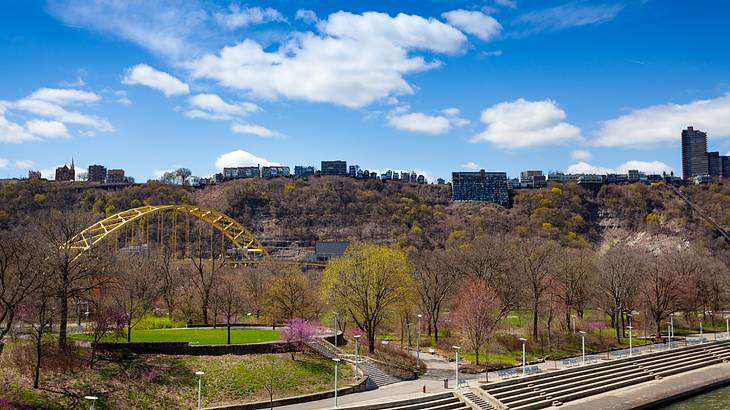 Go on a Pittsburgh sightseeing tour
One of the fun things to do for couples in Pittsburgh that are visiting the city is going on a sightseeing tour. Your guide will take you to all of the city's top attractions. These include Mount Washington and the Duquesne Incline, Heinz Field, and PPG Place.
Drink your way around Pittsburgh on a whiskey tour
If you want to learn more about the Steel City, one of the fun things to do for couples in Pittsburgh is going on a whiskey walking tour. This experience is a sightseeing tour with a twist!
Your guide will take you to various famous places with links to the liquor industry and prohibition. Along with learning more about the city, you get to taste some delicious whiskies!
Taste local beers on a brewery tour
For couples that enjoy a great local beer, going on a brewery tour is the perfect date idea. Four local breweries will be visited, where you can taste up to 20 samples. At each brewery, you can discover more about the brewing process and pick up some snacks.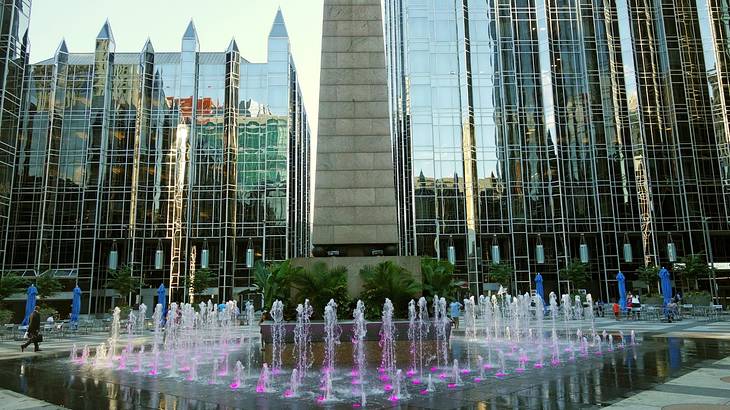 Bike your way through the Burgh!
Another way to see Pittsburgh is on a biking tour. A Bike Through the Burgh experience allows you to cycle to numerous landmarks and attractions.
Places to see include PPG Place, Point State Park and Market Square. At each stop, your guide will offer some fun facts that you probably didn't know. This is notably one of the best date ideas for couples in Pittsburgh if you've just moved to the city or are visiting.
Challenge your date to a bowling game
Taking your date to bowl is a great way to get some friendly competition going! Arsenal Bowl is a popular option with locals and tourists.
This old-school-style venue allows you to book a lane for up to four hours, and also serves food, alcoholic, and nonalcoholic drinks. After 9 PM the alley is for adults only, with DJ sets and themed nights happening all week.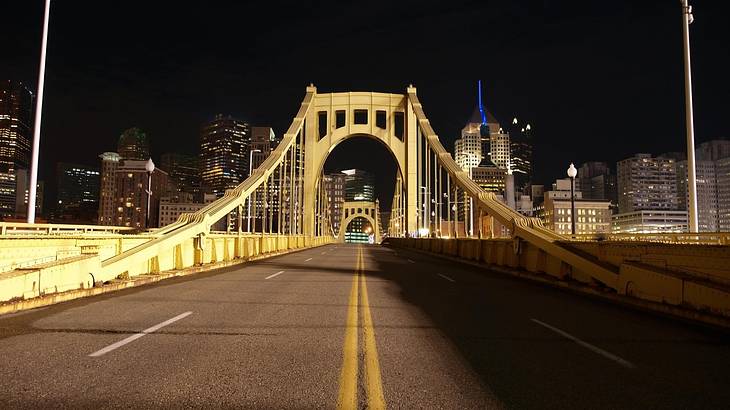 Discover the darker side of Pittsburgh on a ghost tour
Are you after some Pittsburgh date night ideas? Try something different than dinner and drinks and go on a ghost tour!
During this eerie experience, you and your date will go to seven haunted spots and hear the spooky tales associated with each. Stops include the Pennsylvanian Apartments and the Allegheny County Courthouse.
Play mini-golf at Cool Springs Golf Course
Challenging your date to a friendly game of mini-golf is always a cute date idea! In Pittsburgh, you can play at Cool Springs Golf Course. The mini-golf course features a range of fun props, and you can play until 9 PM.
Cool Springs also has a driving range for practicing your traditional golf technique.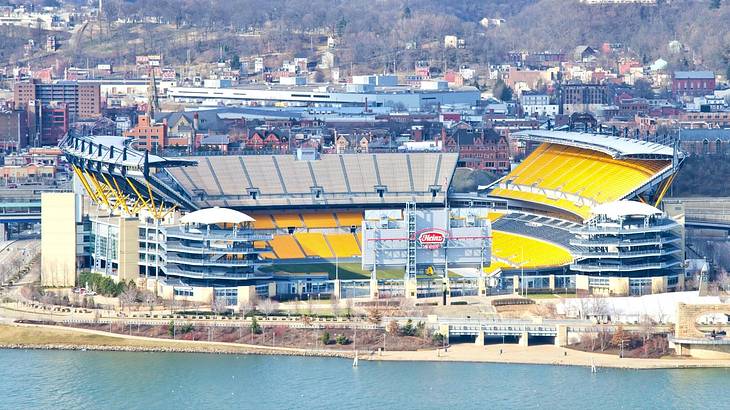 Tour Acrisure Stadium and watch the Steelers
Pittsburgh is a city that's crazy about its sports teams! One of the most-loved teams in the Burgh is the Steelers NFL team. If you and your partner like sports, another of the fun couple things to do in Pittsburgh is touring the Steelers' home of Acrisure Stadium (locally still called Heinz Field).
The experience will allow you to explore the stadium and teach you more about the team. Of course, be sure to also catch a Steelers home game to cheer for the six-time Superbowl champs.
If you're visiting the city and want to attend a game or tour the arena, the best place to stay in Pittsburgh is the North Shore. This neighborhood is where the Steelers stadium is located and is also home to museums, top eateries, and more!
Catch a Penguins game
If hockey is more your thing than football, you have to go to a Pittsburgh Penguins game. The Penguins play at PPG Paints Arena and feature some of the NHL's best players (and some of the best fans in the league!)
Even if you and your date aren't the biggest sports fans, attending a Pens game is an exciting experience. Tours of PPG Paints Arena are also available.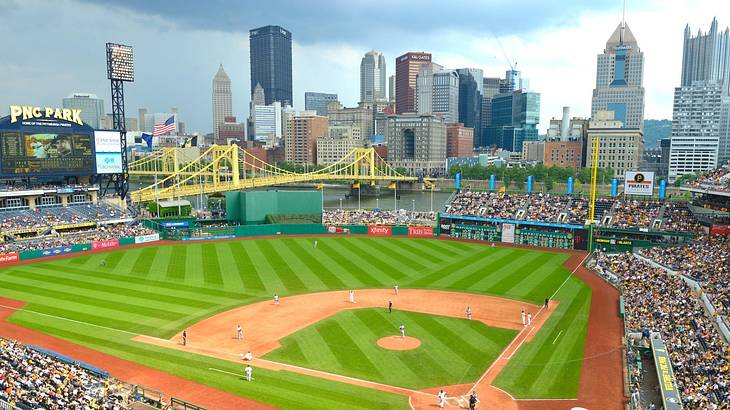 Go to the ballpark to watch the Pirates play
Another great option for couples that enjoy sports is watching the Pittsburgh Pirates MLB team at PNC Park. The Pirates are Pittsburgh's oldest professional sports team, having been founded in 1887.
Spending the afternoon at a game allows you and your partner to hang out, munch on classic baseball snacks, and cheer on another local team.
Expand your knowledge on bikes at Bicycle Heaven
There are many fascinating museums in Pittsburgh for you and your date to visit. One of the most interesting is Bicycle Heaven.
This attraction is the largest transport museum in the world dedicated to bicycles. As you explore, you'll learn more about bikes and will get to view various models from history.
Watch a film at Waterworks Cinema
Watching a movie is a classic and much-loved date idea. A top place to catch a film with your partner in Pittsburgh is Waterworks Cinema.
The theater shows new releases and offers high-end seats for movie-goers to relax in. No matter what you and your partner enjoy doing, a movie date is always a guaranteed good time!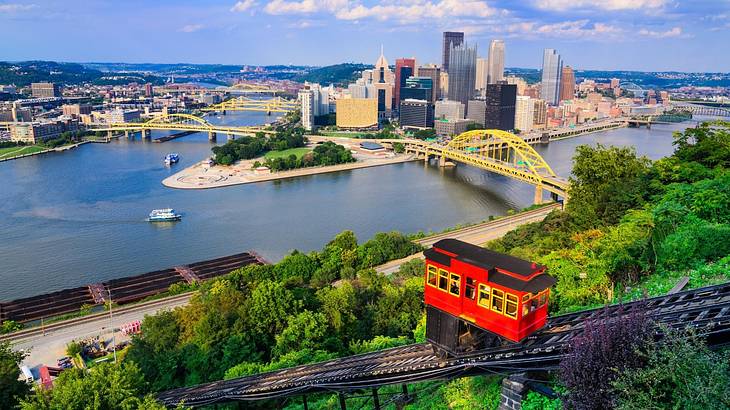 Admire the views from the Mount Washington Overlook
The Mount Washington Overlook, also known as the Grandview Overlook, is one of the romantic places in Pittsburgh that allows you and your date to admire the city views. The lookout sits on top of a 450-foot hill, and you can reach it by taking the Duquesne Incline or Monongahela Incline. While on Mount Washington, you'll also find a selection of restaurants for a fun dinner date.
Delve into Pittsburgh culture at Heinz History Center
The Senator John Heinz History Center is an interesting museum dedicated to Pittsburgh's history and culture. Exhibits to see here include those on sports, inventions, and of course, the Heinz brand.
Whether you and your date grew up in Pittsburgh or have only been in the city a short time, you're sure to learn something you didn't know at this museum.
Fun Things to Do Near Pittsburgh on a Date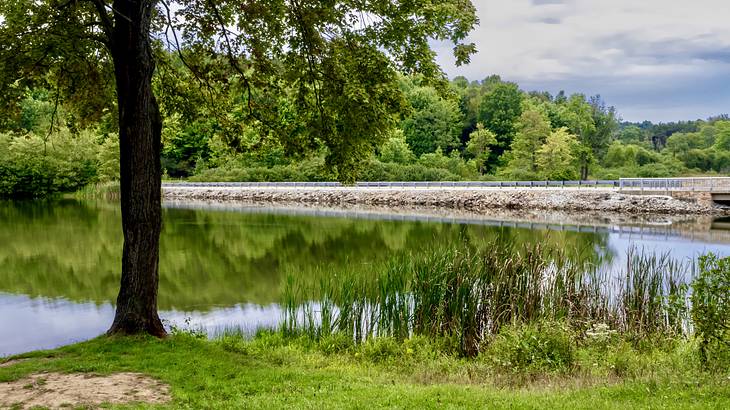 Plan an overnight trip to Keystone State Park
Keystone State Park is a tranquil park found about an hour from Pittsburgh in the Laurel Highlands. The park has lakes, walking trails, and lots of wildlife. You can also find charming cabins in Keystone State Park that can be booked for a romantic overnight stay.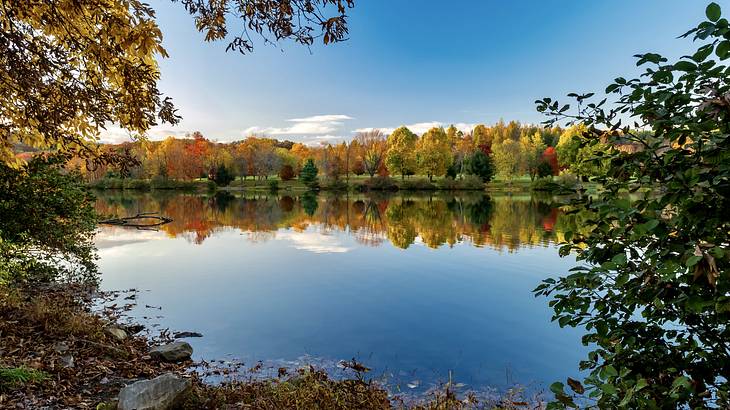 Venture out to Laurel Highlands
Located just an hour's drive from Pittsburgh is the beautiful Laurel Highlands region. This area boasts an array of attractions and things to do, from snow sports in the winter to hiking in the summer.
Along with enjoying outdoor activities, you can find many quaint shops and restaurants to visit. If looking to spend some quality time with your loved one, definitely consider a day trip to Laurel Highlands.
Taste local wine at La Casa Narcisi Winery
A unique place to take your date is La Casa Narcisi Winery. Located 25 minutes from Pittsburgh, the winery offers scenic views and delicious wines. At the winery, you can do a tasting, explore the vineyard, and sit under the sun on the patio with a great glass of wine.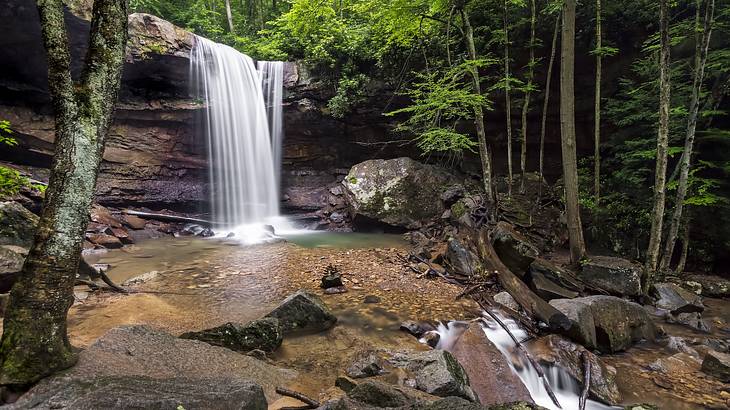 Search for waterfalls in Ohiopyle State Park
Ohiopyle State Park is located an hour and a half from Pittsburgh. If you and your other half visit, you'll be able to follow a range of forest trails that lead to beautiful waterfalls. One of the most well-known waterfalls here is Cucumber Falls which stands at 30-feet tall.
In Summary
Whether you live in the Steel City or are visiting, you can find an array of Pittsburgh, PA, attractions for couples. From outdoor activities to visiting cultural attractions or bars and restaurants, there is something for every couple to enjoy in this great city!
Give us feedback about this article
Learn more about Pittsburgh:
More articles about Pennsylvania:
Read more articles about the United States:
More articles about date ideas:
More visual stories related to this article:
---
---
Want to keep exploring?
Subscribe for discounts on tickets and hotels and our latest guides.
Thank you for subscribing
We will be in touch soon with discounts on tickets and hotels and our latest guides.
Want to keep exploring?
Subscribe for discounts on tickets and hotels and our latest guides.
Thank you for subscribing
We will be in touch soon with discounts on tickets and hotels and our latest guides.
Related Articles