20 Fun Things to Do With Kids in Charleston, SC
Destguides may receive commissions from purchases made through affiliate links in this article.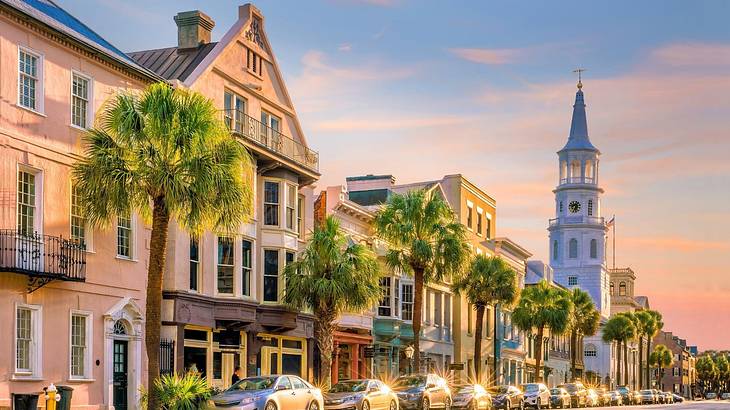 Charleston, South Carolina, is one of the oldest European settlements in the United States. Today, it's one of the most popular destinations on the East Coast, especially for families traveling with kids.
While perhaps most famous for its role in colonial times and the US Civil War, Charleston's attractions aren't limited to its impressive museums and monuments alone.
Its surrounding beaches, islands, and parks all combine to make it an excellent spot for families planning a vacation with children in mind.
Read on to find 20 of the most fun things to do with kids in Charleston, SC!
20 Fun Things to Do in Charleston, SC, With Kids
Visit Charles Towne Landing State Historic Site
Charles Towne Landing marks the site where English settlers landed in 1670 to establish the Carolina colony. Hands-on exhibits at the Visitor Center will help you learn about Charleston's colonial past, and a self-led history trail with an audio companion can lead you through the grounds.
Kids will love boarding the 17th-century replica ship found here, visiting the bears and bison at the Animal Forest zoo, or finding a path through the historic site's eighty acres of gardens.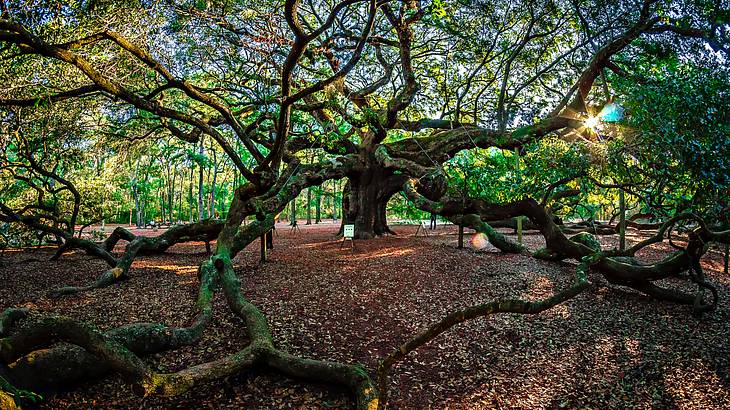 See the famous Angel Oak Tree
The gnarly, sprawling Angel Oak Tree on St. John's Island is about forty minutes from Downtown Charleston and makes a great day trip on your family vacation. It's the largest oak tree east of the Mississippi River, and estimates of its age range from three hundred to over a thousand years old.
Before you leave the island, don't forget to commemorate the day. Snapping a group photo beneath its massive canopy is one of the most popular family things to do in Charleston.
Challenge yourself at Wild Blue Ropes Adventure Park
Is your family ready for an adventure? If so, booking a day at Wild Blue Ropes Adventure Park will challenge your courage and skill with ropes courses for all ages and experience levels.
Families with new or young climbers can enjoy an hour-long introductory course, while older kids and adults can take a crack at their advanced course inspired by the TV show American Ninja Warrior.
Buy local at Charleston Farmers Market
Since 1989, the Charleston Farmers Market in Marion Square has delighted residents and visitors alike. The local art, produce, concessions, and live performances unite people from around the region.
Before you go, you and your family can check their website to see which produce is in season, what crafts the vendors are selling, and what seasonal festivals might have even more things for kids to do in Charleston, SC.
Get creative at the Children's Museum of the Lowcountry
This museum's mission is to bring children of all backgrounds together to explore the limits of their imagination together. Here, kids are encouraged to create art, board a pirate ship in costume, and explore bugs, plants, and waterfalls in the garden.
Parents will love watching their kids work on the spot to put on a theatrical performance with other children, complete with costumes, dialogue, and action.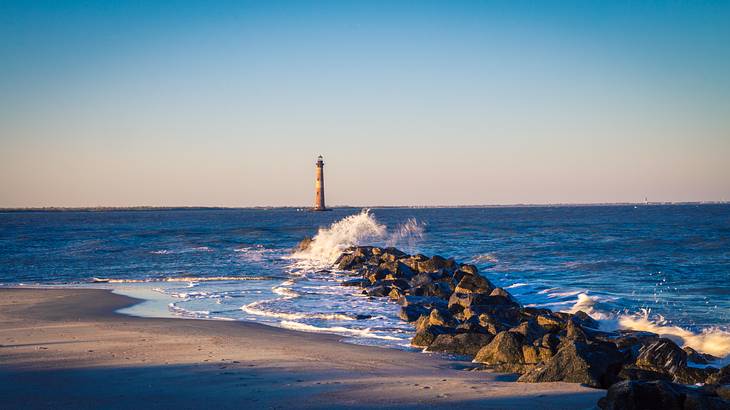 Relax at Folly Beach County Park
Another short scamper from Downtown Charleston will find your family at Folly Beach County Park. Just a thirty-minute drive away, this Atlantic beach is home to white sands, protected dunes, and Brown Pelican rookeries. Beach chair and umbrella rentals and a boardwalk will make this an easy and fun place to spend a day.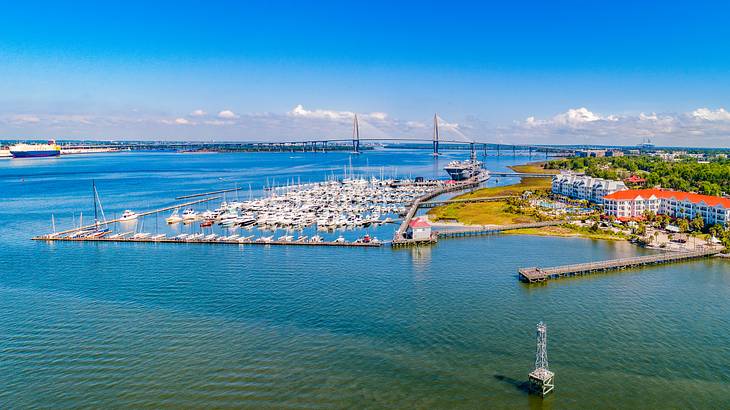 Charter a boat at Charleston Harbor Marina
Just across the Cooper River from the city's downtown area, Charleston Harbor Marina is a launching point to the open seas. You can book a water taxi to watch dolphins or take a sightseeing cruise through the region's historical and natural wonders.
Confident seafarers can also arrange to captain a yacht on their own, making this one of the most fun things for kids in Charleston, SC, to do with their family.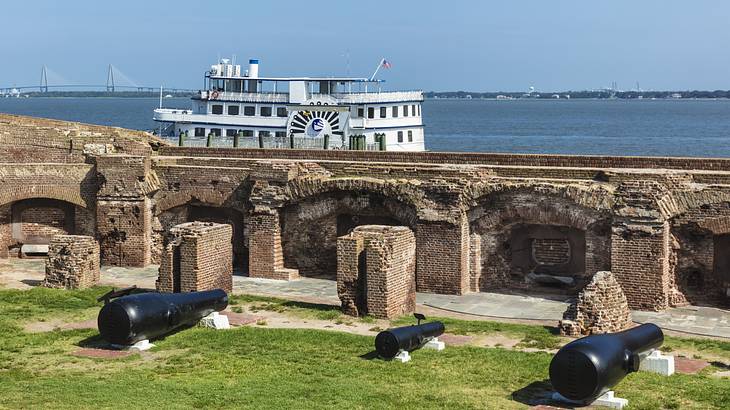 Learn about the Civil War at Fort Sumter National Monument
Charleston is steeped not only in America's colonial history but also in the events of its bloody civil war. Fort Sumter National Monument marks the first battle of this war, where Union troops surrendered the island stronghold after a day and a half of bombardment from the city it was built to protect.
A trip to this famous South Carolina landmark will bring history alive for you and your family. Book your Fort Sumter National Monument entry tickets.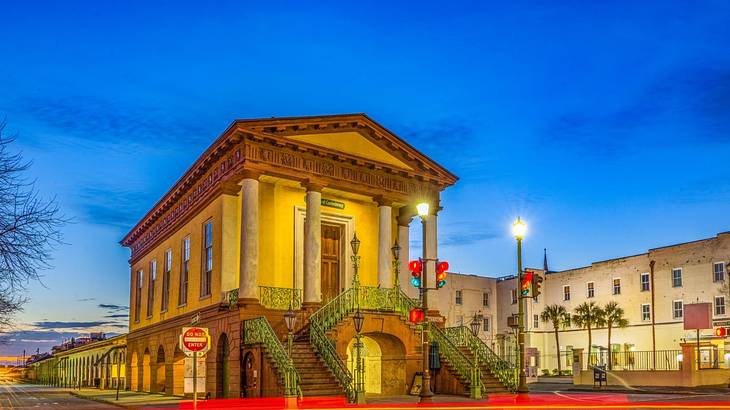 Shop or dine at the historic Charleston City Market
For made-in-Charleston goods, there's no better place in town than the Historic Charleston City Market. This market has been around since 1790 and today spans four city blocks, including the impressive Great Hall and several open-air markets.
In addition to local crafts, you'll find authentic southern cooking and Lowcountry dishes at the market. Bring along your appetites to enjoy shrimp and grits, hushpuppies, and fried green tomatoes.
Build a love for art at Gibbes Museum of Art
Taking your family to the Gibbes Museum of Art is to take a journey through four centuries of art and culture in South Carolina and the American South.
The museum makes for one of the most kid-friendly activities in Charleston, SC, with programs that will teach them to create and talk about art. Whether they would prefer to observe the masterpieces on display or begin working towards their own, your kids will love this stop on your Charleston family vacation.
Play and camp in James Island County Park
For a place rich with family-friendly outdoor activities, go to James Island County Park. Summer visitors can enjoy miles of trails for hiking and biking before heading to Splash Zone Waterpark to cool off during the summer.
The park also has fishing, crabbing, a climbing wall, horseshoe pits, and an eighteen-hole disc golf course. If this seems like too much to pack into a single day, you can stay overnight at one of their camping sites or vacation cottages.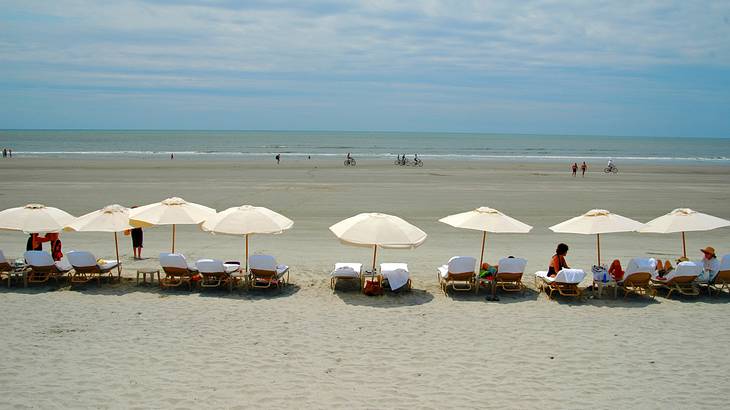 See the bobcats on Kiawah Island
Just over twenty miles from Charleston, Kiawah Island offers visitors a surprisingly pristine getaway from the city. The island is home to ten miles of sandy beaches, over one hundred acres of parks, and a thriving population of bobcats.
You can also rent kayaks, surfboards, and SUP boards to enjoy the ocean or take a family excursion along the island's coastline. Be sure to keep your eyes peeled for Loggerhead Sea Turtles along the way!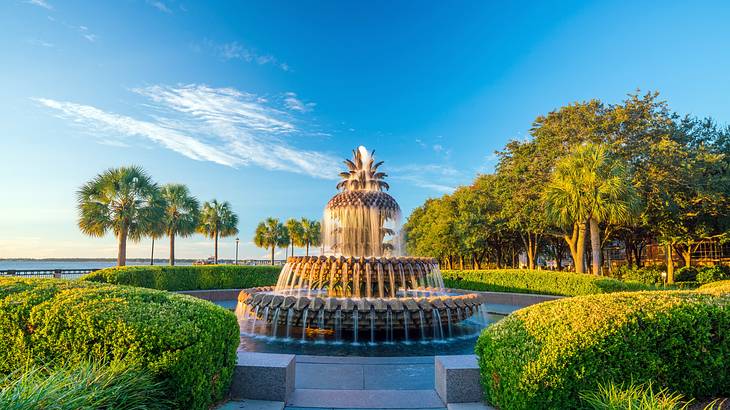 Stroll through Joe Riley Waterfront Park
Joe Riley Waterfront Park is perfect for a relaxing stroll along Charleston's historic harbor. Two large fountains offer a break from the heat and are great places for kids to play around, cool down, and get some energy out.
There are also family-sized swings to be found and many nearby restaurants for lunch or dinner, making this one of the top activities for kids in Charleston, SC.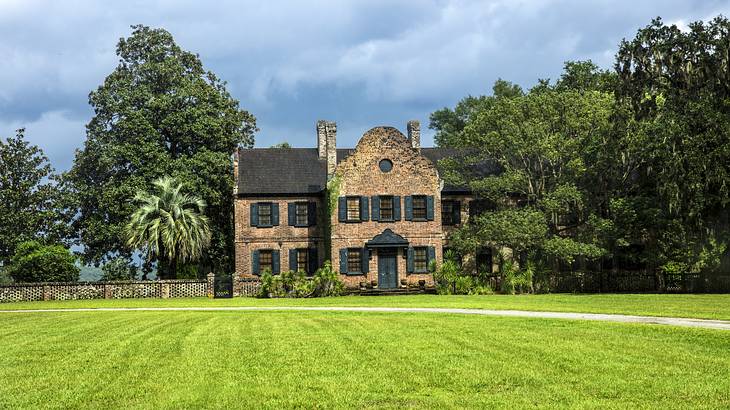 Learn about plantation life at Middleton Place
This 110-acre estate has been beautifully maintained as a time capsule for both high-society plantation life and America's roots in slavery. As you explore the grounds, you'll learn about both the Middleton family, who once owned the estate, and the hundreds of enslaved people who were forced to work on it.
It's an important Charleston landmark in South Carolina for kids and adults alike to understand how such a system was developed.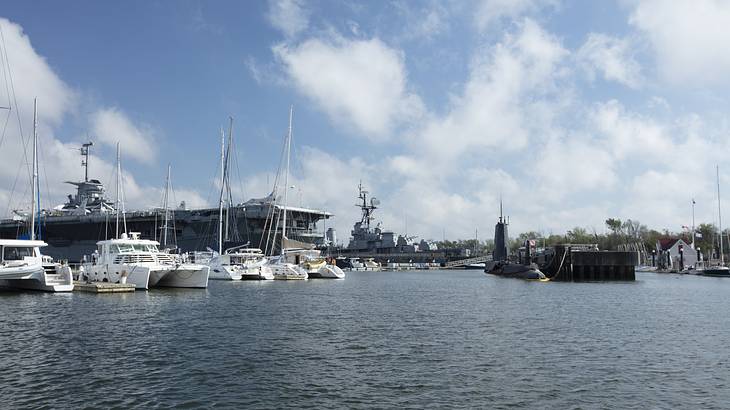 Spend the night at Patriots Point Naval & Maritime Museum
This military museum gives visitors the full naval experience, with virtual reality flight simulators and the chance to board both the USS Yorktown aircraft carrier and the USS Clagamore submarine.
For an unforgettable bonding experience, your family can participate in Operation Overnight aboard the USS Yorktown. Here, you'll learn firsthand what it's like to live and quarter on a US naval vessel out at sea.
Hop on a fire engine at North Charleston Fire Museum
If you're wondering what to do with kids in Charleston to spark their wonder, take them to the North Charleston Fire Museum.
This unique museum will bring out the kid in everyone, with twenty antique fire trucks on display in a collection dating all the way back to the 1780s. Even more impressive, each apparatus in the museum has been kept in working order.
The museum also has interactive exhibits that provide visitors with a glimpse into the life of firefighters, showing how firefighting has changed over time.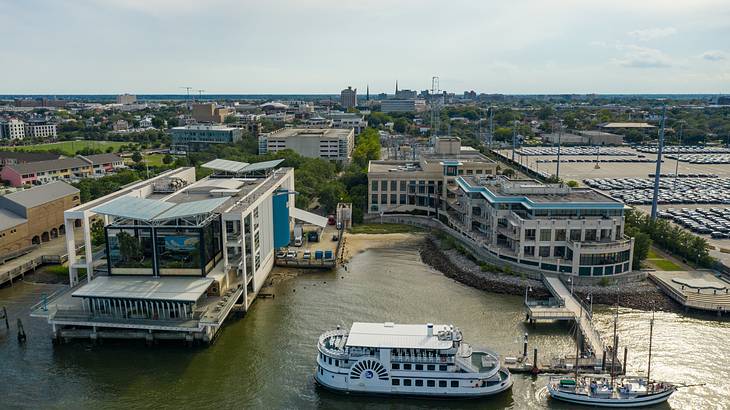 Visit the South Carolina Aquarium
It's tough to beat a family visit to the Aquarium, and the South Carolina Aquarium will not disappoint. The state's ocean, wetland, piedmont, and mountain river zones are impressively represented here.
You'll see not only aquatic life but the land and air creatures that participate in each ecosystem, such as bald eagles and rattlesnakes.
At the Kids Coast interactive exhibit, your children can learn about aquatic filtration and how the Aquarium mimics the precise habitats of each animal.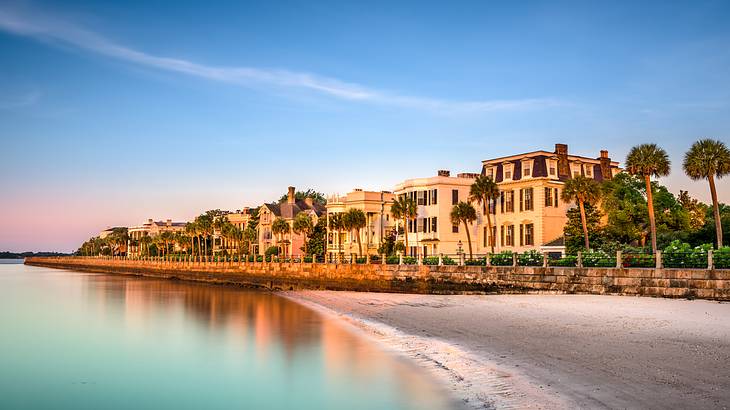 Peruse seaside mansions along the Battery
This area gets its name from the artillery once placed along its seafront, but the Battery is far from the grim site its name might imply.
The weathered coastal seawall is decorated with colorful antebellum mansions, towering palmettos, and a seaside promenade with views of Fort Sumter. It's a perfect place for a morning or evening stroll.
Travel through time at the Charleston Museum
The Charleston Museum contains a vast array of history. Its permanent exhibits cover Charleston's role in early American wars and the region's natural history, with rotating temporary exhibits to complement them.
The museum also covers history far beyond the borders of the United States, with artifacts from Ancient Rome and even an ancient Egyptian mummy.
Their childrens' education programs let kids try on American colonial clothing, learn about Native American culture, and participate in a museum scavenger hunt.
Hunt for treasure on a Charleston Pirate Adventure Cruise
The pirate's life was far more common in colonial times, but kids can still get a taste of it on a Pirate Adventure Cruise.
They'll board the Black Ghost Pirate Ship, don an eye patch, and go in search of their old mate Sneaky Pete in the most swashbuckling of kids activities in Charleston, SC.
Along the hour voyage, they'll sing pirate songs, follow treasure maps up and down the Ashley River, and engage their enemies with water cannons.
Conclusion
Charleston, South Carolina, is a true gem for families looking for a great place to vacation with kids.
Everyone will enjoy the hands-on history, beautiful promenades, eclectic markets, delicious food, and natural wonders of the area.
This city and its surroundings are waiting for you to come and explore!
Give us feedback about this article
More visual stories related to this article:
---
---
Want to keep exploring?
Subscribe for discounts on tickets and hotels and our latest guides.
Thank you for subscribing
We will be in touch soon with discounts on tickets and hotels and our latest guides.
Want to keep exploring?
Subscribe for discounts on tickets and hotels and our latest guides.
Thank you for subscribing
We will be in touch soon with discounts on tickets and hotels and our latest guides.
Related Articles