25 Famous Landmarks in South Dakota You Must Visit
Destguides may receive commissions from purchases made through affiliate links in this article.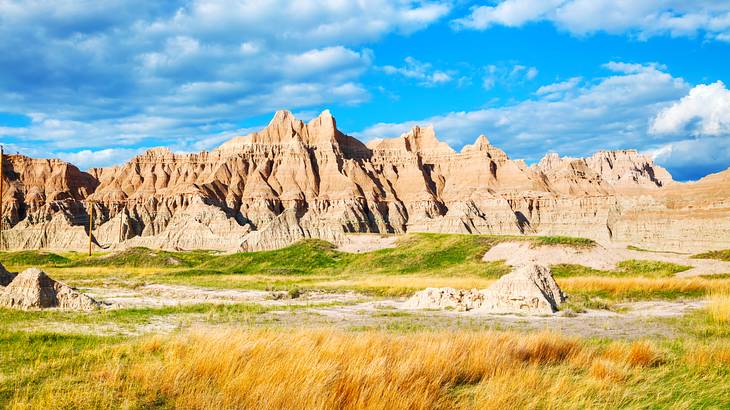 When people sometimes think of South Dakota, often not much comes to mind. You don't hear a whole lot about this sparsely populated state.
So, you might be wondering, what is South Dakota famous for?
South Dakota is famous for its badlands and monuments. It also has a rich history when it comes to the Unites States' gold rush period. If you've heard of Deadwood, then you already know one important place in the state!
There are also plenty of natural places to see in South Dakota if you're the outdoorsy type. Numerous state and national parks draw visitors from all over the world each year.
So, while South Dakota might not have as many residents as other places in the US, it's still a favorite among travelers. To help you plan your next trip to the state, here are 25 famous landmarks in South Dakota that you should add to your South Dakota bucket list.
25 South Dakota landmarks
25 South Dakota Landmarks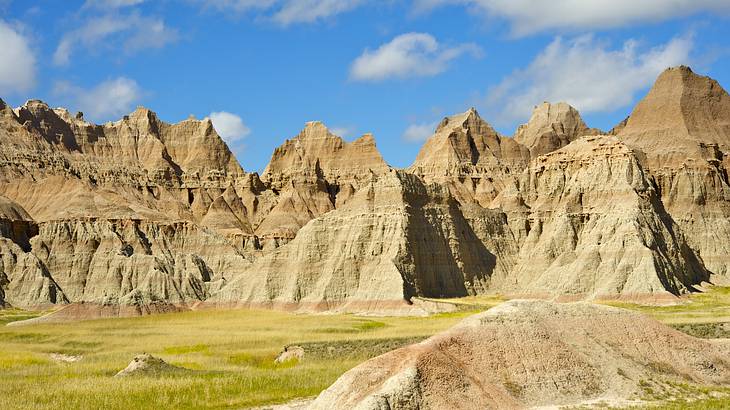 Badlands National Park
When in South Dakota, you'll want to make sure you visit one of the most unique national parks on the West Coast. Badlands National Park is known for its cinematic views and its fossil-rich territory. That has unearthed countless bones for paleontologists to study.
Though you won't be going on digs, locals and seasoned hikers highly recommend exploring the park. Between the vast array of wildlife and the scenery, the Badlands offer visitors a one-of-a-kind nature experience.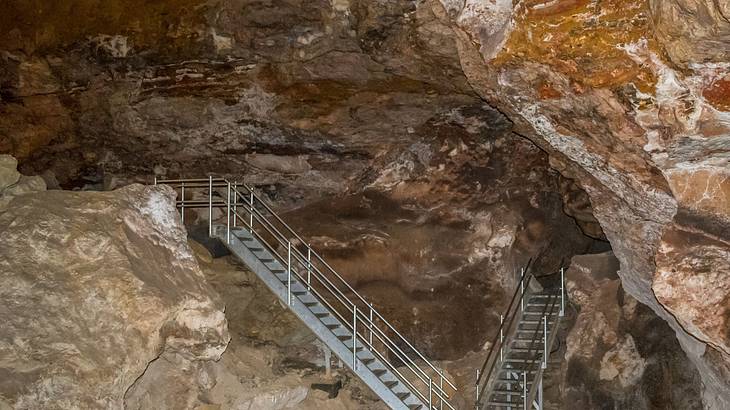 Jewel Cave National Monument
If you're looking for adventure and natural marvels while on your trip, you can't miss Jewel Cave National Monument in South Dakota. As the longest cave currently known in the world, visiting is an experience you won't replicate elsewhere.
There are multiple hiking routes you can take to explore the 209.32 miles of mapped cave routes. Unfortunately, since the cave system is so expansive, you can't explore all of it at once. However, that just gives you a reason to go back!
National Music Museum
When you think about music, South Dakota may not be the first place that comes to mind. However, as the home of the National Music Museum, you'd be mistaken.
Known as the "Smithsonian of music," this museum is a must-visit location for musicians and music lovers. They have an impressive collection of instruments that span hundreds of years. At one point, the museum even offered advanced degrees in musical instruments.
U.S.S. South Dakota Battleship Memorial
A visit to the U.S.S. South Dakota Battleship Memorial deserves to be on any history buff's bucket list. The monument and museum aim to commemorate the most decorated World War II battleship in the United States fleet.
Most visitors won't notice from the ground that the perimeter directly surrounding the memorial building has been constructed into the shape of the original battleship. This attention to detail shows the memorial foundation's passion for education and historic preservation.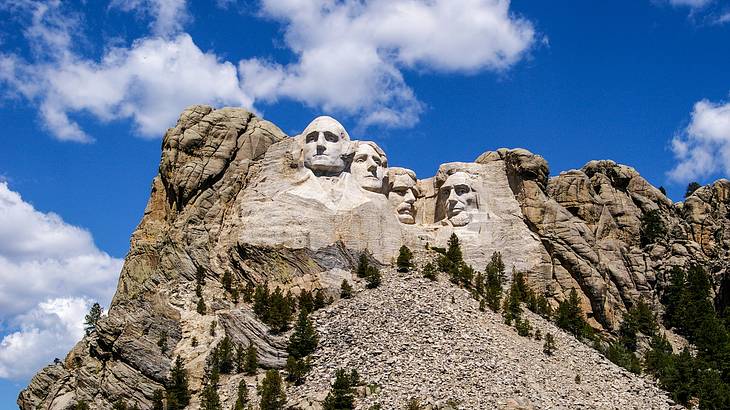 Mount Rushmore National Memorial
No list of North American landmarks would be complete without the Mount Rushmore National Memorial in Rapid City, SD. Everyone can picture Theodore Roosevelt, Abraham Lincoln, George Washington, and Thomas Jefferson immortalized in the Black Hills.
Gutzon Borglum may have been aware of the magnitude of the project he was undertaking when he began sculpting in 1927. However, it's worth wondering if he realized that people would still flock to this US symbol nearly a century later.
Porter Sculpture Park
Porter Sculpture Park is less than a mile off the interstate near downtown Montrose. Though lesser known among tourists, locals have come to love this little attraction.
The park sits on 10 acres of land and houses over 50 sculptures of varying sizes and styles. It's most well-known for its 60-foot bull head sculpture, but there are many more to see! The park is interactive, and the sculptures are all secured on the ground. So you can get up close and even touch them!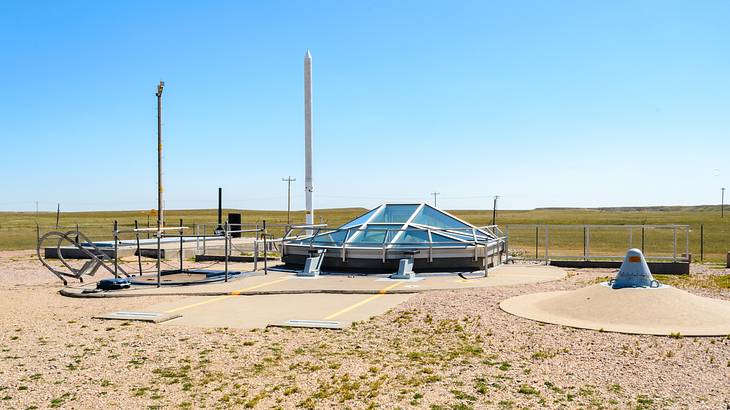 Minuteman Missile National Historic Site
One of the most recent historical sites in South Dakota is also one of the most politically intriguing. The Minuteman Missile National Historic Site feels like you're going back in time and staying firmly in the present.
That's because this monument has its roots in the Cold War. During these 30 years, missiles were kept ready to be deployed in this very location. Since many people still remember the Cold War vividly, it almost feels like visiting Minuteman is being part of history in the making.
Good Earth State Park
Good Earth State Park is a less talked about South Dakota site. However, it holds as much cultural significance as some of its more popular counterparts.
With signs of Native American settlements that date back to 1300 A.D., it's one of the longest continuously inhabited areas in the country. Now visitors can explore the winding trails in the park and partake in year-round recreational activities. Locals love this spot, and you will too.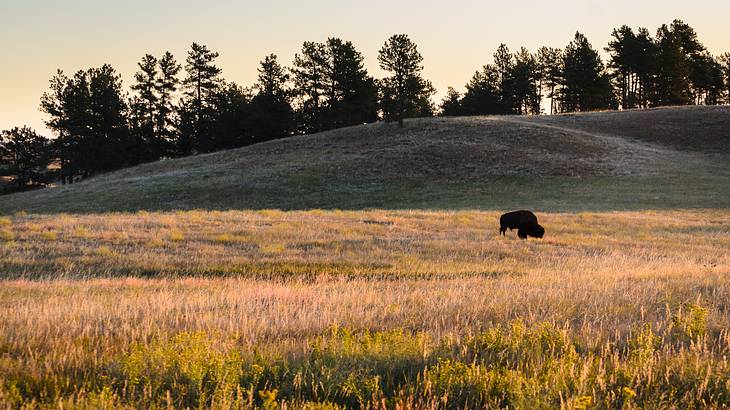 Wind Cave National Park
Though the prairie portion of Wind Cave National Park is worth seeing on its own, that's not what caught the attention of the National Park Service. That honor goes to the underground cave system that gives the park its name.
You'll feel barometric winds at the cave's entrance that disappear the further you explore. The cave is one of the most extended cave systems ever discovered worldwide. If that weren't enough, the cave walls have a distinct honeycomb pattern that makes them unique and irreplaceable.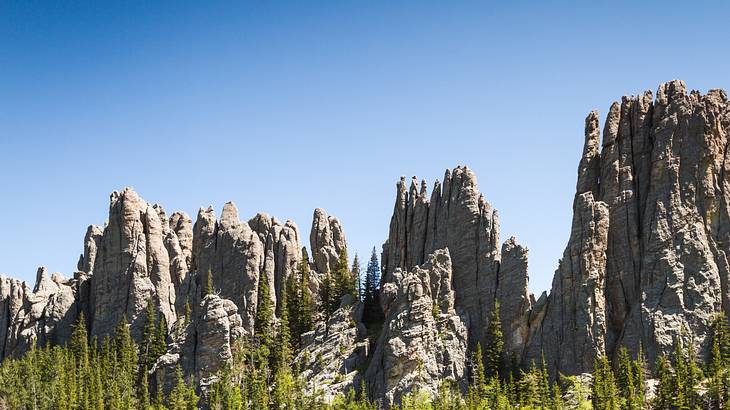 Custer State Park
South Dakota is home to many state parks. However, only one gets the honor of being the first to get that title. Custer State Park gets to boast that it's not only the largest state park in South Dakota but also the first one.
You can enjoy exploring 71,000 acres of land and immerse yourself in one of the state's prime examples of its local wildlife. Though you might be tempted to squeeze it into an already packed itinerary, make sure you set aside at least a full day to admire the park's sites.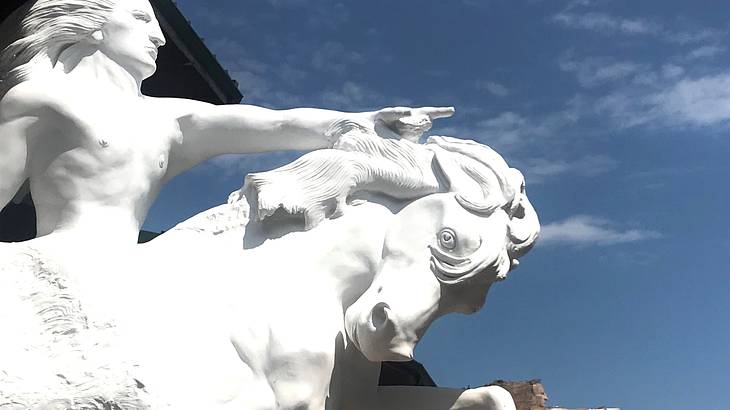 Crazy Horse Memorial
The Crazy Horse Memorial is set to become the largest mountain carving in the world. Some have even gone so far as to say it will be the 8th wonder of the world.
Though not fully completed yet, the memorial aims to pay tribute to Crazy Horse, a Lakota warrior who fought at the Battle of Little Big Horn. Work on the statue began in 1948 and has been continuously worked on ever since.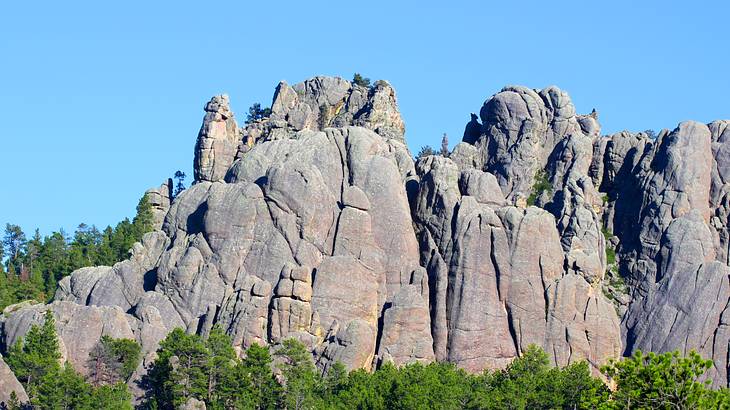 Black Hills National Forest
One natural famous landmark in South Dakota you won't want to miss is Black Hills National Forest. Also known as the "Island in the Plains", this forest sits on over 1 million acres of land that stretch over 100 miles.
The hills get their name thanks to the dark green of the pine trees that grow on the hills and mountains. Due to their elevation, the thick forest appears black at a distance.
However, don't be intimidated by the name. The forest is a favorite among locals and offers a plethora of activities you can do all year.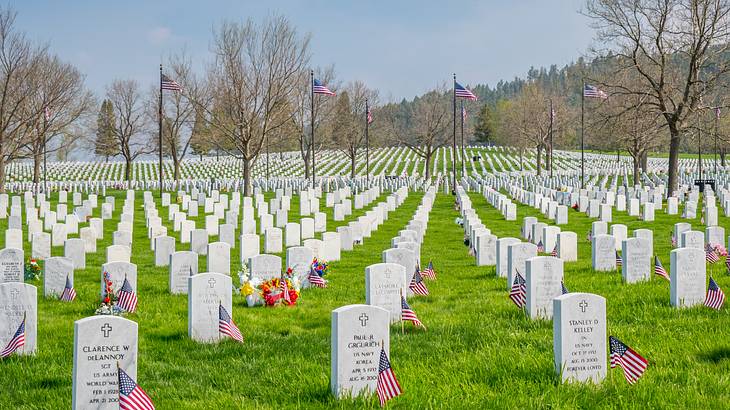 Mount Moriah Cemetery
The Mount Moriah Cemetery, located on the mountain that gives the site its name, is the resting place of some of the Wild West's most prominent figures. Located on the outskirts of Deadwood, the cemetery has the graves of Wild Bill Hickok, Calamity Jane, Seth Bullock, and more.
Though the cemetery is no longer being maintained, you can still visit. Remember to be respectful and watch your step walking through the overgrown grounds.
Old Courthouse Museum
The Old Courthouse Museum commemorates what was the heart of the Minnehaha County government for over 70 years. Though the building has undergone restorations over the years, its main structure is the same as it was initially.
You don't just get to visit one of the city's oldest and most beautifully designed buildings, which would be exciting enough. The museum is dedicated to the history and culture of the region.
South Dakota Air and Space Museum
If you're an airplane or airforce buff, you need to add the South Dakota Air and Space Museum to your list of places to visit. Located near the Ellsworth Air Force Base, the museum is dedicated to the history of air flight and the state's air force base.
Very few other places have the collection of decommissioned aircraft you can find at the museum. Ranging from WWII to the Cold War, you can get up close to some of the most important planes in US history.
Chapel In The Hills
Since 1969 Chapel in the Hills has been a quiet, peaceful retreat for locals and tourists to admire South Dakota's nature. Thanks to its location at the foot of the Black Hills, it's the perfect spot to relax on a busy trip.
The church itself is constructed to emulate the style of churches and cathedrals in Norway. This gives the area a particularly European or fairytale sort of appeal that has helped grow its popularity.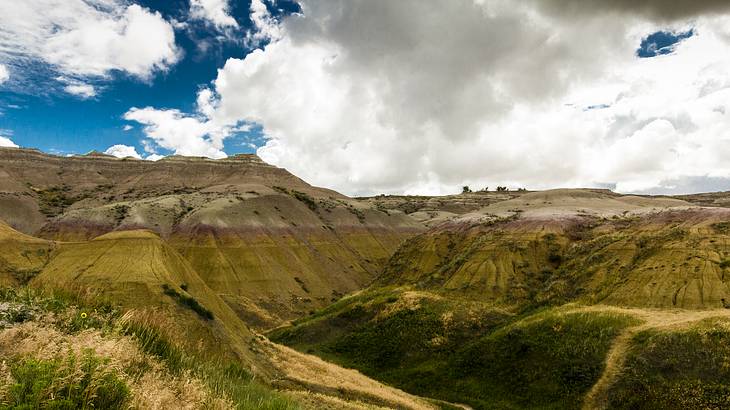 Yellow Mounds Overlook
If you want a one-of-a-kind view of the Badlands, one of the SD monuments you can't miss is Yellow Mounds Overlook. Made up of yellow, orange, and beige rocks, which give the area its name, Yellow Mounds is one of the highest recommended viewpoints in the area.
Since the mounds are found along the main road, you don't have to hunt for them. That makes them the perfect spot to take in a South Dakota sunset you won't want to miss.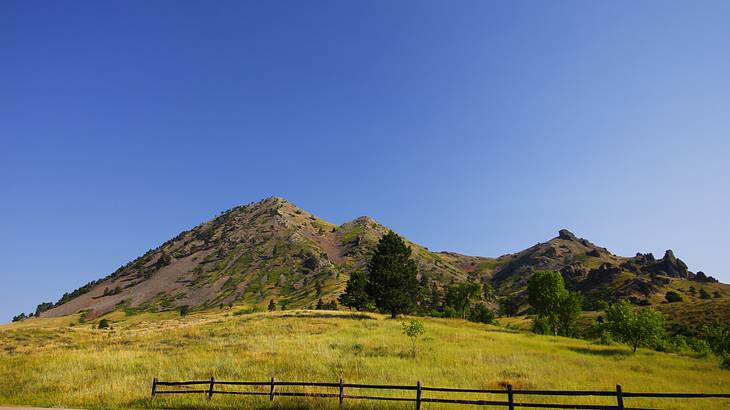 Bear Butte State Park
Bear Butte State Park may seem like any other mountain and prairie in South Dakota. However, this spot has cultural significance, making it one of the state's national historic landmarks.
Also called Bear Mountain by the native Lakota tribes and Noahvose to the Cheyenne, it was the location of countless religious ceremonies in local tribal history. In fact, it is still a revered spot where tribes hold ceremonial events.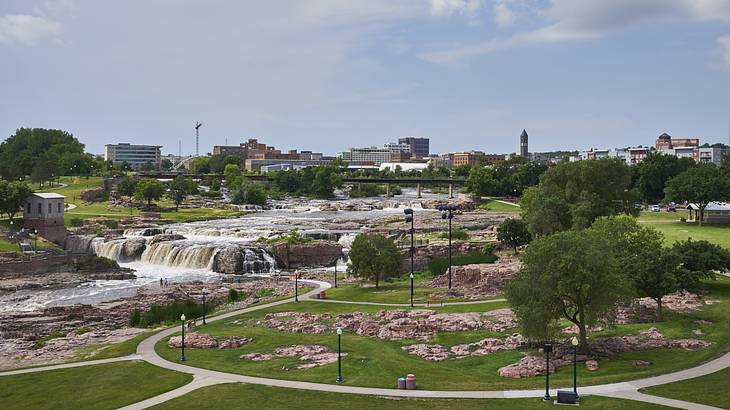 SculptureWalk Sioux Falls
If you find yourself in Sioux Falls, you have to make time for the SculptureWalk. This walk is an interactive art exhibit made up of different sculptures by local artists.
Rather than have all the sculptures in one place, the walk takes you on a tour of the city, where you can hunt down sculptures while taking the sites. The sculpture walk is open all year, with new sculptures added periodically, so the walk is always different.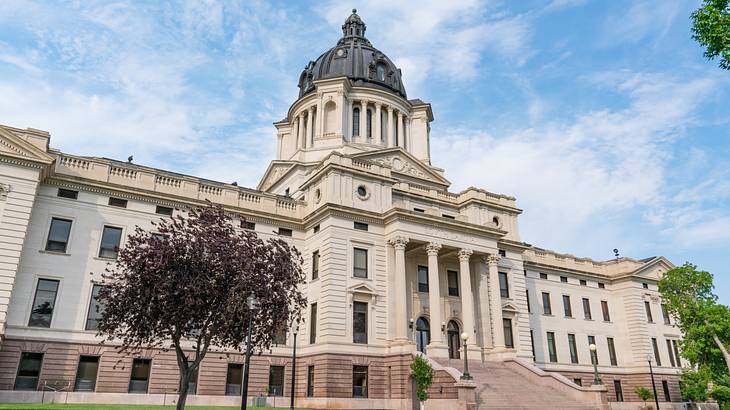 South Dakota State Capitol
The South Dakota State Capitol is the civic heart of the state. It's where the local government convenes to decide on the laws that will affect everyone within the SD borders.
As a visitor, you'll be able to admire the ornate architecture and the Capitol grounds that feel almost European. The building was constructed between 1905 and 1910, and the government at the time put a lot of thought and care into making it a long-standing symbol of the state's governing body.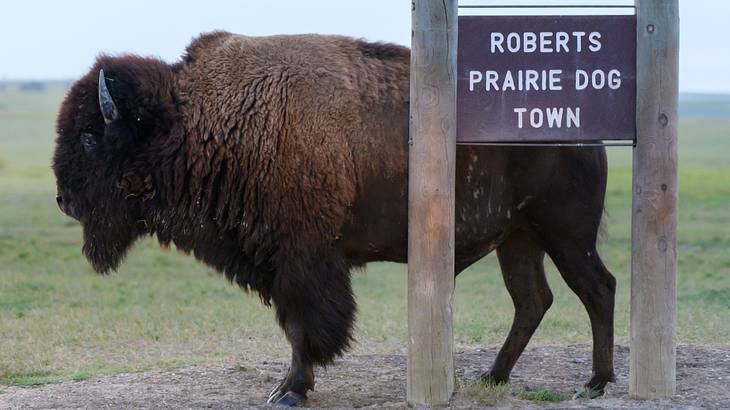 Roberts Prairie Dog Town
While the Badlands, in general, is a must-visit stop on your trip to South Dakota, you'll want to make time to check out Roberts Praire Dog Town specifically. As the largest prairie dog town in the Badlands, you'll get the best chance to see these little critters in their natural habitat.
Home to thousands of prairie dogs, the area soon became popular among visitors who could spend hours watching them. Remember, they're wild animals, so you can't feed or touch them.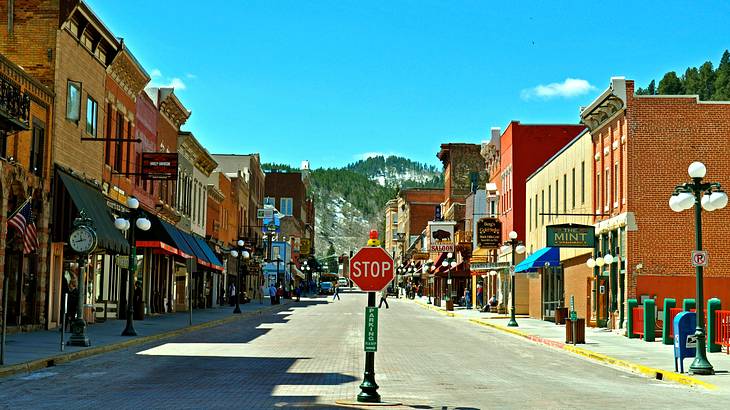 Deadwood Historic District
Deadwood has become synonymous with the wild west. This fame has kept the city well preserved and earned it the title of a national historic landmark.
Deadwood saw its fair share of action and adventure in its prime, from the death of folk hero Wild Bill Hickok to being at the center of the state's gold rush. All of which have made it one of the most famous places in South Dakota.
Adams Homestead and State Nature Preserve
Originally a private residence, the Adams Homestead and State Nature Park were donated to South Dakota in 1984. Since then, the lank has been open to the public and was converted into a state park.
The area is now a favorite among Sioux City locals thanks to its laid-back environment. All-year activities range from bird watching and hiking to archery and cross-country skiing.
Lake Herman State Park
Lake Herman State Park might be less famous than some South Dakota state park counterparts, but it still deserves a spot on your itinerary. Visitors feel like locals because it's not as much of a tourist attraction.
The park offers you the chance to have an adventure by hiking and exploring. However, you can also have a calm visit and spend your days enjoying the views of Lake Herman and fishing. No matter who you are, this park has something for you.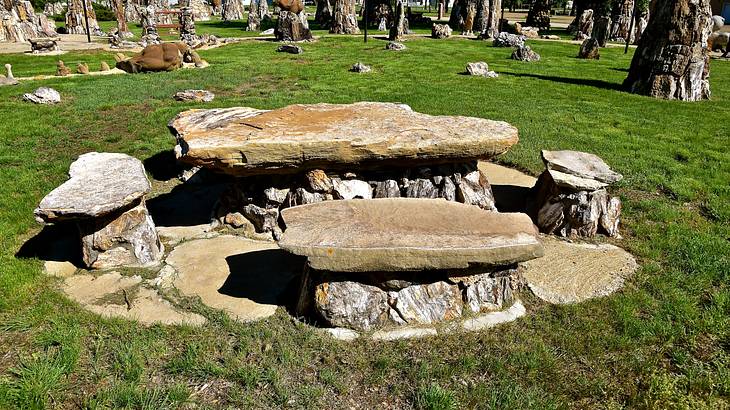 Petrified Wood Park & Museum
One of the most overlooked South Dakota monuments is the Petrified Wood Park & Museum. Built-in the 1930s, the park quickly became a sensation around the country thanks to its interesting sculptures and structures. All were created using scavenged wood, rocks, and fossils.
What's even more interesting is this park's location. While inside, you'll feel like you've been transported somewhere far away from civilization. However, the park is actually right in the middle of Lemmon, South Dakota.
In Conclusion
Whether you're a first-time South Dakota visitor or call the state your home away from home, there's always something new to see here. You won't get bored on your visit, from all the national monuments to the state parks and everything in between!
So, now that you have inspiration about what to see in South Dakota, start planning your itinerary and pack your bags! South Dakota and all it has to offer are waiting for you!
Give us feedback about this article
More articles about South Dakota:
Read more articles about the United States:
More articles about landmarks:
More visual stories related to this article:
---
---
Want to keep exploring?
Subscribe for discounts on tickets and hotels and our latest guides.
Thank you for subscribing
We will be in touch soon with discounts on tickets and hotels and our latest guides.
Want to keep exploring?
Subscribe for discounts on tickets and hotels and our latest guides.
Thank you for subscribing
We will be in touch soon with discounts on tickets and hotels and our latest guides.
Related articles