35 Fun Seattle Date Ideas That Will Wow Your Partner
Destguides may receive commissions from purchases made through affiliate links in this article.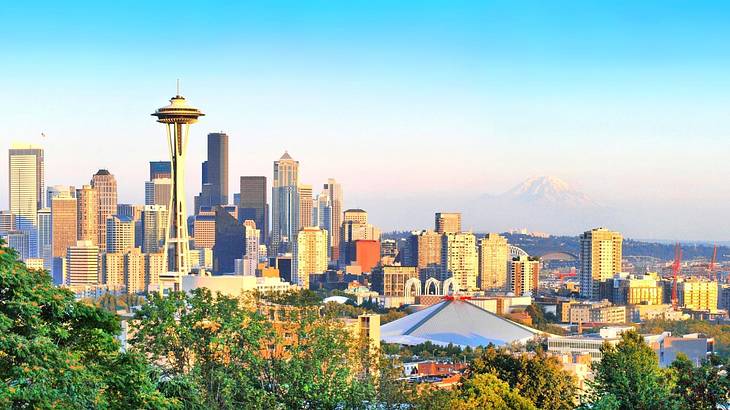 One of the top destinations on the West Coast of the United States is Seattle. This exciting city offers incredible outdoor and cultural attractions and an array of landmarks to see.
For couples living in or visiting Seattle, there's also no shortage of memorable and romantic things to do. Just a few of the fun Seattle date ideas to try include going on a sightseeing cruise, enjoying a brewery tour, or watching one of the local sports teams play. If you're looking for some unique date ideas in the Emerald City, read on!
35 Fun Date Ideas in Seattle, WA
Fun Things to Do in Seattle for Couples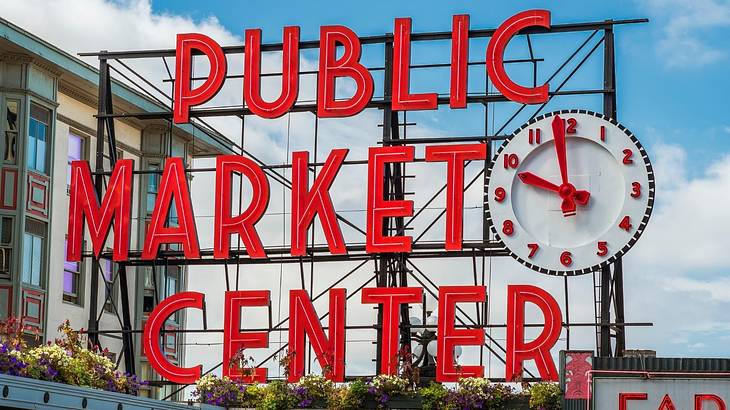 Shop and snack at Pike Place Market
Pike Place Market is one of the most well-known places in Washington. The over 100-year-old market features an array of food stalls and cafes as well as some craft and souvenir shops.
If interested in exploring this attraction with your date, doing so on a Pike Place Market tour is a good idea. During this experience, you can try samples and shop for baked goods, produce, flowers, and more.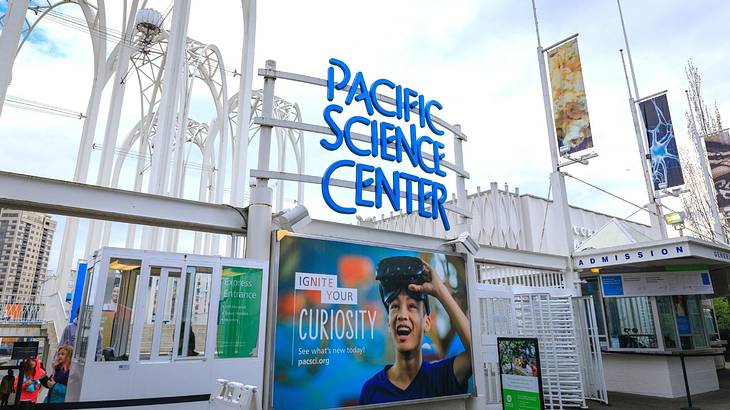 Learn something new at the Pacific Science Center
A fun educational attraction to take your date to in Seattle is the Pacific Science Center. At the center, you'll discover interactive exhibits on a range of scientific phenomena.
Topics include paleontology, the wildlife of the Pacific Northwest, and astronomy. There's also an IMAX theater showing science-based movies and an interesting laser dome.
Dine with a show at The Pink Door
One of the best date spots in Seattle for a dinner date is The Pink Door. This interesting restaurant serves Italian food that you can dine on as you watch a show, including burlesque, trapeze, and jazz performances. Dishes to try range from truffle mushroom crostini to gnocchi or risotto.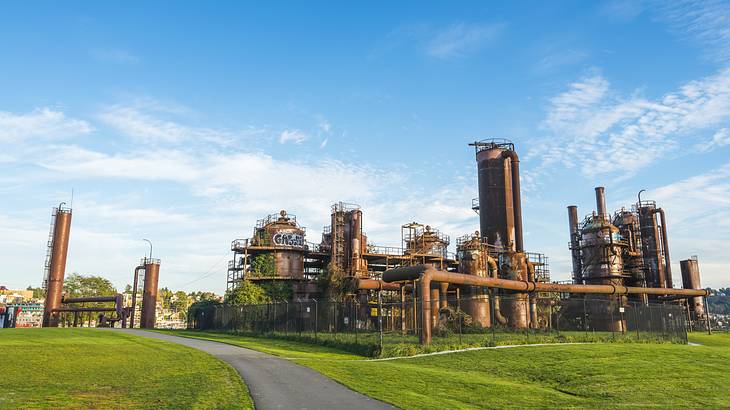 Hang out at the unique Gas Works Park
Another great park to explore with your partner is Gas Works Park. This unique park housed a gasification plant until 1956, with much of the abandoned plant remaining today.
While the park is quite quirky, it's a cool place to hang out and admire the vistas of Lake Union. You can access the park until 10 PM, making it the ideal place for a relaxed late-night date as well as a fun daytime meetup.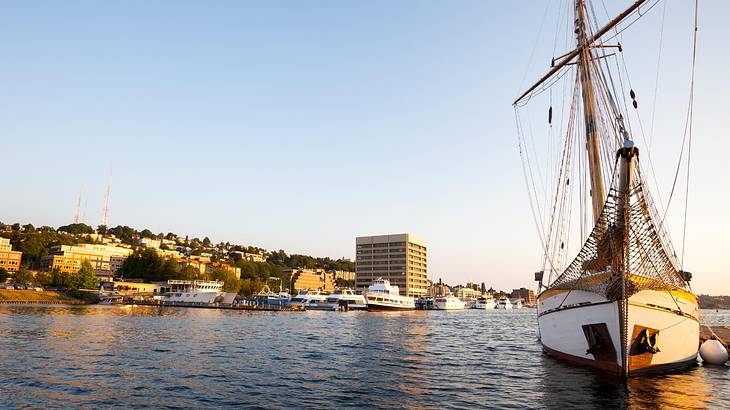 Boat on Lake Union
If you and your partner like outdoor activities, getting out on the water at Lake Union is a must! This vast freshwater lake is the ideal place to boat or kayak while taking in the surrounding views.
Best of all, this famous Seattle landmarkis located downtown, just ten minutes from attractions like Pike Place Market. Once at Lake Union, there are many places to rent an electric boat or kayak. To extend your date, try both activities!
Take a cooking class together
Why go out to dinner when you could learn to create a delicious meal together? Taking a cooking class is one of the cute date ideas in Seattle that will also teach you some new skills.
You can find a few cooking class operators in the city, with Hot Stove Society being a popular choice. Classes to choose from include those teaching you how to make desserts, American classics, and dishes from across the globe.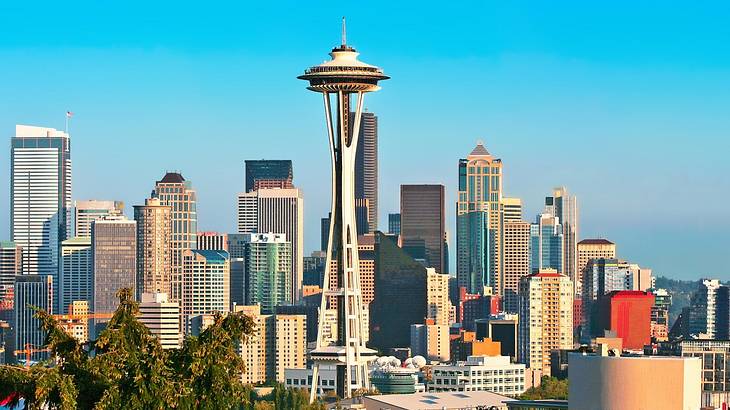 Have drinks in the Space Needle
The Space Needle is hands-down the most famous landmark in Seattle. The 605-foot tower has stood on the Seattle skyline since 1962. While going to the observation deck here is a great idea, stopping for drinks at the top of the Space Needle is even better!
The Loupe Lounge serves an array of tasty drinks and bar snacks. Treat your partner to signature and classic cocktails, plus sharing snacks, like truffle fries, for a memorable drinks date.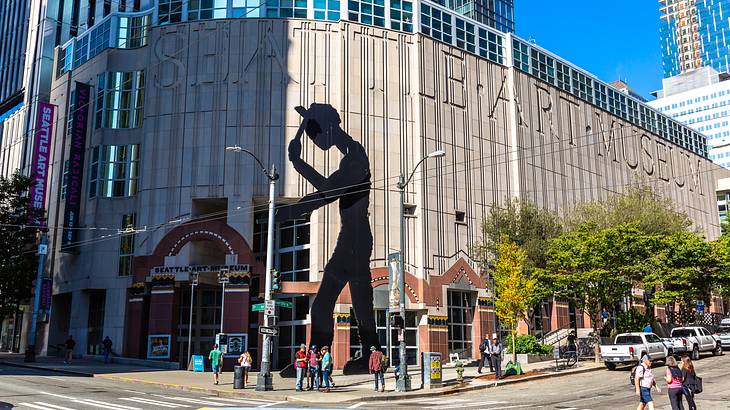 Discover world-class artworks at the Seattle Art Museum
If your other half is an art enthusiast, a perfect date idea to try is taking them to the Seattle Art Museum. Founded in 1933, the museum features all genres of art, from ancient pieces to modern works.
If you both have a good time at this art gallery, be sure to visit the Seattle Asian Art Museum too. This gallery, also run by the Seattle Art Museum, features a range of art styles from across Asia.
Play mini-golf and drink beer at Flatstick Pub
One of the most fun dates in Seattle is going to Flatstick Pub. This quirky bar features local craft beer and indoor mini-golf courses.
After challenging your date to a mini-golf game, you can also try Duffleboard, a fun game created by the team at Flatstick! Within Seattle, you can find locations at Pioneer Square and South Union Lake.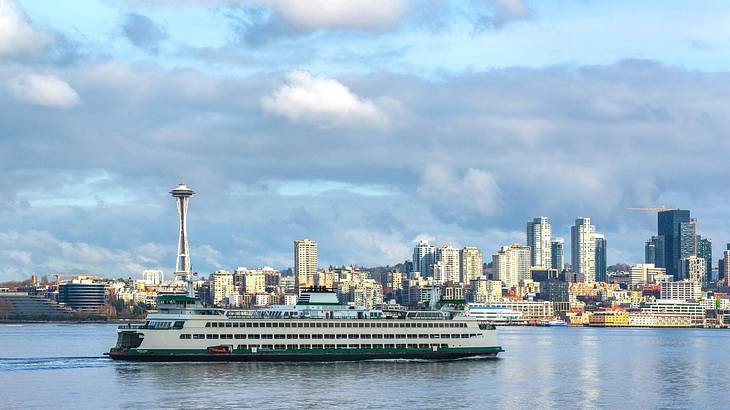 Ride the ferry to Bainbridge Island
A lesser-known way to take in the views of Seattle is by riding on the ferry to Bainbridge Island. Once aboard, you and your date can take in the views of the skyline and surrounding snow-capped mountains.
When you arrive on Bainbridge Island, you'll discover shops, cafes, and charming parks.
Enjoy a Seattle wine tasting tour
One of the most romantic date ideas in Seattle is going on a wine tasting tour together. On a Seattle winery tour, you get to go to two top wineries where you can taste samples.
Of course, don't forget to buy a few bottles for your next date night! This activity also allows you to visit Boehms Candies and Snoqualmie Falls.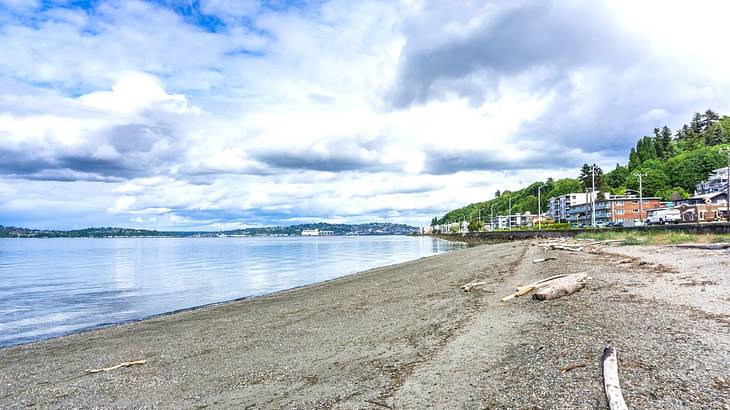 Have a beach day at Alki Beach Park
Located in West Seattle, Alki Beach is the perfect place to spend a day with your other half. At the beach, you can sunbathe, swim, and chat on the sand. Packing a picnic to share is a romantic idea too. If you have time, stay until the evening to watch the sunset over the water.
The best time to visit Seattle for couples from out of town that want to enjoy the city's beaches is in the late spring or early summer. The weather is warm and unlikely to be wet, and the wildlife smoke that may be present later in the summer shouldn't be noticeable yet.
Try quirky cocktails at Unicorn Bar
Unicorn bar is a vibrant carnival-themed bar that everyone will enjoy visiting! The bar is decorated with fun pastel colors and an array of unique decor pieces.
You and your date will be able to taste a range of unique drinks here, along with carnival-inspired snacks. Unicorn also offers the ideal backdrop for some cute couple photos!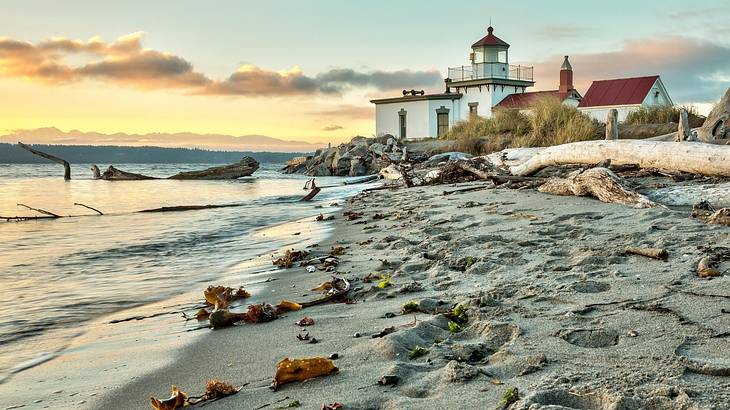 Watch the sunset at Discovery Park
Discovery Park is a coastal park located about a 20-minute drive from downtown Seattle. This charming location is one of the most romantic spots in Seattle, especially in the evening.
A fun date idea is to pack a picnic and head to the park just before sunset. You can then watch the orange and pink sky over the water as you share a meal.
Venture under Seattle on an underground city tour
An interesting fact about Seattle is that the current city sits on top of old Seattle. Beneath the city, you can discover the remains of streets, alleys, and buildings that are over 120 years old.
Going on an underground Seattle tour is definitely one of the most fascinating and memorable date ideas!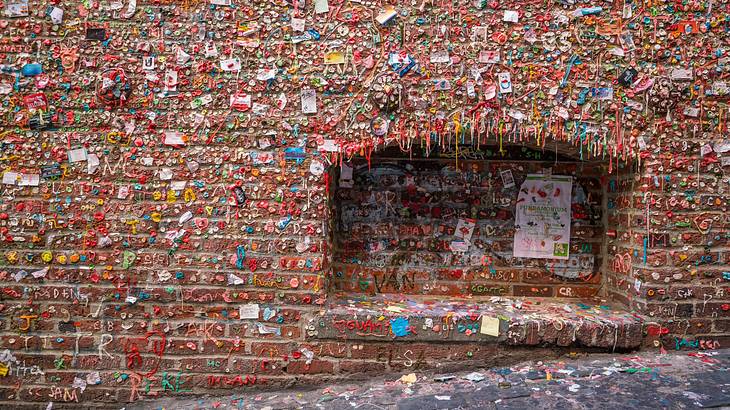 Take pictures at the Gum Wall
One of Seattle's most unique features is its chewing gum-covered wall. This interesting wall is really an alleyway that's covered in brightly colored pieces of gum.
The Gum Wall is a popular backdrop for photos, and it's a great place to snap some pictures with your loved one.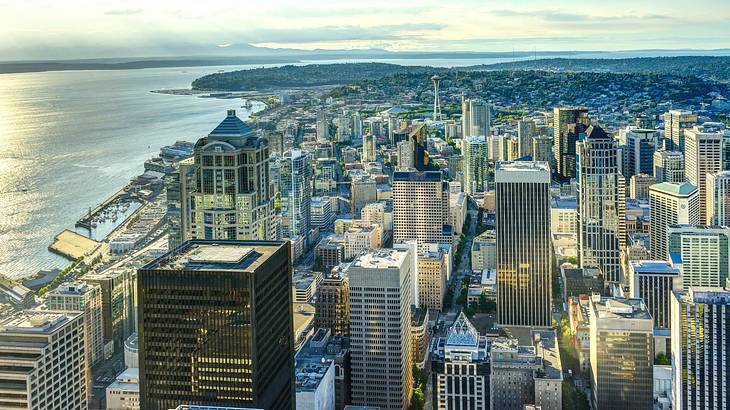 Admire the views from the Sky View Observatory
Another of the Seattle romantic date ideas is taking in the skyline from the Sky View Observatory. From this 72nd-floor observation deck, you can appreciate 360-degree views of Seattle.
While you can go up the tower at any time of the day, doing so at sunset is recommended for a date. Getting a Sky View Observatory skip-the-line ticket in advance will ensure you get in!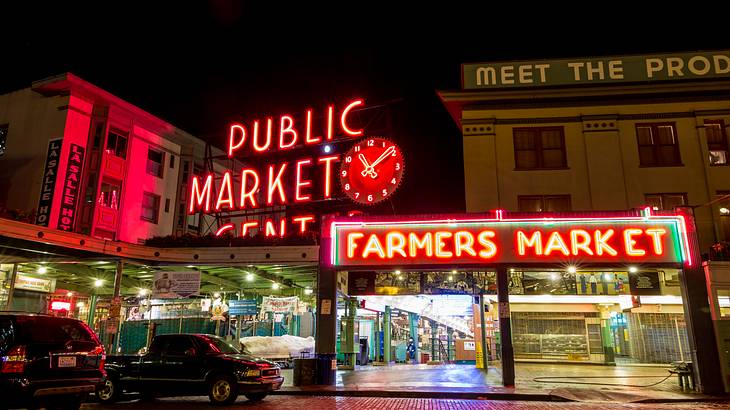 Dare to go on a haunted pub crawl
If you and your date like beer and are interested in the paranormal, going on a haunted pub crawl is a must! This walking tour will take you to spooky parts of the city, where your guide will tell you eerie tales.
Best of all, you also get to stop at some of the best bars for a drink along the way.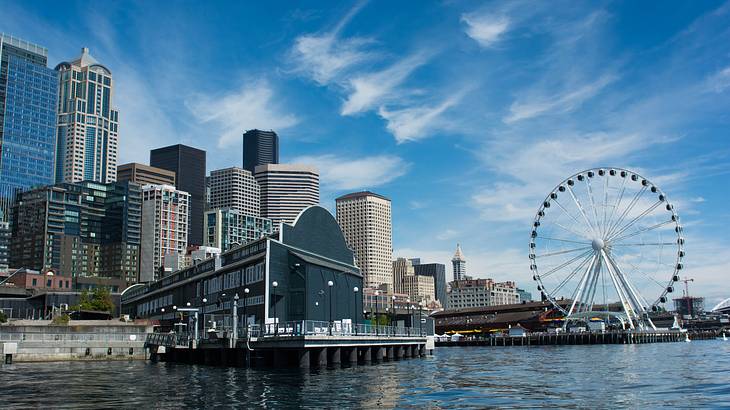 Hop aboard a harbor sightseeing cruise
For couples that are visiting or new to the city, going on a harbor sightseeing cruise is recommended. You get the opportunity to sail past an array of famous sights and will be given in-depth information on each landmark.
Even if you've both lived in Seattle a while, a sightseeing cruise could teach you something new about your city!
Spend a day outside at Golden Gardens Park
Golden Gardens Park is another of the romantic places in Seattle that allows you and your date to enjoy the outdoors. This vast park features hiking trails, a beach, wetlands, and lots of wildlife. It's an ideal place to partake in outdoor activities as you get to know each other better!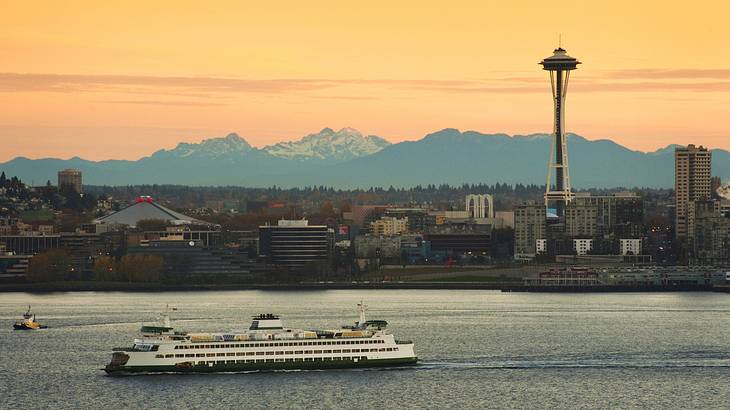 Luxuritate on a sunset sail
If you're looking to see the city in a more luxurious way, one of the most romantic things to do in Seattle, Washington, is going on an sunset sail.
Once aboard, you and your date will get to see many landmarks as you sail along the Puget Sound. As you spot places of interest, you can also enjoy the beautiful pink and orange sky as the sun begins to set.
Hear spooky stories on a ghost tour
One more of the spooky Seattle activities in a ghost tour. This experience will take you and your date to areas thought to be haunted.
Places to visit include Pike Place Market, the Butterworth Building (a former mortuary), and Moore Theatre, which is built on top of Seattle's first burial ground.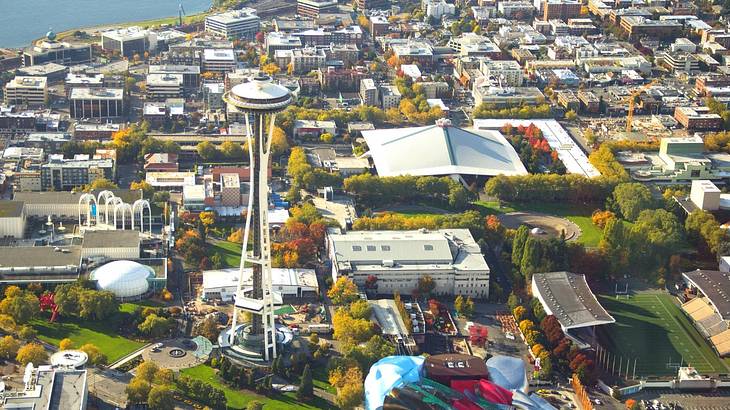 Fly above Seattle on a seaplane tour
Another memorable way to see Seattle is from above, on a scenic seaplane tour. You'll be flown over various attractions, including the Space Needle, Elliott Bay, and Mount Rainier. Your pilot will also offer some history and fun facts about the places you see.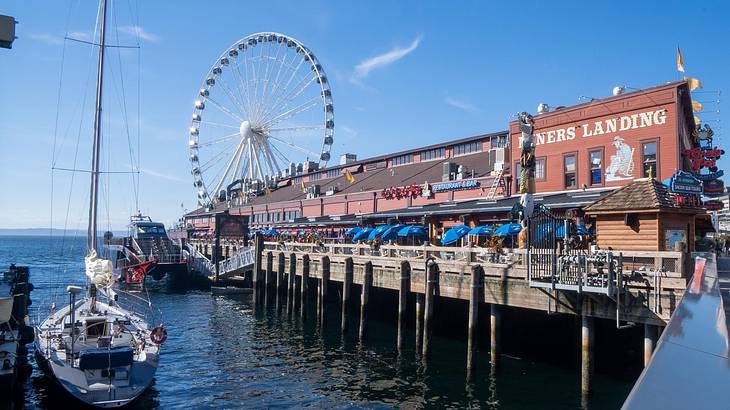 Walk along Miner's Landing Pier 57
The most quirky harbor front in Seattle is Miner's Landing Pier 57. This seaside-style pier features brightly colored buildings, souvenir shops, and a Ferris wheel.
You and your date can enjoy wandering around the area before stopping at a bar or restaurant. Options include fish and chip takeout spots and eat-in restaurants with west coast classics like clam chowder.
See incredible glass art at Chihuly Garden and Glass
Another perfect date spot for art enthusiasts is Chihuly Garden and Glass. This museum and garden feature various works by glass artist Dale Chihuly. As you explore the attraction, you and your partner will be blown away by the colorful and delicate art pieces.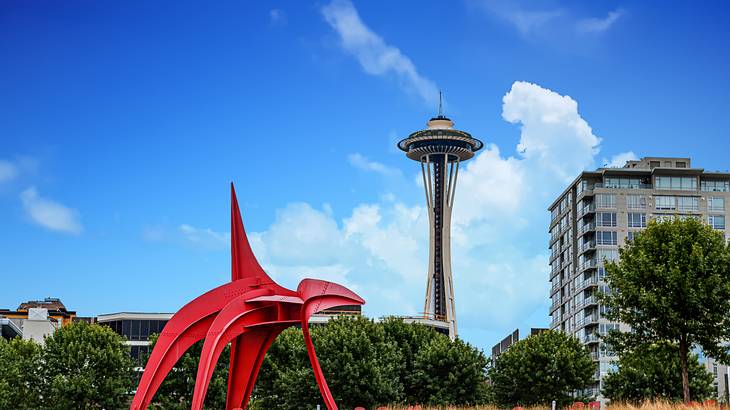 Explore Olympic Sculpture Park
Another of the well-known North American landmarks found in Seattle is Olympic Structure Park. The nine-acre park is a creation of the Seattle Art Museum and includes a range of unique sculptures.
Wandering around the scenic urban park and spotting all the sculptures is one of the laid-back couples things to do in Seattle. If you visit in the evening, you can appreciate the surrounding romantic city lights too.
Eat sweet treats on a donut tour
Is your date a lover of desserts and sweet treats? Then you have to take them on a donut tour!
This tasty tour will take you both to a handful of Seattle's great donut shops. These include Top Pot Doughnuts and Dahlia Bakery.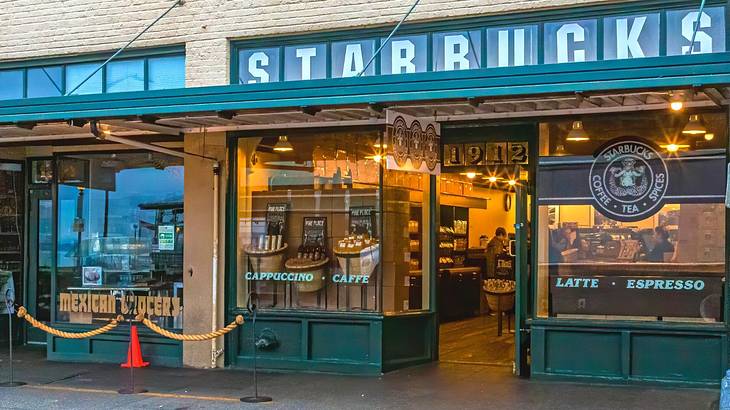 Grab a coffee at the first Starbucks
A nickname for Seattle is Coffee Capital of the World, and if your other half loves coffee, one of the can't-miss Seattle date spots is the first-ever Starbucks. Located in Pike Place Market, this store was opened in 1971 as the first of the now multinational chain. While lines can be long to get in, getting a delicious coffee at this iconic spot is worth it!
Sip drinks on a happy hour tour
Seattle is home to an array of outstanding bars and restaurants, and an excellent way for you and your partner to see the best ones is on a happy hour tour. This experience will take you to four eateries, where you can enjoy great deals on food and drinks. You'll likely find a few new spots for a future dinner or drinks date together!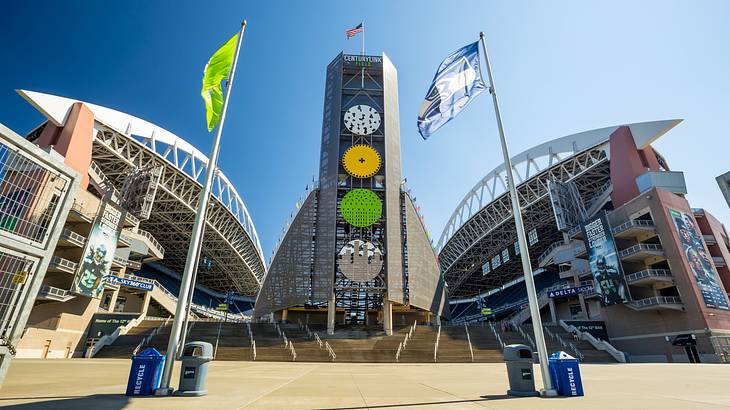 Cheer for a local team
An ideal date for sports lovers is watching one of Seattle's multiple professional sports teams play. Seattle is home to the Seahawks NFL team, Mariners MLB team, and Sounders FC MLS team.
In 2021, they also gained an NHL team, the Seattle Kraken. No matter what sports you both like, there's a team to see in Seattle!
Things to Do Near Seattle for Couples
Hike at Mount Rainier National Park
Mount Rainier National Park is well-known as being one of the best national parks on the West Coast. Located just under a three-hour drive from Seattle, taking a trip to Mount Rainier makes for a fun daytime date.
If neither of you feels like driving, no problem! You can opt to take a day trip from Seattle to Mount Rainier tour. At the park, you can hike, see Mount Rainier volcano, and spot wildlife.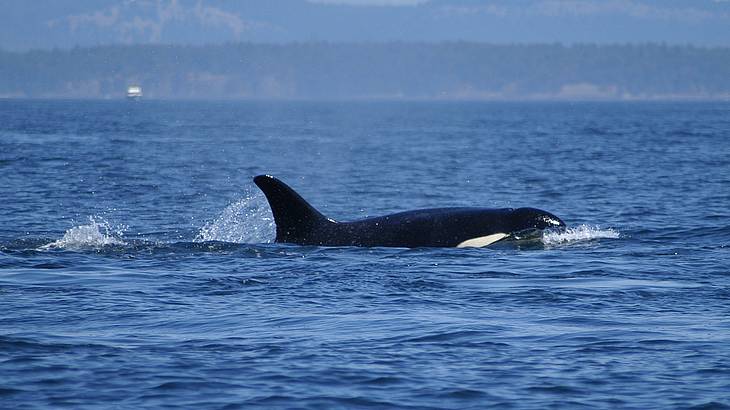 Whale watch near San Juan Island and Puget Sound
The waters around Seattle are home to majestic killer whales for a large part of the year. If you and your partner like wildlife, a memorable date idea is going on a San Juan Island whale watching tour. Along with whales, you may also see sea lions, seals, and other sea animals.
Another great place to whale watch is on the Puget Sound. This famous landmark in Washington is an inlet of the Pacific Ocean and is home to an array of marine life.
Get back to nature at the Bloedel Reserve
Located on Bainbridge Island, the Bloedel Reserve is a 150-acre garden dedicated to wildlife and environmental conservation.
As you explore the gardens, you and your date will find a multitude of plant species and tranquil ponds. Wildlife sightings are also guaranteed, and there is a stately manor house to admire.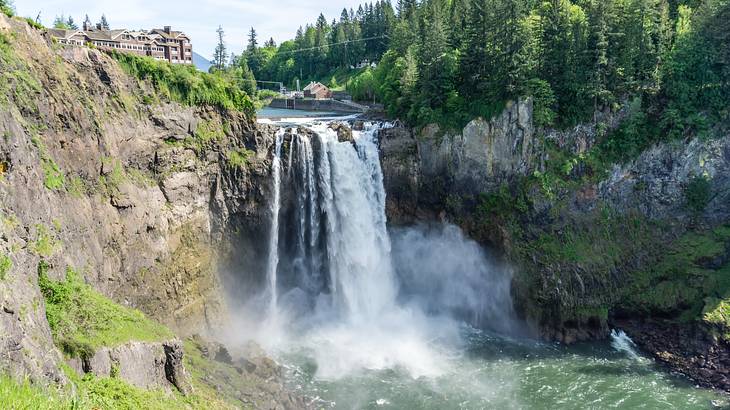 View the beautiful Snoqualmie Falls
To the east of Seattle are the stunning Snoqualmie Falls. The 268-foot waterfall sits on the edge of the Snoqualmie River and is surrounded by lush green forest.
Taking a Snoqualmie Falls day tour is a convenient way for you and your date to see the waterfall. You also get to see a few other landmarks, like the Fremont Troll and Hiram M. Chittenden Locks.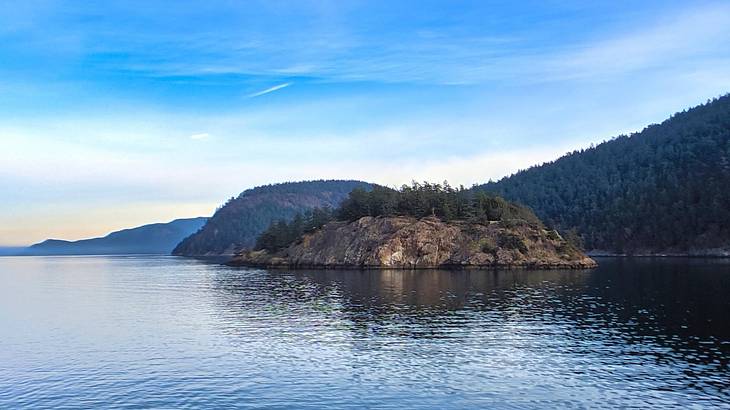 Sea kayak around the San Juan Islands
Another of the fun things to do near Seattle for couples that love being outdoors is kayaking in the oceans around the San Juan Islands. On a sea kayak tour, you get provided with all equipment and joined by a knowledgeable guide.
Starting at Anacortes, you'll sail past the San Juan Islands and Burrows Island. You could even see whales and other sea creatures while on the water.
In Summary
Seattle offers couples an array of things to do while in the area. Whether you're looking to plan one of the most romantic dates in Seattle or are after something more laid back, there's a date idea for everyone in this West Coast city!
Give us feedback about this article
Learn more about Seattle:
More articles about Washington:
Read more articles about the United States:
More articles about date ideas:
---
---
Want to keep exploring?
Subscribe for discounts on tickets and hotels and our latest guides.
Thank you for subscribing
We will be in touch soon with discounts on tickets and hotels and our latest guides.
Want to keep exploring?
Subscribe for discounts on tickets and hotels and our latest guides.
Thank you for subscribing
We will be in touch soon with discounts on tickets and hotels and our latest guides.
Related Articles