35 Fun Things to Do in Seattle at Night
Destguides may receive commissions from purchases made through affiliate links in this article.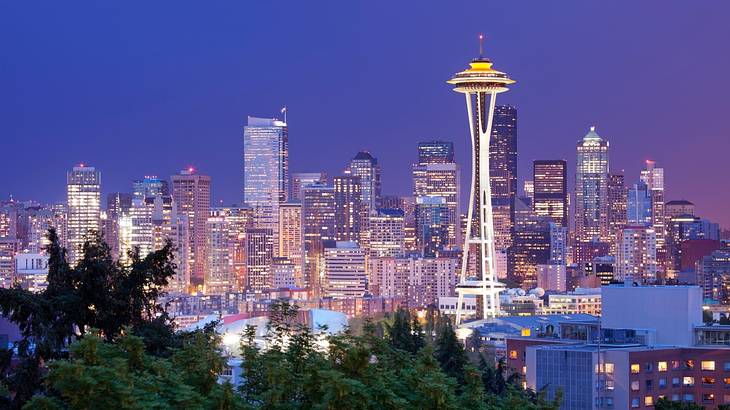 When visiting the west coast city of Seattle in Washington state, you'll find an array of things to do. Tourists can go to world-class museums, see numerous North American landmarks, dine at outstanding restaurants, and much more!
Best of all, the destination boasts a vibrant nightlife scene with an array of nighttime attractions. Fun things to do in Seattle at night range from going on a sunset cruise to enjoying a live jazz show or sipping drinks at an array of unique bars.
Whether you live in Seattle or are visiting, this list is sure to give you some great ideas regarding what to do at night in the Emerald City.
35 Best Things to Do at Night in Seattle
Seattle, Washington, Things to Do at Night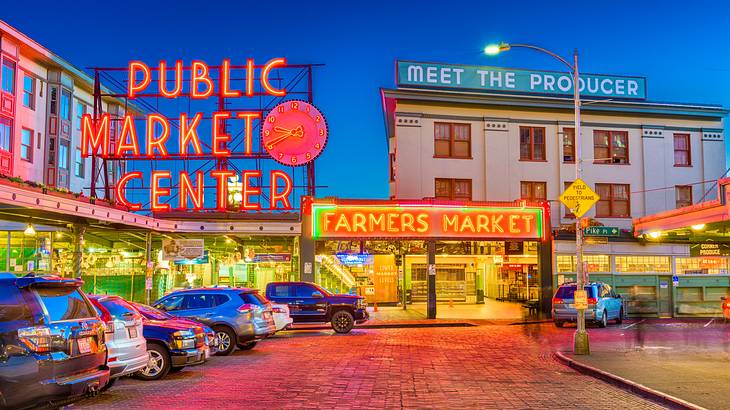 Shop at Pike Place Market
Pike Place Market is one of the most well-known public markets in the United States. Pike Place closes between 5 PM and 6 PM, meaning you can explore the attraction in the early evening.
At the market, you'll discover an array of stalls selling produce, snacks, flowers, and much more. There are also restaurants here and shops selling crafts and souvenirs.
Drink local beer at Pike Brewing Company
Pike Brewing Company is a popular local bar with an on-site brewery. You can find different beers on tap each day, with ciders available too.
Can't decide what to try? Luckily, Pike Brewing offers flights, allowing you to sample multiple beers. Along with delicious drinks, you can order bar-style food, like burgers, nachos, or pretzels.
Treat yourself to a Lake Union cocktail cruise
A fun way to party the night away is on a Seattle cocktail cruise. This experience takes you out on Lake Union and allows you to relax with a drink as you take in the sights.
While on the boat, you'll sail past various landmarks, including the Space Needle, Gas Works Park, and St. Mark's Cathedral.
Sing karaoke at Rock Box
One of the cool things to do in Seattle at night is heading to Rock Box for Japanese-style karaoke. This fun bar offers guests private Karaoke rooms and a vast list of songs to choose from.
As you sing, you can order drinks, including signature cocktails, and Japanese-inspired snacks, such as Japanese chips and yuzu salsa. Rock Box has a great happy hour too, which runs all week.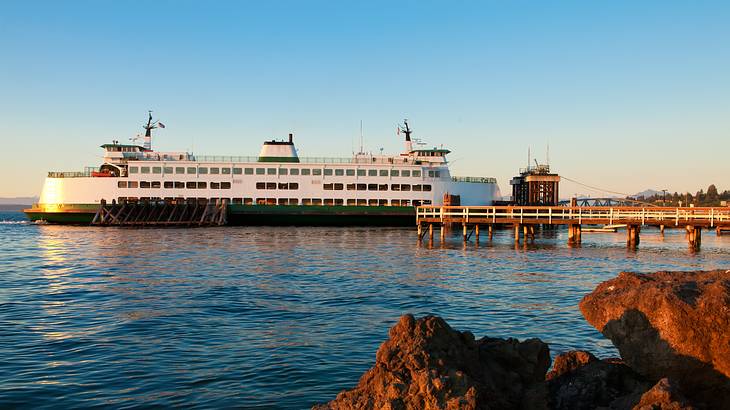 Hop aboard the Bainbridge Island ferry
A great way to view of the Seattle skyline at night is by hopping on the Bainbridge Island Ferry. On the sailing across the Puget Sound, you'll be able to look back at the illuminated city.
Once at Bainbridge Island, you can explore the small city and eat at one of the charming local restaurants.
Wander around Olympic Sculpture Park
Olympic Sculpture Park is owned by the Seattle Art Museum and is a tranquil urban park complete with artistic structures. Wandering around the attraction as the sun sets is a relaxing way to start the evening.
As you explore the park, you'll discover the various sculptures and can appreciate views of Elliot Bay.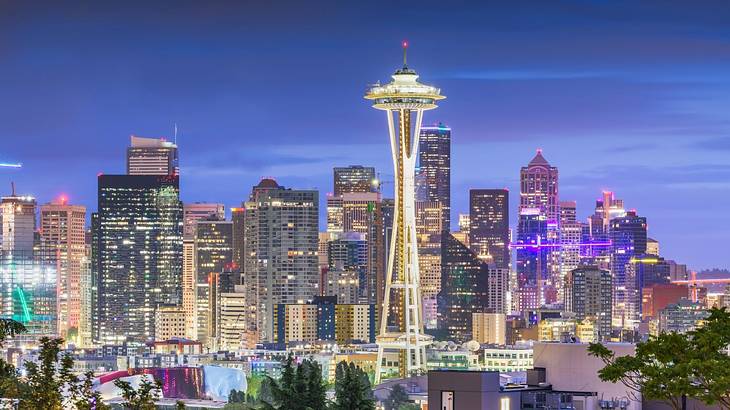 Dine in the Space Needle
The Space Needle is a famous world landmark that has to be visited when in the Emerald City. One of the best things to do in Seattle at night is heading to the top of the structure to eat dinner surrounded by panoramic views.
The Space Needle's Loupe Lounge offers a selection of dinner packages that include fine dining dishes and delicious cocktails. While it is a little pricey, dining in the Space Needle is definitely worth it!
Try local wines at The Tasting Room
One of the sophisticated places to go at night in Seattle is The Tasting Room. The luxurious wine bar serves beverages from Washington's best wineries.
Flights are available so that you can taste a range of these delicious wines. You can also opt for a glass, a bottle, or a fun wine cocktail.
Hear live music at Dimitriou's Jazz Alley
Dimitriou's Jazz Alley has been a much-loved spot in Seattle for over 30 years. The jazz venue hosts incredible live acts that you can listen to as you enjoy drinks and a meal.
Dishes to choose from include seafood pasta, steak, a selection of tasty desserts, and much more. If you're looking for an exciting but relaxed night out, a trip to Dimitriou's Jazz Alley is a must!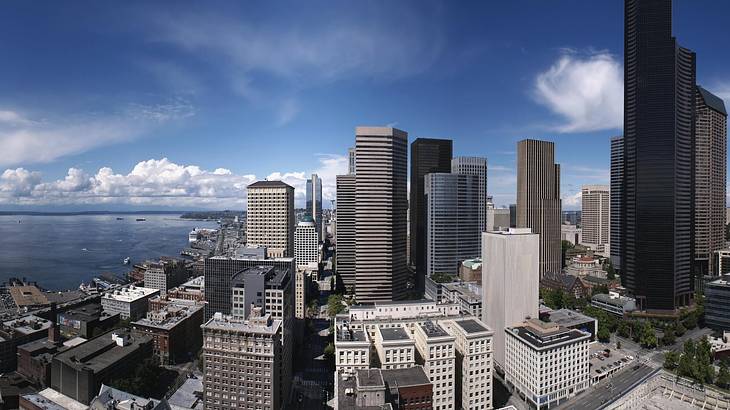 Go to the top of Smith Tower
Smith Tower is a 484-foot skyscraper located in Pioneer Square. The tower features an observation deck that boasts 360-degree views of Seattle.
Heading up to the observation deck in the early evening allows you to appreciate the city as night sets in. You can also find a bar in Smith Tower on the 35th floor where you can enjoy a drink surrounded by breathtaking vistas.
Take outstanding pictures at the Seattle Selfie Museum
Want to up your Instagram game? Then a trip to the Seattle Selfie Museum is one of the fun night activities in Seattle that you can't miss!
This unique museum features an array of quirky photo backdrops that are perfect for selfies or group photos. Each photo set also comes with different props to make your photos even more one-of-a-kind.
Play a round of mini-golf at Flatstick Pub
Another of the unique places to go in Seattle at night is Flatstick Pub. At this venue, you can play indoor mini-golf while sipping on craft beer, cider, or wine.
Flatstick Pub is definitely one of the most fun places for a night out in the city! It's also the perfect place to take a date in Seattle.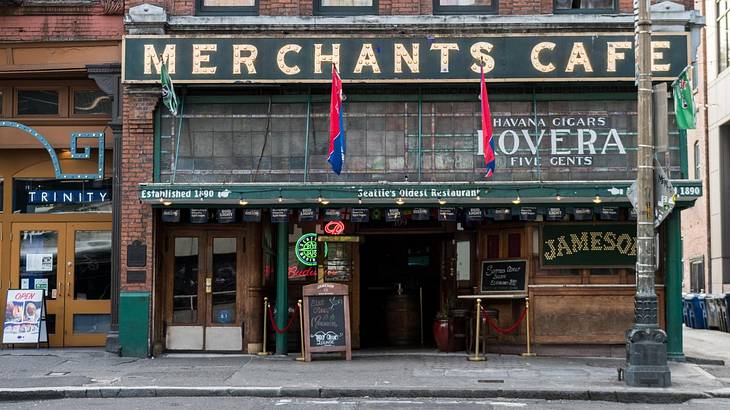 Hang out at Merchants Cafe and Saloon in Pioneer Square
Merchants Cafe and Saloon is the oldest restaurant in Seattle. Located near the famous Washington landmark of Pioneer Square, the bar features local beer and yummy snacks.
Merchants Cafe and Saloon is also the perfect place to watch Seattle's teams play on the big-screen TVs or listen to live music.
Have a dinner date at Pink Door Restaurant
The Pink Door is an Italian restaurant that allows you to dine while watching a show. Performances that you can see include jazz and live music sessions, burlesque shows, and trapeze acts.
Along with enjoying the entertainment, you can choose from an array of high-end dishes off of Pink Door's extensive menu.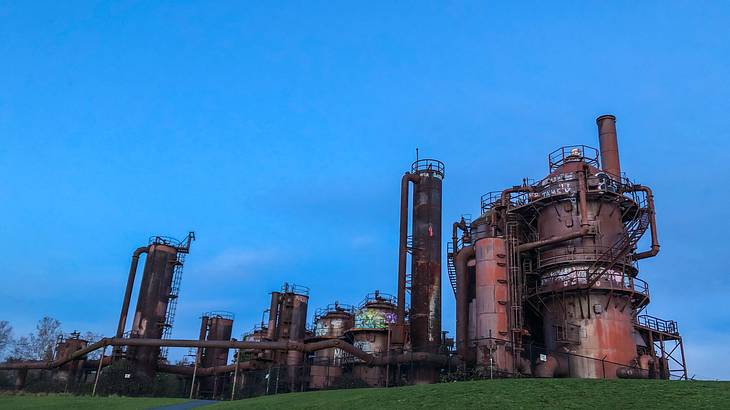 Visit Gas Works Park
Gas Works Park is one of many famous landmarks in Seattle that is an ideal place to visit in the evening. The attraction was developed around a former gasification plant, making it a highly unique urban park.
As the park is open to the public until 10 PM, you can head there after dark to hang out and admire the nighttime views of Lake Union.
Drink carnival-style cocktails at Unicorn Bar
Unicorn Bar is a quirky carnival-themed bar featuring fun drinks and snacks in a brightly decorated two-floor space. Signature cocktails to choose from include a range of interesting ingredients, like bubble-gum and fruit loop flavored vodkas.
No matter what you pick off the menu, you're guaranteed to always have a memorable time at Unicorn Bar!
See the spooky side of Seattle on a haunted pub crawl
One of the Seattle things to do at night that's perfect for lovers of the paranormal is experiencing on a haunted pub crawl. This experience combines a bar crawl with a ghost tour, allowing you to hear eerie stories and check out some top Seattle pubs.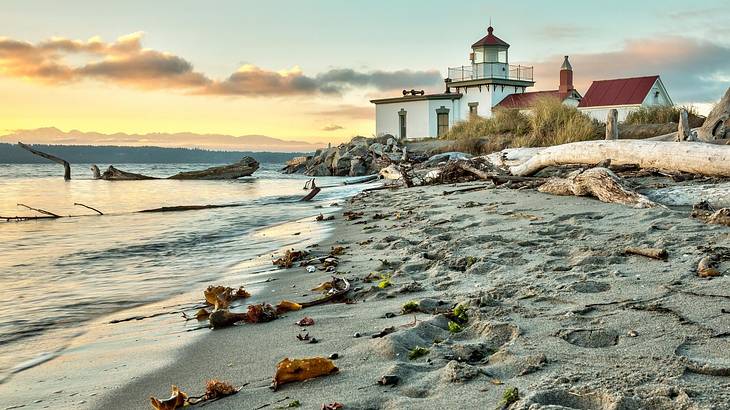 Admire the sunset at Discovery Park
Located 20-minutes from downtown Seattle, coastal Discovery Park is a spectacular place to watch the sunset.
If planning to visit, arrive at the park a little before sunset to ensure you see it. You can also pack a picnic to enjoy as you relax on the shore.
Take in the views at the Sky View Observatory
Another observation deck in Seattle is found at the Sky View Observatory. Located on the building's 72nd floor, the observation deck allows you to spot Mount Rainier, the Puget Sound, and more.
Buying a Sky View Observatory ticket in advance will ensure you get to enjoy the views.
Listen to eerie tales on a ghost tour
Another of the things to do in Seattle, Washington, at night for lovers of spooky stories is going on a ghost walking tour. Eerie places you'll visit include an old mortuary and a haunted bar.
At each stop, your guide will tell tales of reported paranormal activity. Who knows, you may even see a ghost yourself!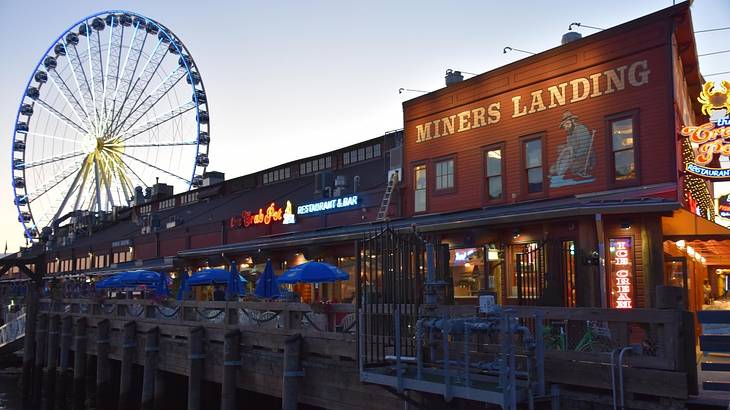 Explore at Miner's Landing Pier 57
Miner's Landing Pier 57 is a fun area of Seattle located on the waterfront. The pier has classic seaside vibes and features fish and chip restaurants, souvenir shops, and a Ferris wheel.
At night, you can simply wander along the pier or stop in at one of the restaurants for a meal and drinks.
Enjoy a dinner cruise on Lake Union
You can put a twist on the classic evening activity of going out to dinner by opting for a dinner cruise. Waterways Cruises offer a luxurious dinner cruise that sails on Lake Union and Lake Washington. Aboard the yacht, you can admire the views while eating a high-end meal complete with champagne.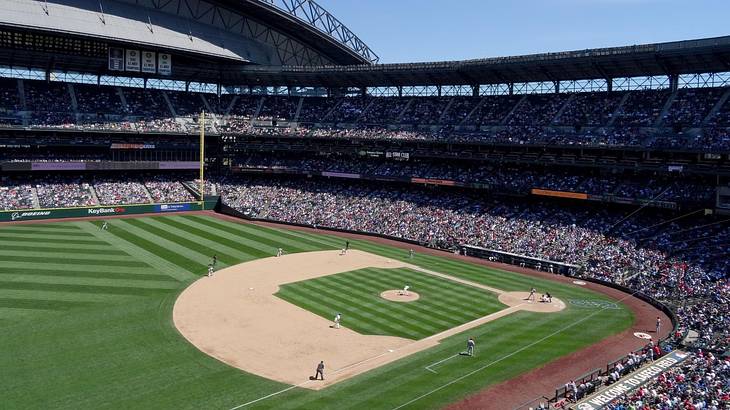 Watch one of Seattle's sports teams play
Seattle has multiple professional sports teams, and if you're a sports enthusiast, seeing an evening game is recommended. Franchises to watch are the Seahawks NFL team, the Mariners MLB team, and Sounders FC MLS team. Seattle also gained the Kraken NHL team in the 2021/2022 season.
Attempt to solve an escape room puzzle
If you like problem-solving activities, Hourglass Escapes is one of the places to visit in Seattle at night that you'll love. At Hourglass Escapes, you can tackle themed escape rooms, which you have around an hour to get out of. Rooms include a pirate-inspired room and an alien invasion room.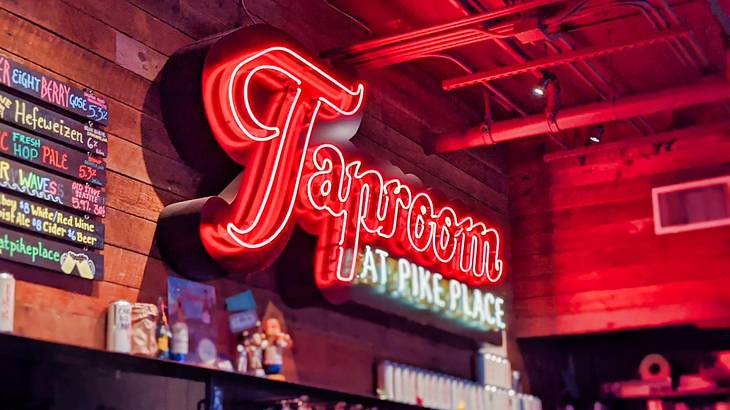 Grab a beer at Taproom at Pike Place
Another local bar you have to visit is the Taproom at Pike Place. The bar has draft on tap, with options rotating frequently. You can also order flights, allowing you to sample a few beers. Bar snacks, like soft pretzels, can be enjoyed with your drinks too.
Create delicious dishes at a cooking class
If you want to pick up a new skill, one of the best things to do in Seattle at night is taking a cooking class. Hot Stove Society offers various classes that will teach you different culinary techniques. Dishes you can learn to cook include paella, pizza, and Vietnamese crepes.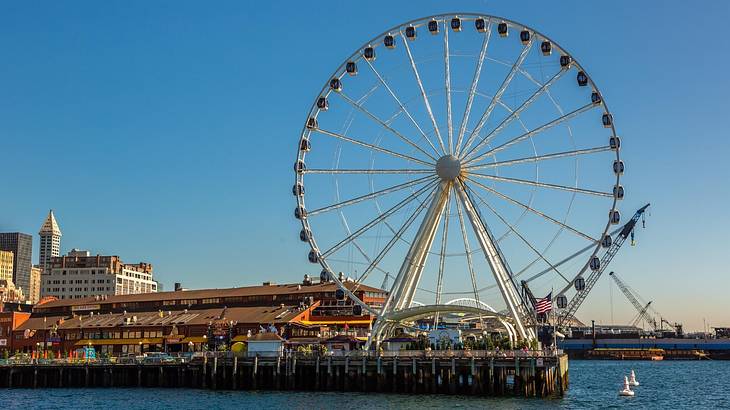 Ride the Seattle Great Wheel
Located at Pier 57, the Seattle Great Wheel is a 53-meter tall Ferris wheel that was installed in 2012. Those that ride the wheel get to appreciate panoramic views of the city. Best of all, it's open until 9 PM, so you have lots of time in the evening to give it a go!
Spend a night at the opera
Seattle is home to many cultural attractions, including an Opera house. Watching the Seattle Opera perform is a memorable experience for opera lovers and novices.
You can see a variety of live operatic performances, and English captions are always visible to ensure you understand what's happening.
Challenge your friends to a bowling game
Bowling is always a fun way to spend the evening. Seattle has numerous venues to choose from, with Garage being a local favorite. The bowling alley includes 20 lanes, plus pool tables and six bars! Having played a few games, you can relax with a drink and some bar food.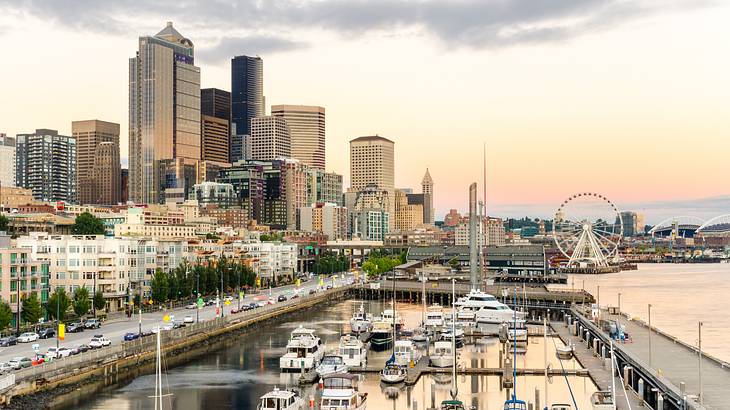 Walk along the Seattle Waterfront
The scenic Seattle Waterfront features a collection of piers that house restaurants, bars, and souvenir shops. A relaxed nighttime activity is simply walking along the waterfront and taking in your incredible surroundings. You can then visit any shops or restaurants that take your fancy.
Play arcade games at Add-a-Ball
Those looking for the most fun stuff to do in Seattle at night need to check out Add-a-Ball arcade and bar. The retro-style bar houses a vast selection of classic arcade games. You can also play pinball here, and a range of drinks are available at the bar.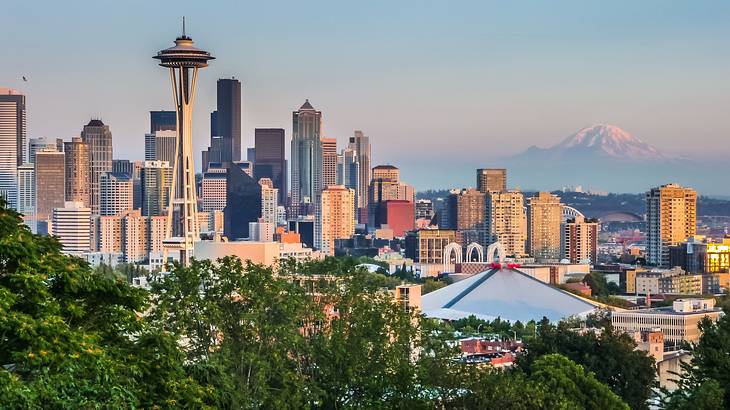 View the illuminated skyline from Kerry Park
If you're wondering where to go in Seattle at night to see the skyline, Kerry Park is a good option. The park is located on Queen Anne Hill and looks out across downtown. On clear nights, you can even see Mount Rainier in the distance.
Go to a comedy night at Unexpected Productions
Unexpected Productions is a great place to spend the evening. The venue hosts a range of comedians that are sure to make you giggle, with improv being a specialty.
As you watch the show, you can also order drinks and snacks, such as popcorn. If you like the performance, you can take improv classes here too!
Things to Do Near Seattle, Washington, at Night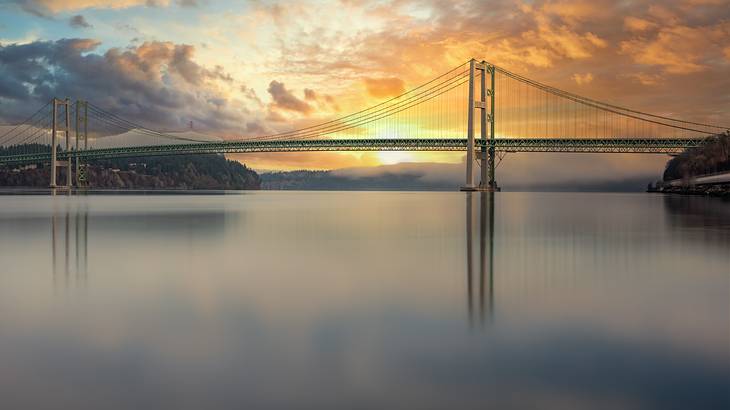 Experience a sunset sailing on the Puget Sound
Going on a Puget Sound cruise is definitely one of the best ways to appreciate the Seattle sunset. This boat trip departs from Gig Harbor shortly before the sun sets. As you sail past Tacoma Narrows Bridge and Fox Island, you'll be able to admire the orange and pink sky.
Dare to go indoor skydiving
If you're looking for a different evening activity, indoor skydiving is for you! With iFly Seattle, you can skydive within the safety of an 800-horsepower indoor wind tunnel. This experience is ideal for thrill-seekers and those that like to try new things.
In Summary
For those wondering where to go in Seattle at night, this list offers an array of exciting ideas to try. Hopefully, in trying one or more of these suggestions, you'll have an incredibly memorable night out!
Give us feedback about this article
Learn more about Seattle:
More articles about Washington:
Read more articles about the United States:
More articles about things to do:
More visual stories related to this article:
---
---
Want to keep exploring?
Subscribe for discounts on tickets and hotels and our latest guides.
Thank you for subscribing
We will be in touch soon with discounts on tickets and hotels and our latest guides.
Want to keep exploring?
Subscribe for discounts on tickets and hotels and our latest guides.
Thank you for subscribing
We will be in touch soon with discounts on tickets and hotels and our latest guides.
Related Articles