The Best 3 Days in Ho Chi Minh City Itinerary
Destguides may receive commissions from purchases made through affiliate links in this article.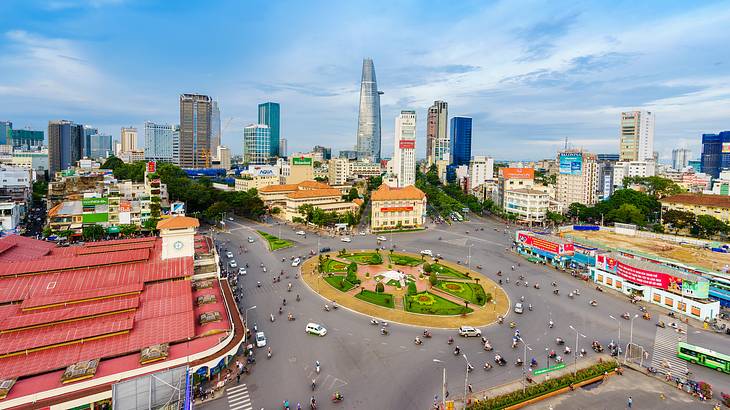 Vietnam's Ho Chi Minh City (HCMC) has a range of exciting activities to enjoy and historical Asian landmarks to visit. While this city might be best known for its war history, it has much more to offer on top of its informative war memorials and museums. This includes beautiful architecture, culturally-impressive temples, a variety of markets, and great restaurants and bars.
Luckily for those wanting a quick trip, you can enjoy all of the city's popular spots by spending just 3 days in Ho Chi Minh City. HCMC, and Vietnam more generally, is also an excellent location for all travelers, including families with kids and budget-conscious travelers.
When planning your trip to Ho Chi Minh City, seeing as much of the country as you can is recommended. So consider spending at least two weeks in Vietnam to visit some of the best places in Vietnam, such as Hanoi, Hoi An, Dalat, and Hue.
If you think Ho Chi Minh City sounds like the right place for your next trip, then keep reading a detailed 3 day Ho Chi Minh City itinerary.
3 Day Ho Chi Minh Itinerary
A Taste of Ho Chi Minh's Culture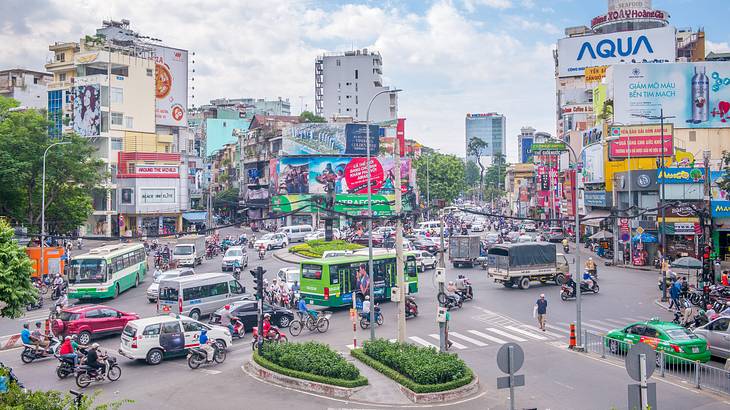 The first day of your 3 days in Ho Chi Minh itinerary will be spent visiting iconic markets and temples. You'll also get to view the city from up high at Bitexco's SkyDeck.
Your day will begin in Pham Ngu Lao. This street has many shopping malls and street markets to venture through, plus many street food stalls. You'll then head to Thien Hau Temple, where you can reflect or simply admire the architecture of this Chinese temple.
Your next stop is at the modern Bitexco Financial Tower. This office building is the tallest in Ho Chi Minh City. It also has shops, restaurants, and the well-known glass SkyDeck, where you can take in views of the city and the Saigon River. You can get some lunch here too, or go to a local pho restaurant like Pho 1954.
Your afternoon will be spent at another temple, the Hindu Mariamman Temple. the next place to head to is Ben Thanh Market. This market has a chill vibe and is good for those on the hunt for bargain goods or freshly-cooked Vietnamese food.
Snack your way around the food stalls, or get dinner and drinks at a nearby restaurant. If you're still in the mood to stay out, check out some bars here, or return to Pham Ngu Lao.
Pham Ngu Lao
Pham Ngu Lao Street is a vibrant and busy area. It's definitely worth a visit during your 72 hours in Ho Chi Minh City. Also known as Backpacker Street, you'll find many budget hostels, motels, and guest houses here. There's a vast array of bars, clubs, and restaurants as well, and is an excellent area for those traveling around Asia on a budget!
Pham Ngu Lao has several street markets along with shopping malls. Stalls and shops here sell clothing, souvenirs, candy, and even conical hats, the unofficial national symbol. The area is also home to many street food stalls if you want to try some quick, cheap, and tasty Vietnamese dishes. There are additionally lots of pho restaurants here that stay open until late.
If you want to come later in the day to experience the nightlife in Pham Ngu Lao, you won't be short of options. The View Rooftop Bar is a cool place to check out. It offers a relaxed atmosphere and incredible views.
You can choose from an extensive list of cocktails or enjoy traditional bar offerings like beer and wine. They also have some fun blended drinks, like their KitKat smoothie. Accompany your drink with Vietnamese-inspired bar food. Adventurous eaters can even try frog porridge here!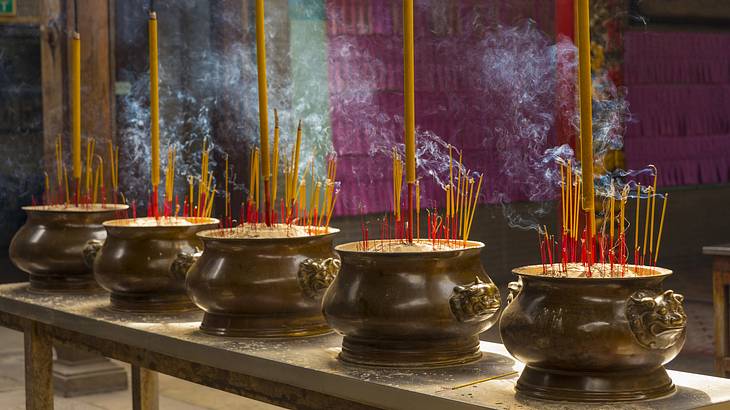 Thien Hau Temple
The Thien Hau Temple, or Ba Thien Hau Pagoda, is a Chinese-style temple dedicated to the Chinese Sea Goddess, Mazu. It's believed that Mazu protects ships and those traveling the seas.
The design of this temple is heavily inspired by Chinese architecture. It features colorful dioramas that hang from the ceiling, plus many statues, sculptures, and artworks. The focal point of the temple is the collection of three Lady of the Sea statues that sit at the main altar.
You can additionally see porcelain figurines that allude to Chinese religion and mythology on the roof of the temple. The burning incense in the courtyard and around the altar add to the experience by delicately scenting the air.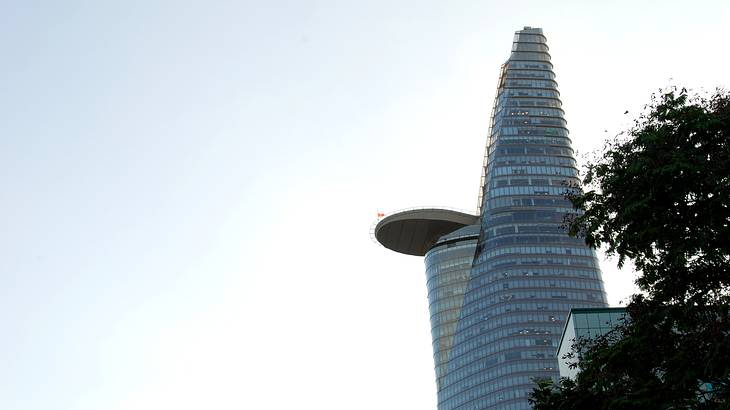 Bitexco Tower Sky Deck
Enjoy views of Ho Chi Minh City from great heights at the Bitexco Tower Sky Deck during the day or at night. The building itself is a financial tower with company offices. It also houses shops and restaurants, and there's even a helipad on the roof.
Bitexco Tower is the tallest building in the city at 262 meters tall. Head to the 49th floor to enjoy 360-degree views of Ho Chi Minh City and the Saigon River from the glass observation Sky Deck. Once you've taken in the views, you can try one of the tower's restaurants or cafes. Enjoy food and drinks with even more stunning views.
Pho 1954
Your three days in Ho Chi Minh City wouldn't be complete without trying the famous national dish, Pho. Made with noodles, broth, and beef or chicken, plus beansprouts and garnish, it's a delicious must-try.
You can find a large selection of Pho restaurants across the city. Pho 1954 is a popular spot where you're guaranteed to get a tasty bowl of authentic Pho. This restaurant has been serving locals and tourists since 1954, hence the name!
They also serve delicious Vietnamese iced coffee made with coffee and condensed milk. It's a great pick-me-up after a big bowl of Pho. Pho Hoa Pasteur is recommended as well.
Mariamman Temple
Mariamman Temple, or Temple Goddess Mariamma, is a beautiful Hindu temple. Notably, it's the only Hindu temple in Ho Chi Minh City. The temple is dedicated to the Hindu Goddess of Rain, Mariamman. She is seen as the protector of the temple who blesses visitors with luck and wealth.
The inside of the temple is covered in intricate details and shrines with statues of gods and goddesses throughout. The main altar features a statue of Mariamman and her deities. Another interesting feature is the praying stone. Here, worshippers can whisper their wishes and be blessed by the goddess.
Offerings for the gods and goddesses can also be purchased at the temple. If you're planning to go in the afternoon, note that the temple is closed between 12 PM and 1 PM.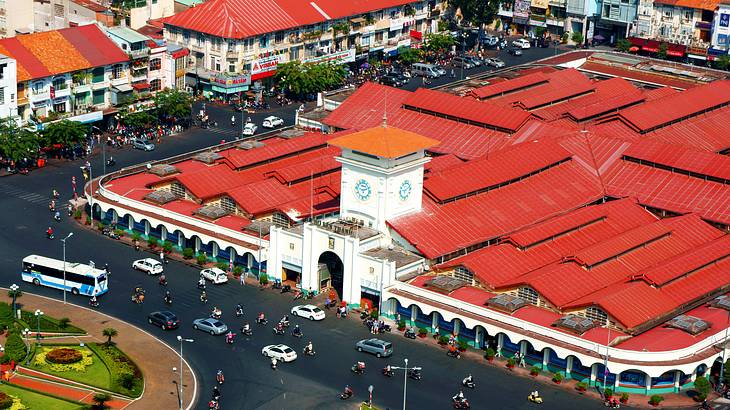 Ben Thanh Market
Ben Thanh Market is one of Ho Chi Minh City's oldest and most well-known markets. Visiting this market is definitely one of the best things to do in Ho Chi Minh City in 3 days!
As you look around, you'll discover handicrafts, Vietnamese souvenirs, and even traditional Ao Dai garments here. Ben Thanh Market is also popular for its hawker-style food stalls. You can enjoy Vietnamese cuisine and street eats that are all cooked right in front of you. Eat-in restaurants are open at the market during the evening as well.
The bustling market has a lively atmosphere during the day and night. I recommend that you avoid visiting the market during the middle of the day, though, as the midday sun can make exploring it hot and tiring!
Having looked around the market, stop at the nearby Chanh Bistro Rooftop. You can enjoy delicious lunch or dinner dishes along with yummy cocktails at this stylish rooftop bar and restaurant. Chanh Bistro also has boozy brunch on weekends and a daily happy hour from 2 PM to 6.30 PM.
Vietnam Through the Tunnels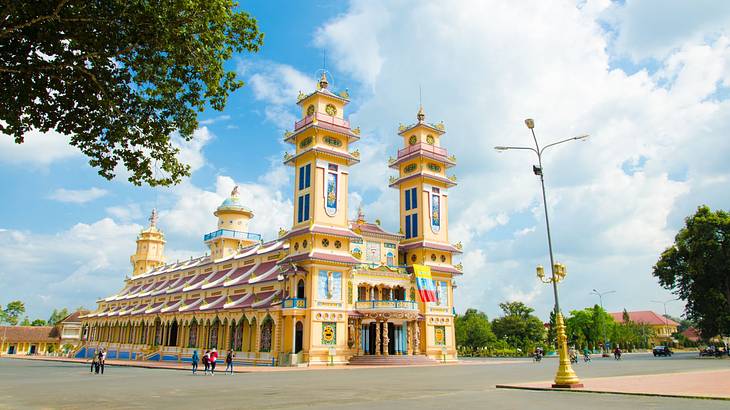 The second day of your 3 perfect days in Ho Chi Minh City will be spent outside the city. You'll start the day by visiting Cao Dai Temple near the Cambodian border. The followers of Caodaism, a religion indigenous to Vietnam, built this beautiful Caodaist temple.
Your next stop is the Cu Chi Tunnels. This historical attraction allows you to go down into the 120km of tunnels once used by the Viet Cong. You can also try the shooting range and other above-ground attractions here if you wish. Using a tour company is recommended for both the temple and the tunnels. Some tours even add the Mekong Delta to the trips.
Your day will finish by heading back to the city to wander around the night market at the Rubik Zoo. Here, you can taste authentic Vietnamese street food and listen to live music. If you like, you can then check out one of the many bars or nightclubs to experience Ho Chi Minh's exciting nightlife.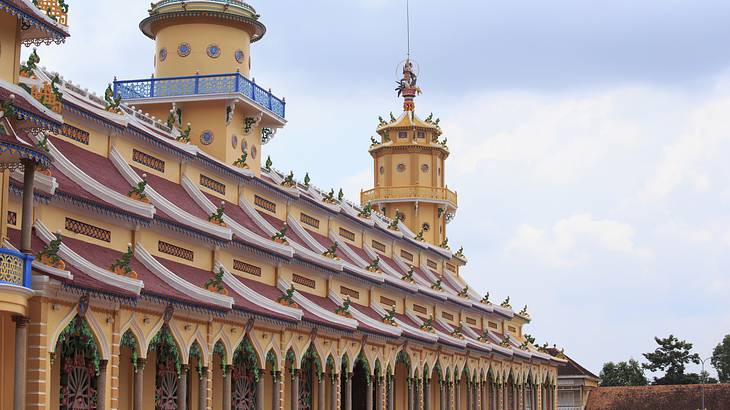 Cao Dai Temple
Get a glimpse of authentic Vietnamese architecture by visiting the Cao Dai Temple. Built in 1947, the temple is dedicated to Caodaism. Caodaism promotes global tolerance of all and teaches that all religions are similar and equal.
The temple itself is an exquisite piece of architecture. The exterior is built in a traditional Vietnamese way. The design includes multiple towers, archways, balconies, and sloping roofs, all complete with intricate details.
The inside is equally as beautiful. The colorful temple has stained glass windows and pillars covered in dragon sculptures and patterns. The focal point of the temple is the Divine Eye, which is a Caodaism emblem that symbolizes God and features the Ying Yang symbol in the center.
Daily services are held at the temple and are very interesting to view. They include prayer, chanting, and choral singing. The practicing Caodists also wear traditional white or colored robes. Services are every six hours, starting at midnight (12 AM, 6 AM, 12 PM, 6 PM).
Due to the temple's location near the Cambodian border, it's recommended to book a tour if you plan to visit. You'll also have to remove your shoes to enter and make sure you wear something that covers your knees.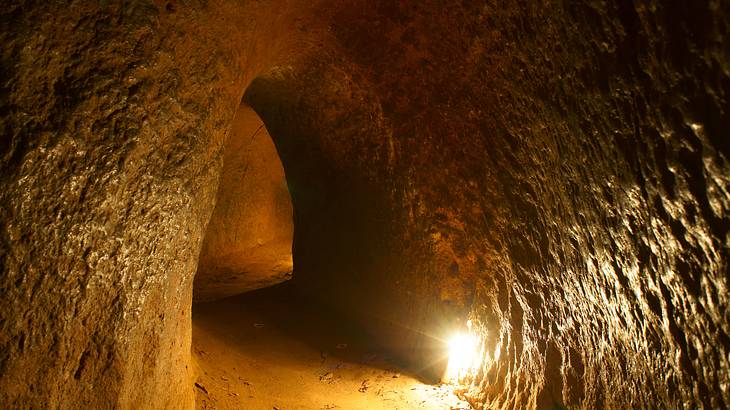 Cu Chi Tunnels
The Cu Chi Tunnels is a network of underground tunnels that were once used by Viet Cong soldiers. Visitors can access the safer parts of the tunnels that were expanded to accommodate crowds. However, some tunnels still fit only one person at a time, and the ceilings are quite low. So if you're claustrophobic, this might be one to skip!
If you want to explore the underground passages, there are over 120 kilometers of tunnels to venture through. You'll get to see trap doors and underground living quarters, hospitals, and armories, all used by the Viet Cong.
You'll additionally learn more about the tunnel's use in the war and the threats that the soldiers faced. Once you leave the tunnels, you can try out the shooting range, where you can fire Ak-47s. Multiple vendors also sell souvenirs.
It's recommended to use a tour company to get to the tunnels. Most tours are half a day long (morning or afternoon.) You can even take a VIP tour and visit the Mekong Delta too. This package includes transportation in a luxurious limousine complete with wifi, cold drinks, and snacks. Lunch is also provided, and you can be collected and dropped off at your hotel.
Rubik Zoo
Rubik Zoo is a fun and trendy weekend night market in Ho Chi Minh City. It is known for its vibrant nightlife with food stalls, cafes, and shopping. The open-air market features quirky converted shipping containers and many outdoor seating areas.
Start by exploring the stalls selling clothing and trinkets. Then move around the many food stalls selling authentic Vietnamese dishes. Some nights here also have live music performances to enjoy.
After the market, you can head to one of several bars or nightclubs in the area. The ATM Cocktail Bar & Kitchen is recommended and is just a three-minute walk from Rubik Zoo. This speakeasy-style bar has fantastic cocktails, including their signature Mekong Negroni, as well as beer, mixed drinks, wine, and snacks.
Lush nightclub is an excellent spot for dancing and craft cocktails. They also have a ladies night every Tuesday with free drinks until midnight.
Discover Ho Chi Minh's Landmarks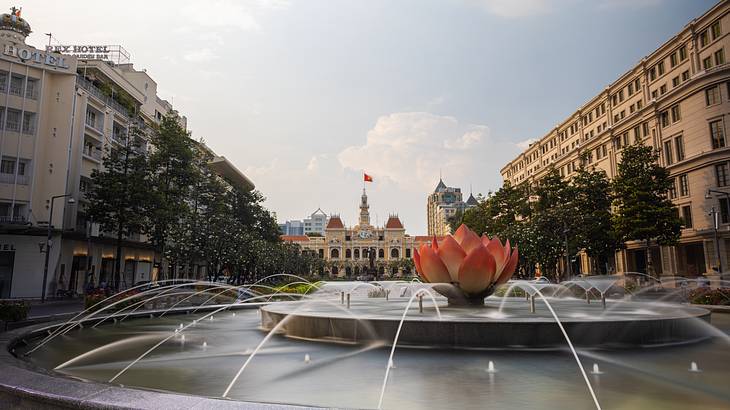 The last of your three days in Ho Chi Minh City will be spent visiting some of the city's most iconic landmarks and learning about Vietnamese war history. Your day will begin at the War Remnants Museum. You'll be able to view exhibits on the First Indochina War and the Vietnam War. You can even see war machinery and fighter planes.
Next, you'll visit another landmark related to the wars, the Independence Palace. Built by the French during their rule of Indochina, it's most well-known as the site on which the Vietnam War ended. Here, you can learn more about the Palace's history and explore its five floors and gardens. Before your next stop, take a break for lunch at Pizza 4P's. It's a great place to refuel for the rest of your day!
Your afternoon will give you a glimpse of France's influence on Ho Chi Minh City. Start at the Saigon Central Post Office. The French built this still-functioning post office in the 19th century.
Next, visit the Notre Dame Cathedral Basilica of Saigon. This beautiful church was constructed with materials sourced from France and still holds daily prayer and Sunday Mass. Finally, end your day at the Saigon Opera House. You can explore the stunning building and stay to catch a performance.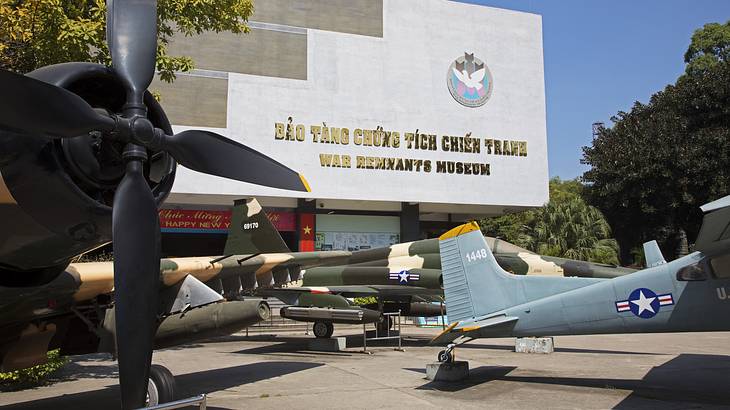 War Remnants Museum
A visit to the War Remnants Museum is a compelling and worthwhile trip. The museum houses exhibits on the First Indochina War and the Vietnam War. The museum is easy to get to, being right in the heart of the city. Once inside, you'll get to explore a range of exhibitions on life and battle during the wars Vietnam has faced.
Some of the displays are quite graphic, especially those with images from the Vietnam War. However, they serve as an essential reminder of the damage war does and help provide a complete picture of life during the Vietnam War. While at the museum, you'll also get to view Huey helicopters, F-5A fighters, and a guillotine.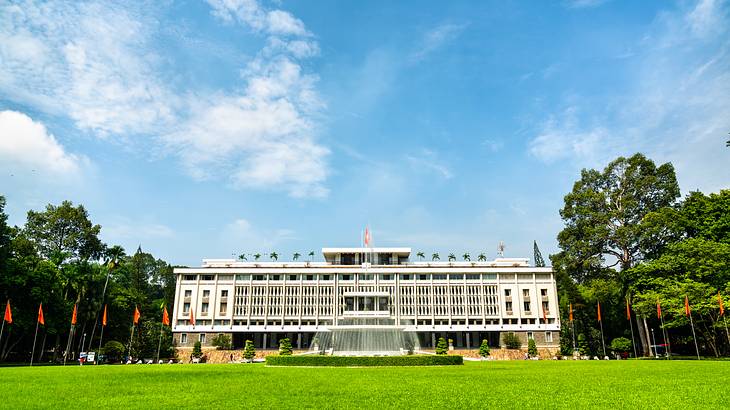 Independence Palace
The Independence Palace, or Reunification Palace, is a center point of Vietnam's history. The palace was built on the site of the former Norodom Palace. The original palace was built in 1868 for the French Governor-General of Indochina.
The Independence Palace is equally as historic as the Norodom Palace. It's most well-known as the building in which the president of South Vietnam lived and worked during the Vietnam War. Notably, it was the last target of the Vietnamese Liberation Army during the conflict. The running of tanks into the palace grounds marked the end of the Vietnam War in 1975.
A visit to Independence Place will allow you to witness all this history. The palace is preserved as it would have been in 1975. You can explore all five levels of the building, including the basement area, complete with tunnels and war rooms, and the fourth-floor casino. There are also many secret rooms and lush gardens.
Exhibits focus on Vietnam's and the palace's history. You'll also find displays on war propaganda materials and old telecommunications devices. Feel free to explore by yourself or get a complimentary tour guide.
Pizza 4P's
This Italian-style pizza restaurant chain serves some of the best pizza in the city. They utilize fresh farm-to-table ingredients and make the cheeses they use themselves, including the mozzarella and burrata.
Pizza 4P's serves a selection of pizzas with both traditional and more unique toppings. These include classic margarita and parma ham pizzas or try the salmon with miso cream or calamari with seaweed, among others. A popular and decadent choice is their Signature pizza line. These classic pizzas are topped with a whole ball of creamy burrata.
You can additionally enjoy appetizers and salads and choose from nine pasta dishes. Be sure to save room for dessert, too! Options include the famous Tiramisu or more innovative dishes like matcha creme brûlée.
Pizza 4P's has multiple locations across Ho Chi Minh City. The closest restaurants to your next stops are Pizza 4P's Le Thanh Ton and Pizza 4P's Hai Ba Trung.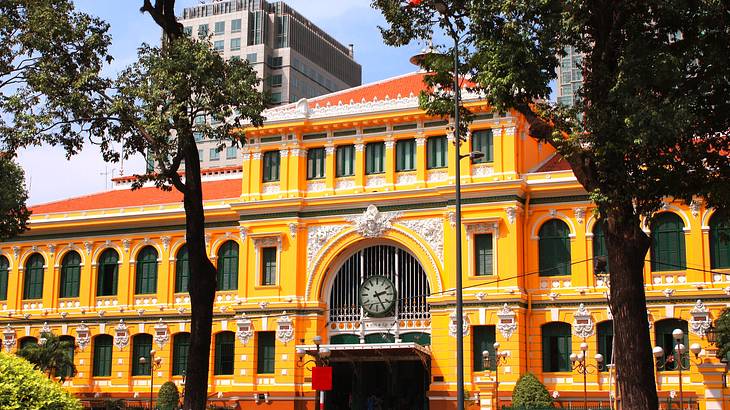 Saigon Central Post Office
Also known as the Ho Chi Minh City Post Office, the Saigon Central Post Office is a lovely historic landmark. Visiting the post office is one of the best things to do in Ho Chi Minh City in three days. While you may not spend much time here, you'll get to enjoy this beautifully-preserved building. As it's still a working post office, there's also a busy and lively atmosphere.
The post office was constructed during the 19th century when France ruled Indochina. The building is an excellent piece of French colonial architecture and is unchanged since the 1800s. It features high ceilings and arched windows with wooden shutters, among other vintage design elements. The exterior is known for its unique and happy yellow color.
While at the post office, pick up a postcard or two along with stamps to send home to friends and family. You could even send one to your house as a reminder of your visit, complete with a Ho Chi Minh City postmark.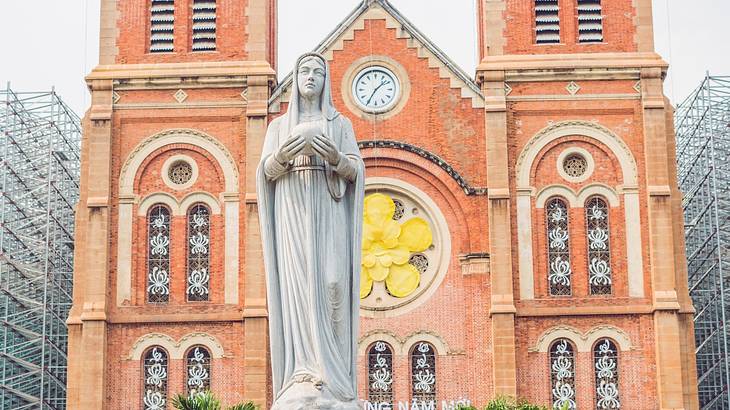 Notre Dame Cathedral Basilica of Saigon
The Notre Dame Cathedral of Saigon is a well-known Catholic cathedral located in Paris Square. French colonists established the Cathedral in the late 1800s. Its Romanesque design was modeled on the Notre Dame de Paris, and construction materials were even shipped in from France.
Having appreciated the exterior design, head inside the Cathedral to view the stain-glass, high ceilings, and other beautiful design elements.
A now-famous feature of the Cathedral is the Virgin Mary statue that stands outside the Cathedral. It's said that in 2005 visitors saw a single tear run down the Virgin Mary's face. This sighting caused hundreds to flock to the Cathedral, with the Catholic Church having to intervene eventually.
The Cathedral is open for viewings and prayer daily. Mass is held every Sunday morning in both English and Vietnamese.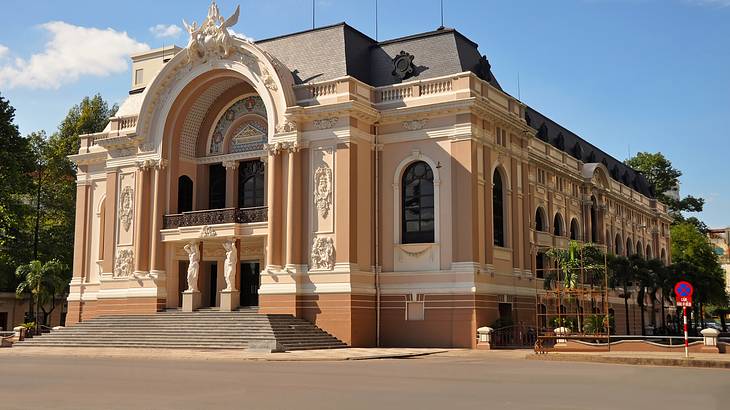 Saigon Opera House
Also known as the Municipal Theatre of Ho Chi Minh City, the Saigon Opera House has been an iconic landmark since 1898. The stunning French colonial-style building is even certified as a National Relic.
The three-story opera house still hosts many performances today. I highly recommend you visit to appreciate the architecture and even check out a show if one appeals to you. The performances being held are posted outside the opera house. You can also visit the state-operated tourist information center to get a show program.
Shows at the Saigon Opera House include cultural performances, concerts, bamboo cirque, ballet, and other dance shows. No matter what is on during your visit, watching a show here is sure to be a memorable experience.
In Summary
Ho Chi Minh City is a beautiful and fascinating city to visit. It's full of culture, history, and exciting attractions. Through learning about Vietnam's history, exploring its markets and landmarks, and enjoying the best nightlife, you'll feel like a local even after just three days!
Using this Ho Chi Minh 3 day itinerary means that you won't miss out on any of the most popular sights and attractions the city has to offer. You'll also be able to try some great bars and restaurants. Although if you don't go with my recommendations, you're still sure to find fantastic food, drinks, and clubbing no matter where you go in the city!
Give us feedback about this article
Read more articles about Vietnam:
---
---
Want to keep exploring?
Subscribe for discounts on tickets and hotels and our latest guides.
Thank you for subscribing
We will be in touch soon with discounts on tickets and hotels and our latest guides.
Want to keep exploring?
Subscribe for discounts on tickets and hotels and our latest guides.
Thank you for subscribing
We will be in touch soon with discounts on tickets and hotels and our latest guides.
Related Articles