An Adventurous 3 Day Auckland Itinerary
Destguides may receive commissions from purchases made through affiliate links in this article.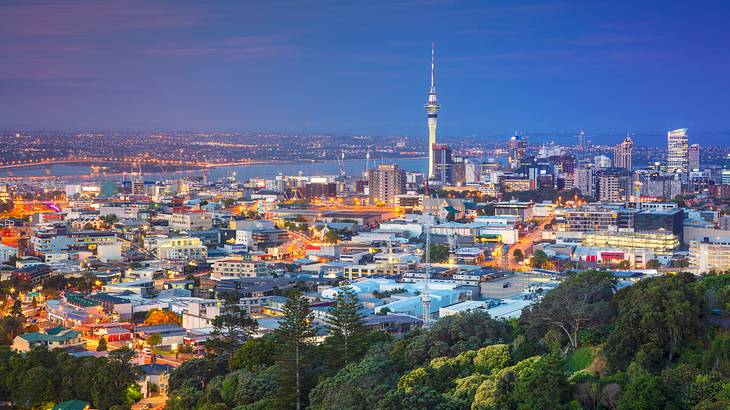 Auckland, located on New Zealand's North Island, is one of the country's largest and most well-known cities. Visitors to Auckland will enjoy a beautiful waterfront city with great nightlife and exciting activities.
Even if you're not in the city for long, you can see a lot of Auckland and its surrounding islands in a few days. Following my 3 day Auckland itinerary will ensure you get the most out of your trip.
The city center is home to several shopping outlets, bars and restaurants, and museums and galleries. Auckland also has multiple waterfront complexes and cultural and historical sites. Adventurous travelers can even go bungee jumping off the Harbour Bridge or the iconic Sky Tower!
Auckland has lots to offer in terms of island-hopping tours and nature trips, too. For example, you can hike Mount Eden, one of the many free things to do in Auckland, or go a little further north of Auckland to Waiheke Island.
With so many great neighborhoods to explore in Auckland, I recommend you do some research as well before you arrive to choose where to stay in Auckland that is most appropriate for you.
3 day itinerary
Average of 5 stops per day
Auckland 3 Day Article
A Fun and Cultural Day in Central Auckland
The first day of this Auckland 3 day itinerary will be spent exploring its downtown area, known locally as the central business district (CBD), and doing some cultural activities. Start at the Auckland Art Gallery Toi o Tāmaki, a renowned art gallery. After thoroughly exploring the gallery, take a relaxing walk in Albert Park, where the gallery is located.
Next, visit the Auckland War Memorial Museum. This important museum is a war memorial dedicated to New Zealand's soldiers that lost their lives in several wars. It includes a few exhibits on World War I and II as well.
Spend your afternoon and evening exploring Queen Street, the commercial hub of Auckland. Check out the many shops and stop for a drink at various bars. Visiting the gallery, shops, and eateries along Queen Street are also great indoor activities to do in Auckland on a rainy day. Finish your day with a great meal at the French restaurant The Grove.
Auckland Art Gallery Toi O Tamaki
Visiting Auckland Art Gallery is a highly recommended thing to do in Auckland. Located in Albert Park in the central business district of Auckland city, it's easily accessible.
The art gallery is the main public gallery in Auckland and has the most extensive collection of art in New Zealand. You'll be able to revel in a vast array of national and international art.
The art gallery also hosts a range of temporary exhibits throughout the year. Check their website before your visit to see which traveling exhibits will be on display during your trip. Once you have seen all the gallery offers, wander around Albert Park. With beautiful flower gardens and fountains, it's a relaxing oasis within the CBD.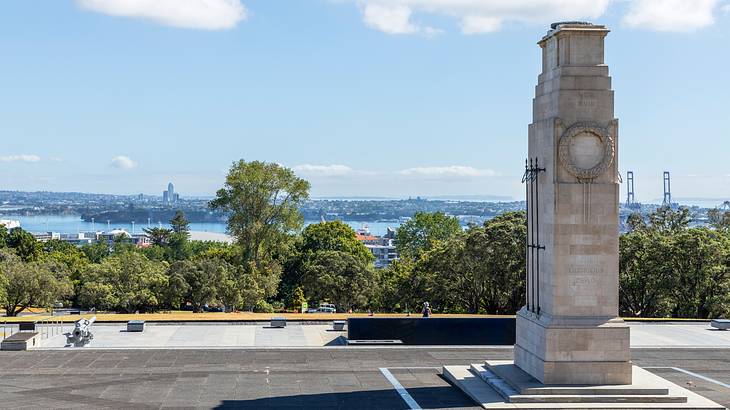 Auckland War Memorial Museum
The Auckland War Memorial Museum Tāmaki Paenga Hira (or just Auckland Museum) is an important museum and war memorial in the city. The museum houses artifacts from wars that New Zealand has been involved in. Most notably, you'll find exhibits on New Zealand's involvement in World War I and World War II.
Since 1929, the museum has been a place of remembrance for those who have lost their lives serving for New Zealand. Both the Rolls of Honour and Auckland Cenotaph are in place to remember those who have served. Additionally, the museum has exhibits on New Zealand's history outside of war, on Maori culture, and natural history.
During the winter, the museum also holds an After Hours event. This fancy affair allows you to dress up and explore the museum at your leisure. Add winter-themed food and drinks, and you're sure to have a fun and sophisticated evening!
Queen Street
Queen Street is Auckland's main commercial center. The area is home to lots of well-known stores and local shops. It also has a wide range of restaurants offering all types of cuisine and the best nightlife spots in Auckland.
Begin your time on Queen Street with some shopping. Queen Street has high-end, chain, and independent stores. Start your shopping spree at Commercial Bay. Smith & Caughey's, a high-end department store, is also recommended.
Take a break from shopping for a snack and drink. Queen Street has everything from cute cafes to trendy bars. Vultures' Lane Craft Bar and The Churchill rooftop bar are recommended. However, by just exploring Queen Street, you're sure to find a great bar or cafe to try!
Finish your time on Queen Street with dinner. If you don't feel like trying the recommended The Grove, there are many other options in this area.
The Grove Restaurant
The Grove is a local favorite and offers refined New Zealand cuisine with a French twist. This award-winning restaurant is a little more expensive than some other restaurants around Queen Street, but it's definitely worth it!
You'll be able to choose from a four, five, or six-course menu. They also have vegetarian and vegan menus. You're guaranteed to enjoy a perfectly created menu of dishes using local and unique ingredients. Complete your meal with professionally chosen wine pairings. The eatery is especially bustling on Friday and Saturday evenings, making it a must-visit for those spending a weekend in Auckland.
Island Hopping and Adrenaline Rushes
Your second day in Auckland will be a busy one! If you're an adrenaline junky, start the day with a bungee jump or bridge walk on the Auckland Harbour Bridge. Next, hop on a ferry to go to Rangitoto Island. During a visit, you can explore the volcanic island's crater and black lava caves. Finally, you'll finish your morning hiking in the Pohutukawa forest.
You'll then take the ferry to Waiheke Island. If you want another adventurous activity, try zip lining here. You can also go on a wine tour and stop for lunch and wine tasting at one of the many vineyards.
Finally, head back to Auckland to check out the Viaduct Harbour. This waterfront complex has several restaurants and bars; getting drinks and dinner in this area is one of the best things to do in Auckland, NZ!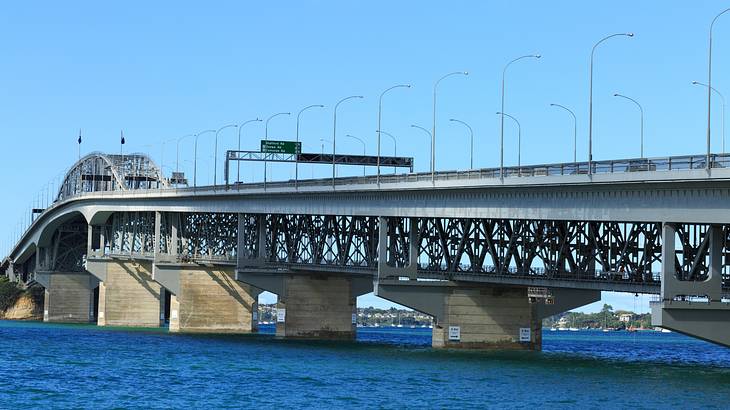 Auckland Harbour Bridge
The Auckland Harbour Bridge is a landmark and a major motorway in the city. It's well known by adventurous tourists as a place to bungee jump while in Auckland.
The exhilarating jump will take you 40 meters down from the bridge. If you want to enjoy magnificent views but don't want to try bungee jumping, a bridge climb is also possible. Bungee jumping and bridge climbing are popular activities to do in Auckland, so be sure to book your spot in advance.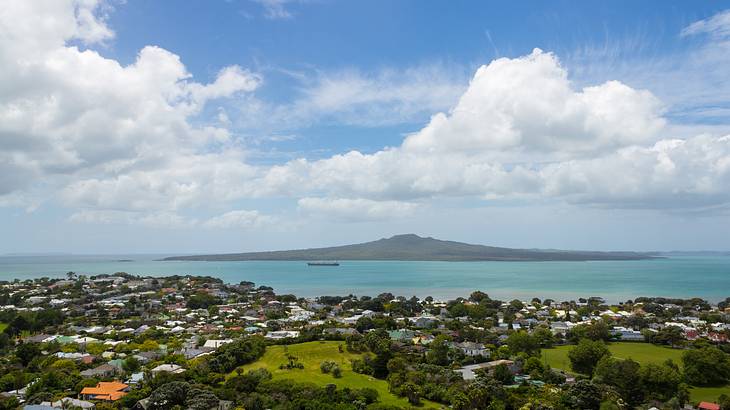 Rangitoto Island
Rangitoto is Auckland's youngest and largest volcano. Visiting this volcanic island is a must if you have 72 hours in Auckland. Rangitoto is just a short ferry ride from Auckland, and ferries operate on a regular schedule.
Visitors can take guided tours to see the volcano's crater and black lava caves. You can even take a kayak trip around the island. Guided kayak trips are offered during the day and at night, allowing visitors to enjoy the sunset from the water.
You'll also find many scenic hiking trails on Rangitoto and can also bird-watch. Rangitoto is also home to the most extensive Pohutukawa forest in the world. Explore the forest to see the vibrantly-colored Pohutukawa tree, plus other flora and wildlife.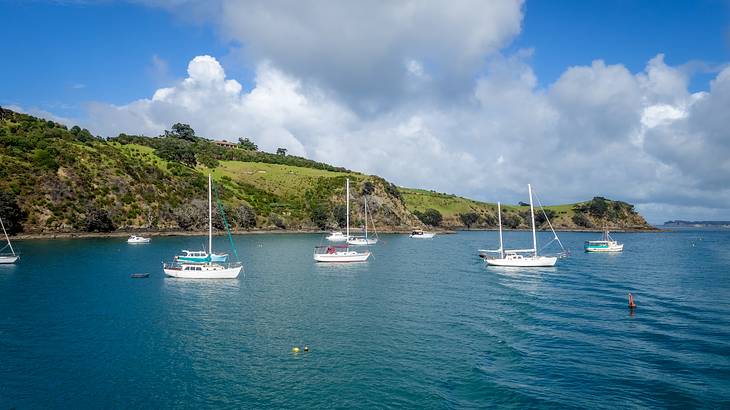 Waiheke Island
Waiheke Island is New Zealand's second-largest island after the Great Barrier Island. The island has many beautiful beaches, olive groves, and vineyards, and is just 40 minutes from Auckland.
Visit Oneroa Beach for sunbathing and beach activities. There is also a myriad of water activities to do on Waiheke Island, like swimming, boating, kayaking, and more!
Those after an adrenaline rush can try ziplining, offered by EcoZip Adventures. Flying-fox ziplines will take you over the lush forest with views of Waiheke's vineyards and beaches, including Auckland's CBD, in the distance. EcoZip also offers a forest walk.
Waiheke Island is also called Wine Island as it has a lot of vineyards one can visit when here. Visitors can taste a selection of locally-grown wines, including the award-winning Syrah, with a good deal of vineyards offering dining too.
Stonyridge Vineyard and Mudbrick Vineyard & Restaurant are two highly-recommended wineries to visit on Waiheke Island. To visit multiple vineyards, try a wine tour with Waiheke Wine Tours. Don't forget to purchase a few bottles to take home with you!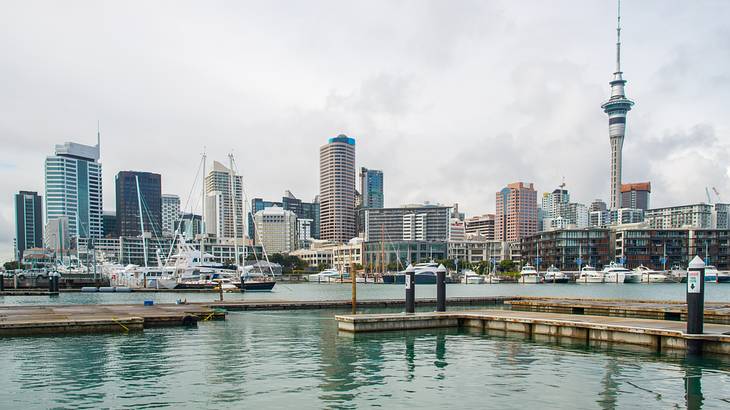 Viaduct Harbour
Viaduct Harbour (also known as Viaduct Basin) is a modern harbor-side complex on the edge of the central business district. Head here to enjoy the marina views before stopping at one (or more!) of its 30+ bars and restaurants.
The bars and restaurants at Viaduct Harbour are modern and each very unique. Their harbor location means you'll find some of the best seafood dishes in the city to try here.
There is also a selection of rooftop bars. Enjoy 360-degree views of Auckland city and the harbor while relaxing with a craft cocktail and snacks.
Additionally, you'll find fun and unique bar activities at some locations. Dr. Rudi's Rooftop Brewing Company has ten-pin bowling along with craft beers and incredible views. Or, stop by Holey Moley. This fun hangout has a mini-golf course, a cocktail bar, and karaoke. It's a highly recommended spot to visit if you're looking for fun things to do at night in Auckland.
Sharks, Parks, and Amazing Views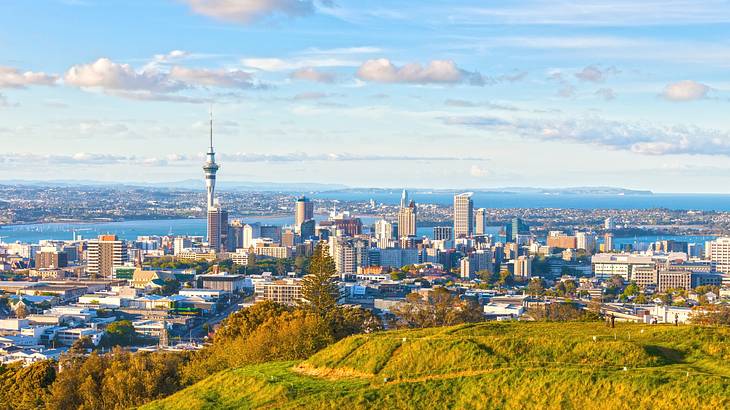 Your last day in Auckland will feature a range of activities. Start the day by going up the iconic Sky Tower. You can enjoy the view, grab something to eat, and even bungee jump again. To experience Auckland's sunset from up high, move this activity to later in the day.
You'll then have a relaxing rest of the morning exploring Auckland's parks. One Tree Hill and Cornwall Park combine to make a 670-acre park with lots to see and do. You can always pack a picnic to have on the lawn here, surrounded by wildlife, including sheep and cows! Next, hike up Mount Eden for panoramic views. Explore the surrounding village if time permits.
Spend the afternoon at Sea Life Kelly Tarlton Aquarium, accessible from the parks by public transport. This well-known conservation aquarium has many exciting aquatic exhibits. You can even swim with sharks under Gulf Harbour.
End your day watching the sunset with dinner and drinks at Mission Bay. Choose from a wide range of bars and restaurants to dine at, or have fish and chips on the beach.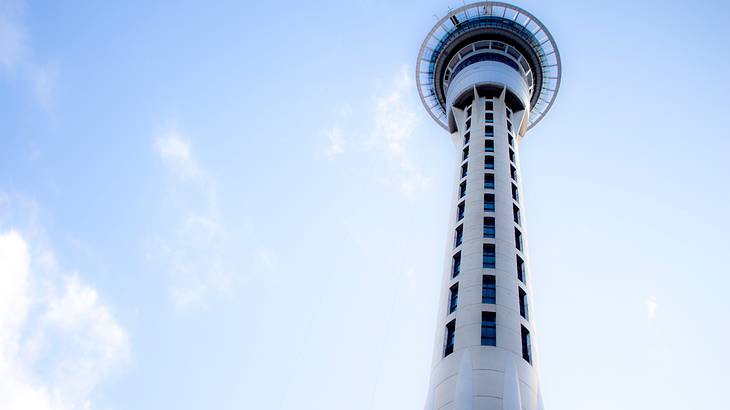 The Sky Tower
The Sky Tower has been an iconic landmark in Auckland for over 20 years. It's also New Zealand's largest human-made skyscraper, standing at 328 meters high.
While you can't go all the way to the top of the structure, you can go up 220 meters. On the observation deck, you'll experience 360-degree views of Auckland.
If you feel like dining with a view, Sky Tower has three eateries. Visit Orbit 360˚Dining or The Sugar Club for fine dining, or stop by the Sky Cafe for a snack.
Adventurers can take their visit to Sky Tower to a whole new level by bungee jumping off the building! Alternatively, Sky Tower's SkyWalk, at 192 meters above the ground, allows you to walk around the Sky Tower's outdoor platform.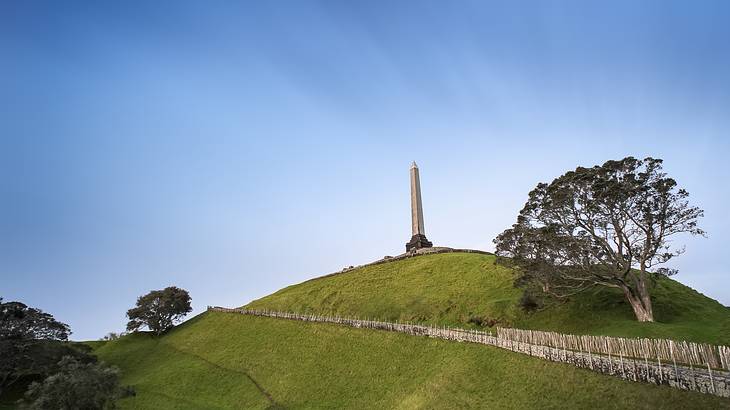 One Tree Hill
One Tree Hill is a well-loved local park and a great place to relax away from the hustle of the city center. It is also known as Maungakiekie and was considered to be the most important Maori village before colonialism.
One Tree Hill has the second-highest volcanic peak in Auckland. The peak's most notable feature is its obelisk, which serves as a memorial to the Maori. Before you reach the obelisk, you'll come across the park's bronze statue of a Maori warrior. One Tree Hill Domain, on which the hill stands, also has an observatory, restaurants, and gardens that you can explore and enjoy.
Cornwall Park
Cornwall Park prides itself on being an oasis within the city, and it's easy to see why. With lush greenery all around, it's an excellent place to rest, play, and people-watch. You can explore one of many on-road or off-road trails, or just relax on the lawns.
This urban park has over 350 types of trees, is home to 30 species of birds, and also has a range of other wildlife and flora to enjoy. Cornwall Park is even home to a working farm with 600 sheep and 60 cows. You'll see the animals grazing around the park. If you visit between June and September, you can also see newborn lambs and calves.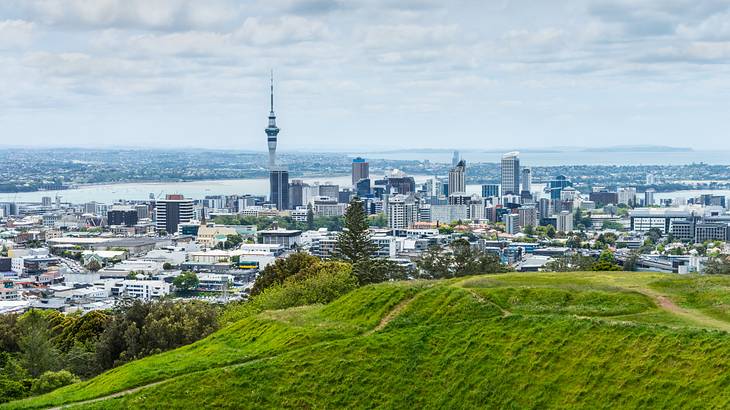 Mount Eden
A hike up Mount Eden is a short but scenic one. The scoria cone (Mount Eden proper) is called Maungawhau, which translates to "Mountain of the Whau tree." Its second name, Mount Eden, is after Earl George Eden.
This dormant volcano is the highest natural point in Auckland. It is, therefore, a popular tourist spot due to its fantastic views of central Auckland and the harbor. Take a short hike to the peak to take advantage of these views.
If you have some extra time, wander around Mount Eden Village. Here, you'll discover small galleries and lots of great eateries.
Sea Life Kelly Tarlton Aquarium
Visiting the Sea Life Kelly Tarlton Aquarium is a fun thing to do in Auckland for kids and adults. It's New Zealand's most famous aquarium and was founded in 1985 by marine conservationist Kelly Tarlton.
Sea Life is home to many marine animals, including New Zealand's only sub-Antarctic penguins. Start your visit by getting up close with these Gentoo and King penguins. You can view them from afar or even get on the ice to explore their habitat!
Next, head to the shark tunnel. You can walk through the transparent tunnel to view over 14 sharks swimming around you. Finally, stop by the Turtle Rescue Centre to see the seven kinds of turtles the aquarium has in rehabilitation. You'll also be able to view a range of colorful fish, seahorses, starfish, and more.
If you're feeling super adventurous, you can try their Shark Cage Adventure. Snorkel (in the safety of a mesh cage) under Gulf Harbour with sharks, stingrays, and lots of other aquatic life. No diving experience is required, and you'll receive a video and pictures of your adventurous shark meet!
Finish your trip at Scott's Hut exhibit, a replica of Captain Robert Falcon Scott's Antarctic Hut from his early 1900s exploration.
Mission Bay
The Promenade at Mission Bay is just a short walk from the Sea Life Aquarium or a short drive or bus ride from central Auckland. This waterfront promenade has a selection of shops, bars, and restaurants, plus an adjacent beach to relax on.
You'll find a range of casual to high-end shopping and eating options here. You'll also be able to catch amazing views of Rangitoto Island. If you have extra time at Mission Bay, you can also go kayaking or paddleboarding.
If planning to eat at Mission Bay, Lupino Italian eatery is highly recommended. Before you leave the area, stop by the Trevor Davis Memorial Fountain. This recently-restored fountain has been a local landmark since 1950.
In Summary
Auckland is the perfect place for a weekend or 3-day trip. If you've been wondering what to do in Auckland in just 72 hours, this list should have given you many ideas!
You can enjoy the usual city activities, like shopping, dining, and visiting museums. Or, you can try some fun and unique activities, such as bungee jumping, swimming with sharks, and exploring scenic islands. Even with a short amount of time, using this Auckland itinerary means you'll experience it all.
While in Auckland, you could also plan a trip to Waitomo Caves or take a bus tour or free walking tour around the city. For longer stays in the country, then road trips around the North Island or South Island in New Zealand are a must!
Give us feedback about this article
For more interesting articles about New Zealand, read:
For visual stories related to this article, take a look at:
---
---
Want to keep exploring?
Subscribe for discounts on tickets and hotels and our latest guides.
Thank you for subscribing
We will be in touch soon with discounts on tickets and hotels and our latest guides.
Want to keep exploring?
Subscribe for discounts on tickets and hotels and our latest guides.
Thank you for subscribing
We will be in touch soon with discounts on tickets and hotels and our latest guides.
Related articles