Where to Stay in Auckland, New Zealand - 9 Best Areas & Hotels
Destguides may receive commissions from purchases made through affiliate links in this article.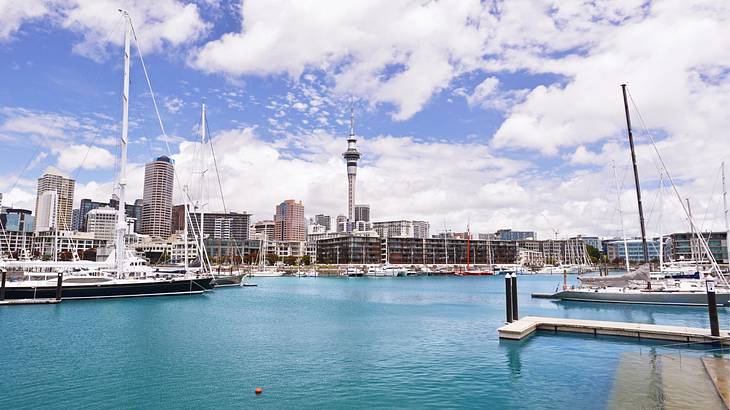 Auckland, the largest city in New Zealand, is also the country's most visited. It's the gateway to the Pacific island nation, with nearly all flights in and out going through Auckland's airport. So while it may not be the country's capital (that would be Wellington), almost everyone traveling to New Zealand will stay in Auckland.
But despite its conveniently compact downtown area, Auckland is a spread-out town full of hills, large green spaces, and a diverse assortment of neighborhoods to stay in.
There's the bustling Auckland CBD, where you will find the most must-see landmarks, and the relaxed, beach-centric North Shore for visitors looking to escape it all. And don't write off Viaduct Harbour with its upbeat ambiance and yacht-lined wharf.
In this practical guide, you'll learn all about where to stay in Auckland by taking a closer look at nine of the city's most popular neighborhoods and how staying there will impact your holiday experience.
9 Best Places to Stay in Auckland, New Zealand
Auckland Places to Stay Video
Check out our highlights video of Auckland places to stay.
Auckland Places to Stay Map
A map of Auckland. Use the map to explore all the places to stay.
Best Areas to Stay in Auckland, New Zealand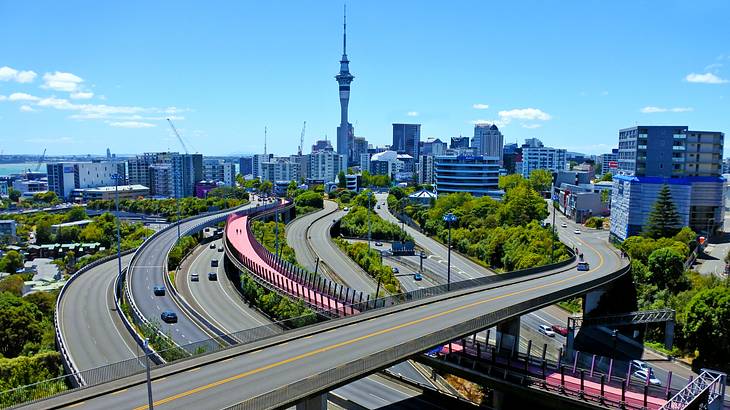 Auckland CBD
The Auckland CBD is a walkable, pedestrian-friendly neighborhood with the city's highest concentration of tourist attractions. It's located on the site where modern Auckland was founded. However, the community's oldest history has given way to modern office buildings and skyscrapers.
However, you'll still find remnants of the past, like the Ferry Building and Auckland Town Hall. Both prominent structures are more than a century old. Then there's the Auckland Art Gallery, which dates back to 1887. The Auckland CBD also has modern landmarks, like Sky Tower, which is 1,067 feet high and is the tallest structure in New Zealand.
You'll find everything from backpackers hostels to luxury hotels, with a wide assortment of well-known chains throughout the Auckland CBD. Travelers can expect accommodations across all budgets, although prices will be higher than for comparable properties in other, less central neighborhoods.
Visitors enjoy staying in the Auckland CBD because of the access to popular attractions and its central location for visiting other areas of the town. If you're planning a long weekend in Auckland, especially if it's your first visit, anticipate spending a lot of your time wandering around Queen Street and exploring the CBD.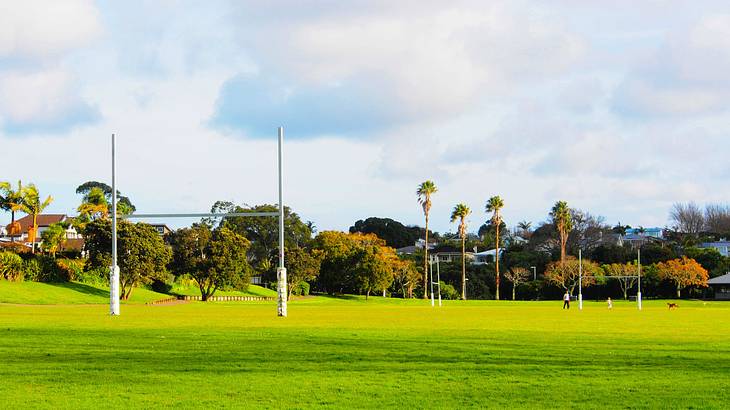 Ponsonby
Located on a hill to the west of the Auckland CBD, Ponsonby is an older neighborhood lined with Victorian-era buildings and homes. The area is one of the trendiest in Auckland, with the local food scene considered the best in the town. You'll also find tons of independent boutiques and artisan shops.
The CBD is a walkable distance from most parts of Ponsonby, with an easy downhill trek to get there. However, the uphill hike back is less enjoyable, with many travelers opting to take convenient public transportation returning to Ponsonby.
Most accommodations offered within Ponsonby are small, modest hotels and boutique private rentals. Budget travelers will enjoy hotel rates lower than the CBD, while groups with money to spend will appreciate Ponsonby's more exclusive options.
Ponsonby is a popular choice among young travelers. It is the best area in Auckland to stay if you are looking for a trendy, hipster scene. You won't find many significant attractions in the neighborhood. Still, you will find good nightlife and breathtaking views of Sky Tower and the rest of the Auckland skyline.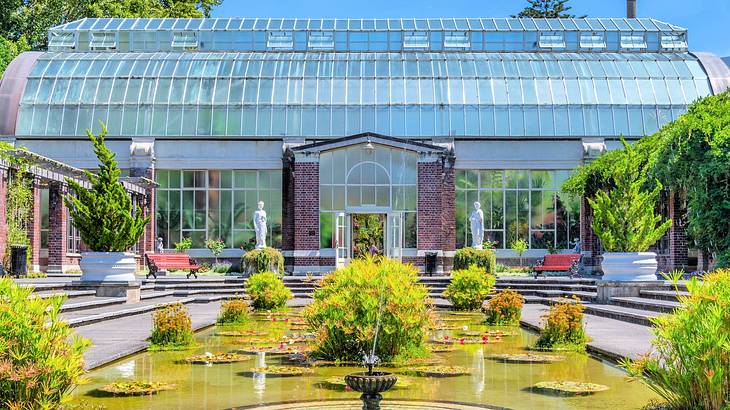 Parnell
Designed as the first suburban community in New Zealand, Parnell is a historic upscale neighborhood featuring art galleries, small boutiques, and some of the city's premier outdoor green spaces. Situated east of the CBD, Parnell is a popular choice for visitors wanting a central location and plenty of attractions without the hustle and bustle of the business district.
One of the most visited parks in the region, the Auckland Domain, is located in this area. It occupies nearly 200 acres of the neighborhood, with numerous trails traversing the natural reserve. It's Auckland's oldest park and home to the Auckland War Memorial Museum.
Additionally, going to the Auckland Domain Wintergardens, a pair of glasshouse gardens, is one of the top indoor activities in Auckland. Perfect for a rainy day! Then there's the Parnell Rose Gardens on Judges Bay, with over 5,000 flowering bushes to admire.
Despite being one of Auckland's most historically upscale neighborhoods, Parnell has several reasonably-priced hotels perfect for visitors on a budget. However, you will still find more expensive options in the area, especially around Auckland Domain.
With tons of history and high-class air surrounding it, Parnell is one of the best spots for a romantic getaway. Expect prices higher than in the CBD, but Parnell is a good alternative for first-time tourists and those looking to experience a different yet convenient taste of Auckland.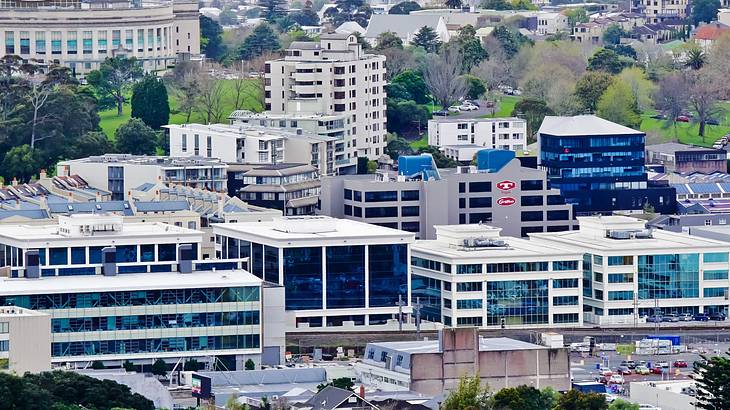 Newmarket
Located south of Parnell, just a short drive southeast of the Auckland CBD, Newmarket is known for the giant Westfield Newmarket shopping mall and streets lined with designer fashion outlets. You will see a younger crowd in the area, with the University of Auckland, Newmarket Campus occupying much of the neighborhood's northern end.
Newmarket is the best neighborhood to stay in Auckland if you plan to do more shopping than sightseeing. However, it's centrally located, with many of the town's best sights in the surrounding communities. You'll find plenty of coverage with bus routes in the area. Plus, Newmarket Station offers access to Auckland's Eastern, Southern, and Western commuter rail lines.
Primarily a shopping district, there aren't many hotels within Newmarket. You can find a handful, however, with moderate prices comparable to downtown. This isn't the cheapest place to stay in Auckland, but options fit most budgets.
Generally, for many visitors, the neighboring community of Parnell is a more practical place to stay. It offers more attractions and similar rates while still being close to the shopping in Newmarket.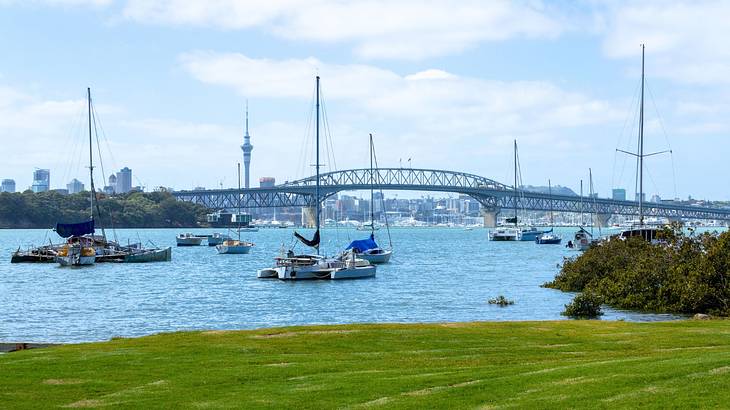 North Shore
The North Shore is a large suburban area across Waitematā Harbour from Downtown Auckland. Comprised of several small seaside villages, Auckland's North Shore is one of the region's top choices for a relaxing beach getaway.
While you'll find accommodations all throughout the North Shore area, visitors looking for a blend of city and coast often opt to stay around Takapuna Beach and Lake Pupuke. Not only are you within walking distance of one of Auckland's best beaches, but you're still just a short bus ride across Harbour Bridge from downtown and its landmarks.
You can expect all types of properties within the North Shore, from modest motor lodges to country cottages and oceanfront resorts. There truly is something for all budgets here, although you can expect prices to decrease further from the CBD.
Auckland's North Shore is also a terrific choice for outdoor enthusiasts and visitors planning a beach holiday. It's additionally a good destination for anyone on a more extended stay in Auckland who wants to get out of the central part of the city for a couple of days.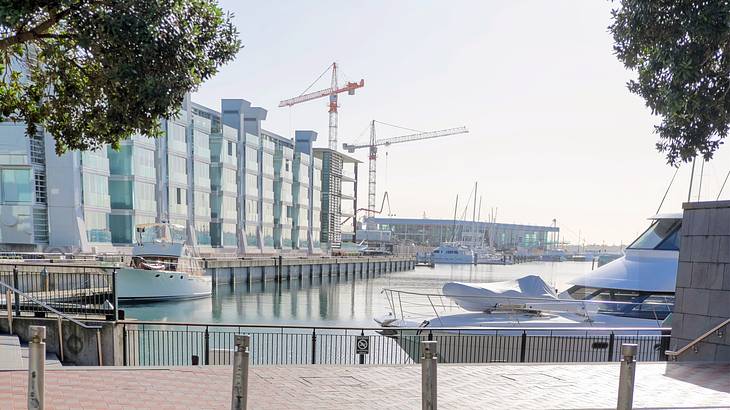 Viaduct Harbour
Situated northwest of Auckland CBD, Viaduct Harbour is a former industrial area centered around Viaduct Basin. Redeveloped in the late-1990s to host the 2000 America's Cup yachting event, Viaduct Harbour is now one of Auckland's premier upmarket areas.
Known for its dining, nightlife, and wharf lined with the city's largest, most impressive yachts, Viaduct Harbour is where you'll find some of Auckland's most luxurious accommodations. Hotel prices here are going to be among the highest in the city. Travelers operating on a moderate budget will likely find better value staying nearby in the Auckland CBD.
In addition to its dining and nightlife, Viaduct Harbor is home to the New Zealand Maritime Museum, and its proximity to the CBD makes the neighborhood an excellent base for upscale travelers visiting the region.
Exploring Viaduct Harbour is a must for any Auckland itinerary, with the restaurants and bars among the top in the town. As a neighborhood designed for hospitality, Viaduct Harbour is one of the best neighborhoods in Auckland to stay for a short visit.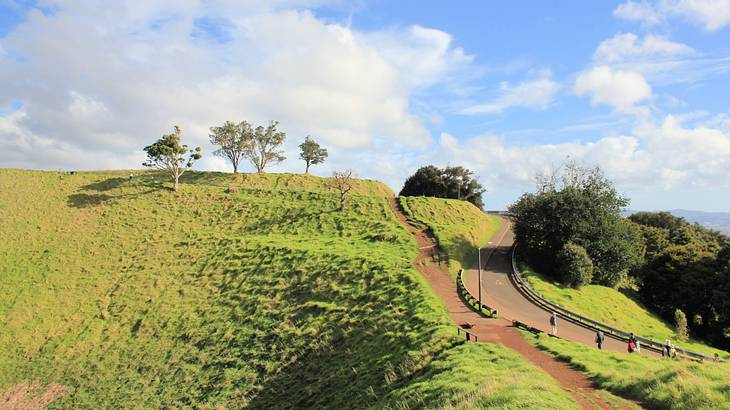 Mount Eden
A primarily residential neighborhood located to the south of the CBD, Mount Eden is most well-known for its namesake hill. Officially named Maungawhau, Mount Eden is an extinct volcano that provides some of the best views of Auckland's downtown and harbor areas.
The community of Mount Eden is also where you'll find Eden Park, New Zealand's official stadium and home to the country's national rugby team, the All Blacks.
Most of the action, however, is along Mount Eden Road and Dominion Road, the two primary commercial arteries in the neighborhood. Here you'll find a diverse selection of restaurants and plenty of small boutique shops.
As a residential community, there are only a handful of hotels within Mount Eden. The ones you'll find will be modestly priced compared to downtown. Travelers looking to spend a little more, though, will enjoy the area's quaint Bed & Breakfasts.
Mount Eden is an excellent spot to stay if you're visiting Auckland for a match at Eden Park. For most visitors, however, a half-day trip to check out the fantastic views from Maungawhau covers the bases for this neighborhood.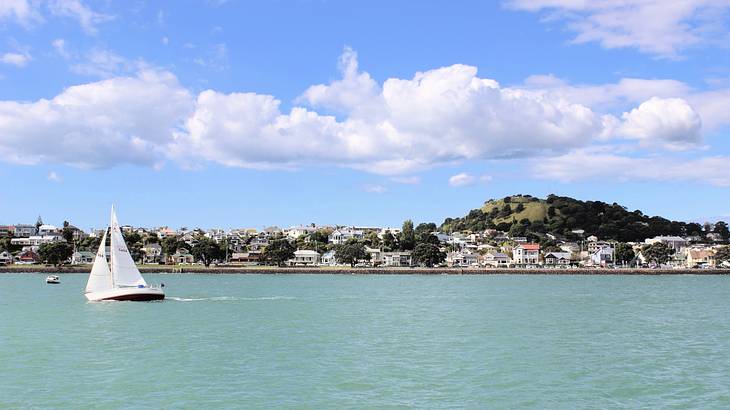 Devonport
Devonport is a quaint coastal community across the harbor from Auckland's CBD. The quiet waterfront neighborhood is best known for Mount Victoria, officially named Takarunga, the tallest volcanic hill on the northern side of Auckland.
This area is a great place to stay for a peaceful beach vacation with plenty of outdoor activities. Cheltenham Beach is another of Devonport's biggest draws, and other landmarks to see on the peninsula include North Head (Maungauika) and the adjacent Torpedo Bay Navy Museum. The area is also home to the Devonport Naval Base, the headquarters of the Royal New Zealand Navy.
As a small seaside community, there are few hotels in Devonport. Prices are generally reasonable, although options are slim and can fill up in advance. For a more varied selection, travelers can book one of the neighborhood's bed & breakfasts or private home rentals, although prices for these tend to be more luxury-oriented.
Many travelers consider Devonport the best place to stay in Auckland for a quiet beach holiday close enough to have a fantastic view of the downtown skyline. While driving from Devonport to the harbor's south side can be time-consuming, ferries connect the seaside village to Auckland CBD throughout the day and night.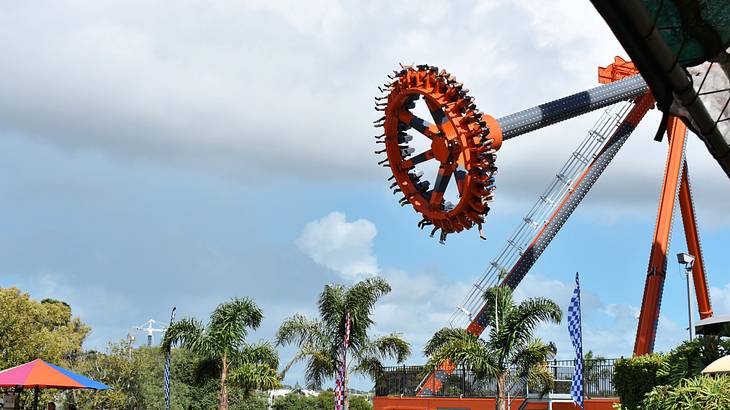 Manukau
Located on the city's southern side, quite near Auckland Airport, Manukau is a multicultural residential neighborhood and home to Rainbow's End, the largest theme park in New Zealand. Rainbow's End is a big draw for families visiting Auckland, making this area a good place to stay if your family whats to visit the amusement park.
Off the beaten path for many tourists, Manukau boasts a large population of younger residents thanks to campuses for both the Auckland University of Technology and Manukau Institute of Technology. That means you'll also find an assortment of bars and restaurants. There's plenty of shopping at the Westfield Manukau City indoor mall as well.
With its out-of-the-way location, most properties available within Manukau are roadside motels and motor lodges. You will also find a few higher-quality hotels and well-known brands, with prices ideal for most budgets.
For many travelers, Manukau's biggest draw is its proximity to the airport. For visitors only stopping over in Auckland for the night, Manukau is a great spot for experiencing local culture without the commute to the CBD. However, there's still plenty to do in the area, with Hayman Park, Totara Park, and the Auckland Botanic Gardens just minutes away.
Where to Stay in Auckland, New Zealand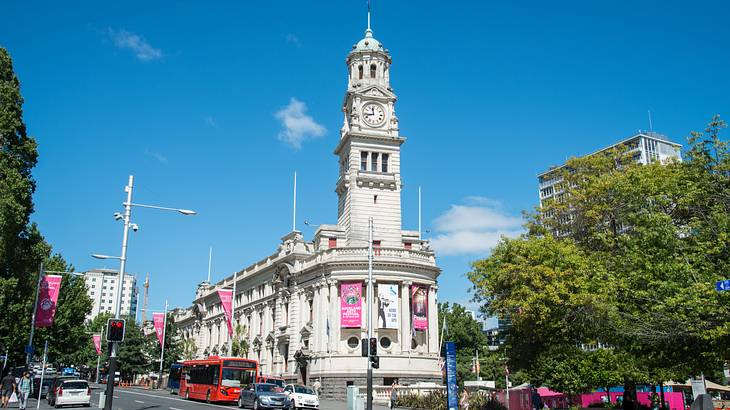 Where to stay in Auckland with family?
Auckland is an excellent place for families to visit. There are tons of kid-friendly activities throughout the region. From beach days on the North Shore to Potter Children's Garden (one of the top free things to do in Auckland with kids) in the south, there's plenty to keep kids engaged.
But while you'll find great things to do with the family in all neighborhoods, the best area to stay in Auckland for families is the Auckland CBD. It is compact and walkable, home to many landmarks, and an excellent base for visiting family attractions throughout the city.
Families with just a brief time in Auckland, primarily those stopping for a day or two before flying onwards, may consider staying in Manukau. It's far from the Central Business District and most city attractions. Still, it is near the airport and close to both Potter Children's Garden and Rainbow's End, the largest in the country.
Where to stay in Auckland near the beach?
Famous for its coastal heritage, there are plenty of great shoreside escapes throughout Auckland. For most visitors coming to the area for a beach vacation, however, the top places to stay are the neighborhoods of North Shore and Devonport.
Both of these communities are located across the bay from central Auckland. This offers a more relaxing pace than at famous beaches to the south, such as the often-crowded Mission Bay. They're practical, too: both are just a short bus or ferry ride from the CBD.
North Shore is a large area comprising many smaller seaside communities. However, most tourists stay in the southern end near Takapuna Beach. Devonport, a beachfront neighborhood on a peninsula to the southeast of Takapuna, offers outstanding views of the downtown skyline and has regular ferry service across the harbor.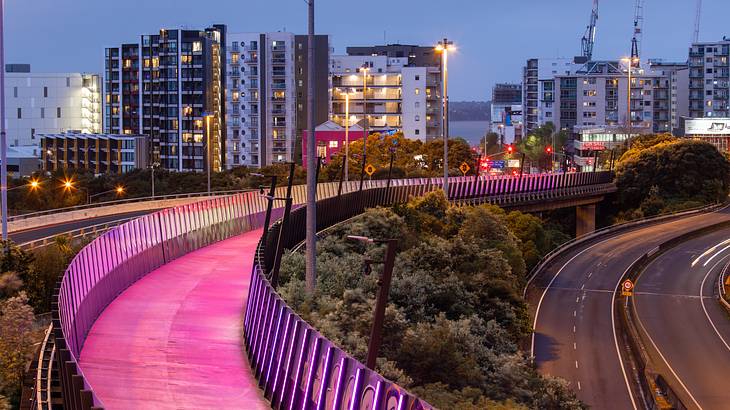 Where to stay in Auckland for nightlife?
If you're looking for the wildest all-night parties in the city, look no further than the Auckland CBD. With its diverse nightlife options, the CBD is the late-night hub with the largest concentration of nightclubs in town.
This is especially true in the district's southern area, where Karangahape Road, often shortened to K-Road, stays alive until the wee hours of the morning.
Are you getting an early start to your evening in the Auckland CBD? Make sure to check out the city lights from the Sky Tower. Uniquely different from the daytime views, taking in the scenery from the city's tallest structure is one of the top things to do in Auckland at night.
Other good places to stay for Auckland nightlife include Ponsonby, which offers a more laid-back, hip bar scene, and Viaduct Harbour, an entertainment-focused district with some of the city's most upscale restaurants and bars.
Where to stay in Auckland for shopping?
By far the largest city in New Zealand, you will find the country's best shopping in Auckland. There's something for everyone, with different regions of the town offering a diverse shopping experience.
The Auckland CBD has many international designer brands along Queen Street and Britomart. At the same time, adjacent Ponsonby is the city's hub for independent artisans and craftspeople.
Parnell is the place to be if you're searching for artwork, home decor, or unique luxury goods. It's Auckland's oldest suburb and one of the most upscale parts of town. And while you're in Parnell, take a break from shopping to check out the more than 5,000 rose bushes at Dove Myer Robinson Park.
But the overall best area of Auckland to stay for shopping is Newmarket. Built for commerce, Newmarket is all about fashion and designer goods. It's where you'll find multi-story malls filled with local and international brands and streets lined with countless boutiques.
In Summary
As the largest city in New Zealand and the gateway to the country for most visitors traveling by air, Auckland is a popular tourist destination with an assortment of uniquely different areas to stay. From the North Shore beaches to Manukau's botanic gardens, every neighborhood in Auckland has something different to offer.
For most travelers, the best location to stay in Auckland will be the Auckland CBD. This is due to its walkability, wide range of attractions, and central proximity to other city areas. It's hard to go wrong staying in the central district, especially if you're getting to know the city and want to see a little of everything.
---
---
Want to keep exploring?
Subscribe for discounts on tickets and hotels and our latest guides.
Thank you for subscribing
We will be in touch soon with discounts on tickets and hotels and our latest guides.
Want to keep exploring?
Subscribe for discounts on tickets and hotels and our latest guides.
Thank you for subscribing
We will be in touch soon with discounts on tickets and hotels and our latest guides.
Related Articles