31 Things to Do in Auckland at Night
Destguides may receive commissions from purchases made through affiliate links in this article.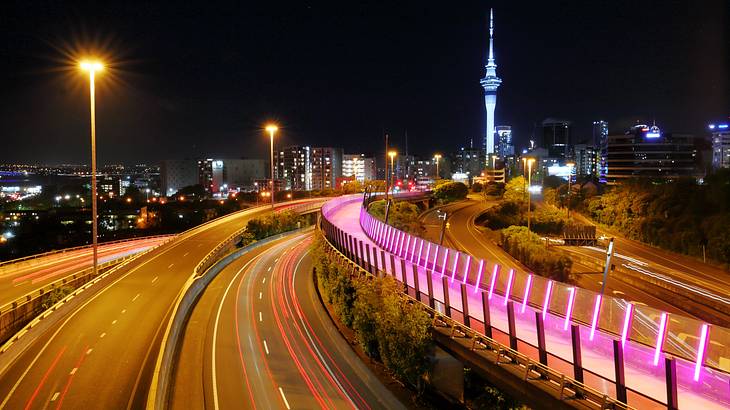 Auckland is located on the North Island of New Zealand and is filled with wonders of nature. While it is a great city to visit during the day, it gets even better by night.
Whether you're in the city centre, to the north of Auckland, or somewhere else nearby, there are lots of fun things to do in Auckland at night.
You can find numerous late-night events, eateries and bars all over town. The night scene in Auckland is a one-of-a-kind experience.
There is a myriad of night activities ranging from tasting delicious cocktails and treats, watching striking sunsets, playing 24-hour mini golf, visiting night markets and much more.
So, push your bedtime back by a few hours and head out to witness and experience the nightlife in Auckland. I promise you won't regret it!
31 Night Activities in Auckland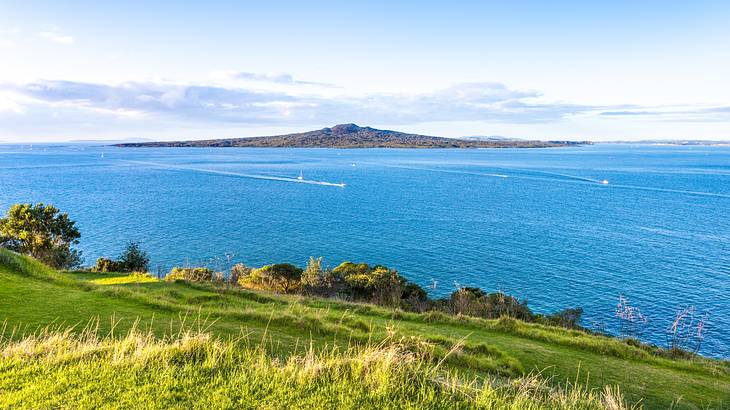 Kayak to Rangitoto Island
Kayaking to Rangitoto Island is a unique adventure that you can only do in Auckland, New Zealand. You should definitely consider including it on your Auckland weekend itinerary.
Once there, provided you don't arrive too late in the afternoon, you can hike up to the crater rim and enjoy a beautiful sunset along with an amazing 180-degree view of the entire city's skyline. You can also see the famous Hauraki Gulf islands at the top.
This activity is not meant for families with kids and the elderly as it requires an adventurous spirit and a certain level of fitness. It is, however, one experience you shouldn't miss out on if you are able and keen to do it.
Laugh Your Heart Out at the Classic Comedy Club
Looking to let loose and have a few laughs after a long, stressful day? Then head over to the Classic Comedy Club in Auckland city.
You will find a new show here every night, some of which might be family-friendly, some not. So make sure to check with the club beforehand.
Seating is on a first-come, first-serve basis. So head here early and grab a table closer to the stage if you want to be heckled by the comedian performing that day.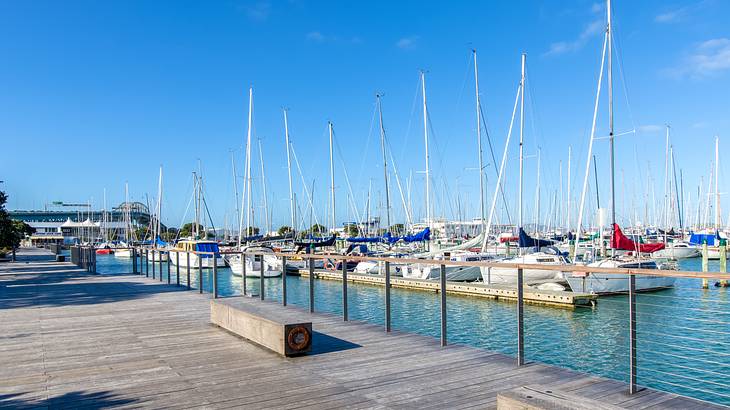 Go on a Night Segway Tour with Kiwi Segway Tours
Enjoy the beautiful city of Auckland and its night views with a Night Segway Tour.
This form of a guided tour is carried out in small groups and takes you to see nighttime views at famous locations in the city, including the Wynyard Quarter, Harbour Bridge, Westhaven Marina and much more.
The entire tour takes around 3 hours and is excellent for families as well. Not only is it a great way to see the city, but it is also a fun activity in itself.
Reverse Bungy at SkyScreamer
One of the best experiences for adrenaline junkies in Auckland is Reverse Bungy. You can find many adventure places all across the city, offering this fun and thrilling option.
Even though Skyscreamer's Reverse Bungy can be done at any time of the day, it is best to experience it during the night for its amazing views.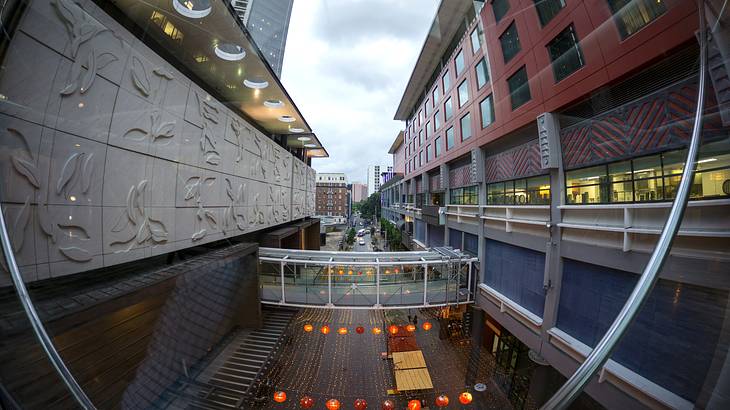 Gamble at SkyCity Casino
One of the most renowned casinos in Auckland, SkyCity Casino, has all the bells and whistles you would expect from a world-class casino.
Whether you want to spend some time gambling, just be entertained or catch up with your friends over a few drinks, this is one of the best night things to do in Auckland.
The casino is open 24 hours, every day of the week, to offer non-stop excitement and fun to its visitors. It's a great night activity to include on your 3 day Auckland itinerary.
You can find all the usual popular casino games here, along with great live entertainment, fantastic food and bar offerings.
Whichever game you fancy, you can be sure you'll find it here as the casino houses more than 2100 game machines as well as over 150 table games.
SkyCity also prides itself on being a responsible host. They take the minimum age limit of visitors very seriously and also encourage guests to only pay till the level they can afford.
Stargaze at Shakespeare Regional Park
Auckland is full of natural beauty. At night, all you have to do is look up towards the sky, and you will be amazed by the extravagant display of stars.
There are numerous beautiful locations in the city, such as Auckland's beaches, where you can stargaze. To get the most unobstructed view possible, head a little outside of town to leave the pollution behind.
Shakespeare Regional Park is a great location where you can spread a blanket, lay across and enjoy the majestic view with your loved one, cuddled under a blanket. It is the perfect way to spend an evening.
Stargazing at a park is one of the many fun and free things to do in Auckland.
Taste Unique Ice Cream Creations at Giapo
If sweet cravings at midnight are your thing, then head over to Giapo to get your sugar fix. Giapo is a place that takes ice cream creation to the next level - an art form.
It offers hand-made ice cream concoctions that will not only tickle your taste buds but also amaze you with their creativity.
With a mission to bring the entire world to Auckland to taste their fantastic gelato, the creations you can find at Giapo are far beyond the traditional forms. They are truly pushing the boundaries of what ice cream can be.
Think about mouth-watering flavours like praline, tiramisu, triple chocolate and smoky whiskey garnished with unusual toppings like torched meringue, gold-coated hazelnuts, spun sugar and much more.
Giapo is usually open till late in the night. So whenever your sweet tooth craves some delicious gelato, head over to Giapo to indulge your senses.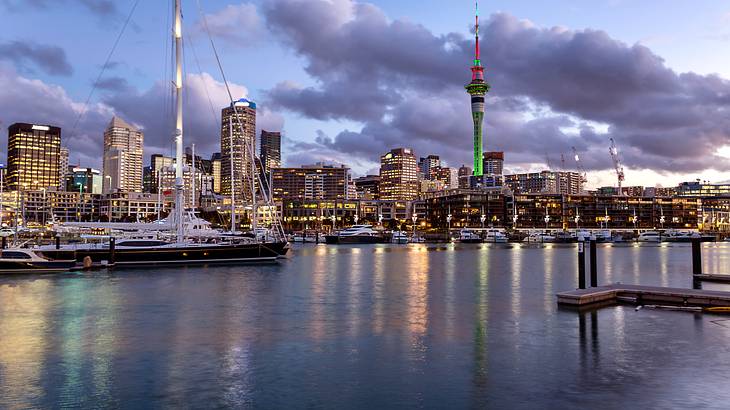 Go on a Harbour Dinner Cruise
One of the best ways to get out on the bay and soak in the charm of the city at night is by taking a Harbour Dinner Cruise. Known as the 'City of Sail', Auckland has a stunning harbor that looks lovely at night.
A great way to spend an evening with your loved ones is by sailing out on a yacht from Waitemata Harbour (Auckland Harbour) while enjoying a delicious three-course dinner offered by a top city restaurant.
You can enjoy watching the beautiful sunset from the open-air deck on the boat, learn some history about the surrounding area across the bay, and revel in the cool breeze while taking in the sights of the city.
Eat Delicious Burgers at the White Lady Food Truck
White Lady Food Truck is located on Commerce Street. It is a great food truck offering delicious food and one of the few places in the city where you can eat food quite late at night.
You will always find a crowd here as it is extremely popular with the locals. The food truck owner has arranged for a few plastic crates where visitors can sit and enjoy their burgers, but most people prefer to eat standing up or take their meal to go.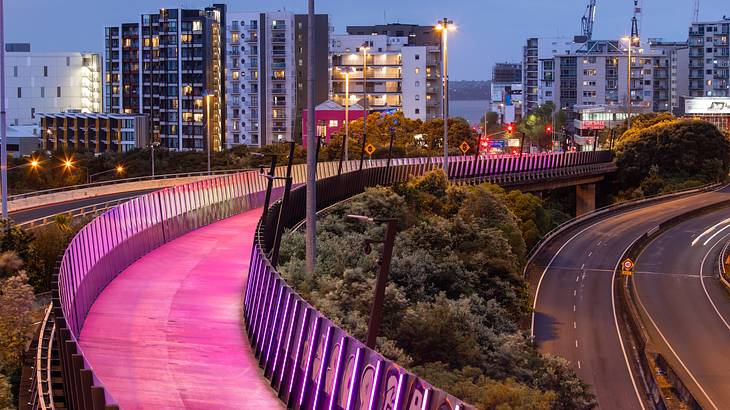 Join an Electric Bike Tour with Power to the Pedal
If bicycling on the hills in Auckland seems like too much work, then take an electric bicycle guided tour of the city.
This evening tour takes you through the purple cycling path and across various vantage points to give you the best sparkling views of Auckland's city lights.
This excursion is a unique way to see the city, and as an added advantage, it is eco-friendly as well.
Explore the Auckland Night Markets
Looking for a happening, vibrant place to spend an evening in Auckland? Then visit an Auckland night market. The night markets offer a great mix of street food, entertainment, knick-knacks and crafts for visitors.
The market is open every night during the summer; however, they change the location almost every night, mainly to a different car park. You can also find a vast selection of toys, clothes, arts and crafts and more here.
The biggest draw of these markets is the food. It ranges from lamb skewers and dumplings to French pastries. All the food is accompanied by excellent live entertainment and music.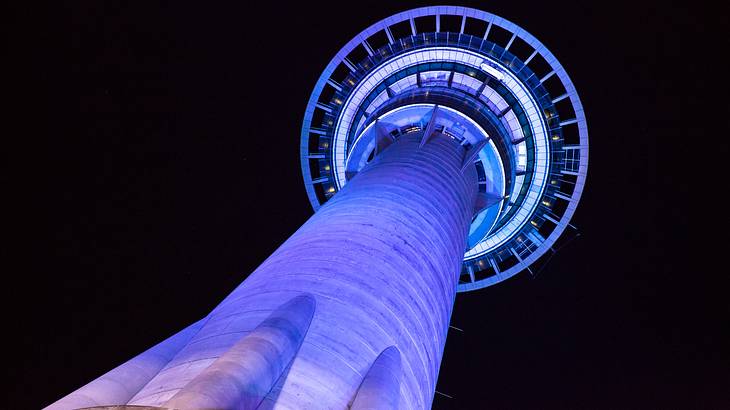 View the City Lights from the Sky Tower Viewing Platform
One of the best views of Auckland you can get is from the viewing platform at the top of the Sky Tower – the tallest tower in the entire southern hemisphere.
To enjoy the night views of Auckland's city lights, take an elevator ride to the top of the tower. The view of the city at night looks a lot different in comparison to the day view.
If you have some extra time, go up right before the sunset to enjoy both the daytime and nighttime views of the city in one visit.
Be Amazed at the Stardome Observatory & Planetarium
New Zealand provides an excellent opportunity for stargazers as you can find some of the clearest night skies in the world here.
Located in Cornwall Park, the Stardome Planetarium & Observatory is a great place to watch the stars and is one of the best activities to do in Auckland at night.
Their primary telescope lets you view distant planets and stars in minute detail. They also have multiple smaller telescopes that allow you to watch nearby celestial bodies, such as Mars and the Moon.
There are various exhibits here as well, and they regularly offer music, film, and laser shows.
Watch a Movie at the Academy Cinemas
New Zealand is known for its love of cinema, and the country has been venturing more into filmmaking successfully in recent years.
If you love to watch movies, you will be happy to learn that Auckland has several refurbished boutique cinemas that showcase some of the best local and international films from around the world.
One of the best boutique cinemas in the city is the Academy Cinema, which operates under the Central Library in Auckland. Other notable options include the Lido Cinema, Bridgeway and Vic Theatre & Cinema.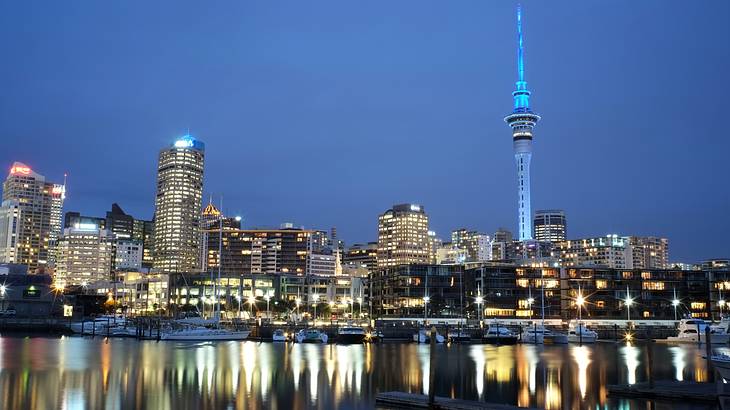 Join a Frenzi Bar Crawl
Like any other city in the world, one of the more popular activities to do at night in Auckland is to go on a bar crawl. Several bars in town cater to the younger crowds.
So, even if you're young at heart but not necessarily in age, join one of the popular bar crawls in Auckland.
Every Thursday, you can join other young international visitors in Auckland on the largest pub crawl called the Frenzi Bar Crawl.
Some of the popular bars covered in this bar crawl include:
Enjoy Nighttime Golf at Holey Moley
A game of golf is always fun, but playing mini-golf at night is a different experience that you shouldn't miss. If you wish to practice your short game, test out your swing, or blow off some steam, Holey Moley is the place for you.
Challenge your friends to this fun game and enjoy the crazy 9-hole course where each hole has a different interactive theme. On the course, you will find a Hobbiton hole, an ET hole and a Crazy Clown hole.
You can ride a bike along with ET to reach the sky or jump on a Harley Davidson to test your speed. There is also a bar on the floor above where you can enjoy some drinks while playing mini-golf.
Scare Yourself at Spookers
There is something quite exhilarating about being afraid. It brings about an adrenaline rush that makes us feel truly alive. Who hasn't spent time during their childhood telling scary stories with their friends?
Relive those thrills at the best-haunted theme park in Auckland - Spookers. This entertainment venue has been designed with a theatrical component to scare you to your core.
Assemble your friends and family and walk through the haunted house, explore the Freaky Forest, meet psychedelic clowns, or try the terrifying Corn Evil maize maze.
Gather all your courage and try not to freak out by the things you see, feel or hear at Spookers.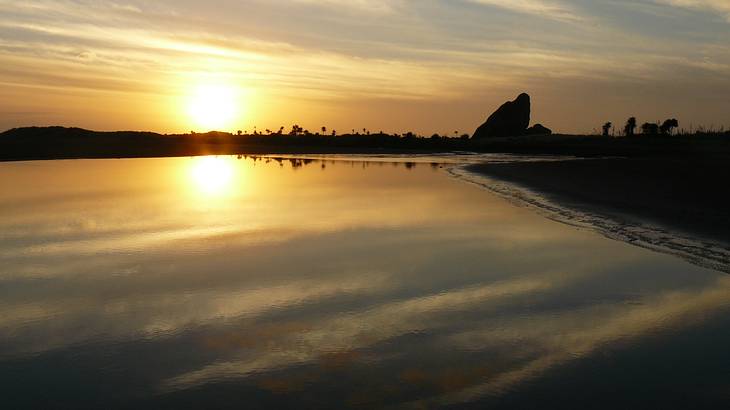 Have a Sunset Picnic Date at Whatipu Beach
Auckland's West Coast is undoubtedly scenic. With its alluring black sand and surf locations with grand views, the beaches on the West Coast are a delight.
To spend a quiet and memorable date under the stars with your loved one, pack a picnic and blanket and head over to Whatipu beach.
Try to get here right before the sunset, spread the blanket on the sand and spend some romantic time with your date.
The beautiful vibrant hues of pink, purple and orange across the horizon will surely make for a pleasant evening.
Play Paintball in the Dark at Asylum Paintball
For people with a competitive streak looking for a fun time with their friends, nighttime paintball is your answer!
At Asylum Paintball, you will be challenged to prove your aim, courage, and stealth by winning a game against your opponents. Run through the indoor-outdoor arena, getting some exercise in while practising your tactical moves.
The area is well lit at night, making it an excellent location for some healthy competition. So grab a group of friends and head to Asylum Paintball for a playful evening!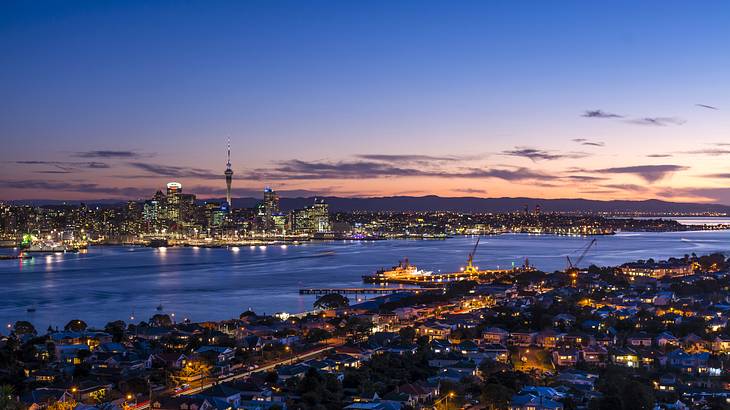 Join a Sunset & Night Photography Tour
The real beauty of Auckland city comes to life at night. It is reflected in the Harbour and can be a backdrop for some gorgeous photographs.
If you wish to capture the glamour of Auckland's city lights and striking landscapes, consider taking a sunset & night photography tour.
It is a good idea to get professional help instead of getting lost, looking for the best picture spots yourself. A local expert will know the prime places you can get unrivalled photographs of this picturesque city.
Some popular locations for night photography include the incredible views from Mount Victoria, the War Memorial Museum, the Harbour Bridge, St. Mary's Church and the colonial houses in Parnell.
Explore the Odyssey Sensory Maze
Navigating the maze at Odyssey is a one of a kind experience where you need to use all your senses to pass through the sensory maze, donning a pair of crazy glasses.
This maze will take you on a journey filled with illusions, sound effects, lighting, scents and weird sensations.
Odyssey is designed to indulge, challenge and invigorate your senses as you move through 13 distinct zones, each with different illusions, challenges, obstacles, and much more. It is fun for people of all ages and is an excellent idea for a family night out.
Solve an Escape Room at Escapade NZ
If you are a fan of mystery novels and movies, you will love the thrill and excitement that a live escape room can provide.
This activity involves getting locked in a room along with your teammates with several clues hidden throughout the space.
You then have to brainstorm with the others to figure out solutions to the hints provided, which will help you find a way out of the locked room.
There are many small and big escape rooms in Auckland. Visit Escapade NZ to enjoy this fun and interactive experience with your friends, family or coworkers.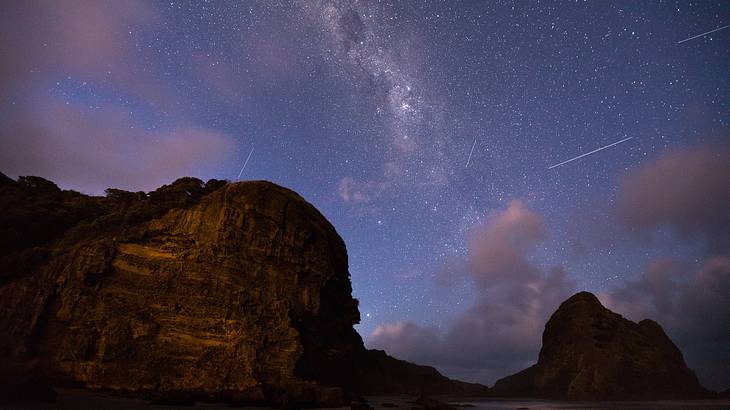 Night Canyon in Piha
If you're the adventurous kind, you will find the idea of night canyoning quite intriguing. Canyoning involves gliding and jumping down waterfalls and streams in the mountain ranges in the wilderness.
Piha is a coastal suburb and beach on Auckland's West Coast, right on the edge of the Waitakere Ranges - the perfect place to take up this activity.
Armed with a wetsuit and helmet, this adventure will take you to another level in the calmness and quiet of the night.
Try 100 Varieties of Vodka at the Vodka Room
Want a drink or two and to let loose a bit? Head over to the Vodka Room to try different varieties of vodka. With over 100 different types of vodka available, you are sure to find something of your liking.
You can also try the delectable Russian-European meals served here. The bar also has some private rooms, mainly dedicated to karaoke. Take nightlife in Auckland to a new level at the Vodka Room.
Enjoy Cabaret at Caluzzi Bar & Cabaret
For adult-themed humour coupled with a delicious dinner and drag queen show, head over to Caluzzi Bar & Cabaret. The talented 'ladies' here work as both entertainers and servers and promise an excellent performance along with a tasty dinner.
You will be entertained with fun dance numbers and songs, so you'll for sure have a memorable night when you visit Caluzzi Bar & Cabaret. However, keep in mind that this venue is for adults only.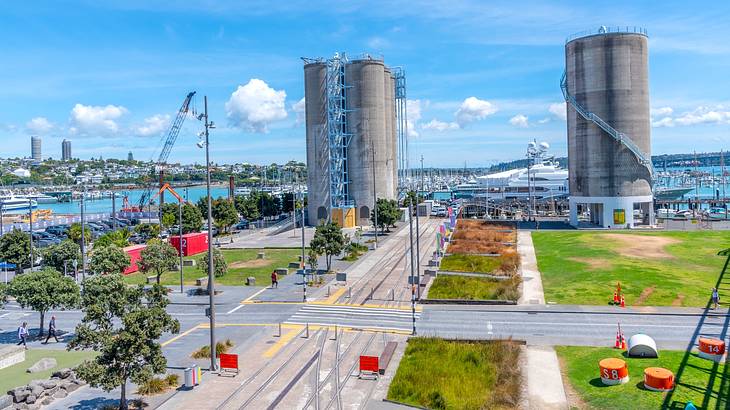 Watch an Outdoor Movie at Silo Park
Silo Park is an urban park in Auckland popular with tourists and locals. Enjoying the park during the day is great, but at night is when it comes alive!
During the evenings, the park hosts a range of events. A favourite among many is the nighttime open-air cinema. Different movies are projected onto one of the silos in the park during the summer, allowing visitors to enjoy the fresh air and a good film.
Other nighttime events include shows and performances and night markets. No matter when you're looking for an activity to do in Auckland city at night, there's sure to be something going on at Silo Park.
Ride a Rollercoaster at Night at Rainbow's End
Rainbow's End is a popular theme park to the South of Auckland city. During October, the park is open until late on Saturdays for their Night Rides event. If in Auckland during this time, you have to go!
Most rides will be operating at night, with the chance to experience the thrill of going on a range of rollercoasters in the dark. There are also lots of food stands and funfair style games.
Experiencing the night rides at Rainbow's End is a fantastic activity for thrill-seekers looking for something different to do in Auckland at night.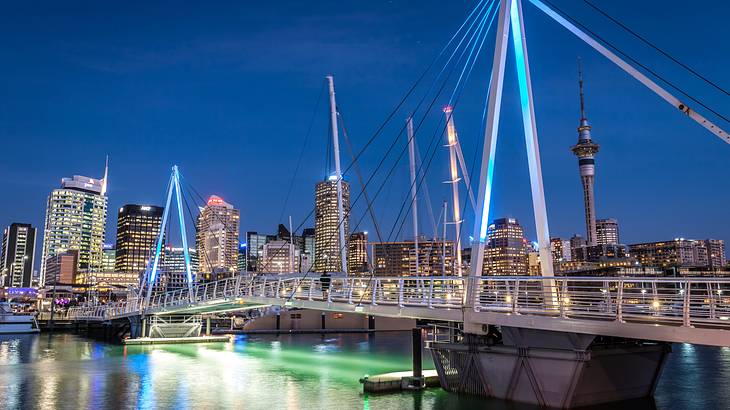 Have a 5-Star Dinner by the Harbour at La Maree
When thinking of things to do in Auckland city at night, an Auckland harbour dinner is a must! If you want to splurge a little, La Marée by Marc de Passorio at the Sofitel Hotel on Viaduct Harbour is the place to be.
This high-class restaurant features terrific dishes created by Michelin star chef Marc de Passorio. Of course, there's lots of fish and seafood on the menu.
This includes dishes like yellowfin tuna with soy, grilled langoustine, and a decadent seafood tower. As you enjoy your meal, you'll also be able to take in the stunning harbour views.
Before or after dinner, be sure to stop by the Sofitel's Sabrage Champagne Bar too.
Go on a Mini Golf Crawl
While Holey Moley is one of the more well-known night mini-golf spots in Auckland, many other places let you play until late. A great way to see them all is by doing a mini golf crawl!
Three fun mini-golf courses within just a 15-minute drive of each other are Lilliput Safari & T-Rex Alley, Treasure Island, and Lilliput Around the World.
As the names suggest, these are fun-themed mini-golf courses with everything from giant t-rex to pirate ships and world landmarks, like the Eiffel Tower and Leaning Tower of Pisa.
A mini-golf crawl is a super fun thing to do in Auckland at night! It's also an ideal family-friendly activity.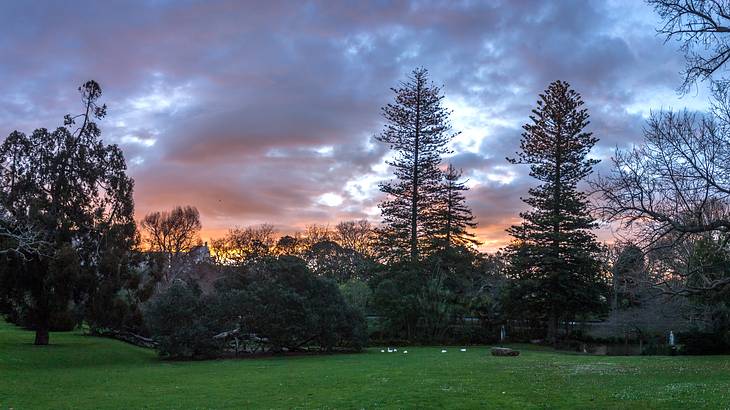 Marvel at Glow Worms on Lover's Lane
Add some magic to your evening by going to see stunning glow worms on Lover's Lane. Found in Auckland's CBD within the Auckland Domain, this night walk begins at the duck ponds.
After walking past the ponds, you'll reach Lover's Lane. This is where you'll begin to see the thousands of glow worms that illuminate this area.
To enjoy the view, make sure you reach Lover's Lane after dark. While this is one of the more relaxed Auckland night activities, viewing these fascinating creatures acting as natural night lights is a scene you'll never forget!
Night Ski or Snowboard at Snowplanet
Snowsports aren't typically considered a nighttime activity, but at Snowplanet, it's possible! This indoor snow dome has real snow and allows visitors to ski and snowboard no matter the weather or time of day.
This location is perfect for all ability levels. Beginners can get lessons, while experienced skiers and boarders can hit the slopes alone.
There's also a park for those that like to do tricks. If you don't want to ski or snowboard, you can go snow tubing or tobogganing instead.
If looking to do some nighttime skiing or boarding, Snowplanet is open until midnight on Friday and 10 pm Saturday and Sunday. You can also visit until 9 pm on weeknights except on Wednesday when Snowplanet closes at 4 pm.
Conclusion
And there you have it! Some of the best things to do at night in Auckland. Whether you are an adrenaline junkie, art lover, nature lover or just a relaxed soul, there is something to do for everyone in Auckland.
So go ahead and try one of the above fun night activities in Auckland, and you will end up with lots of cherished memories and absolutely no regrets! If it is wet outside, Auckland has many great indoor activities to enjoy as well.
---
---
Want to keep exploring?
Subscribe for discounts on tickets and hotels and our latest guides.
Thank you for subscribing
We will be in touch soon with discounts on tickets and hotels and our latest guides.
Want to keep exploring?
Subscribe for discounts on tickets and hotels and our latest guides.
Thank you for subscribing
We will be in touch soon with discounts on tickets and hotels and our latest guides.
Related Articles