Where to Stay in Busan, South Korea - 6 Best Areas & Hotels
Destguides may receive commissions from purchases made through affiliate links in this article.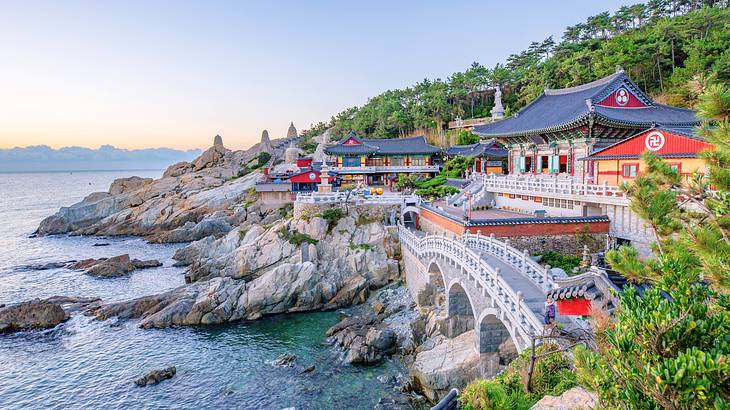 When you think of South Korea, beautiful beaches and mountains probably aren't the first thing you think of, but Busan has it all. Busan, South Korea's second-largest city, is often overlooked by travelers who only stop in Seoul, but it's definitely worth a visit.
Busan has something for everyone. If you go in the summer, you can enjoy gorgeous beaches or hike along the coast. There's still a lot to do in the other three seasons as well, like visiting one of the many markets or temples.
With so much to see and do in the city, you may be wondering where to stay in Busan. Learning about the different neighborhoods can help you find one that suits your specific needs and interests.
In this article, you'll learn the answer to the question, "Where is the best place to stay in Busan?" depending on what you want from your vacation. Keep reading to discover the city's six most popular neighborhoods!
6 Best Places to Stay in Busan
Busan Places to Stay Video
Check out our highlights video of Busan places to stay.
Busan Places to Stay Map
A map of Busan. Use the map to explore all the places to stay.
Best Areas to Stay in Busan, South Korea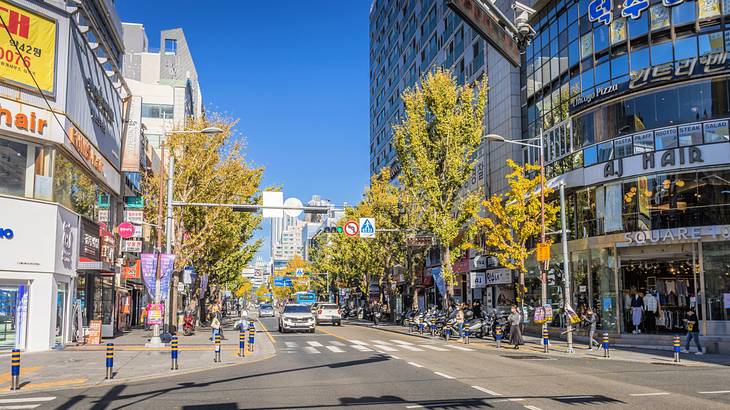 Seomyeon
Seomyeon is the commercial hub of Busan, so there are a ton of places to eat, shop, and entertain yourself here. If you're looking for good deals, the Seomyeon Underground Shopping Center is the place to go. It's one of the largest underground markets in Busan. It has international and local stores primarily selling fashion and beauty products.
Seomyeon is still a great place to stay for those who prefer eating over shopping. You can visit Bujeon Market to try Busan's fresh seafood. It is a port city, after all, so it's one of the best places in South Korea to get seafood.
Shopping by day and partying by night is popular in Seomyeon. There are numerous trendy clubs and bars here where you can dance the night away, making this a good neighborhood for partiers.
Seomyeon Station is a transfer station, meaning you can access multiple subway lines. This gives you easy (and affordable) access to different parts of Busan. Since Seomyeon is so central, there are many accommodation options to suit various budgets. You can choose from hotels, hostels, and even apartments.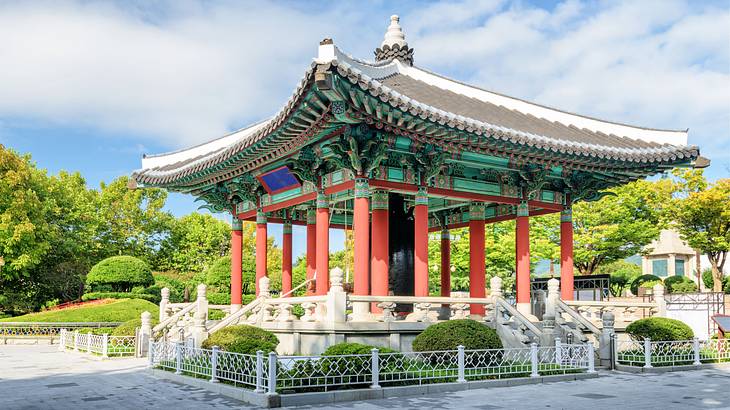 Nampo-dong
Another commercial area you can stay in is Nampo-dong, which is often considered the old downtown of Busan. As it's another shopping hub, Nampo-dong has many markets, like Bupyeong Night Market, Gukje Market, and Jagalchi Fish Market.
You can find anything you want at these markets, including souvenirs, clothing, accessories, and street food. If you love nature, Nampo-dong is still a great option. For example, you can visit Yongdusan Park near Nampo-dong in Jung-gu.
The park is one of the most popular destinations in Busan, as you can find Busan Tower here. This Asian landamark is 120 meters tall and has a great view from the top. From the observation deck, you can see things like Democracy Park, Busandaegyo Bridge, and even the Daemado Islands on a clear day.
Nampo-dong has one main street that's closed to cars, so it's a great neighborhood to just walk around in. So, if you love shopping, eating, or exploring cultural sites, Nampo-dong is the best area to stay in Busan.
Like Seomyeon, Nampo-dong has many accommodation options at various price points. You can easily find a hotel, hostel, motel, guesthouse, or apartment to suit your needs and budget.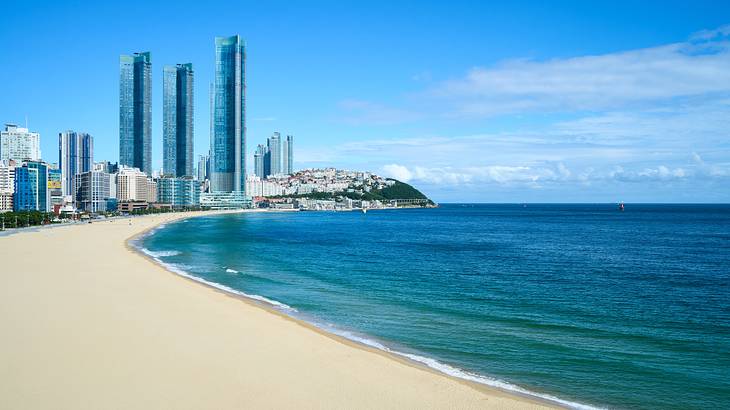 Haeundae-gu
If you're visiting Busan for the beach, staying in Haeundae-gu, which is around an hour outside of Busan, is recommended. Notably, this is where you'll find Haeundae Beach. This is one of the best beaches in South Korea, so it's always packed during summer.
At the beach, you can lay on the sand, rent a sunbed and umbrella, or take part in water sports like surfing, kiteboarding, and paddle boating. There are many five-star resorts along Haeundae Beach, making it a good option for luxury travelers.
When you're done at the beach, you'll be able to explore more of Busan's cultural sites, such as Haedong Yonggungsa Temple in Gijang-gun, just six kilometers from Haeundae Beach.
There's no shortage of shopping malls and markets in the area, either, like Shinsegae Centumcity Mall. Not only is it full of stores and restaurants, but there's also entertainment, such as an ice rink and outdoor theme park.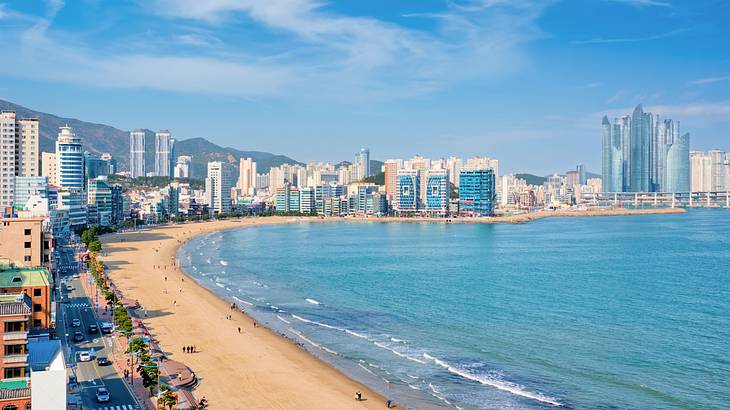 Gwangalli Beach
Another beautiful beach in Busan is Gwangalli Beach, also known as Gwangan Beach. It's across the Diamond Bridge (Gwangan Bridge) from Haeundae Beach, so it's an easily accessible area. Locals seem to prefer Gwangangalli Beach, so if you're looking for a more authentic Korean experience, this may be a better option for you.
As Gwangangalli is more laid back, there are also more affordable hotels and hostels, making this the best location to stay in Busan for backpackers and budget travelers. There are many cafes and restaurants around the beach, so you won't need to go far for a bite to eat.
There's a lot to do around Gwangangalli Beach at nighttime as well. You can typically walk along the boardwalk and come across movie screenings or live performances. There's also a nightly light show on Gwangan Bridge, which you can enjoy for free.
Gwangan Station is only a five-minute walk from the beach, so even if you don't stay here, you can easily visit for the day.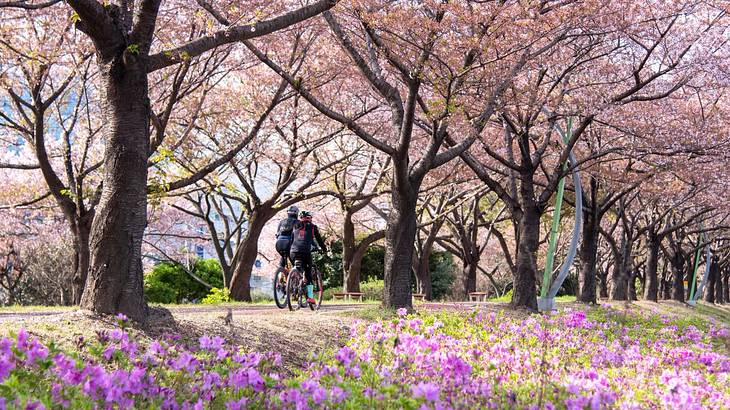 Sasang-gu
If you have limited time in Busan, maybe just a layover, Sasang-gu is an excellent area to stay. Sasang-gu is located between the city center and Gimhae International Airport, so you only have to travel 15 to 20 minutes to catch your flight.
People traveling to other parts of South Korea by bus often stay in Sasang as well because it's where Busan Seobu Bus Terminal is. Here, you can catch daily buses to cities like Gwangju or Seoul.
Because of its location outside the city center, Sasang-gu isn't very popular among tourists; it's more of a travel hub. If your plan in Busan is to sightsee, this isn't the best neighborhood for you. The good news is that the lack of tourists makes hotels and hostels in the area much cheaper, so your money can go a longer way.
Even though it's not a touristy area, you can still visit a range of restaurants in Sasang-gu, though English may be limited, so ensure you have Google Translate handy.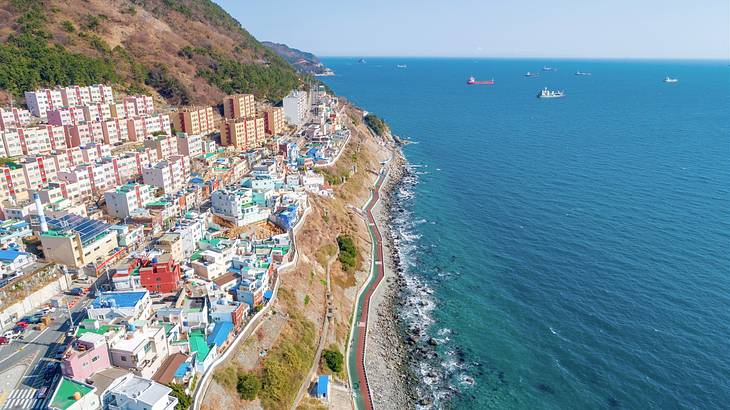 Yeongdo-gu
Since Busan is a coastal city, its geography is quite unique, with plenty of islands to visit and stay on. One of the most well-known islands in Busan is called Yeongdo Island.
There's plenty to do on the island, like hiking and water sports, so it's an excellent area for nature lovers. Most visitors hike in Taejongdae Resort Park. Along the trails, you'll come across Yeongdo Lighthouse, Taejongdae Observatory, and Taewon Gravel Yard, where you can get a stunning sea view.
Even though it's an island, there are plenty of places to stay in Yeongdo-gu. There are many hotels, ranging from budget to luxury, but if you want a more authentic experience, you can stay in a B&B.
If boats aren't your thing, don't worry, you can also get to Yeongdo Island by road and subway. Yeongdo Island is often considered the best place to stay in Busan for families and nature lovers.
Where to Stay in Busan, South Korea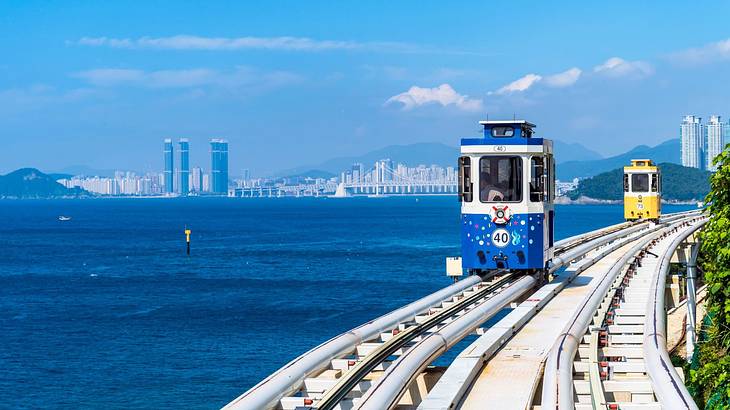 Where to stay in Busan with family?
Busan might not be your first choice for a family trip, but there are plenty of things for kids to do around the city, especially for ones that love nature. In the summer, staying in Haeundae is an excellent option so you and your family can visit the beach. Your kids can enjoy playing in the sand or water, and you can have a relaxing holiday.
It's also an excellent area for families because of the many resorts available. These resorts typically have meal plans, so you won't even need to leave the property to eat. This can relieve the stress of planning and finding a restaurant serving food everyone in the family enjoys.
Many resorts also have family suites, so you can still spend time together when you aren't out doing activities. Since Haeundae is quite a touristy area, it's also safe, which is particularly important for families.
Where to stay in Busan for first-timers?
The two best neighborhoods in Busan for first-timers are Seomyeon and Nampo-dong, as they're both centrally located with plenty to do. Seomyeon and Nampo-dong are known for their shopping centers, markets, street food stalls, and entertainment options, so you won't ever be bored!
Both Seomyeon and Nampo-dong also have designated subway stations, so you can easily get around to different parts of Busan. You can't go wrong with either, but if you're still wondering, "Where should I stay in Busan?" there are some differences between the two areas that may help you decide.
If you love to shop and eat, Nampo-dong may be a better option as there are plenty of markets. If you're more of a night owl, Seomyeon may suit you better, as there are plenty of bars, restaurants, and clubs that close late here.
Both neighborhoods are safe, easily accessible from the airport, and have a wide range of accommodation options, so they're perfect for first-timers to Busan.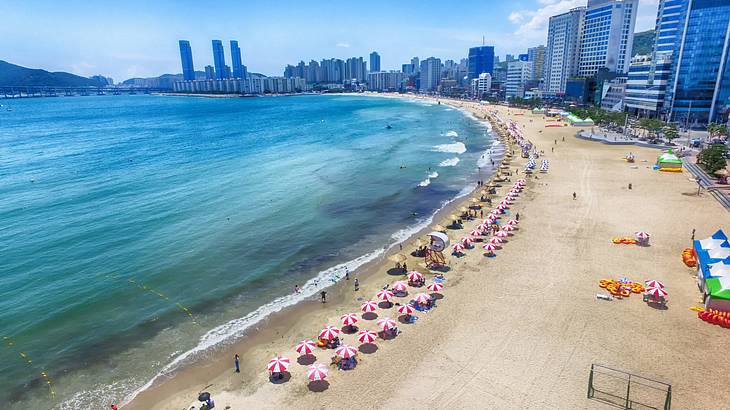 Where to stay in Busan near the beach?
Although Haeundae Beach is more popular, staying at Gwangalli Beach may be a better option for beach lovers. The first reason is there are more budget-friendly accommodations here. If you're not bothered about staying in a resort, you can save money by staying in Gwangalli.
The second reason is Gwangalli Beach is more popular among locals than tourists. This means it's typically less busy than Haeundae Beach, so you can focus on relaxing.
There are plenty of restaurants, cafes, and stores around Gwangalli Beach, so you won't need to stray far. But if you want to explore more of Busan, you can easily catch the subway from Gwangan Station.
Although Gwangalli Beach isn't known for its nightlife, you can visit some clubs and bars in the area. Staying in Gwangalli Beach is a good option for all types of travelers, including families and couples, because there's something for everyone here.
Where to stay in Busan for nightlife?
Although Seomyeon is primarily known for shopping, the nightlife in this neighborhood also attracts plenty of tourists and locals alike. There are more bars than clubs here, so if you want to get a drink, Seomyeon is the place to do it.
Another neighborhood with great nightlife is Kyungsung. There are three major Korean colleges in this area, so there are plenty of bars, clubs, and restaurants catering to students. This makes Kyungsung the ideal place for young tourists who are ready to party.
The most popular nights to go out in Busan are Friday and Saturday, so you'll likely see a lot of locals out on these days as well. During the summer, you can find plenty of festivals on Haeundae Beach. Therefore, if you're visiting in July and August and want to party, this may be an excellent place to stay.
Where to stay in Busan on a budget?
Backpackers may be considering which area to stay in Busan based on their budget. Sasang-gu is one of the most budget-friendly neighborhoods.
Since it's located out of the city center, the price of accommodation is much lower. You'll also spend less on public transportation or a taxi on your way to your accommodation from the airport, as Sasang-gu is only a 15 to 20-minute drive away.
Getting into the city to visit cultural sites, shop, or eat will take longer, but Busan has an excellent public transport system with buses and subways. Street and subway signs are written in Korean and English, so you should have an easy time getting around.
There are also many restaurants in Sasang-gu, so you can save money on food, and you get to eat where the locals eat. If your budget is really tight, you could always eat at convenience stores like 7-Eleven. They have a great mix of packaged and hot foods, making them a popular option for locals as well.
In Summary
Since Busan is the second-largest city in South Korea, there are many places you can stay. However, don't let all the options overwhelm you!
Choosing the best neighborhood for you depends on who you're traveling with and what you want out of your vacation. For example, if you're traveling with children but want a relaxing holiday, staying around Yeongdo-gu or Gawangalli Beach is a good option.
If you're a first-timer in Busan, stay in a central area like Nampo-dong or Seomyeon. South Korea can be expensive, but budget travelers can still visit and stay in Sasang-gu. No matter which neighborhood you pick, you'll have a fun time exploring this unique South Korean city!
Give us feedback about this article
Read more articles about South Korea:
More articles about places to stay:
---
---
Want to keep exploring?
Subscribe for discounts on tickets and hotels and our latest guides.
Thank you for subscribing
We will be in touch soon with discounts on tickets and hotels and our latest guides.
Want to keep exploring?
Subscribe for discounts on tickets and hotels and our latest guides.
Thank you for subscribing
We will be in touch soon with discounts on tickets and hotels and our latest guides.
Related Articles