10 Best Cafes in Colombo That Will Treat You Right
Destguides may receive commissions from purchases made through affiliate links in this article.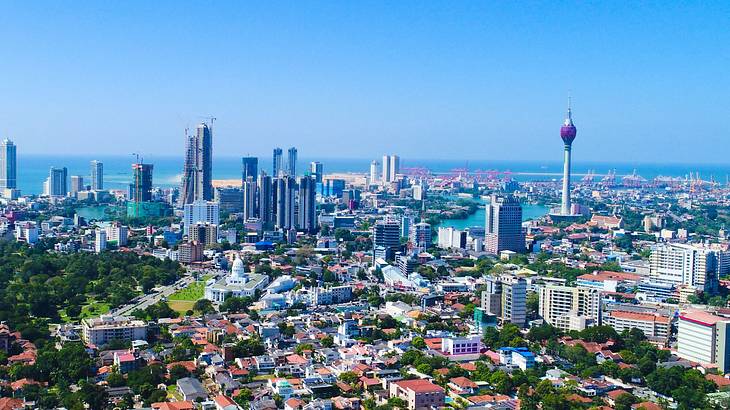 Colombo is the commercial hub of Sri Lanka that tourists flock to visit and have a good time. While skyscrapers seem to dominate this bustling city, Colombo has managed to preserve its colonial charm. If you are here, busy exploring its top attractions and seeking off-the-beaten gems, you might want to energise yourself in between stops with a beverage and a snack.
There is something you should know, though. As a modernised city, Colombo has a fair share of coffee shops on most of its street corners. So, you can get easily distracted. Knowing the right spots that serve great food and coffee at a price that won't cost you an arm and a leg is essential!
If you are on the hunt for some of the best cafes in Colombo, or Sri Lanka, you have come to the right place. I have picked some great cafes that won't disappoint you. Whether you are looking for the perfect ambience to chill in, or you need great value for money, the cafes suggested below will keep you happy!
10 Best Cafes in Colombo
Colombo Cafes Map
A map of Colombo. Use the map to explore all the cafes.
The Coffee Bean and Tea Leaf
Sometimes, what we really need after a long day of travel is an excellent cup of coffee that speaks to our soul. That being said, I can assure you that Coffee Bean and Tea Leaf will live up to your expectations. There's no doubt that you will love the rich flavour and intense aroma of their coffee varieties.
The customer service is also outstanding, and the staff members are very friendly. The only downside though is their pricing, which is a bit high compared to other coffee shops. But, if you don't mind it as long as the quality is above-par, then this is a great place. They have four branches in Colombo, so you can pick the one that's in the most convenient location for you.
Barefoot Garden Cafe
If you want a break from the city's busy noise, or if you just want to relax while enjoying a great cup of coffee, then the Barefoot Garden Cafe is the place to go. It has a very serene and traditional appeal to it, which makes you want to stay there longer.
The cafe is located on the premises of the Barefoot Gallery, which sells a variety of interesting handloom products. The menu is a fusion of Western-Asian cuisine, and they also have a range of tasty beverages. I love the food here, and they make you want to dig in right away!
The service is speedy, and they offer free Wi-Fi for all its customers. But that's not all. They have live jazz almost every Sunday during lunch, so you can enjoy some good music while you are there. Overall, it is one of the best restaurants in Colombo.
E-Cafe
As the name implies, E- Cafe Colombo is focused on helping its customers get their work done while sipping a good cup of coffee or having a tasty snack. Since it has free Wi-Fi and convenient plug points around to charge your devices, it is an ideal place for workaholics. If your phone's battery has drained, here's a place to charge it before you begin to travel again.
Now, this is what really caught my eye. The bright black and yellow-themed setting takes you back in time with music complementing it perfectly. The comfy over-sized chairs will keep you cosy, and if you have nothing to do, grab a book to read from one of the shelves around!
The Commons Coffee House
The Commons Coffee House is one of the oldest coffee houses in Colombo and is popular among locals and tourists alike. They have a range of options for coffee, so you can get your hands on your favourite coffee here. Their menu is a mix of western-style food, traditional Sri Lankan meals, and it has some great vegetarian options as well.
The cafe is open on weekdays from 7.30 am, and on weekends and public holidays from 8.00 a.m. until midnight. You can choose a spot indoors or outdoors and spend as much time here as you want. For me, the prices are pretty reasonable, especially in comparison to the quality of food, but the listed prices exclude taxes and service charges.
The Grind Coffeehouse
This cafe is popular among the locals for its perfectly-brewed, aromatic coffee made from Sri Lankan coffee beans. This makes the Grind Coffeehouse more special because a majority of the cafes in Colombo use coffee beans imported from South or North America.
Most of the cafe's menu consists of power food, like quinoa salads, granola and avocado on toast, which are all packed with nutrients. They also have organic cold-pressed juices to give you an additional punch that's both healthy and refreshing.
It's a very minimalistic cafe both from the outside and inside but has cosy seating. This place can't accommodate a lot of people, but if you are a solo traveller looking for a place to chill, I highly recommend this cafe for you.
Coco Veranda
If you want to beat the heat of sunny Colombo, head to Coco Veranda and treat yourself with one of their refreshing fruit juices. It's a good place to have a break as you travel around the city. They also have an impressive set of options for both hot and iced coffees, tea, smoothies and milkshakes.
Being popular for their courteous customer service, and its convenient location, this sure is one of the busiest coffee houses in the city. The well-prepared coffee and great food, combined with the welcoming ambience, provides great value for the money spent.
Cafe Kumbuk
If what you need is a taste of authentic Sri Lankan flavour, then this is the ideal place to go. The antiquey wooden furniture and the wall decorations of the cafe give it an elegant yet rustic vibe. The food menu ranges from local dishes, like string hoppers, to healthy salad bowls and savoury meat dishes.
You might be slightly concerned about the pricing, but let me assure you that it's worth it. You get a wholesome meal, and the beverages are just delicious. You can also get a hold of good coffee at a reasonable price at Cafe Kumbuk. Certain dishes can even fill up two people. The food here is prepared from locally sourced organic produce, which means you are in for a healthy meal!
Butter Boutique
For someone like me who loves to savour on a classic tea menu every once in a while, this cafe is purely a delight. They have everything from cinnamon rolls, scones, to a variety of delicious cakes that will make your mouth water instantly.
The various coffee options are excellent, and they are so strong in flavour, you will love it. They import coffee beans mainly from countries in South America and are roasted to perfection at Butter Boutique. You can also ditch the coffee for a day and try out their tea options like Masala Chai.
Another thing I love about Butter Boutique is its beautifully decorated interior with comfortable seating. They are a bit high on the price end, but the quality of their food and coffee balance it off. Spend your time relaxing, chatting, and of course, trying new food here!
Plus Nine Four
One thing you will notice right away about this cafe is its incredibly peaceful setting. It's an excellent place to slump into a chair to rest after a long day of travel. Plus Nine Four, as one of the prominent coffee houses in Colombo, is great at what it does - tempting customers with its savoury and sweet food options. The menu will drive you crazy, and you will be spoilt for choice.
The coffee? Even better! You will feel so energised as the strong flavour hits your senses. The plus point here is that they don't come expensive, and the customer service will exceed your expectations!
London House of Coffee
The London House of Coffee is a high-end cafe that serves some of the finest coffee you will find in Colombo. The well-lit space, with a beautifully-designed interior, is homely and very welcoming. The cafe pays extra attention to the coffee they make, and go to the extent of roasting coffee beans in house.
Their meal options are limited but well-prepared and promptly served by the friendly staff. You can either sink into one of the comfy chairs and spend time working here or have a nice small gathering with your friends. The cafe also provides meeting room-styled spaces for mini-conferences.
Conclusion
The list of coffee shops in Colombo doesn't end here, and you will surely be amused by the number of cafes and restaurants dotted in this city as you travel. The choices I have laid out for you are unique in their own way and cater to different types of customers.
So, if you're a backpacker in Asia and your concern is price, choose a budget-friendly option like Hansa Coffee. If you are on the lookout for a serene spot to take some time off, Plus Nine Four might be the place to go.
It all depends on your preferences. Whatever you choose, I can assure you it's easily accessible as all of these cafes are located close to each other.
Craving having a coffee on a beautiful beach? Then head to a coastal town in Sri Lanka, like Mirissa, as it has some of the most beautiful beaches in the country and is located only a few hours from Colombo (as is Ella)!
---
---
Want to keep exploring?
Subscribe for discounts on tickets and hotels and our latest guides.
Thank you for subscribing
We will be in touch soon with discounts on tickets and hotels and our latest guides.
Want to keep exploring?
Subscribe for discounts on tickets and hotels and our latest guides.
Thank you for subscribing
We will be in touch soon with discounts on tickets and hotels and our latest guides.
Related Articles