20 Best Places to Visit in Ella, Sri Lanka
Destguides may receive commissions from purchases made through affiliate links in this article.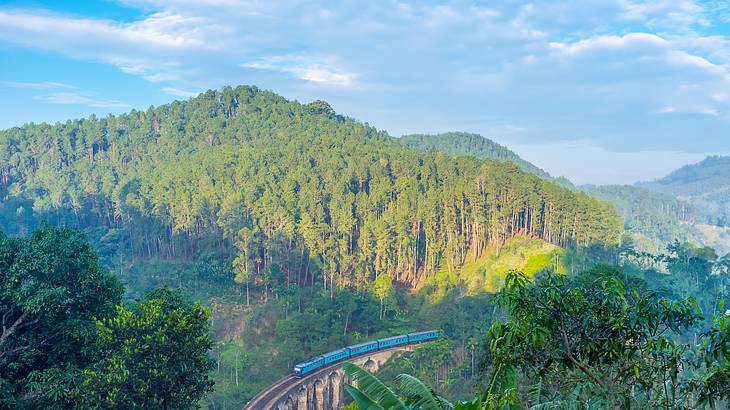 Ella is a small city in the Badulla District of Uva Province, Sri Lanka. Enclosed by wilderness, dotted with tea plantations, and home to stunning waterfalls, Ella will transport you away from your busy schedule and help you relax.
If you are planning to visit this lovely town, below are the best places to visit in Ella. Pick and choose what appeals most to you and fits your budget best. Budget-conscious travellers especially love visiting Sri Lanka!
Something to keep in mind before you visit Ella - the train ride to Ella is considered one of the most picturesque train rides in the world. It's also cheaper than booking a taxi or private driver in Sri Lanka, and it is less exhausting than bus rides.
Ready to travel to Ella? Continue reading to learn more about what to see in Ella, Sri Lanka.
20 Things to Do in Ella, Sri Lanka
Places to Visit in Ella, Sri Lanka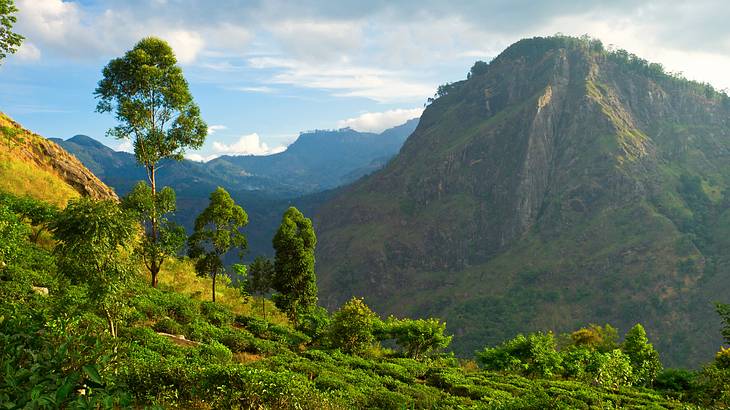 Ella Rock
Some people love Ella Rock for the hiking challenge it offers, while others get excited by the magnificent bird's-eye view at the top. Either way, it is one of the best things to do in South Sri Lanka!
It's safer if you hire a tour guide as the trails can be quite complicated, and the entire hike takes more than 4 hours. But, that doesn't mean you can't do it by yourself!
The trail from Kithalella Railway Station will take you through rubber and tea plantations, a waterfall, and winding paths surrounded by trees.
Be prepared with the right gear. Wear running shoes, and if possible, leech socks as the place can be full of leeches during the rainy season.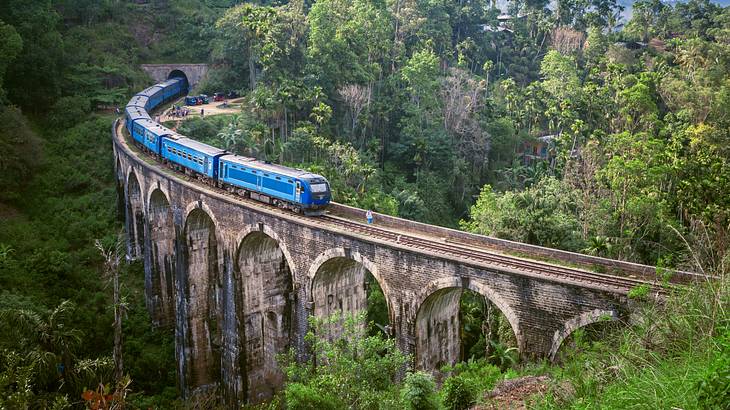 Nine Arches Bridge
A trip to Ella wouldn't be complete without a visit to the iconic Nine Arches Bridge. It is located closer to Ella town, and you can easily get here by tuk tuk. It is a must on your Sri Lanka itinerary!
Surrounding the bridge is a jungle which you must go through first before arriving at the bridge. The best time to visit Nine Arches Bridge is during sunrise or sunset when the vistas are picture-perfect.
The bridge is renowned for its historical tale as well. It was a project commissioned during the British colonial era to connect Ella and Demodara stations.
As World War I broke out, the steel and metal allotted for the construction were redirected for military requirements. Therefore, Nine Arches was built entirely out of bricks, rocks, and cement.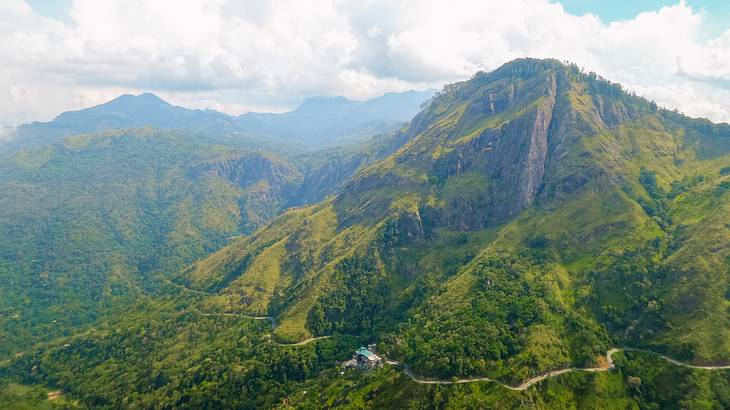 Little Adam's Peak
Little Adam's Peak is one of the top places to visit in Ella. It offers an excellent opportunity for anyone looking for an easier climb than Ella Rock. The 'Little Peak' derived its name from its tiny resemblance to the sacred [Adam's Peak (Sri Pada) in Sri Lanka that's way harder to climb.
The Little Peak is 1141 meters in height, and the entire hike shouldn't take more than 2 hours unless you want to spend more time wandering around. It's best visited early in the morning when you can get a stunning view of the mist clinging on to the surroundings.
The trail to the peak will take you through tea plantations. Once you reach the top, you will get an incredible view of Ella in its rugged form.
Nil Diya Pokuna
Translated to "blue water pond," Nil Diya Pokuna is a pool located within another cave complex. The cave is said to have been built by King Rawana, although some believe it is naturally occurring.
The pond got its name from its crystal-clear blue water, which is a magnificent sight to see! It is a lesser-known spot among tourists, but it is a site worth exploring nonetheless. The massive cave itself is beautiful, but be extra cautious as the rocky walls in some parts are incredibly sharp.
The route to the cave and the climb down to the pond is quite challenging, so I strongly recommend hiring a local tour guide who is familiar with the area.
Don't forget to take a couple of torches with you as well as it's very dark inside the cave. With the right gear, you can dive or swim in the deep pool, but I am not kidding when I say it can be a dangerous task for the inexperienced!
Go Zip-lining to see the Ella Gap
Nature-bound Ella has a fair share of activities for thrill-seekers. The Flying Ravana Zipline is the most famous one out of them, and visitors don't usually miss an opportunity to take part in this adrenaline-rushing activity.
The Ella Gap is a space between two mountains with panoramic views. The mega dual zipline lets you enjoy the ride alongside someone else while providing you with stunning views of the lush greenery as you cut through the soft breeze.
Set 82-meters high, the zipline takes you at a speed of 80km per hour for more than half a kilometre.
The service provider is certified under the European Ropes Course Association, so maximum safety is ensured. The rate per person is 40 USD and applies to both adults and children who are above the minimum age.
An ATV Bike Tour to visit the 'Ravana Lookout'
If you are looking for more action-packed activities to do in Ella, here's a great one!
The Flying Ravana also offers ATV bike tours that start from Little Adam's Peak and go through tea fields and jungles. It covers steep slopes, mud grounds, hilly roads, and you can choose the difficulty level as easy or moderate.
More importantly, the route gives you access to the private viewpoint "Ravana Lookout," one of the best places to view Ella from above.
Remember to follow every safety instruction they provide you with to ensure maximum protection.
Ella Spice Garden
If you are looking for more fun activities to do in Ella, how about visiting a spice garden? Sri Lanka is known for its aromatic, fresh spices that it has been exporting since colonial times. So, taking a look at the ingredients that flavour Sri Lankan dishes can be very informative.
Ella's Spice Garden has a large number of trees and plants of various spices. A guide will take you through the main spices explaining how they are grown and what they are used for. If you want to combine two activities in one, the operators of the Spice Garden offer cooking classes as well.
Café Chill
You will find plenty of cafes to take a break at between visiting the different attractions in Ella. Out of them, Café Chill, which is situated on Wellawaya Road, is very popular as a cafe, restaurant, and bar.
The large dining area is decorated with wooden chairs and tables and inviting wall art. What's more tempting though is their array of food varieties that are a mix of both local and western cuisines.
The customer service the staff provides is impressive, and they are all ears if you have any complaints regarding the food.
Café Chill also offers wifi facilities, so it's a great place to work or surf the internet while enjoying a good cuppa. This place can get very crowded at night!
Uva Halpewatte Tea Factory
Uva Halpewatte Tea Factory is the largest in Uva Province. They offer organised tours accompanied by an English-speaking guide throughout the day for visitors.
You will get a chance to walk through lush tea plantations and learn how tender tea leaves are carefully hand-picked by the local tea pluckers. You can also engage in the art of tea plucking here, but only if you book a private tour with them.
The 30-minute tour inside the factory will educate you on how world-famous Ceylon tea is brewed from the start. A unique thing you can do here is touch the tea leaf to feel the change in its texture after each stage. What's more? You get to taste the different qualities of tea at the end.
Dhowa Rock Temple
Dhowa Rock Temple is one of the famous cultural places to see in Ella. There's a partially completed 38-feet tall Buddha statue carved out of granite here, which is believed to have been personally sculpted by King Walagamba who built the temple.
Closer to the statue is a cave that was used as a temple by the king. Its interior is adorned with murals that relay some of the Jataka stories.
As you walk to the other end of the cave, past the Image House, you will notice a small stupa behind which lies a tunnel. A clay sculpture of King Cobra guards the entrance to the tunnel used to prevent looters from getting in.
Interestingly, the place to which the tunnel eventually leads to remains a mystery till this day.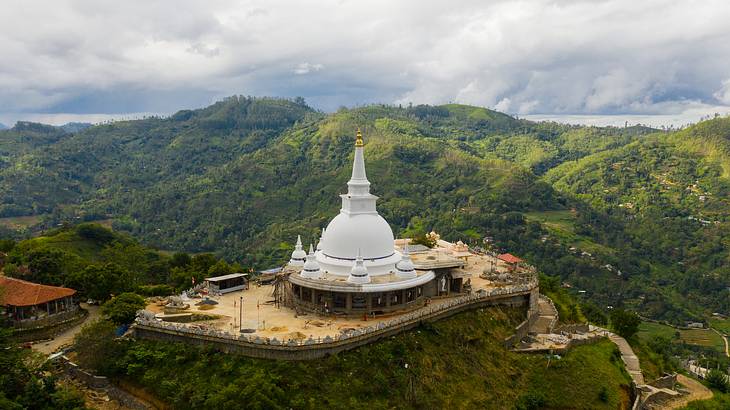 Mahamevnawa Monastery
Mahamevnawa Monastery is one of the most revered Buddhist temples in Sri Lanka and is where a significant number of Buddhist monks reside.
It's perched on top of a mountain, so you get an amazing view of the surrounding area. This, combined with the serene ambience of the temple, makes it a great place to practice meditation. You can learn about meditation practices and teachings of Buddhism personally from the monks here.
They will also brief you on the history of the monastery and show you around. Offerings can be made at the shrines in the form of flowers, food, and incense sticks. It takes close to 30 minutes to reach this monastery from Ella town.
Halpe Pattini Devalaya
Nature isn't the only thing that will keep you occupied in Ella. This temple dedicated to Goddess Pattini is an ancient religious site. The architecture of the Pattini Devalaya is interesting to observe.
The timber columns that support the roof are decorated with beautiful carvings. The inner chamber, or the main shrine fenced with lattice, is made out of a clay wall known as Maligawa. It houses the image of goddess Pattini along with other objects like lamps.
You will notice the entrance of the shrine has images of doorkeepers and a dragon arch to imply protection of the Maligawa. This Devalaya was declared a protected archaeological site in 2002.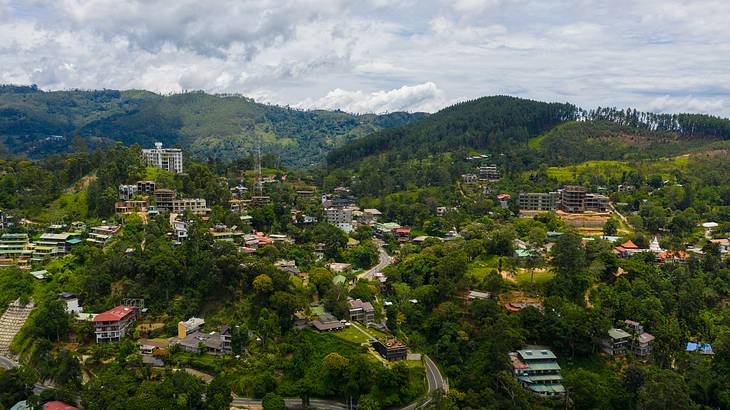 Ella Town
Taking a walk along the lanes of Ella town to get a glimpse of the everyday life of the locals might also be an interesting activity for you to do.
A lot of the residents in Ella are day wage earners who strive hard to make a living out of their earnings from informal work. Except for the villas, cafes, and high-end restaurants here, the majority of the houses resemble a rustic lifestyle.
But, the locals are known for their hospitality, and almost everyone should speak a little bit of English. So, have a casual chat and get to know them. You might even end up learning about other places to visit as well as shortcuts to different destinations nearby from them.
Places to Visit Near Ella, Sri Lanka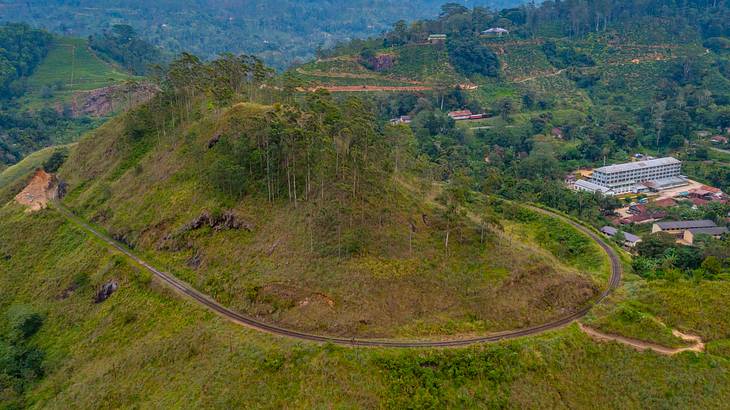 Demodara Loop
Demodara Loop is a carefully-designed railway line that seems to be a spiral loop from the top. It can be observed that the train beginning from Demodara Station makes the round, eventually appearing out of a tunnel exactly beneath the railway station. Strange, isn't it?
The remarkable engineering construction is credited as a masterpiece as it's the only one like it in the entire world. Built during the colonial time, the idea was said to have stemmed from how a turban wrapped around a head.
Why was this design necessary? The maximum inclination allowed by the then government did not fit in with the slopes of Demodara, so a creative idea had to be thought about. Demodara Station is located within a 15-minute walk of Ella.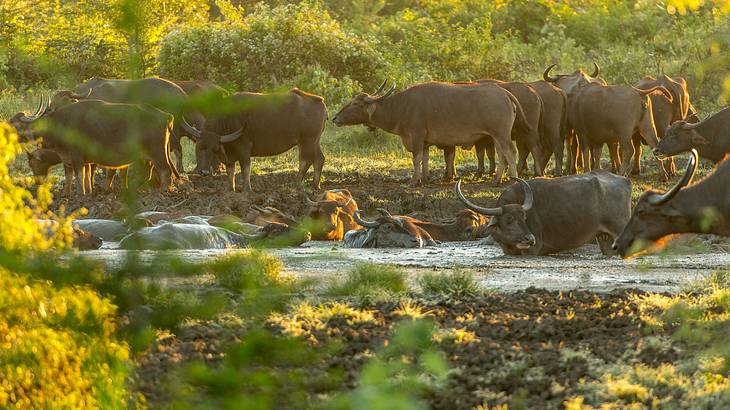 Udawalawe National Park
Udawalawe National Park is well-known as a place for viewing large elephant gatherings and bird watching. Like Yala, it takes around 2 hours to reach here from Ella, and you will have to book a safari tour to go around the park.
Altogether, there are around 700 elephants in the park, which gives you plenty of opportunities to look at the behaviour of these wild animals up close. You will also come across buffaloes, crocodiles, wild boars, spotted deer, and if you are lucky, leopards. There are more than 100 species of birds and butterflies to observe here as well, so get your binoculars ready!
There's no specific season to visit this national park, and it's better to allocate a day for it. Another national park that lies in 2-hour proximity of Ella is Horton Plains National Park in Ohiya, which is famous for its World's End cliff.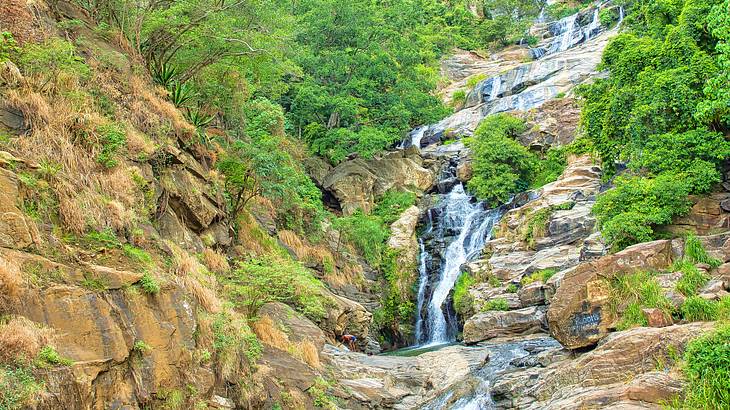 Ravana Waterfall and Cave
The 23-meter-high Ravana Waterfall is another excellent spot to immerse yourself in nature. It is located near Ella town and takes around 10 minutes by tuk-tuk.
Ravana Falls is one of the widest waterfalls in Sri Lanka that flows in three tiers and has several natural pools ideal for swimming. The entrance to the cave is located close to the falls.
Ravana Falls mysteriously holds a secret that you may not know about. Behind the water curtain is the legendary Ravana Cave, which is infamously known to be the place where the demon king held Queen Sita in captivity. Don't confuse it with Ravana's Cave.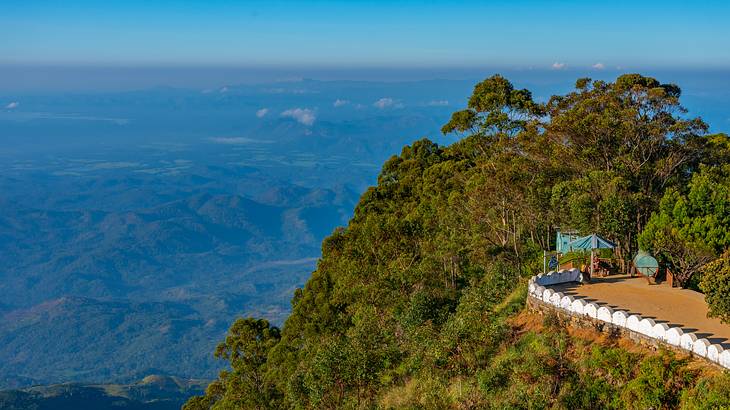 Lipton's Seat
Lipton's Seat is located in Haputale, an hour drive from Ella. The famous viewpoint derives its name from the Scottish tea baron - Sir Thomas Lipton - who used it as a place to look over his lush tea plantations with pride.
People flock to this viewpoint for good reason. Firstly, the panorama of nature from here is just mind-blowing as you will see never-ending mountain ranges and tea plantations appearing as if they are stacked behind each other.
Secondly, you will view five provinces of Sri Lanka – a rare sight, I would say! So make sure to bring your camera with you to take lots of photos, including a cheesy one with Sir Lipton's statue!
Ellewala Waterfall
Looking for a waterfall to have an enjoyable fresh swim in? Then, this is the place to go!
Ellewala Waterfall is easily accessible from Ella, just off of Wellawaya Road, but you will have to walk through a jungle to get here. When you come across an ancient temple on your way called Rathmal Vehera, take the road opposite to it.
The natural pool here is ideal for swimming as it's not too deep, but be careful if you visit it during the rainy season. Since this waterfall is always enclosed by jungle, it doesn't get very crowded, giving you enough private space to have fun.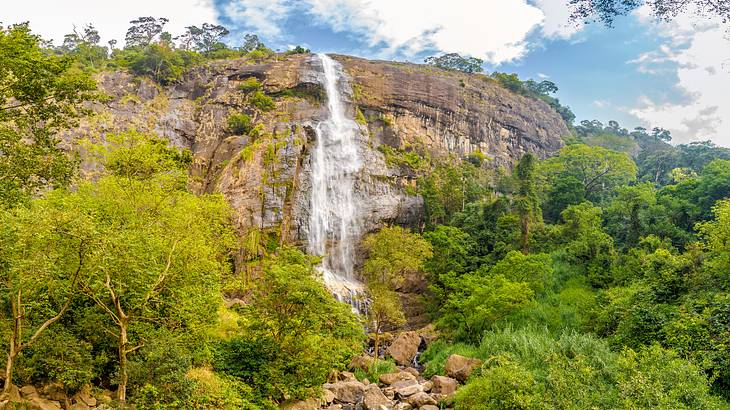 Diyaluma Falls
Diyaluma Falls is 220-meters high and is the second-largest waterfall in Sri Lanka. It is popular among both local and foreign travellers and is located in Koslanda - a 1-hour drive away from Ella.
Once you reach the entry point, you have to hike for about 30-40 minutes to get to the waterfall. There's a longer route of 2 hours as well if you'd like to walk for longer.
The multi-tiered falls cascade down and form many natural pools along the way, which is impressive to watch. Select a cosy spot with a natural pool and treat yourself with a refreshing swim, or just lie on the rocks enjoying the moment.
The pools on the upper side of the waterfall give you picturesque views of the surroundings. You can take some snacks with you to have a picnic as well, but make sure you don't leave your litter behind!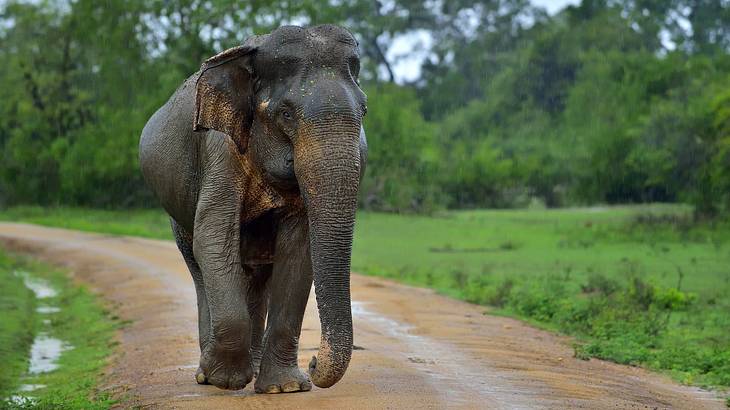 Yala National Park
Visiting Ella also allows you to explore some of Sri Lanka's most prominent national parks. Yala, the most famed one, is just two and a half hours away from Ella, and it's an experience too good to miss!
As a sanctuary to a wide range of native flora and fauna, the park will fascinate you with its magnificent parades of peacocks, groups of elephants, and herds of water buffaloes idling around.
But, the showstopper here is the Sri Lankan leopard - a rare and endangered species. If you happen to visit Yala between January to July, you will see quite a lot of them.
The only way to explore the park is through a safari ride, which you can book at the entrance or online beforehand.
In Summary
It's best to allocate 2-3 days to spend in Ella if you want to make the most out of your time here. That way, you'll tick off some of the top Ella attractions on your Sri Lanka bucket list.
If you're in Sri Lanka for longer, make sure to check out towns such as Nuwara Eliya, Polonnaruwa, Kandy, and Mirissa, too. Whatever you do, you'll have the best time!
Give us feedback about this article
Read more articles about Sri Lanka:
More articles about places to visit:
---
---
Want to keep exploring?
Subscribe for discounts on tickets and hotels and our latest guides.
Thank you for subscribing
We will be in touch soon with discounts on tickets and hotels and our latest guides.
Want to keep exploring?
Subscribe for discounts on tickets and hotels and our latest guides.
Thank you for subscribing
We will be in touch soon with discounts on tickets and hotels and our latest guides.
Related Articles