The Best 3-Day Bangkok Itinerary
Destguides may receive commissions from purchases made through affiliate links in this article.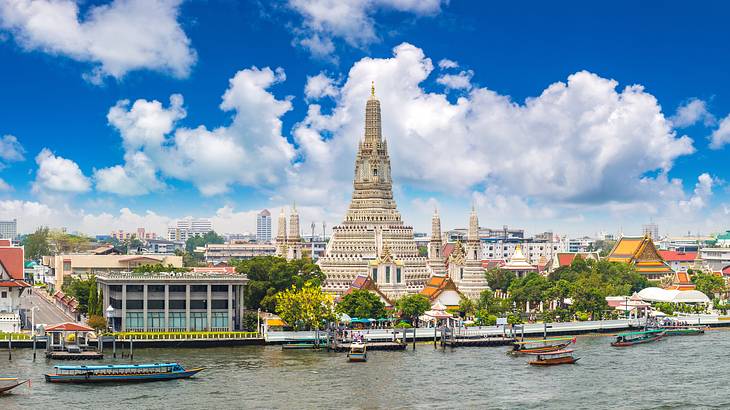 Bangkok has a rich culture and history and many breathtaking places to visit that are worthy of a spot on your Thailand bucket list. Best of all, Bangkok is easy to reach. It has excellent transport links, including two airports: Don Mueang International Airport and Suvarnabhumi Airport, which is connected to central Bangkok via the Bangkok Airport Rail Link.
In addition, you can easily see all this top destination has to offer in just 72 hours! This 3-Day Bangkok itinerary includes almost all the sites and activities you wouldn't want to miss out on as a first-time visitor to the city. From temples and a palace to restaurants and markets, this itinerary includes the most interesting stops for a short trip to the vibrant and exciting capital of Thailand.
Do note that a visa on arrival is available for citizens of many countries but check visa requirements before arriving. Getting travel insurance before you arrive is also a must.
Additionally, if you only have one day to spend in Bangkok, focus on the first day of this itinerary as it features the must-see landmarks and attractions for first-time visitors. Does a trip to Bangkok sound like the perfect getaway? Then read on for a fun 3 days in Bangkok itinerary!
3 day itinerary
Average of 6 stops per day
3 Day Bangkok Itinerary
Bangkok's Famous Historical Sites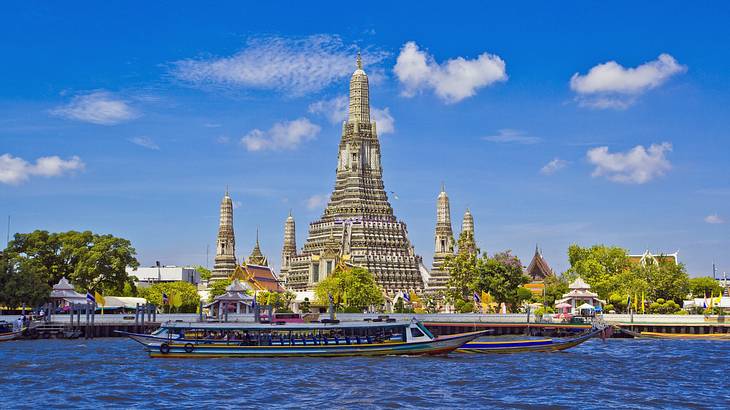 The first day of this 3 days in Bangkok itinerary will be spent exploring Bangkok's historical sites, like the main palace (the Grand Palace). You'll also stop for lunch at The Sixth, a popular Thai Restaurant and Bar in the city. In the afternoon, you can shop on Khao San Road before going on a memorable Chao Phraya River dinner cruise.
While the temples and palace are more often than not jam-packed with crowds and tourists, it is for good reason as these sites are iconic landmarks in both Bangkok and Thailand as a whole. Nonetheless, it doesn't matter if you have a week or just a day to explore the city; these historical stops should come first on your personal 'Top Sites to See in Bangkok' list.
The attractions on your first day are also within close proximity of each other, so you'll be able to walk from one place to the next with ease. They are also located near the Chao Phraya River, so you can take some time to explore this area by taking a leisurely stroll along the water.
Finally, starting your first day early is recommended as the walls of the Palace like to retain heat, and in the middle of summer, it can become quite hot and unpleasant inside! Most of the sites also close rather early, so best to get a head start.
When visiting the temples and Grand Palace, do note that there is a strict dress code. Make sure to dress appropriately by covering your thighs (below the knees) and shoulders.
Buying a cheap sarong from a market stall in the city before you set off on your first day is a great idea. You can then easily wrap it around you when needed and fold it up small to fit in your bag. You can also use it as a blanket when visiting the beach.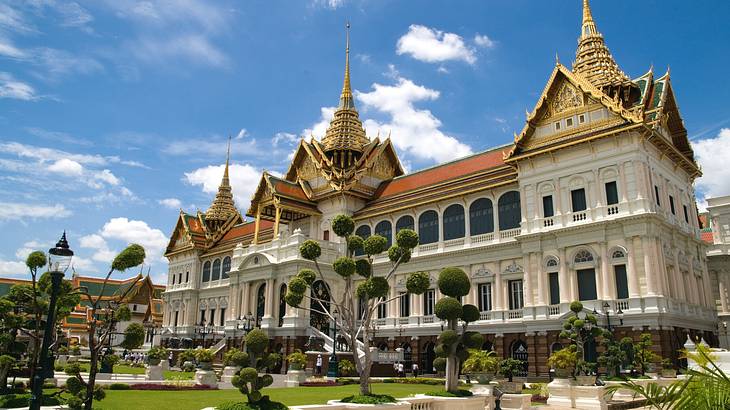 Grand Palace and Wat Phra Kaew (Temple of the Emerald Buddha)
When looking at a Thailand travel guide, it's likely that a visit to the stunning Grand Palace will be recommended. The Grand Palace, which is located in the centre of Bangkok, is the perfect place to start your venture into the history of the city. Notably, many of the buildings located inside are great examples of traditional Thai architecture.
The structures are beautifully detailed and decorated in bright, bold colours, such as with gold finishings. The Temple of the Emerald Buddha (Wat Phra Kaew) is also situated on the well-known grounds.
The Palace used to be the official residence of the Kings of Siam but is now used for official events. Interestingly, only the King can touch the Emerald Buddha, so do keep your hands to yourself!
If you are here early in the morning, you can spend a couple of hours exploring the Palace as it should be less crowded at this time of day, making it the ideal time to take in the site's beauty and history.
While you can definitely explore the Grand Palace and temples alone, taking a Grand Palace and Wat Phra Kaew private tour is also an excellent idea. Your guide will provide more information on the history of the buildings, along with many fun facts.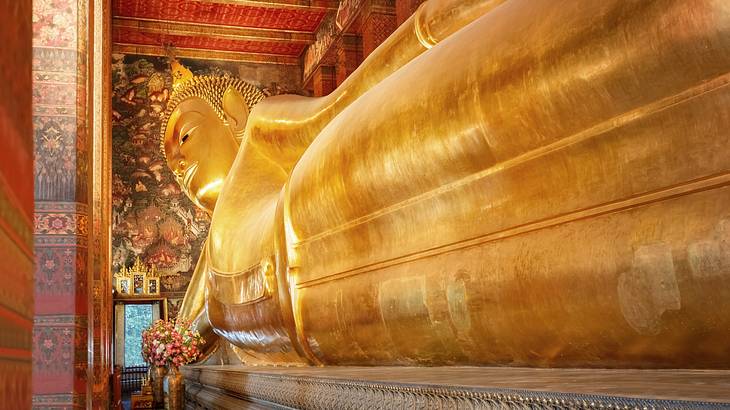 Wat Pho – Reclining Buddha
Having seen the Emerald Buddha, you can now go to see the Reclining Buddha! This Thai landmark is located approximately a ten-minute walk from the Grand Palace.
The Wat Pho is also the perfect place for a retreat after your busy morning at the Grand Palace. Even though the main attraction you'll want to see is the 46-metre-long gold Buddha itself, be sure to also check out the beautiful nearby courtyard. An hour should be enough to look around the Reclining Buddha site.
If you want to see some other temples, along with Wat Pho – Reclining Buddha, book a Bangkok temples tour. On this three-hour excursion, your guide will take you to multiple temple complexes, and you can learn more about each sites' history and culture.
Lunch at The Sixth
After a busy morning visiting iconic Thai landmarks, you'll probably want to stop for some food and drinks. Halting your exploration for a while and heading over to The Sixth to enjoy Thai delicacies is recommended.
The Sixth not only has excellent food but is also conveniently located just a few minutes from Wat Pho. Options on the menu include noodles, soups, and seafood dishes.
Thailand, and Bangkok in particular, is also known worldwide for its street food. Therefore, make sure to spend some time checking out the local food carts as well. Grabbing snacks at a food cart is also a great way to stay on budget while exploring one of the cheapest countries in Asia!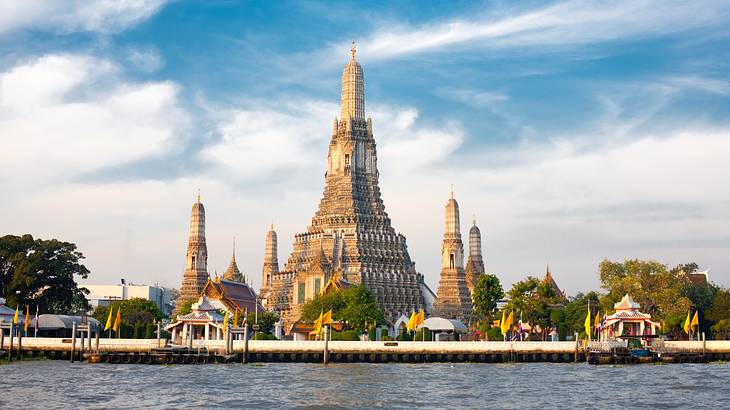 Wat Arun Temple - The Temple of the Dawn
Wat Arun Temple (The Temple of the Dawn), with its riverside location and the highest prang in all of Thailand (70 metres to be exact!), is one of the most photographed and popular Asian landmarks in the city.
This landmark can often be spotted in cityscape photos of Bangkok. It got its name, 'The Temple of the Dawn,' from the Indian God Aruna, who was the God of Dawn. Not only is it one of the most instagrammable places in Bangkok, but it is also a fascinating historical attraction as the structure was built before the city itself.
While visiting, don't forget to check out Ordination Hall near Wat Arun Temple. You should also try to catch the sunset here, as the sun casts a beautiful light on the tall spiral. You can easily spend a few hours at this attraction, roaming around the beautiful grounds, so take your time exploring the area.
Again, you could book a guided tour of the Temple of Dawn, which also includes a visit to the Grand Palace and Temple of the Emerald Buddha.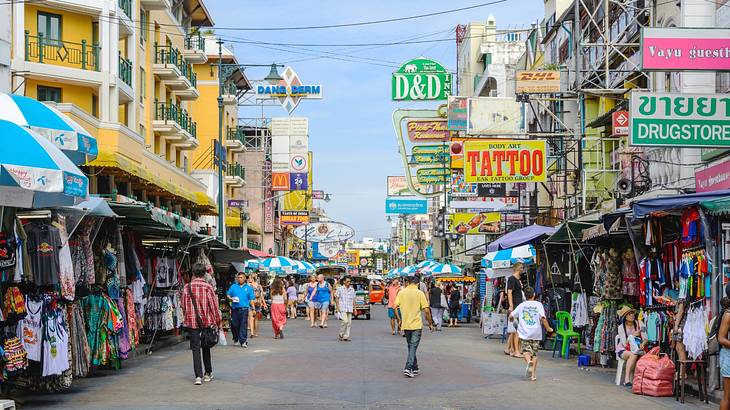 Khao San Road
Khao San Road, or Khaosan Road, is a bustling street in central Bangkok that's popular with backpackers and other tourists. It can be reached in around 12 minutes when driving from your last stop. Alternatively, you could walk there along the riverbank in about 30 minutes or take a Bangkok tuk-tuk tour, which includes a stop at Khao San Road.
Once you arrive, you can explore various shops, including souvenir shops and small independent stores. Afterward, you can pick up some snacks at cafes or street food stalls. Khao San Road also has affordable hostels and bars selling cheap drinks.
Chao Phraya River dinner cruise
The perfect way to end your first day in Bangkok is by going on a Chao Phraya River dinner cruise. As you sail along the river on this luxurious cruise, you'll see many landmarks, including the Grand Palace and Wat Arun (Temple of Dawn).
You'll also get to enjoy a delicious Thai buffet featuring a variety of dishes. There's also entertainment on board, such as live music and Thai classical dance shows. Of course, you'll also get to admire the stunning views over the river as the sun goes down. If you're unsure what to do for dinner in Bangkok, taking a Chao Phraya River dinner cruise won't disappoint!
A Day of Shopping & Relaxation in Bangkok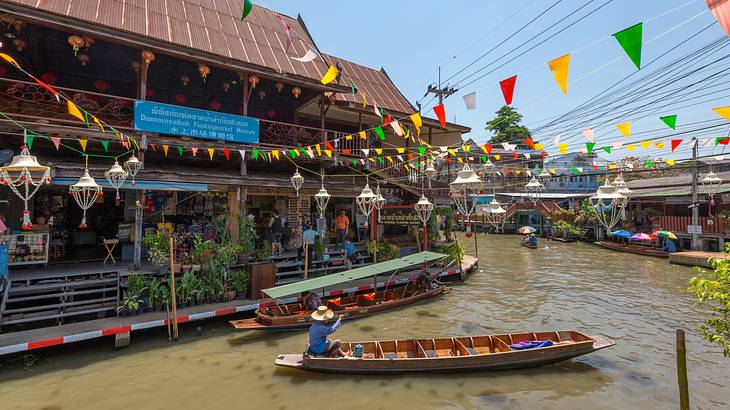 You can't come to Bangkok and not set aside a day or an afternoon for some shopping and market exploration! While there are many markets and shopping malls one can visit in Bangkok, stopping by two of the most famous ones, Chatuchak Market and Asiatique, is a must.
However, before visiting these markets in central Bangkok, you'll visit some shopping attractions outside the city. The first stop is Damnoen Saduak Floating Market in the Damnoen Saduak District. After exploring this fascinating floating market, you can head to another unique market, Rom Hup Market. Interestingly, it's located on an active railway track and is a one-of-a-kind attraction to see.
You can also break up your shopping day with a Thai massage and some tea! Your feet are bound to get tired at some point during the day, so head over to the Bangkok Oasis Spa for a well-deserved massage break.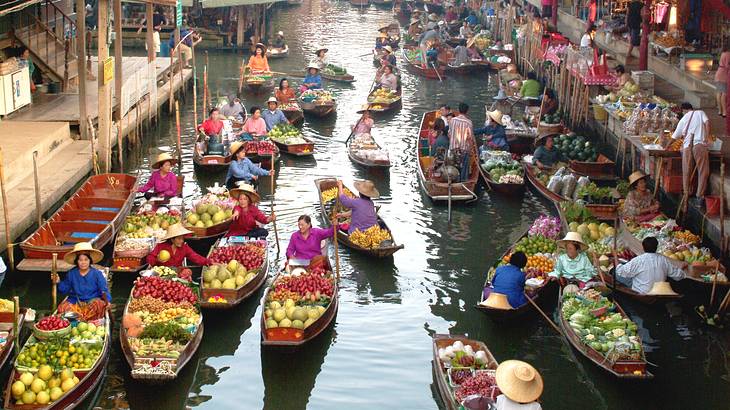 Damnoen Saduak Floating Market in the Damnoen Saduak District
Your day will start with a trip out of Bangkok to the Damnoen Saduak District. You can reach this area in just under an hour and a half, with most people visiting to go to the famous Damnoen Saduak Floating Market.
While you can reach the area alone, going on a tour is highly recommended. With a private Damnoen Saduak Floating Market tour, you can explore the area with a guide just for your group. Alternatively, you can join a Damnoen Saduak Floating Market group tour, which is a little more affordable than a private tour. Both options have hotel pick-up provided.
At the market, you'll discover many boat market stalls floating on narrow canals. You can explore the stalls, which sell crafts, souvenirs, fruit and veg, and much more! Even if you don't purchase anything, seeing what's on offer, snapping some photos, and enjoying the atmosphere are worth the journey from Bangkok.
Rom Hup Market
Rom Hup Market is located about 20 minutes from the Damnoen Saduak Floating Market and is worth visiting on the way back, if possible. You can also reach the market directly from Bangkok in around an hour.
Also known as Maeklong Railway Market, this unique market is located on a railway track. While you may assume the track is no longer active, that's not the case! Instead, vendors must move their goods back and forth as trains come down the track; this practice is quite a sight to see.
Things to purchase at the market include clothing and accessories. However, this market is primarily a food market and one of the largest seafood markets in Thailand. Other food items on offer include fruit, vegetables, and Thai sweets.
If you're interested in seeing both Rom Hup Market and the Damnoen Saduak Floating Market, you could opt for a half-day train market and floating market tour.
Chatuchak Weekend Market - Jatujak (JJ) Market
Chatuchak Market, or Jatujak (JJ) Market, is the largest market in Thailand and one of the biggest outdoor weekend markets in the world. It is a very popular place in Bangkok among both locals and tourists.
The vast marketplace has 10,000 stalls that consist of food, plants, antiques, clothes, cosmetics, and more! Unfortunately, it is only open on the weekends, so try to plan your visit to Bangkok to fall on a Saturday or Sunday so you can experience this fantastic place.
Foodies may also want to join a Bangkok food tour. On this half-day tour, you'll be taken to the best food stalls at the Chatuchak Weekend Market. You can also visit food vendors at some other markets, like the Bangkok Farmer's Market.
Afternoon Tea and Signature Thai Massage
After you have spent the morning and early afternoon walking around bustling markets, it is time for you to get into relaxation mode, Thai-style. So head over to the well-rated Bangkok Oasis Spa for a relaxing massage and some tea that will leave you feeling refreshed and rejuvenated.
The massage spa offers various types of massage and spa packages. You can also add other treatments, like body scrubs or facials, for an extra cost.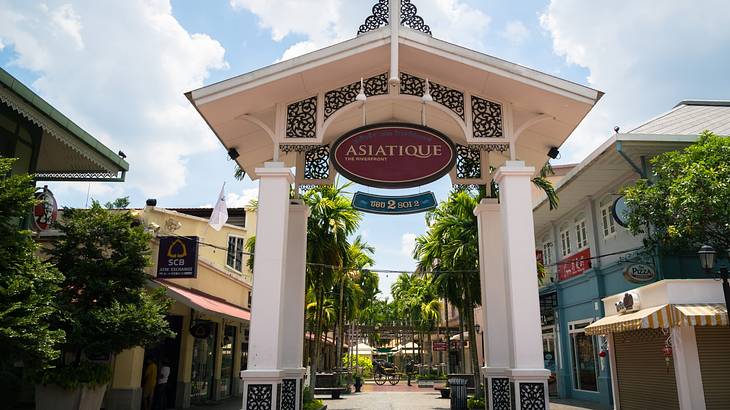 ASIATIQUE The Riverfront
ASIATIQUE is an open-air mall located in old docks in Bangkok. It functions as a shopping centre and offers dining options, activities, and more. After you are done with your massage, head over to Asiatique to be entertained.
There are over 1,500 boutiques you can peek into and more than 50 restaurants to choose from. Performances also occur nightly, so have a look into what shows are happening once you arrive. ASIATIQUE is definitely one of the best places to visit in Bangkok in 3 days!
Sky on 20 Rooftop Bar
You can discover many excellent nightlife options in Bangkok. If you're unsure of what to do in the evening, going to a rooftop bar to enjoy drinks and skyline views is a must.
Sky on 20 at the Novotel is a fantastic place to check out. You can get food, plus wine, beer, or delicious cocktails. There are also happy hour deals in the early evening. As you enjoy your drinks, you can take in views across the city. Octave Rooftop Lounge & Bar at the Marriot is another must-visit rooftop bar in the city.
Off-the-Beaten-Path Sites in Bangkok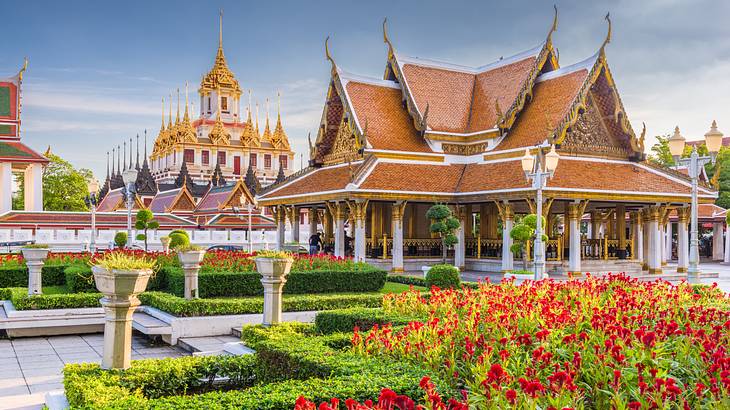 The last day of your 3 day itinerary for Bangkok will be spent visiting less touristy areas of the city. These places are not unheard of, but you won't be surrounded by relentless crowds pushing you around at these locations!
This day starts by visiting the fascinating Jim Thompson House Museum. You'll then go to the Bobae Market and another temple, Loha Prasat - Wat Ratchanatdaram. After lunch, you can go to the Democracy Monument, an important historical landmark and must-see for history buffs.
You can walk between most stops on your last day but may want to take a taxi between the first few to ensure you have enough time to see everything. Each ride will likely be less than 100 baht.
Jim Thompson House Museum
The Jim Thompson House Museum one of the most unique tourist attractions in Bangkok. The home was formerly owned by Jim Thompson, an American Businessman and architect.
Today, the museum has an art collection, including many pieces of Southeast Asian art, which Thompson collected. As you look around, you can also learn more about the businessman and the silk trade in Thailand, an industry that Jim Thompson built a company around.
You could also book a Jim Thompson House Museum tour, which includes an admission ticket and covers entrance fee. During this three-hour tour, your guide will offer more information on the art you see and on Thompson's life, career, and mysterious disappearance in 1967.
Bobae Market
The Bobae Market is a great place to get some gifts and items that you would rather buy in bulk. The prices at this wholesale market deflate as your order increases in quantity, but otherwise, the prices of most items are the same as at any other market.
So, going here is only recommended if you are looking to buy the same item many times or if you want to experience the bustle and atmosphere of this wholesale marketplace.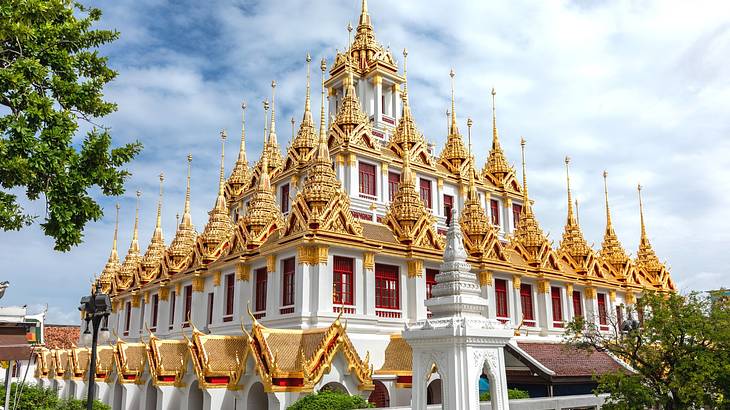 Loha Prasat - Wat Ratchanatdaram
Another of the many fun things to do in Bangkok is going to Loha Prasat - Wat Ratchanatdaram temple. Loha Prasat is very educational, features stunning architecture, and offers excellent views.
Loha Prasat, also known as Wat Ratchanatdaram, stands for iron castle or monastery. It is a Buddhist Temple that was completed in 1846. This temple consists of five towers and 37 golden spires representing the 37 virtues needed to reach enlightenment.
An interesting way to see Loha Prasat - Wat Ratchanatdaram is by going on a Bangkok spiritual tour. The tour teaches you more about Buddhism and takes you to three sites, Loha Prasat, Wat Ratchanatdaram School, and Golden Mount Temple (Wat Saket).
Lunch at Krua Apsorn
Krua Apsorn is another Thai restaurant that is popular with both locals and tourists. You can have breakfast here, but try to head here for lunch or dinner so that you can try out a dish from the main courses they offer. Bonus, they are vegetarian and vegan-friendly!
Just a few of the menu options to order include yellow curry with lotus root, papaya salad, and stir-fried vermicelli with prawns.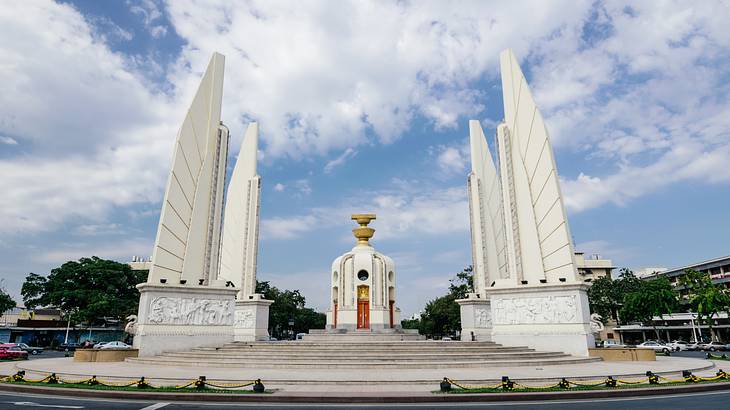 Democracy Monument
The Democracy Monument was commissioned in 1939 to commemorate the 1932 Revolution. It is situated in the middle of a traffic circle and is quite rich in meaning for the native people of Thailand. Visiting this Southeast Asia landmark is a must, and it is conveniently located near your last stop, Krua Apsorn.
In Conclusion
If you're planning a quick trip, this itinerary featuring the best things to do in Bangkok in 3 days should have given you an idea of all the things you can do! Visitors can shop at bustling markets, visit breathtaking temples, and even enjoy a luxurious dinner cruise.
To get between stops that are a little further apart, don't forget to make use of the BTS Skytrain or MRT. Of course, you can also remove any stops that don't interest you and spend more time exploring those that interest you the most.
If you have a little extra time in the city, you could visit some other landmarks. Additional places to put on your itinerary include Chinatown on Yaowarat Road, the MBK Center, and Siam Paragon, one of the largest shopping malls in Thailand.
Lastly, if you're tired of the heat and crowds in Bangkok, why not consider a day trip to the temples in Ayutthaya? Or, you could head up North for a few nights in Khao Kho, Thailand. The possibilities are endless!
Give us feedback about this article
For more interesting articles about Thailand, read:
---
---
Want to keep exploring?
Subscribe for discounts on tickets and hotels and our latest guides.
Thank you for subscribing
We will be in touch soon with discounts on tickets and hotels and our latest guides.
Want to keep exploring?
Subscribe for discounts on tickets and hotels and our latest guides.
Thank you for subscribing
We will be in touch soon with discounts on tickets and hotels and our latest guides.
Related articles