Where to Stay in Krabi, Thailand - 6 Best Areas & Places
Destguides may receive commissions from purchases made through affiliate links in this article.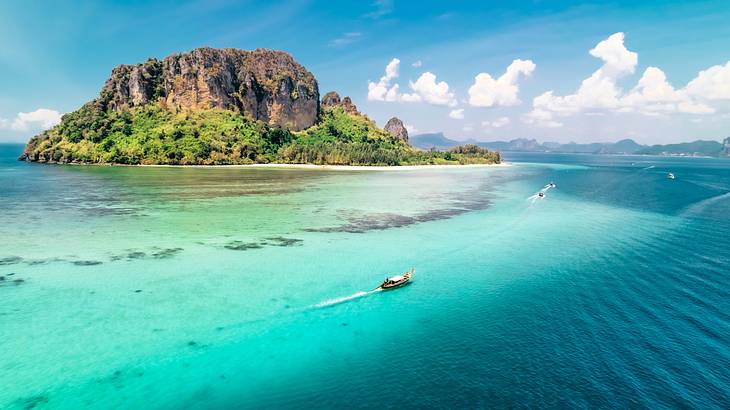 Krabi in Southern Thailand is sometimes overlooked as a vacation destination, with travelers preferring its nearby neighbor Phuket. However, Krabi has a lot to offer, especially for visitors looking for fun nightlife and breathtaking natural attractions.
Krabi can be visited year-round, but the best time to visit is from December to February when the temperatures are comparatively cooler, and you aren't plagued by incessant rainfall. However, several hotels offer discounted rates during the rainy season, which runs from April to October.
Once you've decided to plan a trip, you may be wondering where to stay in Krabi. The province has many excellent places, from the popular Ao Nang to the stunning Phi Phi Islands and relaxed Ton Sai Beach. Keep reading to learn more about Krabi and determine the best place to stay for your needs.
6 Best Places to Stay in Krabi, Thailand
Krabi Places to Stay Video
Check out our highlights video of Krabi places to stay.
Krabi Places to Stay Map
A map of Krabi. Use the map to explore all the places to stay.
Best Areas to Stay in Krabi, Thailand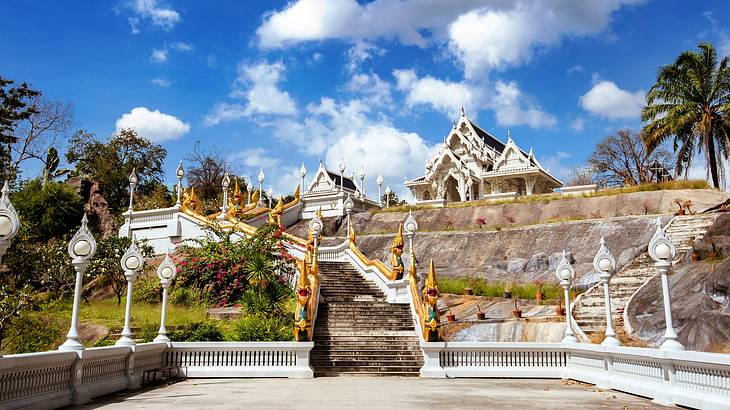 Krabi Town
Krabi Town is a popular base for visitors to Krabi. Being a central hub, you'll probably spend a bit of your vacation here, even if it's not where you stay the whole trip.
In this area, you'll find lots of shops and eateries, as well as temples and markets. Krabi Night Market and Krabi Walking Street are two of the most popular shopping and street food locations.
Other top things to do include taking a picture of The Mud Crabs Sculpture and wandering through the waterfront Thara Park. If you want to get out in nature some more, you can take a ferry from Chao Fah Park Pier to Mu Ko Lanta National Park.
Accommodations are very affordable. You can find hostels and stylish hotels with many amenities for under one hundred dollars a night. Even luxurious hotels won't break the bank!
This budget-friendly destination is ideal for solo travelers or backpackers who want to connect with the locals, be near numerous attractions, and get an authentic experience. If this is your first time visiting Krabi, Krabi Town is also a great place to start your trip as you can easily travel to almost anywhere else in the province.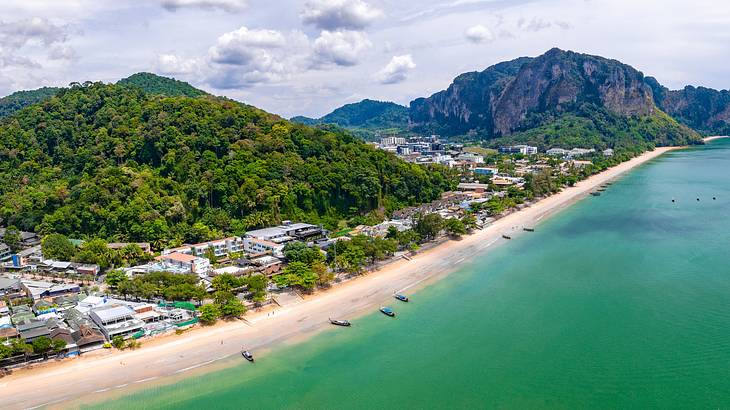 Ao Nang
Ao Nang is located in the south of Krabi, about 20 minutes from Krabi Town when driving. This tropical destination has stunning beaches and access to many water activities, like snorkeling and diving.
Along with relaxing on the beach, you can go hiking, with the Monkey Trail, Ao Nang, being a popular trail to follow. For a unique experience, take a long-tail boat tour from Ao Nang. Places to go include Ko Poda and Chicken Island (Ko Kai).
In the evening, you'll discover beachfront bars and can wander around markets, like Ao Nang Landmark Night Market and Night Market Place. Best of all, most food and drink options are highly affordable, so you can try a range of things.
Ao Nang offers visitors fantastic resort accommodations for all budgets. You can find highly affordable options or splurge on a 5-star resort with breathtaking ocean views.
Couples notably love this area due to its romantic resorts and beaches, perfect for sunbathing, going on beach walks together, and watching the sunset. If you want to book an affordable beach getaway, Ao Nang may also be the best area to stay in Krabi.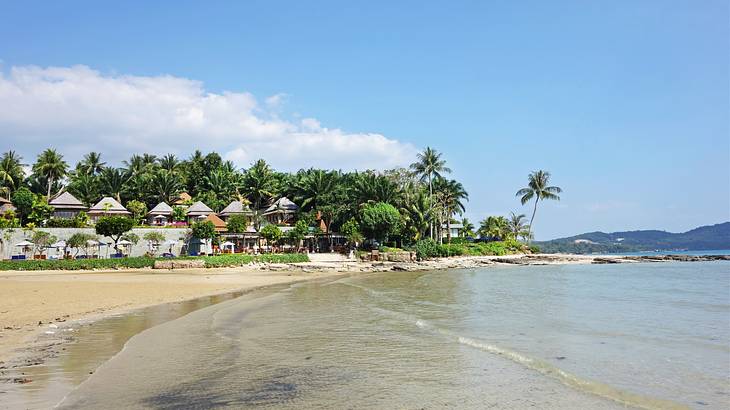 Klong Muang
Klong Muang, or Khlong Muang, is a little slice of paradise just a 30-minute drive away from central Krabi Town and a 15-minute drive from Ao Nang. It offers a tranquil beach away from all the hustle and bustle of the city.
This resort destination is mainly a place for those that want a beach vacation. Whether you want to lie on the sand with a book and a drink or hop in the water to swim or snorkel, you can do it around Klong Muang Beach. Beachfront bars and eateries are plentiful, and you can go into Ao Nang in the evening to explore the night markets.
To see more of the surrounding area, long-tail boats also depart on island tours from here, taking you to Thailand bucket list places such as Koh Poda and Chicken Island.
There are many options for resorts in Klong Muang, with a few private residences also available to book. These vary in price, from mid-range to more expensive options if you want to splurge. Affordable guesthouses are also available, offering everything the budget traveler needs.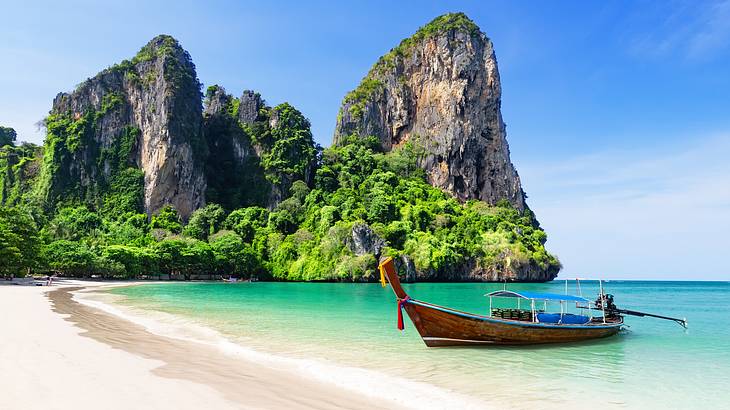 Railay Beach
Railay is a pristine peninsula located about halfway between Ao Nang and Krabi Town. This area is so beautiful that it's become a famous Thai landmark! It's a fun place to visit for a quick trip, or you can make it your primary destination.
You can only arrive here by boat from Ao Nang or Noppharat Thara, as it is cut off from the mainland by stunning limestone cliffs. If you are an adrenaline junkie, Railay Beach is the best location to stay in Krabi for rock climbing. Those wanting a tranquil beach vacation will also enjoy Railay Beach, as despite becoming more and more popular, it still doesn't get overcrowded.
Along with rock climbing, you can relax on the sand, go for a coastal walk, or swim in the turquoise water. Diving and snorkeling are also popular here. In addition, there are natural landmarks to see nearby, like Bat Cave and Phra Nang Cave.
There are numerous tropical resorts to choose from, many of which are affordable and feature swimming pools and even spas. High-end resorts with an array of luxury amenities and a handful of hostels are also available, the latter of which are ideal for backpackers.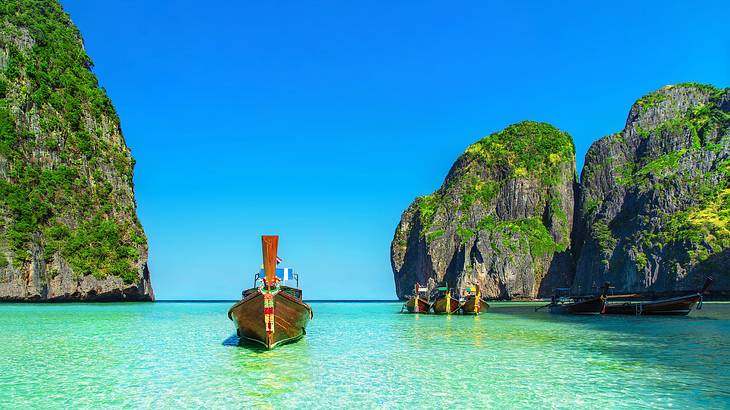 Koh Phi Phi (Phi Phi Islands)
The Phi Phi Islands are a group of six islands that owe their name to the grey mangrove trees that are native to the area. The best way to get to the islands is via boat from Krabi Town.
The islands themselves are protected by National Park status. As you explore, you'll be able to admire white sand beaches, along with coral reefs and an abundance of marine life if you decide to dive or snorkel.
Most roads here are pedestrian-only, which is perfect if you like long walks taking in the natural beauty of the area. You can also go kayaking or book a boat tour to take you around the island.
Thailand is one of the cheapest countries in Asia, and the accommodations on the Phi Phi Islands reflect this by being very affordable. Koh Phi Phi Don and Koh Phi Phi Le are the two largest islands and are home to most hotels and restaurants.
You can find resorts, including those swimming pools, for reasonable rates. As with other areas, more expensive accommodations and some very cheap options, including hostels with shared rooms, are available.
This location is ideal for travelers looking to unwind in nature. You can also find some fun bars around the islands, like in Tonsai Village, and it's a much-loved destination for backpackers. You may also want to choose the Phi Phi Islands for a romantic trip.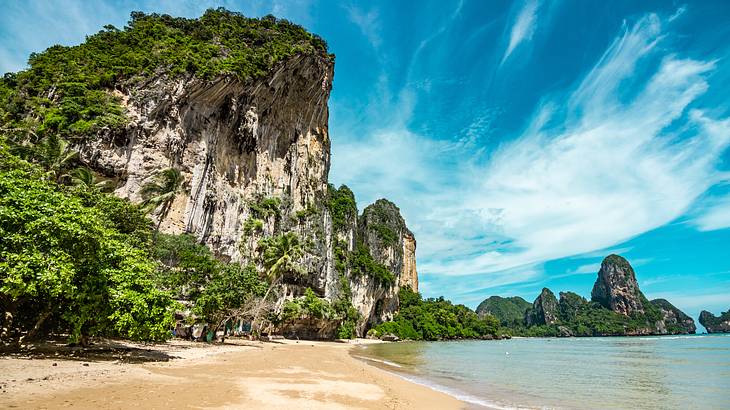 Ton Sai
Situated in the Railay Peninsula, Ton Sai Beach is a little slice of heaven away from the humdrum of city life. It is only accessible by boat from Ao Nang. This location is ideal for those that want a break from daily life to unwind in nature and enjoy outdoor activities like snorkeling.
Beach bars are a common sight here and make a great place to unwind after a day snorkeling in the waters, scaling limestone cliffs, or exploring the nearby Viking Cave. Ton Sai is also a popular yoga retreat destination. Other things to do include going to Shark Point to spot marine life and exploring Pirate Beach Cove, where you may see monkeys!
When choosing which area to stay in Krabi, bear in mind that accommodation is slightly limited in Ton Sai. Most visitors stay on Phi Phi Island or around Railay Beach and travel to Ton Sai Village for the day.
If you do stay around Ton Sai Beach, you can expect quaint bamboo bungalows and rustic retreats with the odd resort thrown in. However, these options are very affordable, so it's an excellent place for people looking to unwind on a budget.
Where to stay in Krabi, Thailand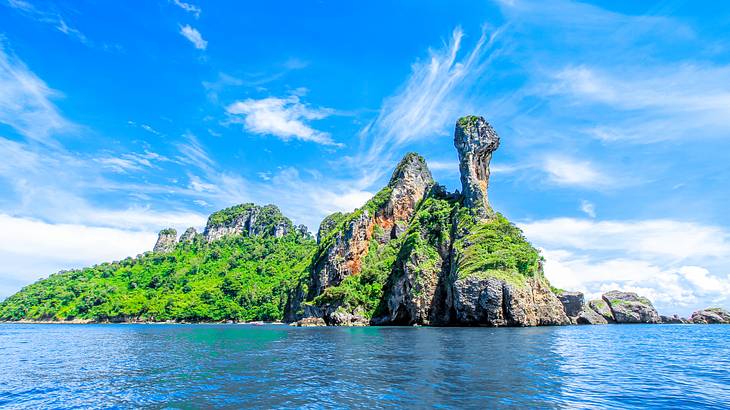 Where to stay in Krabi for island hopping?
Both Railay Beach and Ao Nang are the places to be for island hopping adventures, as is evidenced by the number of long-tail boats moored there.
Most trips cover about four islands, including famed ones like Chicken Island. For a more luxurious option, pick a speedboat or premium catamaran. Several operators offer package deals that include dining options and snorkeling.
Ao Nang's central location also means most of the islands are accessible from there. Tours that depart from Railay Beach generally only cover islands in the Railay peninsula.
Ko Phi Phi Don also offers island hopping tours, where you can tour the other islands that make up the Phi Phi archipelago. Expect limestone cliffs, scenic bays, and clear waters as you sail around.
Where to stay in Krabi with family?
Krabi happens to be one of the best places to stay in Thailand for a family vacation. The breathtaking natural beauty combined with a multitude of activities makes it an ideal getaway location.
Ao Nang is the best place to stay in Krabi with family as it is often the central hub where island tours depart. Several resorts are also kid-friendly, with family suites, kid's clubs, and inclusive activities. Your kids will also have a fun time exploring the markets here.
Ao Luek, easily reachable from Krabi Town, is another option that is perfect for family vacations. Going to the Krabi Elephant Sanctuary can be planned as a day trip, allowing kids to interact with and learn about the creatures. You can also find a treetop adventure park, Krabi Extreme Adventure, around 20 minutes from Krabi Town or Ao Luek.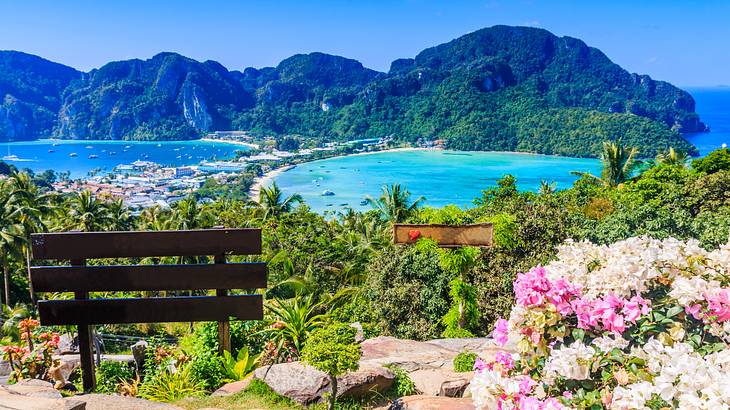 Where to stay in Krabi for a honeymoon?
While Thailand is a dream destination for many couples for their honeymoon, most flock to Phuket or Bangkok. Krabi, however, should not be missed, and the Phi Phi Islands are the ideal honeymoon destination!
Several resorts have private beaches, so you'll have a stretch of white sand all to yourself. You can also treat yourself and your partner by booking a private luxury catamaran that you can use to go island hopping.
You can then round the day off with a candlelit beach dinner, which several hotels offer on request. Many hotels also have spas if you want to unwind a little. Don't forget to check for honeymoon packages while booking; some properties have lucrative, all-inclusive offers specially curated for just-wed couples.
Where to stay in Krabi for couples?
If you're traveling as a couple, Klong Muang is the best area in Krabi to stay and should be on your bucket list! The beach is much more secluded than Railay Beach and Ao Nang Beach, yet it's just as beautiful. Several properties boast world-class spas so that you can enjoy a couple's massage after a lengthy stroll on the beach.
Ao Nang is still an excellent option for couples that don't mind slightly crowded places, with the added bonus of bustling night markets. The beach here has many restaurants, pubs, eateries, and bars where you can drink, eat, and dance the night away.
As with couples planning a honeymoon, the Phi Phi Islands are also a magical vacation destination for couples on any other kind of trip.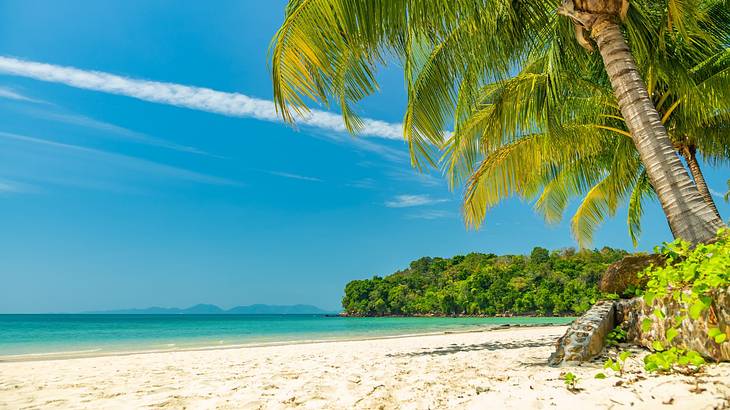 Where to stay in Krabi on the beach?
There is no doubt that the beaches in Krabi are beautiful, and picking a beach to stay at really comes down to the kind of vibe you're after. One of the best places in Krabi to stay for a beach vacation is Klong Muang. Being somewhat of a hidden gem, it sees less footfall than other, more well-known beaches.
As you explore, expect long stretches of soft white sand peppered with palm trees and beach bars. Several hotels open out to the beach directly, allowing you to set foot on the sand immediately after leaving your room!
On the other hand, if you want some additional attractions, Ao Nang is a good choice. Not only is Ao Nang Beach stunning, but you'll also find a range of beachfront bars and restaurants lining the sand.
Ao Nang also has multiple operators offering scuba diving, snorkeling, and kayaking tours, and you can walk around markets and local shops when you want a break from the beach.
Where to stay in Krabi for nightlife?
Ao Nang is generally considered to be the best place in Krabi to stay to experience Thailand's bustling nightlife. In the central part of the city, you'll find multiple pubs, clubs, and bars, which often host live music or even fire dancers! You can also enjoy the sunset with a drink at a beach bar or get food at the bustling night markets before a night of partying.
Krabi Town also has a fun but more relaxed nightlife. While you won't find beach bars here, there are many bars serving cheap drinks. These bars are an excellent place to meet locals and other travelers. There are also some fantastic live music venues.
In Conclusion
Krabi is a gem of a destination in Thailand, no matter the type of vacation you're planning. If you've been considering a trip and want to answer the question, "Where is the best place to stay in Krabi?" this article should have helped you choose the ideal location.
However, as this is such an affordable destination, you don't necessarily need to settle on one place to stay. Many visitors will go to a few of the places mentioned in this article to get the whole Krabi experience! Wherever you choose to visit, you'll have a fantastic time exploring this tropical paradise.
---
---
Want to keep exploring?
Subscribe for discounts on tickets and hotels and our latest guides.
Thank you for subscribing
We will be in touch soon with discounts on tickets and hotels and our latest guides.
Want to keep exploring?
Subscribe for discounts on tickets and hotels and our latest guides.
Thank you for subscribing
We will be in touch soon with discounts on tickets and hotels and our latest guides.
Related Articles