Where to Stay in Thailand - 10 Best Areas & Places
Destguides may receive commissions from purchases made through affiliate links in this article.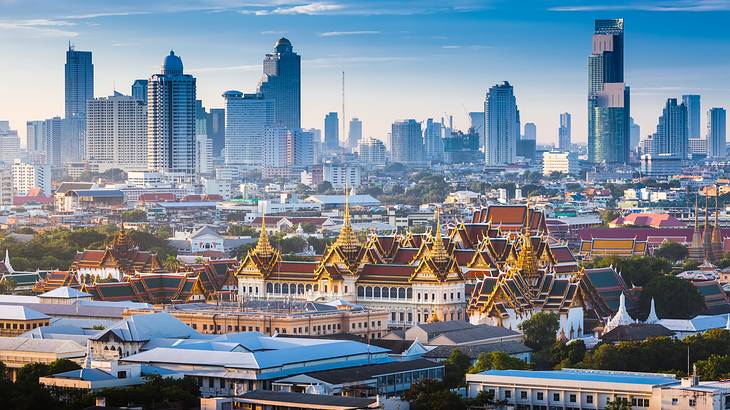 Thailand has become one of the most popular vacation destinations, and it's not hard to see why. Crystal-clear waters, breathtaking views, and ornate temples are just some of the countless reasons why millions of people head to this part of the world each year.
However, picking where to stay in Thailand can be tricky. For the best overall cultural experience, it's hard to go wrong with Bangkok, the country's capital. Alternatively, places like Chiang Mai and the Phi Phi Islands also offer excitement mixed with plenty of opportunities to relax and unwind.
No matter what you're looking for from your Thai vacation, you've come to the right place. Keep reading to learn more about the best places to stay so you can plan your perfect Thai trip.
10 Best Places to Stay in Thailand
Thailand Places to Stay Video
Check out our highlights video of Thailand places to stay.
Thailand Places to Stay Map
A map of Thailand. Use the map to explore all the places to stay.
Best Areas to Stay in Thailand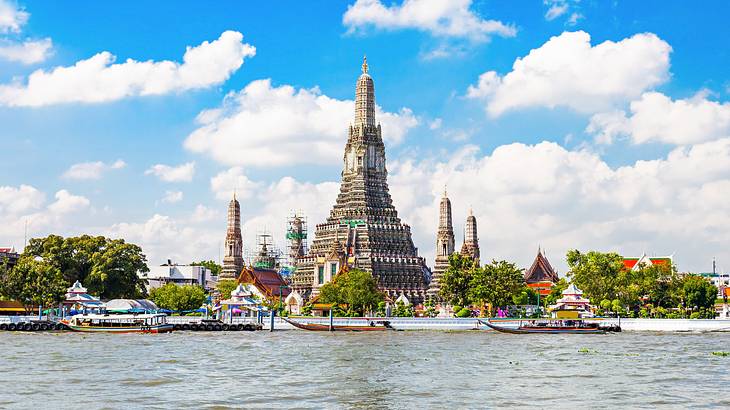 Bangkok
As the capital city, Bangkok is one of Thailand's most popular tourist areas. From its numerous canals that stem from the Chao Phraya River to its vibrant nightlife, there are plenty of activities to add to your Bangkok itinerary. Additionally, its relatively central location also makes it a great base to explore other areas of the country.
Bangkok's weather is perhaps one of its most appealing characteristics. This part of the country has a tropical climate which allows it to benefit from warm temperatures all year. In fact, it rarely dips below 71 degrees Fahrenheit on average, and most often, the daily highs range between 88 and 96 degrees Fahrenheit.
Bangkok also has an affordable and efficient public transport system. There are numerous Metro stops throughout the area, and you can easily hail a taxi if you need one. Most hotels will also be able to connect you with maps and other information for getting around both within the city and the rest of the province.
Since over eight million people call Bangkok home, you'll have to deal with crowds no matter when you visit. Visiting during the area's rainy season can help reduce large groups of tourists at the city's biggest attractions, like the Grand Palace. That also happens to be the time of year when travel costs are lowest.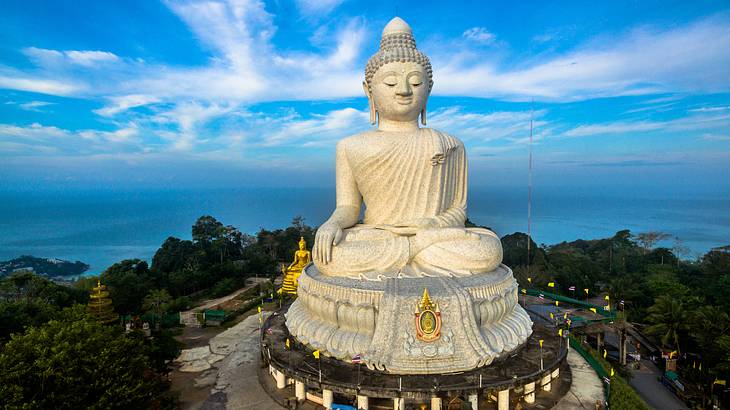 Phuket
Phuket is the largest island in Thailand and is perhaps most well-known for its capital city, also named Phuket. The island is beloved by tourists for its mix of tropical paradise settings and bustling, vibrant culture. You also can't forget that it's home to one of Thailand's most famous landmarks, the 148-foot tall marble statue dubbed "Big Buddha."
Like much of Southeast Asia, Phuket has a tropical climate characterized by warm winters and hot, rainy summers. No matter when you visit, you can expect daily temperatures between 89 and 93 degrees Fahrenheit and nightly lows that rarely fall below 76 degrees.
The island's nice weather and tropical landscape make it a favorite place for beach vacations. If you trek a little outside of the main area, you'll be able to find plenty of spots for snorkeling, diving, or relaxing on the sand. However, keep in mind that the rainy season might affect your waterfront plans if you visit between April and November.
Since many people know about the area's rainy season, tourism tends to dip during that time. You'll likely have to deal with some crowds considering the island has a population of over 386,000, but hotels and sites will be a little less busy. They'll also be less expensive.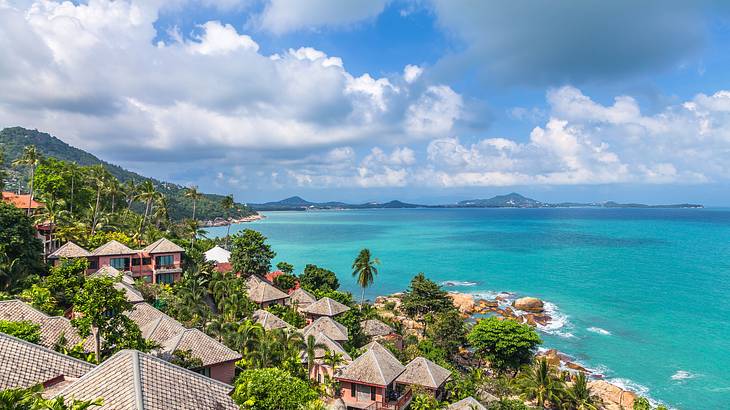 Koh Samui
If you're looking for a slightly more underrated vacation spot, then Koh Samui might be a good option to consider. As the second-largest island in the country, there's plenty to do, but it's a little less well-known compared to places like Phuket and Bangkok. As a result, you can usually count on fewer tourists.
Koh Samui is, first and foremost, a nature and relaxation-based destination. The island is home to numerous wellness spas, golf courses, and beaches, so it's often a top choice for honeymoons and romantic getaways.
That doesn't mean everything on the island is quiet, though. On the contrary, many of the beaches and resorts have a bustling nightlife. Locals and tourists get together for lively parties on the beach and at the local pubs. If you're visiting mainly to party, Chaweng will be the best place to stay in Koh Samui as it has a large concentration of bars and clubs and hosts Full Moon parties.
However, families can also have a great time here because there are numerous opportunities for adventure both on land and off the coast. If you're a swimmer, you can try snorkeling or even scuba diving if you have the proper certification.
If you'd prefer to explore Samui's exotic landscape, there are hiking trails you can take that range in difficulty from easy to challenging. That way, you can see the waterfalls, temples, and sweeping views up close. Just remember that the rainy season, which usually lasts from spring through mid-fall, might affect your plans.
Chiang Mai
Chiang Mai is one of the best vacation spots in Thailand. It offers visitors a close look at the country's rich heritage through its diverse array of attractions. All while you enjoy beautiful, warm weather and an exotic, colorful landscape.
The city is particularly known as being one of Thailand's artisanal centers. Since nearby towns produce silk, silver, wood, and pottery, local artists are able to create masterpieces you can admire and even take home.
However, souvenirs aren't the only reason to visit this part of the country. Chiang Mai also has one of the most memorable landscapes in Thailand. Its mountain location means you're virtually guaranteed sweeping vistas of Northern Thailand's lush tropical rainforests.
Speaking of nature lovers, Chiang Mai's territory is also home to wildlife sanctuaries, particularly elephant preserves. The Elephant Jungle Sanctuary is a favorite among travelers who wish to learn more about this beautiful native species.
Chiang Mai is also home to a wide variety of lodging options to suit virtually any type of trip. Many tourists opt for the area's upscale resorts, but you can also find budget-friendly options as well. Typically, more affordable options can be found in Old City. That's also, conveniently, a central spot to see all of the area's popular sites like the Phae Gate and the Buddhist temples.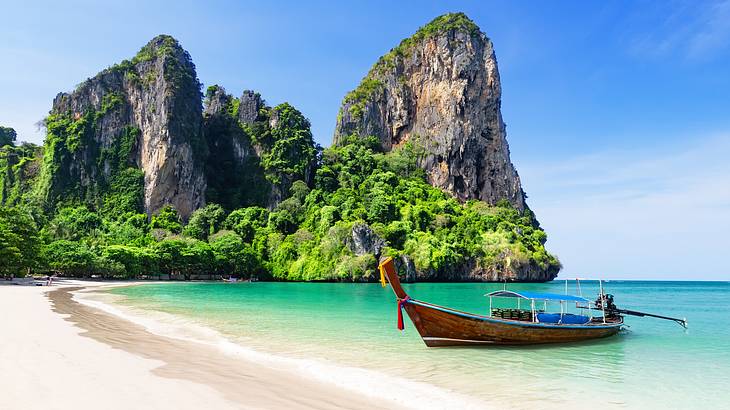 Krabi
Krabi is both a province and a capital city. With its mix of natural beauty and fun, energetic ambiance, it's the best place to vacation in Thailand if you're looking for adventure. The province's main draw is its coastal scenery. It has over 150 different islands within its territory, many of which can be visited.
You might wonder if it's hard to get around, considering so much of the province is separated by water, but Krabi is extremely well-connected. You can take boats between islands to reach some of the area's most remote beaches, and in the big cities, you can quickly get around traffic with taxis, tuk-tuks, or scooters.
During the day, you can fill your itinerary with snorkeling excursions to the coral reefs, or you can go hiking for an unobstructed view of the horizon. Alternatively, you can relax on one of the province's many shores. However, if you're more of a site-seeing sort of traveler, you can visit the Tiger Cave Temple or even take a tour of the Krabi Elephant Sanctuary.
At night, you can enjoy the lively nightlife of the province's capital and namesake. Krabi Town and the nearby Ao Nang are famous among locals and tourists alike for their bars and club scenes. If you're looking for top nightlife, these two areas are the best places to stay in Krabi.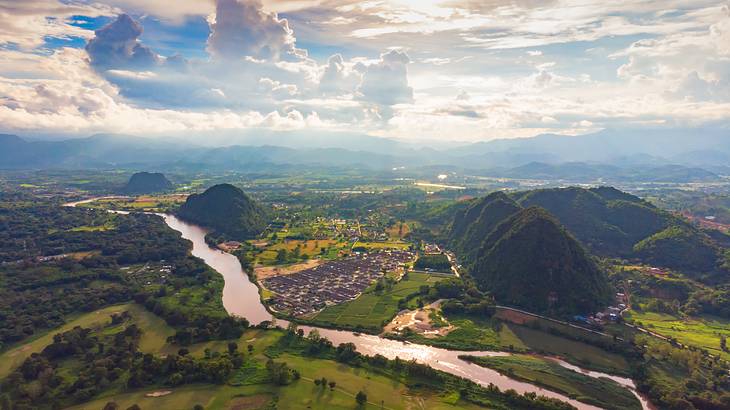 Chiang Rai
If you're on the hunt for nice places to stay in Thailand, make sure you consider Chiang Rai. Known as one of the country's best cities for entertainment, you won't have a dull moment while you visit.
The most famous sites in Chiang Rai are its Buddhist temples, particularly the White Temple, the Goddess of Mercy Chiang Rai, and the Blue Temple. However, it also boasts some of the best shopping in Thailand, thanks in large part to the Night Bazar. Not only can you find a selection of local jewelry and apparel items, but you can also listen to live music, see shows, and eat some local cuisine.
Don't miss out on seeing the golden Clock Tower either. The intricate sculpture is gorgeous no matter when you see it. During the day, it sparkles in the sun, while at night, it's illuminated. There's even a light and sound show you can enjoy three times each evening.
Luckily, you'll be able to see all of the area's sites since getting around Chiang Rai is easy. The best way to bypass traffic is to take a tuk-tuk. Just tell your driver where to go, and they'll get you there in a flash. However, it's also a pretty walkable place, so if you know your destination is just a few blocks away, go ahead and make the trek yourself.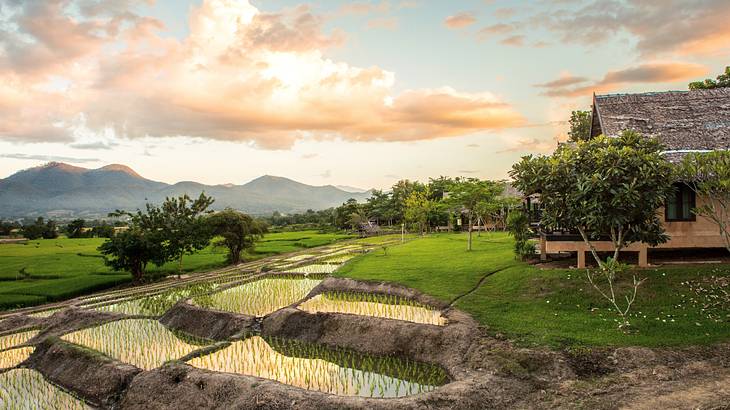 Pai
With its laid-back feel and natural beauty, Pai is one of the best places in Thailand to vacation. The area's most famous sites are natural, like its hot springs and waterfalls.
Perhaps the most famous natural landmark in Pai is the one-mile-long Pai Canyon, also known as Thailand's version of the Grand Canyon. If you're staying in the main city, you'll likely want to rent a scooter or take a car to get here because it's about five miles outside of town.
There are plenty of other hiking and nature excursions you can take while in this part of Thailand, but it's also a popular place for people who just want to relax. You're never more than a few minutes away from a scenic point where you can just relax and take in the views.
To fully appreciate Pai's wildlife, plan a visit between November and March. Since the city has a tropical climate, it's hot all year. However, temperatures can dip between 73 and 83 degrees Fahrenheit during the fall and winter. That's also when the humidity levels will be more tolerable.
Since Pai is a more relaxed city, so you won't find many clubs. The nightlife mostly consists of bars and restaurants that usually close around midnight. For that reason, it's a great place to unwind for a few days if you're on a backpacking trip through the country.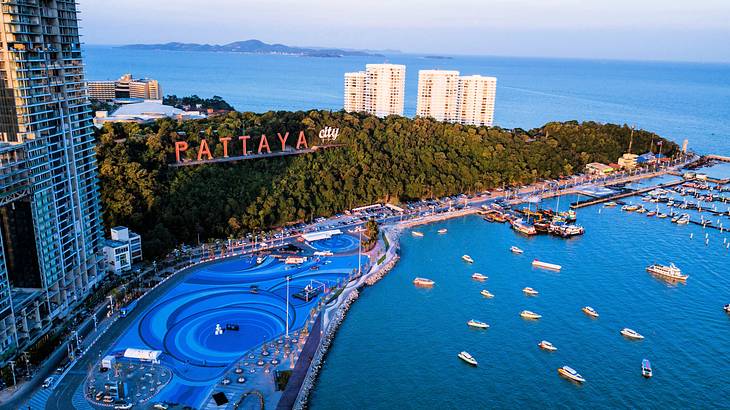 Pattaya
Pattaya is a diverse city with something for everyone. From relaxing to diving into Thailand's culture and social life, it's hard to find something you can't do here.
Some people like to refer to the city as "The Hawaii of the East" for its miles of pristine, tropical coastline and clear waters that are famous worldwide. During the territory's dry season, between November and April, you can lay out on the sand or even try out wind and kitesurfing.
In addition to its beaches, Pattaya also has a plethora of other sites for you to enjoy. For example, the Sanctuary of Truth Museum is a temple and castle that honors Southeast Asia's diverse culture and religion. Up close, you can truly see all the intricate details carved into the entirely wooden structure.
For a little local exploration, you can stroll down Walking Street. This mile-long stretch of Pattaya is a hub for entertainment, shopping, and local cuisine. Most of the businesses are open during the day, but to get the street's full effect, visit at night when it's lit up with dozens of neon lights and signs.
Pattaya is also a well-connected city when it comes to public transportation. The bus system is the fastest and cheapest way to get around, and it's pretty intuitive, so you'll be navigating like a pro in no time at all!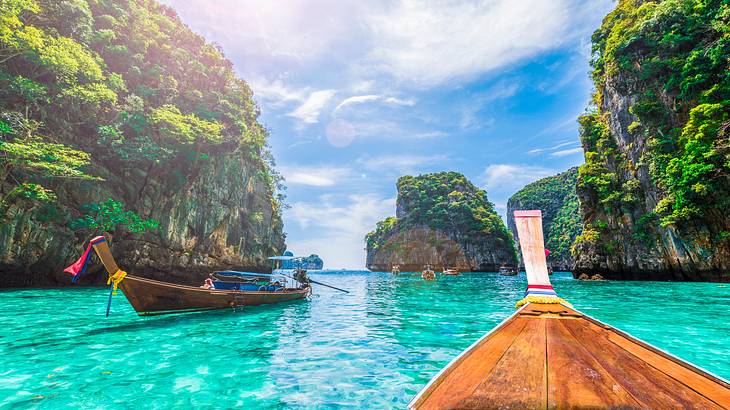 Koh Phi Phi Don
While all of the Phi Phi islands are worth visiting, Koh Phi Phi Don stands out above the rest. Not only is it beautiful and serene, but to many, it's also one of the most authentic places in the country for vacationers to visit.
The islands are known for their tropical landscapes and rustic beauty. However, Koh Phi Phi Don is the only one that's inhabited. As a result, it's also the only one travelers can lodge at. However, getting to the others is just a matter of taking a quick speedboat or longboat ride.
Since this part of Thailand is a bit more secluded, it's perfect if you're looking for a place to unwind and enjoy nature. Snorkeling is one of the most popular activities among visitors, but you can also take a boat tour to explore some of the area's rock formations, like Viking Cave.
Despite Koh Phi Phi Don's small population of just 2,500 people, it has a lively party scene. Gatherings are regularly hosted on the beach in the evening with live music and fire-dancing performances.
However, these parties are geared toward adults, so keep that in mind when traveling with kids. For family-friendly festivities, you can attend the pool parties hosted at the island's resorts which are open to guests of all ages.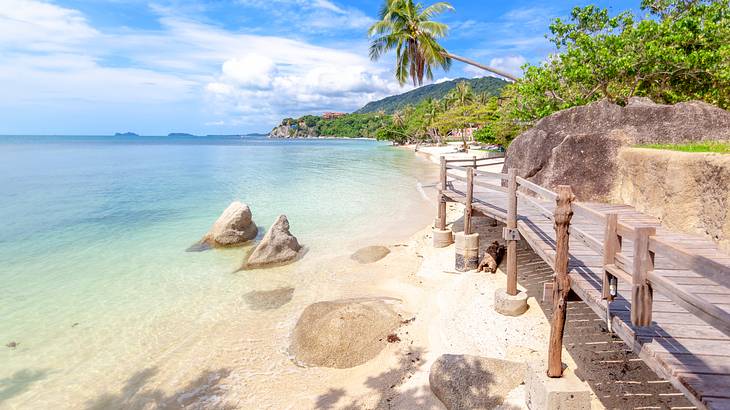 Koh Pha Ngan
Since Ko Pha Ngan balances lively festivities and a calm, peaceful environment, it's often recommended as one of the top places to visit in Thailand. If you're looking for excitement and love making friends while you travel, you'll want to check out the island's party scene.
Keep an eye on the lunar phases that will occur during your trip because every month, the island hosts a night-long festival to celebrate the full moon. Even if you miss that event, there are still many other beach parties and boisterous nightlife festivities you can check out at any time of the year.
However, don't feel like Koh Phga Ngan is only a party island. Most of these events are localized to the southern part of the coast since that area is popular among solo travelers. However, if you stick to the northern shores, you'll find that things are a little more peaceful.
If you prefer outdoor and nature activities, Koh Pha Ngan has options for that as well. You can explore the waters around the coast with snorkeling or scuba gear or venture into the lush greenery for a jungle hike.
The towns on the island are a bit of a distance from each other, and since the terrain is a bit uneven, walking isn't recommended. Luckily, there are plenty of taxis you can call on to get around quickly, easily, and affordably.
Where to Stay in Thailand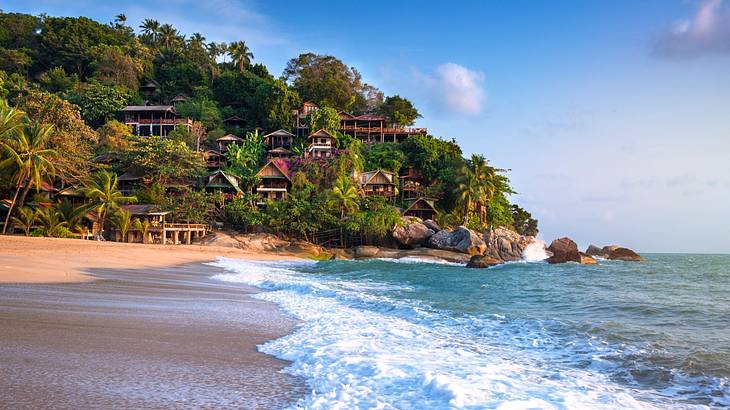 Where are the best places to stay in Thailand for couples?
Thailand is a world-renowned location for couples planning a honeymoon, anniversary, or just a romantic getaway. While it's hard to go wrong by visiting any part of the country, it has multiple popular island destinations that are highly recommended.
Koh Pha Ngan is often cited as the best location to stay in Thailand for couples since its diverse offerings make it a great potential spot for all sorts of vacationers.
Duos that love parties and socializing will enjoy the island's southern shores for its events and parties. However, for a more relaxing and romantic trip, the resorts in the northern part of the island offer spa treatments and allow for laid-back days on the sand.
Chiang Mai is also an excellent spot for couples who want to relax and unwind while on vacation. This island has adventure opportunities, like hikes and diving excursions, but you can also spend your time getting pampered at the wellness spas. Since Chiang Mai is home to multiple resorts, you'll have plenty of options to choose from for a romantic stay.
Instead, if you'd describe yourselves as a couple that likes to dive into new cultures, you'll want to head to Thailand's bustling cities. For example, Bangkok, Pattaya City, and Mueang Chiang Rai all offer a mix of traditional and modern Thai life, so you can really get an in-depth feel for the local customs.
Where are the best places to stay in Thailand with family?
When planning a family trip to Thailand, you'll have plenty of destinations to choose from. No matter what the age range of your group is, you'll be able to find things to do.
If you plan on traveling with teens or other adults, the Khao Lak villages offer diverse excursion options, many of which take advantage of the nearby coast. Scuba-certified divers can take a look at the area's marine life up close. Even if you stay close to the surface with a snorkel, you can still get a great view of Khao Lak's coral reefs.
Alternatively, you can head further inland and explore another popular Thai bucket list site, the Khao Yai National Park. The park was the first of its kind in Thailand and is a UNESCO World Heritage Site thanks to the Dong Phaya Yen Mountains in its territory. Since the Khao Yai has nature trails that vary in difficulty, you can see the local wildlife no matter what your hiking ability.
If your family is more into sightseeing, Phuket is another good option for families. It's a vibrant city with renowned sites like the Wat Chalong temple. However, because it's not quite as big as other Thai cities, like Bangkok, it can be a little easier to get around as a family.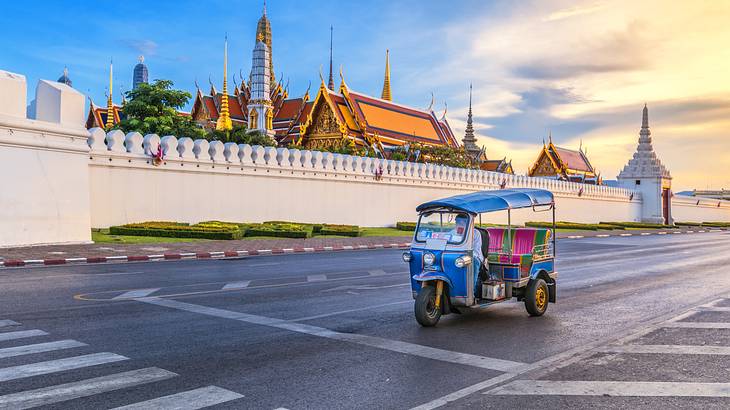 Where are the best places to stay in Thailand on a budget?
One of the many good things about visiting Thailand is its affordability. As one of the cheapest countries in Asia, you can plan a trip to virtually anywhere in the country, even on a more restrictive budget.
Bangkok is often cited as the best place in Thailand to vacation. Since it's the biggest city, there are near-countless affordable hotel options. It's also the center of tourism. So you'll be able to meet other out-of-towners and find tours that will take you outside of the metropolitan area.
Similarly, Phuket is an excellent option for budget travel. It's the biggest island in Thailand, so it has a thriving tourism industry. You'll be able to find lodging options to fit a wide variety of budgets.
If you're looking for a beachy destination, Ko Yao Noi is an often underrated option. As one of the smaller Thai islands, visitors often overlook it, and resort stays can be cheaper. That means you can have a luxurious tropical getaway without breaking the bank.
Perhaps the biggest thing to keep in mind for traveling to Thailand on a budget is when you plan on visiting. The country typically has six rainy months per year, between April and October. During that time, tourism dips, so you'll be able to find even better deals on travel-related costs for places all over the country.
In Summary
Clearly, Thailand is a beautiful country that's full of vibrance and culture everywhere you go. Whether you're interested in the excitement of Bangkok or are seeking out a more laid-back spot like Pai, there's a place in this tropical country for you.
Hopefully, this list has helped you figure out what sort of vacation destination best suits your travel needs. Now all you have to do is pack your bags and set out on your perfect trip to Thailand!
Give us feedback about this article
Read more articles about Thailand:
More articles about places to stay:
---
---
Want to keep exploring?
Subscribe for discounts on tickets and hotels and our latest guides.
Thank you for subscribing
We will be in touch soon with discounts on tickets and hotels and our latest guides.
Want to keep exploring?
Subscribe for discounts on tickets and hotels and our latest guides.
Thank you for subscribing
We will be in touch soon with discounts on tickets and hotels and our latest guides.
Related Articles