3-Day Los Angeles Itinerary - A Long Weekend in Los Angeles
Destguides may receive commissions from purchases made through affiliate links in this article.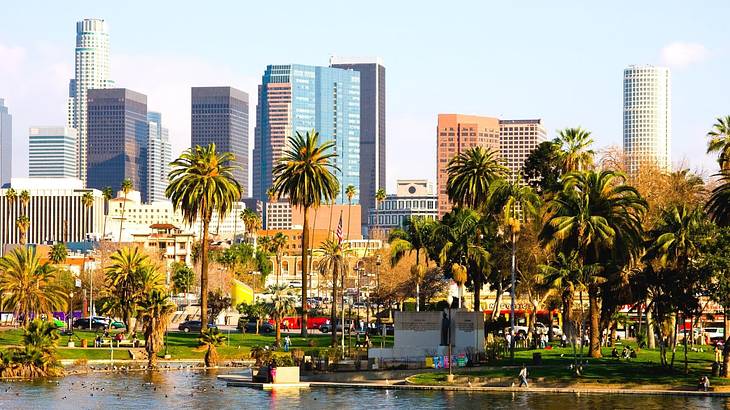 A weekend in Los Angeles is always a good idea! Located in Southern California, LA is one of the most well-known cities in the world. Renowned for its entertainment industry, beautiful beaches, and luxurious atmosphere, the destination draws millions of visitors every year.
Los Angeles is also convenient to get to; you can fly into Los Angeles International Airport or add it as a stop on a California road trip along the Pacific Coast Highway. The popular Californian city of San Diego is also within driving distance of LA. You could even drive from San Francisco, but this will take about six hours non-stop.
If you are planning a 72-hour trip to the City of Angels, this 3-day Los Angeles itinerary is here to help ensure you see all the best parts of the city. From beaches to trendy neighborhoods and arts and cultural attractions, these itinerary stops will appeal to all types of travelers.
3-Day Itinerary for Los Angeles
From Beverly Hills to Sunset Boulevard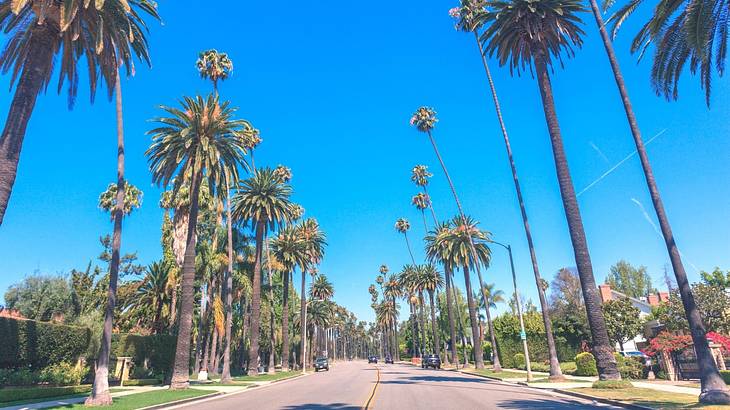 Your first day in Los Angeles, California, will begin by getting something to eat at The Original Farmers Market. Having explored the many shops and stalls, your next stop is Rodeo Drive. On this famous street, you can window shop at a range of luxury stores.
Afterward, you get the chance to look around more of Beverly Hills. If you want a snack and a drink, visiting one of the bars at The Beverly Hills Hotel is recommended.
In the afternoon, you'll go to Sunset Boulevard where you can shop some more and spot famous landmarks. Along the boulevard, you can also find the Sunset Strip, where you can grab a drink at one of many trendy bars.
In the evening, catching a film at the TCL Chinese Theater is on the agenda. After the movie, you can head back to bars and clubs on the Sunset Strip.
The Original Farmers Market
The Original Farmers Market has been in Los Angeles since 1934. It's a popular attraction with both tourists and locals, selling an array of fresh produce and other goods.
When visiting the market, you can wander from merchant-to-merchant learning about what they're selling and buying some local food products and souvenirs.
In addition to shops, the market has many cafes and restaurants to grab some food from. Cuisines represented at The Original Farmers Market include Brazilian, Chinese, Cajun, and Middle Eastern.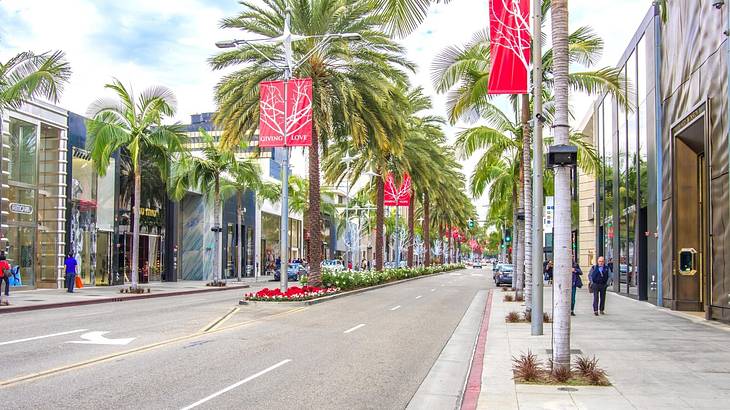 Rodeo Drive
One of the most well-known stops on your Los Angeles trip itinerary is Rodeo Drive. The two-mile-long street is located in the luxurious Beverly Hills neighborhood. Rodeo Drive is especially renowned for housing many designer and high-end shops.
Stores to browse or window shop in include Gucci, Lanvin, and Prada. Even if you don't splurge at the shops, exploring this world-famous shopping destination can't be missed!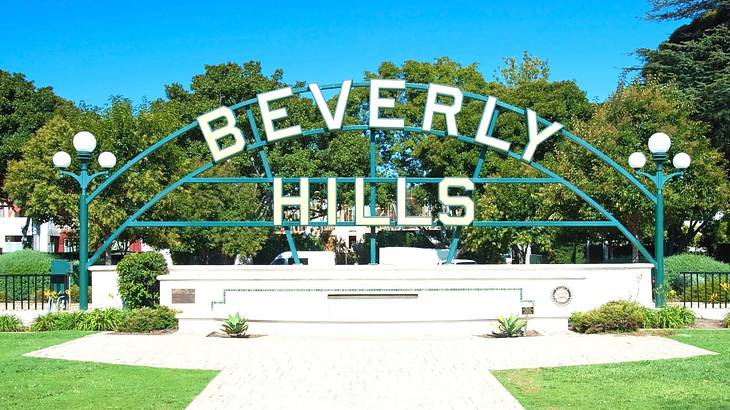 Beverly Hills
After having checked out Rodeo Drive, you can then explore the rest of upscale Beverly Hills. In the area, you can find many more shops and high-end restaurants, cafes, and coffee shops.
Beverly Hills also has a selection of tranquil parks to visit. Urban oases to see include Beverly Gardens Park and Beverly Canon Park. If you happen to be traveling with your pup, there's also a dog park to enjoy.
Another fun activity is taking a Beverly Hills and Hollywood tour on which you can see numerous celebrity homes.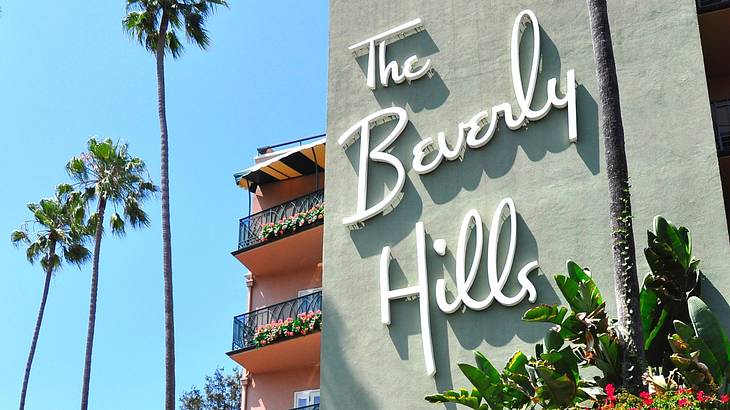 The Beverly Hills Hotel
Another of the world-renowned locations on your LA trip itinerary is the Beverly Hills Hotel. Constructed in 1912, this iconic hotel has since welcomed an array of the world's most famous people.
Those that are interested in seeing the Beverly Hills Hotel can head inside to enjoy drinks or a meal at one of the bars and restaurants. A popular venue is the rooftop bar which offers views across the city.
If you want to splurge, you can stay at the luxurious hotel too! Being a guest also gives you access to the pool.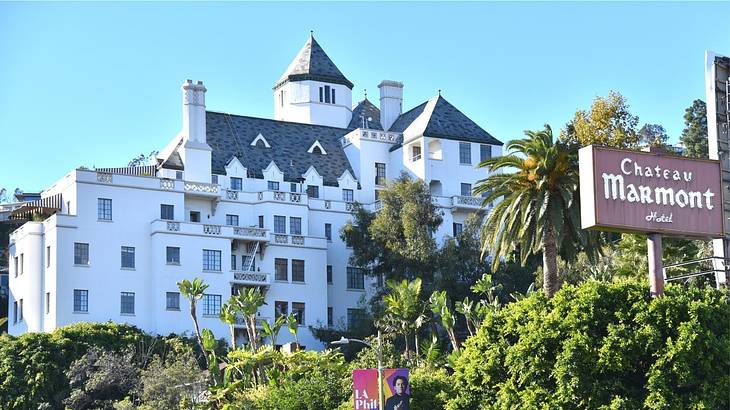 Sunset Boulevard
Located in West Hollywood, Sunset Boulevard is a famous area of LA, featuring shops, restaurants, and palm tree-lined streets. You can simply wander along the street, admiring the architecture.
Alternatively, you can do some shopping and get a delicious meal. You'll also spot some iconic attractions, such as the Chateau Marmont Hotel and the Writer's Guild offices.
The Sunset Strip
Found on Sunset Boulevard, the Sunset Strip is known for its numerous clubs, bars, and music venues. If you're looking to grab dinner and drinks, dance, or listen to live music, the Sunset Strip is the place to be.
Restaurants to choose from include indoor dining spots and laid-back alfresco options. Cuisines available range from Japanese and Mexican to classic American. After eating, there are many bars to stop by serving craft cocktails in trendy spaces.
If looking to extend your stay on the Sunset Strip, you can head to a nightclub after dark or do some late-night shopping.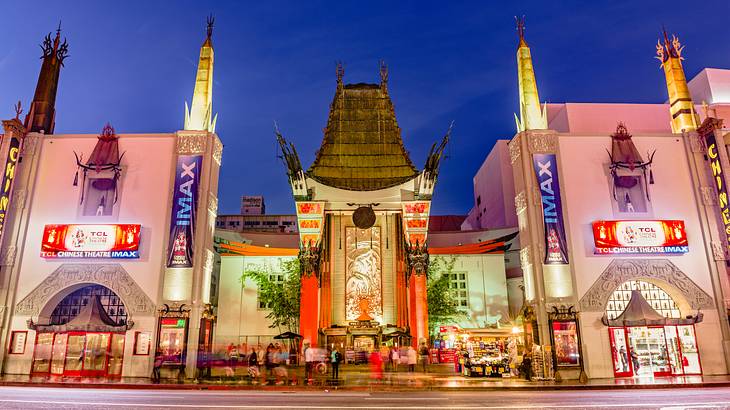 TCL Chinese Theatre
One of the famous California landmarks that you have to see is the TCL Chinese Theatre. The theater opened in 1927 and today is a much-loved Los Angeles attraction.
At the theater, you can catch movies, including new releases and classic films. You get the chance to admire the interior and exterior architecture as well. You can also take a TCL Chinese Theatre VIP tour to learn more about the venue.
Los Angeles' Cultural Attractions
On the second day of your weekend getaway in Los Angeles, you get the chance to visit some of the city's cultural attractions. Your first stop is the Los Angeles County Museum of Art, where you can admire a range of pieces from global artists.
Next, you'll get to see the world-renowned Hollywood Walk of Fame before moving on to the fascinating Griffith Observatory. At this attraction, you can learn more about galaxies and outer space.
For lunch, you can go to Grand Central Market to choose a meal from numerous vendors. Afterward, you can explore the Little Tokyo area of LA before heading to the Walt Disney Concert Hall to watch a classical music performance.
Los Angeles County Museum of Art
Founded in 1961, the Los Angeles County Museum of Art is an art gallery located in the Miracle Mile area of the city. Interestingly, it's the largest art museum in the western United States, housing approximately 120,000 pieces.
The museum is a very diverse gallery. Collections cover a range of mediums and include ancient art through to contemporary pieces, however, there is a focus on modern art. You can also find art from across the globe, including works by American, South American, and Asian artists.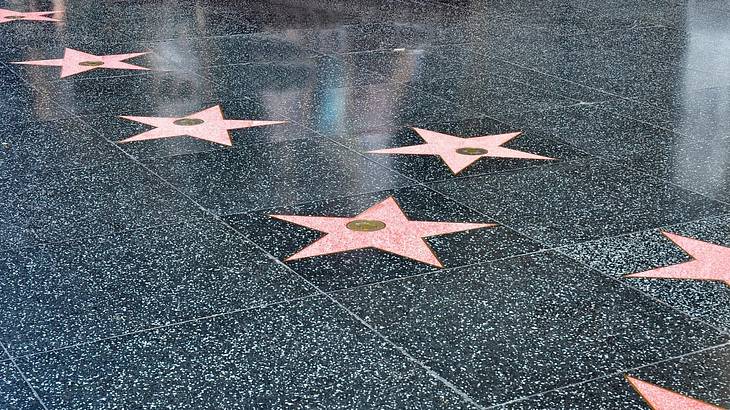 Hollywood Walk of Fame and Hollywood Boulevard
Another of the famous landmarks in Los Angeles that you have to see is the Hollywood Walk of Fame. The iconic display covers 15 blocks and receives an average of ten million visitors annually.
The Hollywood Walk of Fame features five-pointed terrazzo and brass stars. Each star is dedicated to a Hollywood icon, including actors, musicians, and directors past and present. While in the area, you can also check out the shops and other attractions on Hollywood Boulevard.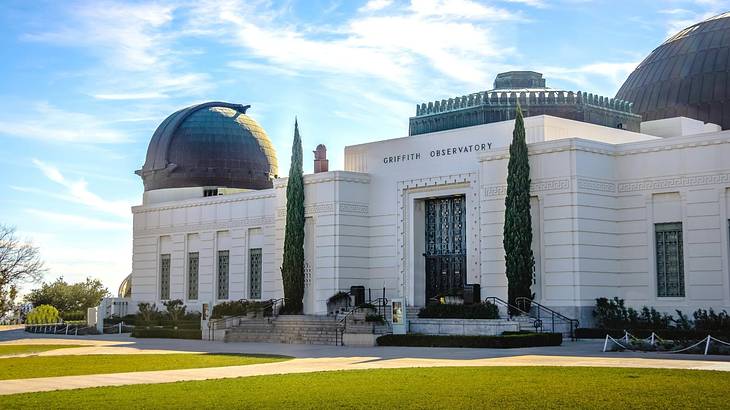 Griffith Observatory
The Griffith Observatory is one of the most fascinating stops on your 3 days in Los Angeles itinerary. Located on Mount Hollywood, the astronomy-themed attraction has a planetarium, exhibits on outer space and the galaxies, and telescopes to look up at the sky.
An interesting way to reach the observatory is on a Hollywood Sign to Griffith Observatory walking tour. This walking route will take you past the sign and to some other famous Los Angeles landmarks before reaching the observatory. You can also return to Griffith Observatory after dark to look at the stars.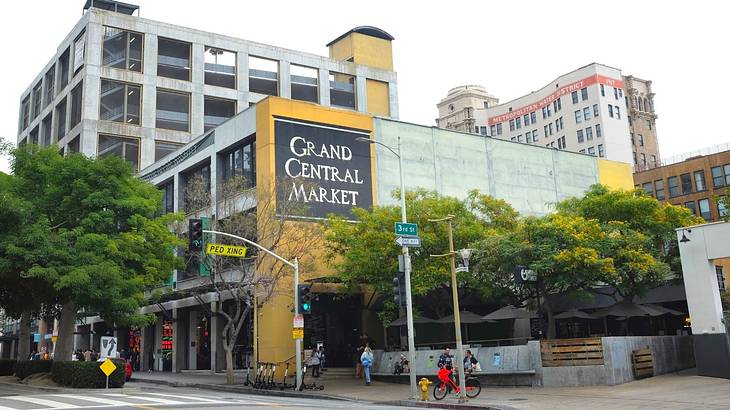 Grand Central Market
Grand Central Market has been in Los Angeles since 1917. The vast market has many vendors selling all kinds of cuisines and produce. With dishes from ramen, pizza, and Mexican food to candy and ice cream available, there's something for all tastes!
Along with food goods, you can pick up coffee, craft beer, and freshly made juice too. There's also a jewelry market, and you can buy Grand Central Market merchandise, including hoodies, tote bags, and t-shirts.
Little Tokyo
Little Tokyo is a fun area to explore and is one of the best places to visit at night in Los Angeles. The neighborhood has Japanese influences and features Japanese-style buildings, restaurants, shops, and cafes.
As you explore, you can try Japanese dishes like ramen, sushi, and mochi. There are also quirky shops, including a cute Hello Kitty store! You can also find comedy clubs, arcades, and karaoke bars to enjoy in Little Tokyo.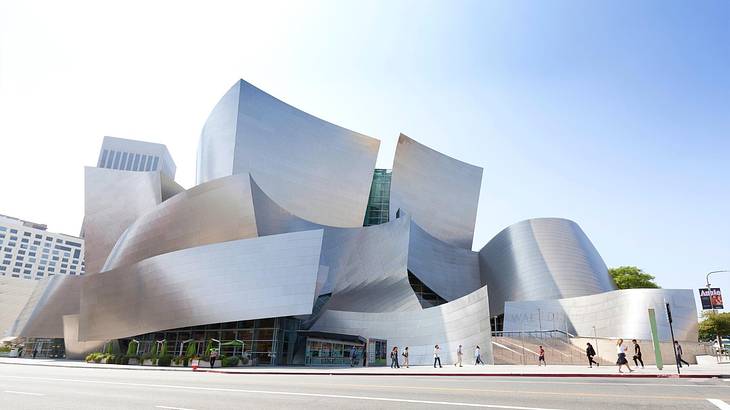 Walt Disney Concert Hall
The Walt Disney Concert Hall was designed by Frank Gehry and opened in 2003. Almost 20 years later, it's become a renowned venue that's home to the Los Angeles Philharmonic.
The concert hall also hosts shows by other classical musicians and orchestras. Occasionally other genres of music, like jazz, are performed too.
If you're after a memorable night out, catching a performance at the Walt Disney Concert Hall is highly recommended. There is always an interesting show to see, and when visiting, you also get the chance to appreciate the architecture of the building.
Spending a Day at LA's Beaches
Most of the last day of your 3 day Los Angeles itinerary will be spent at the beach. However, the day begins with a trip to the Getty Center Museum. After appreciating the art and manicured gardens, your next stop is Santa Monica Beach.
At the beach, you can sunbathe, swim, surf, and more. When you're finished at the beach, you can walk to Santa Monica Pier to enjoy the amusements and grab something to eat. After lunch, you can walk or bike from Santa Monica Beach to the Venice Beach Boardwalk.
Your last attraction of the day will be Abbot Kinney Boulevard. While in the area, you can shop and get something to eat at one of a multitude of restaurants.
Getty Center Museum
The Getty Center Museum is another of the landmarks of North America found in LA. The art gallery opened in 1997 and houses an extensive collection of works by artists like Monet and Van Gogh.
Artworks on display cover multiple periods, including the 19th and 20th centuries. You can also find works from artists across the globe with mediums such as painting and photography featured.
In total, the museum is housed in six buildings. There are also gardens with manicured plant displays and sculptures that cover approximately 134,000 square feet.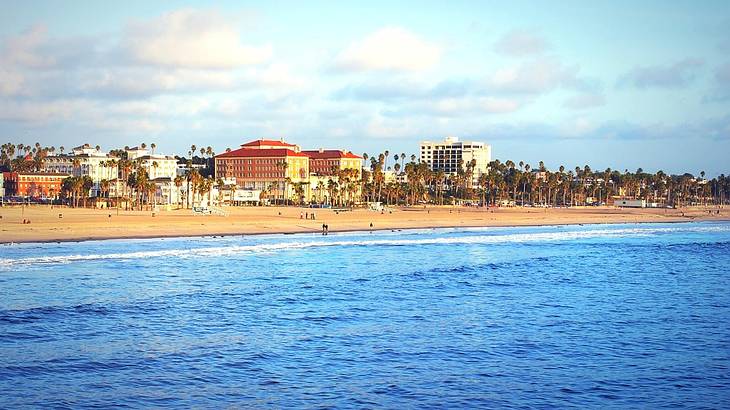 Santa Monica Beach
Located in downtown Santa Monica, Santa Monica Beach is one of the most popular beaches in Los Angeles. The beach has sandy shores, warm ocean waters, and palm trees galore! From the sand, you can also admire the surrounding hills.
Activities to enjoy at the beach range from sunbathing and swimming to surfing and playing volleyball. It's also the ideal place to hang out and catch up with friends under the Californian sun.
LA weather is almost always warm and dry enough for a beach day. But if you want to have a full day of sunbathing and swimming in warm waters, the best time to plan a trip to Los Angeles is in the late spring or summer.
The weather in early spring, fall, and winter is still pleasant; however, temperatures drop slightly and rain is more likely.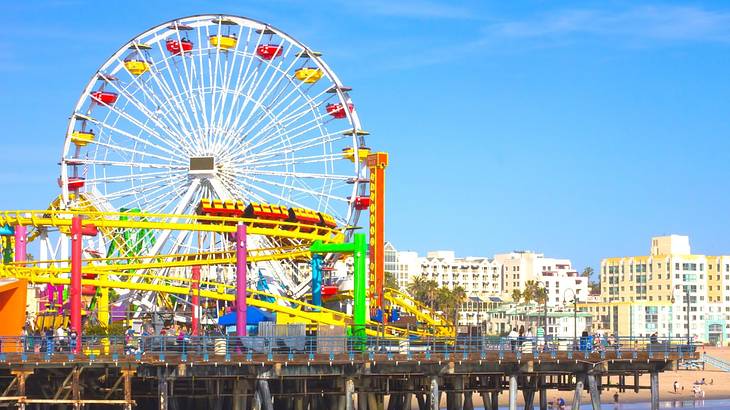 Santa Monica Pier
One of the most exciting places to see in Los Angeles is the Santa Monica Pier. The bustling ocean-side attraction has shops, a roller coaster, a Ferris wheel, and a carousel.
After having visited the many shops and enjoyed the entertainment offerings, you can find great eateries and food carts to grab a snack at. Food options include hot dogs, tamales, churros, and much more!
The pier is also the perfect place to watch the sunset. When planning a weekend in LA, a trip to Santa Monica Pier has to be on your to-do list!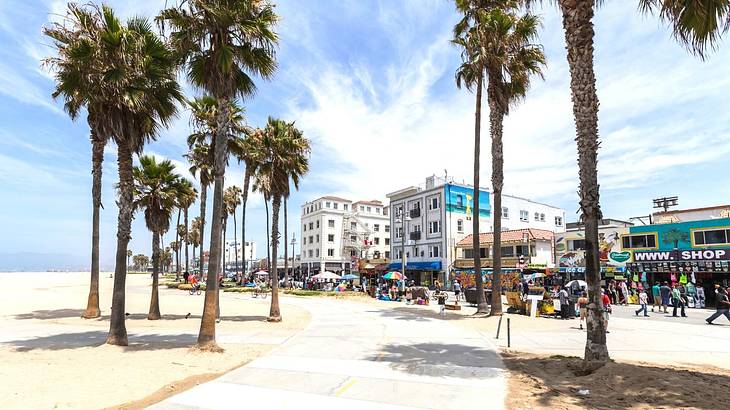 Venice Beach Boardwalk
Wandering along the Venice Boardwalk is definitely one of the top things to do in Los Angeles. The vibrant walkway sits adjacent to Venice Beach and has street performers, plus some shops and cafes.
A different way to explore the area is on a Venice Beach bicycle tour. On the tour, you'll bike with a guide from Santa Monica pier all the way to the Venice Beach Boardwalk. Your guide can also point out places of interest, and you can stop along the way to look around.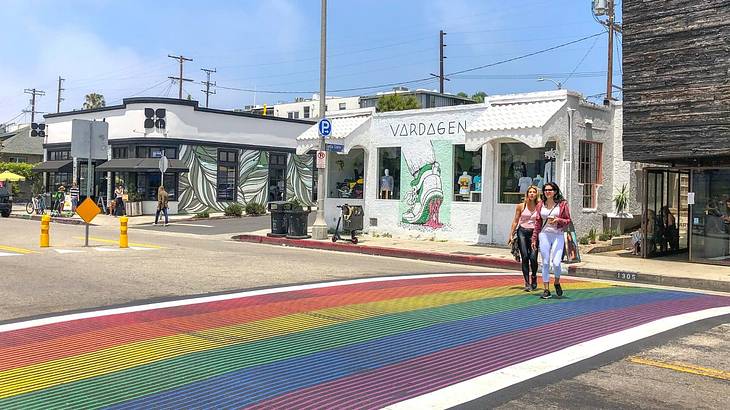 Abbot Kinney Boulevard
Abbot Kinney Boulevard is home to a multitude of shops, galleries, and restaurants. It's the perfect place to unwind with a shopping session before grabbing a delicious meal.
Stores to check out here include high-end shops, independent boutiques, and chain stores. Bars and eateries to in the neighborhood are also quite diverse. From cafes to luxury restaurants, there's a place to suit everyone on Abbot Kinney Boulevard!
If you have some additional time after exploring Abbot Kinney Boulevard, heading to Culver City is recommended.
In Summary
If you're thinking about a weekend trip to LA, these travel tips should help you to plan the perfect getaway.
What's great about this destination is that all attractions and landmarks are easy to get to, on foot or by public transportation. You'll also discover a range of things to do in LA that appeal to every kind of traveler.
If you're in Los Angeles for a longer period, additionally consider checking out some of the nearby amusement parks, like the Universal Studios Hollywood theme park. You can take a studio tour of many TV and movie production facilities too, like Warner Brothers Studio.
Want to keep exploring?
Subscribe for discounts on tickets and hotels and our latest guides.
Thank you for subscribing
We will be in touch soon with discounts on tickets and hotels and our latest guides.
Want to keep exploring?
Subscribe for discounts on tickets and hotels and our latest guides.
Thank you for subscribing
We will be in touch soon with discounts on tickets and hotels and our latest guides.