15 Landmarks in Indianapolis You Must See
Destguides may receive commissions from purchases made through affiliate links in this article.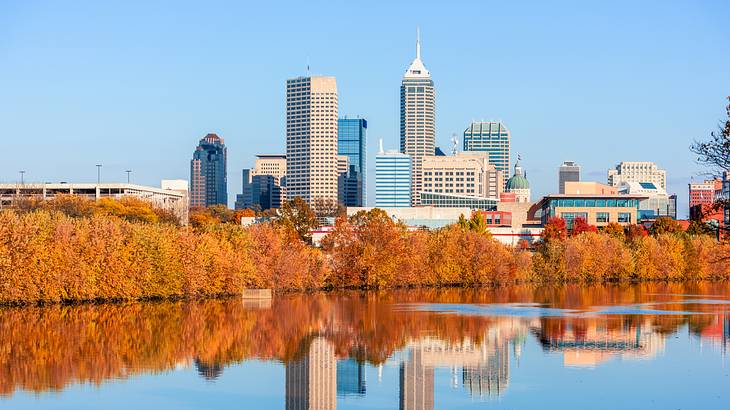 Indiana's Capital is known for many things, from being a favorite with NASCAR fans thanks to the Indianapolis Motor Speedway to breaking world records with its children's museum, which is the largest in the country.
In a place with as much culture and history as Hoosier City, it can be tough figuring out what you should visit first. Luckily, you've come to the right place. So whether planning a trip or trying to learn a little more about this corner of the Midwest, keep reading. Here are 15 landmarks in Indianapolis you must see.
15 Indianapolis Landmarks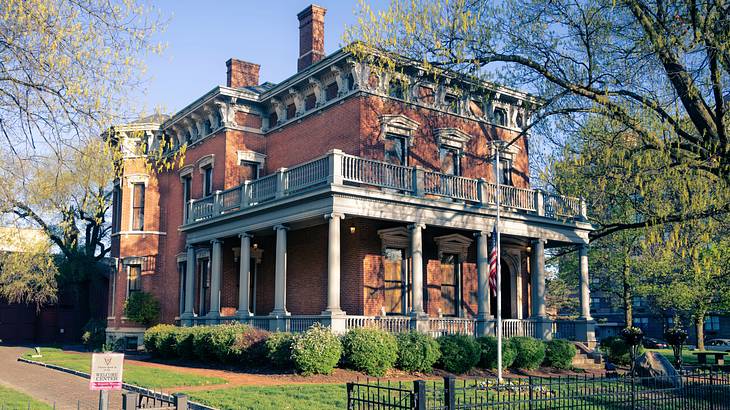 Benjamin Harrison Presidential Site
When Benjamin Harrison won the state of New York in 1888, he officially sealed his presidential nomination and later won the election. However, before becoming the 23rd US president, he had been an Indianapolis lawyer trying to make a career for himself.
The Benjamin Harrison Presidential Site marks the place he called home while living in Indiana and is now open for tours, allowing you to learn more about Harrison's life and work.
White River State Park
White River State Park is one of the most recognizable landmarks of Indianapolis. This urban park, established in 1979, offers many attractions to the city's locals and visitors.
There's a museum for American Indian and Western art, the Indianapolis Zoo, a botanical garden, and much more. Though the park is currently 267 acres, plans are in place to enlarge it.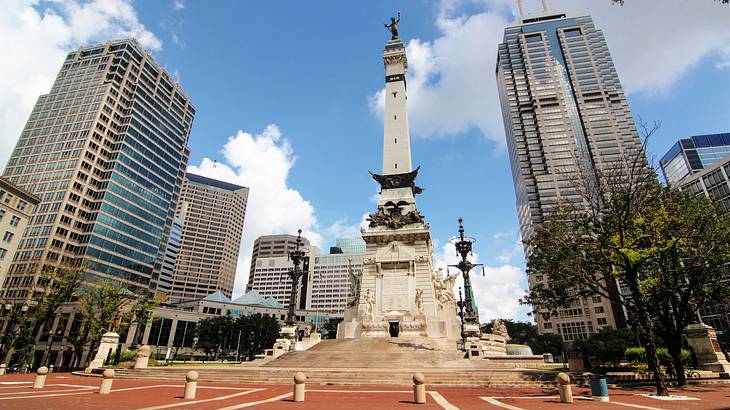 Soldiers & Sailors Monument and Monument Circle
Unveiled in 1902, the Soldiers & Sailors Monument, which sits within Monument Circle, was originally meant to honor the Indiana soldiers who fought in the American Revolution and Civil War.
However, it's also been dedicated to those who participated in the War of 1812 and the US wars with Mexico and Spain. The monument has multiple statues, but the most famous is the Lady Victory sculpture on top of the memorial's obelisk.
Interestingly, the landmark inspired an Indianapolis nickname. The city is sometimes referred to as Circle City in honor of Monument Circle.
Broad Ripple
Broad Ripple is one of the most unique and vibrant neighborhoods in Indianapolis. So it's not surprising that it's one of seven districts in the city that's been given a special designation for its history and culture. For example, the area is home to The Vogue Theatre, the most famous performance venue in Indiana.
Scottish Rite Cathedral
The Scottish Rite Cathedral is one of the most beloved historic buildings in Indianapolis. Built between 1927 and 1929, it's one of the USA's best examples of Neo-Gothic architecture. Also, since the Scottish Rite, the group that owns the cathedral, is associated with the Freemasons, it's the largest Masonic building in the world.
Morris-Butler House
It's hard to believe that in 1963, the Morris-Butler House was at risk of being destroyed. Since the home was built in 1864 and is one of the few Civil War-era homes left in the city, a historical society called Indiana Landmarks stepped in and purchased the property. In the years since being purchased, it's been restored and turned into a history museum and an event venue.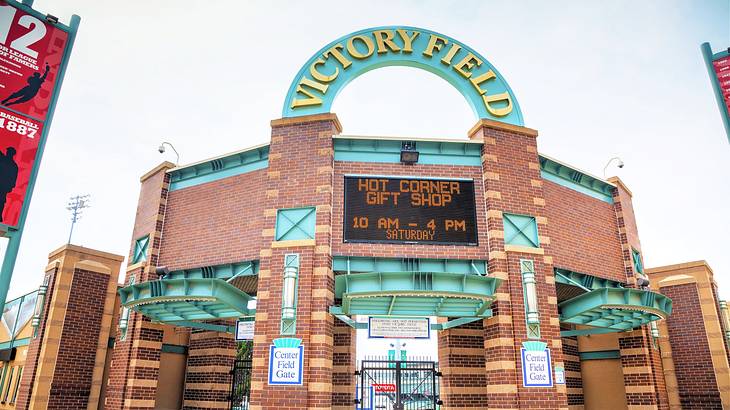 Victory Field
If you find yourself in Downtown Indianapolis between spring and fall, try to see if you can take in a baseball game at Victory Field. This minor-league baseball field is considered one of the best in the country. Its convenient location in the heart of the city means you'll also get a great view of the skyline from nearly anywhere in the stadium.
Indianapolis Motor Speedway
If you're looking for fun Indianapolis date ideas, taking your partner to the city's motor speedway during racing season is an excellent idea. Whether you're racing fans or not, you'll be in for a one-of-a-kind experience!
It's no wonder it's one of the most highly-recommended Indianapolis monuments for tourists to visit. Just keep in mind that renowned races like the Indy 500 bring a lot of crowds to the area, and getting tickets to those renowned races can be challenging.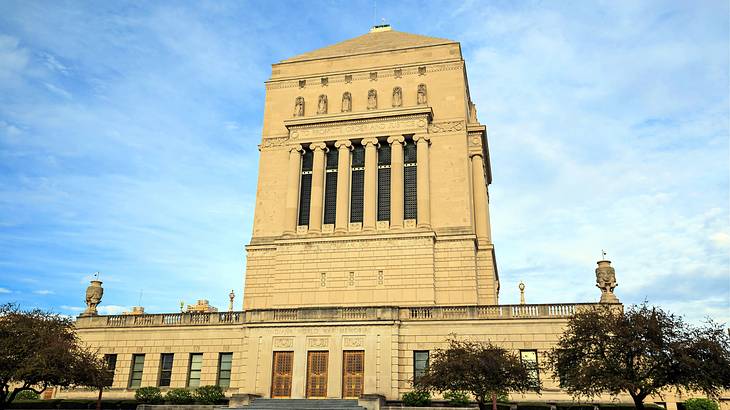 Indiana War Memorial & Museum
Designed in 1919 to honor the soldiers who lost their lives in the First World War, the Indiana War Memorial & Museum is the largest memorial of its kind in the country. Additionally, the memorial building also serves as a military exhibit, and the site was added to the National Register of Historic Places in 1989.
Indiana State Museum
As one of the most important landmarks in Indiana, no trip to the state capital would be complete without seeing the Indiana State Museum.
It houses over 500,000 artifacts to teach locals and tourists about Indiana's history using geographic, cultural, and scientific data. The exhibits are designed to suit people of all ages, so it's a great family-friendly site.
Hook's Drug Store Museum
For nearly 100 years, Hook's Drug Store was an Indiana staple. It was so beloved that even though the company has been out of business since 1994, its museum is still a popular attraction.
The Hook's Drug Store Museum houses one of the largest collections of drugstore artifacts. However, due to its location at the Indianapolis fairgrounds, it's only open during the state fair and other large events throughout the year.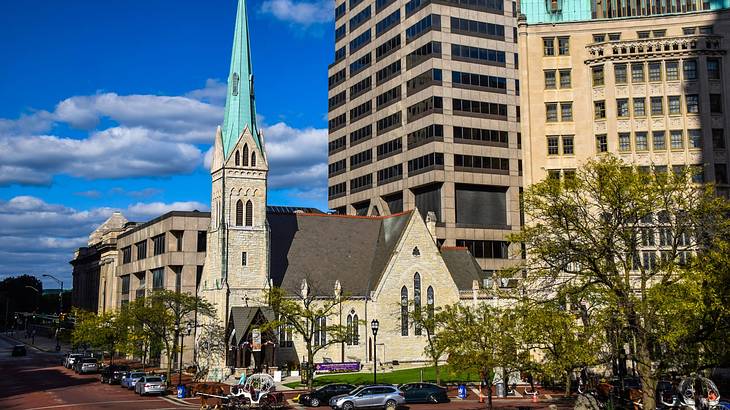 Christ Church Cathedral
Just a few steps away from Monument Circle, in the city's downtown area, is one of the most important historical sites in Indianapolis: Christ Church Cathedral. It was built in 1857 by the city's Protestants to serve as a formal meeting place but has since become a symbol of dedication to charity and community building.
Conner Prairie
Located in Fishers, a suburb in the greater Indianapolis area, Connor Prairie takes visitors into Indiana's past. The park's impressive 1,000-acre size allows it to showcase multiple exhibits to show how the state has changed over the past few centuries.
The centerpiece of this living museum, however, is the Conner House. This landmark is the 1823 home of William Conner, one of the area's most important historical figures.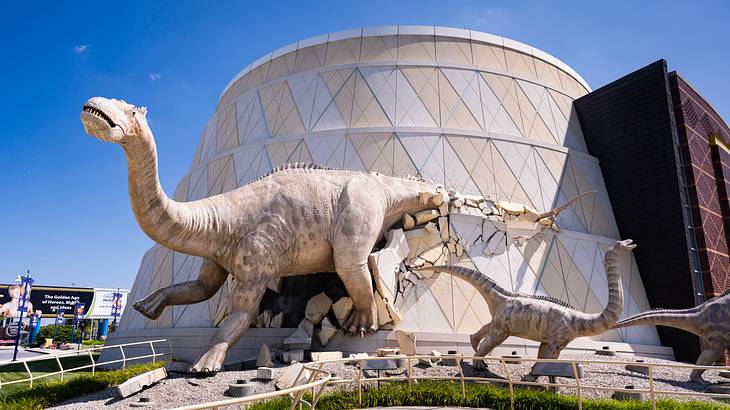 The Children's Museum of Indianapolis
A fact about Indianapolis most people wouldn't guess is that the city is home to the largest children's museum in the world. The complex, founded in 1925, covers over 480 square feet and has many fascinating exhibits. Topics covered range from dinosaurs to sports, and there's something here to entertain any child!
Indiana World War II Memorial
The Indiana World War II Memorial is an essential landmark to visit if you're interested in American History. This Indianapolis monument doesn't just showcase a list of the state's veterans who fought in WWII; it also displays a history of the conflict, the USA's involvement in it, and excerpts from letters some of these brave Hoosiers sent home to their loved ones.
In Summary
Whether you're a sports lover or a history buff, Indianapolis has something for you to discover. From the Conner Prairie living museum to Monument Circle, there's no shortage of things to see while visiting Hoosier City.
Hopefully, this list has helped inspire you to fall in love with Indiana's capital city. Now all you have to do is plan your dream getaway to this midwestern gem.
---
---
Want to keep exploring?
Subscribe for discounts on tickets and hotels and our latest guides.
Thank you for subscribing
We will be in touch soon with discounts on tickets and hotels and our latest guides.
Want to keep exploring?
Subscribe for discounts on tickets and hotels and our latest guides.
Thank you for subscribing
We will be in touch soon with discounts on tickets and hotels and our latest guides.
Related Articles