30 Famous Landmarks in Indiana That Can't Be Missed
Destguides may receive commissions from purchases made through affiliate links in this article.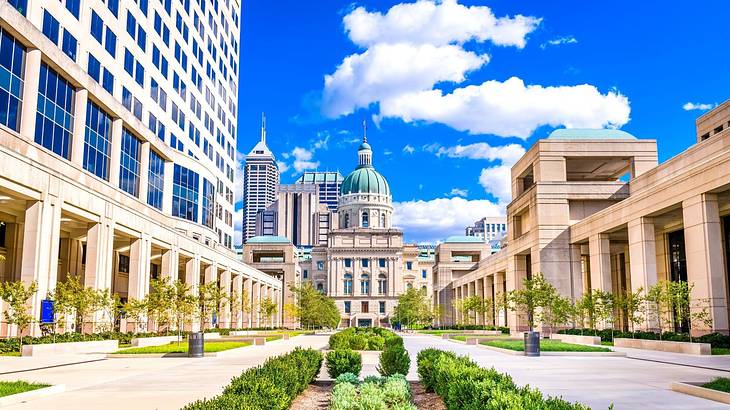 If you are wondering, "What is Indiana known for?" You have come to the right place! Indiana is known for its rich history and awe-inspiring natural landscapes.
You can also find an array of famous landmarks in Indiana, including the Abraham Lincoln Boyhood Home and National Museum, Indiana Dune State Park, and the Indianapolis Motor Speedway.
Indiana is an excellent destination for a weekend getaway or even a longer vacation. Whether you want to enjoy the outdoors with camping and hiking or prefer visiting renowned historic sites, Indiana has something for everyone.
Keep reading to discover the 30 must-see places in this exciting Midwestern state!
30 Famous Indiana Landmarks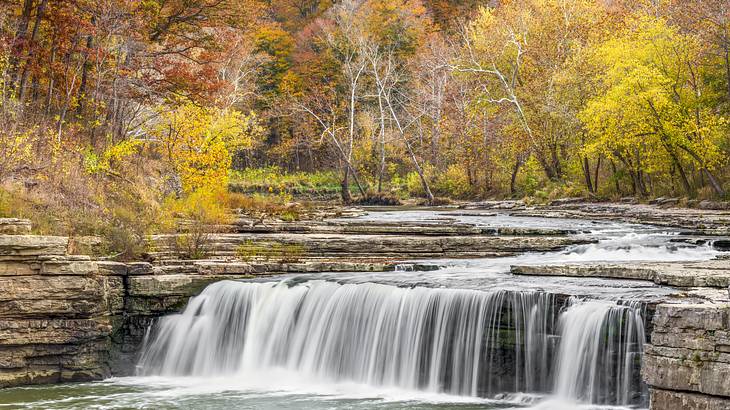 Cagles Mill Lake
This gorgeous piece of natural scenery is a secret gem in the Hoosier State. Cagles Mill Lake offers lakeside camping, boat rentals, and fishing spots.
Two waterfalls are also surrounding the area, with a short scenic hike connecting them. If you aren't feeling adventurous, parking is available at both the upper and lower falls, allowing you to see them without the hike.
Angel Mounds State Historic Site
Angel Mounds State Historic Site is an archeological wonder and immersive museum experience. You can learn about the indigenous community that once lived in the area and built their city by the Ohio River between 1,000 and 1,450 AD.
The 103-acre site is divided between an archeological preserve and a nature preserve. At the archeological preserve, you can see the remains of the ancient city and learn more about the site at the Interpretive Center museum. The nature preserve has hiking and biking trails, places to picnic, and an 18-hole disk golf course.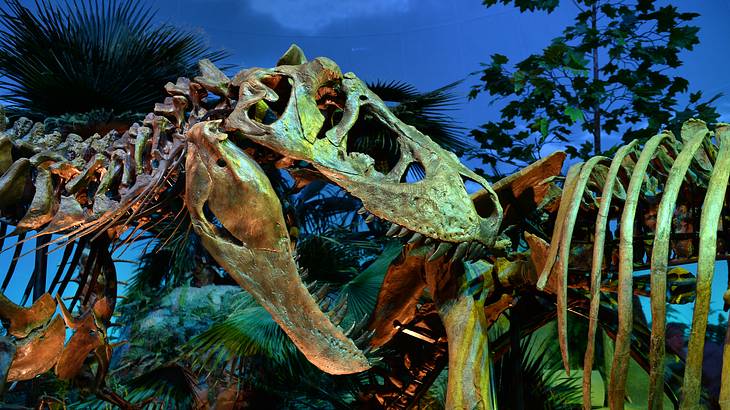 Children's Museum of Indianapolis
The Children's Museum of Indianapolis is a world-famous landmark as it is the world's largest children's museum. Home to four floors of fun and interactive indoor and outdoor exhibits, this museum is a must-visit for anyone traveling with kids.
The most popular exhibit at the museum is the Dinosphere, which features gigantic lifelike dinosaur skeletons. The Broad Ripple Park Carousel is another notable attraction at the museum.
Benjamin Harrison Presidential Site
Originally the home of the 23rd President of the United States, the Benjamin Harrison Presidential Site is now a museum. It is also one of the most beautiful historical places to visit in Indiana. Interestingly, the home was one of the first in the state to have electricity, with Harrison adding electrical lighting in 1896.
Visitors can walk through the perfectly preserved home decorated as it would have been in 1875. As you look around this Indianapolis landmark, you can also learn more about Benjamin Harrison's life before, during, and after his presidency.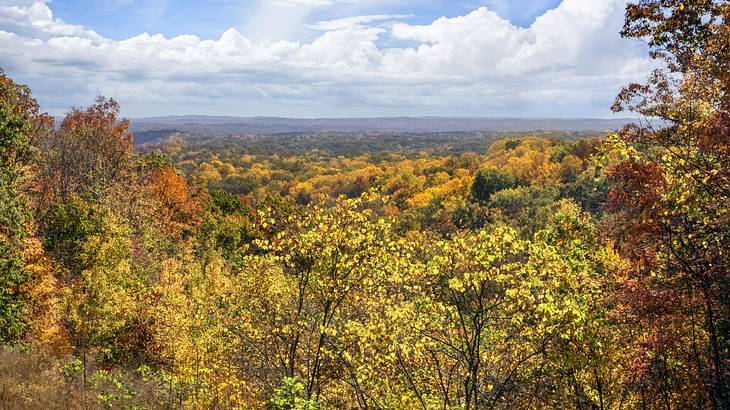 Brown County State Park
Are you looking for the perfect spot to see fall colors this year? Then you'll want to check out Brown County State Park.
As the largest state park in Indiana, Brown County State Park covers over 15,000 acres and features tree-lined forest hiking trails, scenic driving routes, and breathtaking lookouts. Visitors to the park can also find a nature center, wildlife watching opportunities, and camping sites.
Brookville Lake
Brookville Lake is a wonderful spot to spend a day outdoors. You can find over 25 miles of hiking trails around the lake, plus two lakeside beaches.
Many head to the lake to boat and fish as well. You can even find prehistoric Native American mounds within the valley! In addition, Brookville Lake has over 400 campsites, making it the ideal spot for a family camping trip.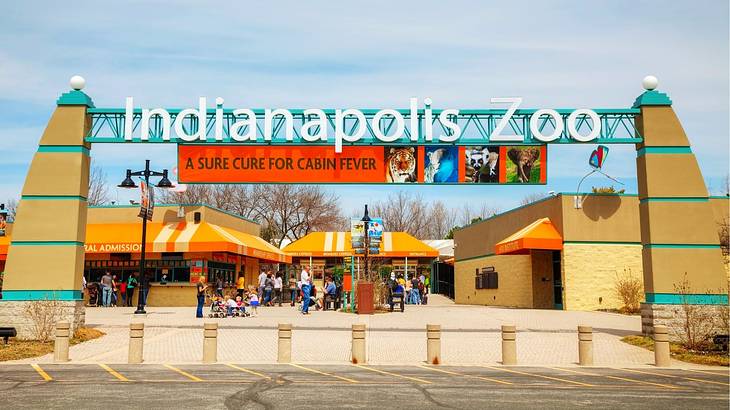 Indianapolis Zoo
Opened in 1964, the Indianapolis Zoo is home to over 1,000 animals of more than 200 species. At the 64-acre attraction, you can see and learn about animals from across the globe.
Things to do include going to the Oceans Building to learn about penguins and their habitats and visiting the Simon Skjodt International Orangutans Center to discover some fun orangutan facts. Just a few of the other animals to see include zebras, cheetahs, and giraffes.
Broad Ripple Park Carousel
Located on the top floor of The Children's Museum of Indianapolis, the Broad Ripple Park Carousel is a beautiful and interactive piece of history. This carousel is over 100 years old, having opened in the early 1900s.
The Broad Ripple Park Carousel is a much-loved family favorite and is a unique famous landmark in Indiana. Your kids even have the chance to ride the carousel, which features 42 animals, including horses, giraffes, and lions.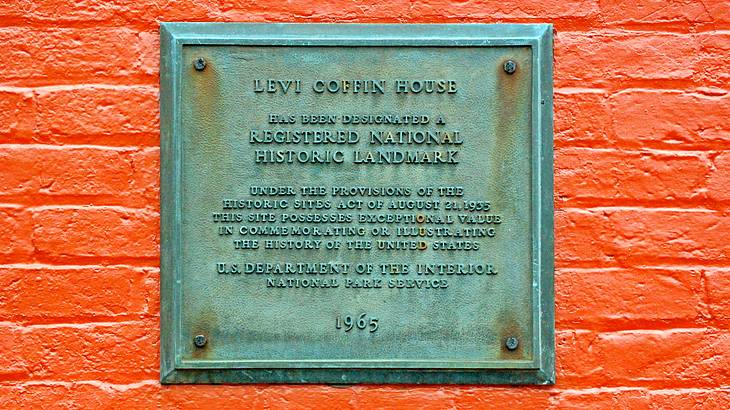 Levi and Catharine Coffin State Historic Site
The Levi and Catherine Coffin House is the former home of the Coffin family. The seemingly average home was a successful stop on the Underground Railroad between 1826 and 1847.
Around 2,000 Freedom Seekers came through the Coffin house, where Levi and Catherine would provide them with food, shelter, and clothing before they continued their journey. Today, the home is a museum where you can learn more about the Coffins and the people they helped.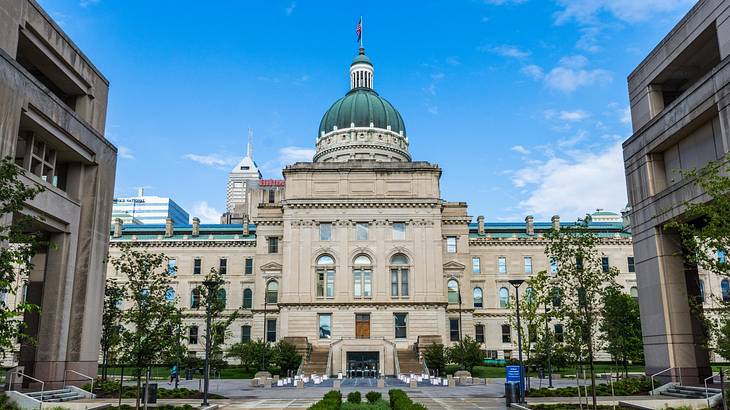 Indiana Statehouse
Located in the capital city of Indianapolis, the Indiana Statehouse has been the most important political building in the state since 1878. Various government offices are housed in the state capitol building, including the Indiana Supreme Court and the office of the Governor of Indiana.
If in the state capital, you can tour the Renaissance Revival-style building and learn more about Indiana politics and history from the 19th century to the present.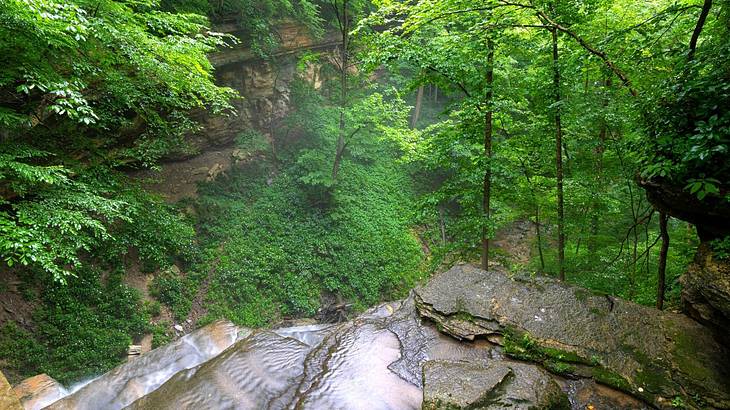 Clifty Falls State Park
Featuring many waterfalls and beautiful forests, Clifty Falls State Park is a must-visit landmark for outdoor adventures. Depending on the season and the amount of rainfall, the natural water features in the park range from small creeks to roaring rapids. The park also has ten hiking trails, a nature center, picnic spots, and a charming lodge, Clifty Inn.
French Lick Springs Hotel
Constructed in 1845, the French Lick Springs Hotel remains one of the most famous places in Indiana to stay at. The renowned hotel features a spa wing, added in 1901, that includes pools and treatment rooms. Guests of the hotel can also enjoy a golf course, bowling alley and arcade, riding stables, and high-end restaurants.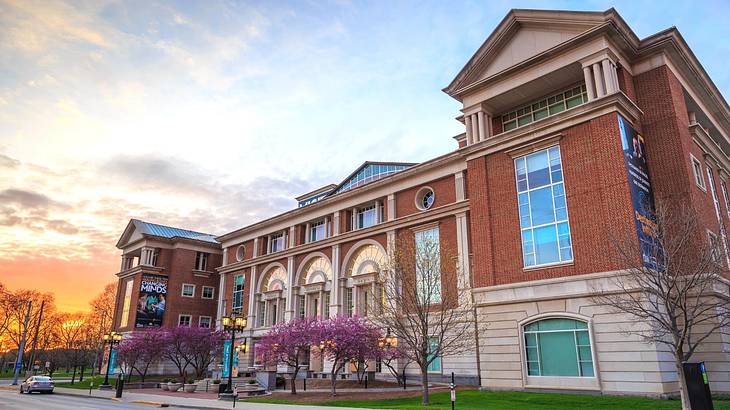 Indiana Historical Society
The Indiana Historical Society, founded in 1830, is committed to preserving and educating people on the state's history. Located in downtown Indianapolis, the Historical Society building is brimming with antiques, artifacts, and most importantly, stories from the past.
The Indiana Historical Society hosts many events too. These range from talks with significant figures to children's scavenger hunts and fun workshops.
Fort Harrison Inn
Fort Harrison Inn was used as a military officer's home during most of the 1900s when Fort Harrison State Park was owned by the military. Today, Fort Harrison is another famous place to stay in Indiana.
The hotel is surrounded by 1,700 acres of forest and has an 18-hole golf course. Guests can also enjoy hiking trails, horse riding, and charming rooms and suites.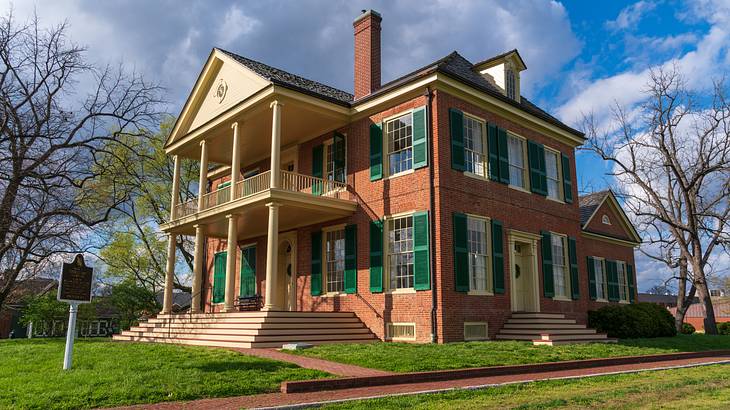 Harrison Mansion Grouseland
The Harrison Mansion, also called Grouseland, is a museum set in the home of William Henry Harrison, the first governor of the Indiana Territory. Harrison was also the 9th president of the United States, although he died just one month into his presidency.
Constructed in 1804, this home turned museum features a fantastic collection of antiques, art, furniture, and memorabilia. Visitors can also learn more about Harrison and his life and career.
Irvington Historic District
Five miles east of Indianapolis sits the Irvington Historic District. It is one of the largest historic districts in the USA and one of the most historical places in Indiana.
The 545-acre neighborhood has beautiful houses from the 19th and early 20th centuries. Irvington Historic District was also added to the National Register of Historic Places in 1987, protecting the historical integrity of the area's buildings.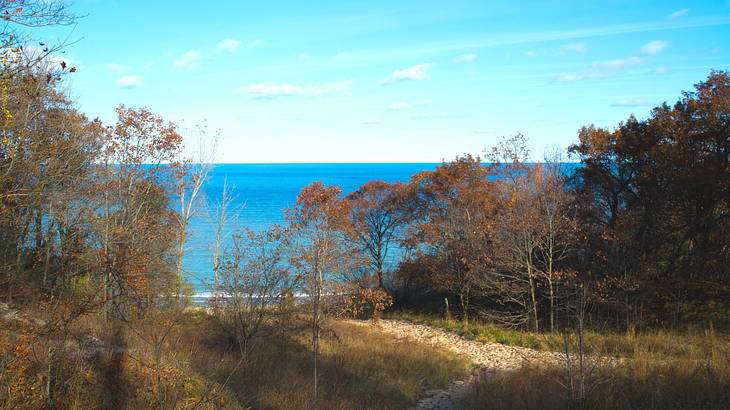 Indiana Dunes State Park
Indiana Dunes State Park was established in 1925 after local scientists and ecologists discovered the importance of this unique landscape.
The park is found next to Indiana Dunes National Park by Lake Michigan. At the park, you can walk through marshes, forests, and sand dunes that often reach more than 200 feet.
Dream Lake
While you may think Dream Lake got its name due to its dreamy scenery, it is actually named after Indiana's first state forester, Charles Dream. Opened in 1965, the 194-acre lake and surrounding park offer outdoor activities for everyone.
Water activities to enjoy here include kayaking, canoeing, and fishing. There are also multiple hiking and biking trails and picnic areas, plus campsites and cabins for those that want to stay overnight.
Auburn Cord Duesenberg Automobile Museum
Calling all classic car enthusiasts: you won't want to miss this impressive one-of-a-kind museum! The Auburn Cord Duesenberg Automobile Museum is home to over 120 classic and antique cars.
The museum opened in 1974 to preserve vehicles built in Auburn, Indiana, by the Auburn Automobile, Cord Automobile, and Duesenberg Motors Companies. As you explore the museum, you can travel through history and learn how these cars were made and how designs changed over time.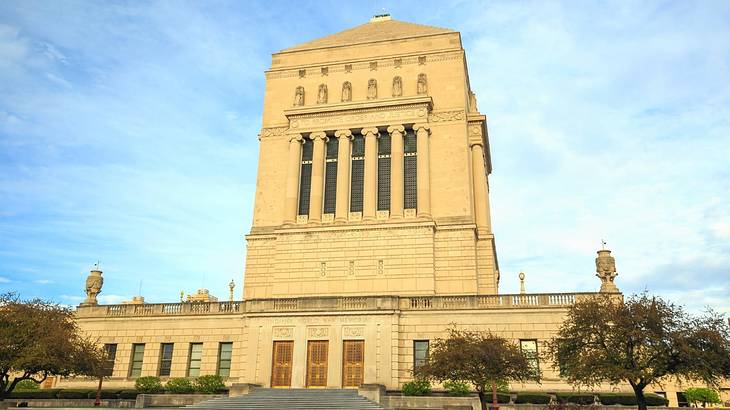 Indiana World War Memorial
Another of the significant Indiana monuments found in Indianapolis is the Indiana World War Memorial. The memorial was constructed in 1924 to honor those who served in World War I. Today, there is also a 30,000-square-foot museum, the Indiana War Memorial Museum, on the site.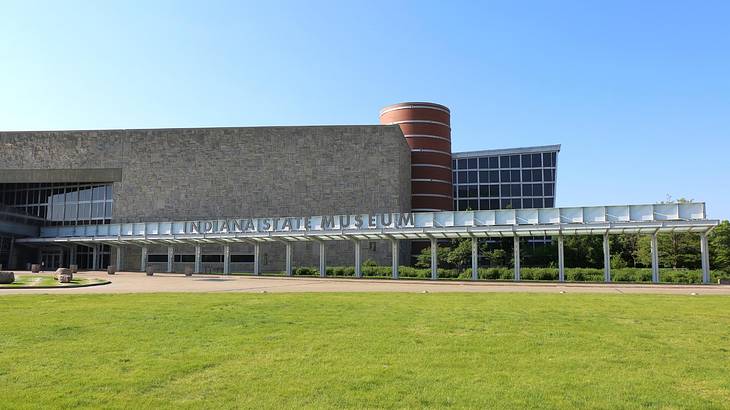 Indiana State Museum
The Indiana State Museum in downtown Indianapolis features science, history, and culture exhibits. The museum, established in 1869, strongly focuses on Indiana's history and natural environment. It is also home to the largest IMAX theater in the state.
Numerous landmarks in the state are also overseen by the Indiana State Museum, including Angel Mounds and the Levi and Catherine Coffin House.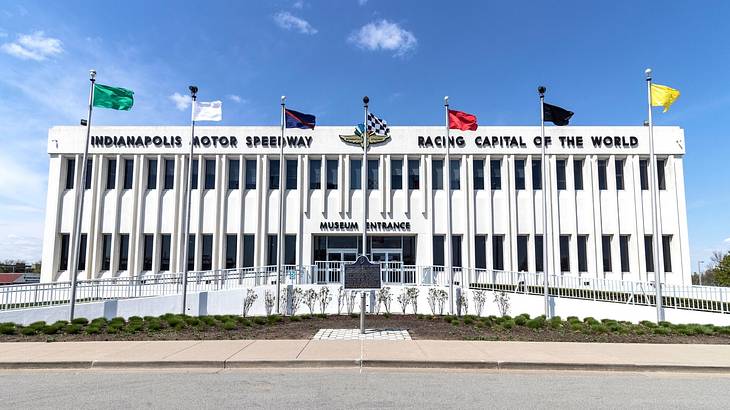 Indianapolis Motor Speedway
One of the biggest and most well-known car racing stadiums in the United States is the Indianapolis Motor Speedway. It's a must-see for any NASCAR or Grand Prix fan.
The venue is notably home to the Indianapolis 500 and Verizon 200 races. The track also features a museum where visitors can learn about the history of car racing and see the antique cars that make up the Indianapolis Motor Speedway collection.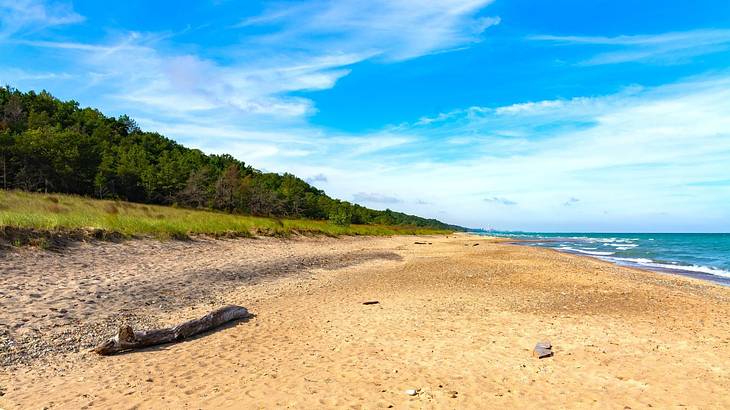 Indiana Dunes National Park
With over 15 miles of beautiful coastline along Lake Michigan, Indiana Dunes National Park provides breathtaking scenery and unique landscapes.
The over 15,000-acre park offers some of the most stunning trails in the state. Hikers will get to walk through dense forests and wildlife-filled wetlands. You can also relax on the lakeside beaches, enjoying a picnic and the views of Lake Michigan.
James Whitcomb Riley Museum Home
The James Whitcomb Riley Museum Home is an Indiana landmark and museum that was home to the poet James Whitcomb Riley from 1893 to 1916. The residence in Indianapolis is designed in a late Victorian style and was constructed in 1872.
Today, the home is furnished as it would have been when James Whitcomb Riley lived there, with most of the furnishings having actually belonged to him. Looking around the museum will give you a look into the poet's life when he lived there.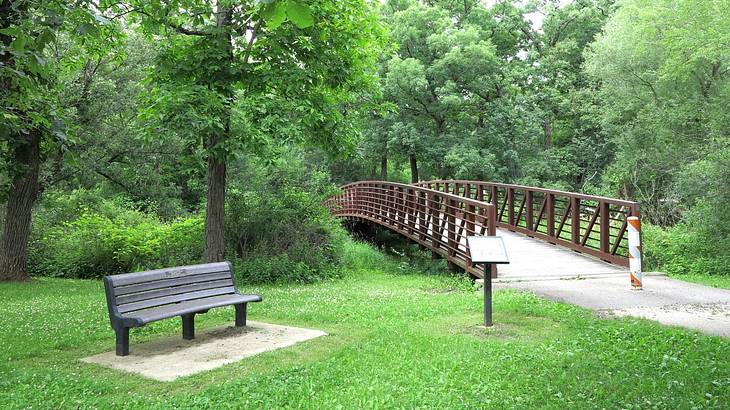 Chain O'Lakes State Park
Chain O'Lakes State Park is literally what the name implies, a chain of connecting lakes. The park covers 2,718 acres and was established in 1960.
Activities to enjoy include kayaking or canoeing through all nine of the linked lakes, hiking, and camping along the shores. There's also a historic one-room schoolhouse on the grounds.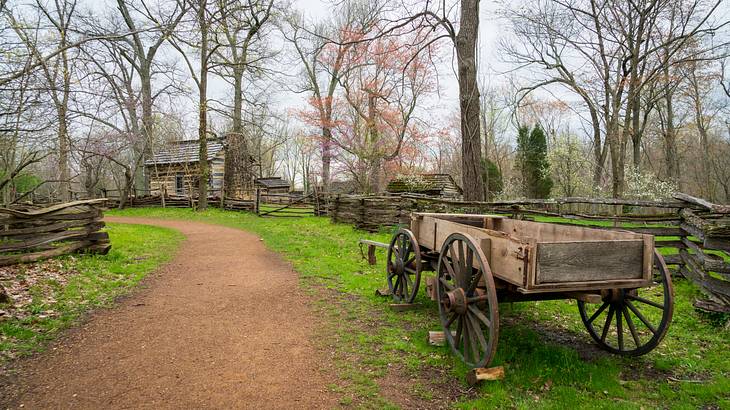 Lincoln State Park
The farmland former President Abraham Lincoln grew up on is now called Lincoln State Park. It was opened as a memorial to Lincoln's mother, Nancy Hanks Lincoln, in 1932.
Visitors to the 1,747-acre park can enjoy hiking on ten miles of trails, fishing, and swimming. The Abraham Lincoln Bicentennial Plaza also sits within the grounds, as does a historic home turned museum that belonged to Colonel William Jones.
West Baden Springs Hotel
Another renowned hotel located within the French Lick Resort in West Baden Springs Hotel. This hotel boasts a beautiful, one-of-a-kind 200-foot atrium that has been wowing guests for over 100 years. It was even considered "The Eighth Wonder of the World" by locals when it opened in 1902!
Guests today can benefit from amenities like indoor and outdoor pools and hot tubs, luxurious rooms and suites, and a grand dining room serving high-end dishes.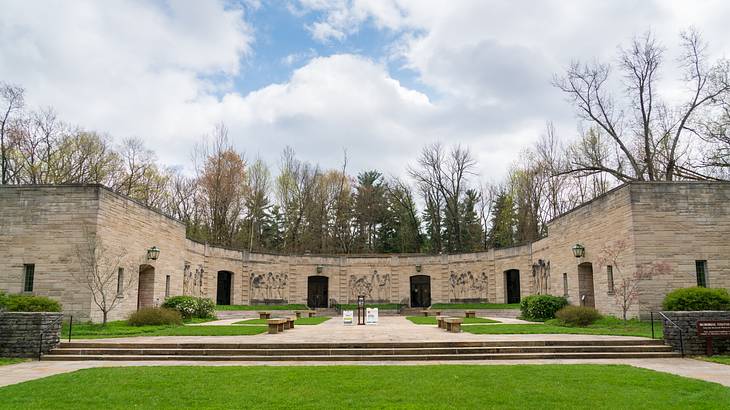 Abraham Lincoln Boyhood Home and National Museum
The Abraham Lincoln Boyhood Home and National Museum are built on the soil where Abraham Lincoln grew from a seven-year-old boy to a 21-year-old man. Lincoln lived with his family on the site from 1816 to 1830.
The attraction is notably one of the most visited historical landmarks in Indiana and was added to the National Register of Historic Places in 1966. Along with seeing the Lincoln Boyhood National Memorial, you can explore the surrounding farmlands and learn more about Lincoln's childhood.
Clark State Forest
The oldest state forest in Indiana, the Clark State Forest, is a must-visit for nature enthusiasts. Opened as a state park in 1903, the 24,000-acre site features dense forests and lots of wildlife. There's also a watchtower with a lookout across the forest landscape.
Interestingly, Clark State Forest was used as an experimental forest for forestry research for many years. Over 150 experimental trees that were planted still stand in the forest.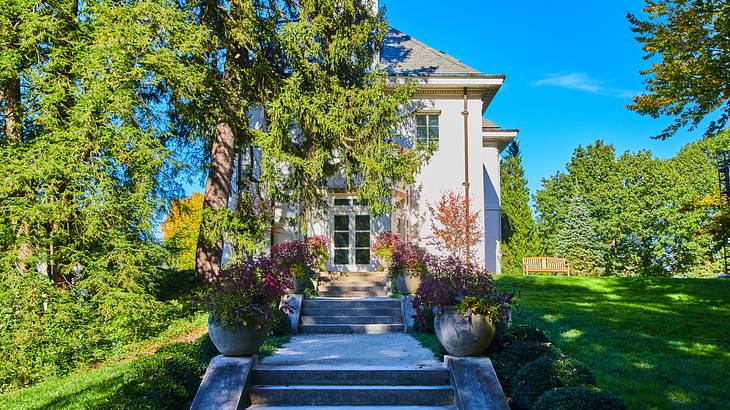 Newfields
One of the fascinating cultural attractions in Indiana to visit is Newfields. The 152-acre campus in Indianapolis is home to the Indianapolis Museum of Art, a public art park, the Lilly House, the Gardens at Newfields, and a beer garden.
The grounds were established in 1883 and draw in almost half a million visitors annually. It's a must-visit site for arts and culture enthusiasts!
In Summary
Indiana's beautiful and unique landscapes attract crowds from all over the United States. Those visiting the state will find numerous outdoor and cultural attractions and an array of National Historic Landmarks to explore.
This list of famous landmarks of Indiana should have given you an idea of everything there is to see in the state. The only question is, where will you go first?
Give us feedback about this article
More articles about Indiana:
Read more articles about the United States:
More articles about landmarks:
More visual stories related to this article:
---
---
Want to keep exploring?
Subscribe for discounts on tickets and hotels and our latest guides.
Thank you for subscribing
We will be in touch soon with discounts on tickets and hotels and our latest guides.
Want to keep exploring?
Subscribe for discounts on tickets and hotels and our latest guides.
Thank you for subscribing
We will be in touch soon with discounts on tickets and hotels and our latest guides.
Related Articles