The Best 3-Day New Orleans Itinerary
Destguides may receive commissions from purchases made through affiliate links in this article.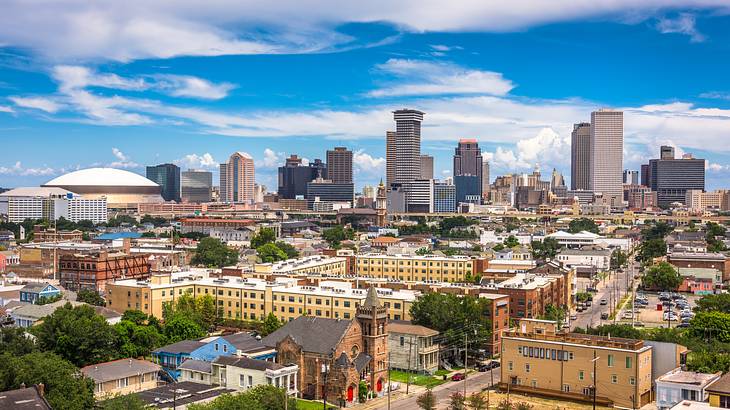 If you're looking for the perfect destination for your next short getaway, New Orleans in the Southern United States is a great choice! The city is known for its friendly locals, vibrant atmosphere, delicious cuisine, and many landmarks.
When planning to travel to NOLA, it can be challenging to know what to see, especially if only visiting for a short time. This 3-day New Orleans itinerary is here to help by covering the best attractions in the Big Easy.
During your trip, you'll learn about New Orleans ' history, eat outstanding food, and see an array of Louisiana landmarks. One thing is for sure; you're guaranteed to have fallen in love with the city by the time you leave!
3-Day Itinerary for New Orleans
Iconic NOLA Attractions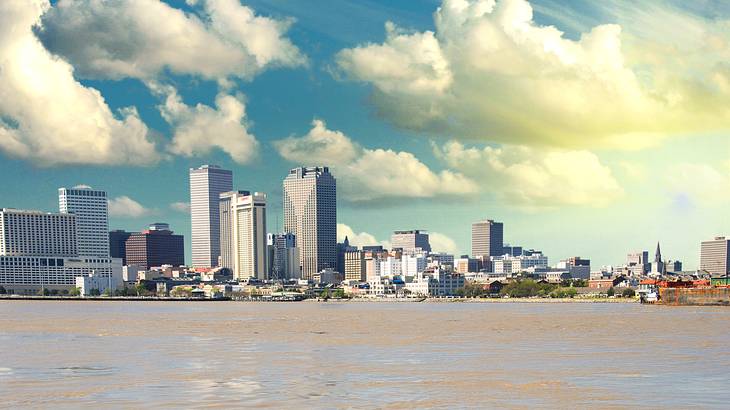 Your first day in the city will allow you to see an array of New Orleans attractions. The day will begin with a tour of the beautiful Garden District. Next, you'll visit the exciting and colorful Mardi Gras World to learn about how New Orleans prepares for this iconic event.
You'll then climb aboard a Steamboat Natchez cruise ship to enjoy lunch and incredible views of the New Orleans skyline. Once back on land, you can enjoy some shopping on Magazine Street before ending the day hopping between fun bars and restaurants on Bourbon Street and Frenchmen Street.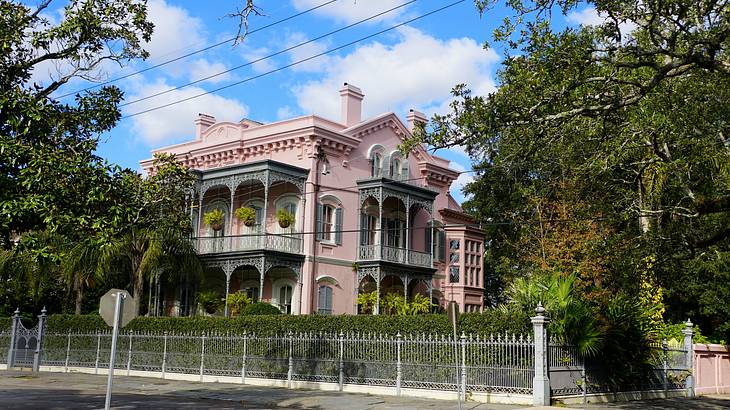 Garden District Tour
Your first stop in New Orleans, Louisiana, is the Garden District. This neighborhood features beautiful houses, tree-lined streets, and quaint gardens. A great way to see the area of NOLA is on a Garden District walking tour.
Whichever operator you choose to go with, you'll be able to explore the charming streets while learning about the area. Due to the many stunning homes and floral displays, taking lots of photographs is also a must!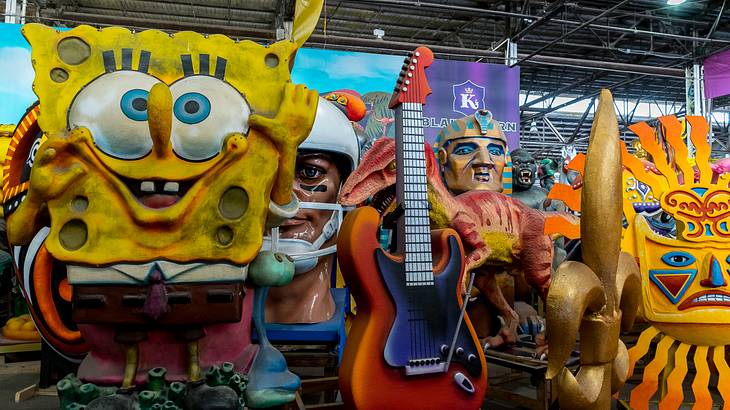 Mardi Gras World
You may have heard of the Louisiana nickname, the Mardi Gras State. This moniker exists mainly because New Orleans is known as one of the best places in the world to celebrate Mardi Gras.
If you aren't visiting during the event, adding a trip to Mardi Gras World to your weekend in New Orleans itinerary is a great idea. Mardi Gras World is where real designers create all the stunning and vibrant floats seen during the annual party. On a guided tour, you'll also learn more about the history of Mardi Gras in NOLA, try costumes, and try a slice of King Cake.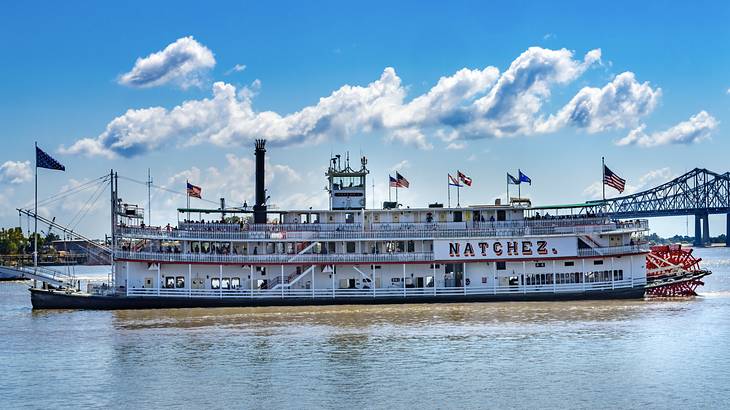 Steamboat Natchez Cruise
Going on a Steamboat Natchez cruise is an iconic New Orleans activity. You'll get to hop aboard an old-fashioned steamboat and sail down the Mississippi River. On the boat, you can take in the amazing views of the city, and many operators will provide food and entertainment.
If looking for a lunch stop, enjoying your meal aboard a Steamboat Natchez cruise is a memorable experience! You can also choose from brunch or dinner options, and this activity is additionally one of the most exciting things to do in New Orleans with kids.
Magazine Street
Magazine Street is a central street in New Orleans originally named after an ammunition magazine that was located in the area. Today, this street features an array of stores and restaurants and is a popular shopping location.
Shops to explore include independent jewelry stores, home goods shops, thrift stores, and much more. If you need a refuel after shopping, there are many coffee shops in the area, or stop for dinner at one of a multitude of restaurants.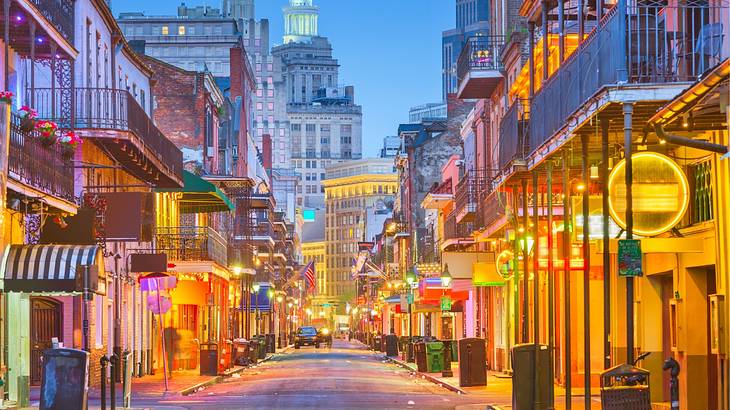 NOLA Pub Crawl
New Orleans is known for its array of incredible bars and live music venues. Seeing the best party spots in the city is easy when going on a NOLA pub crawl. You can find various crawls to try, from a Frenchmen Street crawl that will take you to the best live jazz music spots to tours visiting bars on famous Bourbon Street.
All pub crawls will allow you to find some memorable drinking spots and make new friends. You'll also get to learn more about the history of bars you visit and are sure to find at least one new favorite bar!
Historical Attractions and Amazing Eateries
Day two of your New Orleans travel itinerary will start a little outside of central New Orleans at the Oak Alley Plantation. This historical attraction features beautiful grounds and offers a look into the lives of those who were sadly enslaved there. On the way back to New Orleans, you'll stop at the Whitney Plantation to learn more about the lives of southern slaves.
You'll then spend the afternoon relaxing as you wander around City Park, enjoying the scenery and visiting attractions. For dinner, you'll head to ACME Oyster for seafood and traditional New Orleans cuisine. Your night will end at Carousel Bar & Lounge with an incredible cocktail.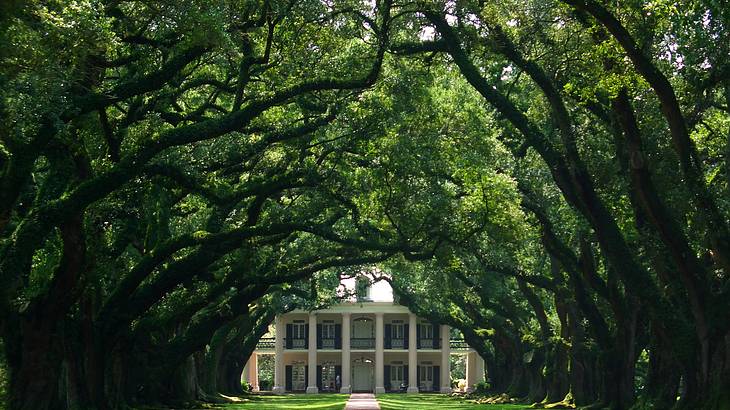 Oak Alley Plantation
New Orleans features many attractions of historical significance, and the Oak Alley Plantation is one of them. The plantation originally grew sugarcane and, unfortunately, employed slaves to do most of the growing and harvesting. One notable individual was a slave gardener called Antoine, who was the first person to graft pecan trees.
You can learn more about those that lived and worked at the Oak Alley Plantation during your visit. Going to the site with an Oak Alley Plantation tour guide is the best option for those looking to really delve into the history of the landmark.
Whitney Plantation
The Whitney Plantation is a former plantation that now houses a museum documenting the lives of slaves in the Southern US. The museum offers more information on life on a sugarcane plantation for the enslaved and looks at a handful of moving stories relating to slaves that lived in Louisiana.
Although this is an emotional landmark to visit, hearing the stories of the enslaved and how they were eventually freed is a moving and important experience. Again, exploring the Whitney Plantation on a guided tour is recommended to get the most out of your visit.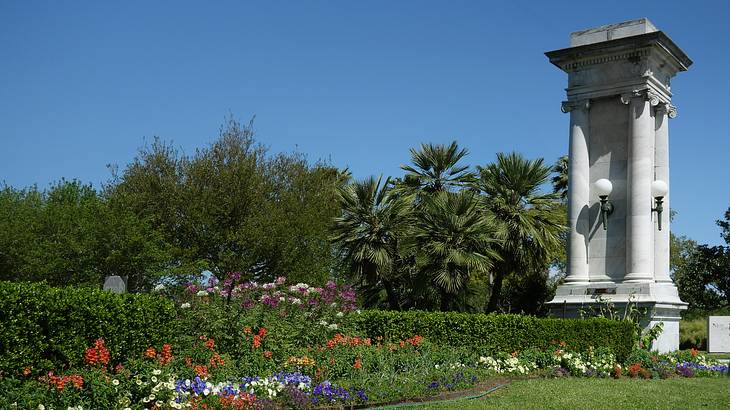 City Park
Strolling around City Park is a great way to unwind after a busy morning. This urban park features relaxing open green space and an array of attractions.
If you're looking to add a few more stops to your New Orleans three day itinerary, attractions you can find in City Park include the New Orleans Botanical Garden and the New Orleans Museum of Art. When at NOMA, make sure to stop by the Sydney and Walda Besthoff Sculpture Garden.
Other activities to try in the park include horseback riding, jogging, and stopping for a coffee and sweet treat at the famous Cafe du Monde.
ACME Oyster House
ACME Oyster House is a well-known seafood restaurant in the French Quarter on the edge of the central business district. The eatery is known for its delicious oysters and a range of other seafood dishes.
At the restaurant, you can taste raw and chargrilled oysters, and oyster shooters are also available. Other dishes to try include seafood gumbo, PO boys, crab cakes.
The Carousel Bar & Lounge
A trip to Carousel Bar & Lounge is a fun and sophisticated way to end your evening. This unique spot features a carousel bar that actually revolves like a real carousel. In addition to this charming feature, the bar serves a range of delicious New Orleans cocktails.
NOLA-themed drinks to try include a Vieux Carre cocktail and a Sazerac cocktail. No matter what you drink, relaxing at this classy bar is sure to please! Enjoying a luxurious cocktail at Carousel Bar & Lounge is also an ideal date idea for couples in New Orleans.
Spooky Sights and Scrumptious Bites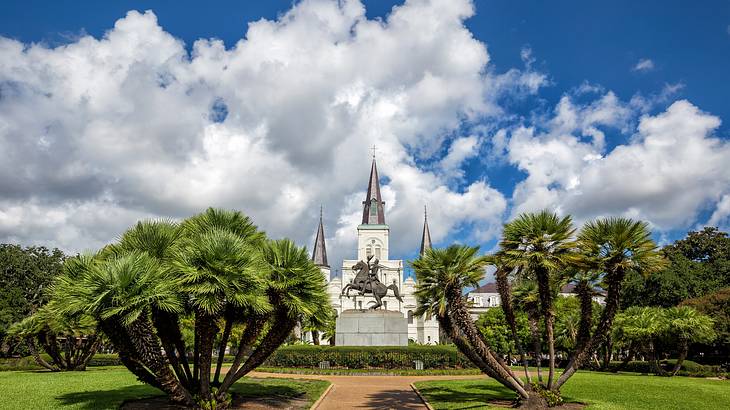 The last day of your three-day New Orleans trip itinerary will take you to some haunted locations and see you try some of the city's best dishes. Your first stop is the French market, where you can get breakfast before shopping at an array of independent shops.
Having built up an appetite while shopping, join a NOLA food tour to visit some of the city's best eateries. Next, you'll go to two iconic attractions, Jackson Square and the St. Louis Cathedral, before stopping for some sweet treats at Cafe Beignet. You'll spend your evening on a spooky cemetery tour, learning about New Orleans' most haunted spots.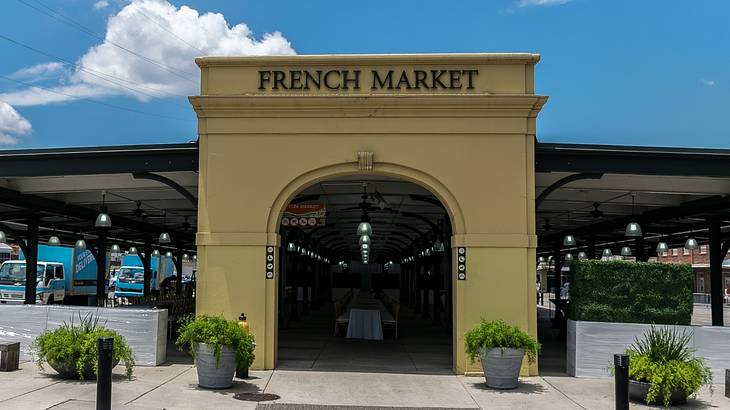 French Market - Shops of the Colonnade
New Orleans French Market, also known as the Shops of the Colonnade, comprises a market and shops that cover six blocks. Interestingly, before European colonization, this site was a Native American trading post.
As you wander around the market, you'll find unique shops and art galleries. If you have a sweet tooth, you'll be glad to hear that the market also features a vast array of confectionary stores selling fudge, praline, and more. You can also choose from various dining options, including the famous Cafe du Monde, which has an outlet here.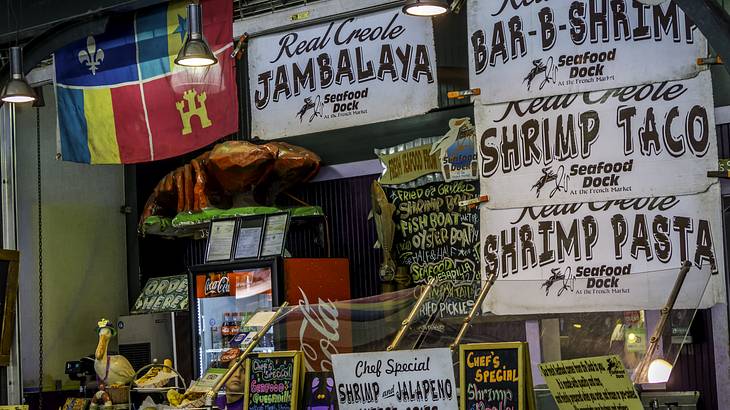 New Orleans Food Tour
Taking a New Orleans food tour is the best way to try the array of outstanding cuisine on offer in the city. You can find multiple tours to choose from that will take you to popular eateries and hidden gems.
Dishes you may try include gumbo, praline candy, beignets, and red beans and rice. As you go between restaurants, you'll also get to see more of NOLA's attractions and landmarks.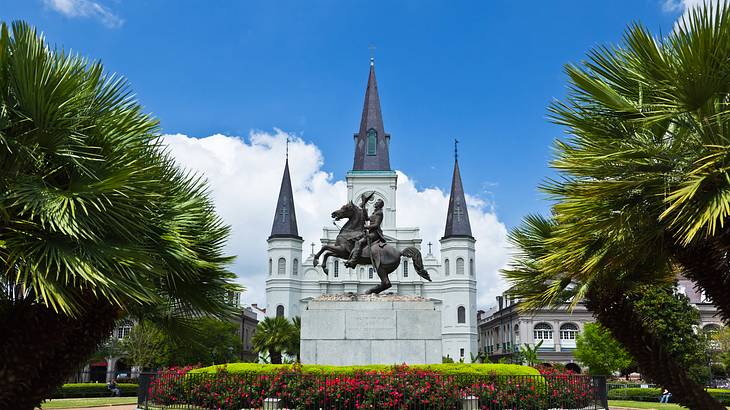 Jackson Square and St. Louis Cathedral
Jackson Square is a renowned park located in the French Quarter that notably houses the St. Louis Cathedral. It was also formerly a public execution site, and many think that the square is haunted by those executed there.
Having wandered around the historical square, be sure to visit St. Louis Cathedral. The Roman Catholic basilica is designed in a gothic style and resembles a castle. Inside, you'll find high ceilings, religious art and statues, and pretty stained glass windows. Like Jackson Square, St. Louis Cathedral is said to be one of the most haunted places in New Orleans.
Cafe Beignet
Cafe Beignet is an iconic NOLA eatery with multiple locations across the city. The most famous outlet is the original location on Royal Street. As the name suggests, Cafe Beignet is known for its delicious beignets, a sweet French dough treat dusted in powdered sugar, with additional toppings available.
Along with yummy beignets, you can order waffles, omelets, sandwiches, and much more. A stop at Cafe Beignet is an absolute must during your three days in New Orleans.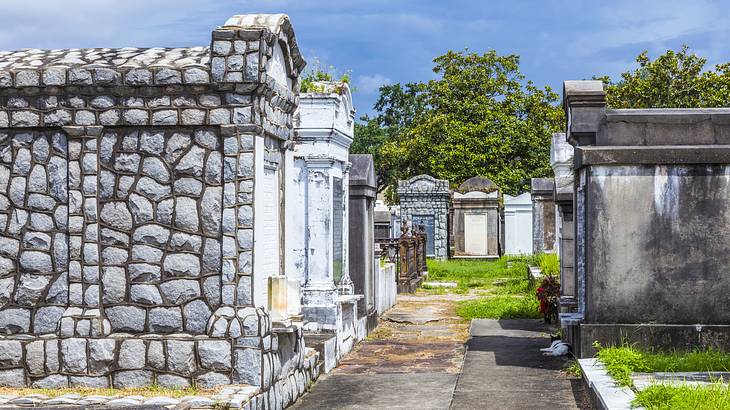 New Orleans Cemetery Tour
New Orleans is known as one of the most haunted places in the United States, and taking a cemetery tour is a must for those interested in the paranormal. The spooky tour will take you to St. Louis Cemetery No.1, one of NOLA's many haunted attractions. The cemetery also features some notable graves, such as that of Voodoo Queen Marie Laveau.
Other places you'll visit could include the Masonic Temple Cemetery and the Lafayette Cemetery. Daring to go on a New Orleans cemetery tour is an exciting and unique way to end your weekend in the city!
In Summary
New Orleans is the perfect destination for a three-day trip. Whether you're planning a weekend trip or looking for an exciting city to add to an extended vacation around the US, New Orleans is a tourist favorite that you must visit at least once.
Give us feedback about this article
Learn more about New Orleans:
More articles about Louisiana:
Read more articles about the United States:
More visual stories related to this article:
---
---
Want to keep exploring?
Subscribe for discounts on tickets and hotels and our latest guides.
Thank you for subscribing
We will be in touch soon with discounts on tickets and hotels and our latest guides.
Want to keep exploring?
Subscribe for discounts on tickets and hotels and our latest guides.
Thank you for subscribing
We will be in touch soon with discounts on tickets and hotels and our latest guides.
Related Articles