35 Fun & Best Boston Date Ideas to Impress Your Other Half
Destguides may receive commissions from purchases made through affiliate links in this article.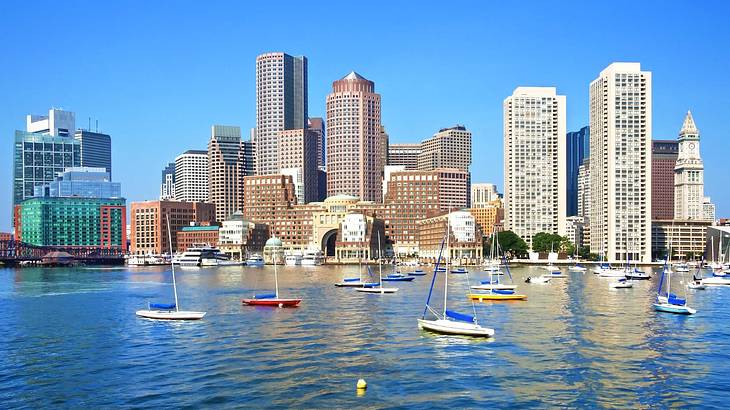 Boston is a well-known city in the New England area of the US. The destination notably has many things for couples to do together. Whether you live in the city with your partner or are visiting, there's certainly no shortage of fun things to do!
Some of the best Boston date ideas include taking cooking classes, going on a sunset cruise in Boston Harbor, and checking out trendy bars, coffee shops, and restaurants. Keep reading for 35 of the best things for couples to do in Boston.
35 Romantic Things to Do in Boston for Couples
Fun Things for Couples to Do in Boston, MA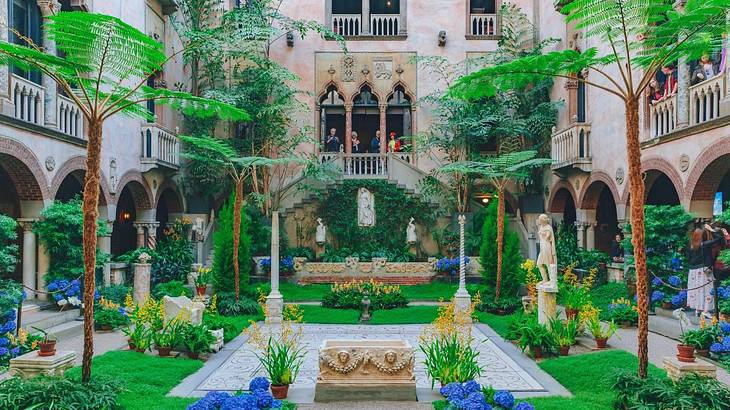 Admire artworks at the Isabella Stewart Gardner Museum
A must-visit spot for couples that love art is the Isabella Stewart Gardner Museum. Founded in 1903, the gallery houses a vast collection, including paintings, sculptures, and even rare books. After viewing the artworks, you can visit the pretty courtyard filled with plants and flowers.
Explore Boston Public Market
Boston Market is an indoor market that hosts a variety of vendors. One of the most fun Boston date ideas is exploring the market with your date. You can get a variety of dishes and baked goods, as well as shop for produce and drinks, like coffee, fresh juice, and even cocktails.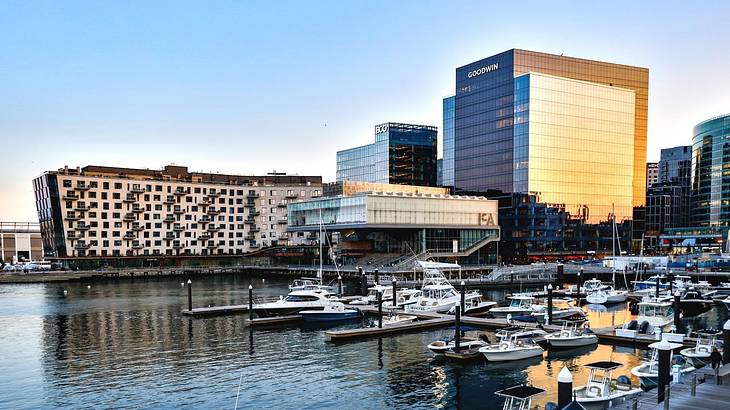 Visit the Institute of Contemporary Art
There are various Boston nicknames that relate to the city's history as a cultural hub, so it's not surprising there are many museums and galleries to visit. Another art gallery to go to with your date is the Institute of Contemporary Art.
The gallery has a variety of modern art exhibitions, including lots of temporary exhibits, meaning you get to view new works even if you've visited before! The venue also hosts events and offers free admission on Thursday evenings.
See the Boston Symphony Orchestra
The Boston Symphony Orchestra is the second-oldest of the five major symphony orchestras in the United States. If you and your partner like classical music, spending an evening watching the Boston Symphony Orchestra is a perfect date idea. The orchestra performs at Symphony Hall, which also hosts other musical acts throughout the year.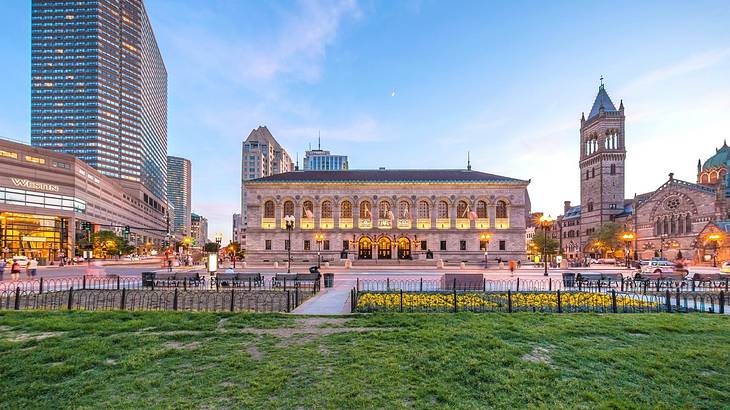 Go to the Boston Public Library
The Boston Public Library has multiple locations across the city, but the most famous is the Central Library. This Renaissance-style building is stunning to see and is a fun place to explore with your date.
Once inside, you can view a range of books and publications and admire the grand reading room. You and your date could also each pick a book and hang out in the impressive library while you read.
Experience a cocktails and cannoli tour
If you and your date like sweet treats and good drinks, book a cocktails and cannoli tour. On this excursion, you'll explore Little Italy, visiting bakeries and bars. Before tasting some delicious signature cocktails, you can try dessert samples, including cannoli and gelato.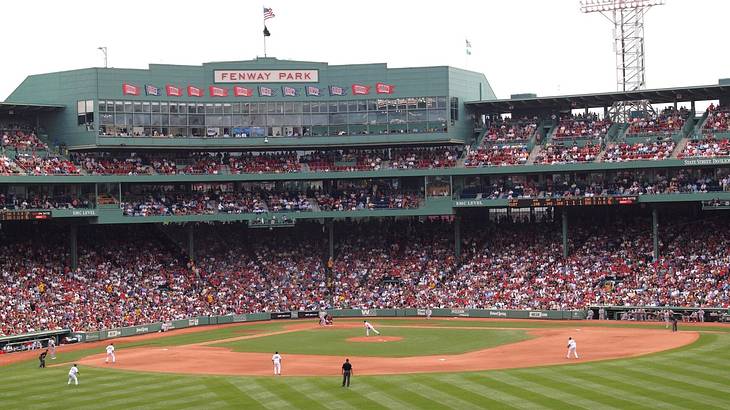 Cheer for the Red Sox at Fenway Park
The Boston Red Sox are one of the most well-known teams in MLB. So if you and your partner are sports fans, a fun Boston date idea is watching the Red Sox play at Fenway Park.
You can see the team during the regular season between the end of March to the start of October. Boston locals really love this team, so the atmosphere at games is very exciting and memorable!
Try delicious dishes on a Boston food tour
If you and your date are foodies, one of the fun Boston dates you have to try is going on a Little Italy food tour. This excursion will take you to the best eateries in the area, where you can sample pizza at three top pizzerias and try a variety of other Italian dishes and snacks, including cannoli.
As you walk between each spot, you can see some Boston landmarks and learn some Boston facts from your guide.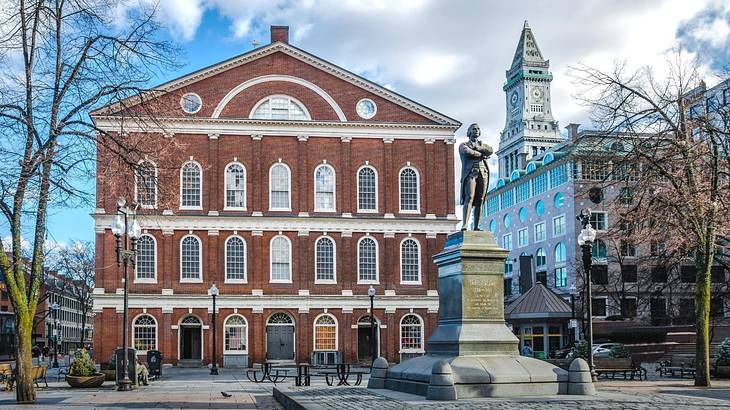 Shop at Faneuil Hall Marketplace
Another marketplace in Boston to visit with your date is Faneuil Hall Marketplace. The marketplace building was constructed in 1742 and today hosts a range of vendors. Things on offer range from crafts and souvenirs to produce and gourmet food items.
For those visiting the city, a trip to Faneuil Hall Marketplace definitely has to be on your Boston itinerary.
Dine at the Fairmont Copley Plaza
The Fairmont Copley Plaza is a luxury hotel in Boston that's a great place to stay with your partner when visiting the city. If you live in Boston or have other accommodation, you can still experience the hotel by dining at its restaurant, the Oak Long Bar + Kitchen.
This stylish eatery serves breakfast, brunch, and dinner and offers classic American dishes with a contemporary twist. You can accompany your meal with craft cocktails or order from an extensive wine and liquor list.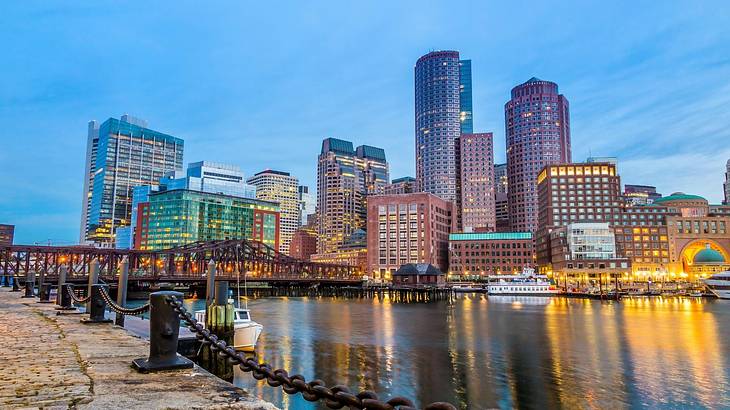 Sail through Boston Harbor at sunset
Sailing through Boston Harbor at sunset is one of the most romantic things to do in Boston for couples. It's also one of the best things to do at night in Boston!
Once aboard the vintage-style sailboat, you'll cruise through the harbor, admiring the sunset and the Boston skyline. There's also a cash bar on board, and you can view the starry night sky as you sail back toward land.
Cook new dishes at an Italian cooking class
Do you and your other half love Italian food? Instead of going to an Italian restaurant, why not learn to cook fantastic dishes yourself?
When taking an Italian cooking class, you'll be given step-by-step instructions on how to make favorites like handmade pasta, chicken marsala, and tiramisu. This course offers a great way to bond with your date, learn new skills, and enjoy delicious dishes!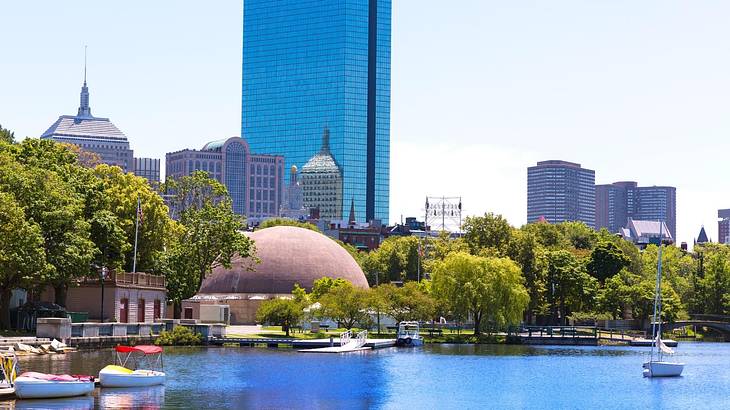 Wander around the Charles River Esplanade
The Charles River Esplanade is a waterfront park with trails, gardens, and more. It's the ideal place to go for a romantic walk with your date. Other things to do in the park include boating, jogging, and attending events together, like outdoor yoga sessions.
Discover the best donuts in Boston!
Going on a donut tour is one of the most fun things to do in Boston for couples that have a sweet tooth! This tasty tour will take you to multiple donut shops where you can taste samples and buy boxes of your favorites. As you explore, you'll find shops and taste flavors that you likely wouldn't have discovered alone.
Stroll through Boston Public Garden
Another beautiful place to go for a walk with your date is Boston Public Garden. Located adjacent to Boston Common, the 24-acre space features a lagoon, colorful flower gardens, and lots of greenery. Along with going for a walk, you can hang out on the lawns or rent swan boats to sail on the lagoon.
Tour the Samuel Adams Boston Brewery
The Samuel Adams Beer Company is well known in the US and has its headquarters in Boston as part of the Boston Brewing Company. The city also houses a brewery that's open for tours.
On a Samuel Adams Boston Brewery tour, you and your date can learn more about the brewing process and taste samples. You can then head to the patio to enjoy a pint or two of your favorite brew.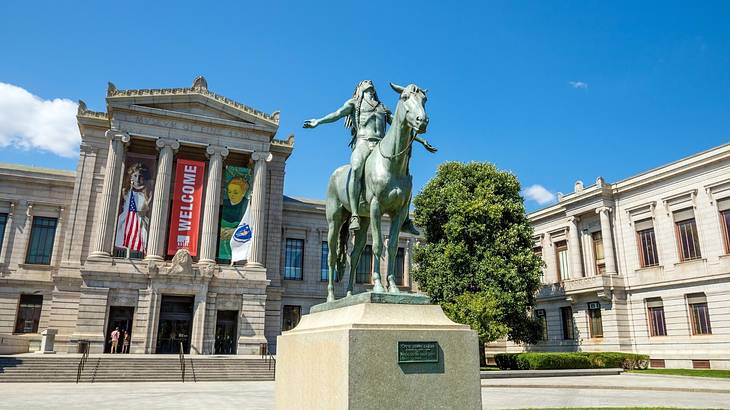 Look around the Museum of Fine Arts
The Museum of Fine Arts is a renowned art gallery founded in 1870. It's the 20th largest art gallery in the world, covering over 600,00 square feet, and has a collection of 450,000 pieces. As you explore, can view a range of art mediums on display. You'll also be able to see many iconic artworks by world-renowned artists.
Listen to live music at Scullers Jazz Club
If you're planning a date night and you and your partner want to listen to live music, going to Scullers Jazz Club is a must. Known as "Boston's #1 Jazz Club," the bar hosts shows by well-known and up-and-coming jazz musicians. As you enjoy the performance, you can order drinks, including signature cocktails and mocktails, plus a variety of appetizers, main meals, and decadent desserts.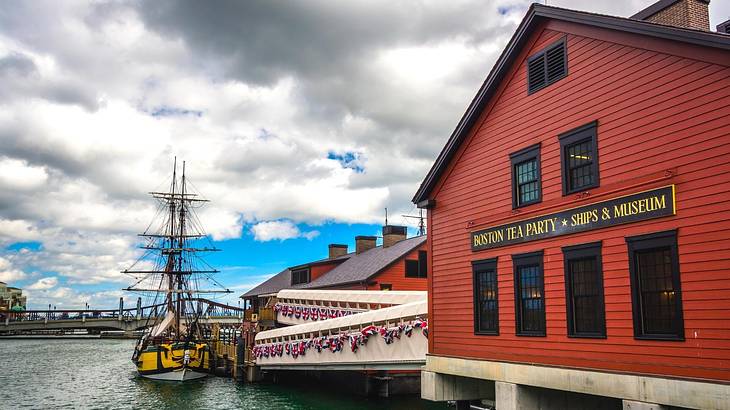 Learn something new at the Boston Tea Party & Ships Museum
One of the most unique attractions to visit with your date is the Boston Tea Party & Ships Museum. The museum is housed in a replica of an 18th-century ship and covers the famous Boston Tea Party.
When visiting this Boston landmark, you may also see historical reenactments. Buying admission tickets for the Boston Tea Party & Ships Museum in advance is recommended.
Get ice cream at Taiyaki NYC
Treating yourselves to some ice cream is a date idea that's sure to please! A popular place to get frozen treats in Boston is Taiyaki NYC.
This Japanese-inspired ice cream shop sells a variety of flavors, from classics like chocolate and strawberry to red bean and roasted matcha. No matter what flavor you choose, you can opt for a cute fish-shaped cone, or an ice cream tub with teddy bear faces on it!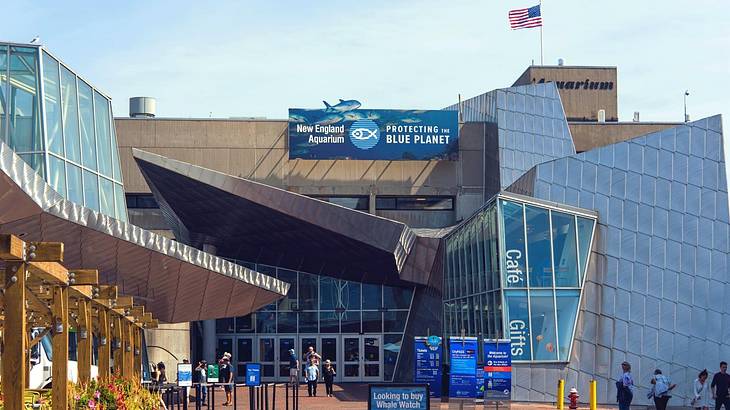 Spot marine life at the New England Aquarium
Going to the New England Aquarium is one of the laid-back and fun dates in Boston, MA, for those planning to hang out during the day. The aquarium is home to 15,000 marine animals of 600 species.
Creatures to see range from tropical fish and jellyfish to sea turtles, penguins, and sea lions. As this attraction is popular, buy New England Aquarium tickets before you arrive to avoid waiting in line.
Bar hop on a history pub crawl
Boston has a rich history and lots of fantastic pubs and breweries. A fun way to combine these two things is by going on a Boston history pub crawl.
Your guide will take you along the Boston Freedom Trail, stopping at historic sites and offering more information on their significance. You'll stop at popular pubs between historical landmarks where you can get some drinks.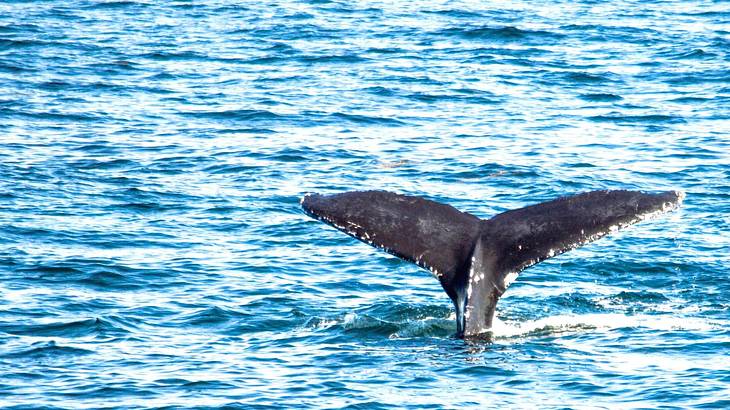 Search for whales on a whale-watching cruise
Experiencing a whale-watching cruise together is one of the best dates in Boston, MA, especially if you want to do something very memorable. The cruise will take you to areas within the Stellwagen Bank National Marine Sanctuary that are known to be home to fin and humpback whales.
You may also see white-sided dolphins while on the water. May to October is the best time to visit Boston to spot whales as they migrate to the warm Atlantic waters for the summer and early fall.
Have a coffee date
Simply getting coffee together is one of the cute dates in Boston, MA, to add to your date ideas list. A cool spot to check out is Ogawa Coffee. This Japanese coffee chain serves a variety of hot and cold drinks, including those with fantastic latte art.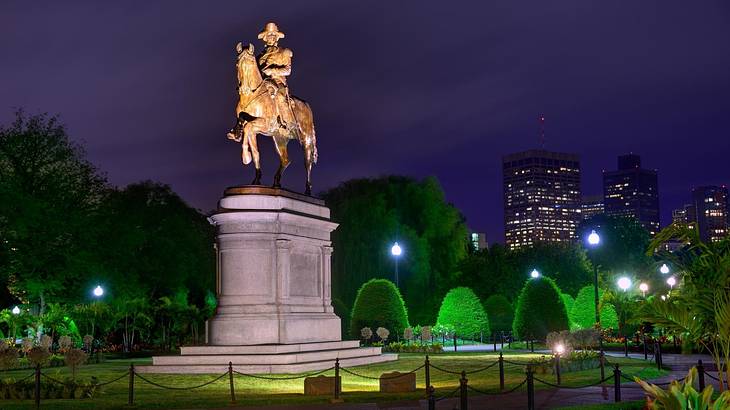 Dare to explore Boston after dark on a ghost tour
A unique date night idea is joining a Boston ghost tour. You and your partner will visit a range of haunted sites, including Copp's Hill Burying Ground and Boston Common. You'll hear spooky tales of eerie events and paranormal sightings at each stop.
Relax at the Mandarin Oriental spa
Going to the spa is the ideal way to unwind, and it's also one of the most romantic things to do in Boston, MA, with your partner. To really treat yourselves, book some treatments at the Mandarin Oriental spa. Treatments include facials, massages, and body treatments like scrubs. Spa guests also have access to saunas and pools.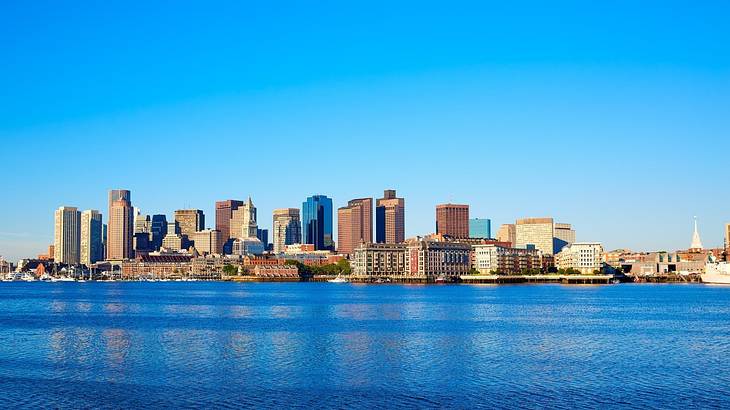 Luxuriate on a brunch cruise
A fun way to have brunch with your date is by going out on the water on a brunch cruise. This two-hour scenic boat ride will take you through Boston Harbor and past landmarks like the Bunker Hill Monument and Castle Island. As you sightsee, you can enjoy a three-course brunch, and drinks, like mimosas, are available for an additional cost.
Enjoy cocktails at a trendy bar
There are many bars in the Boston area to choose from when planning to get drinks together. If you and your date like cocktails, there's also no shortage of excellent cocktail bars.
Backbar is one spot just outside Boston that you have to visit. This popular and stylish bar serves a variety of unique drinks, like a gin, strawberry, and almond mix, and a drink called "Big Bird" that includes sesame oil! Yvonne's is another cool spot with a fantastic interior, delicious beverages like sharing cocktails, and a full dinner menu.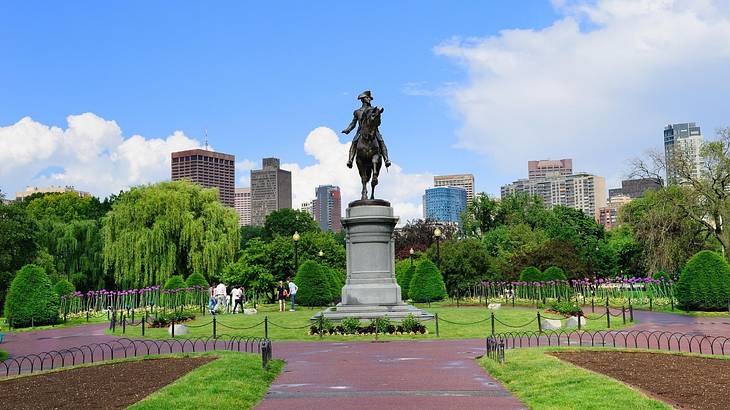 Hang out at Boston Common
Boston Common is a park in downtown Boston that's the oldest city park in the United States. It's the ideal place to spend some time in the fresh air with your date, going for a walk, chatting on the grass, or having a picnic. In the winter, you can also visit the Boston Common Frog Pond ice skating rink.
Fun Things to Do Near Boston on a Date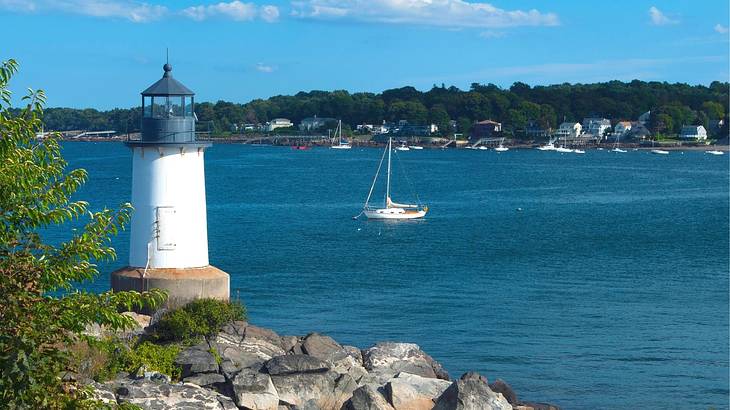 Plan a day trip to Salem
A unique day trip to plan with your other half is going to Salem. The city, known by most for its witch trials in the 1600s, is located just 45 minutes from Boston when driving. You can also take a boat from Boston to Salem and back, which takes about an hour each way.
Once in this fascinating town, you'll discover many things to do in Salem, MA. Activities include learning more about the witch trials, shopping at supernatural-themed stores, and wandering along the waterfront. There are also a variety of interesting tours to book in Salem.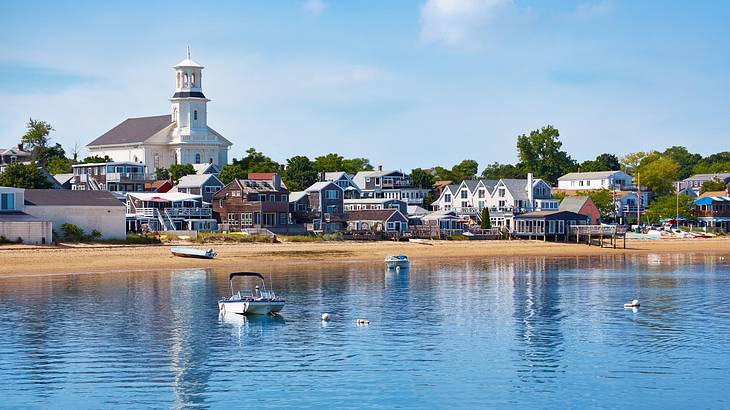 Check out the breweries in Cape Cod
Cape Cod is a peninsula in Massachusetts known as a coastal getaway destination. Located just under two hours from Boston, it's a tranquil place to go with your partner for a day trip or weekend getaway.
One of the best things to do in the area is visit the many breweries on Cape Cod. You'll find a variety of breweries that serve local craft beers and ciders and offer tastings. After visiting breweries, be sure to go to some of Cape Cod's beaches and seafood restaurants.
Watch a movie at Coolidge Corner Theatre
A movie date is a classic idea, but to make it a little more unique, take your partner to the Coolidge Corner Theatre. Opened in 1933, today, the vintage movie theater shows independent films, plus some classic movies and a few newer releases.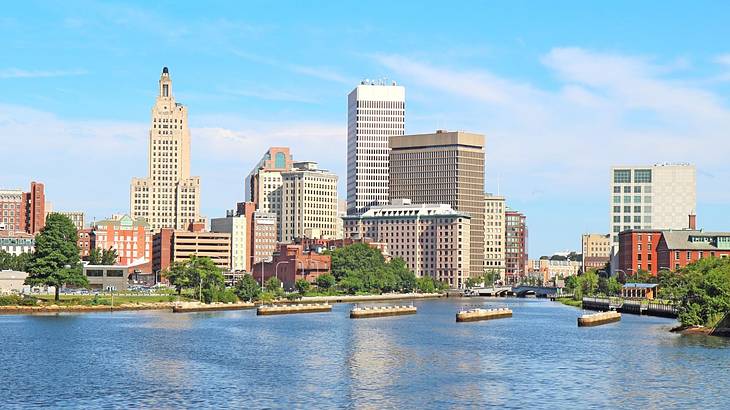 Road trip to Providence, Rhode Island
A fun place to go on a mini road trip with your date is Providence, Rhode Island. This New England city is located about an hour from Boston and features beaches, scenic parks, and many other attractions.
You and your date will also be able to visit an array of Rhode Island landmarks like the Rhode Island State House, and you can book some unique Providence excursions.
Spend a day in Martha's Vineyard
Another of many amazing destinations close to Boston for a day trip is Martha's Vineyard. Situated about two and a half hours from Boston, the island features stunning beaches, coastal trails, and classic New England seaside architecture.
You and your date can drive yourselves or opt to join a Boston to Martha's Vineyard day trip tour.
Experience a performance at the American Repertory Theater
Located on the campus of Harvard University, the American Repertory Theater is an iconic theater company in Massachusetts. If you and your partner are interested in seeing a show here, you'll have many genres to choose from. Performances include iconic plays, shows based on literature, and those that cover significant events and societal issues.
In Conclusion
This list covers all the most romantic things to do in Boston, Massachusetts and more unique and quirky date ideas. No matter what you and your other half enjoy doing, you can find an activity for you in Boston!
Give us feedback about this article
Learn more about Boston:
More articles about Massachusetts:
Read more articles about the United States:
More articles about date ideas:
More visual stories related to this article:
---
---
Want to keep exploring?
Subscribe for discounts on tickets and hotels and our latest guides.
Thank you for subscribing
We will be in touch soon with discounts on tickets and hotels and our latest guides.
Want to keep exploring?
Subscribe for discounts on tickets and hotels and our latest guides.
Thank you for subscribing
We will be in touch soon with discounts on tickets and hotels and our latest guides.
Related Articles