35 Unique, Cool & Weird Things to Do in Portland, Oregon
Destguides may receive commissions from purchases made through affiliate links in this article.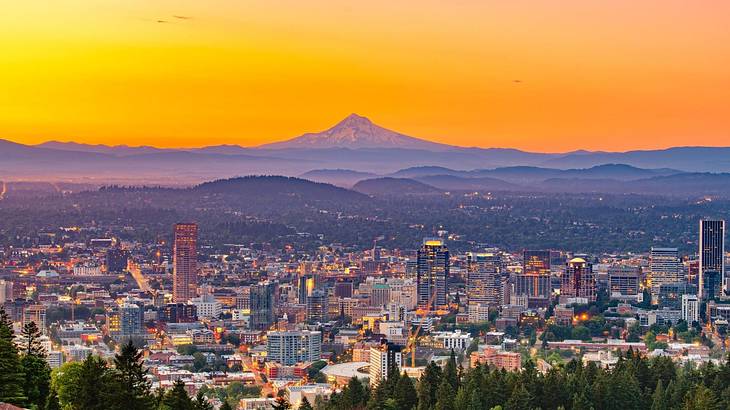 What makes Portland weird? The answer may not be simple, but it's apparent that the people who call it home are working tirelessly to keep it that way.
While it may be hard to pinpoint a single cause, these 35 weird things to do in Portland showcase the people working hard to keep it that way.
Get ready to let Portland cast its deliberately odd spell on you. Be warned, though: it will be difficult to return to the predictability of wherever you came from!
35 Unique Things to Do in Portland, Oregon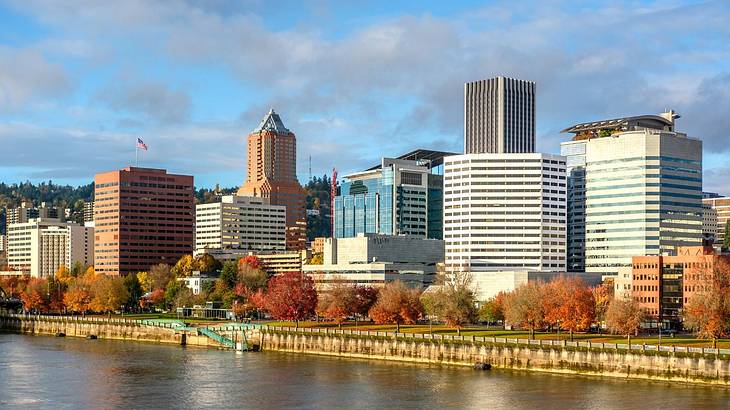 Walk around Downtown Portland
Downtown Portland encompasses many of the locations on this list, but it deserves its own mention. The restaurants, shops, and people you'll meet in this unique and walkable area are what make the city so popular.
For an overview of the city, you can sign up for the Best of Portland Tour. Downtown is also one of the best places to stay in Portland, and booking your accommodation here allows you to explore even more!
Go medieval at the Oregon Renaissance Faire
At the intersection of history nerds, cosplayers, LARPers, and theatre geeks lies the refreshingly large niche for Renaissance Fairs.
If you (hopefully) identified with one or more of those terms and the calendar reads "June," head to the nearby Oregon Ren Faire donning your historically accurate tunic and inconsistent English accent.
Unmoor yourself at the Freakybuttrue Peculiarium
One part freaky museum and one part Island of Misfit Toys, this place lovingly embraces the uncanny in a way that keeps it one very important step shy of our nightmares.
Come in costume for free admission to see an alien autopsy, a life-size bigfoot, and more creepy-cool things than you can count.
Wander through Alberta Arts District
Alberta Arts District is packed with cool stuff to do in Portland. One of the most unique things you'll find in this district is the Window of Wonders.
All items in this ever-changing window exhibit are made from reclaimed wood and create tableaus that feature anything from protesting penguins to sporty lizards.
Eat at Blue Star Donuts
These donuts for grownups are a staple among Portlanders, and their deep-fried pastries range from deliciously intricate to downright confusing.
Blue Star isn't the only act in town, though, and there's an ongoing rivalry with several other shops that divides residents and visitors alike. So you should probably just be safe and try them all on a Portland donuts tour.
Peruse Powell's City of Books
At the literal and figurative heart of Portland, an entire city block of downtown real estate is devoted to the country's largest independent bookstore.
Powell's City of Books is a much-loved Portland landmark that sells books from every genre imaginable. Visiting is a must for anyone looking for unique Portland activities.
Delve into the Shanghai Tunnels
An interesting Oregon fact relating to Portland is that the city has lots of underground tunnels, with the Shanghai Tunnels being the most well-known.
During the 1800s, Portland's shady underground crime scene was quite a literal term. The catacombs were home to drug smuggling routes, brothels, and human trafficking between the United States and China.
Today, you can tour these mysterious tunnels! You can even pair your dark tourism with a few drinks by signing up for the haunted Shanghai Tunnel tour with beer tasting.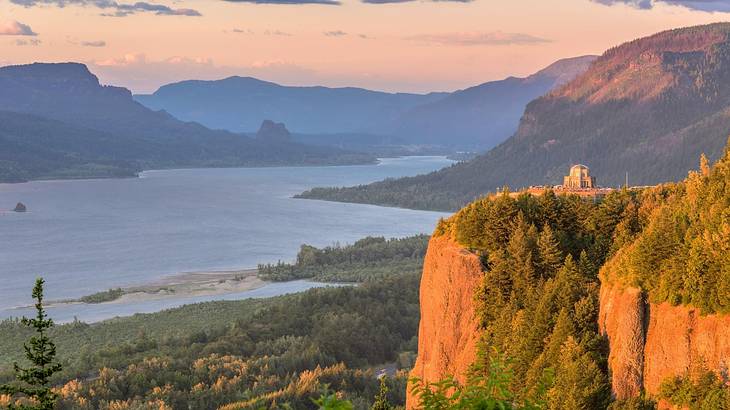 Visit the Columbia River Gorge National Scenic Area
This eighty-mile river canyon was cut from eons of volcanic activity and flooding and now marks the border between Oregon and Washington. It's an easy day trip from Portland to go on a hiking and waterfall tour.
Head to Mox Boarding House
If you love socializing through food, drinks, and board games, you should definitely head to Mox Boarding House. It has party games like Exploding Kittens, strategy games like Settlers of Catan, and role-playing games like Pathfinder. Bring a friend or just show up to find like-minded people looking for quirky things to do in Portland.
Dare to hope at the Wishing Tree
An otherwise unremarkable chestnut tree in Northeast Portland bears some uniquely optimistic fruit. In 2014, the owner of the property hung her wishes on tags from the tree, encouraging others to do the same. Ever since, the hopes and dreams of passersby have been added, waiting to seed the expectant earth below.
Eat healthy at Casa Diablo Vegan Strip Club
It's hard to have a list of weird stuff to do in Portland without including their vegan strip club. It was originally a pirate-themed family restaurant, but the owner had a hard time selling vegan cuisine in this blue-collar part of town. He has since taken a different direction with his business but has kept much of the old menu.
Hike through Forest Park
The Pacific Northwest is famous for its rainfall, which brings thick, jungly vegetation. Forest Park is a 5,200-acre region of this microclimate with urban hiking tours and self-guided walks of its eighty miles of hiking trails.
Experience Wyrd Leatherworks and Meadery
Shopping for handmade leather goods while drinking artisan mead may not have been something you knew that you needed. Wyrd Leatherworks and Meadery exists to show you that you do. After your visit, it will be one of the offbeat things to do in Portland that you'll want to tell everyone about.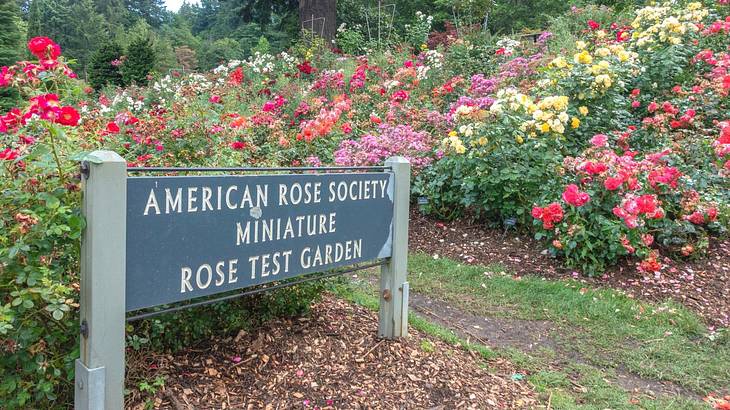 Go to the International Rose Test Garden
The International Rose Test Garden contains over 610 rose varieties and is one of only a handful of national testing grounds for the American Rose Society.
You can stop and smell the roses and enjoy the fragrances and vibrant colors they are constantly cultivating. The best time to visit Portland to enjoy these flowers in full bloom is in the spring or fall.
End up in detention at McMenamins Kennedy School
In this elementary-school-turned-hotel, former classrooms are now bedrooms, and a boiler room has become a bar.
This kind of creative reimagining has made it one of the most unique things to do in Portland, OR. Stop by to find out how what has become of the Principal's office and where they've installed their soaking pool.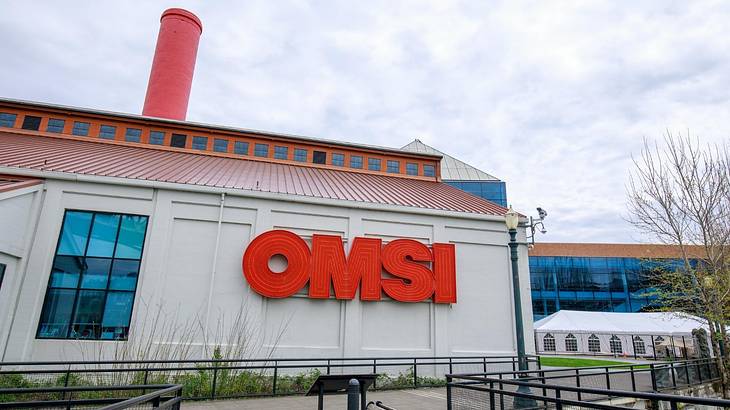 Learn about science and local nature at OMSI
If you're traveling with kids, the Oregon Museum of Science and Industry has interactive exhibits, classes, and summer camps, and classes where they learn about nature in the Willamette Valley. Adults can enjoy OMSI after dark, with rotating exhibits and activities to keep you coming back.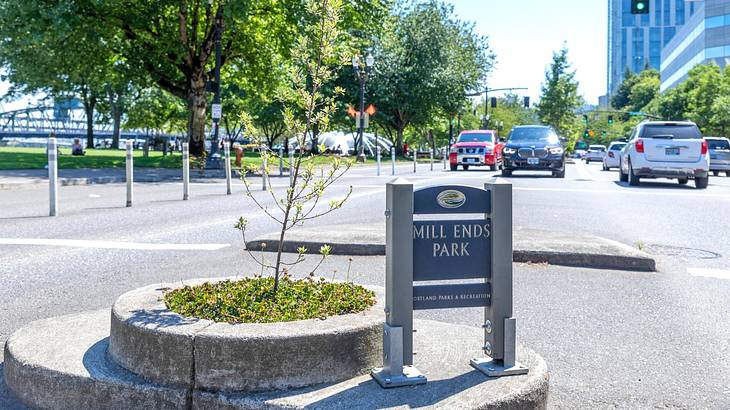 Squeeze into Mill Ends Park
Spanning a whopping 452 square inches and holding a single tree, Mill Ends Park is quite literally one of the hidden things to do in Portland. This glorified patch of ground has held the Guinness Record for the world's smallest park since 1971.
Stay at the Tiny House Hotel
This tightly packed collection of tiny houses with a common courtyard makes for a one-of-a-kind experience to travel Portland in space-efficient style.
The Tiny House Hotel in the Alberta Arts District is a great place to practice minimalism and meet people from around the world.
Have a pint at Treebeard's Taphouse
Treebeard's Taphouse is a must for the Lord of the Rings and craft beer crossover audience. Come for Elevenses and stay for Afternoon Tea if you're a true hobbit. Their rotating tap list definitely comes in pints, so belly up to the bar and make yourself comfortable.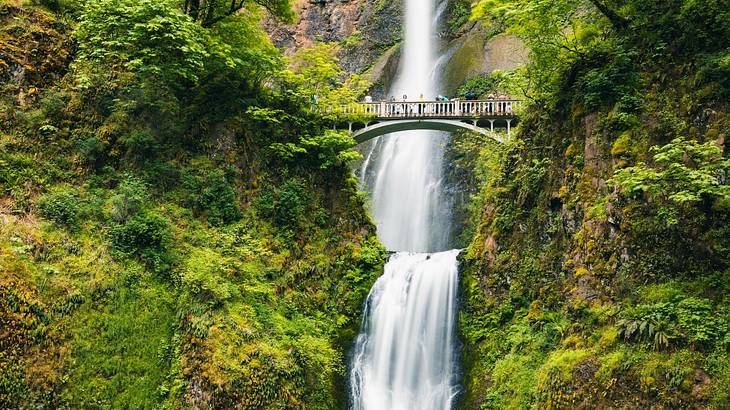 Walk to Multnomah Falls
Multnomah Falls cascades more than 600 feet down the mountainside and is one of the cool places in Portland, found just thirty minutes from the city center. The falls is visible from the highway, but you can sign up for a half-day tour if you want some more time there.
Make furry friends at Purrington's Cat Lounge
At Purrington's Cat Lounge, you can grab a coffee, tea, or beer at the cafe or hang out with adoptable cats in the lounge area. Or both. Be sure to call in advance to schedule your visit!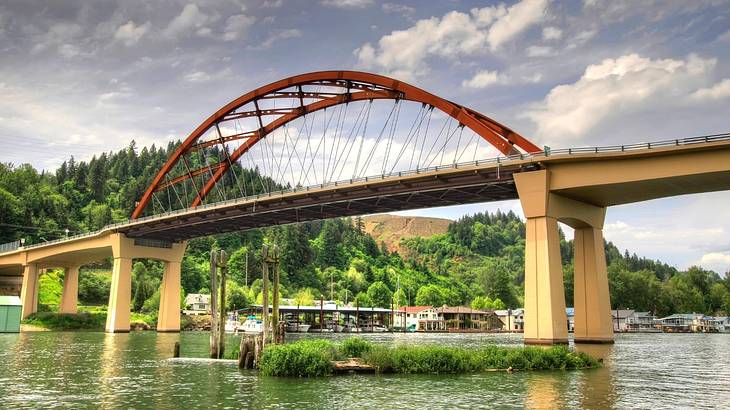 Probe the UFO Boat on Sauvie Island
You may not be surprised to find that Portland is home to a nude beach, but perhaps you didn't expect to see a UFO there.
The UFO design hides its true purpose as a boat for the coming apocalypse its builder foresaw, and today the would-be life raft has morphed into a graffiti masterpiece.
Go Axe Throwing
Axe throwing has reemerged as a surprisingly popular activity in Portland, with several locations popping up in this historic logging center to hone your woodsy skills.
Portland Axe Throwing and Celtic Axe Throwers are good starting points to practice this highly impractical (but very fun) lost art.
Get ghosted at Rimsky Korsakoffee House
"The Rimsky" is a spooky town staple and one of the weird Portland attractions you should put on your list. The artistically creepy Victorian mansion is supposedly haunted, but then all you're likely to find is a cup of its renowned coffee and a delicious dessert...to die for.
Lick the plate clean at Pine State Biscuits
If you hail from the American South, the home-cooking at Pine State Biscuits may not seem too strange. Still, its owners show an uncommon devotion to making the perfect biscuit. Fried chicken, Carolina pulled pork, and other southern dishes speckle the restaurant's menu as well.
Visit the Pittock Mansion
Henry Pittock, an Oregon Trail migrant and later industrial tycoon, built this mansion overlooking Portland. The mansion was later abandoned and nearly destroyed by the Columbus Day Storm in 1962. The city of Portland rallied to raise enough money to buy the property, turning it into a museum.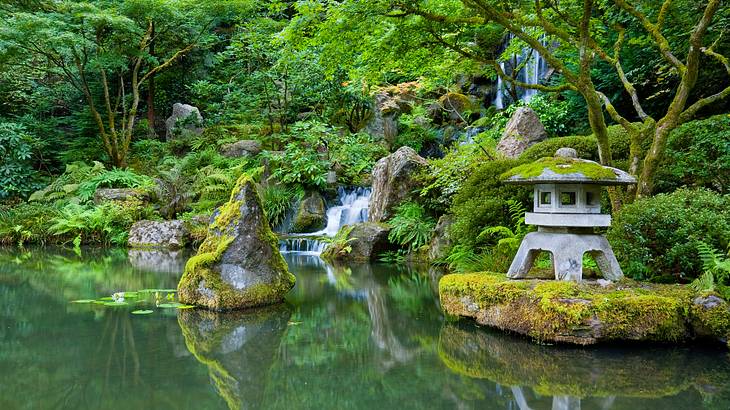 Stroll through the Portland Japanese Garden
It's easy to get lost in Portland's Japanese Garden in Washington Park, a famous Oregon landmark, as its peaceful beauty will have you forgetting how long you've been quietly sitting or strolling. The garden consists of eight unique spaces, each corresponding to aspects of the Japanese art of cultivation.
Get rocked by the Rose City Rollers
For a shockingly brutal evening, catch a Rose City Rollers derby match. Several teams call this arena their home and frequently battle it out at high speeds. Check the schedule to see what's happening if you're in town and looking for underrated things to do in Portland.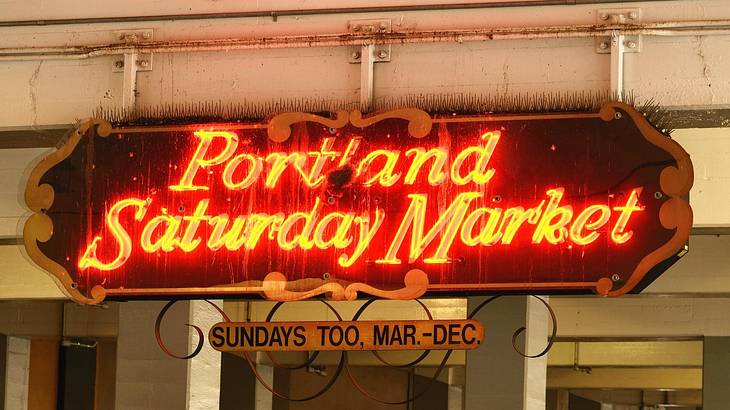 Go shopping at the Portland Saturday Market
For a true taste of Portland, the Saturday Market in the city's historic Old Town is the place to be. The products that you find are as individualized as the people running the stalls, with imaginative artwork, handmade tools and crafts, and a wide range of food truck refreshments waiting to be discovered.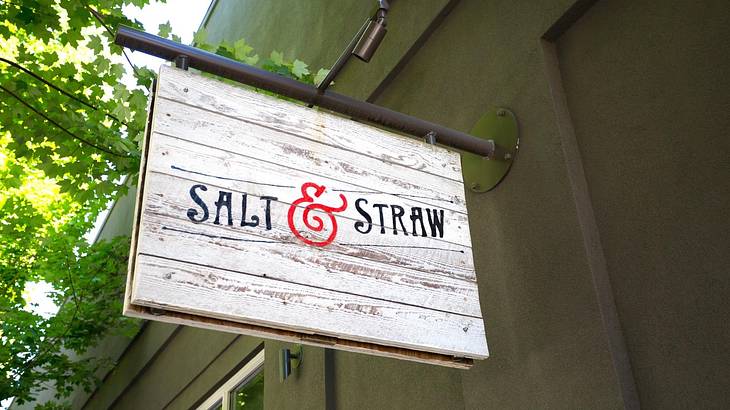 Try unique ice cream flavors at Salt & Straw
The Salt & Straw was born from the desire to bring people together, and ice cream was quickly seen as the most obvious method.
This enthusiasm has led to some very interesting flavors, including Cocoa Puffs 'n Cold Brew and Strawberry Honey Balsamic with Black Pepper.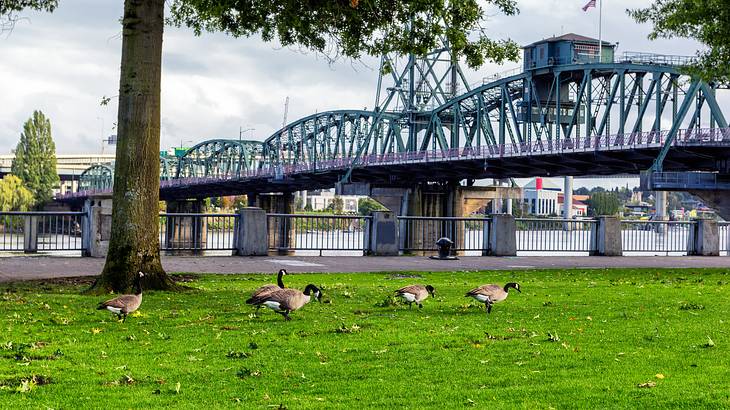 Walk along Tom McCall Waterfront Park
Tom McCall Waterfront Park is an urban bastion of recreation, art installments, green space, and liveability.
Stretching along the Willamette River, this project was originally commissioned to beautify the river's west bank. It has done that and more and is packed with interesting things to do in Portland, Oregon.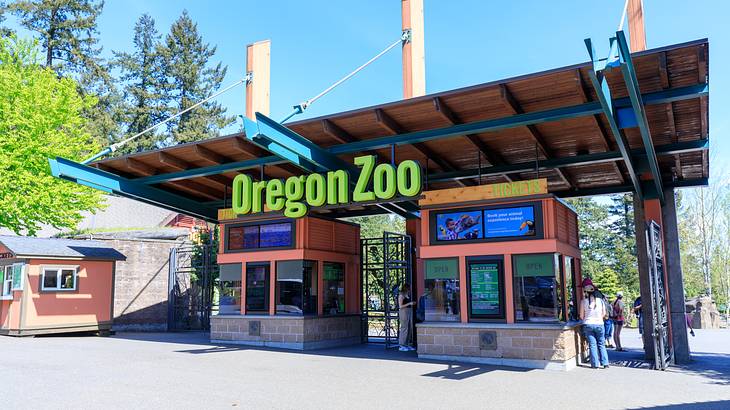 Explore Washington Park
Washington Park describes itself as a "community of destinations" and holds fifteen miles of trail in its 400 acres of land. It also contains Holocaust and Vietnam memorials, an archery range, and the Oregon Zoo.
Wear your birthday suit to the World Naked Bike Ride
This is exactly what it sounds like. The purpose of the annual event is to stop indecent exposure...to vehicle emissions.
Every June, like-minded people from around the world protest oil dependency, with coordinated events taking place in Portland and seventy other cities. Join the cause and go "as bare as you dare."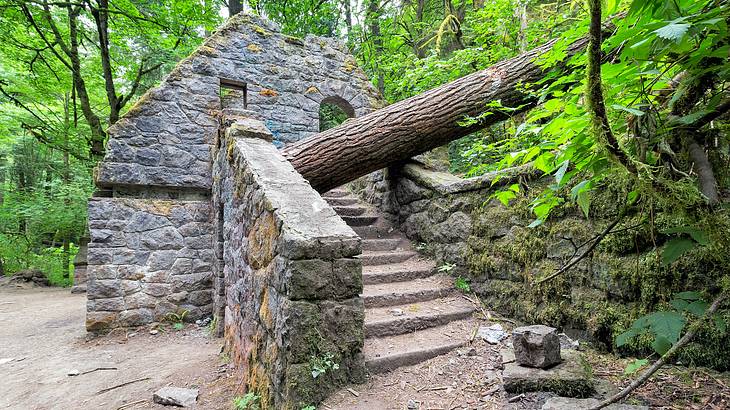 Find the Witch's Castle
The Witch's Castle is saturated with dark history and the slosh of high school keggers, making it one of the weird places in Portland not to miss.
The original owner of the land was the first Oregonian to be legally executed, and more recently, the mossy stone structure has been home to many unauthorized gatherings.
Get tipsy and read at Rose City Book Pub
The Rose City Book Pub doesn't differ much from a typical bookstore cafe, except that it substitutes bartenders for baristas.
Its beverages are typically local, with a tap list rotating through PNW craft beer and regional wine and spirits stocking the shelves.
Conclusion
Portland may be a bonanza of the bizarre, but it leaves you with an appreciation for the range of human expression and possibility.
It will also help let your own freak flag fly and shed any remaining ideas of who and what you're "supposed" to be. Come back enough times, and the weirdest thing you'll find is trying to fit in again when you go back home.
Give us feedback about this article
More visual stories related to this article:
---
---
Want to keep exploring?
Subscribe for discounts on tickets and hotels and our latest guides.
Thank you for subscribing
We will be in touch soon with discounts on tickets and hotels and our latest guides.
Want to keep exploring?
Subscribe for discounts on tickets and hotels and our latest guides.
Thank you for subscribing
We will be in touch soon with discounts on tickets and hotels and our latest guides.
Related Articles