50 Interesting & Fun Facts About Tennessee State to Discover
Destguides may receive commissions from purchases made through affiliate links in this article.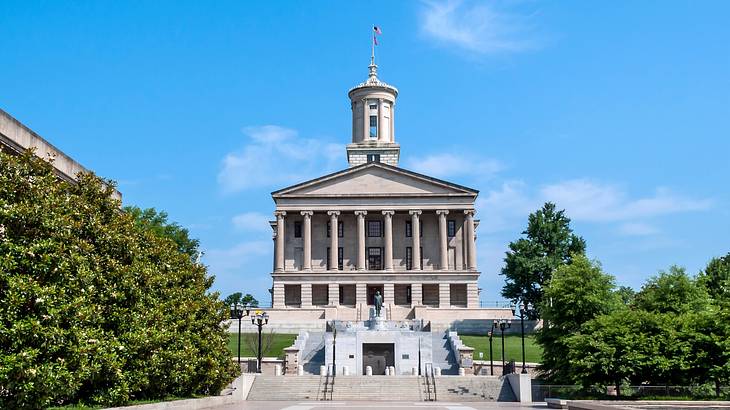 Tennessee has a lot to offer its visitors. After all, it's the country music capital of the United States! However, there's so much more to learn about this state in the South.
Did you know you can visit Graceland, where Elvis lived for much of his career? You can also be entertained by the world's longest-running radio show while you're in Nashville.
No matter your interests, there's trivia about the "Volunteer State" for everyone. Continue reading to learn 50 interesting and fun facts about Tennessee state that might surprise you!
50 Tennessee State Facts
Tennessee Facts Video
Check out our highlights video of Tennessee facts.
Tennessee Fun Facts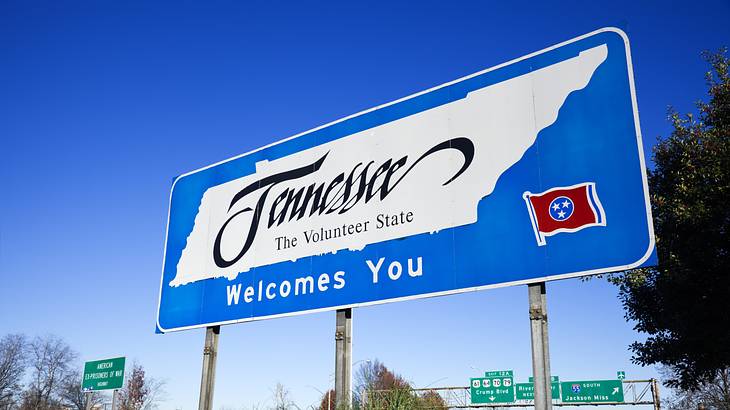 It's known as the "Volunteer State"
Tennessee has multiple nicknames, but the only one that's been made official by the state's government is its moniker "Volunteer State." This nickname for Tennessee might be confusing at first, but it has an interesting history.
During wartime, Tennessee routinely saw large portions of its population volunteer to serve. This dedication to the country has given Tennessee the reputation of being a state full of volunteers the US can rely on.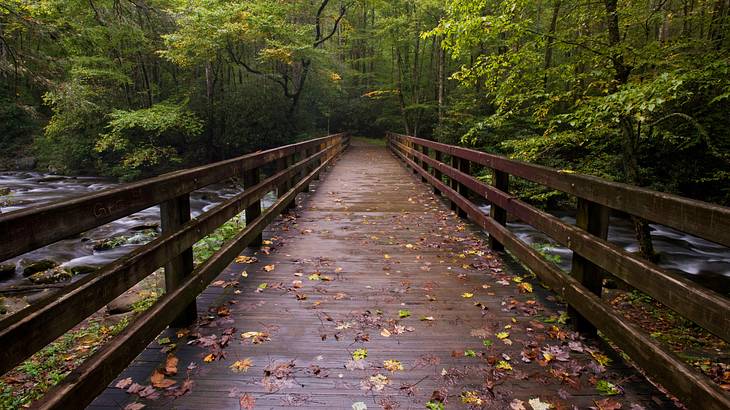 Great Smoky Mountains National Park is the most-visited national park in America
A trip to Tennessee wouldn't be complete without visiting the Great Smoky Mountains. After all, it's the most-visited national park in America.
Every year, over 12 million visitors wander the park's land to admire the dozens of plants and animals that call it home. The geography is ancient and shows traces of the indigenous people who used to live there.
Davy Crockett was born here
Davy Crockett has become a national folk hero thanks to his actions as a politician and as a soldier. Though he's most often associated with the Battle of the Alamo, he wasn't originally from Texas.
Crockett was born in Tennessee in 1786. He had humble beginnings as he and his immigrant parents lived in single-room homes during much of his childhood.
Andrew Jackson was the first Tennessee representative
Andrew Jackson was born in the Carolinas, but he called Tennessee home for much of his adult life. After moving to Nashville, he rose to prominence in politics.
Before becoming the country's seventh president, he was a member of Congress. He was the first member of the House of Representatives to come from Tennessee, and he later served as a state senator.
There are two state birds
If you're interested in looking up the official Tennessee state bird, you'll find two answers. The Mockingbird and the Bobwhite Quail are both state symbols.
The Mockingbird is the official state bird and has had that title since 1933. As for the Bobwhite Quail, it has been the official state game bird since 1987.
The Tennessee Valley Authority keeps the state safe
Tennessee has many rivers that run through its territory. Throughout history, these rivers have routinely flooded, which has caused devastation to the properties that are located near their banks.
The Tennessee Valley Authority (also called the TVA) was created in 1933 to combat this. The TVA manages the state's river systems to help control flooding and to ensure the river's water is safe.
The state is landlocked
If you look at a map, you'll be able to guess a few facts about the state of Tennessee. One of them is that it's completely landlocked.
To be landlocked, a territory can't have any coastal borders, but rivers and lakes are allowed. In the US, there are 27 landlocked states. Tennessee is one of them.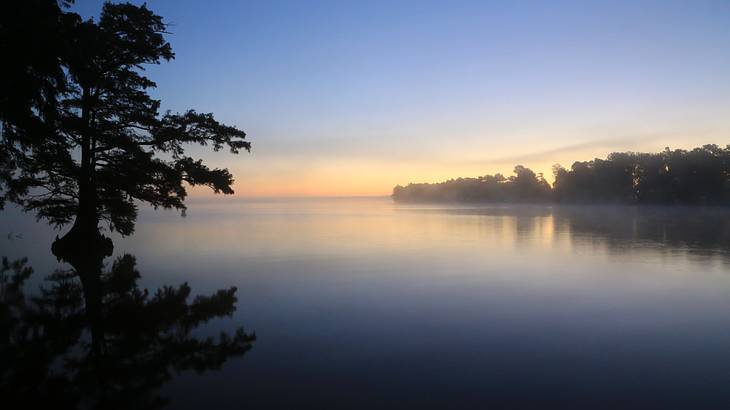 Earthquakes created Reelfoot Lake
Reelfoot Lake covers 18,000 acres. As such, it's easy to believe that's how the area has looked for thousands of years. In reality, the lake is just over 200 years old.
Between 1811 and 1812, three strong earthquakes occurred that caused the geography along the New Madrid Fault to change. Reelfoot Lake's creation was among these changes.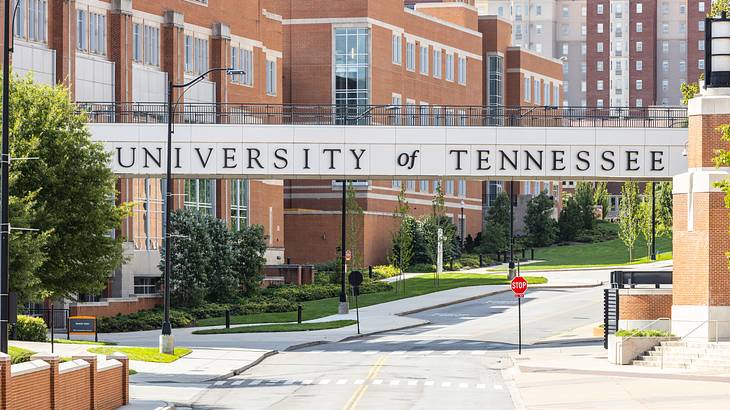 Tennessee State University is a top school
Tennessee State University is a popular choice for higher education among students nationwide. Its campus is spread out over 500 acres of land in Nashville.
The school has built a strong name for itself thanks to its dedication to the students. On average, there's a professor for every 12 students, which creates a prime learning environment.
The Tennessee Walking Horse borrowed its name
If you're looking for interesting Tennessee facts, you'll be fascinated to learn the state has a horse named after it. The Tennessee Walking Horse is a generally calm horse popular among farmers.
The horse gets its name, in part, from the state where it was first bred. The other half of its name comes from the unique way the horse moves, which has been described as a "running walk."
The state is almost half farmland
Farms take up a large portion of the state's territory. Over 77,000 farms are situated on nearly 11 million acres of land. Which means about 40% of Tennessee is farmland.
The Tennessee River's course is unique
The Tennessee River flows through seven states before it joins the Ohio River in Kentucky. Virginia, North Carolina, Tennessee, Alabama, Georgia, Mississippi, and Kentucky all have parts of the river flowing through it.
The portion of the river that flows through Tennessee is particularly unique. It's the only river that flows in and out of a state multiple times.
1930 had the hottest temperature
Thanks to its geographic location, Tennessee has generally mild temperatures. It's not far enough south to have extreme heat, but it's not very far north, either.
Typically the temperature range in the state stays within the 40-degree to 85-degree range, with some variations depending on location. The hottest temperature on record was 113 degrees in 1930.
The Lost Sea is a record holder
Near Sweetwater, Tennessee, you'll find the Craighead Caverns. This cave system is home to the largest underground lake in the country and the second-largest in the world.
As of now, scientists have been able to determine that the Lost Sea is at least 4.5 acres. However, that is just the visible portion. Its actual size could be much larger.
There are three Grand Divisions
Tennessee may be one state, but its regions have vastly different geography. These differences have contributed to the state being divided into three sections called the "Grand Divisions."
The different recognized regions in the state are East Tennessee, Middle Tennessee, and West Tennessee. These regions also have regional centers: Chattanooga and Knoxville, Nashville, and Memphis, respectively.
Interesting Facts About Tennessee
The raccoon is a state symbol
You'll find the Tennessee state animal all over the country. It doesn't matter if you're near the wilderness or in the middle of the city; you'll likely come across raccoons at some point.
While many people view this animal as a pest due to its habit of opening trash cans, it's a state symbol in Tennessee. This choice was made official in 1971.
There are two state phrases
Like every other state in the USA, Tennessee has an official state motto. In line with the state seal and the area's leading industries, "Agriculture and Commerce" has been the Tennessee state motto since 1987.
However, there's also a state slogan. The Tennessee General Assembly chose "Tennessee—America at Its Best" as the state's catchphrase in 1965.
You can pan for gold in Tennessee
Tennessee was part of the Gold Rush, though it was less popular than other locations. Gold isn't widespread in the state and is mostly found in its southeastern region.
Prospectors might not be rushing to the state anymore, but there are still gold deposits in the state. You can even get a permit to pan for gold. Most gold found today comes from the Cherokee National Forest.
Musicians flock to Tennessee
One of the most fascinating facts about the state of Tennessee is that Nashville is known as "Music City." That's because it's become a hub for aspiring musicians and songwriters.
Tin Pan South celebrates the music that's made the city so famous. It's the largest festival in the world that's dedicated to songwriters.
Over 200,000 people visit the Tennessee State Fair annually
Every September, Nashville's fairgrounds get a lot busier. For a week, vendors and entertainers of all kinds come to the area for the [Tennessee State Fair.
The first state fair in Tennessee was held in 1855, and it's grown in size every year. Now, an average of 200,000 tickets are sold annually.
It's the United States' music capital
Country music has become synonymous with the South. Although the genre is performed all over the country, only one state can say it's the capital.
Tennessee is the capital of country music, in part because it was created in Bristol, TN. Today, hundreds of aspiring country artists move to the state each year in hopes of becoming the next big star.
Cherokee National Forest preserves wildlife
The Cherokee National Forest is split in half by the Great Smoky Mountains National Park. The forest sits on 650,000 acres of land that are largely undisturbed, despite providing 700 miles of trails for visitors to hike.
All the recreational activities available to guests have been designed to be sustainable. Forest officials are also involved in conservation efforts to protect the local flora and fauna.
The state took in Katrina refugees
Hurricane Katrina was one of the worst national disasters to hit the southern part of the United States. The storm affected many cities in Alabama, Louisiana, and Mississippi.
New Orleans was hit particularly hard, with most residents forced to relocate for months. As one of the closest unaffected states, Tennessee took in many Katrina refugees.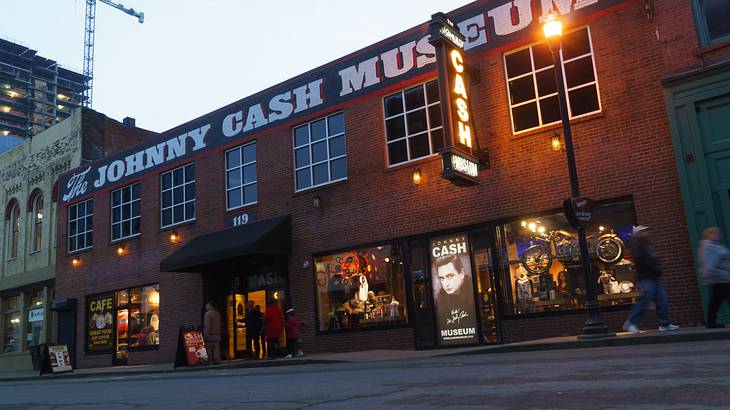 Johnny Cash is commemorated in Tennessee
The Johnny Cash Museum is one of the most visited landmarks in Tennessee and is a popular place to visit on a weekend in Nashville. The songwriter's life and career are commemorated in multiple exhibits.
The museum has the most extensive collection of Johnny Cash memorabilia. Even though the singer-songwriter was originally from Arkansas, he moved to Memphis in 1954 and remained until his death.
Few cities have over 100,000 people
As of 2022, more than 7 million people live in the entire state, making it the 15th largest state by population. However, the state doesn't have many cities with over 100,000 citizens. Nashville has the largest population, with just over 700,000 residents. Memphis is the second largest city, with a population of around 630,000.
Tennessee was the 16th state in the USA
One of the most important entries on this list of Tennessee facts and history is its statehood. Tennessee was the 16th territory to officially join the Union.
In 1796, just over 20 years after the war for Independence, Tennessee earned its star on the flag. Statehood was granted after it was shown that enough people lived in the territory to be able to form a state legislature.
Tennessee's name comes from the Cherokee
There are multiple theories about where the name "Tennessee" comes from. The most commonly believed answer is that it comes from the Cherokee language.
The Cherokee population that lived in the area had a village named "Tanasi." This village was a sort of capital where the different tribes would convene for important occasions.
The first settlers were French
Though Hernando de Soto was the first European in Tennessee, he didn't settle the territory. The Frenchman General La Salle was the first to establish a permanent fort in the area in 1682.
It would be over 100 years before the first residential settlement was established. In 1769, William Bean built a cabin near the Watauga River.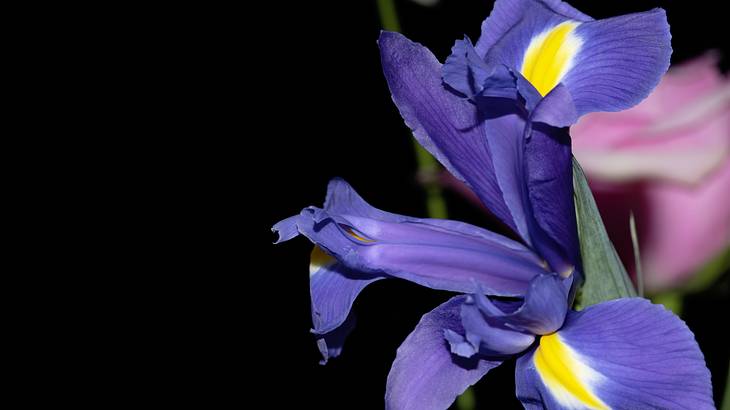 There are two state flowers
Tennessee doesn't just have two state birds; it also has two state flowers. The Iris is the official state-cultivated flower. In particular, the purple variety is considered the state's official symbol.
The state also has an official wildflower. That honor goes to the Passion Flower. This flower can be found in the Tennessee wilderness and elsewhere in the southern region of the US.
It used to be home to the world's tallest treehouse
Starting in 1993, Tennessee native Horace Burgess started constructing what would become the world's tallest treehouse. While it was closed to visitors in 2012, tourists could still admire it from the ground.
Unfortunately, in 2019 the treehouse caught fire and was utterly destroyed. The tragedy took less than 15 minutes, and its circumstances remain a mystery.
Weird Facts About Tennessee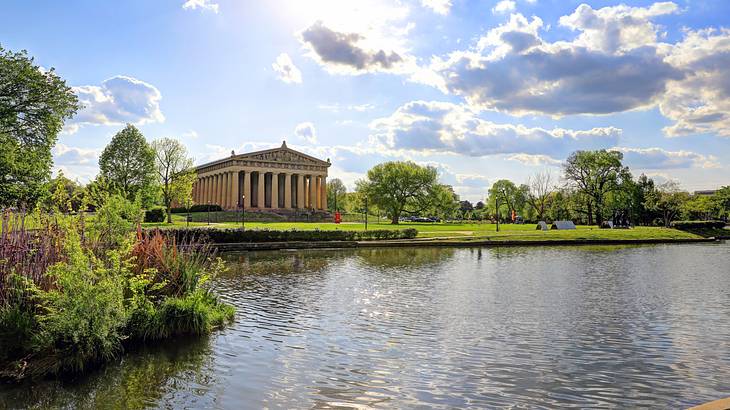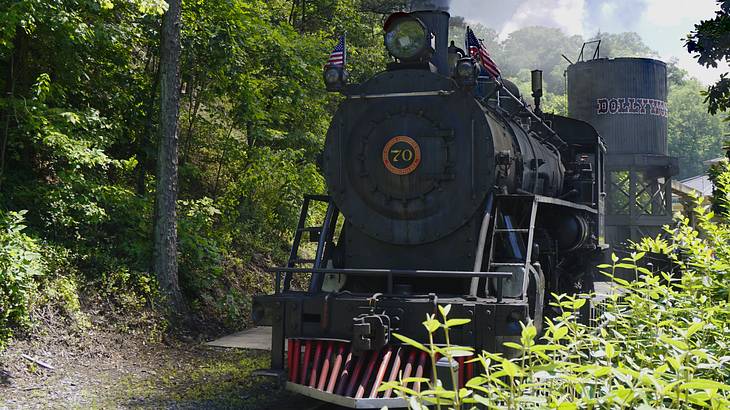 Dolly Parton has a theme park in Tennessee
One of the most interesting Tennessee facts you might not know is that Dolly Parton has a theme park in the state. Dollywood Park has been open since 1986. It's located near Knoxville, Tennessee.
Dolly Parton has called Tennessee home her entire life. Her roots inspired her to build the park and showcase her family's local heritage.
Josephine Myrtle Corbin was born in Tennessee
You've likely never heard of Josephine Myrtle Corbin. She was a sideshow performer who was born in Tennessee in 1868.
Josephine was born with a rare condition that caused her to have two pelvises and four legs. She traveled all over the US with family who attempted to monetize her peculiar anatomy.
Kingston was a short-lived capital
On September 21, 1807, Kingston was briefly the state capital. For one day, Kingston was the seat of Tennessee's government. The temporary moving of the state capital was done as a ploy to take land from the traditional native landowners.
The Cherokee agreed to give up their land if the state capital was moved to the land Kingston was built on. The Tennessee General Assembly convened in Kingston for only one day to satisfy that agreement. After adjourning that day, the Tennessee General Assembly continued to meet in Knoxville.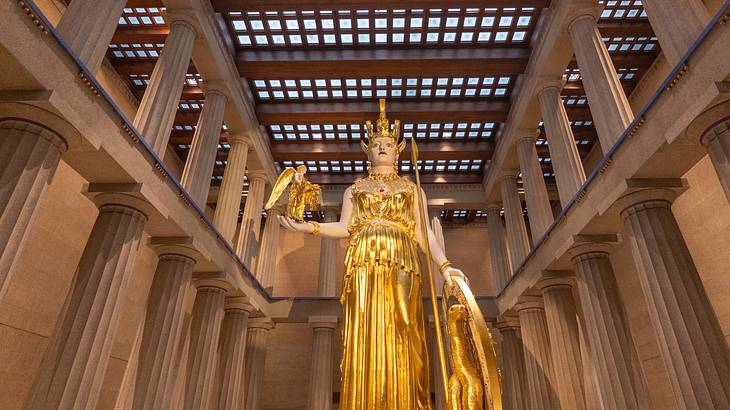 Nashville is the "Athens of the South"
Nashville has earned multiple nicknames, but most are related to its music industry. Its moniker "Athens of the South" is a little less obvious.
The nickname can be traced back to the 1800s. At the time, Nashville was the first city in the southern US to establish multiple universities and academies. This made it an academic haven, much like Athens was in ancient Greece.
It has more caves than anywhere else
Tennessee is, among other things, the cave capital of the United States. According to surveyors, there are at least 10,000 caves above and below ground in the state.
That number is higher than any other state's. In fact, around 20% of all the currently-known caves are found in Tennessee. Some are open to visitors, while others are considered too dangerous.
Historical Facts About Tennessee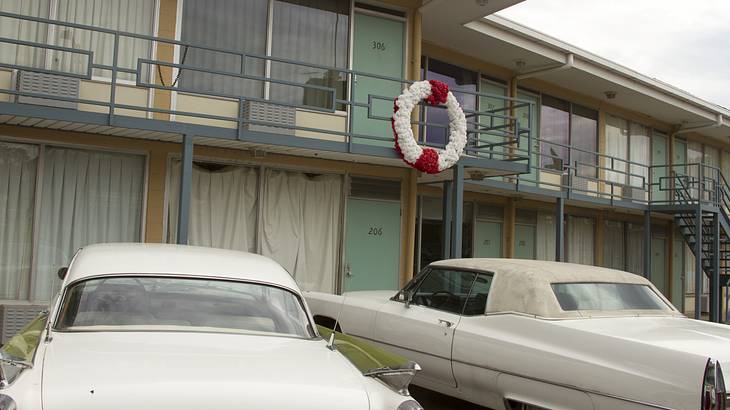 There were seven Native American tribes here
Though today there are no recognized Native American tribes in Tennessee, that doesn't mean they hadn't lived here. The state initially had a thriving indigenous population.
When Europeans first settled it, seven tribes called the Tennessee territory home. These tribes were the Muscogee (Creek), Yuchi, Chickasaw, Choctaw, Cherokee, Shawnee, and Seneca.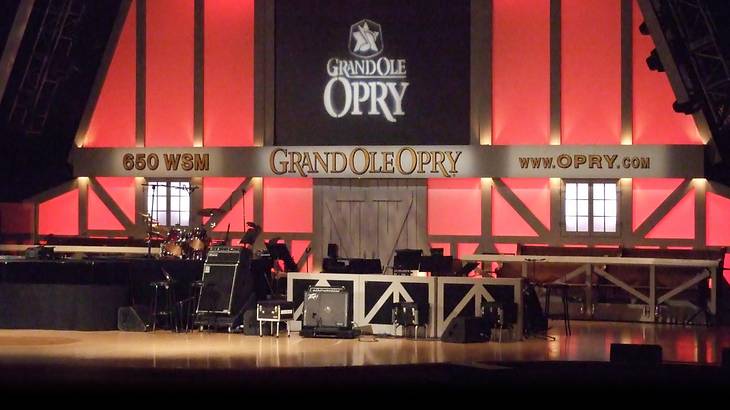 The Grand Ole Opry is historic
The Grand Ole Opry brings a lot of excitement to this list! This concert hall boasts the world's longest-running radio show.
Every week since 1925, country musicians have taken the stage at the Grand Ole Opry theater. You'll find a mix of famous and up-and-coming musicians performing to show their talent in the country music genre.
Spanish explorer Hernando de Soto was the first European to explore Tennessee
Hernando de Soto was a prolific Spanish explorer. He first came to the Americas in 1539 and spent the four years that followed exploring the new continent.
His explorations helped create the first maps of the new world. He was the first European to travel through modern-day Florida, Georgia, South Carolina, North Carolina, and Tennessee. He also explored Alabama, Mississippi, Arkansas, Texas, and Louisiana.
The Civil Rights Movement made history here
Some of the most important Tennessee history facts have to do with more recent history. For example, the state's involvement in the Civil Rights Movement of the 1950s and 1960s was notable.
In 1959, African-American students organized a sit-in protest. Many who participated were arrested, but despite that, the protest remained one of the most peaceful and well-organized.
Martin Luther King, Jr. was assassinated while in Tennessee
Martin Luther King, Jr. was a pivotal figure in the Civil Rights Movement. He organized protests promoting desegregation, labor rights, and equal voting rights.
Unfortunately, while in Memphis, Tennessee, in 1968, King was assassinated. He was only 39 at the time. He was in Memphis to organize a labor march that was taking place a few days later.
Cool Facts About Tennessee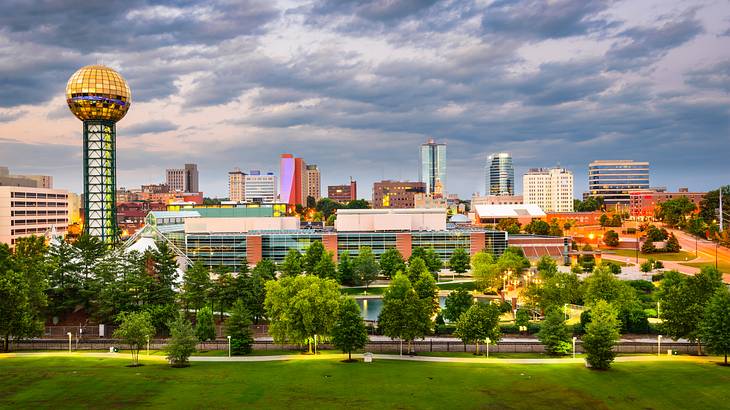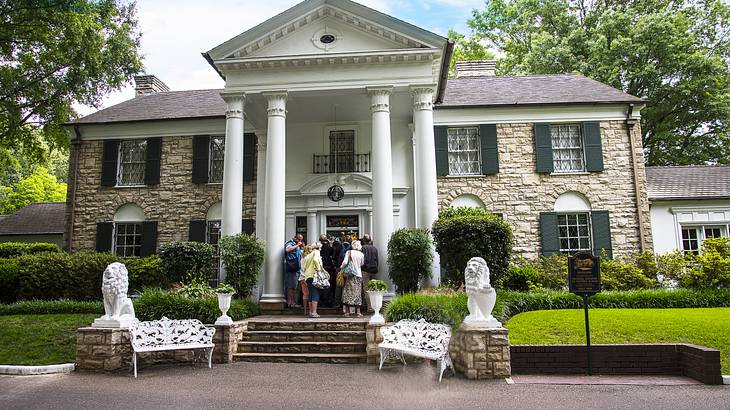 Elvis Presley called it home
In Memphis, Tennessee, you'll find Graceland. This property was Elvis Presley's home for 20 years. It's not just an important landmark in Tennessee; it's also the location of one of the most fun facts about Tennessee.
Graceland is the second most-visited residential museum in the country. Nearly 1 million visitors visit Elvis' famous home every year. That number has been steady since the museum first opened in 1982.
It's where Mountain Dew was invented
Mountain Dew is a popular soft drink all over the USA, but it has its roots in Tennessee. The original formula that would evolve into the modern-day version of the drink was invented in the 1940s by Barney and Ally Hartman.
The Hartmans were beverage bottlers from Tennessee. Once they perfected their formula, they began selling their new invention in Knoxville and Johnson City, Tennessee.
The Tennessee State Capitol is Greek inspired
Built in the 1800s, the Tennessee State Capitol is the beating heart of Tennessee's legislature. The building was built on top of a hill, among other state government buildings. This feature made it the focal point of the surrounding area.
The capitol was designed by William Strickland, who modeled it after a Greek temple. This is partly due to the contributions ancient Greece made to how civics and democracy worked. It's been in the National Registry of Historic Places since 1971.
There are eight states that border Tennessee
Not only is Tennessee landlocked, but it's also tied with Missouri for having the most state borders. Both states share eight state lines and have been dubbed the most "neighborly" states.
Tennessee is bordered by Kentucky, Virginia, North Carolina, Georgia, Alabama, Mississippi, Arkansas, and Missouri. Since Tennessee and Missouri are "neighbors," they both share the neighboring states of Kentucky and Arkansas.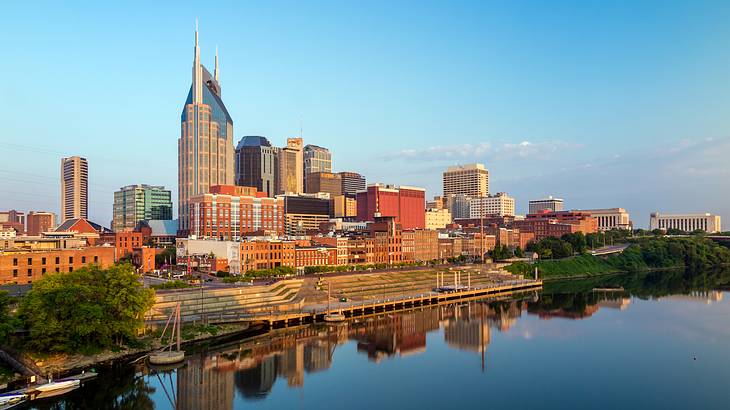 Thank Tennessee for cotton candy
Since its invention in 1897, cotton candy has been a favorite treat at fairs, carnivals, and other special events. Yet, did you know it was invented in Tennessee?
William Morrison was a Nashville dentist who invented cotton candy and the cotton candy machine. He worked with John Wharton, a candy maker, to perfect the process for the 1908 World's Fair.
Important Facts About Tennessee
The first female senator was a Tennessean
Hattie Caraway was the first woman ever elected to the US Senate. Though she was elected to represent Arkansas, that's not where she was originally from.
Caraway was born in Bakerville, Tennessee, in 1878. By 1931 when she began her first term in office, she no longer called the state home.
Tennessee was once underwater
The Earth is billions of years old and has undergone massive geographic changes during that time. Much of the land you're familiar with didn't exist, at least not how it does today.
Tennessee was once underwater. Geologists have found evidence to support that parts of Middle Tennessee were about 100 feet below ocean level during the Ordovician period.
There was Union and Confederacy support in the state
As a southern state, Tennessee was an essential territory during the American Civil War. While it was part of the Confederacy between 1861 and 1865, support for secession wasn't universal.
Certain areas of the state supported the Union. East Tennessee was largely sympathetic toward the North, and many soldiers from there fought against the Confederate army.
Tennessee was British before it was a state
Some people assume that Britain's presence in the US ended with the original 13 colonies. However, that's not the case. British explorers settled many other territories in the new world.
Tennessee is an example of a previously British territory that wasn't part of the original colonies. However, there were fewer English settlements in the Tennessee territory as it was considered potentially less fruitful.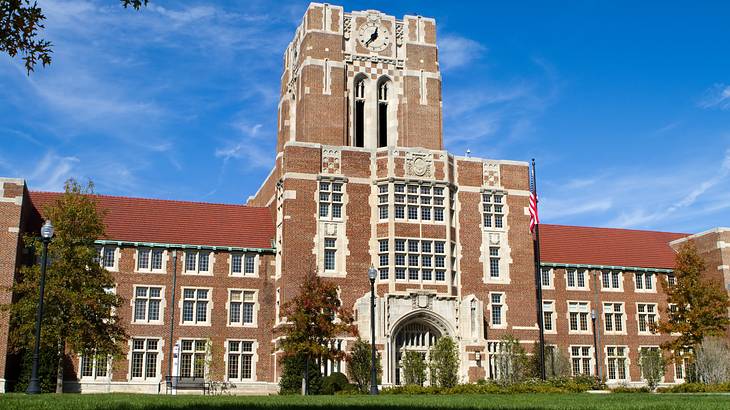 The Tennessee Promise program helps guarantee education
The Tennessee Promise is a scholarship program that started in 2015. It was created to help aspiring college students continue their education after high school.
Though the program is still relatively new, it's shown promising results every year since it was first instated. Student enrollment has increased, and a majority of program participants go on to get their associate's degrees.
In Summary
What did you think about this list? I bet you had no idea that cotton candy and Mountain Dew were invented in Tennessee!
Whether you're a history buff or a music fan, there's something to love about Tennessee. If you thought this list was interesting, you're in luck - there are hundreds of facts about the state still out there for you to learn!
---
---
Want to keep exploring?
Subscribe for discounts on tickets and hotels and our latest guides.
Thank you for subscribing
We will be in touch soon with discounts on tickets and hotels and our latest guides.
Want to keep exploring?
Subscribe for discounts on tickets and hotels and our latest guides.
Thank you for subscribing
We will be in touch soon with discounts on tickets and hotels and our latest guides.
Related Articles