31 Unique Things to Do in Seattle, Washington
Destguides may receive commissions from purchases made through affiliate links in this article.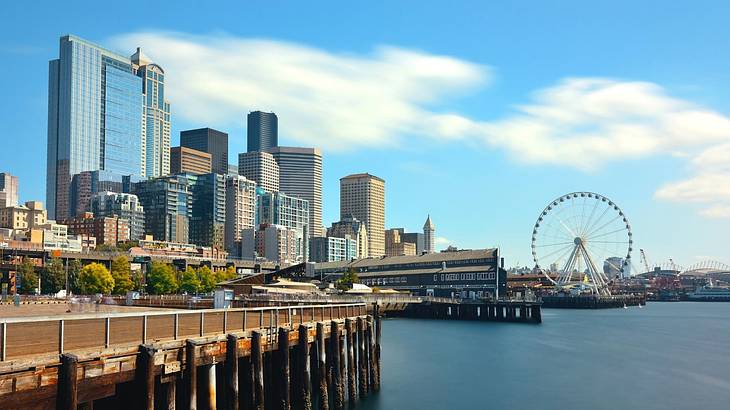 Situated in the Pacific Northwest, Seattle is a well-known and popular city. Not only does it have attractions for all types of visitors, but it's easily accessible, with many airports located in Washington state.
Along with visiting renowned and iconic attractions, you can discover an array of unique things to do in Seattle, Washington. From getting drinks at a fun carnival-themed bar or the world's first Starbucks to seeing the Fremont Troll or visiting the World's Largest Shoe Museum, there's no shortage of unusual and cool things to do in the Emerald City!
31 Coolest Things to Do in Seattle
Unique Seattle Things to Do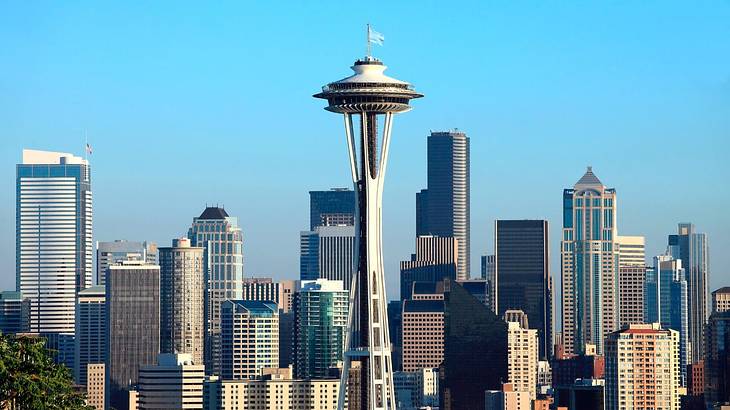 Sip drinks above the city at the Space Needle
The Space Needle is a world-famous landmark in downtown Seattle. By going to the observation deck of the 605-foot tower, you can admire fantastic views of Seattle. A more unique activity while visiting is going to The Loupe Lounge to sip cocktails or enjoy a glass of wine while taking in the stunning panoramic vistas.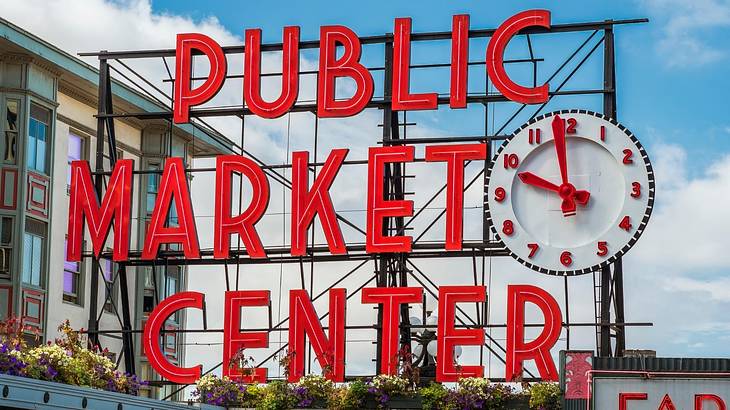 Shop and eat at Pike Place Market with a professional chef
Pike Place Market is a famous Washington State landmark that has been in Seattle since 1907. Today, visitors can discover a range of food vendors in the market, including restaurants and souvenir shops.
A unique way to explore the market is by going on a guided tour of Pike Place Market with a chef. Your professional chef guide will take you to ten of the best vendors where you can try samples and make purchases.
Enjoy carnival-style food and drinks at Unicorn Bar
One of many quirky bars in Seattle is Unicorn Bar. This fun and colorful bar has carnival-style snacks and unique signature cocktails, like "The Cereal Killer" with fruit loop flavored vodka and "Americorn," which has bubblegum vodka!
You can also play arcade games at the bar, and they have a great happy hour. If you're in the city with your partner, Unicorn Bar is also one of the best date spots in Seattle.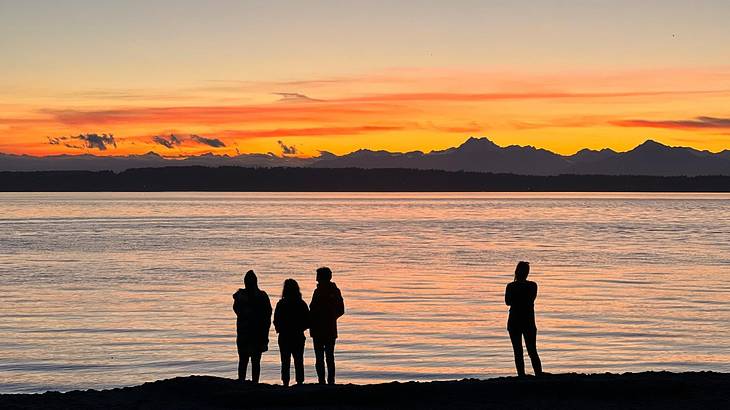 Admire the Seattle skyline from Golden Gardens Park
Going to Golden Gardens Park is one of the non-touristy things to do in Seattle. This lesser-known Seattle park is located in Ballard, about a 30-minute drive from central Seattle. From the park, you can enjoy stunning views of the Seattle skyline. The park on Puget Sound also has a beach to hang out on and is beautiful at sunset.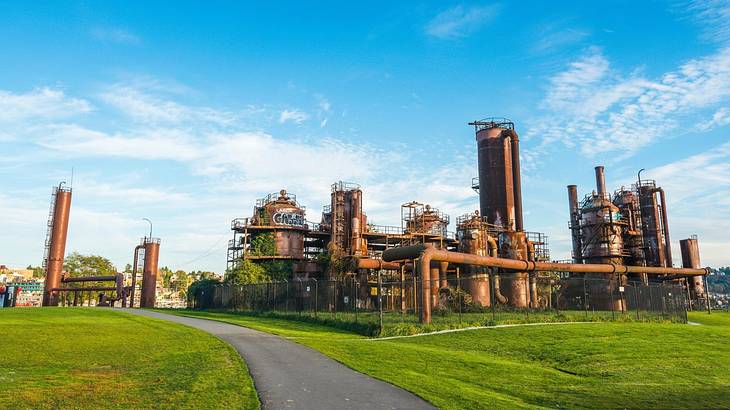 Snap pictures at Gas Works Park
Gas Works Park is one of the more unique outdoor spaces in Seattle. The 19.1-acre park is located on the site of a former gasification plant. What's interesting is that much of the plant remains, including gas generator towers.
Taking some pictures of these unique structures is a must when in the city. You can then enjoy the park, which has grassy areas to relax on, picnic spots, and views of Lake Union.
Discover unique products at Ye Olde Curiosity Shop
Operating in Seattle since 1899, Ye Olde Curiosity Shop is probably the most unique store in the city. Situated on Pier 54, the shop sells weird and wonderful items, from skull decor items and bigfoot figurines to jewelry and vintage posters. They also sell some Native American-inspired art and jewelry.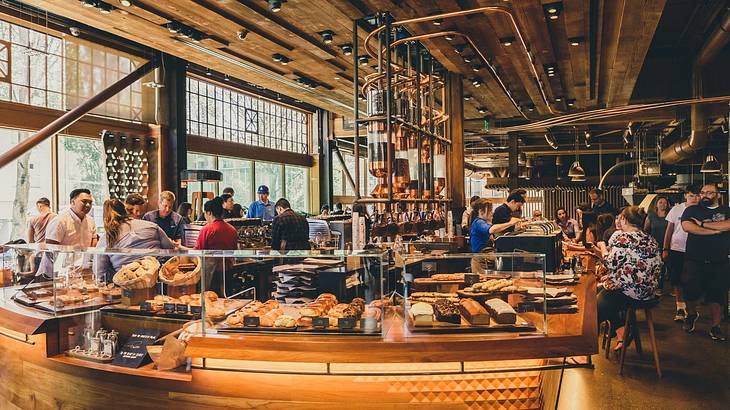 Get coffee at Starbucks Reserve Roastery
A fun fact about Washington is that Starbucks was founded in Seattle in 1971, and the first-ever Starbucks is located in Pike Place Market. You can still visit that outlet today, but be prepared to wait in line! Another cool Starbucks to check out in Seattle is Starbucks Reserve Roastery.
This store is a little trendier and more high-end than standard Starbucks stores. It has an Italian-style coffee bar, fresh made dishes, and high-end coffee drinks. There's even an alcohol bar where you can get drinks like espresso martinis.
If you want to discover more about Starbucks and coffee history in Seattle, you could also join a Seattle Coffee Culture Tour that ends at Starbucks Reserve Roastery.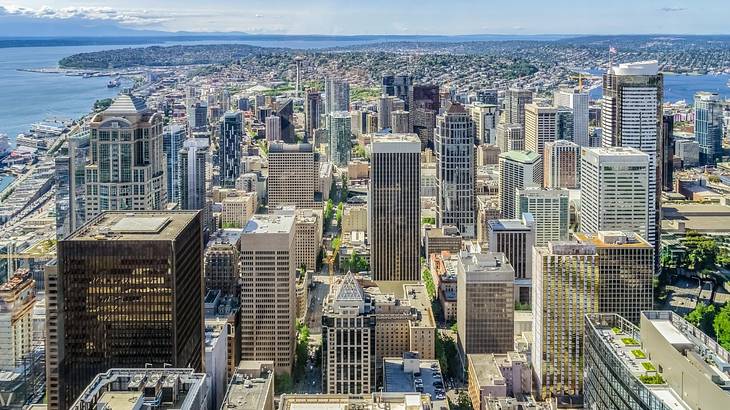 Take in the views from the Sky View Observatory
Many visitors to Seattle head to the Space Needle to get 360-degree views of the city. But another observation deck to opt for is the Sky View Observatory. Best of all, you can see the Space Needle on the skyline from this location!
After taking in the views, you can get drinks at the observatory's coffee shop and bar. To make admission easy, purchase Sky View Observatory skip-the-line tickets in advance.
Play pinball at the Seattle Pinball Museum
One of the cool things to do in Seattle, Washington, is going to the Seattle Pinball Museum. This spot isn't actually a museum but an arcade with an array of pinball games. Some of the pinball machines date back to the 1930s!
The venue also sells sodas, craft beers and ciders, and snacks to enjoy as you play. In addition, Seattle Pinball Museum has an adorable Golden Retriever that you can say "hi" to during games!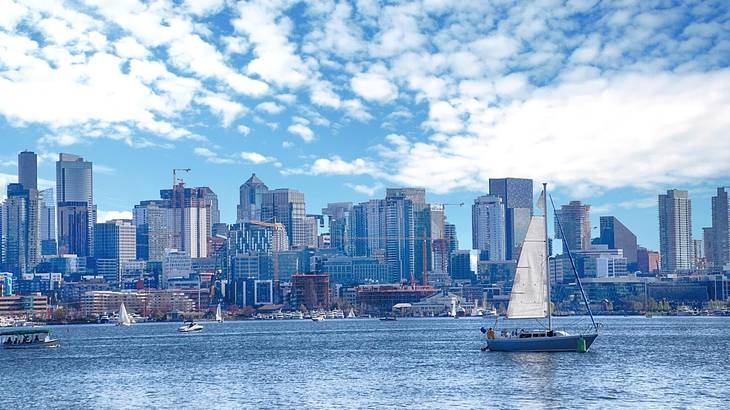 Sail through Lake Union on a sunset cruise
An exciting thing to do at night in Seattle is going on a sunset cocktail cruise. You'll sail through Lake Union, seeing a variety of attractions as you enjoy cocktails. You'll also be able to watch the sunset before marveling at the starry night sky on the journey back to land. This tour is available at other times of the day too.
Explore the Beacon Food Forest
The Beacon Food Forest is a very unique park in Seattle; everything within the park is edible! The forest comprises different crops, from fruit trees and berry bushes to vegetable patches and herb gardens. When visiting, you're allowed to forage from most parts of the park and can also volunteer to help with planting and upkeep.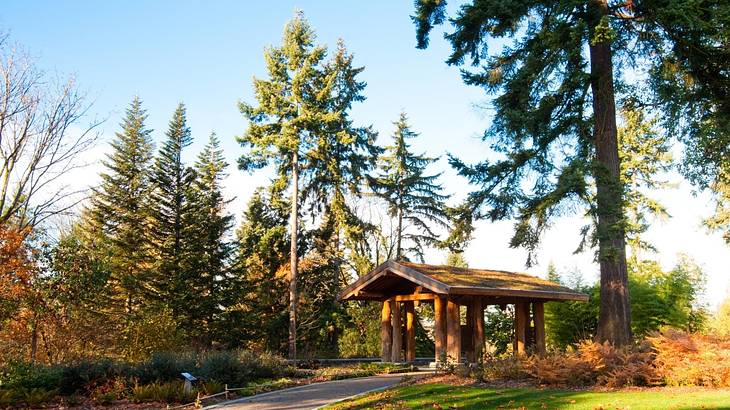 Wander around Washington Park Arboretum
Another fantastic attraction that many tourists don't know of is the Washington Park Arboretum. The Seattle nicknames of Emerald City and Forest City exist due to the area's breathtaking greenery, and you can best admire this scenery at the city's arboretum.
Located at the University of Washington, the outdoor space features beautiful gardens with greenery, colorful plants, and water features. Themed gardens include the Japanese Garden, the Rhododendron Garden, and a woodland area.
There's also a pond that's home to lots of ducks! Best of all, most of the attraction is free to explore. You must pay for access to the Japanese Garden, but it's well worth it.
Visit the Wing Luke Museum
The Wing Luke Museum of the Asian Pacific American Experience is a fascinating hidden gem in Seattle. This museum covers Asian Pacific American art, culture, and history and has a collection of 18,000 artifacts and artworks. Interestingly, it's the only museum in the United States dedicated to the pan-Asian Pacific American community.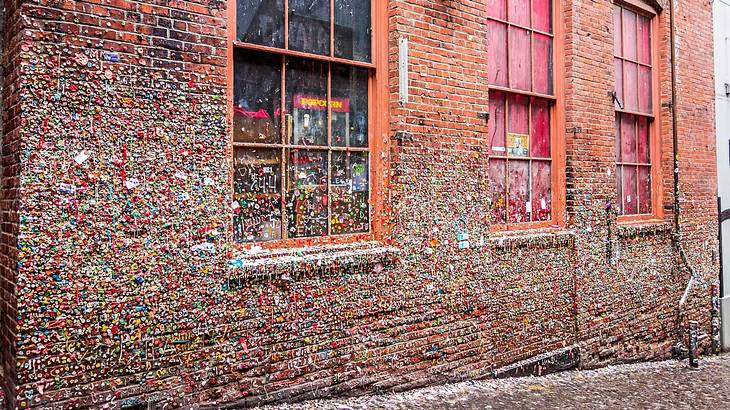 Check out the Gum Wall
The Gum Wall is one of the unusual and cool places in Seattle, WA. Located next to Pike Place Market in Post Alley, the attraction features walls covered in colorful chewing gum. It's notably one of the most popular places to take pictures in the city.
The council had previously cleaned all the gum off the wall. However, locals and tourists missed the attraction so much that it was allowed to return!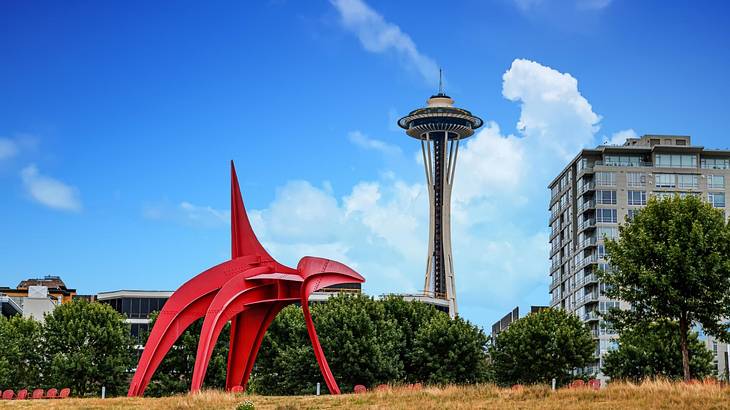 Hang out at Olympic Sculpture Park
Another of many unique parks in the city is Olympic Structure Park. The nine-acre park is filled with art installations and is also Seattle's largest green space. As you look around, you'll discover a variety of artworks and sculptures. You can also enjoy amazing views of the waterfront and the Space Needle.
Venture under Pioneer Square
Pioneer Square is another famous Seattle landmark to visit. This area was Seattle's first neighborhood in 1852. After a fire in 1889, the district was rebuilt on top of the old neighborhood.
Today, you can venture underground on a tour of the original Pioneer Square. Once beneath the city, your guide will show you around and offer background on Seattle in the 1800s.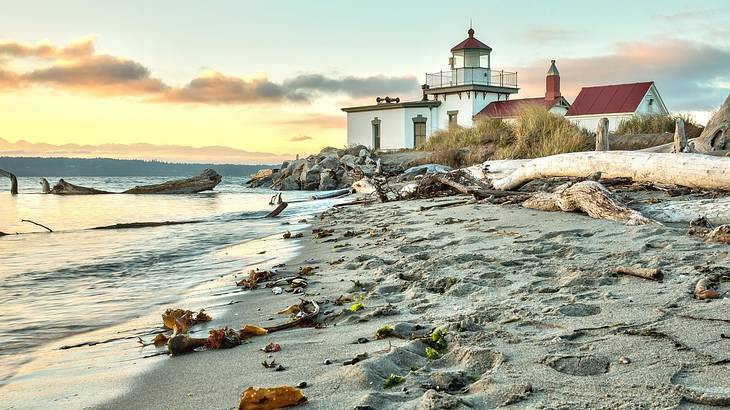 See West Point Lighthouse
Opened in 1881, West Point Lighthouse is situated within Discovery Park, 20 minutes from downtown Seattle. You can hike through the park to get to the lighthouse, and once there will also be able to enjoy views of the water and Mount Rainier. You can also take a shuttle from the Discovery Park Visitor Center if you don't feel like walking.
Get drinks at Cafe Racer and the Official Bad Art Museum of Art
Cafe Racer is one of the weird yet cool places in Seattle, Washington. The bar hosts a variety of independent music acts and is decorated with a range of quirky artworks, which make up the Official Bad Art Museum of Art.
You can get some drinks at the bar, marvel at the strange paintings, and enjoy live music. Events like karaoke nights are also hosted here.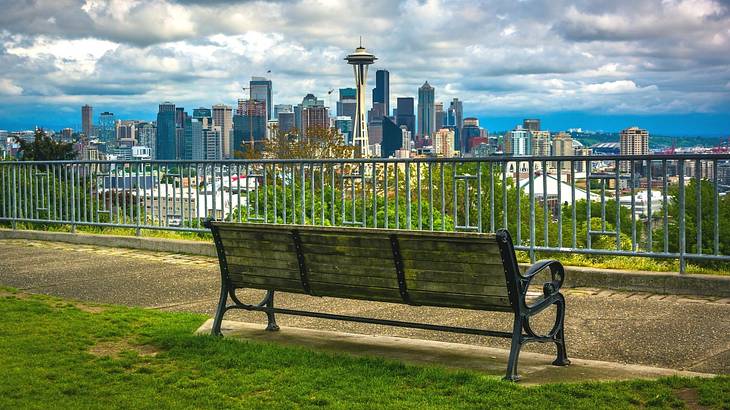 Appreciate the views from Kerry Park
Located on Queen Anne Hill, Kerry Park is another of the lesser-known spots in Seattle. Notably, this hillside park offers fantastic views of Seattle. Along with seeing the city, you'll be able to see Elliot Bay and Mount Rainier. Going to Kerry Park at sunset is especially recommended.
Fly over Lake Washington
A unique way to see Lake Washington and the surrounding area is by experiencing a seaplane tour. You'll fly over the lake and also see landmarks, like the Space Needle and the University of Washington. A narrated guide is also provided that offers more information on everything you see.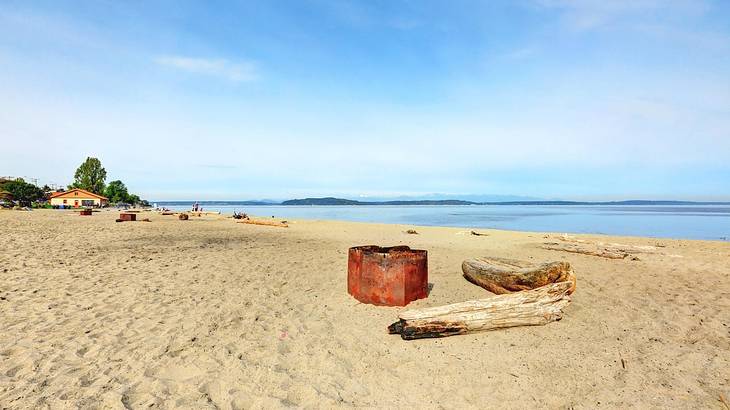 Sunbathe on Alki Beach
When the weather is nice, heading to Alki Beach is a unique thing to do that many tourists don't know about. Located just 30 minutes from downtown, the beach has sandy shores and stunning views of Puget Sound. You'll also find fantastic restaurants in the area and can see Alki Point Lighthouse.
Be amazed at the World Famous Giant Shoe Museum
The World Famous Giant Shoe Museum is a slightly weird but very unique attraction in Seattle. Located at Pike Place Market, this circus-style attraction features an exhibit on Danny Eskenazi, who became obsessed with finding the world's largest shoe worn by the world's tallest man. Visiting this exhibition is definitely a one-of-a-kind experience!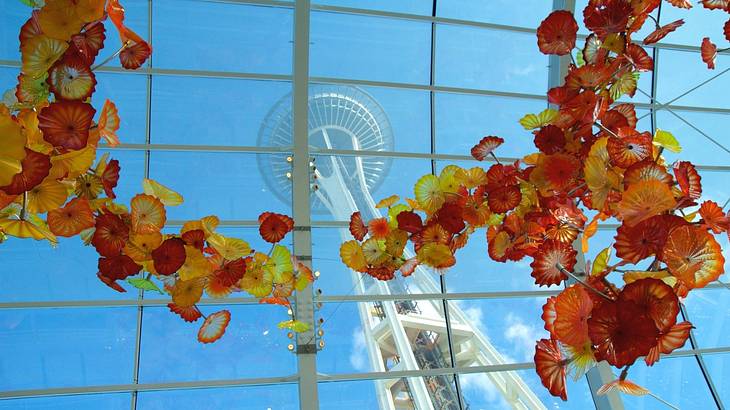 Marvel at the artworks at Chihuly Garden and Glass
If you're an art enthusiast, one of the cool things to do in Seattle, WA, that you'll enjoy is going to Chihuly Garden and Glass. The botanic garden features beautiful plant displays and glass art sculptures by Dale Chihuly. You can also look around an indoor art gallery with the artist's works and get great views of the Space Needle.
Learn new things at the Pacific Science Center
A fun and fascinating attraction in Seattle is the Pacific Science Center. This science and discovery museum has interactive exhibits on various topics, from dinosaurs and ecosystems to lasers. There's also an IMAX theater and a planetarium with astronomy exhibits.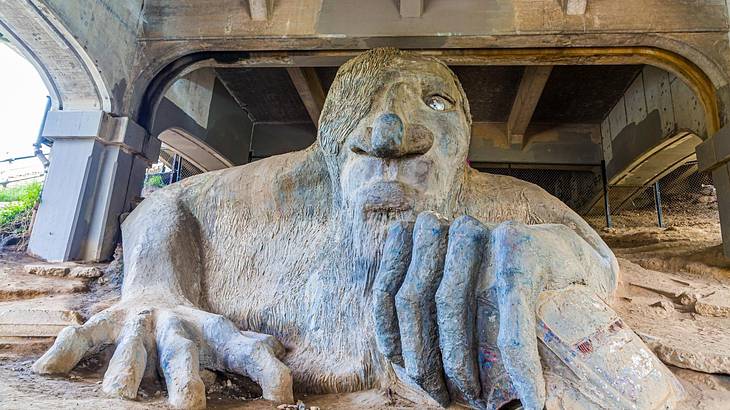 See the Fremont Troll
The Fremont Troll is one of the most unique landmarks in Seattle. The troll sculpture sits under the Aurora Avenue Bridge in the Fremont neighborhood. There's also a small park next to the sculpture called Troll's Knoll.
Unique Things to Do Near Seattle, Washington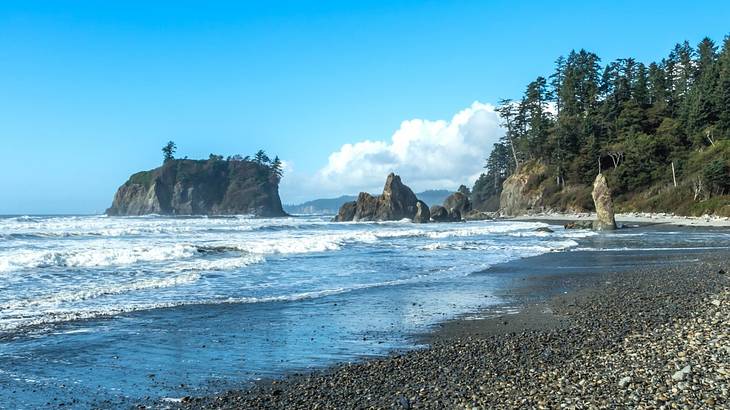 Camp at Olympic National Park
Located about two and a half hours from Seattle is an amazing National Park, Olympic National Park. Making the journey to this park is well worth it, and you'll be able to enjoy a range of activities.
Hiking and mountain biking are especially popular here, as are wildlife watching and walking along the park's beaches. One of the highly unique things to do is camping overnight at Olympic National Park. Being surrounded by nature and sleeping under the starry sky is truly memorable!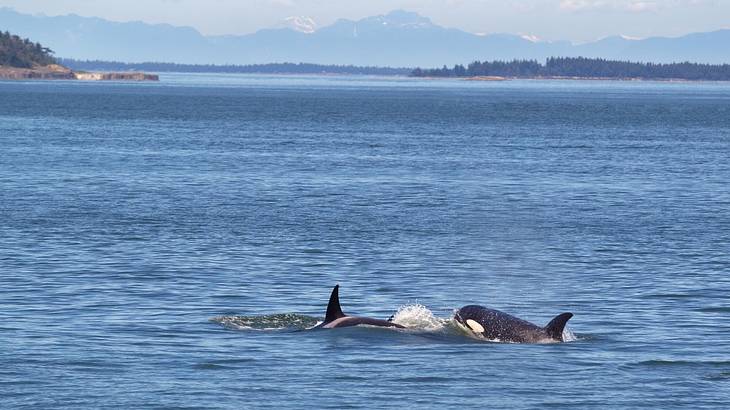 Whale watch around the San Juan Islands
The San Juan Islands are an archipelago located about three hours from Seattle. A unique activity to enjoy around the islands is going whale watching. The tour departs from Friday Harbor, and sightings of orca whales are almost guaranteed.
The best time to plan your Seattle trip to make seeing whales most likely is between May and October. Many whales migrate to the waters around Seattle as they warm up during the spring and summer. You might also be able to spot whales from Alki Beach or the beach at Discover Park.
Go wine tasting in Woodinville Wine Country
One of the most unique experiences in Seattle that many tourists don't know about is wine tasting in Woodinville Wine Country. Located just 45 minutes from central Seattle, the valley area features a range of excellent wineries.
You can do tastings at various wineries and learn more about the production process. Woodinville Wine Country also has many charming places to stay if you want to plan a weekend or overnight trip.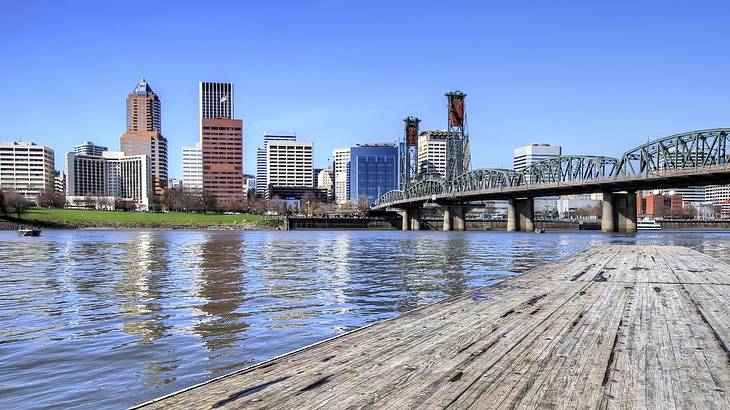 Road trip to Portland
Portland, Oregon, is another exciting Pacific Northwest city located about three and a half hours from Seattle. Going on a day or overnight trip to this vibrant city is highly recommended, and you can find many unique things to do in Portland.
Cool Portland activities include getting delicious treats at Voodoo Doughnuts, hanging out with cats at Purrigington's Cat Cafe, and going on a Columbia River dinner cruise.
Experience a hot air balloon ride over Seattle and the Puget Sound
Taking a hot air balloon ride over the city is definitely one of the most unique things to do in Seattle. Seattle Ballooning offers rides at sunset and sunrise that will take you over the Puget Sound and greater Seattle. You'll also see the Cascades and Mount Rainier. Do note that the hot air balloon ride takes off from Muckleshoot Casino in Auburn, WA, which is about a 50 minute drive from Seattle.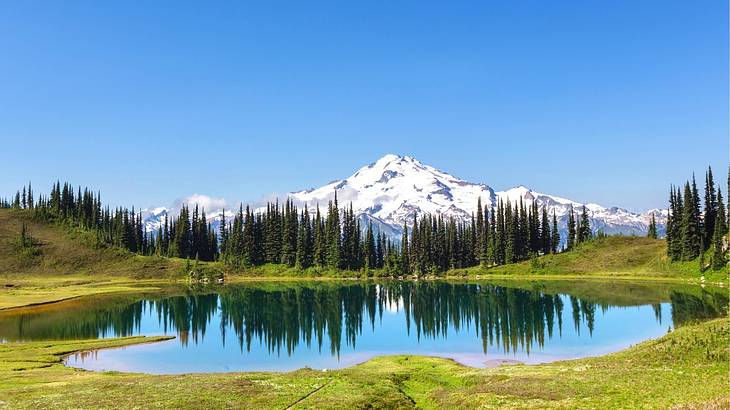 Tour Mount Rainier National Park
Another of the best National Parks on the West Coast that's close to Seattle is Mount Rainier National Park. The park features scenic hiking trails, glacial lakes, and the snow-capped Mount Rainier volcano.
A fun way to explore the park is on a Mount Rainier day tour. Your guide will show you around the most beautiful parts of the park and offer more information on its geology and ecosystems.
In Conclusion
You'll find an array of fun and unique things in Seattle! No matter what activities and attractions you enjoy, there's a one-of-a-kind experience waiting for you in the Emerald City!
Give us feedback about this article
More visual stories related to this article:
---
---
Want to keep exploring?
Subscribe for discounts on tickets and hotels and our latest guides.
Thank you for subscribing
We will be in touch soon with discounts on tickets and hotels and our latest guides.
Want to keep exploring?
Subscribe for discounts on tickets and hotels and our latest guides.
Thank you for subscribing
We will be in touch soon with discounts on tickets and hotels and our latest guides.
Related Articles