Where to Stay in Vancouver, Canada - 7 Best Areas & Hotels
Destguides may receive commissions from purchases made through affiliate links in this article.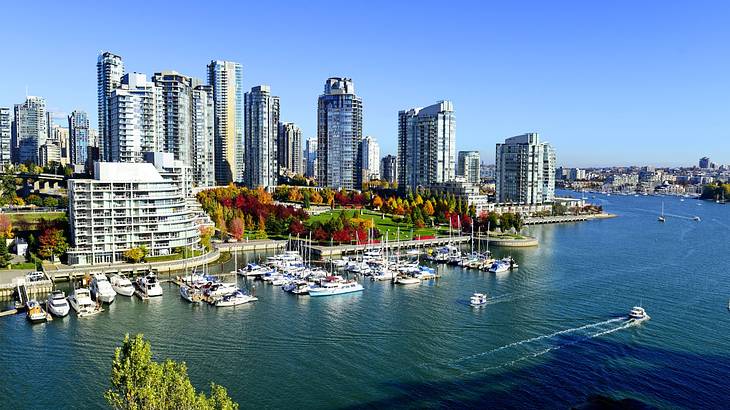 Vancouver is a scenic and friendly destination combining a bustling city with relaxing beaches and beautiful parks. Once you decide to plan a trip to this West Coast city, the next step is deciding where to stay in Vancouver.
Conveniently, Vancouver has a range of neighborhoods to choose from, all with their own unique charm and benefits. From the lively Downtown to the trendy Yaletown or more relaxed West End and Kitsilano, there's something for all types of travelers! Keep reading to learn more about Vancouver's top neighborhoods and find the best place to stay for your needs!
7 Best Places to Stay in Vancouver, BC
Best Areas to Stay in Vancouver, BC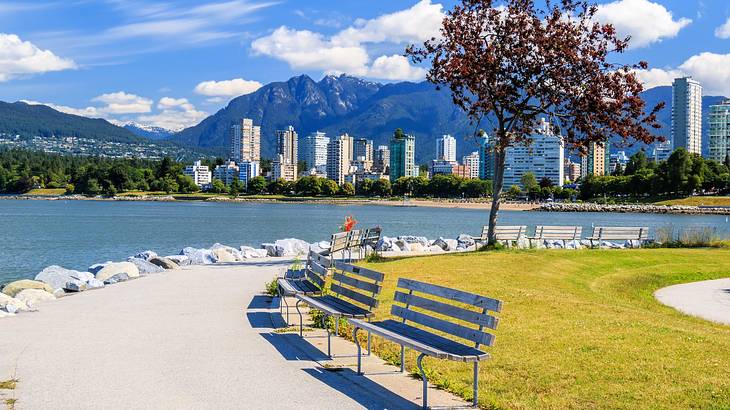 West End
The West End is a quiet, scenic, and slightly more residential area of Vancouver. This neighborhood sits between Downtown and Stanley Park, with major streets like Davie Street and Robson Street running through it.
This is also where you'll find some of the city's best beaches, like English Bay Beach and Sunset Beach, two places that have to be on your Vancouver itinerary! As you wander along the Seawall between Sunset Beach and English Bay Beach, you can spot famous statues, such as A-maze-ing Laughter, Engagement, and Inukshuk.
Other than the beaches, there aren't many attractions and landmarks in the West End. However, there are excellent shops, bars, and restaurants.
It's also just a short walk to the Skytrain and the attractions of Downtown. You can additionally walk or catch the bus across the Burrard Street Bridge to get to Kitsilano. Aquabus can connect you to Olympic Village, Kitsilano, and Granville Island.
Accommodation options in the West End include apartment rentals and hotels; however, these hotels are not as high-end as those in other parts of Vancouver. The options here are quite affordable, though.
This neighborhood is a great choice for families and couples who want a relaxing vacation while being near top bars, restaurants, and nightlife options. There's also a dog beach at Sunset Beach and a dog park in the small Nelson Park, making it ideal for those traveling with their pup!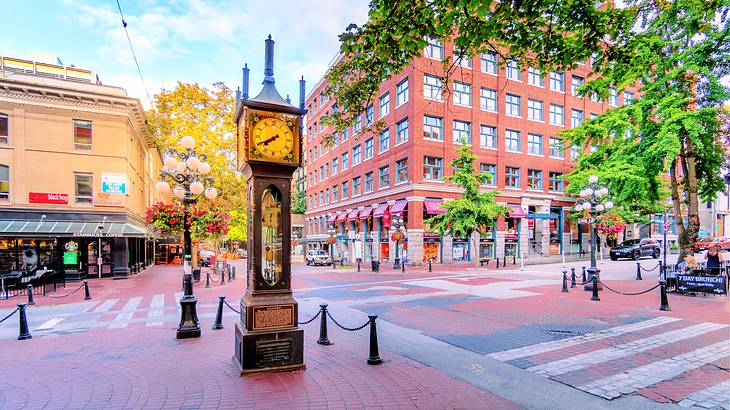 Gastown
This tourist-friendly area has cobblestone streets and reasonable access to other parts of the city. The most well-known landmark in Gastown is the Gastown Steam Clock, which you must visit and see whistle at least once!
It also has good access to the observation deck at the Harbour Center. In addition, you'll find charming bistros and breweries, tourist shops selling souvenirs, and independent boutiques here as well.
From Gastown, you can easily walk to Yaletown, Downtown, Coal Harbour, and the West End. Waterfront Skytrain Station can connect you to other parts of Vancouver, as can buses, which run frequently.
Accommodation options here are mainly apartment rentals, but a few hotels, including The Marriott, border Gastown. The neighborhood is also home to the locally renowned Cambie Hostel, ideal for those on a budget. If you're doing a short-term apartment rental, prices vary but might be a little more expensive than a hotel.
Gastown is the best area to stay in Vancouver for younger travelers and those that want to be near shops, bars, and restaurants.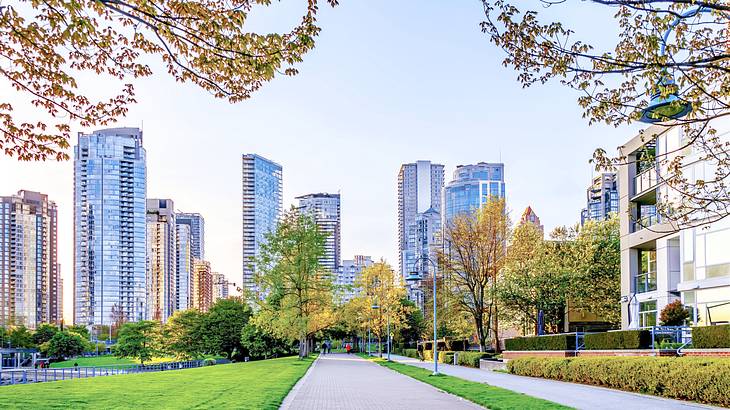 Yaletown
Yaletown is Vancouver's young and trendy neighborhood. It's full of bars, coffee shops, high-end restaurants, and boutique stores housed in old warehouse buildings. The area is located between Downtown and False Creek.
The main draw of this neighborhood is its hospitality options; from cocktail bars to breweries and restaurants serving an array of cuisines, there's something for everyone! There aren't really any landmarks or attractions in the area, but you can easily walk to Downtown and surrounding attractions. Yaletown has its own Skytrain station too.
You can also wander along the Marina and hang out at David Lam Park, which offers stunning views of the creek. There's a children's playground and basketball court in the park, and nearby Cooper's Park has a dog park. The Parq Vancouver Casino Resort, BC Place, and Rogers Arena are also within walking distance.
Again, apartment rentals will be your best bet here; you can even book accommodations offering stunning views of Quayside Marina. Note that the rentals here are some of the most expensive in the city. There is also a four-star hotel, OPUS Vancouver.
Travelers in their 20s and 30s wanting to be near trendy and high-end nightlife options will love Yaletown! As will couples visiting Vancouver for a luxurious romantic getaway.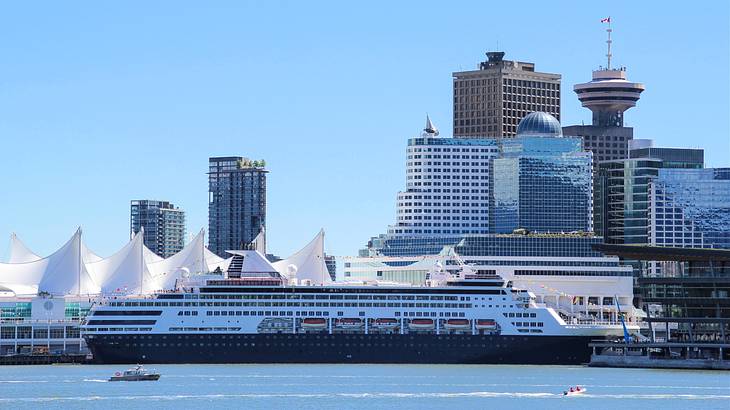 Coal Harbour
With its stunning views of Vancouver Harbour and bustling atmosphere, Coal Harbour is a popular area in the city. Coal Harbour runs along Downtown and the West End, with the harbor on the other side and Gastown to the east.
It's a mix of tourism and luxury. Coal Harbour is home to the Vancouver Convention Center and is where cruise ships dock. It also features some high-end waterfront eateries, casual dining restaurants, and luxury hotels, like the Fairmont Pacific Rim.
Along with the convention center, attractions include FlyOver Canada in Canada Place and the Olympic Cauldron and Digital Orca sculptures. You can also stroll along the waterfront walkway, eventually reaching Stanley Park. Alternatively, relax at Tap and Barrel or Cactus Club, enjoying drinks and some of the most amazing views in Vancouver.
You can walk from Coal Harbour to Downtown, Gastown, the West End, and Yaletown. Waterfront, Burrard, Vancouver City Centre, and Granville Skytrain stations are within a 10 to 15-minute walk to connect you to other areas.
Accommodations here are predominantly high-end hotels. If you're looking to splurge and stay in one of the most beautiful locations in the city, Coal Harbour is the best place to stay in Vancouver, BC. It's notably perfect for a romantic getaway.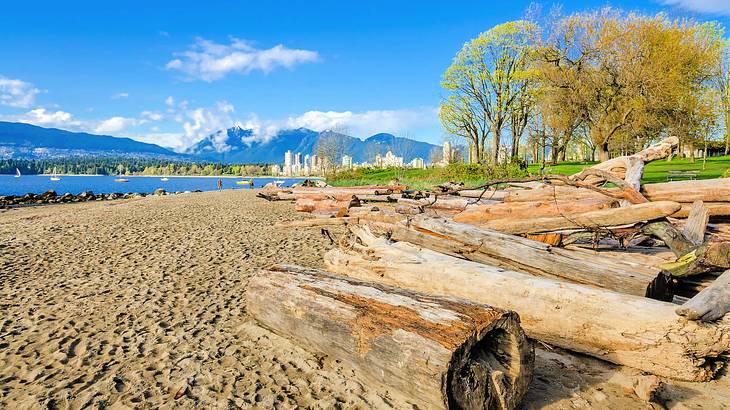 Kitsilano
Those looking for a more residential but still scenic place to stay may be interested in Kitsilano. Located across False Creek and English Bay from the West End, Kitsilano has a laid-back West Coast vibe, with beautiful outdoor areas, yoga and health stores, and independent cafes and eateries.
Attractions here include the fascinating Vancouver Maritime Museum and the Museum of Vancouver. There's also the tranquil Kitsilano Beach, offering views of English Bay and the North Shore Mountains.
Families will appreciate Kitsilano Pool, which is open through the spring and summer. You can easily get the bus to Spanish Banks Beach or Jericho Beach Park if you want access to more outdoor spaces.
The primary form of transport from Kitsilano to other areas is via bus. You can also get the Aquabus across to Sunset Beach or walk across the Burrard Street Bridge, which offers breathtaking views!
As with many other parts of Vancouver, short-term apartment rentals are the primary type of accommodation here. Although these apartments will be slightly more dated than those in other areas, they're often larger. You may be able to rent a whole house as well. In addition, while accommodations may not be that high-end, they are affordable.
Kits, as it's known by locals, is perfect for families. It's also a good choice for groups looking for large accommodation at a reasonable price.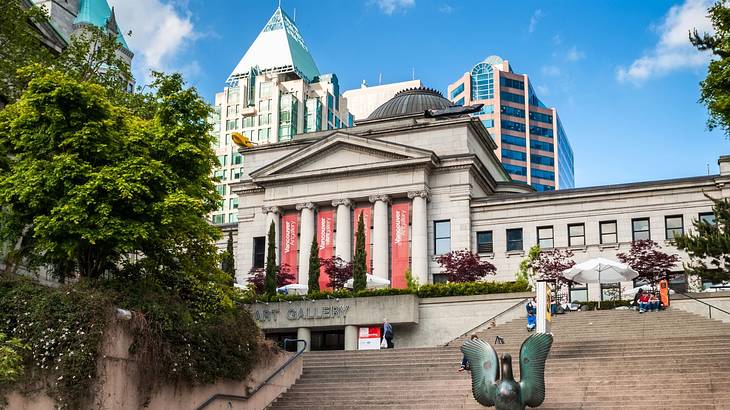 Downtown Vancouver
Downtown is Vancouver's bustling city center. It features many shops, bars, and restaurants and excellent connectivity to most other parts of the city.
Popular attractions Downtown include the CF Pacific Centre, a vast shopping mall, the Vancouver Art Gallery, and Granville Street, a top nightlife destination. There are also some performance venues here, like Queen Elizabeth Theatre and The Orpheum.
From Downtown, it's easy to walk to all other central Vancouver neighborhoods, like Yaletown, Coal Harbour, and Gastown. Buses and Skytrain stations, like Burrard and Granville, can connect you to other areas.
The area has many hotels, including well-known chains. These vary in price, but you can find affordable options, especially if you book early and look out for deals. There are some short-term apartment rentals as well, again for varying budgets.
Downtown is the best location to stay in Vancouver if you want to be in the center of everything. It's also ideal for those wanting hotel accommodation, as this is where the largest concentration of hotels is.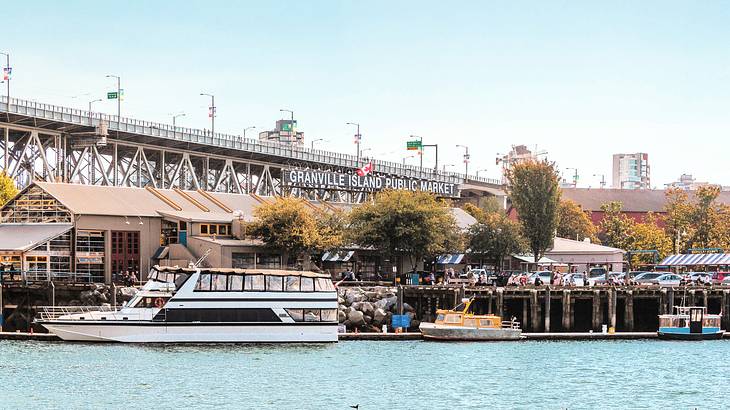 Granville Island
Located across False Creek from Downtown and next to Kitsilano, Granville Island is a popular attraction with locals and tourists. What many don't know is that you can stay on Granville Island at the Granville Island Hotel!
This is the only hotel directly on Granville Island. Rooms are a little on the higher end price-wise; however, staying here is a unique experience, and you'll be able to enjoy fantastic views from your room.
The primary attraction on Granville Island is the Granville Island Public Market. This large indoor market has a variety of food vendors to check out. There are also small local shops around the island and a few excellent breweries and waterfront restaurants. A splash pad is available for kids.
To get to Downtown and the surrounding neighborhoods, taking the Aquabus is the best choice. You can also walk or take the bus over the Granville Street Bridge. You can take the bus or walk to Kitsilano and other nearby neighborhoods, like Olympic Village.
Even if you don't stay here, visiting Granville Island is a must during your trip to Vancouver. Booking your accommodation in Kitsilano, Yaletown, or Downtown and near Sunset Beach will give you the easiest access to Granville Island.
Where to Stay in Vancouver, British Columbia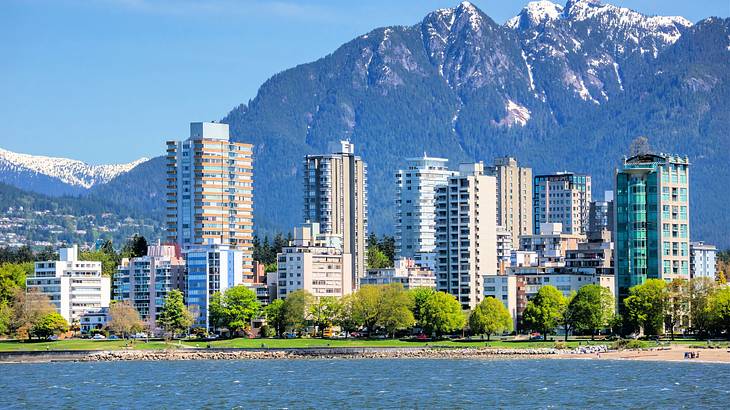 Where to stay in Vancouver with family?
Families will find many excellent neighborhoods in Vancouver to choose from. The West End is a perfect choice if you want to be in a central location. It's near areas with many attractions, like Downtown, but is quiet and residential, meaning your kids won't be kept up late by lots of noise.
It's also close to the downtown beaches and the kid-friendly swimming pool and playground at Second Beach. In addition, you have easy access to Stanley Park. At this famous Canadian landmark, your kids can run around, look out for wildlife, and enjoy the splash pad area.
Kitsilano is another good option. It's also very residential, and the accommodations here will be slightly more spacious than in the West End. You're near beaches and an outdoor public pool as well. Public transport is good in both locations, so you can easily reach other family-friendly attractions, like Science World.
Where to stay in Vancouver for first-timers?
If it's your first time in the city, where to stay will depend on what activities you want to enjoy. Downtown is generally the best choice for first-time visitors. It's near many attractions, bars, and restaurants and has excellent connectivity to other neighborhoods.
Additionally, the West End may appeal to you if you want to enjoy Vancouver's outdoor areas. It's near the Seawall, beaches, and Stanley Park. It's also near Downtown, meaning you can easily enjoy some shopping and sightseeing. You can also hop on the Aquabus to get to Granville Island (a must-visit for first-timers in the city) and Kitsilano.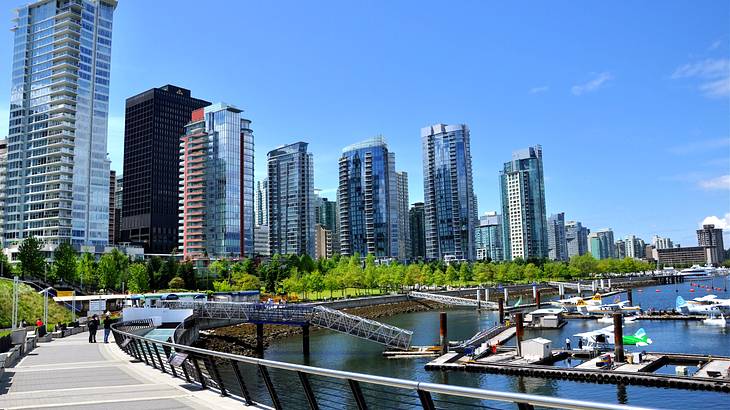 Where to stay in Vancouver for couples?
Vancouver is an excellent destination for a couples getaway, and you will find an array of fun and romantic things to do in Vancouver together. Regarding where to stay during your trip, Yaletown is one of the best neighborhoods to stay in Vancouver for couples.
It has trendy accommodation options and an array of bars and restaurants, ideal for a dinner or drinks date. You can also easily access the Seawall for a romantic waterfront walk, and Yaletown has good connectivity to attractions in other neighborhoods, like Downtown and Gastown.
Couples with money to splurge on a luxurious getaway should also consider Coal Harbour. This area has high-end hotels that offer breathtaking harbor views. Many also have spas and top restaurants.
If you're planning a quick getaway from Vancouver, Coal Harbour puts you right next to the seaplane terminal as well. Consider the West End or Olympic Village for a more relaxed and slightly more affordable break.
Where to stay in Vancouver for cheap?
Vancouver can be quite expensive; however, those traveling on a budget can find some affordable accommodation options. The West End is one of the best locations to stay in Vancouver for budget travelers.
It has hotels that offer reasonable rates as well as well-priced short-term apartment rentals. The neighborhood has lots of grocery stores as well if you plan to make your own meals to save some money. Kitsilano offers similar benefits and has reasonably priced eateries.
You can also find a few hostels in the city, like Samesun Vancouver on Granville Street or The Cambie Hostel in Gastown. Both of these have their own bars with affordable drinks, where you can meet locals and other budget travelers!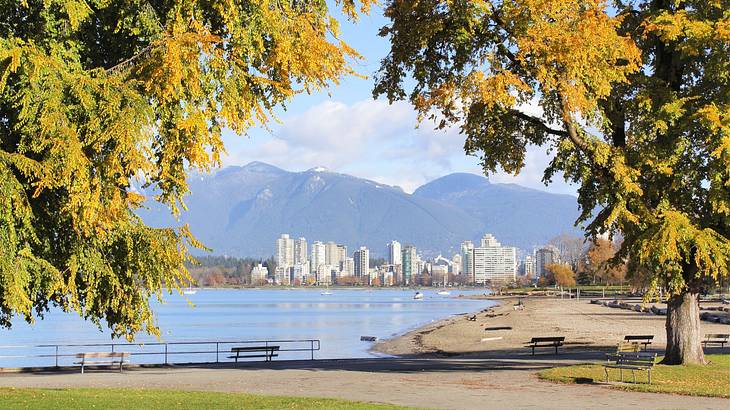 Where to stay in Vancouver with a car?
Visiting Vancouver with a car can present challenges, as parking in the city is generally scarce and expensive. Therefore, it's a good idea to book accommodation that provides parking.
Kitsilano is a great choice for those with a car. Apartment rentals are more likely to offer a parking space, and if you do have to pay for street parking, it's more affordable than Downtown and the surrounding areas.
You'll also want to look at less central areas. Places like Mount Pleasant, North Vancouver, and Burnaby are more likely to have accommodations with parking. They also have their own amenities and attractions and easy access to public transport to reach Downtown.
Lastly, chain and higher-end hotels in the downtown area may offer parking with a room booking but double-check with the hotel before going for that option.
Where to stay in Vancouver without a car?
Staying in and exploring Vancouver without a car is incredibly easy! Therefore, the best neighborhood to stay in Vancouver without a car will depend on other factors, such as budget.
However, Downtown would generally be considered a top choice. It has multiple Skytrain stations and bus stops to connect you to places you can't walk to and is within walking distance of all the other central neighborhoods, like Gastown and Yaletown.
Having said that, any of the other central neighborhoods around the downtown area offer these benefits. Even if a neighborhood like Kitsilano appeals to you, there's a good bus service to help you get around town.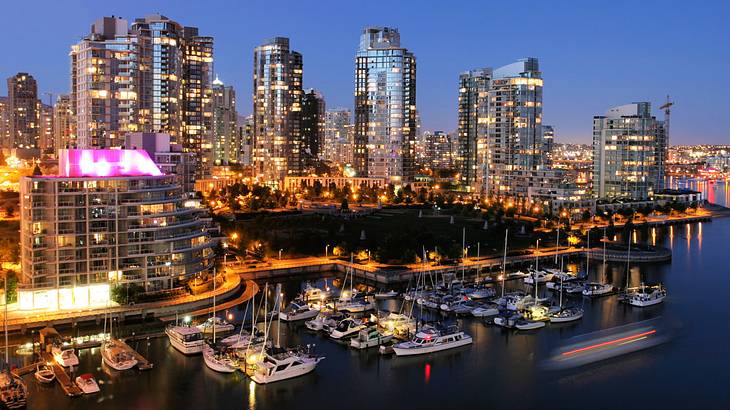 Where to stay in Vancouver for nightlife?
Vancouver is one of the best party cities in Canada, making it a good choice for those that love nightlife activities. Having said that, keep in mind that Vancouverites favor hanging out at breweries or enjoying cocktails over a good meal to partying all night at clubs!
Those that like cocktail bars and high-end eateries will want to stay in Yaletown. This trendy neighborhood has restaurants serving all types of cuisine and stylish bars with unique (and very Instagrammable!) drinks on the menu.
Downtown is another good place to stay for nightlife. There are a couple of nightclubs in the area, and Granville Street has many fun yet laid-back bars. Lastly, the Davie Street area of the West End has relaxed bars with outdoor seating and lots of LGBTQ-friendly bars and nightclubs.
In Conclusion
Vancouver is a destination with something for everyone, from world-class museums to excellent bars and restaurants and relaxing beaches. If you're planning a trip and have been wondering where to stay when visiting Vancouver, this article should have helped you to make a decision.
No matter which neighborhood you choose, you'll have an excellent time exploring this part of British Columbia!
Give us feedback about this article
Learn more about Vancouver:
More articles about British Columbia:
Read more articles about Canada:
More articles about places to stay:
---
---
Want to keep exploring?
Subscribe for discounts on tickets and hotels and our latest guides.
Thank you for subscribing
We will be in touch soon with discounts on tickets and hotels and our latest guides.
Want to keep exploring?
Subscribe for discounts on tickets and hotels and our latest guides.
Thank you for subscribing
We will be in touch soon with discounts on tickets and hotels and our latest guides.
Related Articles