20 Best Viewpoints in Vancouver, BC, for a Scenic View
Destguides may receive commissions from purchases made through affiliate links in this article.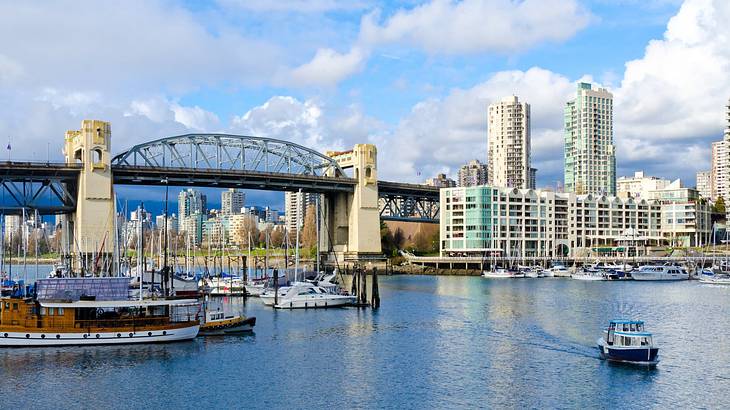 Vancouver, in British Columbia, Canada, is consistently ranked as one of the most beautiful places in the world. So whether you're visiting Vancouver over a long weekend, staying for a more extended trip, or are lucky enough to live in the city, you'll be able to find a range of lookouts offering great views of this stunning city.
With a landscape featuring ocean, mountains, skyscrapers, and forests, you don't want to miss out on experiencing panoramic views. By heading to any of these best viewpoints in Vancouver, BC, you can enjoy the fantastic landscape and snap an Instagram photo or two!
All of these viewpoints are either downtown or within a short drive or public transport ride from Downtown Vancouver, making seeing some impressive views memorable and convenient.
20 Best Vancouver Viewpoints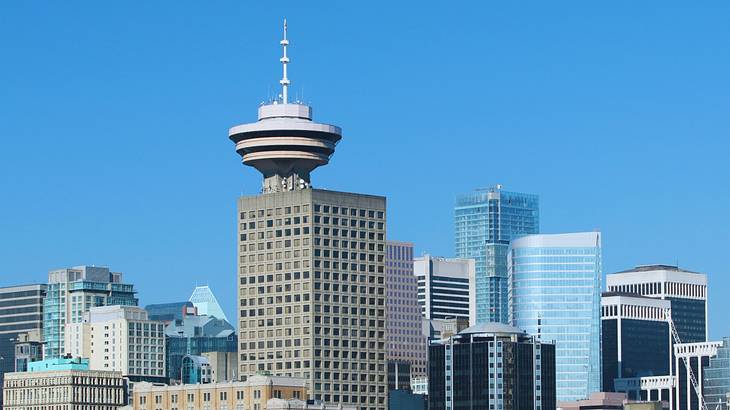 Vancouver Lookout Tower at the Harbour Centre
If you're looking to see phenomenal views in a big city, many have observation towers that are perfect for just that. Vancouver is no different. The Vancouver Lookout, located downtown at the Harbour Centre, is an excellent choice for those who want 360-degree city views.
The observation deck sits 168.6 meters above ground level and is accessible in 40 seconds via a high-speed glass elevator. Once at the top, you can see Downtown Vancouver and well-known locations like Gastown, Coal Harbour, Canada Place, and Stanley Park. You can additionally see the North Shore, Grouse Mountain, and more.
What's great is that a ticket gives you all-day admission. This means that you can take in the views during the day, at sunset, and at night if you'd like! There is also a revolving restaurant at the top of the lookout, allowing you to have breakfast, lunch, or dinner as you take in the views.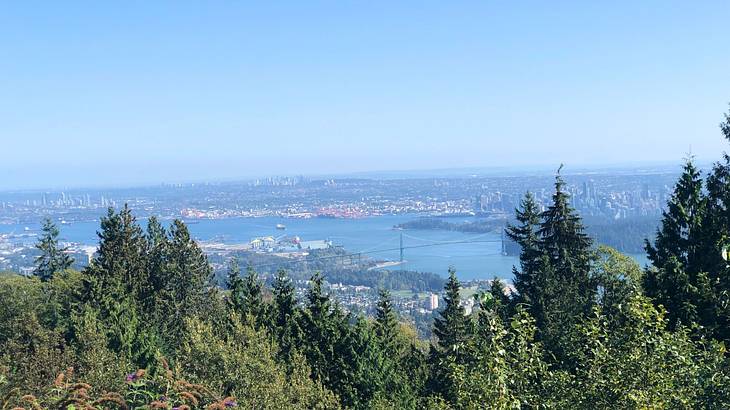 Cypress Mountain Viewpoint
There are a few spectacular lookouts at Cypress Mountain (also known as Cypress Bowl lookout) in West Vancouver that provide breathtaking views. It's also a great hiking location in Vancouver, with many viewpoints along the hiking trails.
The Cypress Mountain Viewpoint and Bowen Lookout offer panoramic lower-mainland views. You can see downtown as well as the University of British Columbia (UBC) in the west and Coquitlam in the east. The Bowen Lookout, which you can reach in about an hour and a half when hiking, also offers views of Bowen Island and the Howe Sound.
If you feel like a longer hike, you can hike the trail to Eagle Bluffs. This trail takes about four hours round-trip. In addition, you can see Metro Vancouver, Lighthouse Park, and Horseshoe Bay.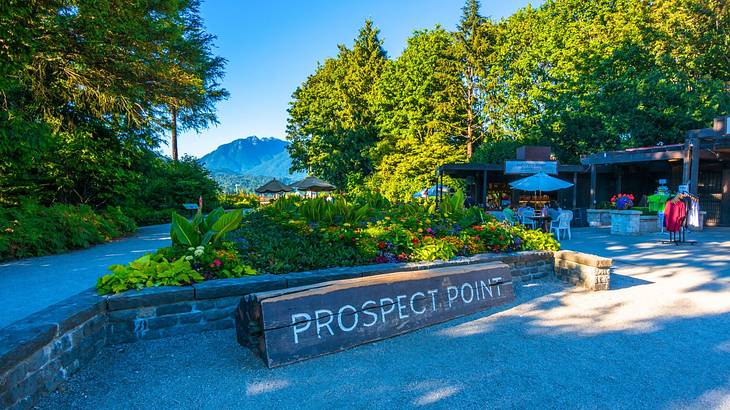 Prospect Point in Stanley Park
The Prospect Point Lookout is one of the best lookouts in Vancouver. Located in Downtown Vancouver's Stanley Park, it's very easily accessible.
The lookout is situated along the seawall that goes all around the park and to False Creek and David Lam Park. Once at Prospect Point, you'll see views of the Inner Harbor and Lions Gate Bridge. You can additionally see across to the North Shore.
Lonsdale Quay
Lonsdale Quay, on Vancouver's North Shore, is just a quick SeaBus ride away from downtown. It's most well-known for its market and amazing views!
You will be able to see fantastic cityscapes from all areas of Lonsdale Quay. The Waterfront Plaza is an excellent spot to go to experience these views. You can see the Downtown Vancouver skyline as well as Stanley Park and the Lions Gate Bridge.
Another popular attraction here is the Q sign. Stop to take a picture and climb up the 77 steps to the top of the sign to enjoy even more vistas. Also, explore the market and other shops and restaurants, and visit the love locks at the pier.
English Bay
English Bay, located downtown, is one of the most scenic places in Vancouver. The main attraction here is the urban beach, English Bay Beach. English Bay Beach is found along the Stanley Park Seawall between Second Beach and Sunset Beach.
When here, you can revel in views of Kitsilano and Point Grey across the bay. You'll also get views of West Vancouver to the North and the city of Vancouver to the East. It's a beautiful place to relax and enjoy the ocean, mountain, and city views in all directions.
You can also walk or cycle the seawall while taking in the view. Alternatively, experience the landscape and atmosphere with tasty food and drinks at Cactus Club English Bay. Positioned right on the beach, with terrace seating available, you'll get amazing uninterrupted views. You could also bring a picnic to the beach, which is one of the best date ideas in Vancouver!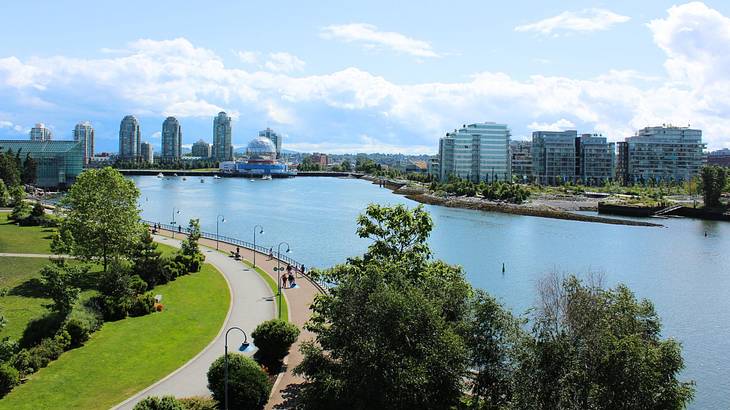 False Creek
False Creek is an inlet that separates Downtown Vancouver from other parts of the city. You can walk the seawall along False Creek, starting underneath the Burrard Street Bridge and ending below the Cambie Street Bridge.
While walking along False Creek (or while sipping a drink at a waterside bar or relaxing on Sunset Beach), you can see straight over to the iconic Granville Island. You'll also be able to see Science World, Kitsilano, and Charleson Park.
Along the way, you will additionally come across tranquil urban parks, including David Lam Park. Alternatively, you can walk along False Creek from Olympic Village with views of the downtown area. Both walks will also allow you to enjoy the harbor view with many boats and yachts in the water.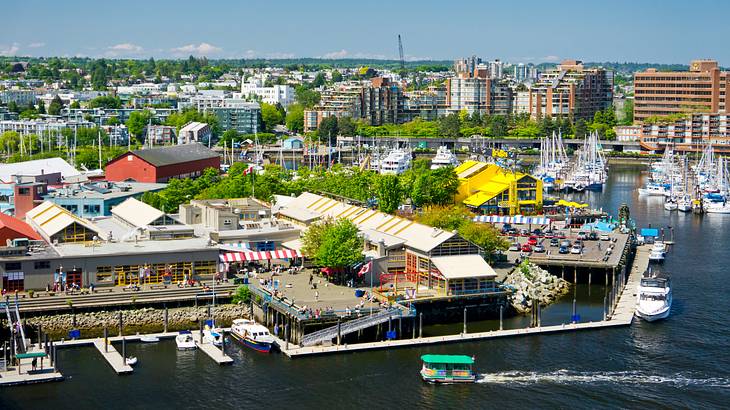 Granville Island
Located across False Creek from downtown is the well-known Granville Island. This shopping area features the indoor market, Granville Island Public Market, plus many independent shops, bars, and restaurants. Along with the great shopping and dining, you'll have excellent views, making this attraction a must on your Vancouver itinerary!
Visitors to Granville Island can see over the creek to Downtown Vancouver and its beaches and the sea wall. Like with False Creek's views, you can see Science World in the east and the mountains and ocean in the west.
You will get striking views while traveling to Granville Island, too. If coming from downtown, you can take the aqua bus across False Creek. Or, you can walk to the other end of the Burrard Street Bridge, stopping to enjoy the fantastic city views along the way.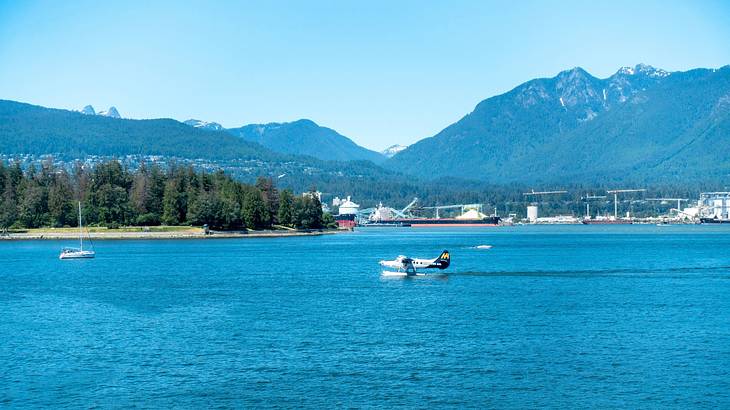 Canada Place and Coal Harbour
Canada Place and Coal Harbour are some of the most easily accessible areas in Vancouver to get incredible views. Start at Canada Place, where the waterfront path that includes the Stanley Park Seawall begins. As you walk toward Coal Harbour, you'll see the large cruise ships that dock here (including the fun Disney cruise ship!) and can watch seaplanes take off.
As you follow the path, you'll instantly see the stunning views. You can see the Burrard Inlet and tall, snow-capped mountains. You can also see down to the industrial area of Vancouver in the east and across to North Vancouver. You may even see whales or seals!
Once at Coal Harbour, you can view Stanley Park, a range of yachts moored in the dock, and a charming boat gas station, right in the middle of the inlet! While at Canada Place, you can also stop by Cactus Club or Tap & Barrel to relax with a drink and the magnificent scenery.
Capitol Hill Reservoir Park
If you're looking for a quieter, less well-known location to see lovely views in Vancouver, Capitol Hill is a good choice. Capitol Hill Reservoir Park is a small residential park in Burnaby. It's easy to get to by driving or taking public transport from downtown.
This location offers views of Burnaby's Metrotown skyline and Downtown Vancouver's skyline in the distance. You'll also be able to see the North Shore Mountains, the Burrard Inlet, and Lions Gate Bridge on clear days.
It's an excellent spot for panoramic views of Metro Vancouver. Capitol Hill is also a good choice for those looking to watch the sunset over Vancouver.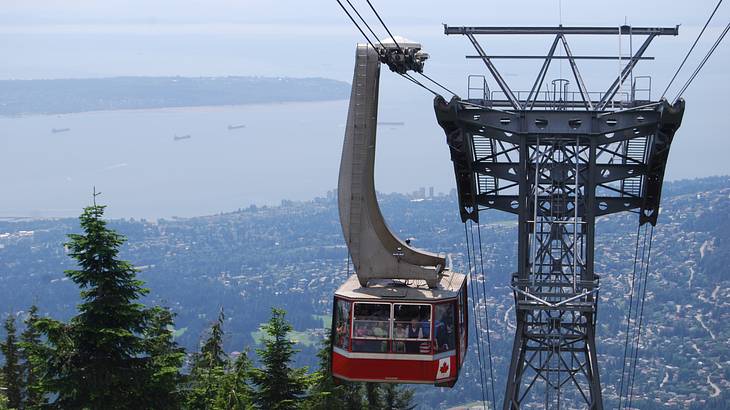 Grouse Mountain
Grouse Mountain is a popular spot to visit for lots of reasons. There is a range of activities here, from hiking and tackling the Grouse Grind to skiing, snowboarding, and snowshoeing.
There are also fantastic views of Metro Vancouver, the Burrard Inlet, and the surrounding alpine forest. You can even see Mount Baker on clear days! There are a few ways to get to Grouse Mountain's peak, all of which allow you to enjoy the incredible views. Those looking for a workout can do the Grouse Grind, a climb of 2,830 steps.
Alternatively, take the Grouse Skyride. You can travel inside the gondola, or the more daring can go on an outside "balcony." No matter what you choose, you'll get to take in the breathtaking 360-degree views of Vancouver.
Thrill-seekers can even revel in the views while zip-lining at Grouse Mountain in the summer. Once at the peak, you can relax and take photographs.
There's also a selection of restaurants and cafes where you can grab a drink and a snack amongst fantastic scenery. Finally, finish your trip to Grouse by visiting the Eye of the Wind. This view-pod offers panoramic views of Vancouver.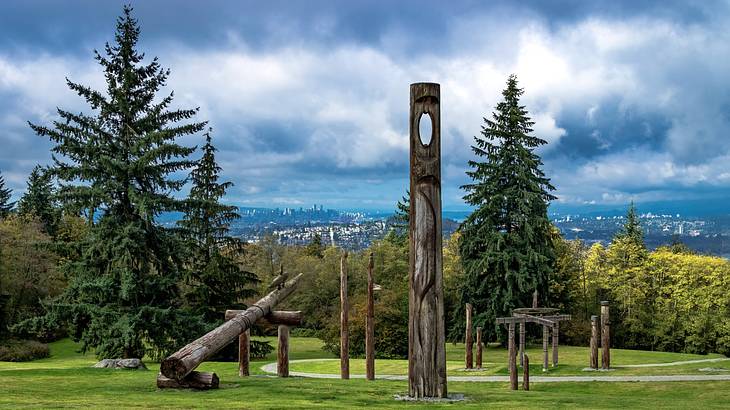 Burnaby Mountain
Burnaby Mountain is located in the Metro Vancouver city of Burnaby. It's part of the Burnaby Mountain Conservation Area and offers fantastic views, along with being one of the most beautiful places around Vancouver. The mountain is just a 20-minute drive from Downtown Vancouver and is accessible by public transport.
Once at the top of the mountain, you'll get views of Downtown Vancouver to the west and Indian Arm to the east. It's a great place to hike and appreciate the sights during the day, or head here in the evening to enjoy the sunset.
While here, be sure to also visit the Kamui Mintara, or Playground of the Gods, totem sculptures. These totem poles commemorate the relationship between Burnaby and its sister city of Kushiro, Japan.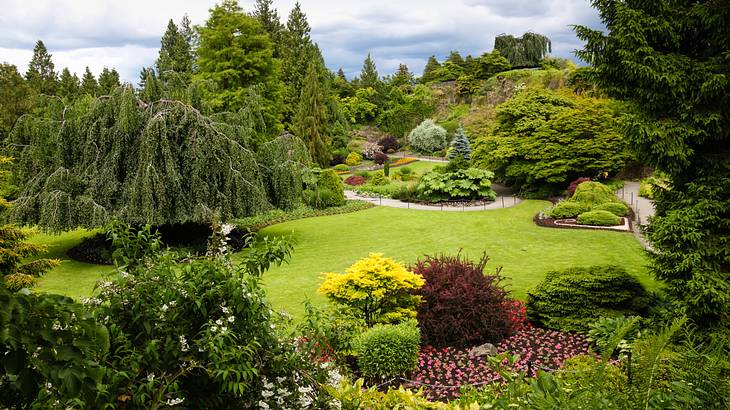 Queen Elizabeth Park
Queen Elizabeth Park is another attraction that you have to visit during your Vancouver trip. Notably, the location is excellent if you're looking for magnificent panoramas of the Vancouver skyline. As the highest point in Vancouver at 125 meters above sea level, it's one of the city's best viewpoints.
You can see the Vancouver skyline from the top plaza in full, including iconic Canadian landmarks like the Vancouver Lookout and BC Place. You can also see across to the North Shore Mountains, with the best views being on bright and clear days.
Be sure to also explore this 130-acre park, visiting attractions like the Dancing Fountains and Quarry Gardens. Then, stop for lunch or dinner at Seasons in the Park, Queen Elizabeth Park's high-end hilltop restaurant that also offers views of the Vancouver skyline.
Charleson Park
Charleson Park is an over seven-hectare green space located along False Creek in Fairview. The park is just a few minutes from Granville Island and is close to Olympic Village. As it's on the opposite side of the creek to downtown, a stroll through this park will provide spectacular views of the downtown skyline.
You can also see across to David Lam Park and the seawall path, which both sit on False Creeks' edge downtown. The park additionally has a large dog park, making it an awesome place to walk your dog, accompanied by fantastic views.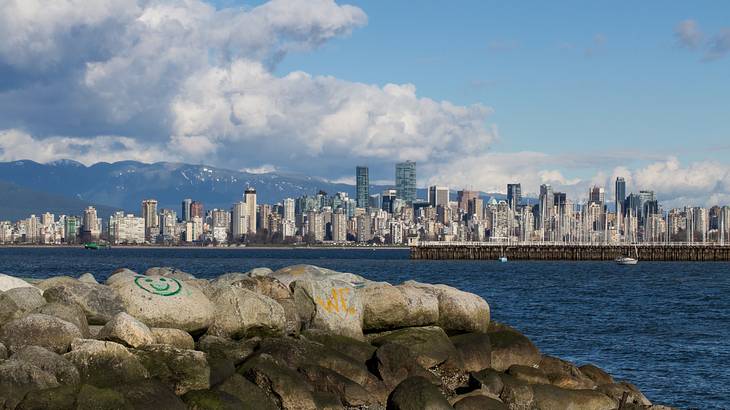 Jericho Beach
Jericho Beach is found to the west of Kitsilano, about a 20-minute drive from Downtown Vancouver. This beach is much less crowded than Kitsilano Beach and downtown beaches like English Bay. This beautiful sandy beach also offers excellent views.
As you relax on the beach, you'll be able to see across the water to Downtown Vancouver. You can also see West Vancouver and the North Shore mountains in the distance. Additionally, there are a few bars and restaurants where you can sit on terraces and take in the scenery.
You can also explore a small park and lagoon and walk towards Spanish Banks Beach. This equally quiet beach offers some fantastic landscape shots as well.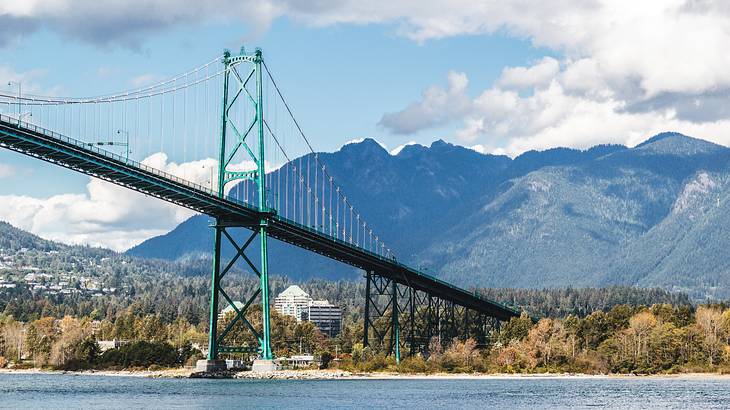 Lions Gate Bridge
The Lions Gate Bridge is a renowned suspension bridge that connects the city of Vancouver to the North Shore over the Burrard Inlet. The bridge can be seen from many areas in Vancouver. It's usually a top North American landmark to see from various other Vancouver lookout points, but it's also a notable viewpoint itself.
You can walk or cycle across the bridge and stop to enjoy the sights. It's easiest to access the bridge from Prospect Point in Stanley Park. Once on the bridge, you'll get great views of the Burrard Inlet, Downtown Vancouver, and Stanley Park. You can see Vancouver Harbor, the North Shore Mountains, and North Vancouver as well.
Don't forget to also take a picture of the two famous stone lions that guard the entrance to the bridge. These lions represent The Lions, a pair of mountains on the North Shore.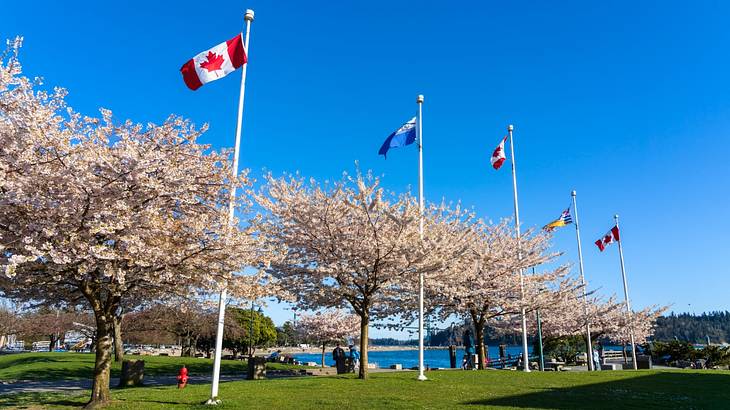 Ambleside Park
Ambleside Park, and the adjacent Ambleside Beach, offer amazing views of the downtown area. Located in West Vancouver, the park and beach are easily accessible over the Lions Gate Bridge. You can walk, cycle, drive, or take the bus across the bridge.
The park and beach themselves are clean and relaxed. You'll find many locals here jogging, walking dogs, and just hanging out! From Ambleside Park and the beach, you can also see the Burrard Inlet to Stanley Park, along with English Bay and Kitsilano. On clear days, you may even see UBC.
This area is excellent for a chilled-out beach or park day. It's the perfect place to have a picnic and hang out in nature as you take in the surroundings. There's also a children's park and a dog park here if you're exploring the area with kids or your dog.
The Spa at Fairmont Pacific Rim
A different way to take in Vancouver's scenery is to visit the Willow Stream Spa at the Fairmont Pacific Rim Hotel in Downtown Vancouver. Along with being thoroughly pampered, you'll be able to appreciate the landscape surrounding the spa pools and treatment rooms.
Located almost at the water's edge next to Canada Place, the 5th-floor day spa offers views of Coal Harbour, Vancouver Harbour, and across to North Vancouver and the North Shore Mountains. You can also watch seaplanes as they take off and land.
The outdoor terrace additionally offers 360 views of the harbor and Downtown Vancouver. Relax here as you enjoy the view on cabana-style chairs surrounded by skyscrapers!
If you're visiting Vancouver or want a luxurious staycation, you can also book a room here. The majority of the rooms provide incredible vistas of Downtown Vancouver or the harbor and surrounding scenery.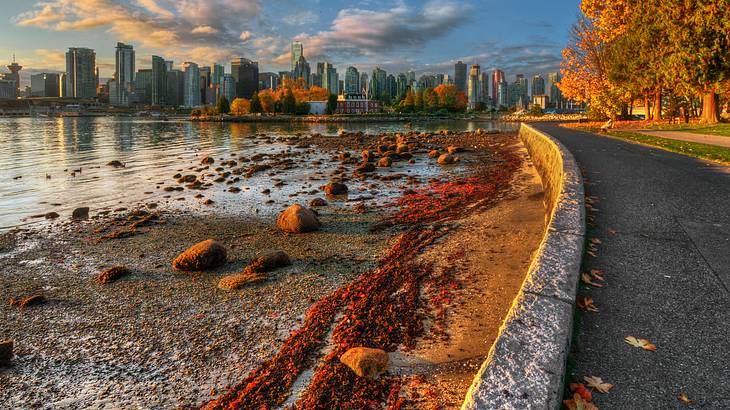 Stanley Park Seawall
While a visit to Prospect Point offers spectacular panoramas, wherever you walk on the seawall, you'll be able to take in breathtaking vistas. The start of the seawall, accessed through Stanley Park, will provide excellent views of Coal Harbour and the tall buildings of downtown.
As you walk around the wall, you will pass Third Beach, Second Beach, English Bay, and Sunset Beach. At these locations, you can see mountains and ocean as well as across to Kitsilano and down False Creek.
Once you reach Sunset Beach, keep walking the end of the seawall to get views of the downtown bridges, Granville Island, and the yachts and boats moored in False Creek.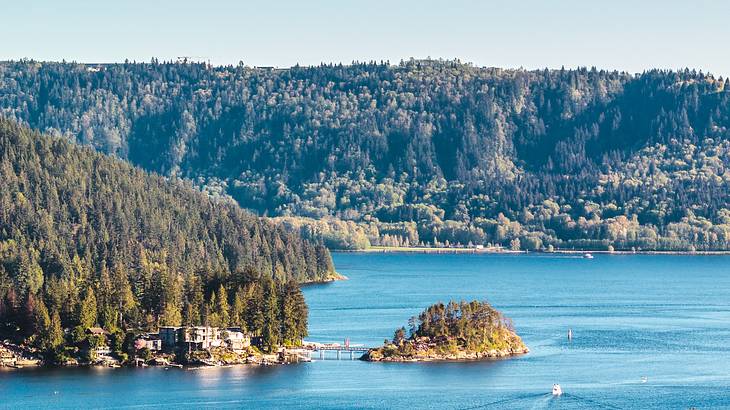 Quarry Rock
Quarry Rock is located about 40 minutes from Downtown Vancouver in the village of Deep Cove. Despite being a little way out of the city, the view of Greater Vancouver from the top of Quarry Rock is fantastic.
You'll need to hike to get to the top, but it's quite a gentle climb. At the top, you can enjoy views of Deep Cove and the surrounding inlet. There are also views of Indian Arm, North Vancouver, and Burnaby.
You can take pictures and sit on the naturally occurring viewing platform to take in the surroundings before heading back down to Deep Cove.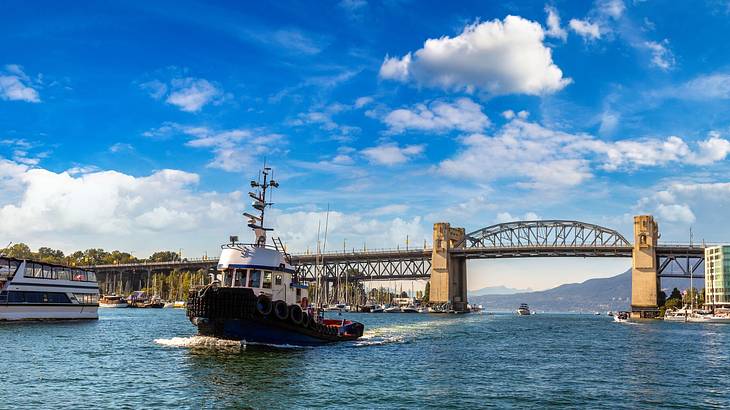 Downtown Bridges
There are many bridges around downtown that are open to pedestrians and offer stunning views. A quick stroll across one of the three bridges connecting downtown to Kitsilano and Mt. Pleasant will offer amazing views. Wandering along the Lions Gate Bridge, connecting Stanley Park to North Vancouver, is also recommended.
When walking across the Burrard Street Bridge, you can see the downtown beaches on one side and False Creek on the other. The Granville Street Bridge offers equally stunning views. You'll be able to see across to Granville Island and down False Creek. You can also view Sunset Beach past the Burrard Bridge.
Lastly, a walk across the Cambie Street Bridge will allow you to see False Creek and the other two bridges, along with views of the end of the seawall and Granville Island. On the other side of the bridge, you can take in the scenes of the water and Science World, which is a great photo op.
In Conclusion
Vancouver offers the most amazing views. By visiting any of the above-suggested best viewpoints in Vancouver, you'll be able to enjoy the vistas of this beautiful city.
Additionally, if you plan on a getaway from Vancouver, consider traveling by seaplane. Or, simply take a seaplane tour over Vancouver. Doing so will let you experience impressive aerial views of the city and its surrounding islands. A very worthwhile activity for those who love stunning views!
---
---
Want to keep exploring?
Subscribe for discounts on tickets and hotels and our latest guides.
Thank you for subscribing
We will be in touch soon with discounts on tickets and hotels and our latest guides.
Want to keep exploring?
Subscribe for discounts on tickets and hotels and our latest guides.
Thank you for subscribing
We will be in touch soon with discounts on tickets and hotels and our latest guides.
Related Articles