21 Amazing Vancouver Weekend Getaways
Destguides may receive commissions from purchases made through affiliate links in this article.
Vancouver is perfectly located near a lot of weekend getaway locations. Its central location in North America makes it a fantastic starting point for trips in the north, south, and west of BC, as well as in the US.
If you have already spent a few days visiting Vancouver or are a resident, you are probably looking for some places to visit outside of Vancouver.
You can drive or catch a ferry to numerous locations. If you want a faster option, you can travel by seaplane to certain destinations. For example, you can easily catch a plane from Downtown Vancouver to fly in under an hour to the popular destination of Victoria.
With so many great towns to visit outside Vancouver, it can be hard to decide which to choose! Luckily, there is something for all types of travelers, including those looking for a romantic weekend away (although there are many romantic things to do in Vancouver, too).
This list covers everyone from snow sports lovers to nature and wildlife enthusiasts and those looking to explore another urban city. Whether you live in Vancouver or are just visiting, consider one of these 21 Vancouver weekend getaways for your next adventure!
21 Best Weekend Trips From Vancouver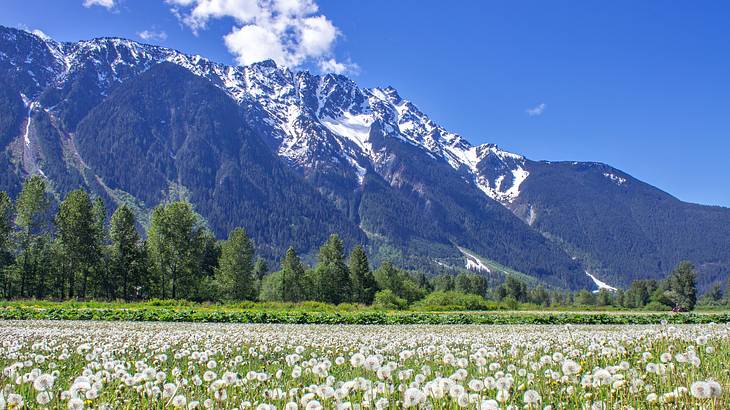 Pemberton, BC
Pemberton is about a 30-minute drive north of Whistler. Like Whistler, it offers a range of outdoor recreation activities. However, Pemberton benefits from being less busy than the iconic Whistler. For those looking to undertake winter activities without Whistler's crowds, Pemberton offers access to quiet backcountry and alpine skiing runs.
Visitors will find multiple trails for hiking, biking, and horse riding here. Pemberton is also close to Provincial Parks, including Joffre Lakes, with its ice-blue glacier lakes, and Nairn Falls Provincial Park. Pemberton is additionally an agri-tourism destination. Visit a selection of u-pick farms and a weekend farmers market, running from June through October, for local produce.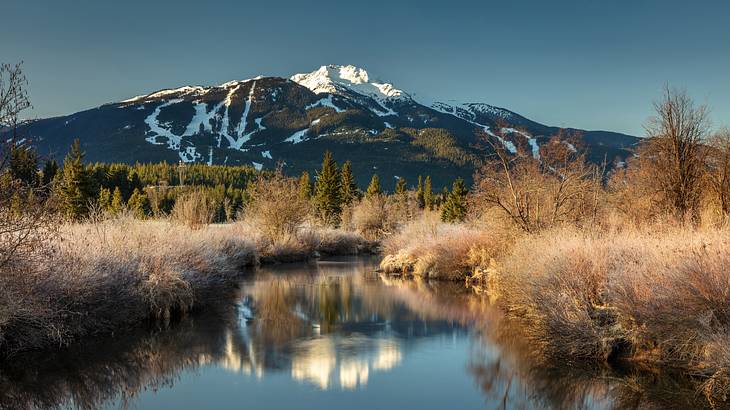 Whistler, BC
A trip to Whistler is one of the best weekend getaways from Vancouver. Located about 2 hours north of Vancouver, Whistler is a famous natural landmark in Canada and a well-known winter sports destination. If you're not visiting in winter or aren't a winter sports enthusiast, Whistler is still worth a visit in the summer, or even just for a day trip.
Skiers and snowboarders can enjoy the world-class Whistler Blackcomb from around mid-November to May. There are runs for all levels, plus park features and backcountry trails. Passes can be purchased for a day or the whole weekend, with season passes also available.
There are plenty of trails for hiking and biking in the area too. There are also multiple lakes that are perfect for winter walks or summer lake days. The Scandinave Spa is another excellent attraction for those after a relaxing or romantic getaway.
I also recommend the Whistler Peak 2 Peak experience. Take the gondola up the mountain to experience 360 views of the surrounding scenery. Once at the top, enjoy a meal or drink at one of the mountaintop restaurants. Peak 2 Peak is an excellent activity to do in all seasons.
Whistler Village is fun to explore all year round. There is a selection of shops, plus cozy alpine-style bars and restaurants. If you have time on the way to or from Whistler, stop at Horseshoe Bay. This scenic seaside town has quaint cafes and restaurants and a striking harbour view.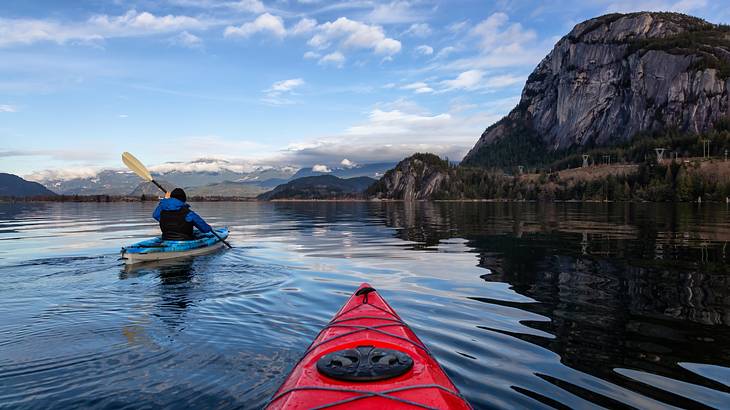 Squamish, BC
Squamish is located north of Vancouver, between Horseshoe Bay and Whistler. Stop here on the way to Whistler, or just visit for a day or overnight trip.
One of Squamish's main attractions is the Sea to Sky Gondola. Take a ride on the gondola to enjoy views of Howe Sound and the surrounding coastal forest and mountains. You'll also be able to see Shannon Falls and the Stawamus Chief climbing area, both of which are great additional attractions to visit.
At the top of the gondola ride, you'll be able to walk the Sky Pilot Suspension Bridge. This 100-metre-long bridge offers more breathtaking 360-degree views of the area.
Tantalus Provincial Park, along with other provincial parks in greater Vancouver, is another good place to visit in Squamish for hiking, fishing, and even backcountry skiing. Here, you'll discover Lake Lovely Water, a sub-alpine lake surrounded by forest and glaciers.
If hiking isn't your thing, consider a helicopter tour to enjoy the views. And don't forget to keep an eye out for Squamish's native eagles!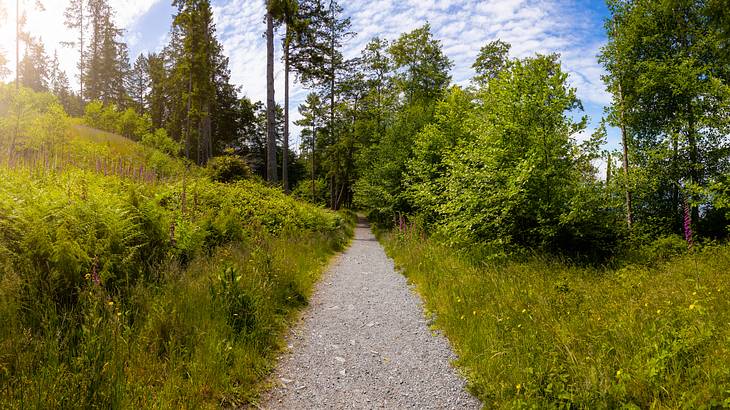 Bowen Island, BC
If you're looking for one of the best Vancouver weekend trips for nature lovers, Bowen Island is the right choice. Despite still being part of Metro Vancouver, located between West Vancouver and Gibsons, you'll feel far away from the city. Drive from Vancouver and then get here in 20 minutes on the ferry from Horseshoe Bay.
There are multiple large parks on the island, including Apodaca Provincial Park and Crippen Regional Park, which are both perfect for hiking and wildlife viewing. The Bowen Island Ecological Reserve also has many trails and guaranteed wildlife sightings.
There is additionally a selection of scenic beaches around the island. Chill on the sand for a relaxing day, or try some fun water sports. If you're not into outdoor activities, Bowen Island has a variety of independent shops, restaurants, museums, and spas.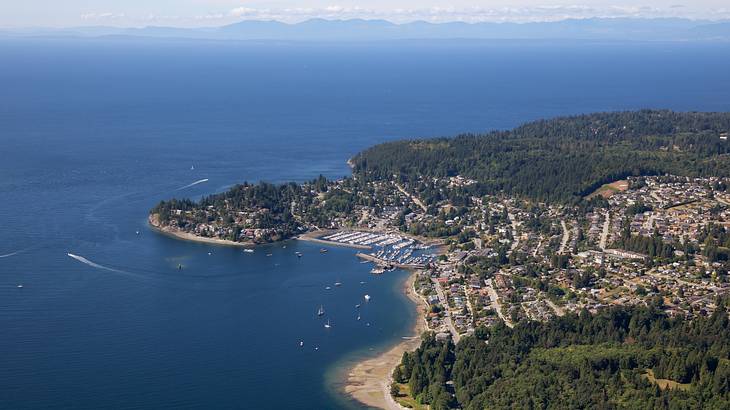 Gibsons, BC
Gibsons is a quaint fishing town on the southern end of the Sunshine Coast, north of Vancouver. This peaceful town overlooks the harbour and the islands of Howe Sound. If you want a quick trip from Vancouver, Gibsons is a great option. You can get here by ferry from Horseshoe Bay in 40 minutes.
Gibsons offers a relaxed mix of water activities and hiking. Kayaking and canoeing are also popular here, and even diving is offered. Being a fishing village, fishing on the water is a common thing to do in Gibsons as well. There are also several hiking trails. Soames Hill is recommended for a scenic hike and stunning views of the region.
Gibsons Public Market is well worth a visit for local produce and artisan crafts. You should also explore the shops, museums, and art galleries at Gibson's landing. Finally, be sure to check for events being held during your visit too. Many festivals happen throughout the spring and summer, including a jazz festival and a craft beer festival.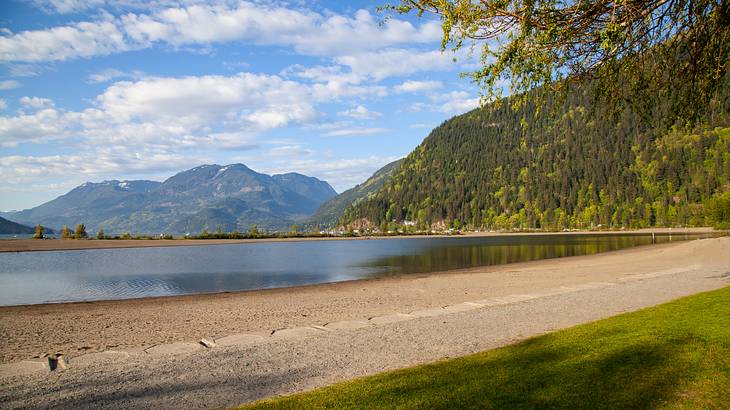 Harrison Hot Springs, BC
Harrison Hot Springs is nestled within the mountains and beaches surrounding Harrison Lake in southwestern British Columbia. Just drive 90 minutes out of Vancouver, and you'll be able to relax in BC's famous hot springs.
To enjoy the hot springs, head to Harrison Hot Springs Resort & Spa. Access is free if you stay at the resort, or you can pay for spa entry. Other spas, plus outdoor yoga classes and retreats, are abundant here as well, making it an excellent place to visit for a calm and relaxing weekend.
If you want a more active weekend, kayaking and fishing are popular on Harrison Lake. Hiking and wildlife viewing in the surrounding areas are also fun things to do in Harrison Hot Springs for locals and tourists alike.
E.C. Manning Provincial Park, BC
Manning Provincial Park's main attraction is the Manning Park Resort. The resort has a ski and snowboard hill that attracts visitors. Located in the sub-range of the Canadian cascades, it offers perfect conditions for a snow sports trip. You can reach the resort in under two and a half hours of driving from Vancouver.
The resort is appealing as it's much smaller than renowned ski resorts like Whistler. The smaller resort also allows for a more relaxing getaway and is best for those looking for space to learn or practice their technique.
Even if you aren't a snow sports enthusiast, don't cross Manning Park off your getaway list. The alpine terrain is ideal for hiking, especially in the spring and summer months. Water sports and fishing are also offered on the Lake.
Manning Park is a great place to spot wildlife too. It's a black bear habitat, and many other animals call the park home. Summertime camping and horseback riding are additional activities favoured by tourists to the area.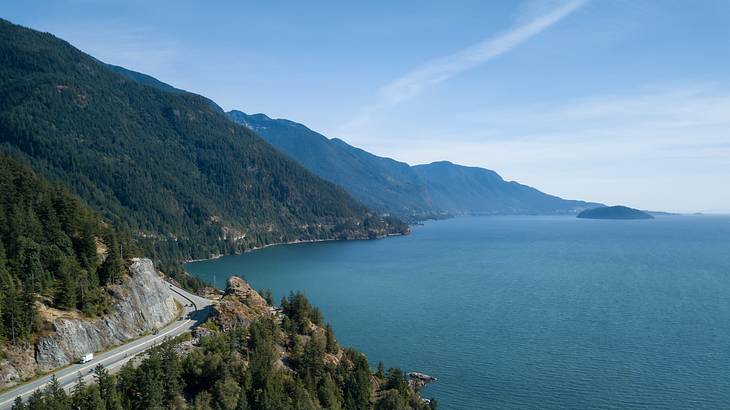 Kamloops, BC
Kamloops is the second-largest city in BC's interior. It is found approximately four hours from Vancouver. Kamloops is known by some as ranch country. Ranches cover the landscape, and horseback riding is a well-liked pastime. Visitors can even stay at guest ranches, with guided horse riding offered on various trails.
It's also perfect for lovers of other outdoor activities. There are many hiking and biking trails and over 80 parks. Kamloops Wildlife Park is another fun attraction with guaranteed sightings of local species. Golfers will additionally find a large selection of highly-rated golf courses.
Having experienced the outdoor activities Kamloops has to offer, relax at one of its wineries or craft breweries. Tours and tastings are available on most days. A farmers market is also hosted weekly with local produce to purchase. Lastly, I recommend visiting The Noble Pig restaurant. Enjoy house-brewed beer and yummy gastro-pub-style dishes at this popular local spot.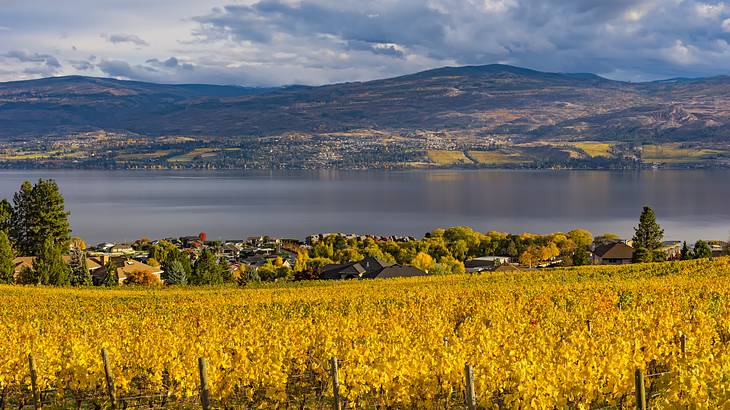 Kelowna, BC
As one of the biggest cities in the Okanagan, Kelowna is a trending tourist destination. It's known for its beautiful lakes and scenery. Due to the range of activities available, Kelowna is one of the best long weekend trips from Vancouver.
As the heart of BC's wine country, you'll discover an array of Okanagan vineyards and wineries here. Winery tours and tastings are the big things to do when visiting Kelowna. There are several to choose from, including small boutique wineries and larger Italian-style estates. Most wineries are closely located, making multiple stops easy.
Kelowna is on Lake Okanagan, so water sports and lakeside beach days are also popular. Rent a boat, or go kayaking or paddleboarding. Alternatively, just relax on the beaches found along the lakeshore, or find a campground in Kelowna or nearby to spend a few days at.
Hikers and bikers will also find a range of trails to cover. Along with smaller, scenic trails, there are multiple provincial parks in the area to explore. Lastly, visit downtown Kelowna to walk along the promenade and stop in the shops and restaurants located here.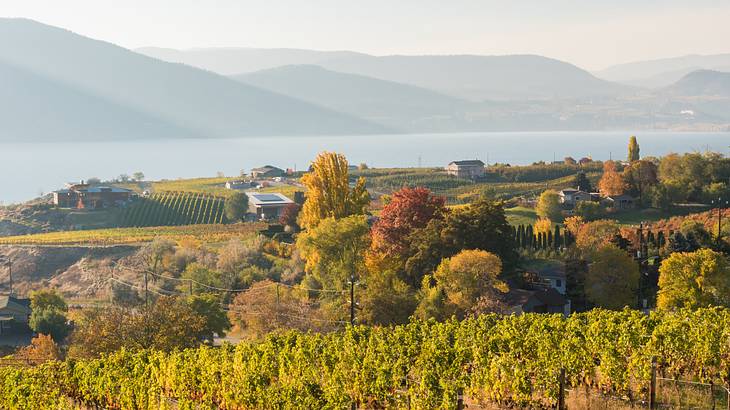 Naramata, BC
Naramata is found in the Okanagan Valley, about an hour's drive from Kelowna. If coming directly from Vancouver, it is approximately a five-hour drive. As in Kelowna, you'll find a selection of wineries and cideries to visit. These are often not as busy as those in Kelowna, therefore, making them a good option for a more relaxed tasting session.
Naramata is on the shores of Okanagan Lake. Visitors can undertake a range of water sports or just relax on the lakeside beaches. Trails for hiking and mountain biking can also be found here. These include trails around the Naramata Creek Park Waterfall and the Kettle Valley Rail Trail.
In the central part of town, you'll discover a quiet village with independent restaurants and cafes. Don't forget to pick up some gifts or souvenirs at the boutique shops. If staying overnight, Naramata has plenty of quaint B&Bs and lakeside cottages. You're sure to find a charming place to stay in this rural town.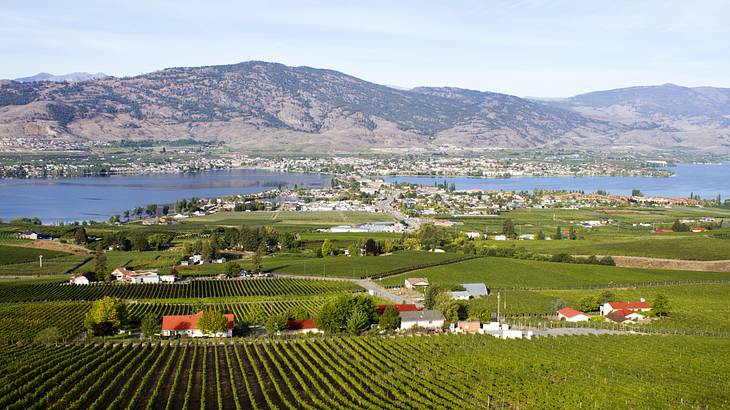 Osoyoos, BC
Osoyoos is located south of Kelowna and is just two kilometres from the Canada-US border. It's a great additional stop during a trip to Kelowna, Kamloops, and or Naramata. Osoyoos is a particularly interesting location to visit as it's Canada's only arid desert.
Nestled in this dry and sandy landscape is a selection of wineries. These include many notable ones, like Nk'Mip Cellars and Burrowing Owl Estate Winery. Each winery offers tastings and tours.
Golf is also a popular activity in Osoyoos. Take your pick from an assortment of well-rated courses in the area. Finish your weekend by spending some time by (or on) Osoyoos Lake. The lake runs through the western part of the town and is shared with Washington State.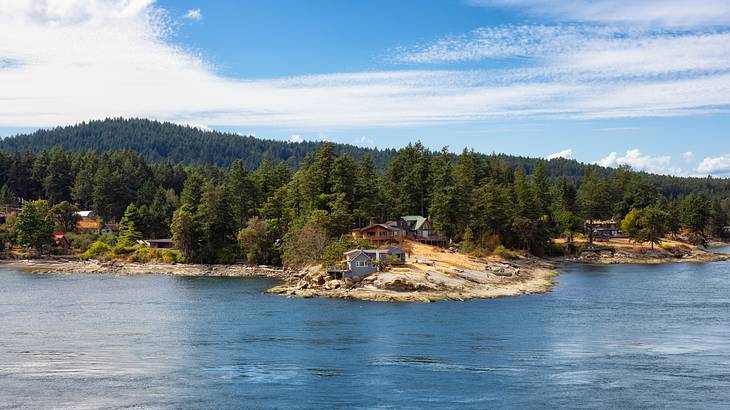 Galiano Island, BC
Galiano Island is the perfect place for a quick trip from Vancouver. Spend the day here, or take your time exploring with a full weekend trip. Galiano is a 50-minute ferry ride from Tsawwassen and the first stop on the Tsawwassen-Southern Gulf Islands ferry. The island is known for its white-shell beaches and relaxing bohemian culture.
Hiking up Mount Galiano is highly recommended. You'll get to enjoy amazing views of Vancouver Island and the surrounding area. After doing that, visit Sturdies Bay, where you can explore shops and art galleries and eat at one of the many cafes and restaurants. Going by car is also recommended as some attractions are far apart. This will allow you to enjoy the beautiful ocean drives, too.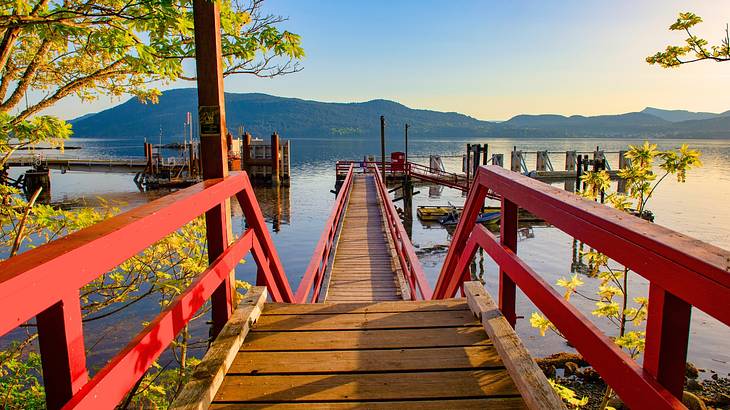 Salt Spring Island, BC
Salt Spring is part of Vancouver's Gulf Islands on the Strait of Georgia. Located between mainland BC and Vancouver Island, it's easy to access by ferry or seaplane.
The main town on the island is Ganges, which features independent shops, restaurants, and art galleries. As it overlooks the marina, you'll experience beautiful views during the day and night. Ganges is also home to the famous Salt Spring Saturday Market. Running April through October, you can purchase local art, jewelry, produce, and more.
Be sure to spend some time on the beaches and lakes found across the island too. Kayaking and paddle-boarding, in particular, are popular water sports to try during your stay. There are also many scenic hikes, and Salt Spring benefits from some of the best weather on the west coast!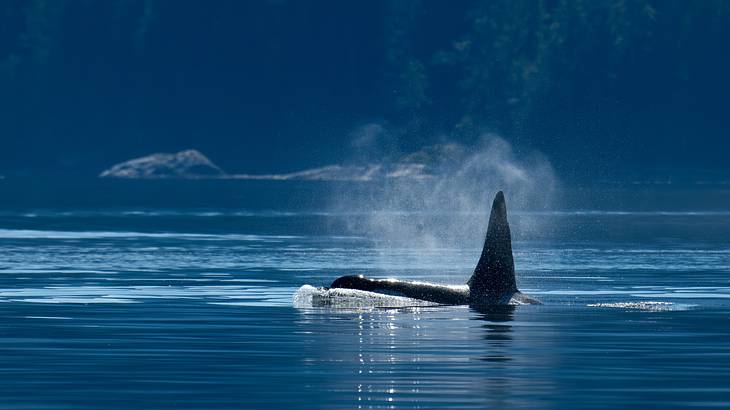 Campbell River, BC
Campbell River is located on the east coast of Vancouver Island. It's a great Vancouver getaway for outdoor fanatics and nature lovers. Wildlife fans will be thrilled by the range of wildlife viewing tours available. Campbell River offers whale, eagle, and bear-watching tours. Choose just one, or spend the weekend trying to spot all these Canadian creatures.
Hiking lovers will discover lots of trails across all types of terrain. For example, Elk Falls Provincial Park offers a scenic route for all hiking levels. There is also a suspension bridge to cross for an adrenaline rush and views of the stunning falls.
Other popular trails include Canyon View Trail and The Kwai Lake and Forbidden Plateau. No matter what your favourite outdoor activity, it's sure to be offered in this Vancouver Island town.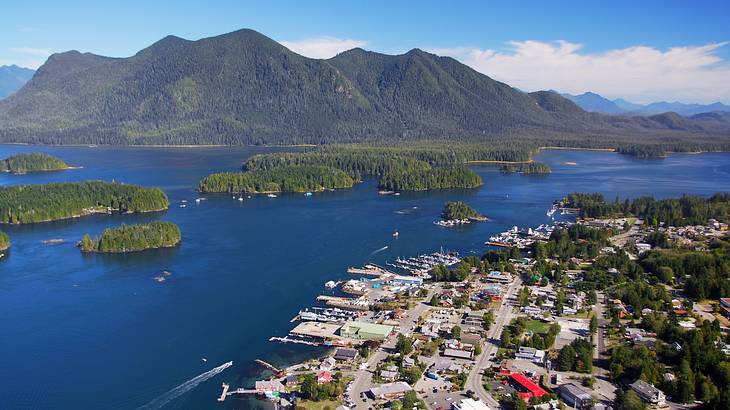 Tofino, BC
Tofino is a small coastal village on Vancouver Island. It is about a six-hour drive from Vancouver (including a ferry), or you can take a seaplane to get here faster. Ucluelet is another small and charming town to visit on Vancouver Island.
Tofino is a very popular surfing destination with several things to do. It's great for experienced or newer surfers, with many companies offering surfing lessons. The beautiful sandy beaches are perfect for relaxing beach days too. Other beach activities include fishing, kayaking, and canoeing.
Hikers and bikers will find several trails and hikes, both easy and more challenging. No matter where you choose to explore, there'll be amazing views and wildlife sightings guaranteed. Consider camping in Tofino or Ucluelet to make the most of the scenic surroundings.
Tofino is an excellent location for whale watching. Multiple companies offer whale-watching excursions. You'll be able to see grey whales, humpbacks, and orcas. Bear-watching tours are also available.
If visiting in fall or winter, storm watching is a unique activity offered in Tofino. Watching the stormy skies, lashing rain, and big crashing waves up close is a memorable experience. Heaps of hotels offer storm-watching packages, allowing you to view the incoming storms from their beachside accommodations.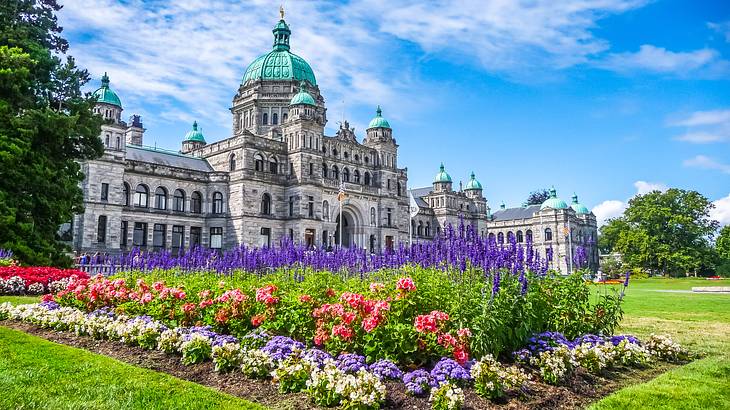 Victoria, BC
A trip to British Columbia's capital of Victoria is definitely one of the best weekend getaways from Vancouver. Take the ferry from Tsawwassen, or consider going by air! Although more expensive, taking a seaplane at least one way is a memorable experience. It's about a 30-minute flight between downtown Vancouver and downtown Victoria.
Once downtown, there are many attractions to explore. The Parliament Building is a must-see. The Butchart Gardens is also a famous attraction, providing a 55-acre botanical garden that is a relaxing oasis away from the city. Taking a stroll through pretty Beacon Hill Park is equally recommended.
Fisherman's Wharf is another fun place to visit in Victoria. Although still downtown, there are seaside-style shops and restaurants. There are also the quirky and colourful houseboats to see that float on the water.
Whales and other marine animals even come into the harbour throughout the year. To guarantee a whale sighting, Victoria is a popular spot to take whale-watching tours. You can find a load of tour companies to book excursions with.
You'll additionally find a wide selection of restaurants, bars, and clubs throughout the downtown area. From vegan-friendly spots to rooftop bars and fantastic brunch options in Victoria, there's something for all tastes!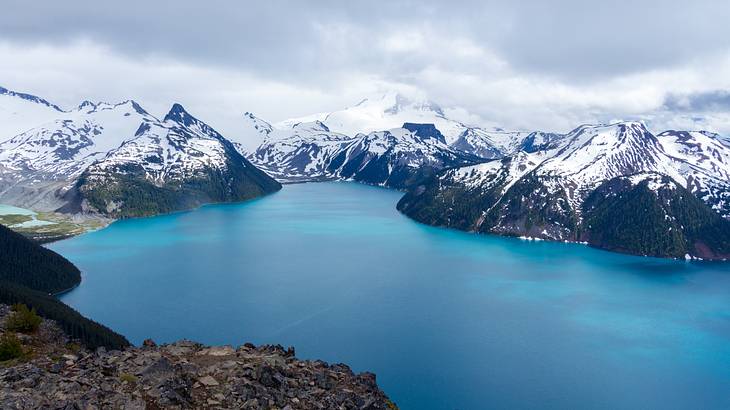 Garibaldi Provincial Park, BC
Located in Garibaldi Provincial Park, Garibaldi Lake is a fantastic spot for a weekend getaway from Vancouver for hiking lovers. The beautiful glacial lake with turquoise water is located at an altitude of 1,450 metres and is surrounded by snow-capped peaks.
Garibaldi Lake is a popular and stunning camping spot that can only be reached on foot by doing a strenuous nine-kilomete uphill hike from the trailhead at the Rubble Creek parking lot. Camping here makes it possible to combine hiking to Garibaldi Lake with hiking the Black Tusk or Panorama Ridge, two more challenging hiking trails.
Garibaldi Provincial Park is easy to reach by car from Vancouver. The trailhead is only a 70-kilometre drive away on the beautiful Sea to Sky highway. You can also get to the trailhead from Downtown Vancouver by public transport using the Garibaldi Parkbus.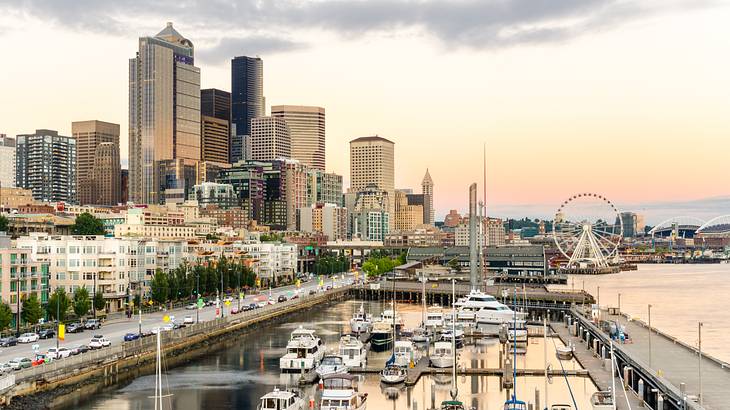 Seattle, Washington (USA)
Seattle, in Washington state, is a fun weekend getaway from Vancouver. You can drive here in around three hours or take the scenic Amtrak Cascades train from Vancouver's Pacific Central Station. As you're crossing into the US, remember your travel documents.
In Seattle, you'll find many top attractions to visit. Head to Pike Place Market to browse the unique shops and market stalls. Pike Place is also home to the first Starbucks. Get a coffee at this iconic location if you're willing to wait in line. Alternatively, just snack your way around the market. Before you leave, stop by the fish market to see the famous fish toss!
Another popular attraction is Pier 57. With retro seaside decor and gift shops, it's touristy but worth a visit! The Space Needle is a must-visit North American landmark too. Travel up the 184-metre tall observation tower for 360-degree city views.
Within downtown Seattle, there are multiple museums to explore. The Museum of Pop Culture is particularly recommended. The Underground Tour, a tour of old Seattle that's sat under present-day Seattle since 1889, is another must-do activity. Complete your weekend with some shopping or by watching Seattle's NFL, MLS, or MLB team play.
Portland, Oregon (USA)
Portland has something for everyone and is an ideal location for a long weekend trip from Vancouver or anyone spending a week in the Pacific Northwest. Located in the US state of Oregon, it's known for its hipster culture and friendly locals. Portland is about a six-hour drive from Vancouver, or you can travel here by Amtrak.
Craft breweries are super hip in Portland. You'll find breweries open for drinks and even tours across the city. If you're looking to dedicate time to a brewery crawl, I recommend heading to the Pearl District.
There is also a selection of pretty and tranquil gardens to visit. The International Rose Test Garden and Japanese Garden are both worth visiting while in Washington Park. History and culture lovers will be spoilt for choice too. Top places to visit in Portland include Pittock Mansion and the Portland Art Museum.
You'll also find unique independent stores and plenty of thrift shops. Make sure to stop at the popular Voodoo Doughnuts for some quirky and delicious treats too!
If you have some extra time, Portland is a relatively short drive to Mt. Hood for skiing, snowboarding, or hiking. There are also national parks and other trails a short drive from the city.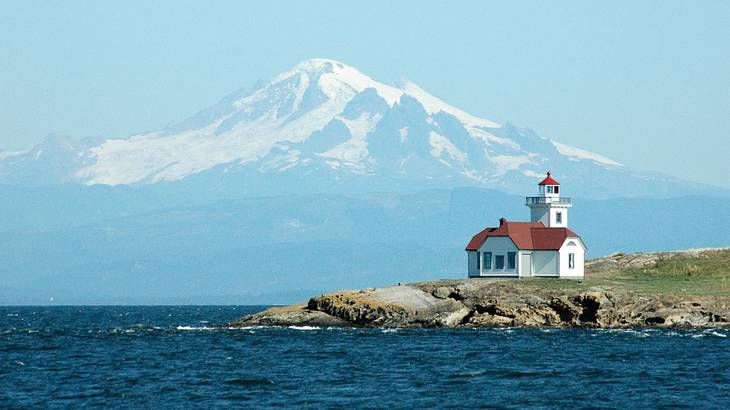 San Juan Islands, Washington (USA)
When planning a weekend trip from Vancouver, it doesn't get more beautiful than the San Juan Islands in Washington State. While it makes a fun destination year-round, it's most stunning during the summer months.
There are several islands in this chain (like Lopez Island and Orcas Island), but the most popular is San Juan Island itself. The main town is Friday Harbour, and there are lots of fabulous seafood restaurants and quaint bars there.
One of the most popular San Juan Islands summer activities is going on a whale-watching boat tour. The tours leave right from Friday Harbour, and there are naturalists on board to point out all the amazing Pacific Northwest wildlife along the way.
Additionally, there are many cool things to do in the San Juan Islands with kids, like checking out their farmers market, running around Lime Kiln Point State Park, visiting an independent toy store, and playing at Sunken Park.
Also, don't forget to pet the animals at Horshu Ranch and explore the San Juan Islands Sculpture Park. The quirkiest thing to do in the San Juan Islands is stopping at Kevin Roth's Roadside Attraction. He has all kinds of incredible huge metal art pieces that are Insta-worthy!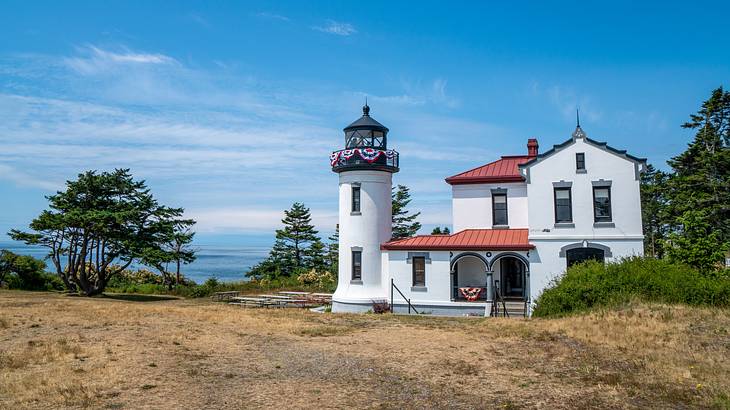 Whidbey Island, Washington (USA)
If you are looking to unplug for the weekend, head to Whidbey Island in Washington State. This sleepy island is perfect for people who like outdoor adventures and seafood. Coupeville and Langley are the main towns, and they each offer quaint shops, incredible restaurants, and stunning views.
One of the most popular things to do in Whidbey Island is to explore Deception Pass State Park. Here, there are a few hikes, a campground, and a picturesque bridge. You can take a short walk to get to the water, which is perfect for fishing.
Another Whidbey Island attraction is Fort Casey State Park. It's more than 100 years old and was used for military training during World War I and World War II. Today, people love exploring the dark tunnels with flashlights and checking out the Admiralty Head Lighthouse.
Furthermore, if you like shellfish, you'll be in heaven! Whidbey Island is home to the famous Penn Cove Mussels, and you'll see them available for breakfast, lunch, and dinner at most restaurants. There's even a Penn Cove Mussel Festival that is worthy of a trip itself! Whidbey Island is a fun weekend trip from Vancouver in any season, but the most popular time to go is in summer.
In Summary
Hopefully, this list of the best Vancouver getaways gave you some great ideas to start planning your next trip from Vancouver! If possible, checking out as many of these spots as you can is highly recommended.
As several locations are close to each other, consider combining suggestions for a multiple-stop getaway. However, if you're only in Vancouver briefly, you're sure to have a fantastic trip no matter which location you choose.
Give us feedback about this article
More visual stories related to this article:
---
---
Want to keep exploring?
Subscribe for discounts on tickets and hotels and our latest guides.
Thank you for subscribing
We will be in touch soon with discounts on tickets and hotels and our latest guides.
Want to keep exploring?
Subscribe for discounts on tickets and hotels and our latest guides.
Thank you for subscribing
We will be in touch soon with discounts on tickets and hotels and our latest guides.
Related Articles