50 Fun Vancouver Date Ideas for a Memorable Date
Destguides may receive commissions from purchases made through affiliate links in this article.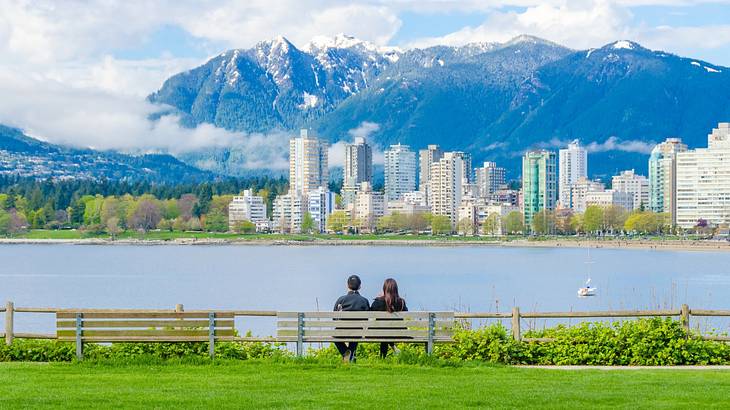 Vancouver is a great city for unique and memorable dates with your loved one. If you're dating in Vancouver and find yourself and your partner going on the same dinner and movie date every week, why not mix it up a bit by trying a few of the fun Vancouver date ideas below?
Vancouver offers an array of exciting things to do on a date, from hanging out at the beach to cuddling with cats at a cat cafe and even solving crimes together.
No matter which activities you choose, you and your date are sure to have a remarkable and unforgettable time! Continue reading to learn more.
50 Fun Date Ideas in Vancouver
Indoor Date Ideas in Vancouver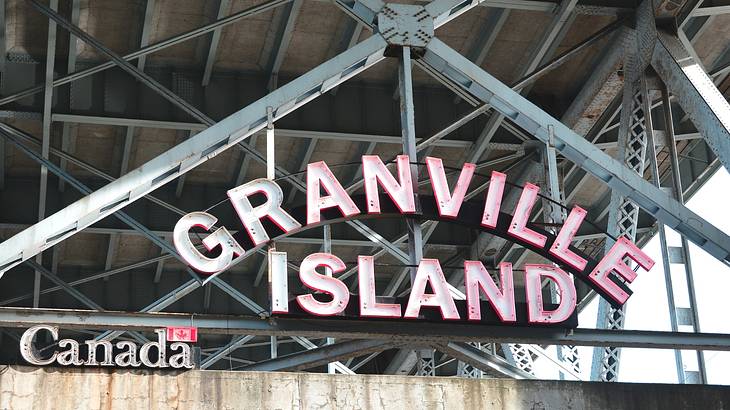 Visit the market on Granville Island
You can enjoy several exciting activities at Granville Island, making it a great date location for most couples. The most popular activity here is exploring the public market, snacking at stalls as you go. Market stalls sell a range of cuisine from Italian to Mexican and Japanese. There are numerous bakery outlets, too, including the famous Lee's Donuts.
Another great idea is shopping for picnic supplies. Once you've shopped around, enjoy your feast at the outside picnic tables, or go to Sunset Beach once back downtown. Alternatively, buy ingredients to take home and cook together!
You can additionally explore the many independent shops and stop for a drink at The Liberty Distillery or Granville Island's own craft brewery. If you and your date are visiting Vancouver or are new to the city, you may also be interested in taking a Granville Island guided tour.
Cuddle up with kitties at a cat cafe
Visiting a cat cafe is one of the cutest date ideas out there. As long as your date isn't allergic to these furry animals (be sure to check beforehand), there's no way they won't have fun!
Catoro Cafe is one of two cat cafes in Vancouver. This cafe is Totoro-themed, and you'll get to snuggle and play with over 20 cats in their magical forest-themed cat lounge.
Before going into the cat room, grab some refreshments. They serve a vast selection of bubble tea, including their sparkling series, which features flavours like Champagne Grape.
All cats are up for adoption, so be careful not to get overly attached (unless you can take one home). If you haven't got your kitty cat fill after this place, head to the Catfe. Grab a cat-themed coffee and chill out with more fluffy friends.
Try to escape at i-Exit Escape Room
Trying an escape room is a different and possibly challenging date idea! It's also a unique way to get to know your date better and is the perfect place to go on a rainy day.
i-Exit is centrally located downtown and is one of the best escape rooms in Vancouver. You and your date can choose from four themed rooms and will have an hour to work together to try to escape.
If you've completed all of the escape rooms or prefer to be outside, they have some interactive outdoor games too. There are two different missions to choose from that use GPS and augmented technology to take you around downtown, finding clues to solve the cases. Going to i-Exit is definitely one of the best things to do on a date in Vancouver.
Listen to live music at Malone's Taphouse
Malone's Taphouse is a quirky bar downtown. It's the perfect date spot if you want to get some drinks and listen to live music. You and your date will be able to enjoy a range of performances on Thursday, Friday, and Saturday.
Live music acts often perform during happy hour as well, and there's trivia night on Wednesday. Malone's Taphouse is one of the most fun date places in Vancouver if you're looking for a super laid-back night out!
Satisfy your sweet tooth with ice cream at La Casa Gelato
An ice cream date is always a good idea, and a visit to La Casa Gelato is one of the super fun couple things to do in Vancouver, especially in the summer. This quirky gelateria has 238 flavours to choose from, meaning there's something for everyone. It may take you a while to decide what to get, though!
Along with the vast selection of award-winning gelato, they serve sorbets (the pink champagne is highly recommended) and frozen yogurt. You can get treats like cannoli or chocolate-covered strawberries as well.
If you want to try another ice cream date spot, Rain or Shine is also recommended. Heading to the well-known Kitsilano location on Tuesdays is a good idea to try yummy ice cream tacos.
Bowl your date away at Grandview Lanes
Bowling is a classic date idea that shouldn't be forgotten! Vancouver has multiple bowling alleys to choose from, with Grandview Lanes on Commercial Drive being a popular choice.
This alley has ten-pin and five-pin bowling, with five-pin bowling being recommended for a more chilled-out date. There's music, glow-in-the-dark decor on the wall, and black lights in the alley as well.
If you want some snacks while you bowl, Grandview Lanes serves classic bowling alley food like hot dogs, pizza, and nachos, as well as alcoholic and non-alcoholic drinks.
Another popular bowling alley is Commodore Lanes on Granville Street. They have five-pin bowling plus billiards, foosball, and arcade games. Like Grandview, they serve food and alcoholic drinks.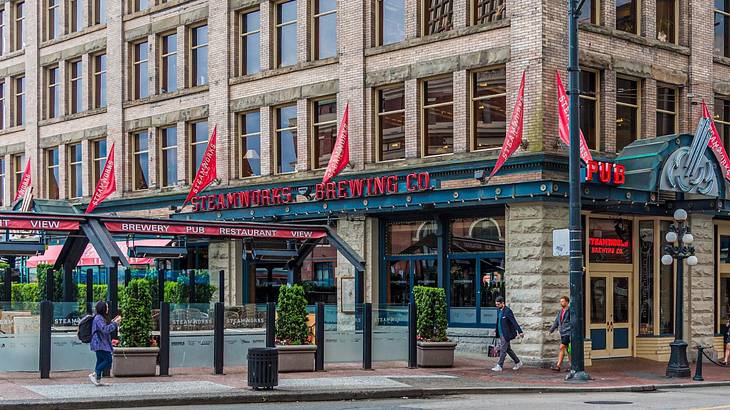 Go beer tasting on a craft beer tour
British Columbia is well-known for its craft beers. One of the top things to do for couples in Vancouver that are beer enthusiasts is going on a craft beer tour. This behind-the-scenes tour will take you to three local breweries where you can learn more about the production process and taste various brews.
If you want to bar-hop just the two of you, some places to add to your must-visit list include Steamworks Brewpub and Red Truck Beer Company.
Dine in the dark at Dark Table
A dinner date is not that creative, but a meal at Dark Table in Kitsilano will be unique and different. The restaurant is pitch black, and the servers are all blind or visually impaired. The reasoning for this concept is that your lack of sight heightens your other senses, which allows you to enjoy your meal and dinner conversation more.
Upon arrival, you and your date will choose a two or three-course meal option, and then you will both be led to the dark dining room for dinner. Options include meat, fish, and vegetarian dishes. Additionally, there are surprise options for each course if you're feeling daring!
Once served, you'll have to eat your meal using just touch. Try sharing your meal with your date to see if you can guess what you're eating when you can't actually see it.
Show off your knowledge at a trivia night
You can find at least one bar hosting Trivia every night in Vancouver. Going to a trivia quiz is one of the most interesting Vancouver date night ideas and allows you to bond with your partner as you try to answer questions.
The Lamplighter's Tuesday night trivia is particularly popular. Along with trying to win the trivia night, you can enjoy fun cocktails, craft beer, or mixed drinks. If you're looking for a Saturday night quiz, Eastside Craft House has a trivia night every Saturday evening.
Play ping pong at Back and Forth Bar
Ping pong is an enjoyable activity for all types of couples. Whether you want a relaxed game or are planning on being more competitive, Back and Forth has got you covered!
They have five ping pong tables that can be rented by the hour, and they serve draught beer and other beverages. Food isn't served here, but you're welcome to bring food in or have it delivered to the bar. Back and Forth has giant Jenga and a selection of board games as well.
Solve crimes at the Vancouver Police Museum
If you and your date are lovers of true crime, the Vancouver Police Museum is a quirky date spot to visit. They have a range of exhibits on real and unsolved crimes from Vancouver's past.
To add to the experience, the displays are all housed in the city's former morgue. You can buy tickets to the Vancouver Police Museum in advance, too, to ensure you get in.
If this date idea is more fascinating than spooky to you, you can return for their Movies in the Morgue event. In addition, the museum hosts forensic investigation nights and themed events throughout the year where you try to solve crimes using evidence.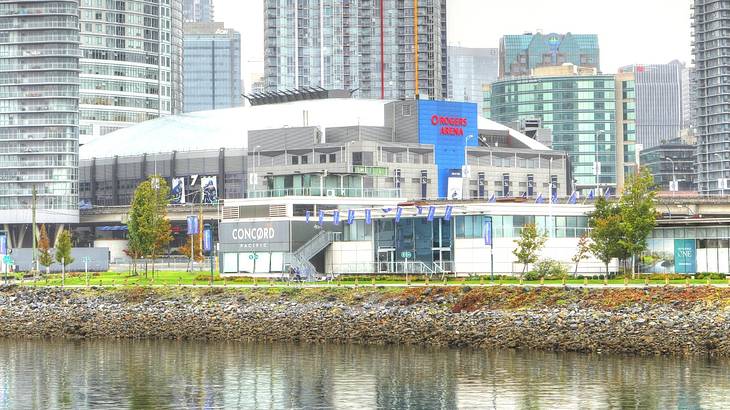 Cheer for local sports teams
If your date loves sports, there are lots of options in Vancouver! Catching a Vancouver Canucks hockey game at Rogers Arena is always a good time.
Alternatively, you could head out to Langley to watch the WHL Vancouver Giants, or go to Abbotsford to see the Canucks' affiliate team, the Abbotsford Canucks.
For soccer lovers, plan a date at a Whitecaps game at BC Place. You can grab some beers and choose from a selection of snacks to enjoy as you watch the game.
Vancouver has a Canadian Football League team, too, the BC Lions, who play at BC Place. Or, venture out to Queen Elizabeth Park to watch the minor league baseball team, the Vancouver Canadians.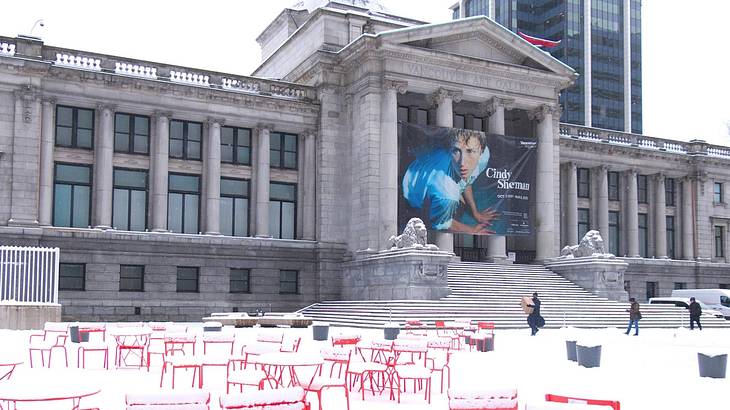 Have a cultural day exploring the Vancouver Art Gallery
An afternoon at the Vancouver Art Gallery makes for one of the best dates in Vancouver. The contemporary art gallery houses a range of temporary and permanent exhibits. Artworks include those by international and Canadian artists, and there's a First Nations Art exhibit.
The museum holds evening events, too, such as meet the artist nights and contemporary art discussions. Finish by exploring the gift shop and grabbing some cake and coffee at the gallery's cafe.
The gallery is a perfect spot for a relaxed and cultural daytime date. To ensure your date goes smoothly, buy Vancouver Art Gallery tickets before you go.
Indulge on sweets at a Dessert Cafe
If you and your date have a sweet tooth, why not skip the main meal and go straight for dessert? Vancouver has a fantastic selection of dessert spots that are perfect for treating yourself.
Thierry Chocolates in Mount Pleasant is a delightfully decadent choice. This dessert cafe and chocolatier has various options, including chocolate eclairs, rum-soaked savarin, and mille-feuille. You can also get handmade chocolates, macarons, and more.
Another excellent option is True Confections, which has a long list of boozy dessert coffees, frappes, and milkshakes. You can choose from many styles of cheesecake and chocolate cake as well.
Enjoy a fancy high tea
If you're after a slightly more sophisticated date idea, why not go for high tea? Vancouver has a large selection of places serving high tea, with many that specialize in afternoon tea alone.
The Neverland Tea Salon in Kitsilano is a cute and whimsical spot to try. You'll be spoiled with a range of freshly-made finger sandwiches, cakes, and scones. You can accompany your treats with a choice of over 60 types of tea, or upgrade to a glass of sparkling wine, rose wine, or a mimosa.
Along with the main menu, they offer vegetarian, vegan, and gluten-free options, so there's something for everyone. Other high tea spots in Vancouver city include Notch 8, The Secret Garden Tea Company, and TWG Tea Salon.
Play board games and eat pizza at Pizzeria Ludica
Get competitive at Pizzeria Ludica with a pizza and game night date. The board game pizzeria serves made-to-order pizza and pasta and has a collection of over 700 board games and card games.
Their game collection includes everything from classics to games you've probably never heard of. They even have a game steward to help you choose the best game to try.
The pizzeria has a selection of small tables for an intimate date or larger tables for a double date with friends. Pizzeria Ludica offers brunch on Friday, Saturday, and Sunday from 12 PM to 4 PM. This fun cafe is definitely a great rainy weekend date spot!
Bond over brunch
Going to brunch is a super popular thing to do during the weekend in Vancouver. Sharing brunch happens to be one of the most fun dates in Vancouver too!
You can discover many fantastic brunch spots across the city. A local favourite is Earls, and with locations across Metro Vancouver, you and your date can enjoy brunch here no matter what area you live in.
They offer all the classic brunch dishes along with more unique options such as lobster and prawn omelette. Earls has happy hour deals all weekend, and you can choose from their lunch menu if none of the brunch dishes appeal.
Accompany your meal with a selection of brunch drinks, from fully garnished Caesars and Mimosas to alcoholic coffees. Some other excellent brunch spots include Jam Cafe and Medina Cafe. These are extremely popular, though, so be ready to wait in line to get in.
Take a trip around Canada with FlyOver Canada
FlyOver Canada is a digital attraction found at Canada Place. During a visit, you'll go on a flight simulator that will "fly" you over famous landmarks in Canada. If you and your date want to try this experience, make sure you book FlyOver Canada tickets in advance.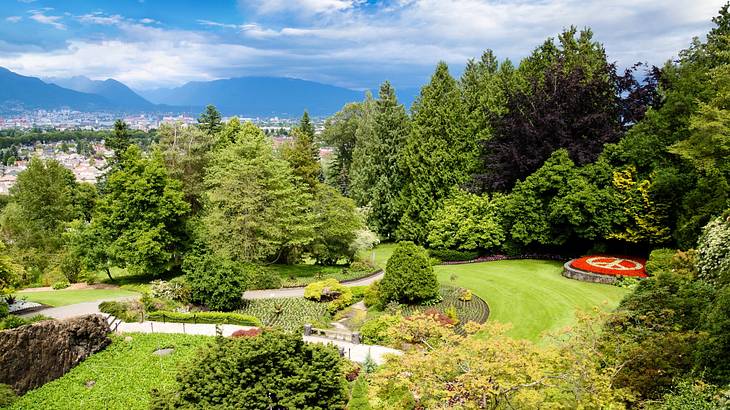 Dine with a view at Queen Elizabeth Park
Queen Elizabeth Park sits across from downtown and offers a breathtaking view of the Vancouver skyline. Taking your partner to the park to admire the views and pretty gardens is a great date idea. If you want to do something more special, book a table at Seasons in the Park. You can enjoy fine dining dishes while taking in the stunning views.
Spend the evening club hopping
While Vancouver is known more for its bars than its nightclubs, it remains one of the best party cities in Canada. Couples that like clubbing can find a few fantastic options in the city. A few spots to check out include Bar None Nightclub, The Roxy, and Red Room.
Eat your way through Gastown on a food tour
Vancouver has no shortage of incredible eateries. If you and your date can't decide where to go, opt for a food tour in Gastown. Your guide will take you to the best dining spots in the area, and you can also see Gastown landmarks, like the Gastown Clock, as you walk from spot to spot.
Say hi to cute bunnies at The Bunny Cafe
The Bunny Cafe is another cute animal cafe to visit with your date in Vancouver. The cafe was founded by the owner of Catfe and is home to adorable and adoptable rabbits. Like at a cat cafe, you can grab a drink and a snack, all of which are plant-based, before hanging out with the resident bunnies!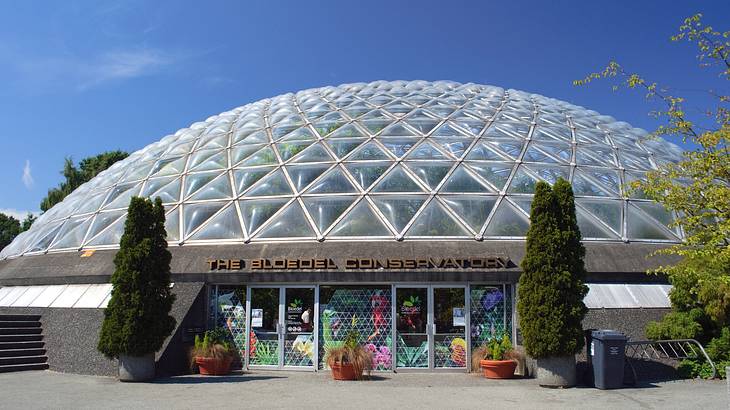 Escape to a tropical paradise at Bloedel Conservatory
Bloedel Conservatory is located within Queen Elizabeth Park and features a tropical conservatory with incredible tropical plants. As you and your date look around, you can see lush greenery, vibrant flowers, and more. You may also spot some tropical birds. To make admission easy, purchase your Bloedel Conservatory tickets before you arrive.
Bar hop on Main Street
While many people will plan a bar date downtown, there are lots of other great areas to check out, like Main Street. This area has a unique bar for all couples. A few of the can't-miss bars to check out include The Cascade Room, Boxcar Vancouver, and the fun Shameful Tiki Room.
Learn to cook together at a cooking class
Instead of going out for dinner, why not learn to cook delicious meals at a cooking class. Cozymeal is a great option to try. You and your partner can choose from a variety of classes, like a taco-making workshop, a gourmet vegan cooking class, or a Paris bistro classics course.
Outdoor Date Ideas in Vancouver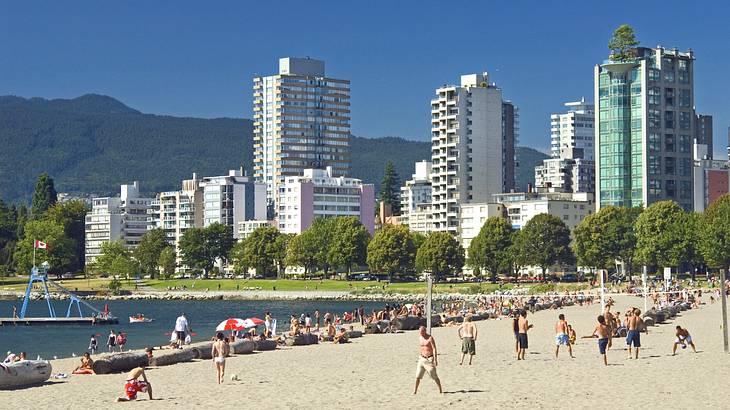 Chill out at English Bay
Hanging out at English Bay is a classic date idea in Vancouver. It's the perfect spot to chill out on the sand with your date. You could also take a picnic or play beach games.
In addition, you can visit one of many beachside bars and restaurants when you need some refreshments. These include Cactus Club Cafe and The Three Brits Pub, both of which are within a minute from the beach.
Other activities at English Bay include getting ice cream and taking cute pictures with the A-maze-ing Laughing Statues. Or, extend your beach date by walking to another beach on the seawall.
For example, in the summer, you could go together on Tuesday nights to Third Beach for the drum circle or to Second Beach to enjoy an outdoor movie!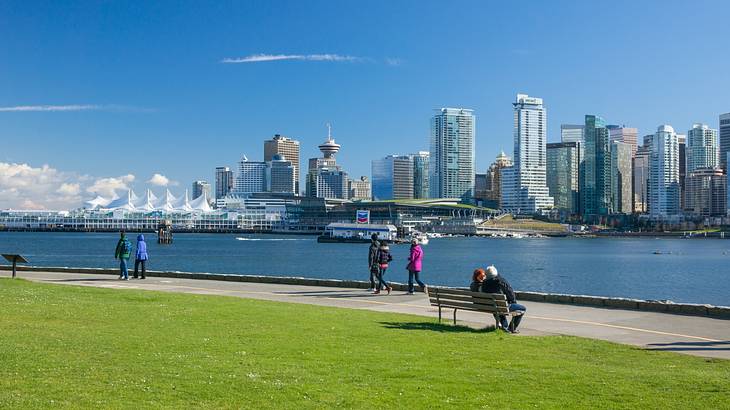 Wander around the Seawall in Stanley Park
Stanley Park is a famous Canadian landmark and one of the best places to go on a date in Vancouver. Walking, biking, or roller-skating around the seawall will allow you to chat with your date while enjoying the stunning views. You can stop to take cute pictures together with the fantastic background too.
Be sure to go to Prospect Point as well to get one of the best views of Vancouver. While in the park, you can additionally venture off the seawall path to view the romantic rose garden, find Lost Lake, or stop for lunch at the Stanley Park Teahouse.
If you want to spot wildlife, be sure to keep a lookout when crossing the bridge at the entrance of the park. Seals frequent this area, and you may even see whales. Combine a day in the park with a trip to the Vancouver Aquarium, located in Stanley Park, for a fun all-day date!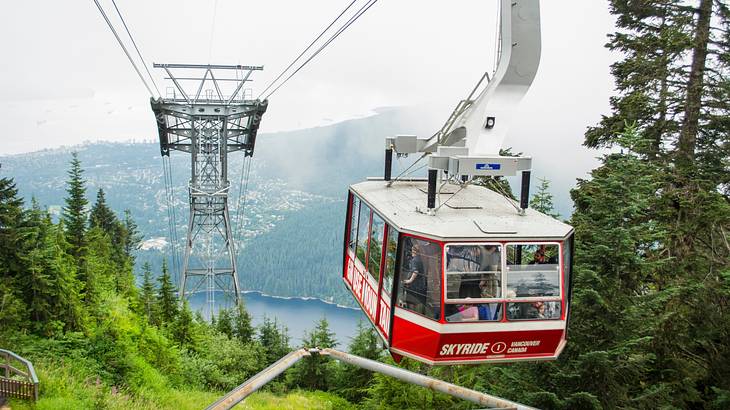 Explore Grouse Mountain and tackle the Grouse Grind
Nature and hiking enthusiasts will love a daytime date at Grouse Mountain. If you're both up for it, tackle the Grouse Grind. To get to Grouse Mountain's peak, you'll need to climb up over 2,800 steps. While challenging, trying this top-rated Vancouver hike can't be missed.
Alternatively, get to the peak on the Skyride gondola. On the gondola ride, you can enjoy views of the Burrard Inlet and surrounding forests. To make your visit easy, purchase a Grouse Mountain Skyride admission ticket in advance.
Once at the top, you and your date can stop for lunch or dinner at one of the many restaurants. Be sure to pass by the bear enclosure as well to get some adorable pictures with Grouse Mountains' resident duo of grizzly bears. You and your partner can also zip-line or carry on to another hike, such as the BCMC Trail.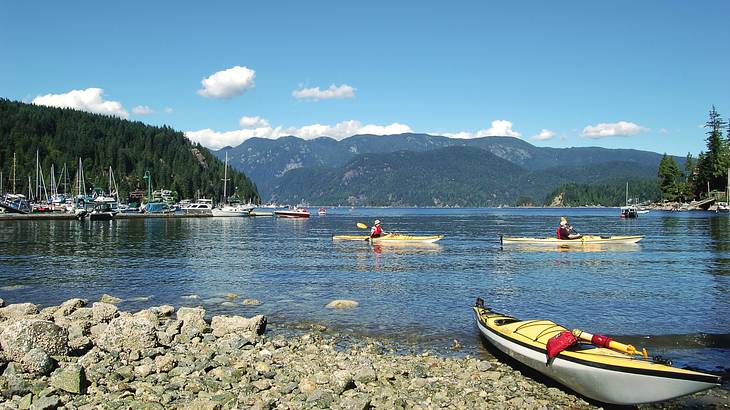 Spend the day at Deep Cove
Deep Cove is a little out of Vancouver, but it is worth visiting if you're looking for a full-day date idea. This quaint town is about a 30-minute drive out of Vancouver or an hour on public transport.
Start your date by visiting the town's independent shops. Don't forget to stop by the famous Honey bakery for one (or more) of their legendary donuts. Then, head to the cove to hang out on the beach or rent a kayak.
While here, you have to do the Quarry Rock hike as well. This approximately one-hour-long hike will take you high above Deep Cove, offering views of the surrounding area and Vancouver in the distance.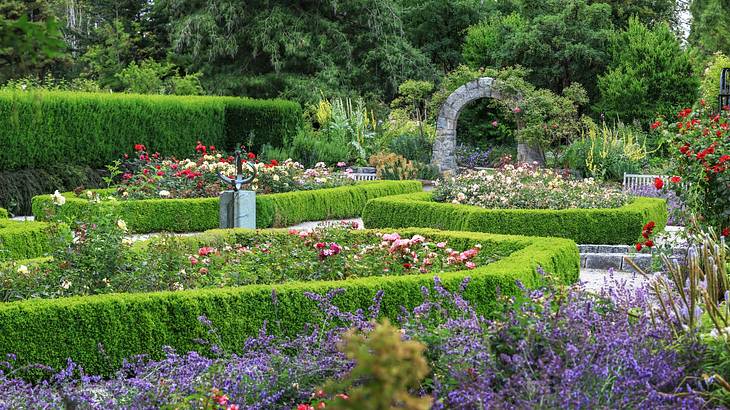 Explore VanDusen Botanical Garden
The VanDusen Botanical Garden is one of the romantic places in Vancouver that's perfect for a daytime date. You and your partner can wander around the many themed gardens, which feature over 7,500 species of plants.
The highlight of the gardens is the Elizabethan hedge maze. Take a chance and get lost in this maze. You can work together to find your way out of the vast labyrinth. Don't forget to take lots of photos as you explore the gardens as well!
VanDusen Botanical Garden tickets are available in advance if you don't want to wait in line to purchase them on arrival.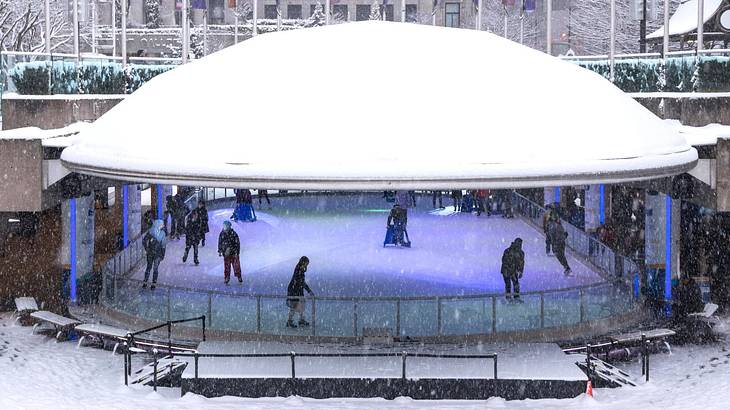 Go ice skating at Robson Square
Going skating at the ice rink at Robson Square is a festive thing for couples to do in Vancouver. The rink is open from December to the end of February, making it a perfect winter date spot.
Whether you and your date are experienced skaters or it's your first time on the ice, you're sure to have a great time! The rink is open from 9 AM until 9 PM, and hours are extended to 11 PM on Fridays and Saturdays.
If you're at the rink in December, extend your date by taking some pictures with the Christmas tree in the square. Then, take a short walk to Coal Harbour to enjoy the annual Christmas market.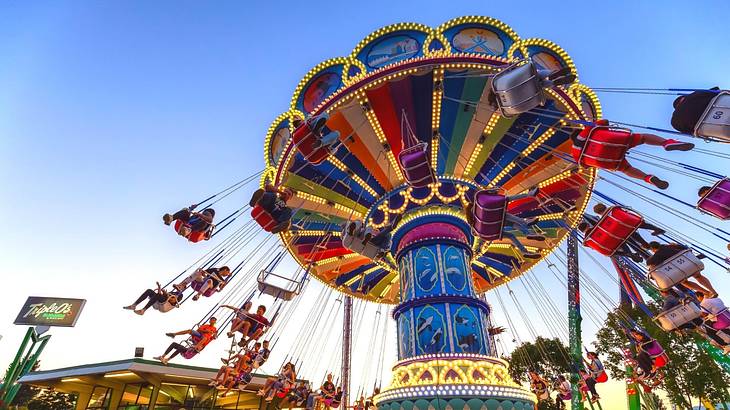 Enjoy Playland at the PNE
Playland is a cool funfair at the Pacific National Exhibition (PNE). The fair runs May through September and is open until midnight for adults only (19+) on various weekends. Whether you're spending the day together or looking for a date night activity, Playland is an excellent choice.
You and your date can go on a range of rides with choices for all thrill levels. There are also fairground games and food stalls. The mini-donuts are a popular choice and are great for sharing!
The PNE has other exhibitions, such as A Taste of PNE - a food truck festival showcasing BC restaurants and breweries. Concerts and other events are held year-round if you're looking for other date activities.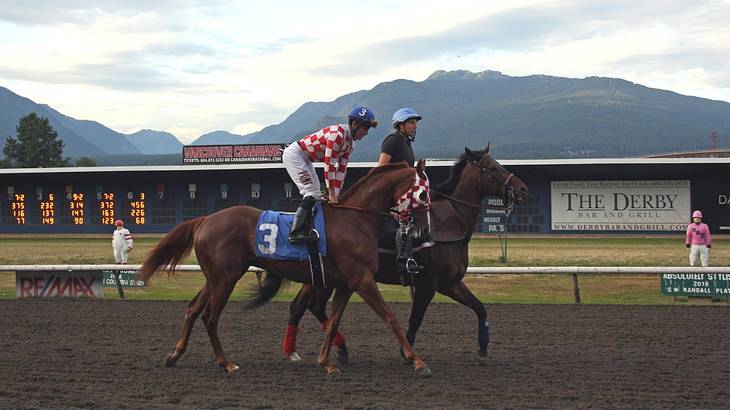 Spend a day at the races at Hastings Racetrack
A day at the races is one of the more unique date ideas in Vancouver. The Hastings Racetrack is easy to get to, whether driving or taking the bus.
Entrance is free, and you can watch the races even if you don't want to place a bet. Along with the races, there are food trucks selling food and alcoholic beverages. The views around the racecourse are excellent too.
On select days in the summer, there are even dog races here, along with the regular horse races. These are just fun events where owners bring their pets to compete in a quick race. You can see corgis, bulldogs, and dachshunds race with qualifying on Saturdays and finals on Sundays during July.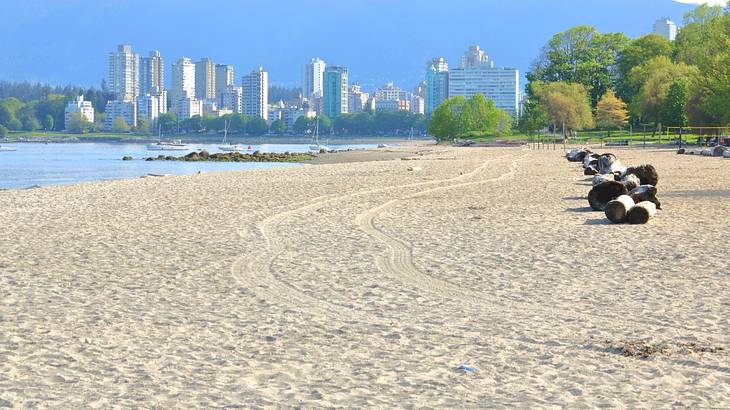 Picnic at the beach
Vancouver has a host of amazing beaches to hang out at. While just relaxing on the beach can be fun, why not pack a picnic or grab some takeout to make it a beach dinner (or lunch) date?
You could pack your own picnic, get takeout from your favourite spot, or get a picnic package. Dachi Vancouver makes delightful picnic hampers filled with picnic classics such as bread, meats, and cheeses, all sourced locally.
For a twist on the classic picnic, Chancho Tortilleria offers "take-home kits" ready to eat with a choice of taco fillings, corn tortillas, chips and guac, beans, and salsa.
Walk along the Capilano Suspension Bridge
The Capilano Suspension Bridge is located in North Vancouver and can be reached in about 15 minutes when driving. You and your date could also go on a tour from downtown that takes you to Capilano Suspension Bridge.
This renowned attraction is 140 metres long and 70 metres high and sits within a forest over a river. Walking along the bridge offers stunning views and is especially romantic in the evening when fairy lights illuminate the area.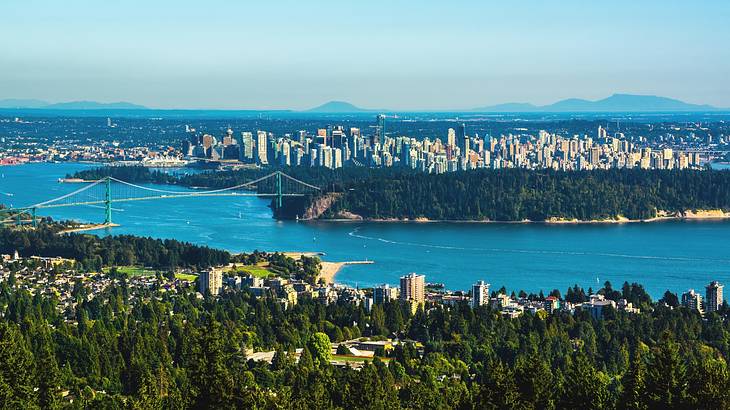 Experience a Seaplane tour over the city
Another of many cool date ideas in Vancouver is seeing the city from above on a seaplane tour. On this 20-minute flight, you and your date can enjoy beautiful views of Vancouver.
You'll fly over various downtown landmarks and the ocean and mountains that surround the city. This activity is also one of the best anniversary ideas in Vancouver!
Hike within the North Shore Mountains
Couples that like outdoor adventures will want to check out some of the trails within the North Shore Mountains. The most popular place to hike in this area is within Lynn Headwaters Regional Park, with the Crown Mountain Hike being a good one to attempt if you and your partner hike frequently. There are also easier trails for those that want a more relaxed hike.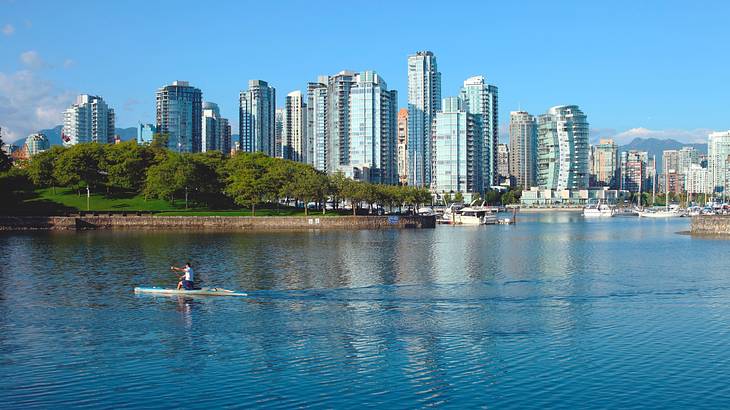 Kayak on False Creek
False Creek is the waterway that runs along the downtown part of the seawall. While you can admire the creek as you walk next to it, kayaking on False Creek is an excellent date idea as well.
You can bring your own equipment or rent kayaks from various vendors, like Creekside Kayaks. Paddling through the water and enjoying the views with your date is sure to be memorable!
Shop for local produce at a Farmers Market
Vancouver has many excellent farmers markets to check out. You can find markets across the city, including seasonal markets and those that run all year.
You and your date can wander around the stalls, sampling local products. Of course, you can also pick up some items, with products from fruit and veg to local wine and honey available.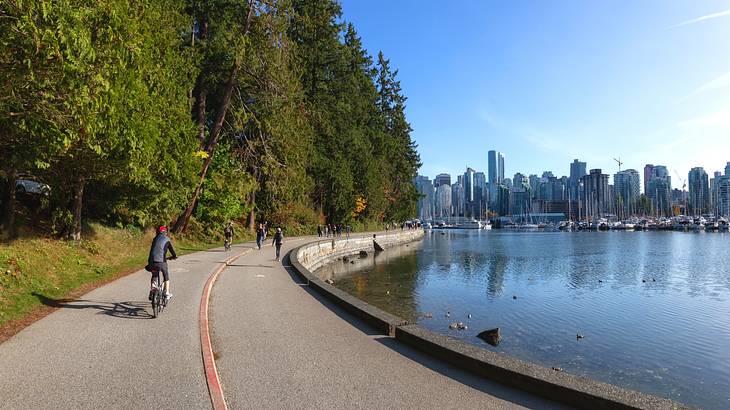 Bike around Vancouver
Another of the best date ideas in Vancouver for outdoor activity enthusiasts is taking a bike tour around Vancouver. Bikes and helmets will be provided, and your guide will take you around scenic spots, like Stanley Park. If you and your partner are visiting the city, a bike tour is also a great addition to a fun Vancouver itinerary.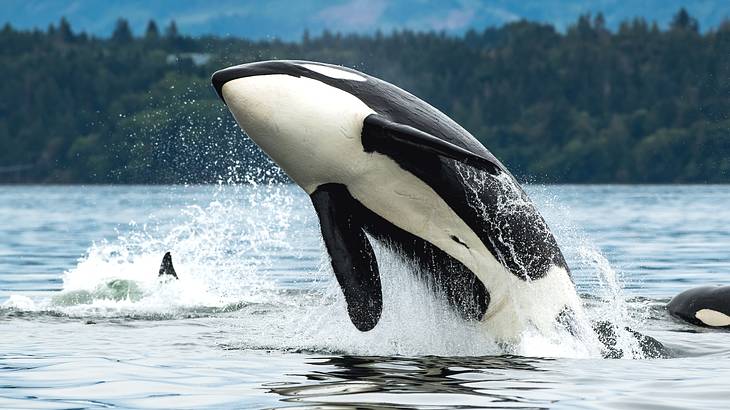 Go whale watching!
Various species of whale call the waters around Vancouver home for part of the year. While you may see whales from downtown, for example, at Coal Harbour, taking a whale watching tour makes it almost guaranteed that you'll see them.
You'll be picked up from downtown and taken to spots known to be home to pods of whales and other marine life, like seals. A whale watching excursion is one of the most memorable things for couples to do in Vancouver!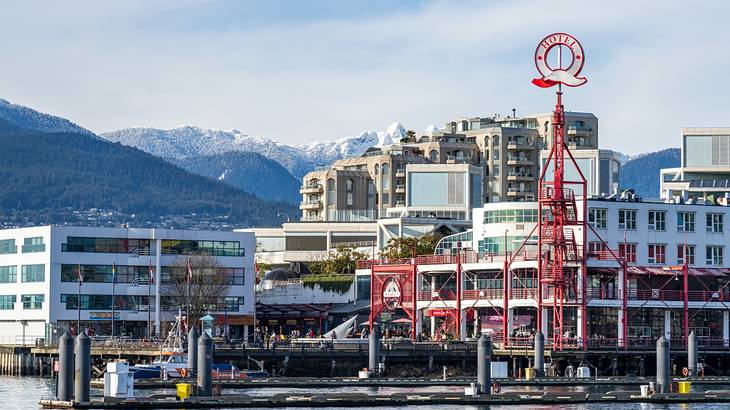 Watch the sunset at Lonsdale Quay
One of the most romantic date ideas in Vancouver is heading over to Lonsdale Quay in North Vancouver to watch the sunset. You can reach the area easily from downtown on the Seabus.
Once you arrive, you can sit together on the water's edge and watch the sun go down over Stanley Park and downtown. You can then explore the shops and eateries found at Lonsdale Quay.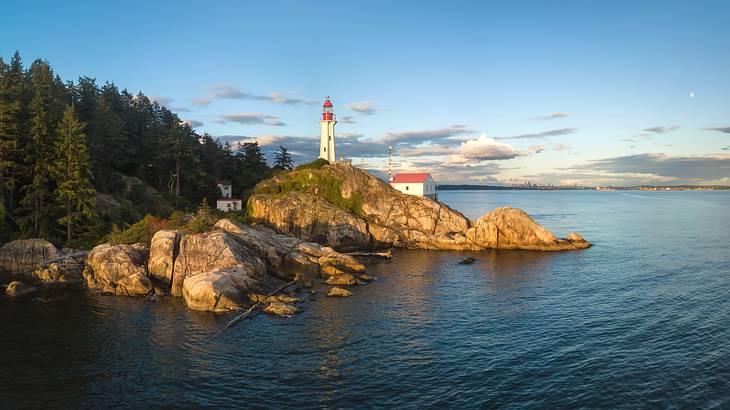 Snap photos at Lighthouse Park
If you and your partner like to hike, you'll want to plan a date hiking around beautiful Lighthouse Park. Located in West Vancouver, the park has trails for most abilities that take you through woodlands and past the Burrard Inlet. Of course, you can also see the park's namesake lighthouse and snap some pictures in front of it.
Things to Do Near Vancouver on a Date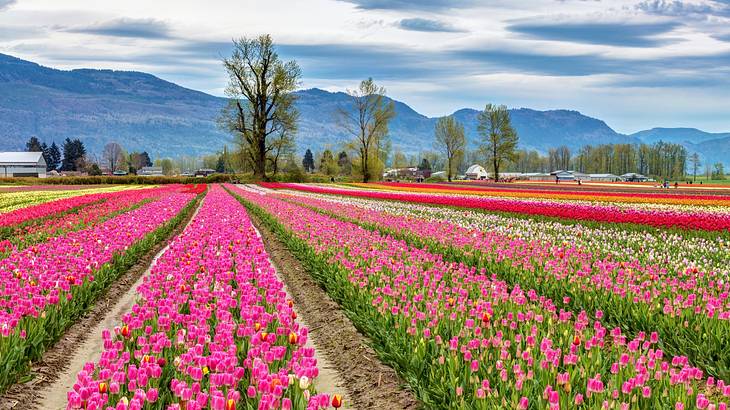 Visit the beautiful Chilliwack Tulip Festival
Chilliwack hosts a Tulips of the Valley festival every year during April and May when the flowers are in bloom. Visiting the scenic tulip fields is a romantic and memorable date idea.
You and your date will be blown away by the vast fields of pretty tulips that come in all colours, from pink and purple to red and yellow. After exploring the grounds and taking lots of pictures, stop for something to eat.
There are food trucks on-site and a Stroop Waffle stand that's worth a visit. Or, you can pack a picnic to enjoy while taking in the colourful view - super romantic!
You can even buy some bulbs as you leave if you'd like to plant tulips at home as a reminder of your date. The fields welcome dogs, too, if you want your pup to join you on your date. Visiting Chilliwack to see the beautiful tulips has to be on your Vancouver itinerary if visiting in the spring!
Check out a comedy show at Yuk Yuk's
Spend an evening laughing with your date at Yuk Yuk's stand-up comedy club! The venue hosts various shows throughout the week, making taking in a performance an awesome Vancouver date night idea.
Stand-up shows range from amateur and open mic nights to comedy competitions and professional stand-up shows. No matter which night you go and what type of show you see, you're guaranteed to be laughing all night long.
Yuk Yuk's also offers a vast assortment of alcoholic drinks to enjoy with the show. The comedy club recently moved to Elements Casino in Surrey. After enjoying the show, you and your date can gamble a little in the casino too.
Jump around at an indoor trampoline park
If you're looking for a more adventurous date, visiting an indoor trampoline park is one of the cool things for couples to do near Vancouver! There are a few parks to choose from, but Extreme Air Park is one of the best. You can find locations in Richmond, Langley, and New Westminster.
Extreme Air Park features 42,000 square feet of interconnected trampolines, plus obstacle course areas and glow-in-the-dark parks. Having bounced around the courses, you can also try rock climbing here.
Spend a fun day at Big Splash Water Park
Spending the day at a water park is a super fun and relaxed thing for couples to do near Vancouver. The Big Splash Water Park is one of the biggest water parks in BC and is sure to offer an awesome date experience.
The park has a large selection of waterslides plus pools and hot tubs, some for adults only. The main attraction here is the Boomerang tube slide (the only one in western Canada).
If you and your date dare, you'll be sent the equivalent of six storeys up before sliding down a vertical drop to get back to the pool below. You can also book a cabana in advance if you want to relax by the pool. Food and drinks are sold on-site.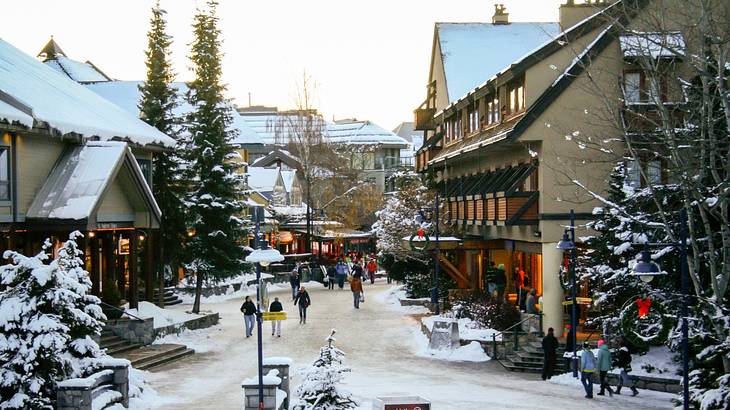 Plan a trip to Whistler
Whistler is one of the best destinations for a romantic weekend getaway from Vancouver. In the summer, you can relax at a spa or hike a range of beautiful trails. In the winter you can enjoy many activities as well.
Whether you like to ski, snowboard, snowshoe, or hang out in snowy ski villages, Whistler will have something for you and your partner! You can also discover an array of memorable Whistler tours to book.
Snack your way around the Richmond Night Market
The Richmond Night Market is an ideal date night location for all types of couples, especially if you and your date are major foodies! The market runs from May through October and boasts over 100 stalls selling all kinds of food.
As Richmond has a strong Asian heritage, there are lots of amazing Asian street food stalls selling both classic and more innovative dishes. Along with a host of savoury dishes, there are many Asian sweets offered, including mango desserts, dragon's beard candy, and bubble waffles.
Additionally, there are stalls selling all types of other international cuisine and fun snacks like tornado potatoes, churro ice cream cones, and rainbow grilled cheese. Be sure to come with a big appetite, as you and your date will have a lot to try at this atmospheric nighttime market!
Go go-karting in Richmond
If you and your date are a little competitive, head to the go-kart track to battle it out! TBC Indoor Kart Racing in Richmond is the perfect place to do so.
You'll be able to drive Sodi RT8 karts at up to 70km/hr on a 13-turn course. You and your date can compete with both other racers and each other for the fastest time. If you discover you're a pro, they even place the highest scores on their website as ones to beat.
In Summary
With the fun and romantic things to do in Vancouver listed above now under your belt, you and your special someone are sure to have fun, no matter which activity you choose!
If you're up for it, why not try a different suggestion each week? You're guaranteed to have an awesome time and won't miss your old boring date nights at all!
Give us feedback about this article
Learn more about Vancouver:
More articles about British Columbia:
Read more articles about Canada:
More articles about date ideas:
---
---
Want to keep exploring?
Subscribe for discounts on tickets and hotels and our latest guides.
Thank you for subscribing
We will be in touch soon with discounts on tickets and hotels and our latest guides.
Want to keep exploring?
Subscribe for discounts on tickets and hotels and our latest guides.
Thank you for subscribing
We will be in touch soon with discounts on tickets and hotels and our latest guides.
Related Articles