Where to Stay in Koh Samui? 8 Best Places to Stay in Koh Samui
Destguides may receive commissions from purchases made through affiliate links in this article.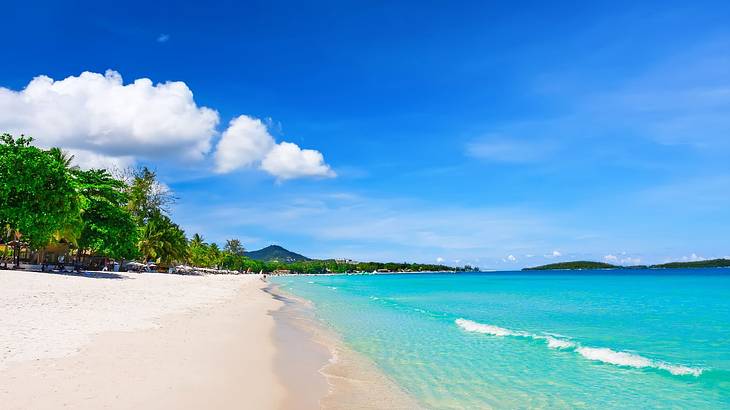 Situated in the Gulf of Thailand is Thailand's second-largest island, the tropical paradise of Koh Samui. This destination is one of the most stunning places to visit in the world and has things for every traveler to enjoy. From beaches and temples to bustling markets and Full Moon parties, you won't get bored while here!
However, when planning a trip to this Thai island, it can be challenging to choose where to stay. Should you opt for the party area of Chaweng? Or maybe the tranquil Maenam is more your style. To help you decide which part of the island is for you, keep reading for eight of the best places to stay in Koh Samui.
Where to Stay in Koh Samui, Thailand?
Best Areas to Stay in Koh Samui, Thailand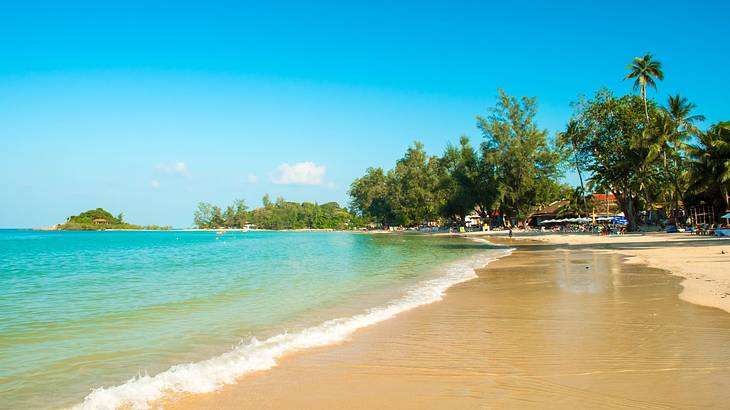 Choeng Mon (Choengmon)
Choeng Mon is nestled in the northeastern corner of the island. It is a peaceful coastal area and the ideal place for vacationers looking to relax. The most popular thing to do here is to spend time at Choengmon Beach. If this beach gets crowded, you can find others nearby, like Thongson Bay Beach.
Diving and snorkeling are also excellent activities to enjoy, with multiple dive tour operators and snorkel rental spots available. At the end of the day, you can enjoy a waterfront meal or unwind with drinks at one of many beach bars.
Best of all, Choeng Mon suits a range of budgets. You can find affordable vacation cottages, mid-range hotels, and luxurious, high-end resorts with numerous amenities.
The one downside to this location is that it's a little far from other popular areas and top landmarks. However, nothing is ever that far away in Koh Samui! For example, you can reach Lipa Noi, all the way on the other side of the island, in under an hour by car from Choeng Mon.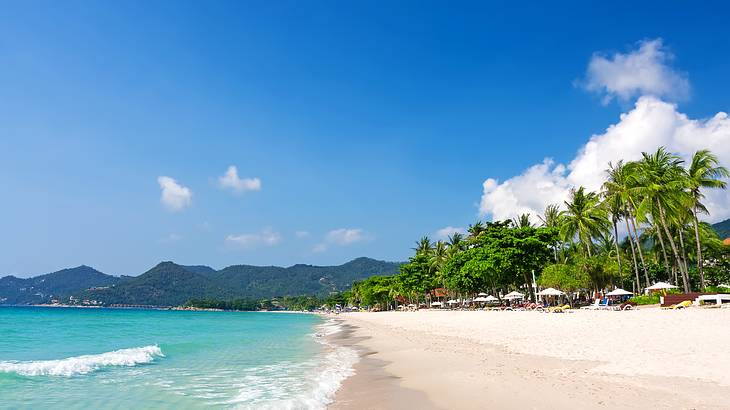 Chaweng
Chaweng, which is located on the eastern coast of Koh Samui, is a bustling area with beautiful beaches and lots of activities. Chaweng is the best area to stay on Koh Samui if you want to be where everything is happening.
The most famous beach is the area's namesake Chaweng Noi Beach, the largest in Koh Samui. Along the beach, you'll find trendy beach clubs where you can party all day and into the night. Chaweng is also known for its Full Moon parties. An array of bars and some nightclubs are in the area as well, making it a popular party and nightlife spot.
Other activities include snorkeling and diving, participating in water sports like paddleboarding, and shopping at markets and local shops. There are also some food markets to try affordable local dishes. Access to other parts of the island and Thai landmarks, like Big Buddha Temple (Wat Phra Yai), is easy via bus, taxi, or bike.
Accommodation here ranges from affordable resorts to higher-end options. However, even the luxurious resorts won't break the bank, making this a perfect place for travelers of all budgets and tastes. Almost all options are on or very close to the beach as well.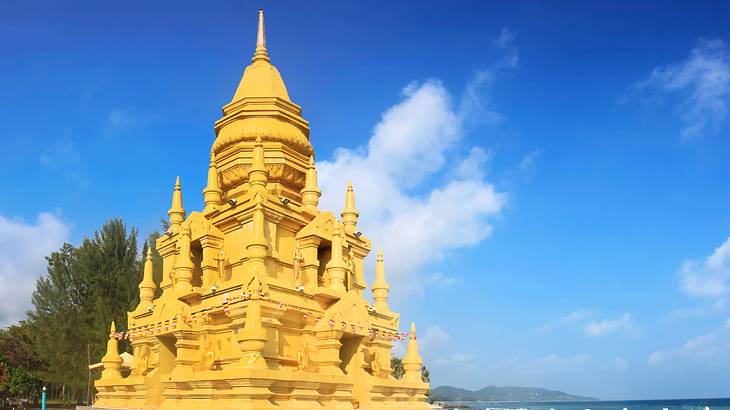 Taling Ngam
Taling Ngam is located on the serene southwest coast of Koh Samui. This part of the island is often referred to as the "Virgin Coast" because of its untouched natural beauty. The vibe in Taling Ngam is chill and luxurious, making it a particularly great spot for couples. This area is also perfect for travelers seeking solitude and an escape from bustling tourist spots.
As with many other parts of Koh Samui, you can find scenic beaches to relax on here, such as Thong Krut Beach. You can also visit places like the Chinese Temple of Guanyin and Laem Sor Pagoda. Landmarks like Tarnim Magic Garden and the Na Muang Waterfalls sit just on the edge of Taling Ngam as well.
If you want to do something a little different, you can easily take a tour of Ko Mat Sum or have a relaxing spa day. In the evening, you can admire the area's renowned sunsets and enjoy a meal at fantastic waterfront eateries.
All of this may come at a bit of a cost, though. The area primarily offers high-end and luxurious beach resorts and villas. However, if you're on a budget, Taling Ngam isn't totally off-limits. There are some affordable options, but they book up quickly, so be sure to plan ahead.
Lamai
Stunning Lamai is located on the southeast coast of Koh Samui. It is known for Lamai Beach, which is the second-largest on the island. A calmer area compared to its neighbor Chaweng, Lamai is the best area in Koh Samui to stay for families and those looking for a perfect mix of fun activities, landmarks, and relaxing beaches.
You can swim and sunbathe at the beach or enjoy more exciting activities like snorkeling or jet-skiing. When you need a break from the beach, you can visit places like Wat Lamai Temple or Grandfather and Grandmother Rocks (Hin Ta Hin Yai). Lamai Viewpoint & Valentine Stone is also a must-visit, offering stunning views and a fun bar. To see other areas, just get a taxi or catch the bus.
On Sunday evenings, you can wander around the bustling Lamai Walking Street. This market has an array of street food stalls, plus some craft and souvenir offerings. Every other night, you can dine at great eateries and also find fun bars, but the nightlife isn't as full-on as in other areas like Chaweng.
Accommodations are very affordable here, yet don't lack amenities. You can find beautiful resorts with pools and luxurious rooms, including those with direct beach access, for under one hundred dollars. A few higher-end options are also on offer.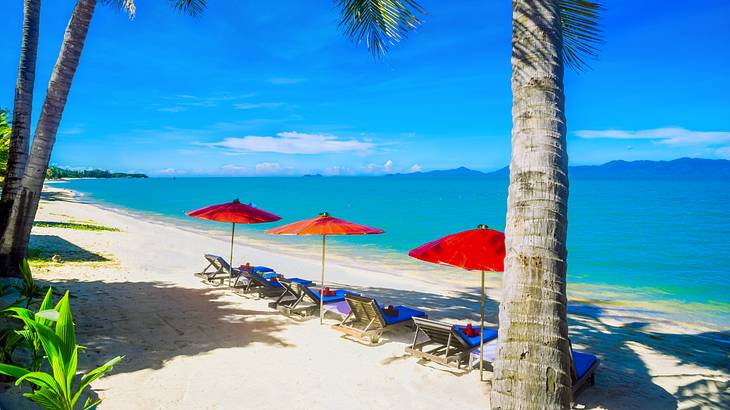 Maenam (Mae Nam)
Maenam is one of the lesser-known parts of Koh Samui for tourists; however, if you want a tranquil and relaxing getaway, it's one of the best places to stay in Thailand! Situated on the island's northeastern coast, this area has a breathtaking beach, Maenam Beach, which stretches for kilometers. It's an especially excellent place for a morning or sunset stroll.
On top of going to the beach, you can take in fantastic views of Ko Pha Ngan from Maenam Viewpoint and visit temples like Wat Na Phra Lan and Wat Phu Khao Thong. You could even take a Thai cooking class or play golf at Santiburi Samui Country Club.
As with all other places to stay, no other parts of the island are that far away. For example, Taling Nam on the south coast is only 40 minutes away when driving.
Because the vibe in Maenam is quiet and laid-back, with a focus on relaxing by the water, it's popular with couples and families seeking peace and quiet. Conveniently, there are places to stay for every budget, from affordable small resorts to luxurious villas and beachfront spa resorts.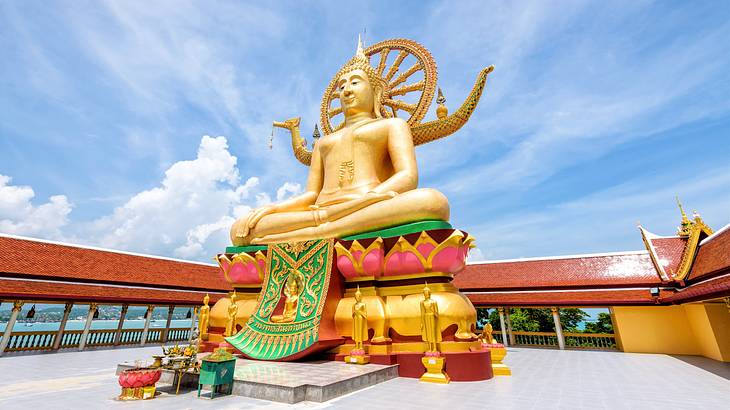 Bangrak (Bang Rak)
The beautiful Bang Rak area is located on the northeastern coast of Koh Samui. Notably, Bang Rak is the best place in Koh Samui to stay to see the Big Buddha Temple (Wat Phra Yai), which features a stunning 12-meter-tall golden Buddha statue.
Other attractions include Bo Phut Beach, Bangrak Temple, and many beachfront bars and restaurants. In addition, you can check out Fisherman's Village, which has a bustling night market, plus bars and unique shops. For a fun day or overnight trip, hop on a boat at Bo Phut Pier (Big Buddha Pier) to reach Ko Pha Ngan.
While not as vibrant at night as Chaweng, this area still has excellent nightlife. There are also budget eateries and very affordable accommodations, making it a fun spot for younger travelers and those on a budget. From Bangrak, you can easily access neighboring Choeng Mon and Maenam. The rest of the island's landmarks and places to stay are within an hour away at most.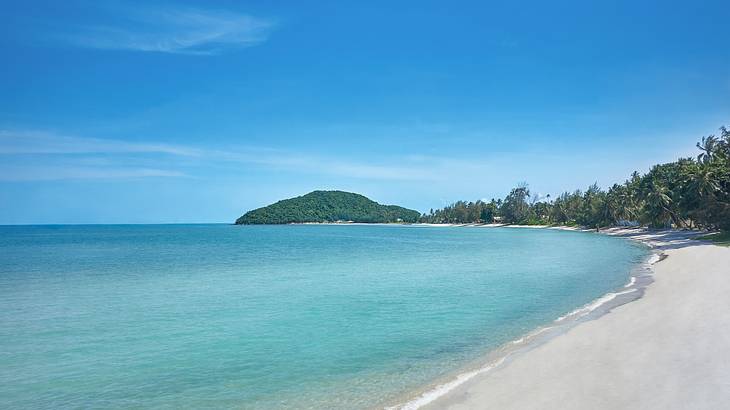 Lipa Noi
If you're looking for the perfect beach vacation destination, Lipa Noi might be for you! The area is especially perfect for families and couples wanting a peaceful getaway.
This tranquil area is located on the western coast of Koh Samui. It's popular for its unforgettable beaches and calm atmosphere as it is further away from the busier areas on the island. Tropical weather all year round means that you can sit back and relax on the sand at Lipa Noi Beach no matter when you visit.
You don't have to spend every day at the beach if you don't want, though. Other attractions include the Dusit Dheva Cultural Center and the Lat Wanon Waterfall, with other waterfalls like Hin Lat Waterfall on the edge of Lipa Noi.
Additionally, you can take a short drive to Nathon Pier in the neighboring Nathon Town to catch a boat for a day trip to Mu Ko Ang Thong National Marine Park. You can also reach Taling Ngam and its many attractions in just 25 minutes.
There is more of a luxury vibe here, meaning accommodation options suit a higher-end budget. However, you can find some more affordable options that are comfortable and offer everything you need.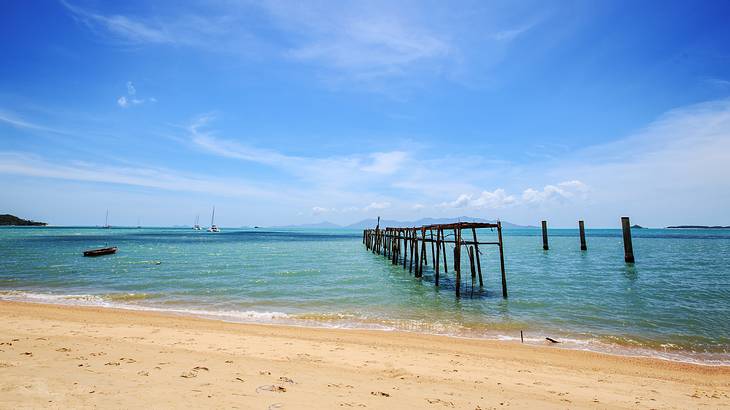 Bo Phut (Bophut)
Bo Phut is a relatively large area and technically includes other places to stay, like Bangrak and Choeng Mon. However, when talking of Bo Phut as a destination, most refer to the area around Bo Phut Beach on the northern coast.
Along with enjoying beach activities and watersports, you have easy access to Fisherman's Village and its walking street market and other unique attractions. Bangrak is just a short drive away, or you could even walk there in around 40 minutes.
While this area has fewer attractions than some areas, the tranquil atmosphere makes up for that and means that Bo Phut is the best location to stay in Koh Samui for families and couples wanting a quiet getaway. The area also offers a range of accommodations to suit various budgets, with many beachfront options.
Where to Stay on Koh Samui, Thailand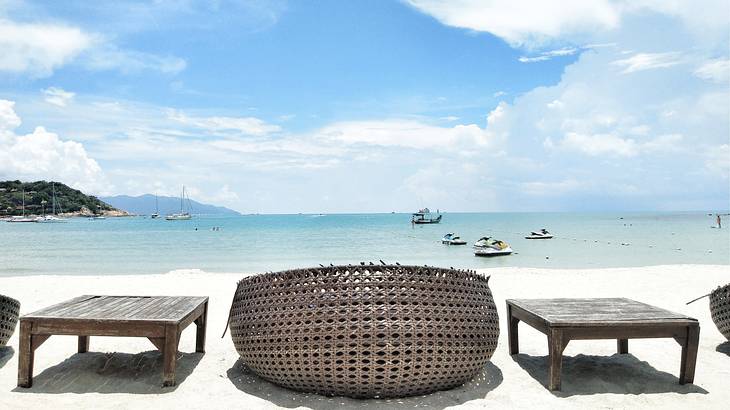 Where to stay in Koh Samui with family?
Almost all parts of the island are ideal for families, possibly with the exception of Chaweng due to its party atmosphere. For families that want to enjoy beaches and other activities and attractions, Choeng Mon, Lamai, or Lipa Noi are recommended.
They all have excellent beaches with calm waters and are also near kid-friendly attractions like Samui Football Golf in Choeng Mon or Lamai Mini Golf in Lamai. Additionally, from Lipa Noi, your family can easily spend a day exploring Mu Ko Ang Thong National Marine Park.
Bo Phut and Maenam are good options for families wanting to spend most of their time at the beach. As these areas don't get overcrowded or have much nightlife, they're great for those with younger kids who don't do well with crowds or lots of noise.
Where to stay in Koh Samui for couples?
Koh Samui is a fun destination for a romantic vacation. However, the best place to stay in Koh Samui for couples will depend on what kind of getaway you want.
Couples that like to party will want to stay in Chaweng or Bang Rak. When not partying at night, you can unwind on the beach or at one of many romantic resorts, which are abundant in both areas.
Those looking for the opposite, a more quiet and tranquil break, will be interested in Maenam, Taling Ngam, or Bo Phut. Lastly, choose Lipa Noi or Lamai if you want the best of both worlds, with good evening dining and bar options, relaxing beaches, and lots of other attractions.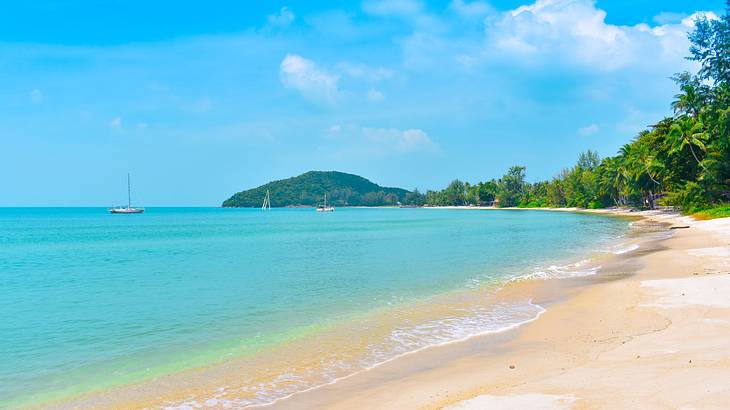 Where to stay in Koh Samui for honeymoon?
When planning a honeymoon in Koh Samui, you'll probably be looking for two things: a tranquil and scenic location and luxurious and romantic accommodations. Conveniently, many parts of the island offer these things!
You can find numerous luxury resorts around Choeng Mon Beach with beach access, pools, and spas. The area also has waterfront eateries for romantic dinners. For somewhere a little quieter, opt for Lipa Noi or Maenam. The former has access to outdoor activities like hiking, while the latter is ideal for a relaxing beach getaway.
Best of all, as Thailand is one of the cheapest places to stay in Asia, you'll be able to book luxurious accommodations for your honeymoon no matter what your budget.
Where to stay in Koh Samui for Full Moon Party?
If experiencing a legendary Full Moon Party is on your Thailand bucket list, Chaweng is the best area to stay in Koh Samui. This lively area is the heart of Koh Samui's nightlife, pulsating with energy and excitement. Of course, it also hosts monthly Full Moon parties.
You can also easily reach Ko Pha Ngan from Koh Samui to experience that island's world-renowned Full Moon Party. To do so, you need to get the ferry from Nathon Pier. The closest places to stay near the pier are Nathon Town and Lipa Noi.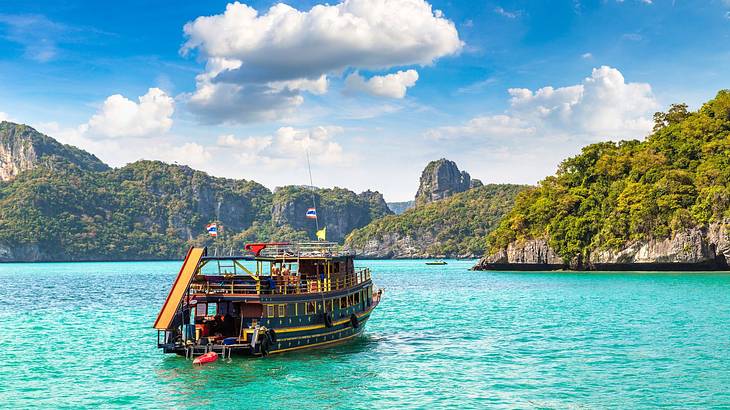 Where to stay in Koh Samui for outdoor activities?
Outdoor attractions, like beaches, are the primary draw of most parts of the island. However, a few locations offer some additional outdoor activity options. Lamai is a popular choice for outdoor activity lovers.
It has a beautiful beach and warm waters, where you can snorkel or enjoy other activities like jet-skiing or kayaking. Additionally, you can explore Grandfather and Grandmother Rocks (Hin Ta Hin Yai) or even take an ATV Tour, among other activities.
Choeng Mon and Taling Ngam are also good choices, with numerous water activities available at the beach. Alternatively, if you want to hike around lots of waterfalls, opt for Lipa Noi, which also offers quick access to Mu Ko Ang Thong National Marine Park.
Where to stay in Koh Samui for nightlife?
If your idea of a perfect holiday includes vibrant nightlife, then Bang Rak or Chaweng will be the best place to stay on Koh Samui for you.
Chaweng is known for its Full Moon Party and also has many exciting bars and clubs to enjoy the rest of the time. At these venues, you can get cheap drinks, party until late, and meet new people. Bang Rak, while not as much of a party destination as Chaweng, still has lots of lively bars and other nightlife spots to suit all tastes. There's also the Fisherman's Village night market.
Both locations additionally offer beach access and fun daytime activities for those that haven't partied too hard and want to do memorable things during the day as well.
In Conclusion
Koh Samui has something for everyone, from partiers to beach lovers and outdoor activity enthusiasts. When planning a trip, deciding where to stay will mainly depend on what activities you want to enjoy. Hopefully, this list has highlighted what each part of the island offers, allowing you to choose which area to stay in Koh Samui for your tropical getaway!
Give us feedback about this article
Read more articles about Thailand:
More articles about places to stay:
---
---
Want to keep exploring?
Subscribe for discounts on tickets and hotels and our latest guides.
Thank you for subscribing
We will be in touch soon with discounts on tickets and hotels and our latest guides.
Want to keep exploring?
Subscribe for discounts on tickets and hotels and our latest guides.
Thank you for subscribing
We will be in touch soon with discounts on tickets and hotels and our latest guides.
Related Articles