30 Fun Things to Do in Chula Vista, CA
Destguides may receive commissions from purchases made through affiliate links in this article.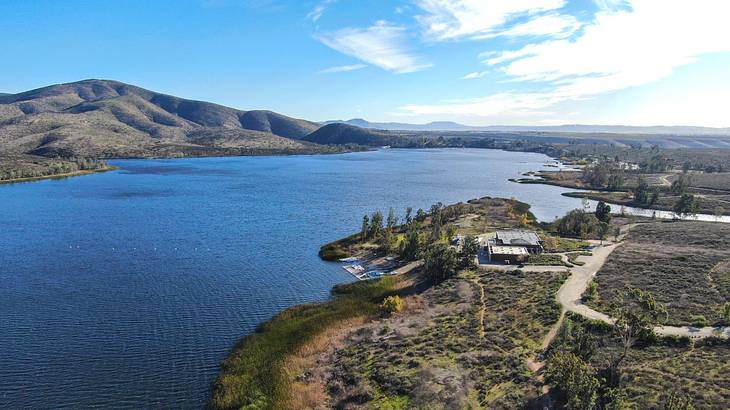 While many people know of San Diego, California, not as many have heard of Chula Vista. However, this Southern California city within the San Diego Metropolitan Area is definitely worth visiting.
Those that do plan a trip will find many fun things to do in Chula Vista, CA. Activities to enjoy range from wandering along the Chula Vista Marina to touring the Chula Vista Elite Athlete Training Center or enjoying breakfast at Aunt Emma's Pancakes. Want to discover what else there is to do in Chula Vista? Continue reading for 30 fun suggestions!
30 Fun Things to Do in Chula Vista, California
Chula Vista, CA, Things to Do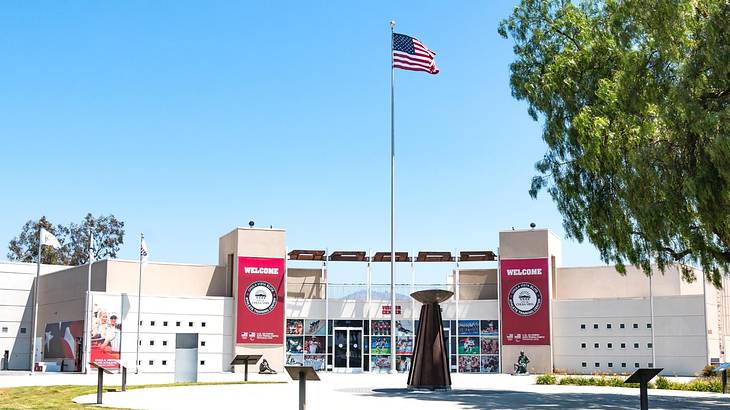 Tour the Chula Vista Elite Athlete Training Center
One of the activities in Chula Vista that will be appealing to people interested in sports is touring the Chula Vista Elite Athlete Training Center. This venue is an Olympic training center where US summer and winter Olympians and Paralympians train in various disciplines. Visitors to the attraction can tour the facility and learn more about the athletes that have trained there, past and present.
Walk around the Chula Vista Marina
The Chula Vista Marina is a relaxing place for a scenic walk. You can wander around the harbor that's filled with yachts and sits next to a small park with lots of palm trees. Going for a stroll here at sunset is especially pretty.
Attend a concert at the North Island Credit Union Amphitheatre
North Island Credit Union Ampitheatre is one of the largest concert venues in the San Diego area and hosts a range of concerts. It's a fun place to spend the evening listening to your favorite band or musician. A range of music genres are represented at the venue, with many world-famous acts performing as well as some more local bands and singers.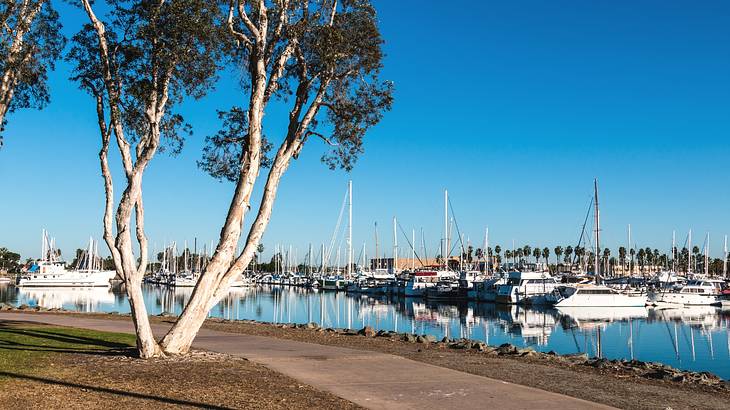 Hang out at Chula Vista Bayfront Park
Chula Vista Bayfront Park is a scenic place to relax in the fresh air. The park sits on the waterfront and has a walking trail, picnic tables, and stunning harbor views. So whether you want to go for a walk, enjoy a picnic with friends and family, or just chill out on the grass, Chula Vista Bayfront Park has something for everyone!
Find out about salt production at South Bay Salt Works
South Bay Salt Works is one of the more unique attractions in Chula Vista, California, that's well worth visiting. This attraction is a salt factory that opened in the 1870s. You can tour the facility when visiting and see vast salt ponds. You'll also learn more about the salt production process.
Enjoy the views at Bayside Park
Another pretty waterfront park in Chula Vista is Bayside Park. The park has a trail and many grassy areas to sit and enjoy the views. Notably, you can see the San Diego-Coronado Bay Bridge from the park and even the San Diego skyline on clear days. After enjoying the park, you'll find some waterfront restaurants nearby to get lunch or dinner.
Grab a drink at Bay Bridge Brewing
Bay Bridge Brewing is an ideal place to unwind with a beer. The brewery serves a range of handcrafted beers, plus seasonal options like berry beer in the summer or pumpkin beer in the fall. Events like live music nights, beer pong competitions, and trivia nights are also held frequently.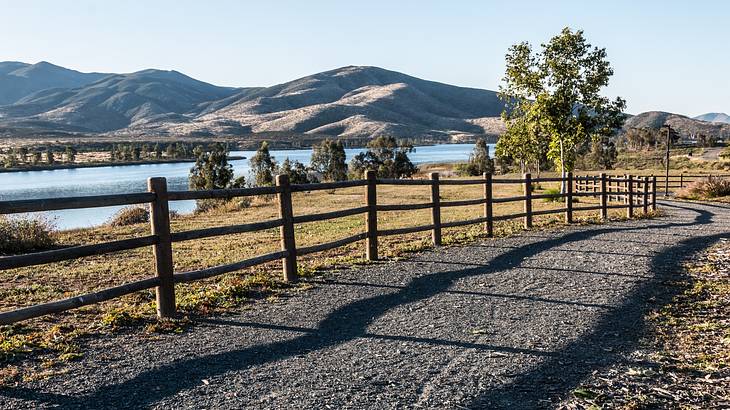 Play basketball at Mountain Hawk Park
Another of many great parks in Chula Vista is Mountain Hawk Park. This park is a good place to go if you want to play basketball as it has a court. In addition, you'll find some trails, picnic tables, and a children's playground for those visiting with kids.
Have a picnic at Chula Vista Marina View Park
Chula Vista Marina View Park is a scenic spot to enjoy a picnic with friends or family. There are many picnic tables that are surrounded by palm trees and views of the marina.
It's also one of the best places to go in Chula Vista if visiting with your kids, as the park has playgrounds and lots of space for them to run around.
Have breakfast at Family House of Pancakes
Family House of Pancakes is definitely one of the best places to visit in Chula Vista for breakfast. The restaurant has been in the city since 1964 and serves many delicious pancakes.
Menu options include banana pecan pancakes, sweet potato pancakes, and tropical pancakes with pineapple and roasted coconut. Waffles, crepes, and French toast are also available, as are many savory breakfast dishes.
Visit Gunpowder Point
One of the historical places to visit in Chula Vista is Gunpowder Point. The area was home to Hercules Powder Co., which operated between 1913 and 1919. The company is known for harvesting potash and acetone from kelp. Visitors today can learn more about the company and will also get to enjoy the surrounding coastal scenery.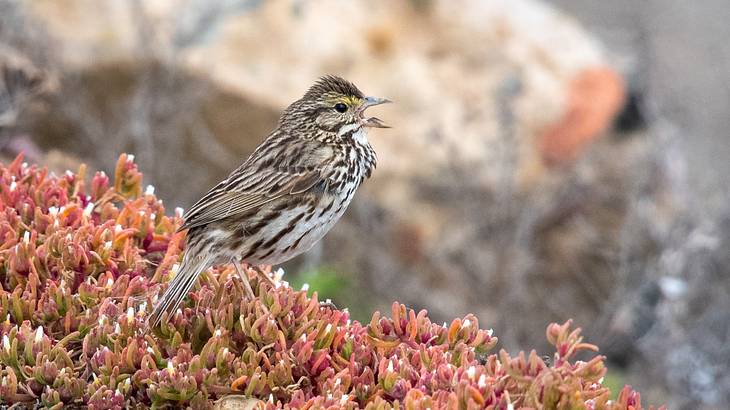 Spot animals at the San Diego Bay National Wildlife Refuge
If you enjoy the outdoors and wildlife watching, going to the San Diego Bay National Wildlife Refuge is one of the Chula Vista things to do that has to be on your to-do list. The refuge is located next to Gunpowder Point and protects various endangered and native species.
At the refuge, you can follow trails and enjoy the scenery. Just a few of the animals you may see include rabbits, squirrels, and numerous species of birds.
Dine at Italianissimo Trattoria
Italianissimo Trattoria is a popular restaurant in Chula Vista that serves classic Italian dishes for lunch and dinner. You can start your meal with appetizers like bruschetta or fried calamari before ordering dishes like pizza, risotto, and a range of pastas, including ravioli and fettuccine.
Fish and meat main courses, such as pecan and walnut-crusted salmon, are on offer too. In addition, the eatery has an extensive vegan menu with plant-based versions of Caprese salad, pizza Margarita, and many other dishes. Of course, you can accompany your meal with a glass (or bottle) of Italian wine.
Gamble at Seven Mile Casino
If you're still looking for fun things to do at night in Chula Vista, why not visit Seven Mile Casino? At the venue, you can play various games, including poker and blackjack. The casino also has a bar and restaurant serving dishes like tacos and wood fire pizza, plus cocktails, beer, and wine.
Spend time at Friendship Park
Friendship Park is another of the Chula Vista attractions to visit to enjoy the fresh air. The charming park covers four acres and is the perfect spot to go for a stroll or hang out on the grass with friends or family. The park also has some statues to see and is a popular place to take dogs for a walk.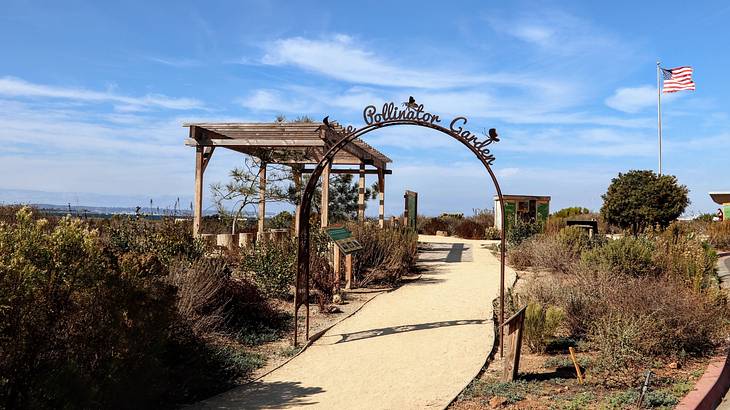 Learn about marine life at the Living Coast Discovery Center
The Living Coast Discovery Center is a fascinating attraction that will tell you about the creatures that live in and around San Diego Bay. Animals to see and learn about include turtles, sting rays, and octopuses. You can also see birds, reptiles, and mammals that live in the area, like owls, falcons, and snakes.
Immerse yourself in Chula Vista history at Chula Vista Heritage Museum
The Chula Vista Heritage Museum has fascinating exhibits on the history of Chula Vista and surrounding areas in San Diego County. The museum was created in 1933 and is now managed by the South Bay Historical Society.
As you look around, you'll find various artifacts and historical documents that can teach you more about significant events and life in Chula Vista over the last few hundred years.
Indulge in delicious pancakes at Aunt Emma's Pancakes
Aunt Emma's Pancakes is another great breakfast spot in Chula Vista, especially for those that like pancakes or other sweet dishes. Pancakes on the menu include peanut butter, chocolate chip, and cinnamon churro.
Other sweets include crepes, Belgian waffles, and mascarpone stuffed French toast. Savory dishes range from breakfast sandwiches and avocado on toast to Mexican-style meals like chilaquiles.
Things to Do Near Chula Vista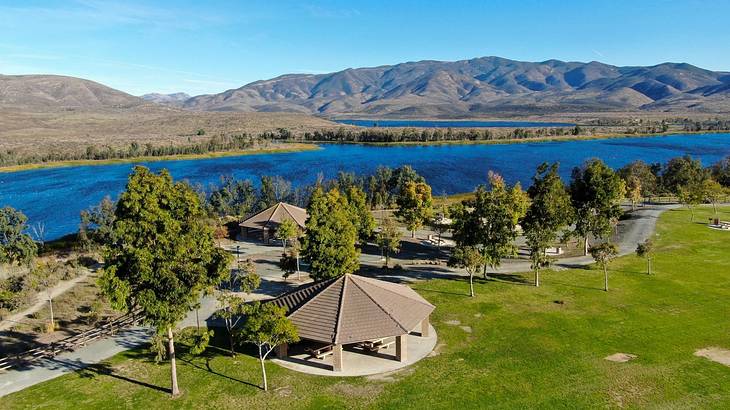 Boat at Otay Park Reservoir
Otay Park Reservoir is located 20 minutes from Chula Vista and Otay Valley Regional Park. The park comprises the Upper and Lower Otay Reservoir. Visitors can walk around the reservoir and spot coastal birds and other animals that live in and around the waters. You can also boat with the correct permits or use float boats, but paddling activities, like kayaking, are not allowed.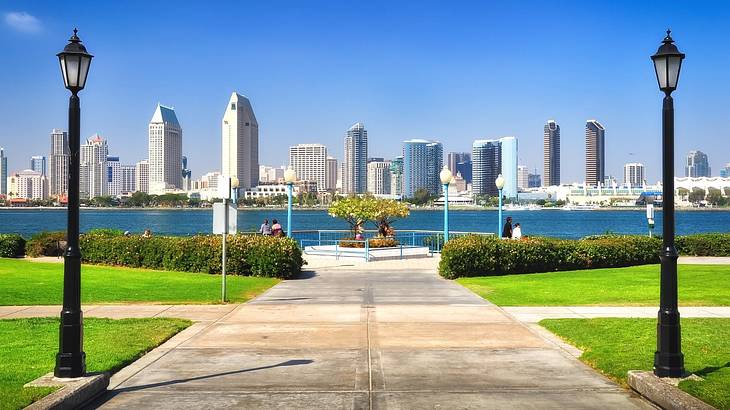 Spend the day in San Diego
There are many fun things to do in San Diego, and as it's just 20 minutes from Chula Vista, spending the day there is a great idea. In the city, you can visit an array of San Diego landmarks, plus attractions like the Fleet Science Center and Balboa Park. Other places to add to your San Diego itinerary include Sunset Cliffs Natural Park, Coronado Island, and the bustling Gaslamp Quarter.
Hike the Rice Canyon Trail
The Rice Canyon Trail is a popular hike to tackle in the Chula Vista area. This trail covers 3.5 miles and takes about an hour and a half to complete. In addition, the route is quite an easy hike, so it is suitable for kids and adults of most activity levels.
While you hike, you'll be able to take in the beautiful forest and canyon views around you. Your dog can join you, too, as long as they are on a leash.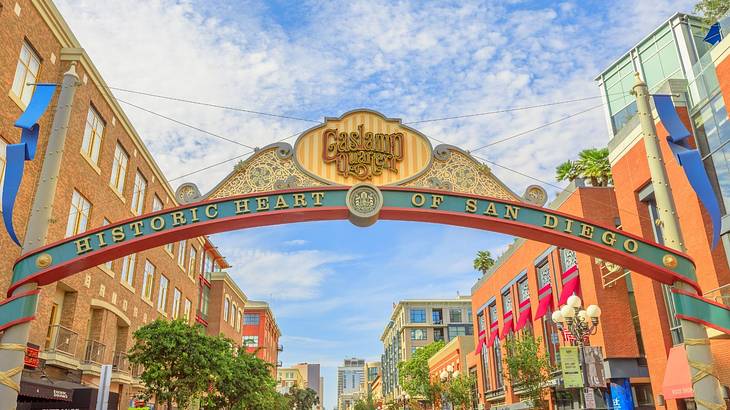 Party in San Diego's Gaslamp Quarter
For those wanting to plan a fun night out, making the 20-minute journey to San Diego to enjoy the Gaslamp Quarter is a must! The bustling neighborhood features an array of trendy bars and outstanding restaurants, with something for everyone to enjoy.
The Gaslamp Quarter is also one of the best spots for a date in San Diego. In addition, if visiting this iconic area during the day, you could join a Gaslamp Quarter food tour to ensure you don't miss any of the best eateries.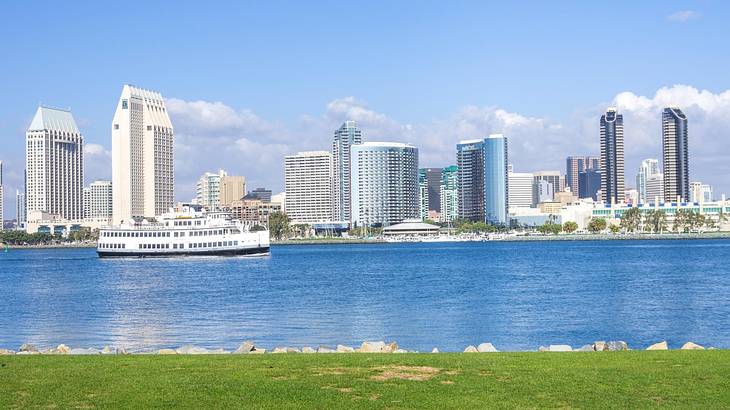 Treat yourself to a San Diego Bay cruise
Another of the unique things to do in San Diego is going on a cruise through San Diego Bay. The cruise allows you to admire the city skyline and spot landmarks like Coronado Island as you sail through the bay. You may also see marine life like sea lions and seals. If you're visiting San Diego at night, taking a dinner cruise is recommended.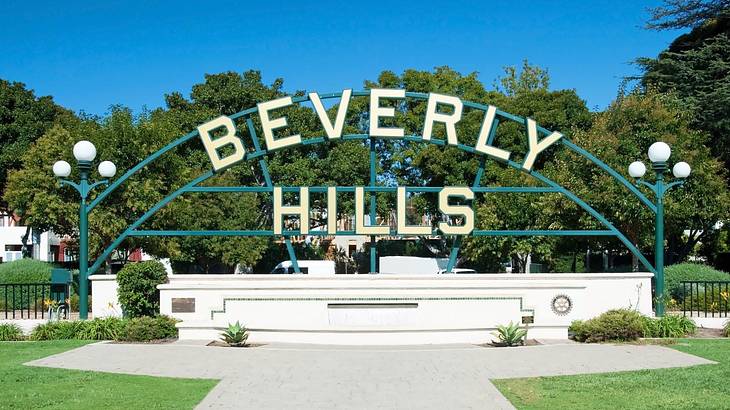 Plan a getaway to Los Angeles
Los Angeles is a fun place to plan a weekend or overnight getaway. Located just over two hours from Chula Vista, you'll discover no shortage of memorable Los Angeles activities to enjoy.
Things to add to your LA itinerary include visiting fun attractions, such as Universal Studios, and seeing famous California landmarks, like the Hollywood Sign and Griffith Observatory. If you stay for a few days, you'll find numerous things to do at night in LA too.
Bike or hike in Otay Valley Regional Park
Otay Valley Regional Park sits next to the Otay River within the Otay River Valley. The beautiful outdoor space has eight miles of trails that you can hike or bike. As you explore, you can admire the river and will spot wildlife like frogs, lizards, and various bird species.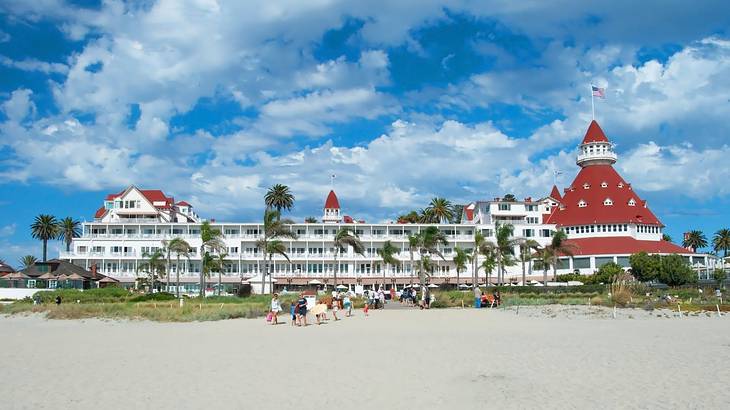 Stay at the Coronado Hotel
The Coronado Hotel, or Hotel del Coronado, is a fun place to spend the night or a weekend. The renowned hotel is located on Coronado Island, 15 minutes from Chula Vista. You can stay in stylish nautical-themed rooms, many of which have beach and ocean views. Beachfront cottages and villas are bookable too.
Amenities include swimming pools, oceanfront eateries, and direct access to the white sand beach. Coronado Hotel is also pet friendly, and staying here will allow you to easily enjoy the attractions on Coronado Island.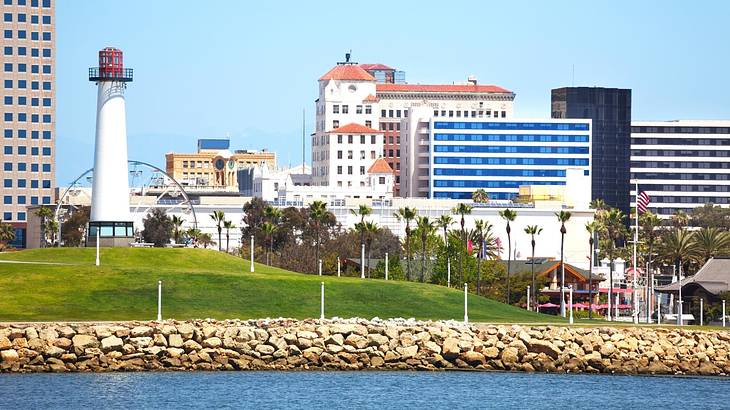 Road trip to Long Beach
Long Beach is an ideal place for a fun coastal getaway. The city is just under two hours away from Chula Vista when driving. Activities in Long Beach include taking swan boats out on Rainbow Lagoon, kayaking, and hanging out on the beach. Those on a budget will be pleased to hear that there are also many free things to do in Long Beach.
This destination also makes a perfect spot for a couples getaway, and you could include a trip to LA too. Date ideas in Long Beach range from going on a romantic dinner cruise to enjoying cocktails at unique bars.
Camp at Sweetwater Summit Regional Park
One of the cool things to do around Chula Vista is going camping at Sweetwater Summit Regional Park. Visitors to this 500-acre park can book tent camping spots as well as camper and trailer spots. During the day, you can hike or bike along 18 miles of trails and spot wildlife in and around the park's reservoir.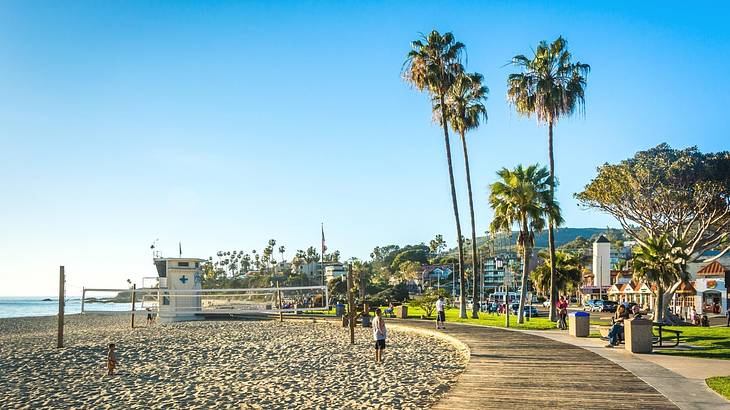 Go to Orange County
Orange County is situated only an hour and a half from Chula Vista. Things to do in Orange County if visiting for the day or the weekend, include exploring amazing coastal parks, having a fun day at Knott's Berry Farm amusement park, and looking around Bowers Museum.
There are also many beaches to hang out, and you'll also find numerous free things to do in the OC, perfect for those sticking to a travel budget!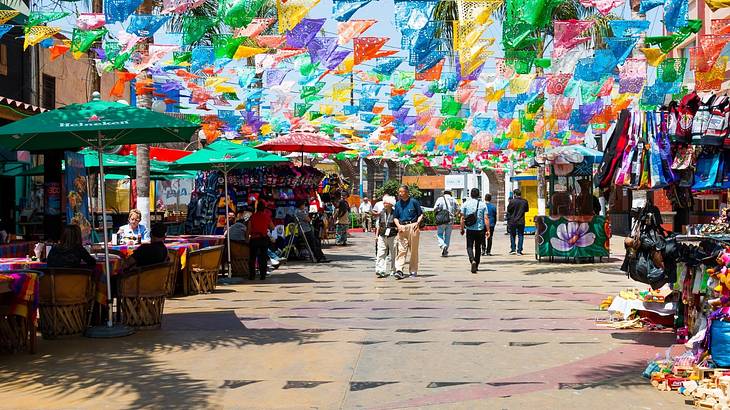 Travel to Tijuana
Tijuana in Mexico is only 20 minutes away from Chula Vista when driving. It's a unique place to visit for the day or the weekend. If you'd rather visit on a guided tour, there are many opinions which you can join from San Diego.
Booking a day trip tour to Tijuana is highly recommended and will allow you to discover all of the city's best attractions and eateries. Remember to bring all documentation needed to cross into Mexico and back to the US.
In Conclusion
There are many things to do in Chula Vista and the surrounding areas, like San Diego. Along with the 30 above suggestions, other activities to consider include going to other nearby towns, like Pasadena. You could also visit in August for the famous Chula Vista Lemon Festival.
Give us feedback about this article
More visual stories related to this article:
Want to keep exploring?
Subscribe for discounts on tickets and hotels and our latest guides.
Thank you for subscribing
We will be in touch soon with discounts on tickets and hotels and our latest guides.
Want to keep exploring?
Subscribe for discounts on tickets and hotels and our latest guides.
Thank you for subscribing
We will be in touch soon with discounts on tickets and hotels and our latest guides.