The Ultimate 4 Day Orlando Itinerary
Destguides may receive commissions from purchases made through affiliate links in this article.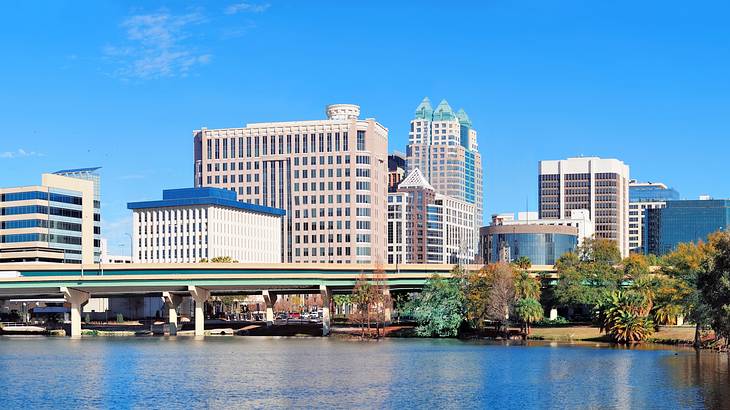 Home to fire-breathing dragons, superheroes, and talking mice, Orlando is the theme park capital of the world. However, planning a trip to Orlando can be overwhelming. There's so much to see and do, meaning it can be hard to know where to start.
Don't worry, though; this in-depth itinerary has got you covered! It includes visits to the best attractions to help you make the most of your time in the city. This Orlando trip plan covers an array of places, from Disney World and Universal Studios to downtown Orlando and even some local wineries.
Are you traveling with kids? No problem! Family-friendly options are covered as well. So gas up the car or buy your plane tickets to Orlando International Airport, and get ready to plan your perfect 4 day Orlando itinerary.
4 Days in Orlando Itinerary
Start your adventure at the Walt Disney World Resort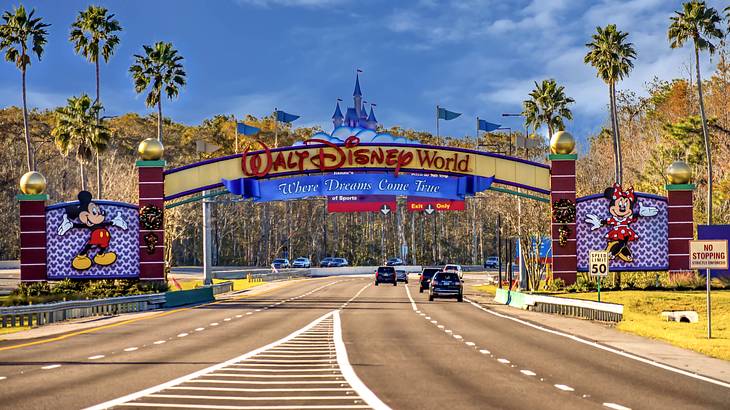 Ready to feel like a kid again? To kick off your Orlando trip itinerary, you'll head to Disney World for a fun-filled day at the "happiest place on earth."
This massive theme park complex is arguably the most famous Orlando landmark and boasts over 100 rides and attractions across four parks. Disney practically put Orlando on the map, and no visit to this Florida city is complete without a stop to see Mickey Mouse.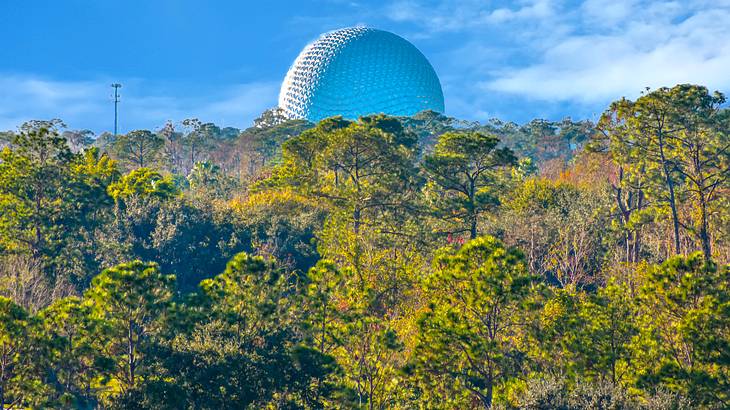 Pick your favorite Walt Disney World theme park
Start by picking your favorite Disney park to visit. While park hopper passes are available for an additional fee, one park per day is plenty for most people. Rides and attractions usually have a wait, sometimes over an hour.
To get the most out of your experience in any Disney World theme park, download the Disney Genie App to check wait times and help you plan your activities. You can also purchase Lightning Lane passes for select rides to get in faster.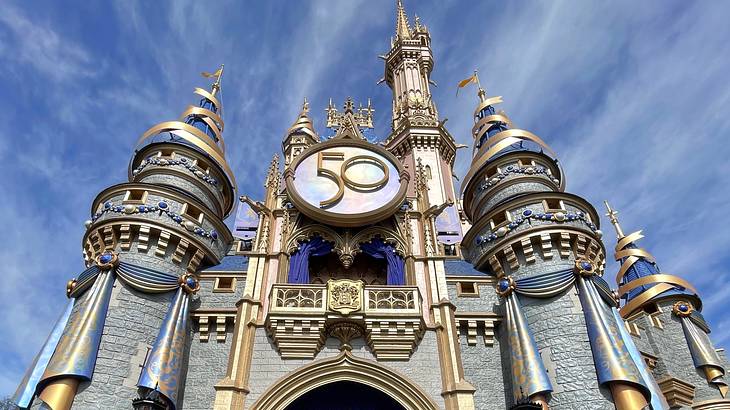 Option 1 - Magic Kingdom
The oldest and most popular of the Disney parks is the Magic Kingdom; it's the original and most famous and an ideal family destination. Home to some of the most beloved Disney characters like Cinderella and Snow White, a visit to the Magic Kingdom will bring back childhood nostalgia to parents and be a delight for the kids.
Each section of the Magic Kingdom has its own theme. For example, Adventureland features the famous Jungle Cruise and Pirates of the Caribbean. Fantasyland transports park-goers into their favorite storybook classics featuring Cinderella's Castle and the Mad Hatter's tea cups.
Frontierland is full of thrills with the Big Thunder Mountain Railroad coaster. Lastly, Tomorrowland has a futuristic feel with exciting rides like Space Mountain. You can also explore Main Street, USA, and Liberty Square. These areas don't have rides but have shops and many other attractions.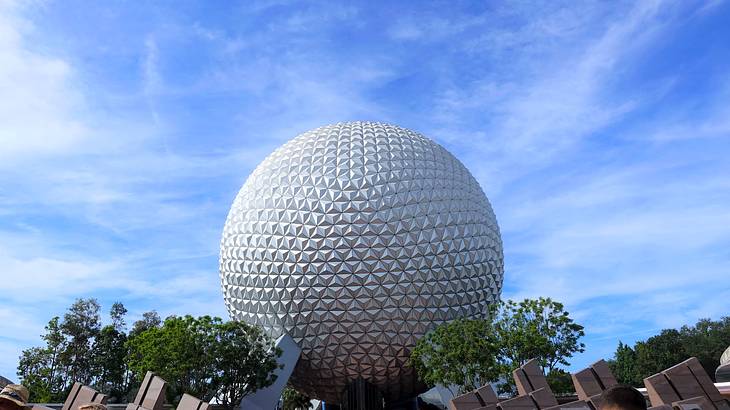 Option 2 - Epcot
Epcot is the second most popular Disney park, with a theme centered around technological innovation and international cultures. Spaceship Earth, a large spherical-shaped ride showcasing the history of communication, is one of the most recognizable symbols of the park.
Other space and technology-themed rides and attractions can be found throughout the park. Another popular attraction is the World Showcase, which offers an immersive experience of international cultures with pavilions architecturally styled after each country.
Nations on display include countries like France, Mexico, China, and others. Guests can step inside to learn more about each country via shows, rides, and other attractions.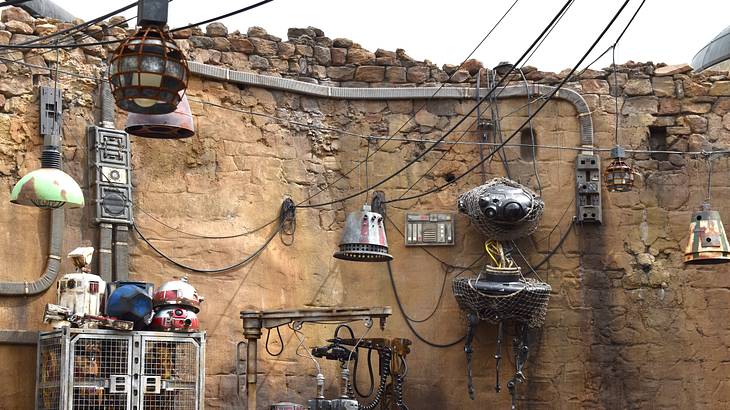 Option 3 - Disney's Hollywood Studios
Dedicated to the magic of movies, Disney's Hollywood Studios brings the big screen to life through numerous rides and attractions. You can step back in time at Walt Disney Presents to see 100 years of Disney magic in the making or take a thrill ride on the Rock-n-Roller Coaster or the Tower of Terror.
Younger kids will enjoy the milder Toy Story ride or Frozen Sing-Along Show. Additionally, Star Wars fans will love Galaxy's Edge, one of the newer parts of the park dedicated to the Star Wars franchise. You can ride on the Millenium Falcon, see dancing Storm Troopers, or build a droid at the Droid Depot.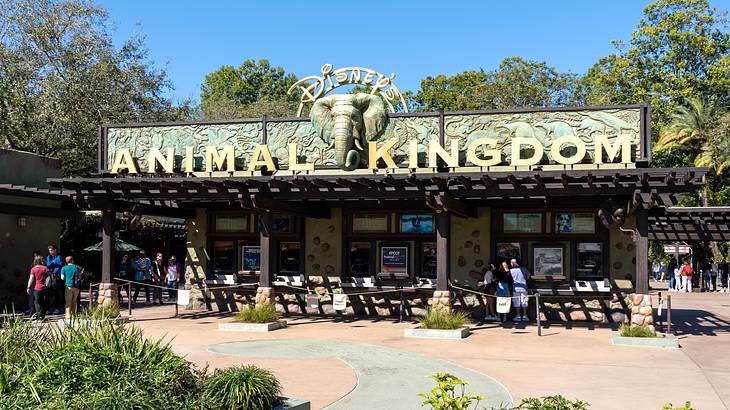 Option 4 - Animal Kingdom
Animal Kingdom is the newest theme park in the Disney World lineup, emphasizing conservation education. Each attraction tells a story about environmental issues like wildlife poaching and deforestation. The park is divided into sections that mimic natural landscapes, such as the savannas of Africa and the jungles of Asia.
The most popular attraction at Animal Kingdom is the Kilimanjaro Safari. Guided jeep tours take guests through the Harambe Wildlife Reserve, a 110-acre sanctuary where over 30 species of animals roam.
On the tour, you may spot zebras, giraffes, lions, and other African wildlife. Other popular attractions include the Lion King shows and thrill rides like Expedition Everest and Kali River Rapids.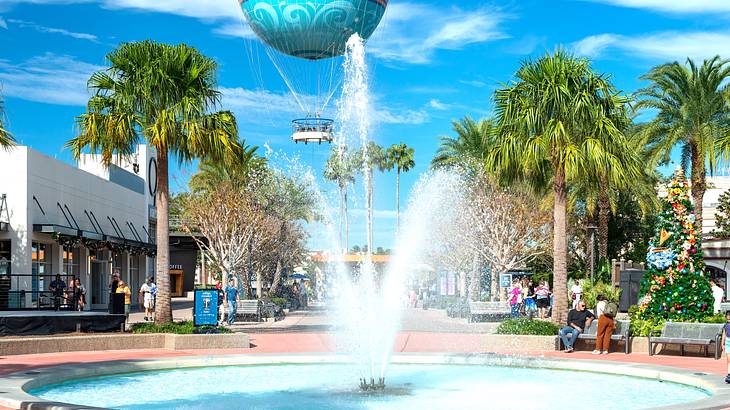 End the day at Disney Springs
When you've had your fill of theme park fun, head over to Disney Springs, where you can unwind with dinner, drinks, and maybe even a show.
Disney Springs is a large outdoor dining, shopping, and entertainment complex located a short drive from the parks. If you are staying at a Disney hotel, it's a quick shuttle or boat ride away.
Dining options include everything from fast-casual to fine dining, and there are fun-themed restaurants like T-Rex Cafe and Rainforest Cafe, both featuring animatronic animals. Want to be entertained? You can find live music at the House of Blues or catch a show at Cirque du Soleil.
Head to Universal Orlando Resort for more thrilling fun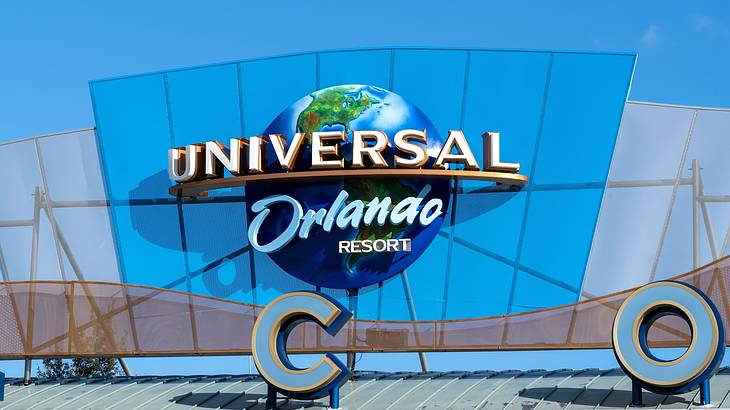 If you've had your fill of Disney World, it's time to see the other side of the theme park capital of the world. On day two, you'll head to Universal Studios, another large theme park complex in Orlando catering to thrill seekers and movie buffs.
Alternatively, some people choose to pass multiple days in one park, like spending two days in the Magic Kingdom. If you are traveling with little ones who are Disney fanatics, feel free to head back to Disney.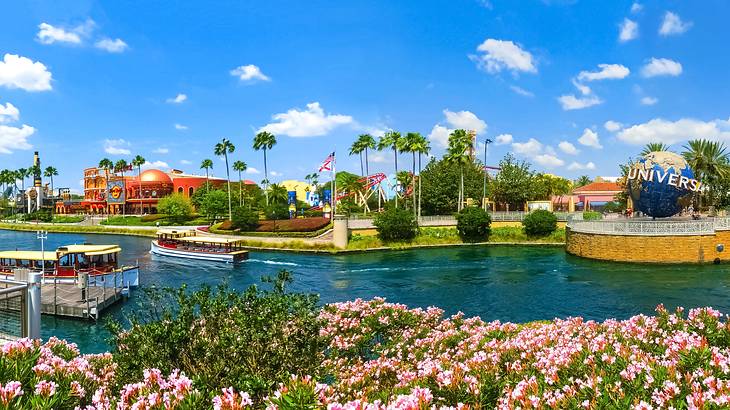 Pick your favorite Universal Studios Florida theme park
Universal Studios has two theme parks with adventures from mild to wild. If you're feeling extra adventurous, you can purchase the two-park pass, which admits you to both parks, but ensure you get an early start to beat the queuing.
Download the Universal Orlando App for live park maps and wait times to make the most of your adventures. You can purchase a Universal Express Pass to skip the lines on some rides.
Option 1 - Universal Studios
Visiting the original Universal Studios lets you enter the screen of some of your favorite films and TV shows. For example, you can ride Elliott's bicycle of ET fame or tag along with Dom on a high-speed chase in Fast and Furious.
You can also take a virtual reality ride through the fictional town of Springfield on The Simpsons ride. Of course, no Universal Studios trip is complete without visiting The Wizarding World of Harry Potter, Diagon Alley!
This newer section is a favorite of wizards and muggles alike. Take a ride on the Hogwarts Express, sip on Butterbeer at the Leaky Cauldron, pick out a wand from Ollivanders, and marvel at the giant, fire-breathing dragon.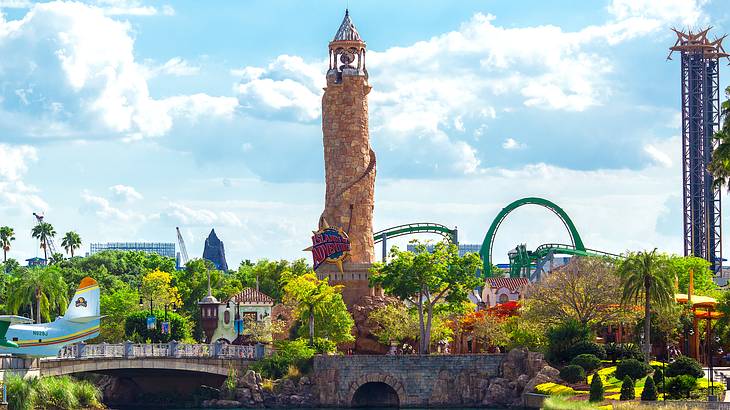 Option 2 - Islands of Adventure
Universal Studios' newest addition, Islands of Adventure, was made for thrill seekers and superhero fans. At the park, you can soar through the sky with Spiderman or test the limits of gravity on The Incredible Hulk Coaster.
Next, step back in time on the Jurassic Park River Adventure featuring a jaw-clenching 85-foot drop into the water. Islands of Adventure also features its share of Harry Potter rides and attractions like Hagrid's Magical Motorbike Adventure. You can even chow down on Sherbert Lemons at Honeydukes!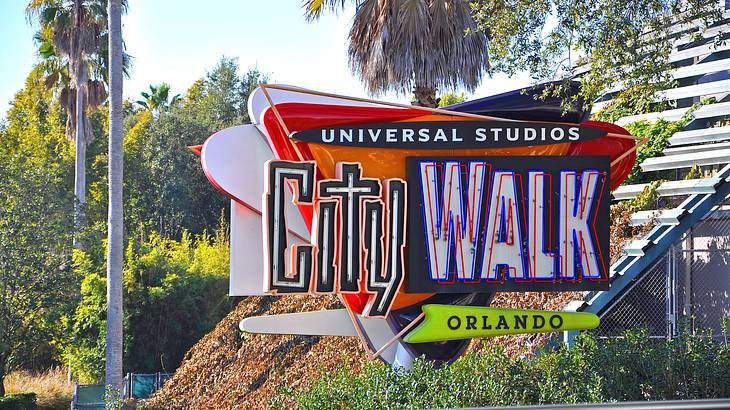 Head to Universal Citywalk for dinner and a show
Located a short walk from both Universal parks, Universal Citywalk is the best place to end your day or start your night; with a never-ending array of unique shops, restaurants, and shows, there's something for everyone at Universal Citywalk.
You can grab a bite at places like the famous Bob Marley's, serving up Jamaican dishes, island-themed cocktails, and live Reggae music. Drool-worthy sweet and savory treats can be found at Toothsome Chocolate Emporium and Savory Feast Kitchen. This steampunk-themed dessert cafe has offerings like coconut milk and pineapple upside-down cake shakes.
If you want to party a little later into the night, Pat O'Briens, a dueling piano bar with a New Orleans flair, is open until 1 AM. An outdoor stage overlooking the lagoon at Citywalk also features live music on some nights.
Discover Downtown Orlando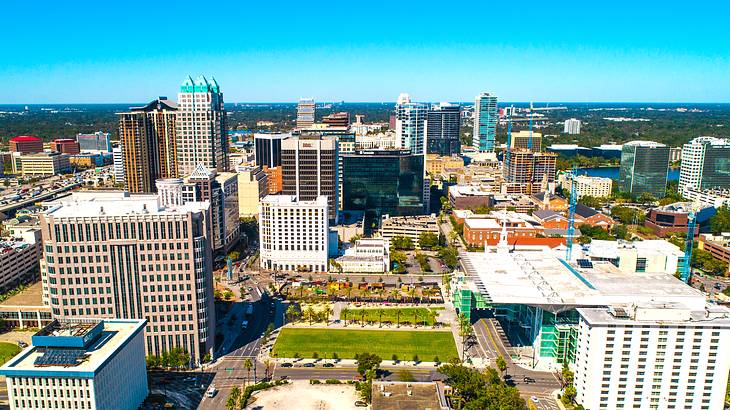 By day three, you're probably ready for a break from the theme parks. You can head to Downtown Orlando for a day of leisurely sightseeing around the city, but don't worry, there's still plenty to do and even more rides in case you aren't quite ready to relax yet!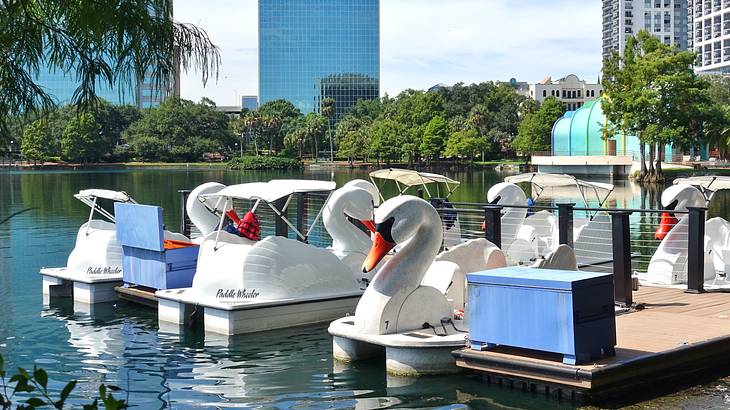 Lake Eola Park
Lake Eola Park is a serene oasis in the middle of downtown Orlando. With its 43 acres of lush greenery and sparkling waters, a morning stroll through the park is a great way to start your day. You can also grab a cup of coffee or breakfast at one of the many cafes surrounding the lake.
Taking a self-guided audio tour of Lake Eola Park is another fun activity to enjoy. In addition, the park usually has a lively calendar of events which includes outdoor yoga classes, farmers' markets, and live music. You can also rent a signature swan boat to take out on the water.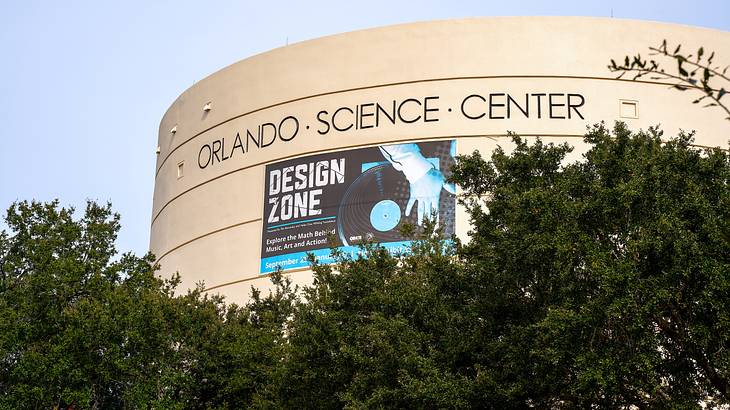 Orlando Science Center
The Orlando Science Center features a wide array of exhibits on science, technology, and natural history. You can get hands-on with science experiments, learn about the solar system, and get up close and personal with some dinosaur bones.
Perfect for families, the Orlando Science Center also features Kids Town, designed exclusively for the "littlest of scientists" to play and learn. There are also two theaters showing a variety of nature and science documentaries on extra wide, immersive-style screens.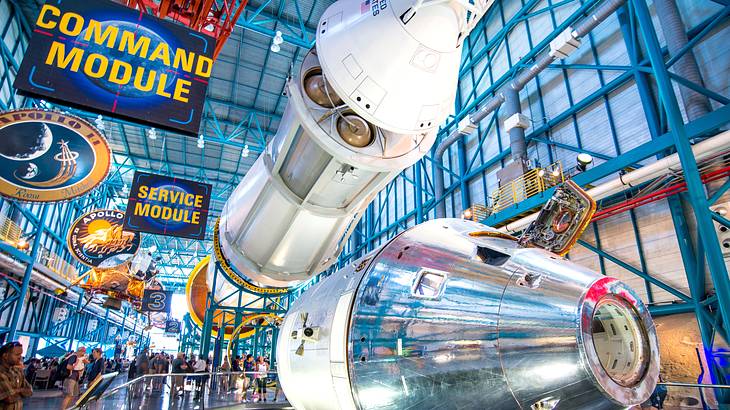 Kennedy Space Center (Optional)
If you're in the mood for more science-y fun and don't mind the drive, head to the Kennedy Space Center in Cape Canaveral. The attraction is a massive complex of spacecraft exhibits where you can learn about the history of space travel and see decommissioned spacecraft, rockets, and astronaut memorabilia.
Kennedy Space Center deserves a spot on your Orlando trip itinerary, so check its schedule, and you may even witness a launch! It takes about an hour to get there from downtown Orlando, but it's well worth it. Don't feel like driving? Book a Kennedy Space Center tour that includes transportation.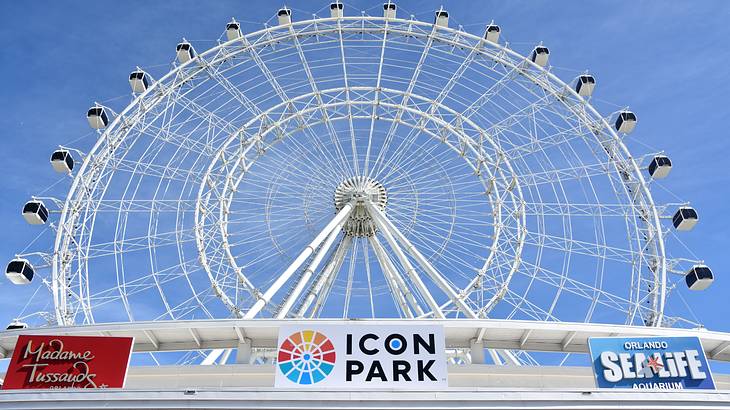 Icon Park
Icon Park is the perfect place to end your day with an array of dining, shopping, and entertainment options. Visiting this park is also one of the best things to do in Orlando besides theme parks!
You can experience as much or as little as you'd like in a choose-your-own-adventure night out. To save on admission to attractions and make exploring easy, consider purchasing a Go-City Orlando Explorer Pass.
Looking for more thrills? Then take a ride on the 400-foot-high, iconic Ferris wheel with incredible views of the Orlando skyline. You can also visit the Max Action Arena for virtual reality games, axe throwing competitions, and escape rooms.
Another excellent attraction to check out is Madame Tussand's Orlando. This famous wax museum features lifelike replicas of some of your favorite celeb icons, superheroes, and historical figures. The Museum of Illusions also offers a fun, unique experience.
When it's time to eat, over a dozen restaurants offer comfort food, tacos, and everything in between. After dinner, head over to the Tin Roof to enjoy their live music and craft cocktails, and for more family-centered fun, check out the arcade.
Wind down with a water park and wine tasting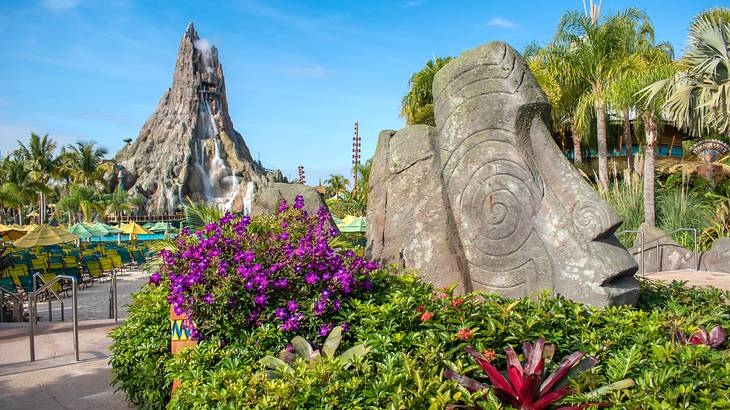 It's your final day in Orlando; surely you've earned some relaxation time? Head over to Volcano Bay to wind down with some water park fun before a relaxing evening of wine tastings.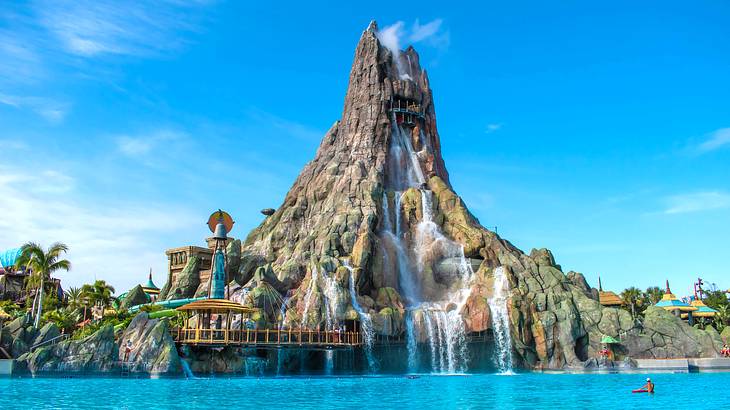 Volcano Bay
Whether you want to relax on a beach, catch some waves, or ride a coaster, Volcano Bay has you covered. This popular water park has something for everyone with its beautiful scenery and Polynesian vibes.
While summer is the best time to visit Orlando for families, the heat can be brutal. Therefore, planning a family trip to Volcano Bay is a great idea, as the cool waters are a welcome reprieve from the summer heat.
Thrillseekers will love Krakatau, the park's iconic 200-foot-tall volcano. You can take the Ko'okiri Plunge or Kala and Tai Nui Serpentine Slides inside Krakatau. It also houses the Krakatau Aqua Coaster, a heart-pounding roller coaster that plunges straight through a waterfall.
Are you looking for a more relaxing time? No problem; you can lounge on Waturi Beach or float effortlessly down the Kopiko Wai Winding River on a raft. You can also enjoy swimming in several lagoons and wave pools.
The line system is delightfully different at Volcano Bay. All lines are virtual, and guests are given a wearable band reminiscent of a smartwatch to check in for each ride. While waiting for your ride, you are free to roam the park, swim, or relax on comfy poolside lounge chairs.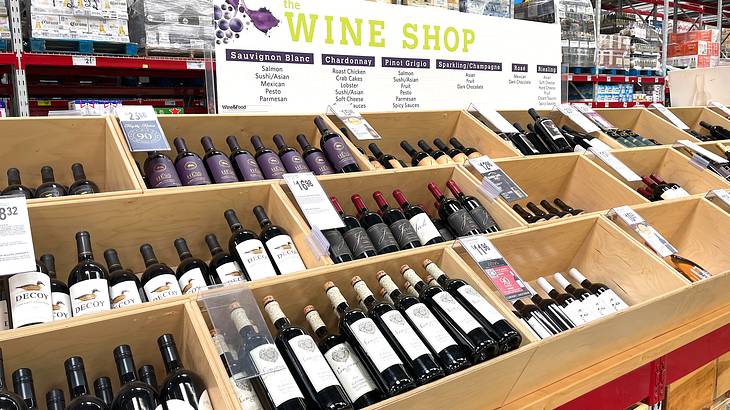 Get ready for a night of food, fun, and wine tastings
Most people don't think of wineries as places to visit while in Orlando, Florida, and are surprised to learn of Orlando's great wine scene. Orlando is full of wineries, wine bars, and tasting rooms, so pick your favorite for a relaxing way to conclude your final night in Orlando.
Option 1 - Lakeridge Winery and Vineyards
Located 30 minutes from Orlando, Lakeridge Winery and Vineyards offers tours, tastings, food, and live music. Covering 127 acres, Lakeridge is Florida's largest winery and produces many varietals.
You can tour the vineyard, get a behind-the-scenes look at the winemaking process, and taste some of their award-winning wines. Do note that the winery closes in the early evening, so plan an afternoon trip to this winery before returning to Orlando to check out top wine bars.
Option 2 - Quantum Leap Winery
In the heart of downtown Orlando, Quantum Leap Winery is a smaller, more cozy winery focusing on sustainability with a great selection of fine wines. You can try organic and sustainably produced wines in the tasting room. While the winery doesn't serve food, food trucks frequent the area outside.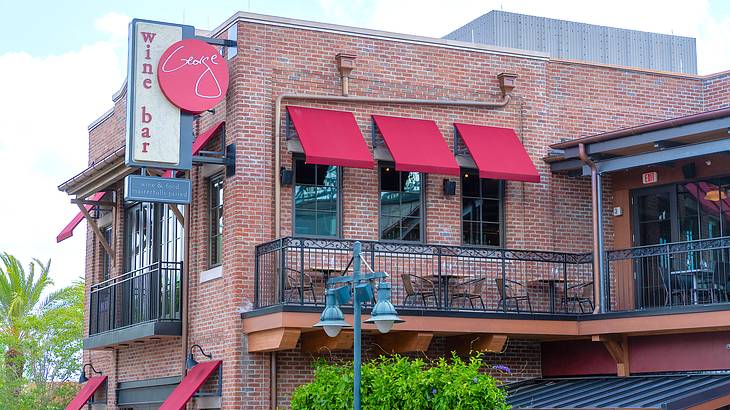 Option 3 - Wine Bar George
In Disney Springs, you'll find the famous Wine Bar George, a sommelier-led wine experience and "World's Best Wine List" winner. Wine Bar George boasts an impressive wine list curated by famed master sommelier George Miliotes. They also have a full food menu serving everything from small bites to four-course meals.
Option 4 - Eola Wine Company
Known as your friendly neighborhood wine bar, Eola Wine Company is a local and tourist favorite across from Lake Eola. The bar has an extensive selection of boutique wines with a menu of tapas-style food pairings.
Eola Wine Company's location makes it a perfect place to unwind after a long day. You can enjoy light bites and sip on wine before taking a sunset stroll around the lake for some gorgeous views.
Option 5 - Imperial Wine Bar
At first glance, this downtown Orlando fan favorite will have you wondering whether you're in the right place. Don't worry; you are! Imperial Wine Bar is a cleverly disguised speakeasy within a furniture store.
By day, shoppers come to browse artfully crafted antique furniture. By night, they come back to enjoy unique wines and microbrews, with live music and a rotating menu of food thrown in.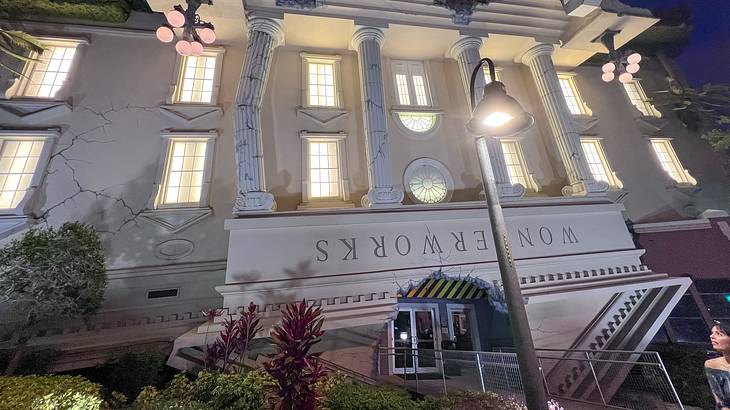 Option 6 - Kid-friendly nighttime fun option
If you're traveling with little ones and wine tastings are out of the question, don't worry, as there are many fun things to do with kids in Orlando in the evening. One great family-friendly option is going to Andretti Indoor Karting and Games.
At the entertainment complex, you can ride on go-karts, bowl, or play laser tag. The on-site restaurant, Andretti Grill, also serves sandwiches, fries, and other kid-friendly classics. Adults can enjoy a signature cocktail while the kids play in the arcade. It's fun for the whole family!
For another excellent kid-friendly option, get tickets to the Outta Control Magic Comedy Dinner Show. The family will enjoy dinner and laughs during this 90-minute comedy and magic show. After the show, you can go to WonderWorks, another kid-friendly attraction right next door.
Where to stay in Orlando, Florida?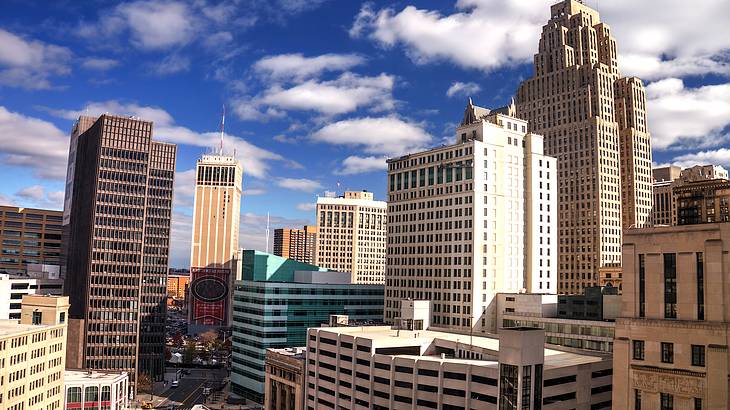 There are over 480 hotels in Orlando, so planning an Orlando vacation can be overwhelming when choosing where to stay. Here are a few top picks from frequent Orlando travelers and Florida locals.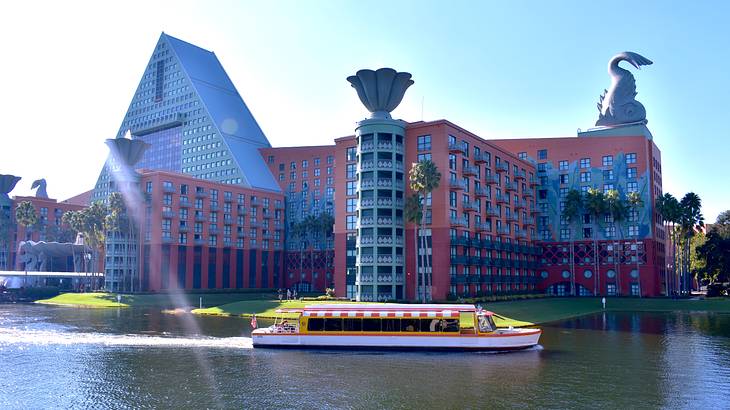 Why not stay at the Walt Disney World Dolphin Resort?
One of the most popular resorts in the Disney collection, the Walt Disney World Dolphin Resort is a tropical-themed paradise. This resort features numerous restaurants, bars, and lounges.
You can relax and spend the day at one of their luxurious pools or unwind at the spa. The resort is on Disney property, so it's just a short walk, shuttle, or boat ride to many Disney attractions.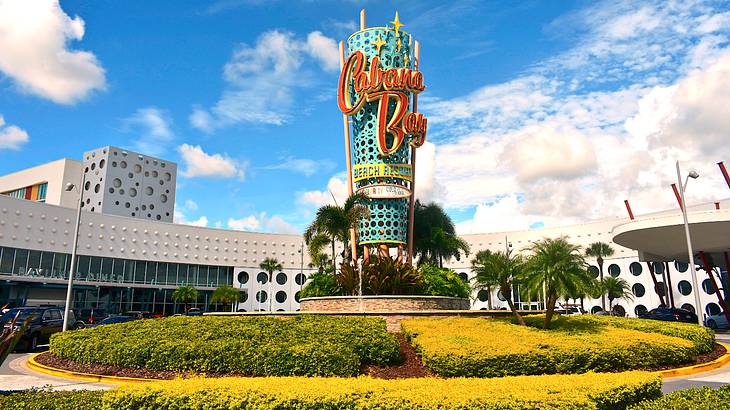 Why not stay at Universal's Cabana Bay Beach Resort?
With bright, colorful rooms and laid-back beachy vibes, Universal's Cabana Bay Beach Resort is a fan favorite among the Universal resorts. Love water activities? This resort has a lazy river, pool, and waterslides.
Additionally, the resort's food court offers a wide range of dining options, a bowling alley, and a games room. Best of all, Cabana Bay Beach Resort guests enjoy early access to Universal Orlando and free park transportation.
Why not stay at the Sheraton Orlando Lake Buena Vista?
The Sheraton Orlando Lake Buena Vista is a great, budget-friendly resort offering the Orlando magic without the theme park pricetag. Amenities include two pools with waterslides for the kids, on-site restaurants, and a spa. It's also conveniently located close to Orlando theme parks and offers some park shuttle services.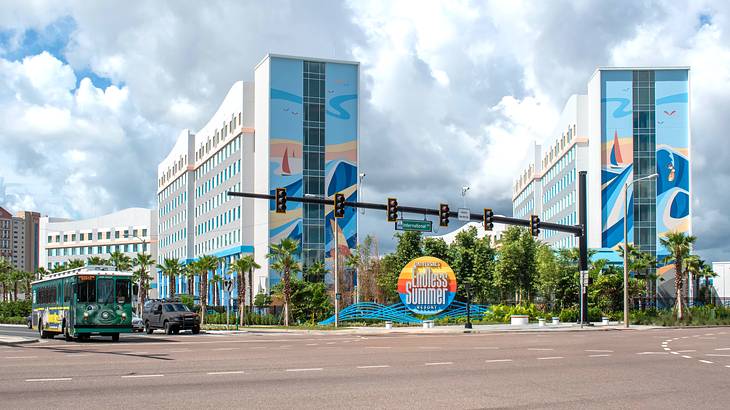 Why not stay at Universal's Endless Summer Resort?
For year-round summer, Universal's Endless Summer Resort offers a relaxing oasis close to attractions. Take a dip in their surfboard-shaped pool or grab a bite in their casual food court.
In addition to free park transportation, resort guests enjoy early entry to certain attractions, another great perk of staying on Universal property!
In Summary
Now you have the ultimate 4 day itinerary for Orlando, Florida! Be sure to enjoy the colorful sunsets, balmy breezes, and swaying palm trees while making your way through the theme park capital of the world.
Give us feedback about this article
More visual stories related to this article:
---
---
Want to keep exploring?
Subscribe for discounts on tickets and hotels and our latest guides.
Thank you for subscribing
We will be in touch soon with discounts on tickets and hotels and our latest guides.
Want to keep exploring?
Subscribe for discounts on tickets and hotels and our latest guides.
Thank you for subscribing
We will be in touch soon with discounts on tickets and hotels and our latest guides.
Related Articles