30 Best Orlando Date Ideas You Must Go On
Destguides may receive commissions from purchases made through affiliate links in this article.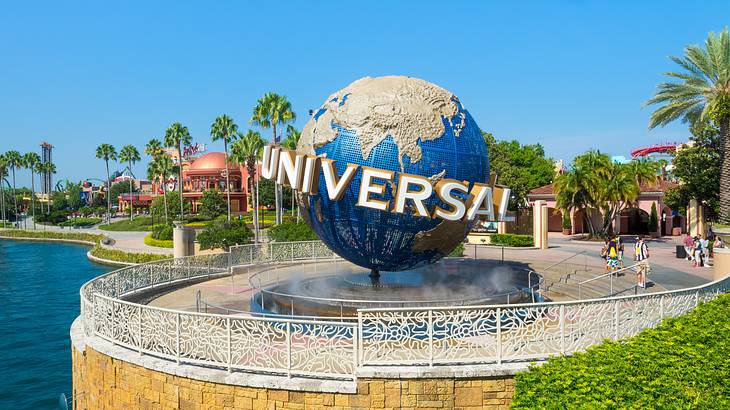 Orlando is a city known for its theme parks, but there's much more to this central Florida gem. While these parks can and do make a great place to go on a date, this list will show you just how many other places there are to check out with your other half in the city.
No matter what you're into, or whether this is your first date or one-hundredth, you can find something in this Orlando date ideas guide that you'll want to do together. Continue reading to learn more about all the excellent places to plan a date in Orlando!
30 Fun Date Ideas in Orlando, Florida
Fun Dates in Orlando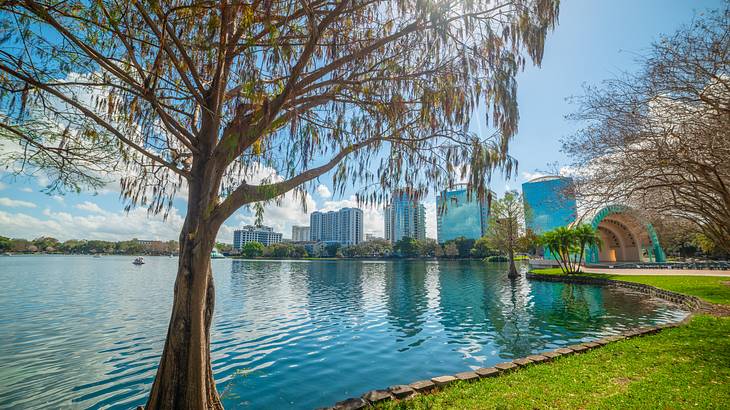 Paddle a swan boat around Lake Eola
Lake Eola is a much-loved Orlando landmark and an excellent place for a relaxed date. It has lots of pathways to follow. There's a path that takes you around the lake as well, allowing you to walk hand-in-hand around the scenic waterway.
If you want to really crank up the romance (or at least aim for charmingly cheesy), you can rent a swan-shaped paddle boat and go out onto the lake. There are also actual swans to mingle with as you paddle along!
Chill out in ICEBAR Orlando
If you've been in central Florida for a while, chances are that you're looking for ways to stay cool. ICEBAR will help you shake the subtropical sweats while enjoying drinks and a fun atmosphere.
You can rent a parka and some gloves to stay warm while you marvel at the seventy tons of carved ice that makes up this one-of-a-kind bar. There's also an accompanying Fire Lounge in case you start to miss the warmth.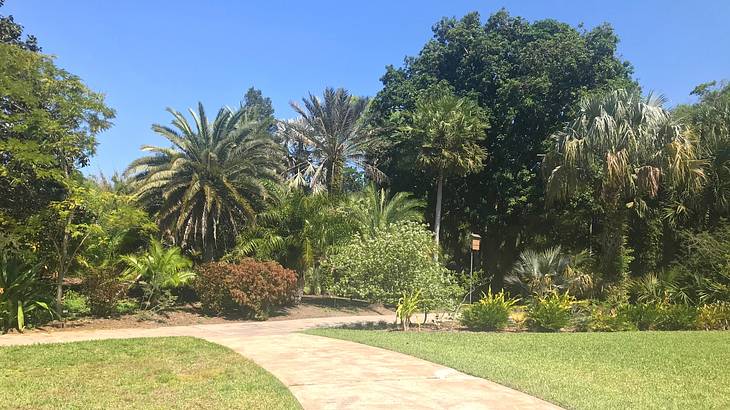 Catch an outdoor movie in Leu Gardens
Head to Leu Gardens for a colorful and aromatic stroll among the azaleas, rose bushes, and flowering trees. If you begin to work up too much of a sweat under the Florida sun, you can cool off in the shade of the elms and oaks that dot the park.
Wandering around the stunning gardens will help you understand why the Orlando nickname, the City Beautiful, is used so frequently! As long as it's not raining, Leu Gardens also hosts regular movie nights in the park, so check the event schedule before going out.
Put your heads together in an escape room
Tackling an escape room is a fun and slightly challenging date idea, and Orlando has plenty to choose from. A popular place to go in Orlando is The Escape Game.
At the venue, you and your partner can choose from various themes, including a heist, a gold rush-themed game, and a Mars exploration mission. You'll then have around an hour to solve puzzles and use clues to hopefully complete the challenge and escape.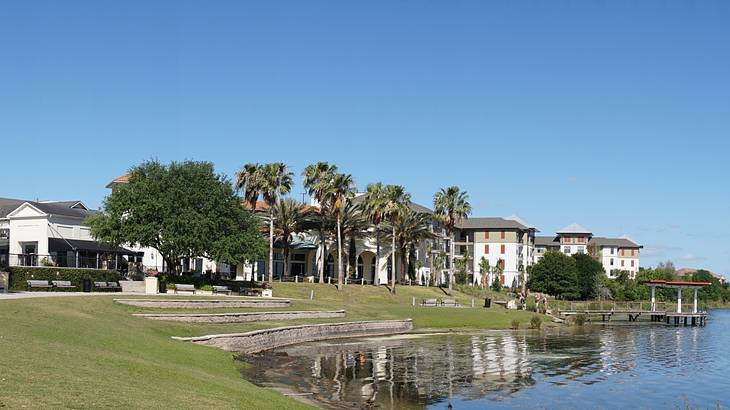 Have "Beyond a Picnic" set you up in style
The age-old tradition of a romantic picnic is still a wonderful date idea. However, setting an ambiance requires a lot of planning and logistics that can become overwhelming. Orlando's Beyond a Picnic can help take your picnic to the next level by providing blankets, pillows, canopies, low tables, and charcuterie boards.
You can even arrange for painting canvases or a movie screening to turn your spot in the park into one of the most romantic places in Orlando. While you can have your picnic almost anywhere in the city, doing so on the shores of Lake Baldwin is highly recommended.
Feel like a kid again at Nona Adventure Park
Nona Adventure Park will make you and your date feel like kids again. You can splash around in the inflatable aqua park, attempt an obstacle course, try out wakeboarding, or defy heights on a ropes course.
You can also take a break and relax with food and a beachy beverage at Splashes Bistro. All in all, this ranks as one of the most fun date ideas in Orlando due to the many fun activities to enjoy at one venue.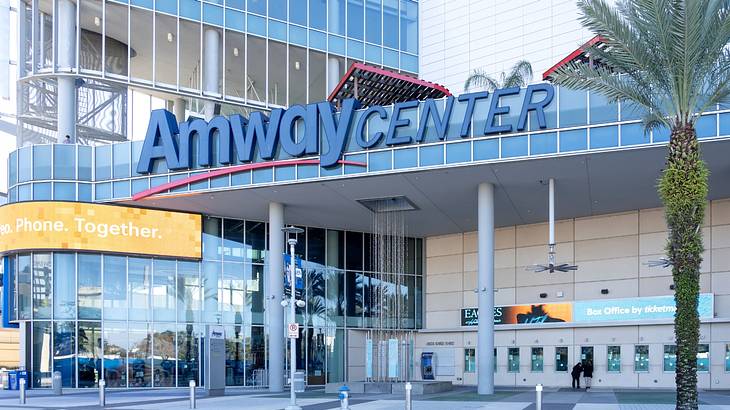 Catch an Orlando Magic game
Florida has quite a few professional sports teams spread across the state, including in Orlando. If you and your date like sports, going to an Orlando Magic NBA game is an excellent idea.
The team plays at the Amway Center located downtown. Due to the arena's central location, you and your partner can find many places to grab dinner or drinks before or after the game.
You can catch a game between October and April in the regular season. While several games are in the evening, some are also played in the afternoons on weekends and holidays.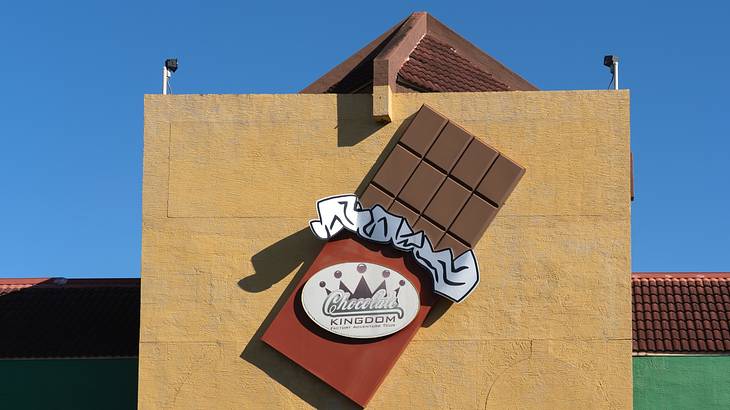 Treat yourselves on a chocolate factory tour!
For couples that enjoy sweets, touring the Chocolate Kingdom is one of the best date ideas around Orlando. During this excursion, you'll get a guided tour of the factory, where you can learn more about the production process.
Of course, you'll also get to taste lots of delicious chocolate and dessert samples. Finally, you can end the activity by treating your partner to a box or two of their favorite sweets in the gift shop.
Have fun in the Thornton Park District
Called Downtown for Grownups, Thornton Park District is part of the Main Street America program. It's been revamping itself since 2012 as a neighborhood commercial district promoting the overall health and well-being of its urban residents.
The result is a pedestrian area near Downtown Orlando with shops, restaurants, nightlife venues, and regular events. It's a great place to bring a date for spontaneity, choosing your own adventure as you wander around.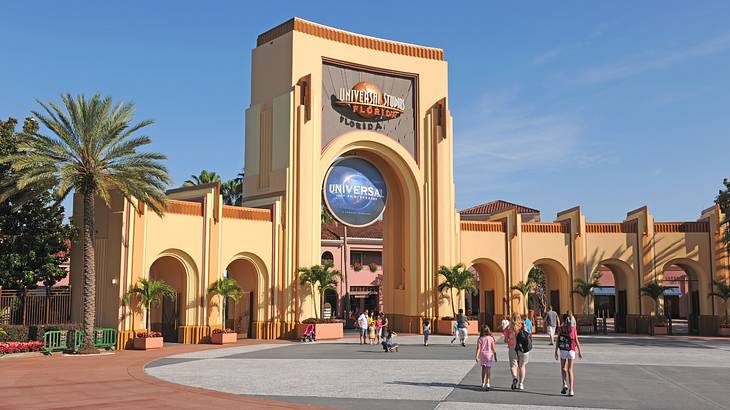 Spend a fun day at Universal Orlando
While many think of going to Universal as one of the best things to do in Orlando with kids, it's also a fun place for adults to visit. The world-renowned theme park has an array of rides to enjoy and lots of themed areas, like those based on Harry Potter and Despicable Me.
Visitors can also see shows, meet characters, and buy Universal Merchandise. If you and your date are residents of the US or Canada, you can also purchase Universal promo tickets at a discounted rate that give you full access to the park.
Tickle your funny bones at SAK Comedy Lab
There's no better feeling than laughing until your cheeks hurt, except maybe getting to share that with someone else. Orlando's SAK Comedy Club can give you and your date laughs and inside jokes for months and years to come.
If you can't catch a show, you can also learn to make each other laugh by signing up for comedy and improv classes. You can even try it out online if you want to have a date night at home.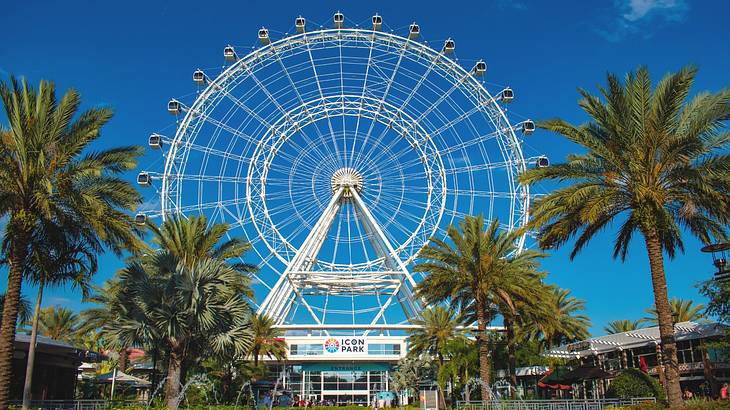 Ride the Wheel at ICON Park
Opened in 2015, the Wheel at ICON Park has quickly become a popular Orlando tourist attraction. You and your date can ride the 400-foot-tall Ferris wheel from 12 PM to 10 PM or 11 PM on Friday and Saturday.
Due to being open almost all day, heading to the Wheel at ICON Park is a fun daytime or nighttime date idea. Once aboard, you'll both be able to admire views over the park, Cape Canaveral, and downtown Orlando. You can buy your General Admission tickets for the Wheel here.
Go ice skating in RDV Ice Den
Take your date ice skating at RDV Ice Den for a refreshing afternoon or evening out of the sun. You and your date can hold hands (for romance, support, or both) while you glide around the rink listening to music at a public skate session.
RDV Ice Den also hosts hockey games and skating performances, so check the calendar to see if anything is going on for your Orlando date night.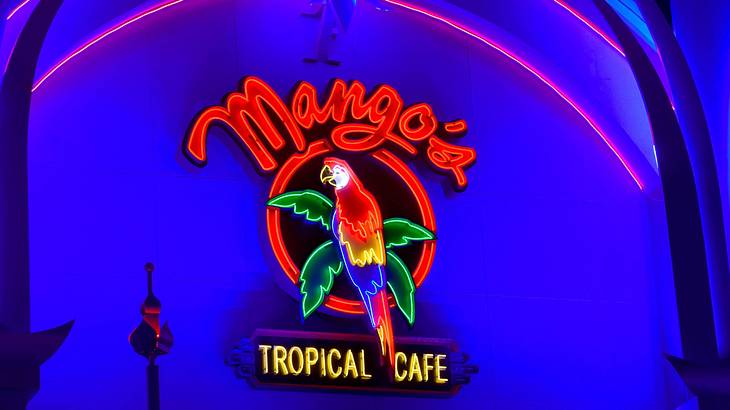 Experience a Mango's Live show
Mango's Tropical Cafe is an entertaining and memorable spot to spend an evening with your date. To make the most of the evening, book a Mango's live dinner and show package.
You and your other half will get a delicious meal and tropical drinks like mojitos. As you enjoy your meal, you can watch amazing live shows featuring Samba dancing, Latin music, and much more.
Sail at sunset on Lake Fairview
If you're looking for fun date night ideas in Orlando, going on a sunset sail on Lake Fairview has to be on your to-do list! You and your partner will board a 25-foot sailboat and be taken around the lake as the sun goes down.
You can also bring your own food or drinks, including a bottle of wine or champagne, to enjoy together on this two-hour excursion. After the sun has set, you'll sail back to shore, admiring the starry night sky.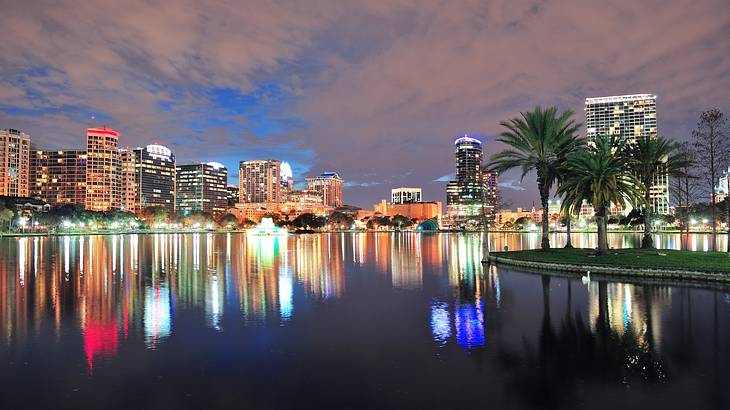 Dare to go on a Orlando ghost tour
One of the best date night in Orlando ideas for couples interested in the paranormal is going on a ghost tour. On this two-hour-long tour, you'll be taken to the spookiest spots in the city, where your guide will tell you about eerie events and ghost sightings that have occurred at each stop.
You'll also learn more about Orlando's history over the last few hundred years. This activity will make for a memorable date, whether it's your first date or you've been with your partner for a while!
Dine at The Stubborn Mule
While there's no shortage of unique things to do in Orlando on a date, a classic dinner date is always fun. Luckily, there are many restaurants to choose from downtown.
If you can't decide where to go, The Stubborn Mule is a cool spot to check out. This contemporary eatery serves classic American dishes with a modern twist.
You can accompany your meal with delicious hand-crafted cocktails, and there's a happy hour in the early evening and later at night on the weekends. The Stubborn Mule additionally serves brunch on Saturday and Sunday.
Things to Do Near Orlando, FL, on a Date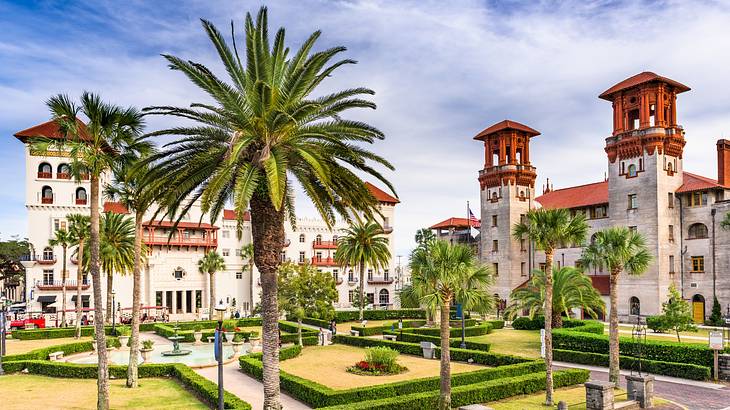 Plan a day trip to Saint Augustine
Saint Augustine is another top Florida destination located approximately two hours from Orlando. While you could drive there yourself with your partner, taking a day trip tour from Orlando to Saint Augustine is much easier!
Once you arrive, you can visit local landmarks like Old St. Augustine Village and Fort Matanzas National Monument. You'll also get the chance to explore shops and eat at unique restaurants.
In addition, there are many places to admire stunning views of Matanzas Bay. After exploring the city to the fullest, you'll get transported directly back to Orlando.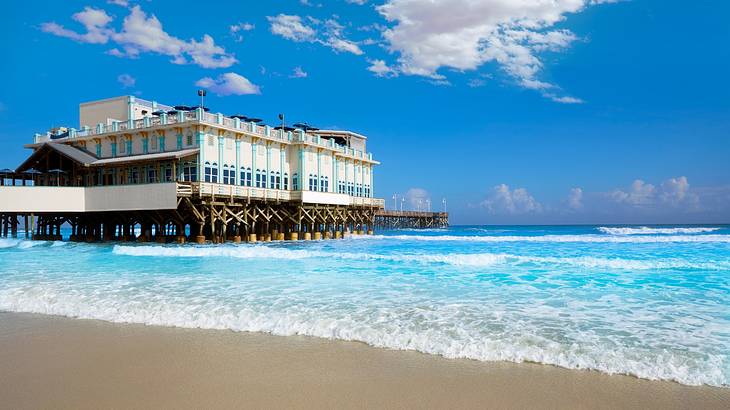 Spot dolphins and manatees at Daytona Beach
If you both love wildlife, make the hour's drive to Daytona Beach to paddleboard with dolphins and manatees is well worth it! With a guided tour, you'll be provided with paddleboards and can then hop in the water to begin exploring.
As you paddle along, you will see not only bottlenose dolphins and Florida manatees but also turtles, sting rays, coastal birds, and much more. You can kayak instead of paddleboard as well if that suits you and your date better.
Enjoy farm-to-table dining at Bountiful Farms Bistro
A perfect daytime date idea involves taking a beautiful afternoon drive to Bountiful Farms Bistro, which is about an hour from Orlando. This family-run culinary operation uses fresh, organic produce directly from their farm in all their dishes.
They also serve fresh-baked bread and pies from local bakers to complete the home-cooked, outdoor dining experience. You and your date will leave having enjoyed a meal made with local ingredients and lots of care!
Take an airboat ride and safari drive-thru at Wild Florida
If you want to amaze your partner, book an Everglades airboat excursion and alligator encounter with Wild Florida Airboats and Wildlife Park. During the tour, keep your eyes peeled for wildlife among the marshes and rivers of the 4,200-acre swampland.
Creatures to spot include alligators, turkeys, and wild boars. Then, back at Wildlife Park, you can catch the alligator-handling show before heading out on a safari to see giraffes, zebras, and other exotic animals.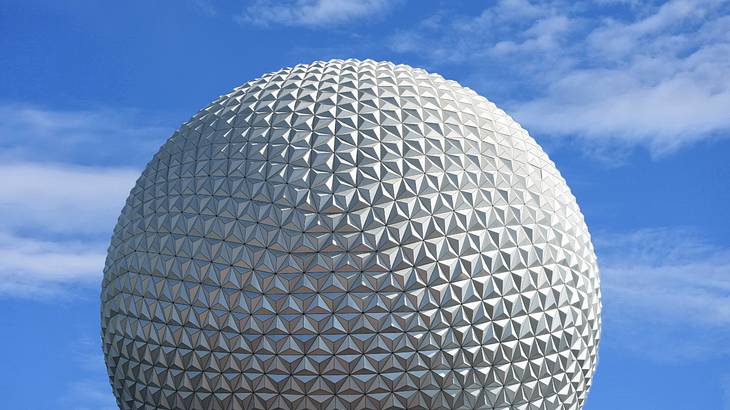 Ignite each other's imagination at Epcot Center
Disney's Epcot Center is a playground for grownups, and a date here is one of the most fun things for couples to do in Orlando. The iconic silver sphere of Spaceship Earth (aka the giant golf ball) is the most popular attraction. As you explore, you'll journey through the past while learning about humankind's technological advances.
Outside, World Showcase shows the world at present and lets you stroll through Bavaria before finding yourself among Japanese pavilions without ever hopping on a plane. Finally, to round out the theme, the Future Worlds exhibits will let you peer together into what may yet be in store for humanity.
Revive chivalry at Medieval Times
For a bit of nerdy fun, book your tickets for Medieval Times to be transported to a world of kings, queens, and the chivalrous knights who honor them. While perhaps not always historically accurate, it's a lot of fun!
You'll feast on roasted chicken while cheering your jousting champion, determined at random by the color of the crown given to you at admissions. Her Majesty's kitchen has vegan, vegetarian, and gluten-free fare in case you or your date prefer other options.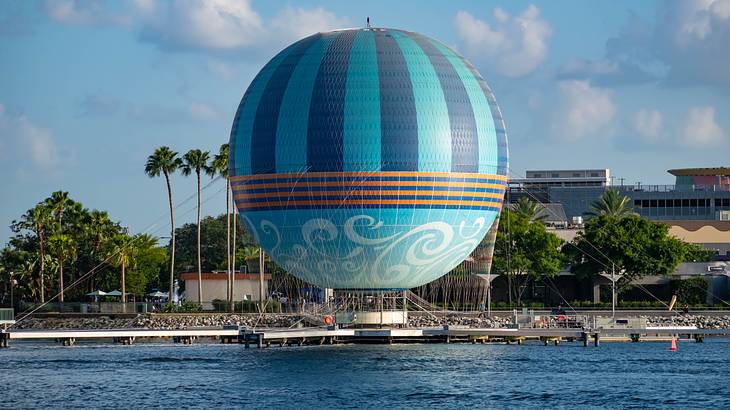 Splurge on each other at Disney Springs
Disney Springs, sometimes called Downtown Disney, is a shopping and entertainment venue dedicated to all things Disney. If you and your date like Disney or are looking for a unique place to explore together, be sure to add a trip to Disney Springs to your Orlando itinerary!
As you explore, you'll find restaurants, shops, and entertainment attractions that will transport you and your date into the many worlds of Disney.
You can buy authentic Disney products and costumes, get a drink from a margarita shack, or stargaze in style at Planet Hollywood Observatory, among many other fun activities.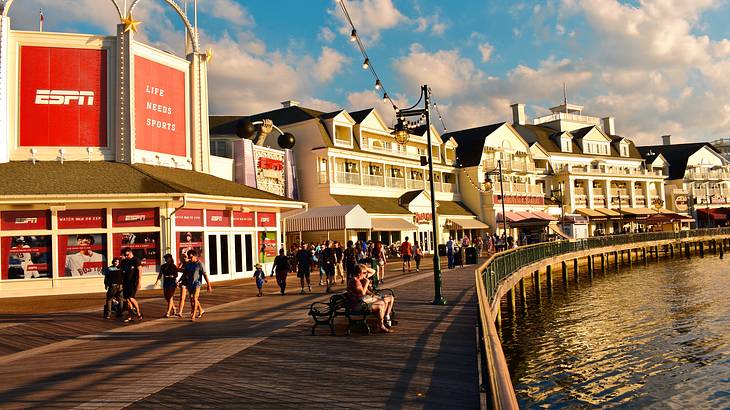 Cruise Disney's boardwalk on a surrey bike
Located near Epcot, Disney's boardwalk offers a carnival atmosphere. Exploring this area makes for one of the most enchanting and memorable date ideas in Orlando. A unique thing to do during a visit is renting a two-person surrey bike.
You can then pedal past juggling buskers and musical acts while also enjoying the waterfront views. Before leaving, be sure to check out the shops and try some carnival games.
Spend a whole evening at Enzian Theater
If your date is a movie buff, they will love spending an evening with you at Enzian Theater. It screens one or two arthouse flicks or cult classics each day, and you can check the online calendar to find out what other events and experiences are hosted during your visit.
The movies aren't the only thing; you can also have dinner and drinks at Eden Bar if you want a little more time hanging out together.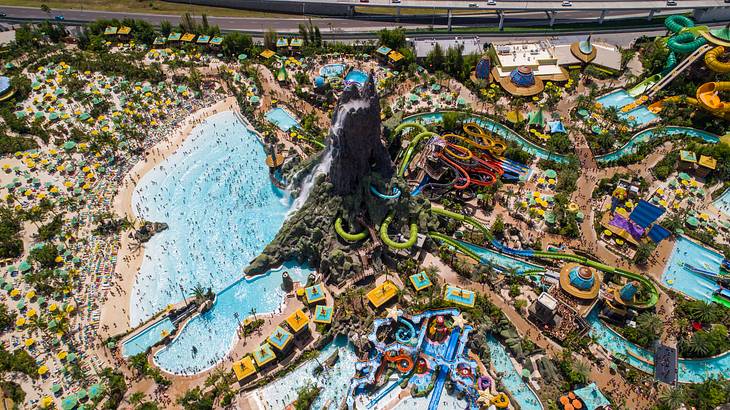 Get a bird's-eye view of Orlando from a helicopter
If you're really aiming to impress your date (and they don't have a known fear of heights), you can sign up for a helicopter tour. You can book a flight during the day or at night. Once aboard, you can admire aerial views of Orlando's city skyline.
The unique thing about this flight is that you'll also fly over many of Orlando's theme parks, allowing you to take in the colorful amusement parks from above.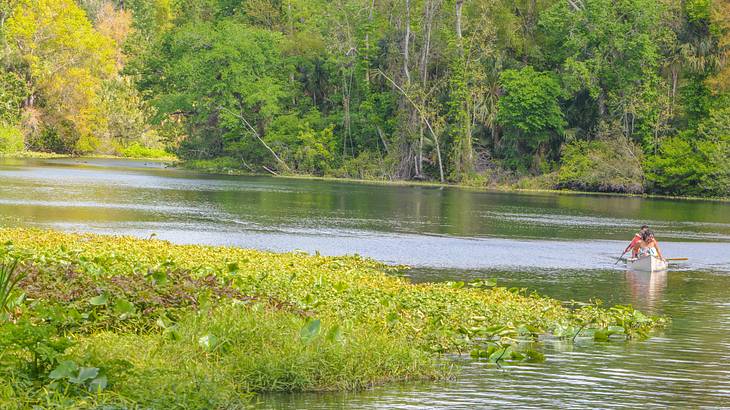 Join an eco-tour in Wekiwa Springs State Park
Kayaking is already a fantastic way to see nature, but this glass-bottom kayak eco-tour lets you experience the natural beauty both above and below the water.
The tour will take you through Rock Springs Run in Wekiwa Springs State Park, one of the best natural springs near Orlando. As you explore, you'll see an array of plant life and wildlife like fish, turtles, and small alligators.
Take a couples cooking class
Create something delicious with your date by signing up for a cooking class. Not only will you get a great dinner out of it, but you'll build your skills for Orlando date nights at home.
In Orlando, popular cooking classes include Publix Aprons Cooking School, Truffles & Trifles, and Tapa Toro. Things to cook at these classes range from sushi to paella, with cocktail classes even on offer!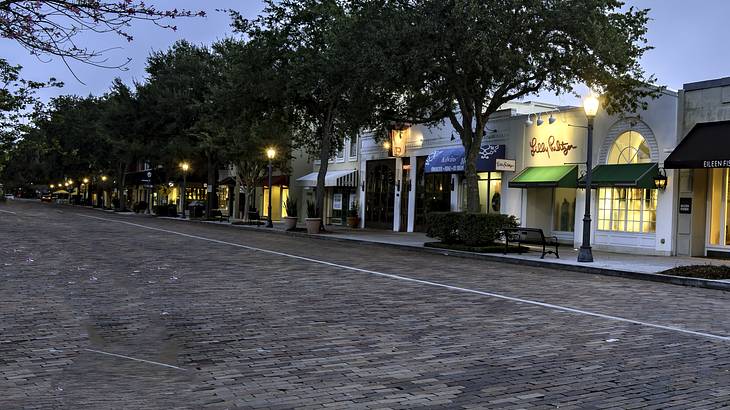 Stroll through Mead Botanical Garden in Winter Park
Winter Park started as a resort town for people fleeing the frigid north, but today it's also popular among locals and all types of visitors to Orlando.
Along with exploring the area's restaurants, shops, and museums, you can visit the Mead Botanical Garden with your partner. Mead Botanical Garden in Winter Park boasts a range of beautiful flora and a butterfly garden.
Exploring the attraction is definitely one of the most romantic things to do in Orlando for couples! After your walk around the scenic gardens, head to Park Avenue to peruse boutique shops and find a good place to eat.
Conclusion
This list of date ideas in Orlando should have something for everyone and hopefully has given you some inspiration for more than one date night in the near future. Adventurers, foodies, romantics, and all other couples can find lots to do together in this Florida city!
Give us feedback about this article
Learn more about Orlando:
More articles about Florida:
Read more articles about the United States:
More articles about date ideas:
---
---
Want to keep exploring?
Subscribe for discounts on tickets and hotels and our latest guides.
Thank you for subscribing
We will be in touch soon with discounts on tickets and hotels and our latest guides.
Want to keep exploring?
Subscribe for discounts on tickets and hotels and our latest guides.
Thank you for subscribing
We will be in touch soon with discounts on tickets and hotels and our latest guides.
Related Articles