The Ultimate 4 Day Orlando Itinerary
Destguides may receive commissions from purchases made through affiliate links in this article.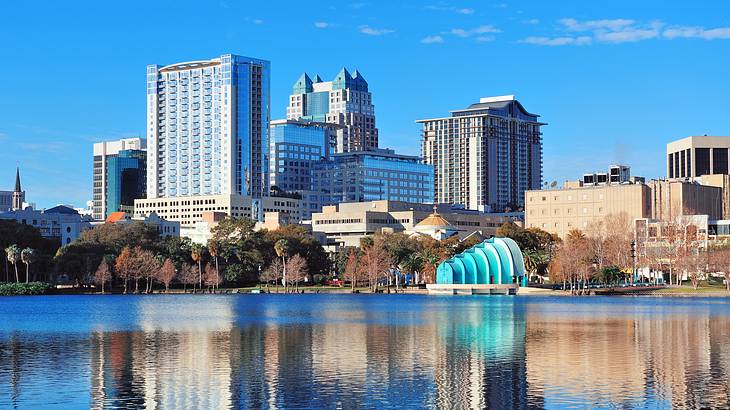 Miss being a kid? If so, head to Orlando, Florida in the United States to experience 'The Theme Park Capital of the World'. Here, you will find some of the world's most well-known theme parks, such as Walt Disney World, Universal Orlando, SeaWorld and more. This Orlando itinerary includes a day each at Disney World, Universal and Seaworld. The last day of the guide consists of sites within Orlando city itself.
Orlando is not just known for its theme parks, but also for Lake Eola and the water fountain located in the park. Its city centre is filled with great restaurants, convention centres, amazing resorts, and of course, never-ending sun! For more low-key activities away from the crowds and in nature, try kayaking at King's Landing just outside of Orlando.
Orlando can be overwhelming if you're a first time visitor and/or staying for more than a few days as there is a lot to see and do here. No need to worry, though, as this itinerary provides you with ideas and tips on how to make the most of your first Orlando vacation. This guide is also suitable for families.
4 day itinerary
Average of 4 stops per day
Orlando 4 Day Article
Orlando Map
A map of Orlando. Use the map to explore all the days and stops.
Have Fun at Disney World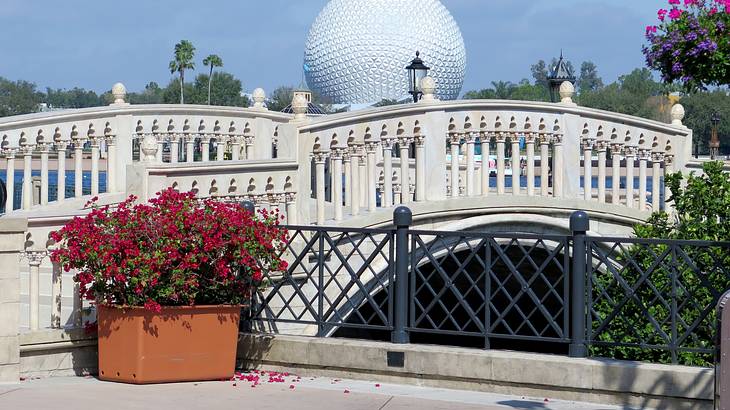 Disney World is located close to Bay and Buena Vista Lakes and is one of the world's biggest theme park complexes. It has four theme parks (Magic Kingdom, Epcot, Animal Kingdom and Hollywood Studios), two water parks, seven resort hotels, nine non-Disney hotels, an outdoor shopping centre and several golf courses.
The complex was founded in 1971, and the Magic Kingdom was the first theme park opened in it. Later on, Epcot (1982), Hollywood Studios (1989) and Animal Kingdom (1998) were also opened.
On the first day, you are going to explore two of the most exciting theme parks at Disney World - the oldest, Magic Kingdom, and the newest, Animal Kingdom. If you're up for it, Hollywood Studios and Disney Springs are more/other sites you can explore.
Consider purchasing a Disney VIP Tour Service if you'd like to make the most of this day and experience. Disney Transport also offers transportation between the many areas of Walt Disney via buses and water taxis.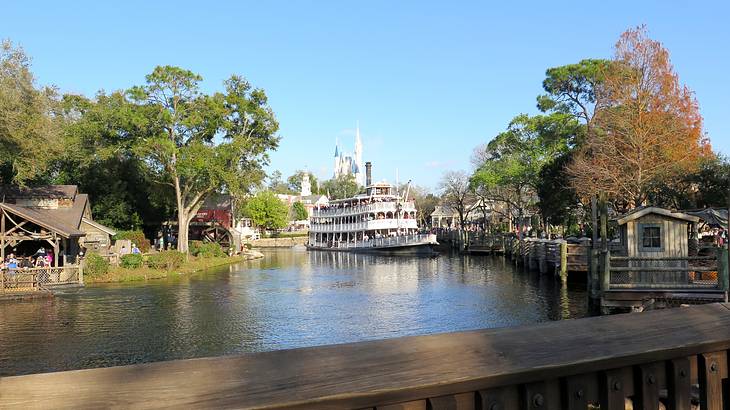 Magic Kingdom
The Magic Kingdom is the oldest theme park at Disney World and is sometimes described as 'a place where dreams come true'. It has 40 rides, themed restaurants and shops.
The park is divided into six lands: Adventure Land (Pirates of the Caribbean and Jungle Cruise rides), Frontierland (has some big thrill rides), Tom Sawyer Island (I'd recommend you skip this), Liberty Square (also skip), Fantasyland (has the famous Cinderella Castle that is an icon of Magic Kingdom), and Tomorrowland (which offers futuristic rides, such as Space Mountain).
Four hours here should be enough time, although if you're visiting Magic Kingdom as a family, two days would be best.
A Fast Pass is included with all the admission tickets to the parks, which is excellent as it lets you skip the queues. To make the most of them, however, you should schedule them 1-2 months in advance (depending on where you are staying).
Animal Kingdom
Disney's Animal Kingdom is the newest theme park in the complex. It consists of savannas, rainforests and jungles, and allows you to see fascinating animals without leaving Orlando.
Like the Magic Kingdom, Animal Kingdom is divided into six islands with different themed rides and attractions. The newest island is Pandora - The World of Avatar, which is based on the famous film 'Avatar'.
The other islands are Oasis (where you can meet wallabies, anteaters and boars), Discovery Island (home to the iconic Tree of Life and lots of bugs), Africa (see gorillas in their natural habitat), Asia (participate in the 'Expedition Everest', try to survive the Kali River Rapids or do a jungle trek), and finally, Dinoland (includes everything to do with dinosaurs).
Stay till sometime in the evening to see unique nighttime attractions, such as the fascinating Tree of Life, or dine with animals. If you aren't interested in the Animal Kingdom rides, then head to the optional theme park below (stop 3). Once finished there, head back to the Animal Kingdom later in the evening to enjoy the previously mentioned evening activities.
Hollywood Studios (Optional)
Disney's Hollywood Studios is an optional theme park you can go to if you have spare time, or if you don't want to go on the rides at the Animal Kingdom. It is themed as Disney's version of Hollywood, which includes the world-known Walk of Fame that you can find in the real Hollywood.
The most terrifying rides here are the Twilight Zone Tower of Terror and the Rock 'n' Roller Coaster. Another well-known attraction is Toy Story Land, which is where you can find great rides, shops and restaurants.
Again, if you aren't a fan of rides, make a trip to Walt Disney Presents. Here, you will be lead through 100 years of Walt Disney's history, which will help you to understand more about the company's vision and future.
Hollywood Studios doesn't actually have as many rides as other parks. However, you can enjoy great performances and meet famous characters here, such as Mickey, the Toys from Toy Story and Chewbacca from Star Wars. It is also the perfect theme park to relax in and learn something new.

Disney Springs (Optional)
Feel free to head to Disney Springs in addition to, or in replacement of, any of the above options. It is a FREE outdoor area consisting of shops, Disney restaurants and other entertainment. Existing coastal towns in Flordia inspired its creation although Disney Springs itself is a fictional town.
The complex has 4 main sections: the Marketplace (many shops and restaurants), the Landing (the town's transportation hub and marina), the Town Centre (the central business district) and the West Side (the exposition centre/world fair).
Disney Springs also has FREE parking and FREE live performances on most days of the week. Have a look at the Riverboat Square, Springs Overlook and other areas for show info and times.
Feel the Thrill at Universal Orlando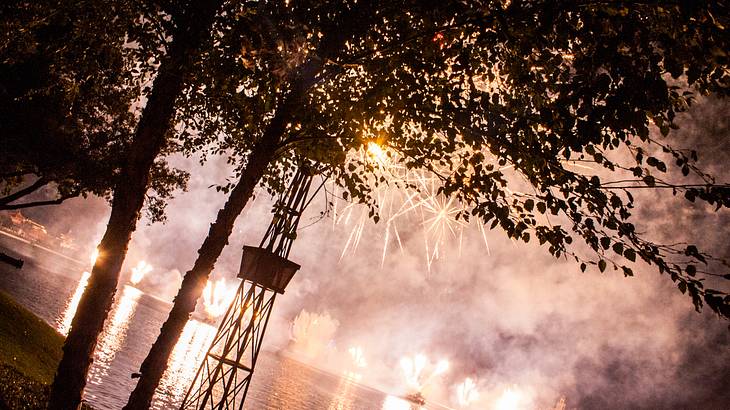 On the second day, you are going to visit Universal Orlando, which is the second biggest theme park complex after Disney World. It was opened in 1990 and consists of two theme parks, Universal Studios Florida and Universal's Islands of Adventure.
You will go on exciting rides at Universal Studios, get wet at Volcano Bay (a water park), spend hours exploring the Islands of Adventure and end with an evening stroll and food at CityWalk (a nighttime theme park).
Stay at one of the hotels in the complex, like the Cabana Bay Beach Resort, to get an Early Park Admission ticket to The Wizarding World of Harry Potter and Universal's Volcano Bay. Purchase a Park-to-Park ticket for easier access between the theme parks.
Universal Studios Florida
Universal Studios Florida was opened in 1990 and was the first theme park that Universal Studios built from scratch. The rides in this complex are based on blockbuster movies, such as Harry Potter, Fast & Furious, Men in Black and others.
With your Early Park Admission ticket, start your morning at the Wizarding World of Harry Potter – Diagon Ally to experience the thrilling Harry Potter and the Escape from Gringotts ride before the crowds emerge. Don't forget to visit the Hogsmeade as well as it is another part of this attraction.
Beyond Harry Potter rides, try these other well-known ones: Fast & Furious – Supercharged, Men in Black: Alien Attack, Simpsons, Despicable Me Minion Mayhem and Woody Woodpecker's Nuthouse Coaster.
Water Fun at Volcano Bay
The second stop of the day is a South Pacific Island themed water park called Volcano Bay. Here, you can go down fun slides and relax. The Park's highlight is a 200 foot tall Krakatau volcano model.
For the most extreme and thrilling experiences, try the Kala & Tai Nui Serpentine Body Slides, the TeAwa the Fearless River, the Ohyah & Ohno Drop Slides, the Krakatau Aqua Coaster or the Ko'okiri Body Plunge. If you'd rather relax, head to Waturi Beach, River Village or The Reef for more peace/tranquillity, or to watch the bravest souls go down terrifying slides.
Universal's Islands of Adventure
The Islands of Adventure theme park is perfect for dreamers, adventure seekers and book lovers. The Park is filled with various types of exciting rides based on comic books and animations. The most popular rides are The Incredible Hulk Coaster, Storm Force Accelatron, Dudley Do-Right's Ripsaw Falls, Poseidon's Fury, Jurassic Park River Adventure and Skull Island: Reign of Kong.
Stay at the park till late in the evening to see majestic lights and try several rides in the dark.
Explore Marine Life at SeaWorld Orlando
The third day in Orlando is filled with adventures and once-in-a-lifetime experiences. You will visit another famous theme park complex, SeaWorld Orlando, which is made up of SeaWorld, Aquatica and Discovery Cove. It was opened in 1973 and welcomes millions of visitors every year.
SeaWorld Orlando is much smaller than the above complexes, which allows you to enjoy more of its attractions, such as rides, marine shows, snorkelling and more.
During the day, you will learn about marine creatures and have a chance to get up close and personal with them. More importantly, though, you will learn about how to protect them. To make the most of this day, purchase a skip-the-queues ticket as it covers all of SeaWorld.
Experience 'All-in-One' at SeaWorld
SeaWorld is the main marine theme park in the complex. It is where you can watch fascinating shows and get soaked, go on thrilling rides and get close to the marine animals. It has tons of rides for people of all ages and animal experience days/tours.
Once here, check out SeaWorld's most popular rides - Infinity Falls, Journey to Atlantis, Kraken and Mako. As for shows, check times for Dolphin Days and One Ocean. And of course, don't miss a chance to get close to the marine animals by visiting the Dolphin Cove and Nursery, the Manatee Rehabilitation Area, the Stingray Lagoon, the Shamu Underwater Viewing and the Turtle Treck.
Enter Paradise at Discovery Cove
Discovery Cove is another place you can go to get close to the marine creatures once again and to try various water-related activities. You can get an all-inclusive package for the day to do everything you want in a couple of hours.
You can try snorkelling with tropical fish and rays at Grand Reef and/or play with marmosets and otters at Freshwater Oasis. Also, you can go swimming with sharks or dolphins, walk underwater if you take a SeaVenture activity or try feeding rays.
Thrilling Fun at Aquatica
Aquatica is a water park where you can go down exhilarating slides and enjoy sandy beaches, pools and a lazy river till the evening. It is a great place to relax and have more fun.
The Park's most famous attractions are Ray Rush (rafts shaped to look like the wings of a giant manta), HooRoo Run, Ihu's Breakaway Falls (steepest multi-drop ride in Orlando), KareKare Curl (experience feeling weightlessness) and Roa's Rapids. Don't forget to purchase skip the queues tickets to fully enjoy the rides at your own pace.
Venture Around Orlando City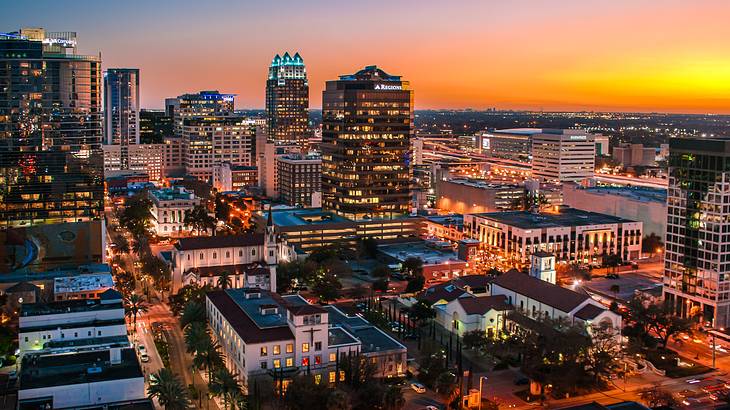 The last day of this itinerary moves at a slower pace around downtown Orlando as while the theme parks are lots of fun, it is good to keep things fresh and exciting. So today you will do some relaxing and walking while visiting the most popular attractions in the city centre. Chasing the sun or spending Christmas in Orlando? No problem! There are still many things to do here at this time of year!
You will first visit the Orlando Science Centre and then the magnificent Harry P Leu Gardens. This Garden is well-known all around Florida for its incredible greenery and natural beauty.
In the late afternoon, you will go for a lovely walk from the Gardens to Thornton Park - a hub for Orlando artworks. You will finish the day by enjoying night time views of the beautiful Lake Eola, which is the largest lake in Orlando's centre and a symbol of the city.
Visit the Orlando Science Center
The Orlando Science Center opened almost 60 years ago and is one of the leading museums in Orlando. It has tons of fun exhibitions, 3-D films and hands-on activities for people of all ages. It is almost always found in 'things to do in Orlando' lists and is the perfect place to visit on a rainy day.
Relax at the Harry P Leu Gardens
Harry P. Leu Gardens are located in Rowena Gardens and contain 240+ species of plants. A husband and wife started the Gardens after they had travelled across the world and brought back some unusual plants.
The Gardens are divided into 145 sections, which includes the Butterfly Garden, Citrus Grove, Tropical Stream Garden and more. Various festivals are held here throughout the year, so check online beforehand to see what's on.
Wine and Art Walk at Thornton Park
Thornton Park is not really a park and more so a district that is seen as the most stylish one in Orlando. There is good reason for this label as it is indeed filled with colourful artworks, chic boutiques and European-style restaurants.
One of the coolest and most interesting things to do here is a 'Wine and Art' walking tour. On the tour, you'll be introduced to the district's art masterpieces and have a chance to try the best wine in Orlando city.
Evening at Lake Eola Park
Lake Eola Park is considered to be the most beautiful park in Orlando. It is a popular place for date nights, strolls, picnics, exercising, paddle boating, and watching the sunset. When walking around the park, keep a lookout for a Chinese pagoda, amphitheatre, playground and the symbol of Orlando (the water fountain). You will also pass by excellent chic restaurants where you can enjoy a delicious dinner with lovely scenery.
This article was edited by Loredana Elena.
Give us feedback about this article
For more interesting articles about United States, read:
For visual stories related to this article, take a look at:
---
---
Want to keep exploring?
Subscribe for discounts on tickets and hotels and our latest guides.
Thank you for subscribing
We will be in touch soon with discounts on tickets and hotels and our latest guides.
Want to keep exploring?
Subscribe for discounts on tickets and hotels and our latest guides.
Thank you for subscribing
We will be in touch soon with discounts on tickets and hotels and our latest guides.
Related articles