Do You Know These 20 Fun Facts About Maui, Hawaii?
Destguides may receive commissions from purchases made through affiliate links in this article.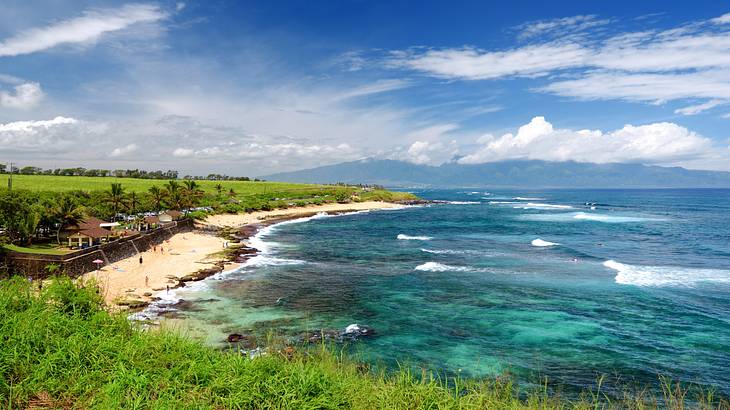 Maui is one of the beautiful islands located in Hawaii in the United States. This stunning destination attracts visitors because of its incredible scenery, breathtaking beaches, and luxury hotels and resorts.
If you love the island or are planning to visit, you'll be interested to discover some fun facts about Maui, Hawaii. Due to its unique past and rich culture, there's a lot to know about this Hawaiian hotspot! Read on for 20 fascinating Maui facts and history!
20 Maui Facts
Maui Facts Video
Check out our highlights video of Maui facts.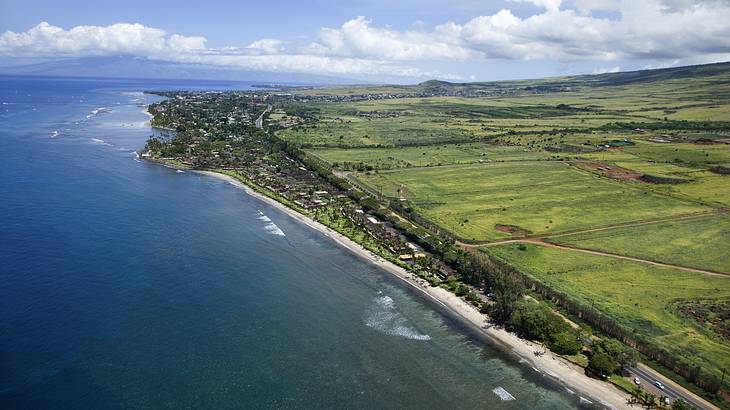 Maui is the second largest of the Hawaiian Islands
Maui covers an area of just over 727 square miles, making it the second largest Hawaiian Island after the Big Island. The highest point on the island is Haleakala. Cities found across this large island include Lahaina, Wailea, and Hana.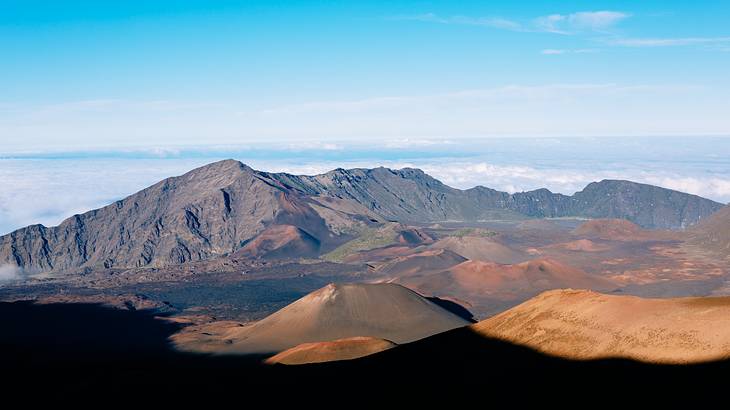 One of the world's largest dormant volcanoes is on Maui
Maui no longer has active volcanoes, but it is home to two dormant volcanoes. The largest of these is Haleakala, found in East Maui. Not only is this volcano one of the biggest dormant volcanoes in Hawaii, it has one of the largest dormant volcanic craters in the world.
The shield volcano stands at 10,023 feet tall and offers amazing views of Maui, especially at sunrise and sunset. The volcano is a popular hiking spot among tourists and locals.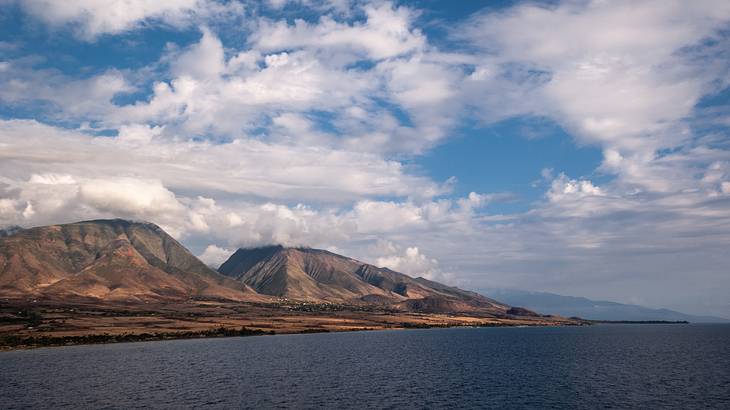 "Valley Isle" is Maui's nickname
One of the interesting facts about Maui, Hawaii, is that it has the nickname "The Valley Isle". This moniker supposedly occurred due to Maui's location between two mountain peaks. Those mountains are Haleakala and the West Maui Mountains. Maui itself got its name from a mythical navigator who had a son named Maui.
Maui has multiple pineapple farms
Pineapple has been grown in Hawaii for centuries. When on Maui, you can visit three different pineapple farms to learn more about its production. These farms are Maui Pineapple Tour, Maui Tropical Plantation, and Maui Dragon Fruit Farm. As the name suggests, the latter also grows dragon fruit.
There are only two volcanoes on Maui
Maui is home to just two volcanoes, both of which are dormant. These volcanoes are Haleakala, one of the world's biggest dormant volcanoes, and Mauna Kahalawai. The latter is better known as the West Maui Mountains.
Both of these volcanoes are hundreds of thousands of years old and are iconic natural landmarks in Hawaii. Visitors to the island can hike at both locations and take in stunning views.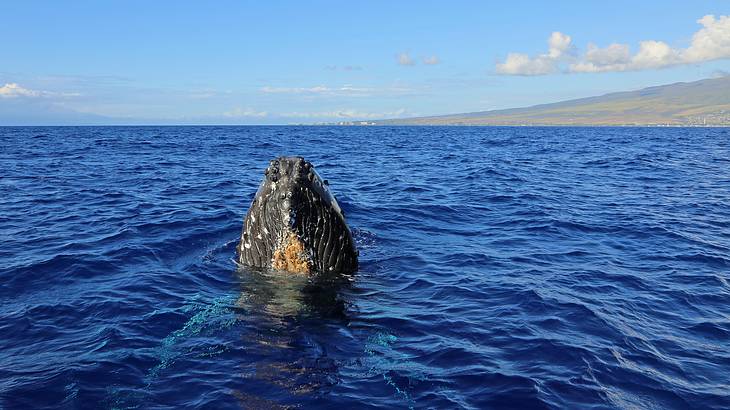 Approximately 10,000 humpback whales migrate to Maui each year
Another of numerous Maui fun facts is that up to 10,000 humpback whales migrate to the island's waters each year. These majestic creatures head to the island between December and April in what is known as humpback whale season.
The whales choose Maui during this period due to the island's warm waters, which are an ideal place to breed.
Due to this mass migration, Maui is an ideal place for whale watching, and there are many operators offering whale watching tours. Taking one of the trips is a super fun activity for all types of travelers, including those traveling with kids in Maui.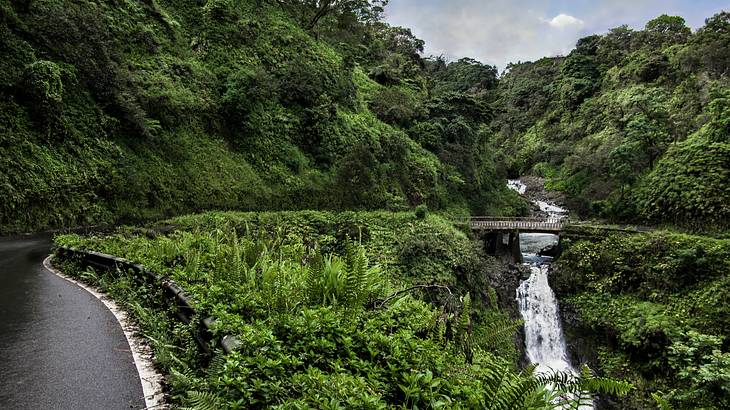 The Hana Highway includes 59 bridges and 620 curves
As one of Maui's landmarks, the Hana Highway (or Highway to Hana) is extremely well-known. The highway is 64.4 miles long and connects Hana in East Maui with Kahului.
The highway interestingly features a total of 59 bridges, many of which are one way, and 620 curves. These features can make driving the road a little challenging and result in the drive from Kahului to Hana taking around four hours.
You can explore a sugar museum on Maui!
One of the quirky and interesting facts about Maui is that you can find a sugar museum on the island. The museum is located in Kahului, a sugar-growing town in Maui.
If you visit, you'll learn about the process of growing sugar and the history of sugarcane production in Hawaii. There are also exhibits on those who have worked growing sugarcane over the years.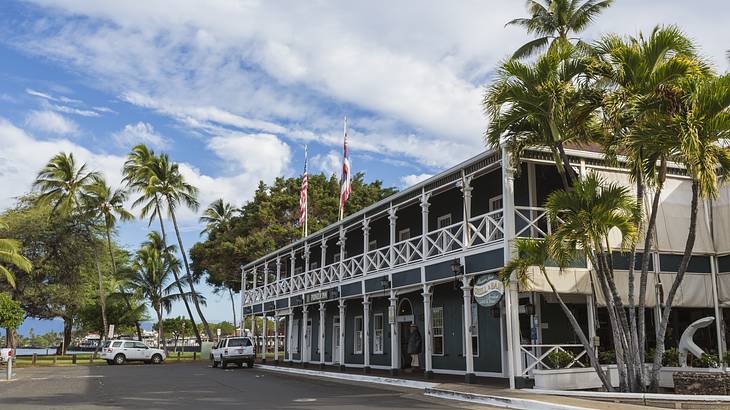 Maui is home to the third largest population in Hawaii
Along with being Hawaii's second-biggest island, Maui has the third-largest population of the Hawaiian islands. Approximately 117,600 residents call Maui home.
Oahu takes first place by a considerable margin, with over 870,000 residents. The Big Island has the second largest population of just over 200,000 residents.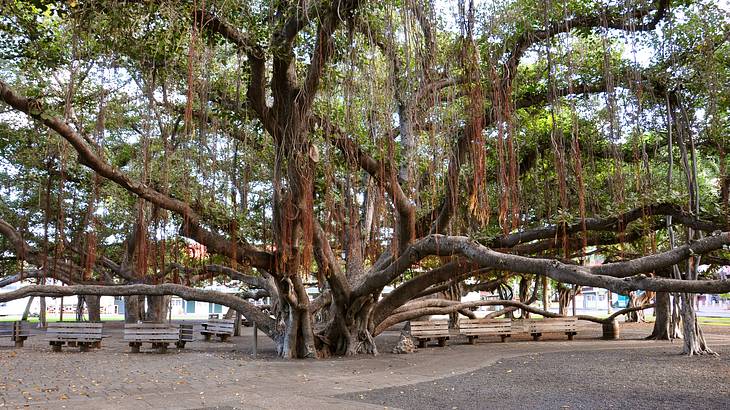 Maui is home to the largest banyan tree in the US
Banyan trees are large and beautiful trees with unique twisted trunks. The trees are traditionally found in India, but some can be seen in Hawaii too. In fact, Maui is home to the Lahaina Banyan Tree, which is the largest of banyan tree in Hawaii and the United States.
The tree was imported from India in the 1870s and still sits in front of the Lahaina Courthouse. Visiting the tree is a must when on the island, and seeing this record-breaking tree also happens to be one of the fun free things to do in Maui!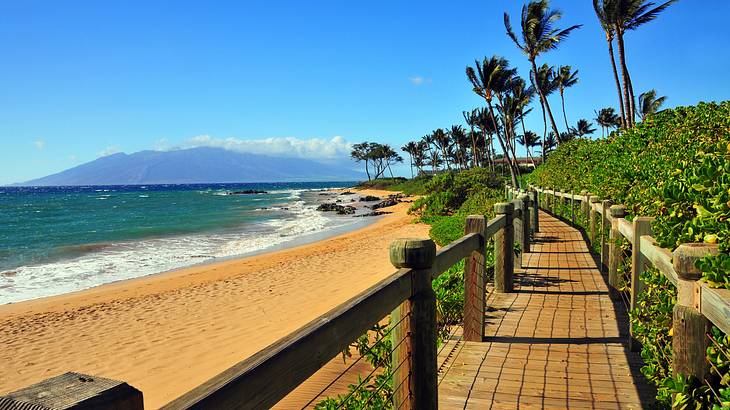 The title of best island in the US often goes to Maui
Maui is a stunning island with beautiful beaches, turquoise ocean, and lots of attractions. Due to its beauty, the island is often voted one of the best islands in the United States.
Conde Nast Traveler, in particular, has rated the island one of the best islands in the country for 20 years. Maui often takes the top spot on this list, although it fell to fourth place on the publication's most recent ranking.
However, one negative effect of this accolade is issues with overdevelopment and biodiversity loss, and disruption due to tourism. If visiting, be sure to follow as many ecotourism guidelines as possible!
Captain James Cook was the first European to see Maui
There are many interesting Maui history facts to learn. One of these facts is that Maui was discovered by Captain James Cook in 1778. James Cook is, therefore, the first European known to have seen the island.
He is not, however, the first European to visit Maui. When James Cook discovered the island, he didn't actually step foot on Maui. The first European to do that was French admiral Jean-François de Galaup in 1786.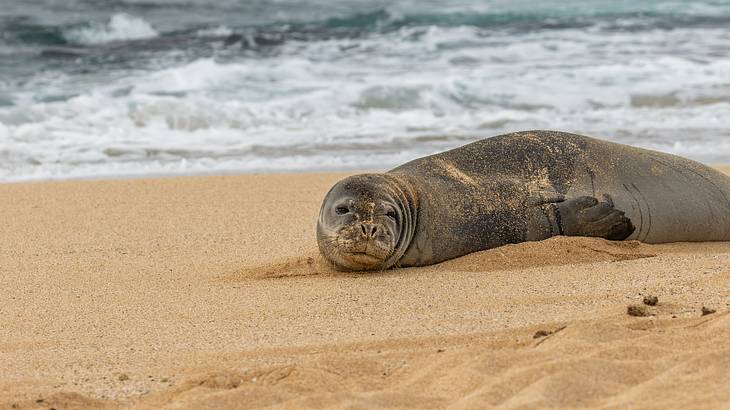 At least five endangered marine species can be seen in Maui
Maui is home to a vast array of marine life, and one of the best places to spot sea creatures is at Ahihi-Kinau Natural Area Reserve. This ocean reserve features colorful coral reefs and many underwater animals, including 75 species of fish.
Interestingly, the reserve is home to five protected marine creatures. These endangered species are Hawaiian monk seals, spinner dolphins, humpback whales, green turtles, and hawksbill turtles.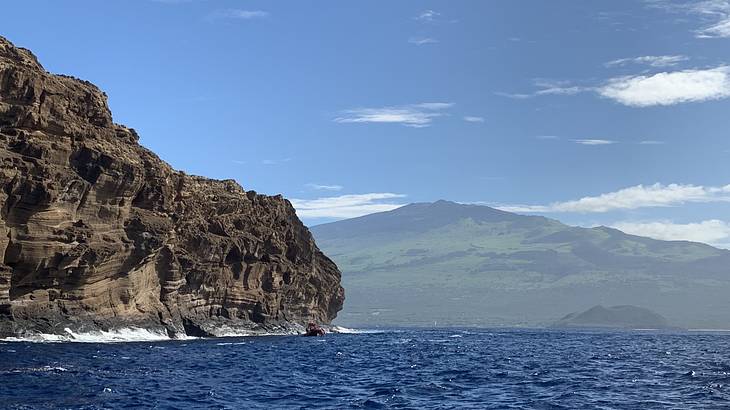 Molokini Crater is home to over 250 marine species
Molokini Crater in South Maui is another incredible place to spot marine life. The beautiful crater and surrounding clear waters are found just off the coast of the island.
At Molokini Crater, you can see over 250 marine creatures. These species include various tropical fish, dolphins, sharks, and turtles. Due to clear waters and the complex biodiversity, snorkeling here is a popular activity, especially for couples visiting Maui.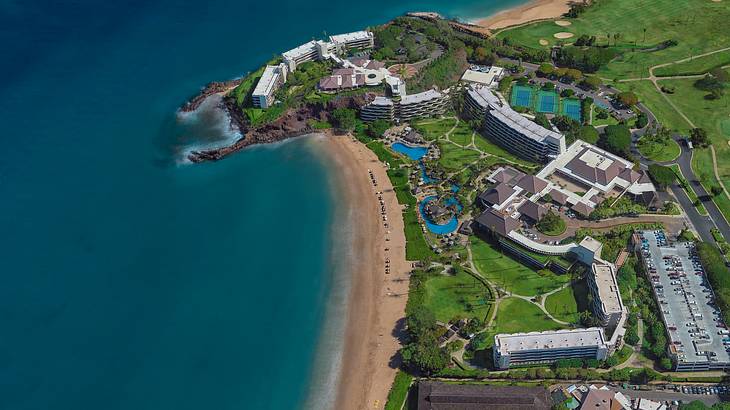 Lahaina on Maui was once the capital of Hawaii
Although Honolulu is the capital of Hawaii today, one of the Maui history facts to be aware of is that Maui's Lahaina was once the capital.
Lahaina held the title of being the capital of Hawaii from 1802 to 1845. Of course, as Hawaii didn't gain US statehood until 1959, Lahaina was the capital of the Kingdom of Hawaii as opposed to the state capital.
You can attend free town parties every Friday
When visiting, you can find an array of fun things to do at night in Maui. One of these exciting activities is attending a town party, and best of all, they're free!
These parties are held every Friday night and move between five locations on Maui: Kihei, Lahaina, Lanai, Makawao, and Wailuku. At the events, you can dance, listen to live music, and mix with the locals.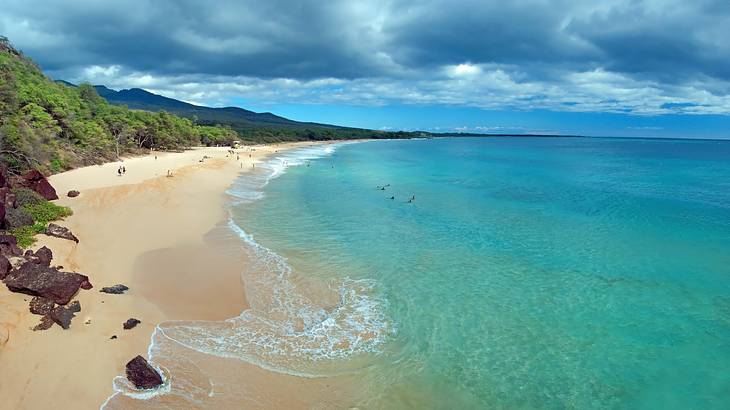 There are 120 miles of coastline and 30 miles of beaches in Maui
Being an island, it's no surprise that Maui features many miles of beaches! In total, the island has 120 miles of coastline and 30 miles of beach. These stunning beaches include black, white, and red sand beaches.
If visiting the area, a trip to at least some of these amazing beaches has to be on your Maui itinerary!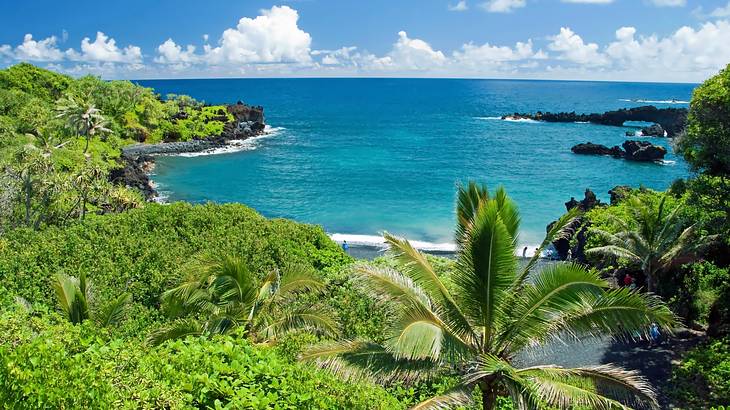 Living in Maui could extend your life!
The next of various interesting Maui facts is a great one to know if looking to improve your quality of life! Living in Maui could actually increase your life expectancy. In fact, Hawaii as a whole has the longest life expectancy of any US state, with an average of 82.3 years old.
Women can expect to live to 85 years old, while men in Maui have a life expectancy of 79. These ages contrast to an average life expectancy of 74.8 years old in West Virginia, the state with the lowest life expectancy.
Lahaina High School is one of the US' oldest schools
Founded in 1831, Maui's Lahaina High School is the oldest secondary school west of the Rockies. The school was also the first of its kind established above the Rockies.
Lahaina High School was originally founded as a Protestant missionary school. The school is still operating today as a public high school and boarding school, educating grades nine to 12.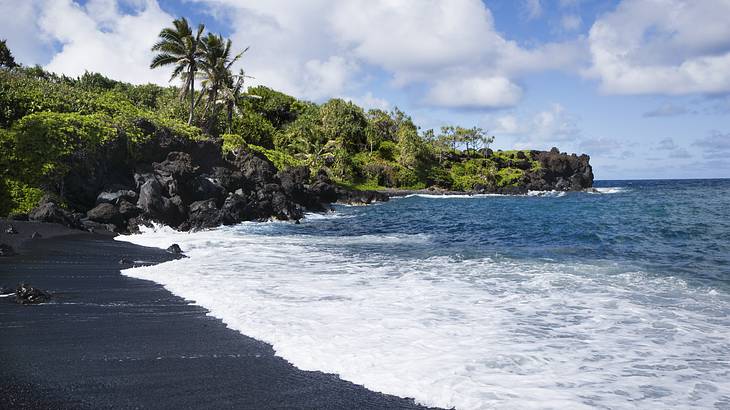 Black volcanic beaches can be found on Maui
Maui has an array of outstanding beaches, but some of the most interesting on the island are the black sand beaches. Black sand beaches to see on Maui include Naupaka Beach and Honokalani Black Sand Beach, found in Waianapanapa State Park.
The sand on these beaches is made of crushed and eroded volcanic material. Enjoying the vista of black sand next to the turquoise ocean is one of the most unique and unusual things to do on Maui.
In Summary
Maui is a fun destination to visit and learn about. Hopefully, this article has taught you something new about this scenic vacation hotspot, and you've learned some facts you didn't know about Maui!
Want to keep exploring?
Subscribe for discounts on tickets and hotels and our latest guides.
Thank you for subscribing
We will be in touch soon with discounts on tickets and hotels and our latest guides.
Want to keep exploring?
Subscribe for discounts on tickets and hotels and our latest guides.
Thank you for subscribing
We will be in touch soon with discounts on tickets and hotels and our latest guides.