15 Places for the Best Snorkeling in Oahu, Hawaii
Destguides may receive commissions from purchases made through affiliate links in this article.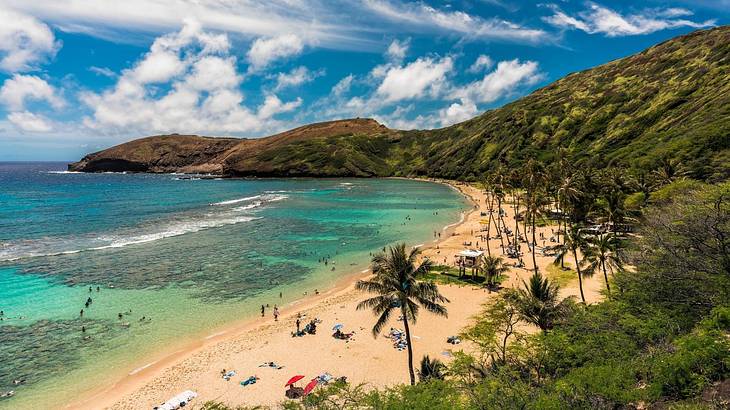 A fun fact about Oahu, in Hawaii, United States, is that it's one of the best snorkeling destinations in the world. This stunning Hawaiian island is blessed with warm, clear waters and lots of marine life. Creatures to see while snorkeling range from hundreds of species of tropical fish to sea turtles and dolphins.
If you've been wondering where to go for the best snorkeling in Oahu, Hawaii, this list will help you discover 15 can't miss spots. An Oahu snorkeling map is also included to make planning a trip to one or more of these sites easy. When preparing to go snorkeling in Oahu, also ensure you pack reef-safe sunscreen and only snorkel at places that meet your ability level.
15 Best Places to Snorkel on Oahu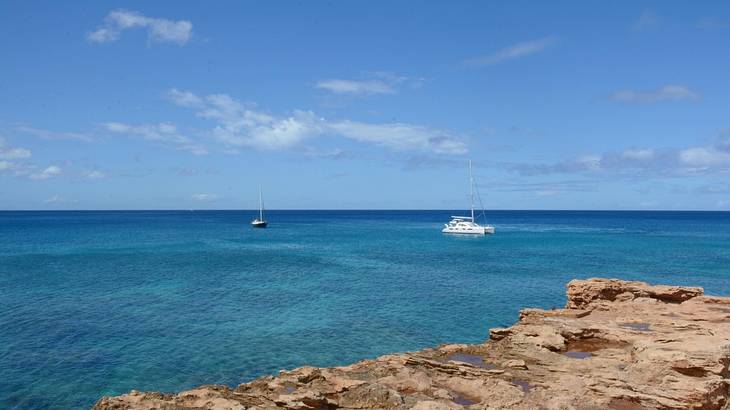 Kahe Point Beach Park
Kahe Point Beach Park, also known as Electric Beach, is one of the many amazing snorkeling spots in Hawaii. Located on the western side of the island, the beach features clear ocean water with high visibility and a lot of tropical fish.
Turtles can also be seen, and you may spot white tip reef sharks, although generally they aren't a threat to snorkelers. As this beach has no life guards and three can be some strong waves, it's recommended that only intermediate and advanced snorkelers swim here.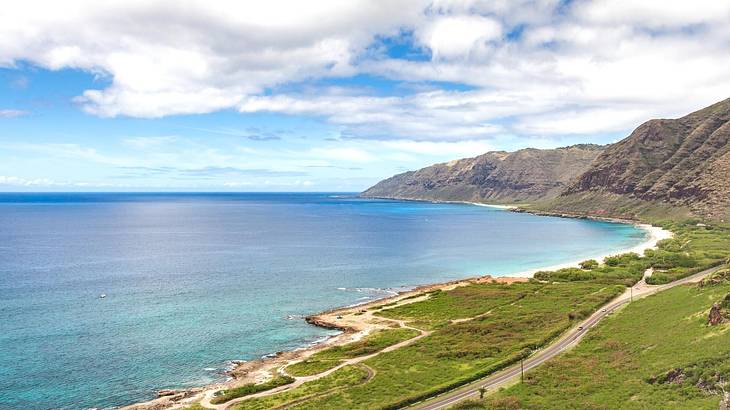 Ka'ena Point State Park
Located on the island's westernmost tip, Ka'ena Point State Park has a sandy beach, hiking trails, and perfect snorkeling conditions. It's best to swim out a little, to depths of around eight to 15 feet, as waves closer to the shore can affect visibility.
Marine life to see includes a variety of fish, like butterflyfish and parrotfish, and turtles. Ka'ena Point State Park is an ideal spot for snorkeling if you're a beginner, and children can join in if they are good swimmers. This beach has lifeguards too.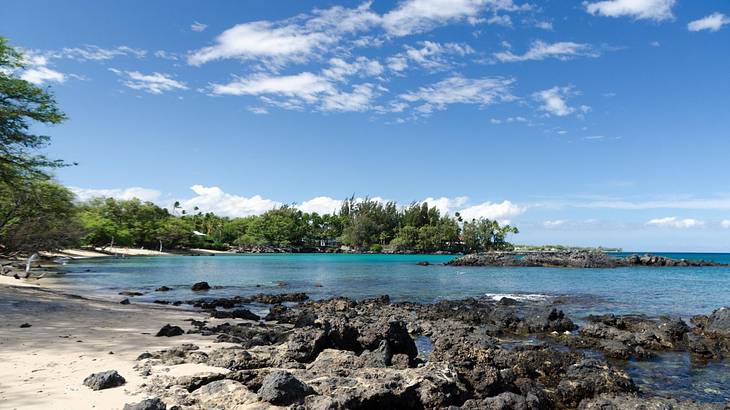 Waimea Bay
A trip to Waimea Bay, on the North Shore, should be on everyone's list of things to do in Oahu. It's also another of the amazing snorkeling locations on the island.
Snorkeling at Waimea Bay is best undertaken in the summer months, as waves can be high in the winter (hence why it's a top Oahu surf destination.) In the water, you can see shoals of fish, turtles, and possibly dolphins.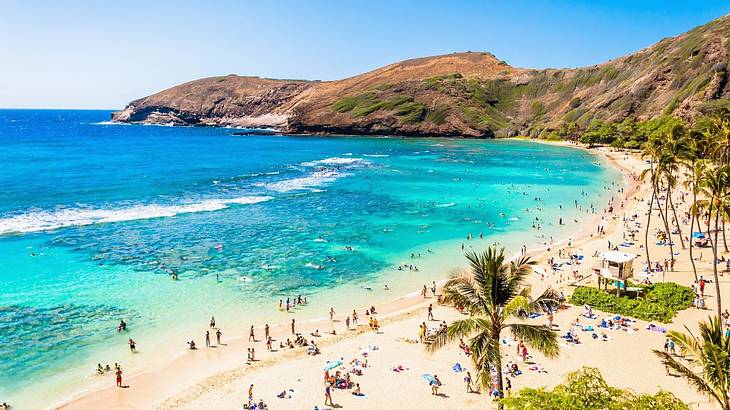 Hanauma Bay
One of the most famous landmarks in Oahu is Hanauma Bay. This area is notably a marine life conservation area, and while tourists can visit, there is a small fee to do so.
Hanauma Bay snorkeling also happens to be some of the best in Oahu, and due to conservation efforts, you can see an array of creatures when snorkeling. In total, there are around 114 different species of sea life in the waters here.
If interested in snorkeling at this location, a convenient way to do so is on a Kaimana Tours snorkel trip that will take you to Hanauma Bay and provide snorkel equipment. Hanauma Bay Snorkel Adventure is another great provider offering a similar service.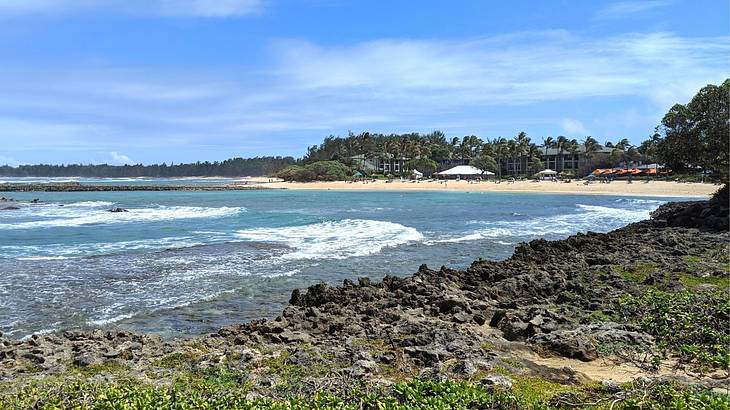 Kuilima Cove at Turtle Bay
If you're new to snorkeling, another of the best beaches to visit is Kuilima Cove, located in Turtle Bay. Because the location is well sheltered, the waters are calm and attract lots of fish and other small marine life.
Unique creatures to see when snorkeling in these areas include unicornfish, damselfish, and reef triggerfish (or humuhumunukunukuāpuaʻa in Hawaiian), the state fish of Hawaii.
Best of all, snorkeling at Kuilima Cove costs nothing, making it one of the many fun free things to do in Oahu!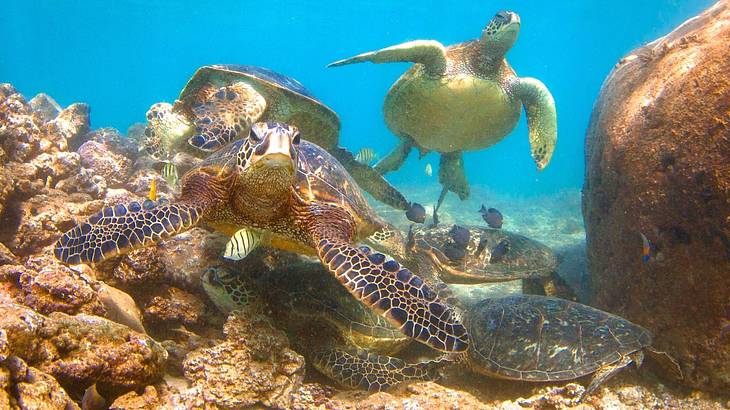 Turtle Canyon
One of the best Oahu snorkeling tours is the Turtle Canyon catamaran snorkel cruise. Once aboard the boat, you'll sail out to Turtle Canyon, which is home to an array of colorful fish and other marine life. All snorkel gear is provided, making it easy to hop straight into the warm, clear waters.
Animals to swim with include Hawaiian green sea turtles, parrotfish, and dolphins. There are also interesting finger reefs to see. If you're looking for the most memorable snorkeling locations in Oahu, you have to head to Turtle Canyon!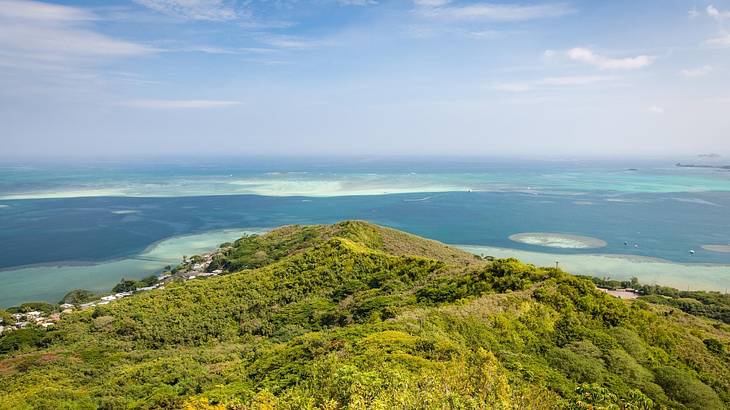 Kaneohe Sandbar
The Kaneohe Sandbar is located just off of Oahu and features tranquil waters full of aquatic life. It can be difficult to get to this area without your own boat, so taking an Oahu snorkel cruise to Kaneohe Sandbar is a good idea.
At the sandbar, you can swim to Turtle Reef to see Hawaiian green sea turtles and will also spot a variety of colorful and unique fish. Snorkel gear is provided, as are some snacks and soft drinks.
Sans Souci Beach
Sans Souci Beach, also called Kaimana Beach Park, is located in Honolulu and is 15 minutes away from Waikiki Beach when walking. This beach is a highly family-friendly location and has calm shallow waters, making it one of the best Oahu snorkeling spots.
You'll be able to see a variety of fish in the water and may see dolphins in the distance. Along with snorkeling here, you can swim, sea kayak, and sunbathe on the sandy shores.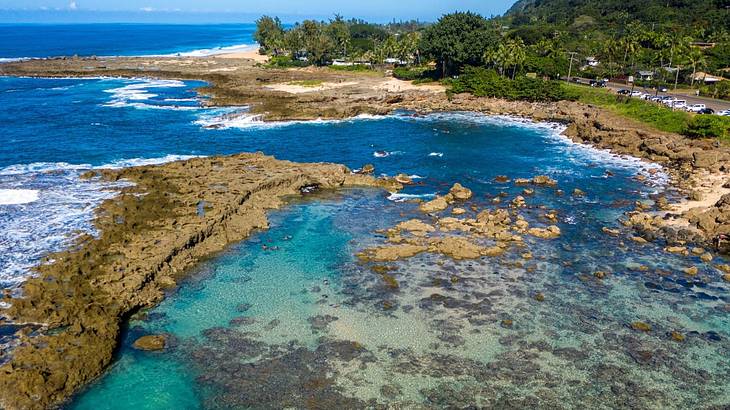 Shark's Cove
Shark's Cove is located just ten minutes from Waimea Bay and is one of the most popular places for locals and tourists to go snorkeling on Oahu, Hawaii. If you want to see a large variety of sea life, heading to Shark's Cove is a must.
This rocky beach has a variety of tide pools that are home to lots of aquatic life, plus a bigger bay area. The beach is quite rocky, so be careful when entering the water. Creatures to spot here range from turtles and tang fish to eels and crustaceans.
In addition, Shark's Cove is one of the best places to watch the sunset in Oahu. If possible, go snorkeling later in the day so you can stay and watch the sun go down over the ocean here.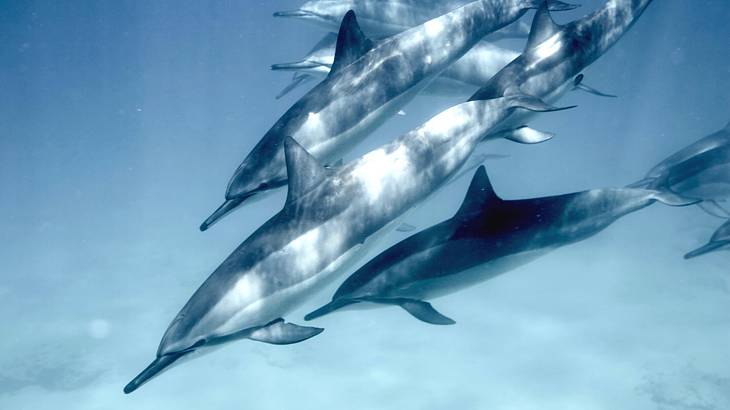 Leeward Coast
For those that can't decide which of the snorkeling in Oahu tours to try, booking the Leeward Coast dolphin and snorkel sail tour is highly recommended. As you set sail along the Leeward Coast, you'll begin to spot a range of sea creatures, including spinner dolphins. If visiting between April and November, you may see humpback whales too.
Once the boat is moored, you can hop in the water to snorkel amongst fish and sea turtles. This excursion also includes lunch and alcoholic drinks for adults and is a must-do activity for couples in Oahu!
Kapiolani Park Beach
Kapiolani Park Beach sits next to Diamond Head State Monument, one of the most famous Oahu landmarks. This is a lesser-known snorkeling location, however, it's still a great spot to see marine life and the waters are not as crowded with snorkelers as at other beaches are.
After experiencing some of the best snorkeling in Oahu, HI, you can hang out on the beach or tackle the Diamond Head Crater hike.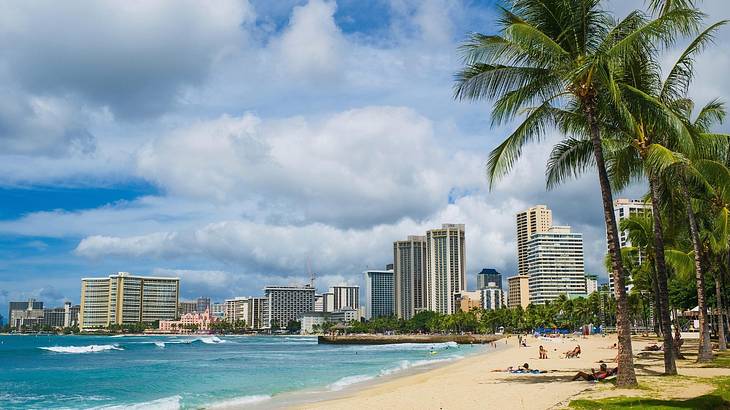 Waikiki Beach
Going to Waikiki Beach has to be on your Oahu itinerary. Along with being a perfect beach for swimming and sunbathing, it's one of the best places for snorkeling in Oahu too. You can also snorkel at the beaches next to Waikiki, like Queens Beach.
As with other snorkeling locations on the island, you'll spot a variety of vibrant tropical fish. You may also see turtles. From the shore, you might spot dolphins as well.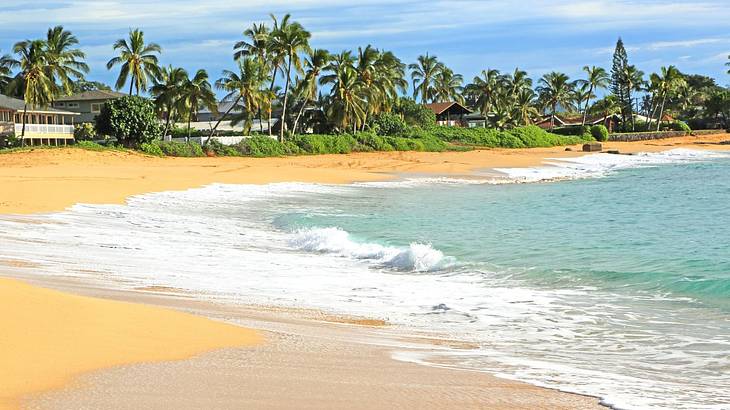 Makaha Beach Park
Makaha Beach Park is a beautiful white sand beach that's perfect for surfing in the winter and snorkeling in the spring and summer. While you can snorkel in the shallows here, swimming out a little bit is recommended to see the most aquatic life.
Once in the water, you'll see coral reefs and turtles. Interestingly, this beach is one of the few spots that doesn't always have a lot of fish, but seeing the cute turtles swimming around the reef is worth the trip to Makaha Beach Park!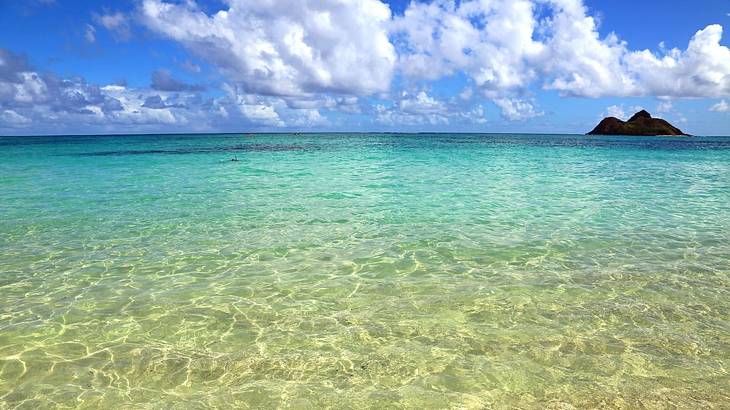 Lanikai Beach
Lanikai Beach is located next to Kailua on the east coast of Oahu. When snorkeling here, you'll discover a beautiful reef that's full of fishes and other small sea creatures.
A fun way to explore Lanikai Beach and the adjacent Na Mokulua Islands is by booking a Kailua kayaking tour. Snorkeling equipment is also provided, allowing you to hop in the water to snorkel when you want.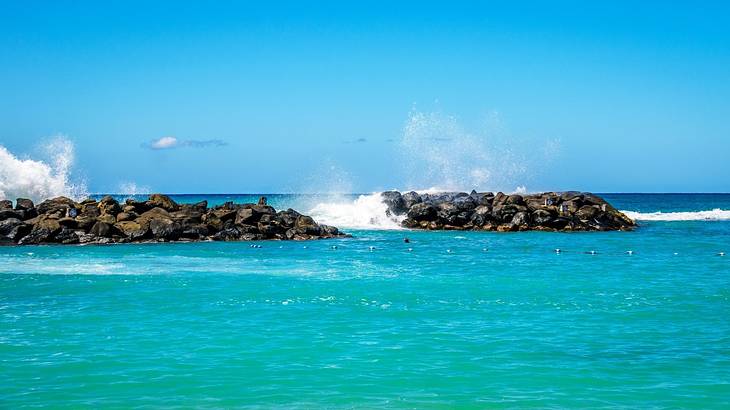 Ko Olina Lagoons
Ko Olina Lagoons comprises four lagoons with shallow water that's ideal for safe snorkeling. Even on windier days, the lagoons stay relatively calm, making this location perfect for new snorkelers and children.
Creatures to see in the lagoons include sea turtles, crustaceans, and a variety of fish species. One feature missing from this spot is a coral reef, which means the amount of sea life in the area can vary as fish tend to head for reefs.
In Summary
Hawaii is an ideal destination to visit if you like water activities, such as snorkeling. If you're planning a trip to the Aloha State, this list of the best places to Snorkel in Oahu will come in handy and help you discover some of the most amazing snorkel sites in the world.
---
---
Want to keep exploring?
Subscribe for discounts on tickets and hotels and our latest guides.
Thank you for subscribing
We will be in touch soon with discounts on tickets and hotels and our latest guides.
Want to keep exploring?
Subscribe for discounts on tickets and hotels and our latest guides.
Thank you for subscribing
We will be in touch soon with discounts on tickets and hotels and our latest guides.
Related Articles