35 Fun Date Ideas in Fort Wayne, Indiana
Destguides may receive commissions from purchases made through affiliate links in this article.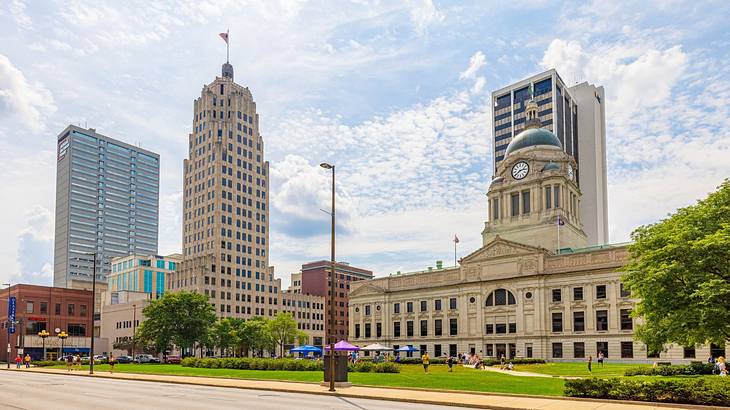 Do you live in Fort Wayne and want to find something different to do on a date? Or are you visiting and want to learn about the top attractions for couples? If so, this list of fun date ideas in Fort Wayne, Indiana, is for you.
Couples can enjoy many activities in the city, from exploring the Fort Wayne Museum of Art to attending a show at the Summit City Comedy Club or unwinding at Woodhouse Spa; the possibilities are endless! To discover all the excellent things to do on a date in and around Fort Wayne, keep reading for 35 suggestions!
35 Fort Wayne Date Ideas
Things to Do in Fort Wayne for Couples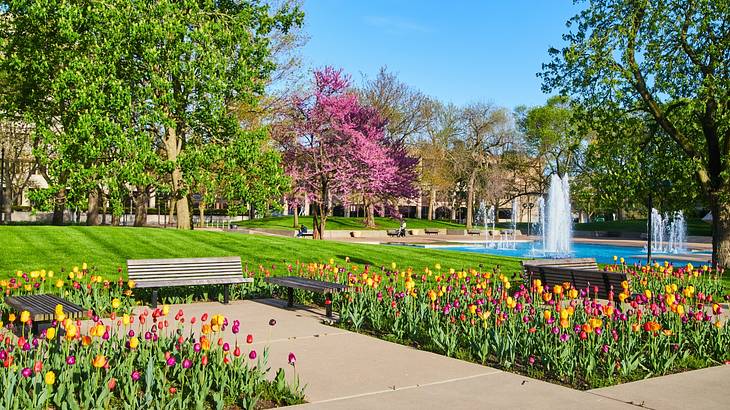 Hang out at Freimann Square
On a nice day, Freimann Square is the place to be in Fort Wayne! The urban park has been a popular spot with locals and visitors since 1971 and is centrally located near other attractions like the Fort Wayne Museum of Art.
At the square, you can sit and chat over a coffee, admiring the pretty floral displays and stunning fountain. You can also walk or bike along trails and attend events, like an open-air art exhibition.
View artworks at the Fort Wayne Museum of Art
Founded in 1897 as an art school, the Fort Wayne Museum of Art became a museum in 1921 and has been a much-loved cultural attraction ever since. During a visit to this Indiana landmark, you and your date can see a collection of around 5,000 works, including paintings, sculptures, and photographs. Many temporary exhibits are also housed at the museum to see alongside the permanent collection.
Stay at The Bradley Hotel
Booking a room at The Bradley Hotel is a must for couples visiting the city. This stylish boutique hotel is located downtown and features trendy rooms and amenities like a fitness center, a high-end restaurant, and a rooftop bar. It's also pet-friendly, and you can enjoy perks such as free bike rentals if you want to go for a romantic bike ride by the river.
Stroll through the Foellinger-Freimann Botanical Conservatory
The Foellinger-Freimann Botanical Conservatory is a fun and unique place for a daytime date. This botanical garden is an oasis in Downtown Fort Wayne and features a 25,000-square-foot conservatory that houses tropical and desert plants as well as waterfalls and various species of butterflies.
There are also some outdoor gardens to wander around, and you'll find many great places to take some couples photos together while exploring the attraction.
Take in the views with good drinks at Birdie's Rooftop Bar
Located at The Bradley Hotel, getting drinks and enjoying the views at Birdie's Rooftop Bar is one of the most memorable Fort Wayne date night ideas. The bar is open to hotel guests and non-residents and offers panoramic views of the city from a trendy rooftop patio.
As you take in the vistas, you can order drinks like signature cocktails or wine. Sharing plates and desserts are also on offer, and there are fire pits if you want to stay at the bar even when it gets cold.
Treat your date to sweets at DeBrand Fine Chocolates
If your partner has a sweet tooth, you can treat them to handmade chocolates at DeBrand Fine Chocolates. The gourmet chocolatier offers a variety of high-end products, from truffles and caramels to bars of chocolate. You can also get ice cream toppings, like caramel or milk chocolate topping, and there's a chocolate of the month club to subscribe to!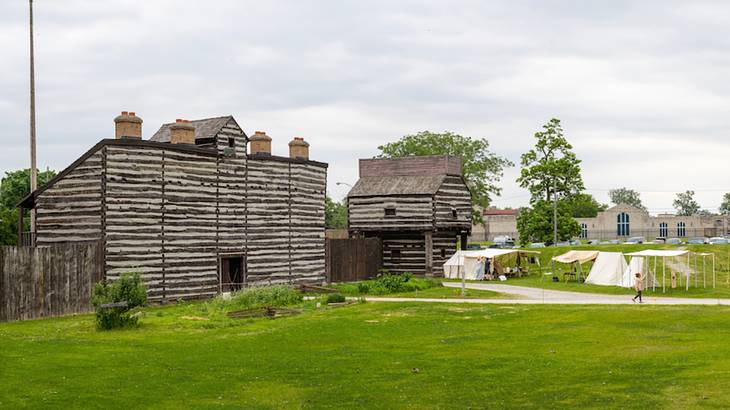 Travel back in time at The Old Fort
Also known as Historic Fort Wayne, The Old Fort features reconstructions of military log stockades that were built in the area in the 17th and 18th centuries. Along with viewing these replica structures, you can see period actors, watch reenactments, and check out a range of exhibits as you explore the fascinating living history museum.
Attend a Fort Wayne Philharmonic show at the Embassy Theatre
There are many unique things to do on a date night in Fort Wayne, Indiana, such as watching the Fort Wayne Philharmonic perform. The orchestra can be seen at the Embassy Theatre, which opened in 1928.
A range of concerts are performed by the Philharmonic, and no matter what show you see, you and your date are guaranteed to have a memorable evening out!
Laugh at a show at Summit City Comedy Club
Attending a comedy show at Summit City Comedy Club is a fun date night activity that will appeal to most couples. At the venue, you can see up-and-coming local comedians as well as nationally known talents. There are also open mic nights. While enjoying the show, you can order food and drinks, including sweet and savory snacks and alcoholic beverages.
Learn new things at Science Central
Science Central isn't just for kids! It has exhibits for all ages and is a fun place for a laid-back daytime date. Exhibits cover various science topics, from geology to space exploration, ecology, and more. There's also a theater with presentations on STEM topics, and a planetarium is opening soon.
Catch a baseball game at Parkview Field
If you and your partner like sports, one of the most fun things for couples to do in Fort Wayne, Indiana, is going to a baseball game at Parkview Field. The stadium is home to the Fort Wayne TinCaps, a minor league affiliate of the San Diego Padres.
You can catch a game between April and September in the regular season, with both evening and afternoon games played.
Watch a movie at Cinema Center
A movie date is a classic idea that's sure to please! You and your other half can see many new releases at Cinema Center in Fort Wayne. However, if you want to see something a little different, great independent films, documentaries, and foreign films are also shown here; just check the online schedule to see what's on.
Get drinks at Three Rivers Distilling Company
There are many places in the city for an afternoon or evening drinks date, with Three Rivers Distilling Company being one of the most popular places to check out. At Fort Wayne's only craft distillery, you can taste delicious spirits from vodka, rum, and bourbon to more unique moonshine or coffee liqueur.
Spirits can be ordered neat, or opt for a delicious craft cocktail. Food, including savory and sweet dishes, is on offer as well. You can additionally enjoy outdoor dining all year long thanks to the distillery's cute heated igloos!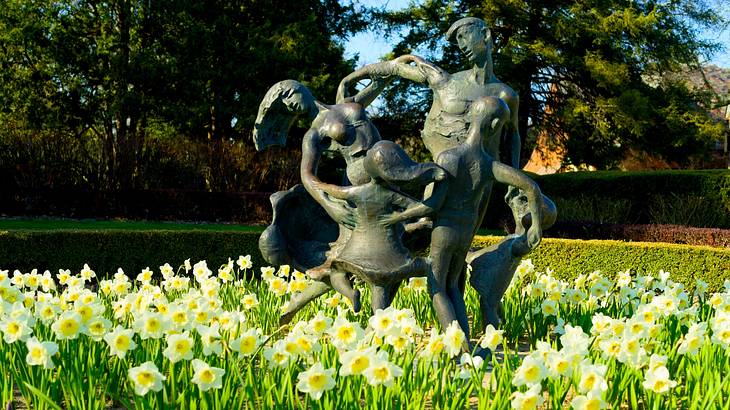 Appreciate the floral displays at Lakeside Park & Rose Garden
Lakeside Park & Rose Garden is one of the most beautiful and romantic places in Fort Wayne. This pretty garden features approximately 2,000 rose plants of around 150 varieties, along with manicured lawns, a charming pond, and tree-lined trails. On a sunny day, visiting the park and rose garden has to be on your list of daytime date ideas.
Admire artwork and architecture at Castle Gallery
Another excellent attraction for couples that love art is Castle Gallery. This Allen County landmark is also a must-visit for those that like architecture, as the gallery is housed in a beautiful Richardsonian Romanesque-style castle built in 1905. During a visit, you can take in the stunning design and see a collection of art, primarily paintings, sourced from all over the world.
Listen to live music at The Brass Rail
If you and your partner like rock and indie music, going to The Brass Rail is one of the best date night ideas in Fort Wayne, Indiana. Known as Fort Wayne's original music venue and dive bar, this spot has a fun and laid-back atmosphere and, of course, great live music!
You can see a range of acts, including lots of top local bands while enjoying drinks from the full-service bar.
Look around the Fort Wayne Firefighters Museum
Are you looking for more fun niche attractions to visit together? Then add the Fort Wayne Firefighters Museum to your list of places to go on a date! At the museum, you can learn about firefighting history in the area. You'll also get to see memorabilia, firefighting gear, and fire engines, all displayed in an old engine house.
Chat over drinks at Junk Ditch Brewing Company
If you're looking for more cool bars to hang out at, head to Junk Ditch Brewing Company. The trendy spot is open throughout the day until late, making it a top spot for a daytime or evening date.
The drinks menu here features a vast selection of craft beer and wine, with something to suit all tastes. Food is also on offer, including lunch and dinner dishes and brunch on the weekend.
Unwind at Woodhouse Spa
Booking some treatments at Woodhouse Spa is one of many romantic things to do in Fort Wayne for couples. This luxury spa offers numerous treatments, including many kinds of facials and massages. You can also get a manicure, and packages are available if you want to combine multiple treatments for the ultimate relaxing treat.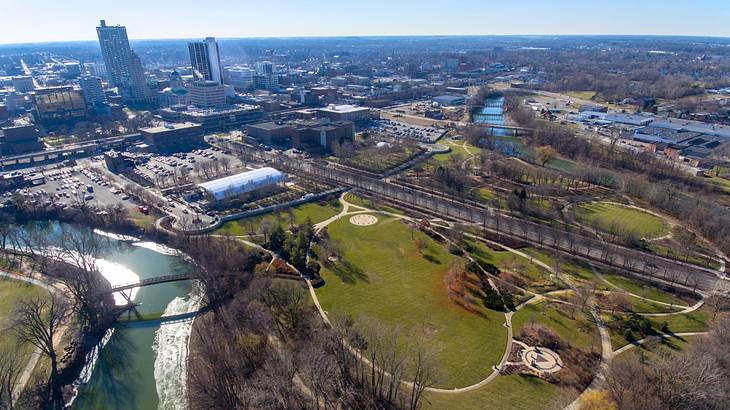 Wander around Headwaters Park
Located on the riverfront, Headwaters Park is another great place to go together to enjoy the fresh air. Along with taking in the river views, you can take a romantic walk or bike ride along tree and flower-lined trails. There's even a cute ice skating rink in the winter, and many events and festivals are held here, like the Fort Wayne music festival in July.
Have dinner and drinks at Conner's Kitchen + Bar
Conner's Kitchen + Bar is a laid-back and trendy spot to head to for a fun dinner and drinks date. The eatery serves contemporary comfort food dishes, with menu options including baked mac and cheese, burrata salad, and loaded nachos.
Cocktails, wine, and beer are available to accompany your meal, and you can finish with delicious desserts like peanut butter pretzel pie. Lunch and weekend brunch are also offered.
Relax with drinks at Conner's Rooftop Bar
If you aren't in the mood for a big meal, you can still enjoy the Conner's brand by taking your date to the stylish Conner's Rooftop Bar. While taking in the panoramic city views, you can order a range of signature cocktails, with lots of seasonal drinks available. Wine and beer are also on the menu, as are snacks, like black truffle chips or herb hummus with flatbread.
Enjoy good food at Nawa
Nawa is another cool place to visit for a lunch or dinner date. The restaurant serves upscale Thai cuisine, with various vegetarian, meat, and fish dishes available.
You can also order delicious signature cocktails or opt for beer, wine, or sake, including fun sake jello shots! You and your partner can dine inside or enjoy your meal outside on the Bison deck during warmer months.
Dine at Biaggi's Ristorante Italiano
Couples looking for more romantic restaurants in Fort Wayne, Indiana, can add Biaggi's Ristorante Italiano to their list of dinner date spots! The Italian eatery serves many kinds of pizza and pasta, along with lots of appetizers, including seven types of bruschetta. You can also get large main courses and classic Italian desserts, such as tiramisu.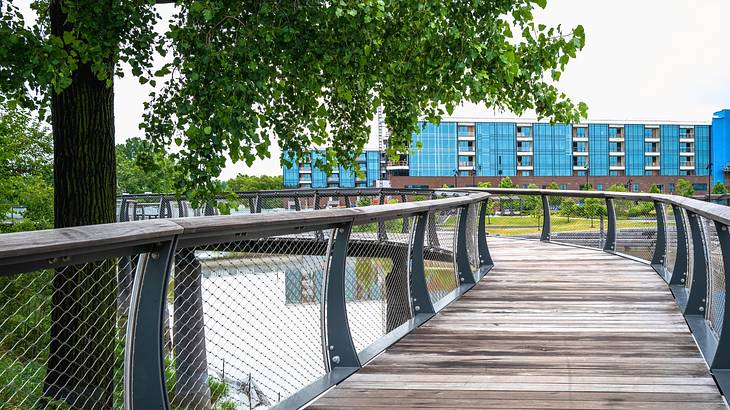 Wander along the riverfront at Promenade Park
Promenade Park is another of the top outdoor attractions to enjoy in Fort Wayne with your other half. The park sits next to the St. Marys River and has scenic riverside paths.
There's also the unique Parkview Tree Canopy Trail, which allows you to walk on a bridge through the trees. You can attend events here as well, with two entertainment venues at the park, the Ambassadors Enterprises Amphitheatre and Sweetwater Band Shell.
Experience a Sweet Breeze river cruise
Taking a scenic Sweet Breeze cruise along the rivers around Fort Wayne is a memorable thing to do together. You'll hop aboard a canal boat and sail past a variety of landmarks and beautiful natural scenery. You can opt for a 45, 60, or 90-minute tour, so there's an experience to suit all schedules.
Enjoy live music at The Club Room at The Clyde
The Club Room at The Clyde is an excellent place to go together to listen to live music and have some drinks. Events vary each day but include jazz nights and country music nights. You can also get a range of alcoholic drinks and lots of delicious pub-style food dishes while enjoying the show.
Shop at Jefferson Pointe Shopping Center
Spending the day shopping is a fun idea that will appeal to most couples, whether you want to splurge or just window shop. One of the best malls to check out in Fort Wayne is Jefferson Pointe Shopping Center.
At the open-air mall, you can find numerous stores, from clothing and beauty outlets to home decor shops. There are also many eateries to dine at, plus a movie theater and a yoga studio.
Find out more about Fort Wayne's history at The History Center
Run by the Allen County-Fort Wayne Historical Society, The History Center is a great place to go to learn about local history. Exhibits are housed in the Old City Hall building and cover centuries worth of history, including what life was like in the area for past generations and significant events related to the city. Events are also hosted at the attraction, like the cute gingerbread house competition around the holidays!
Dare to go on a ghost tour
Joining a spooky ghost tour is one of the more unique date ideas to enjoy. In Fort Wayne, you and your partner can go to The Bell Mansion for a haunted ghost tour.
During the two-hour tour, you'll explore a 19th-century Romanesque mansion and hear eerie stories relating to past owners and ghost sightings. You can also opt for a four-hour tour that teaches you about paranormal equipment techniques!
Try an escape game
If you want a laid-back date option, trying an escape game is the ideal thing to do. Fort Wayne Escape Room is a popular escape room venue with a few themes to choose from, like a space exploration game. You and your partner will have an hour to solve puzzles in an attempt to break free.
Fun Things to Do Near Fort Wayne, Indiana, for Couples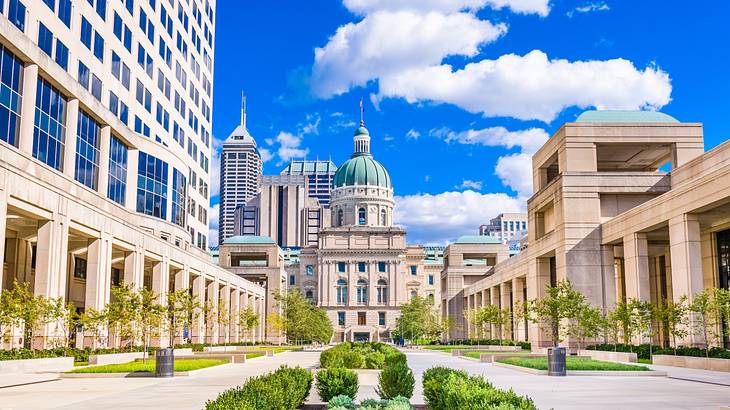 Check out Indianapolis
There are an array of fun and romantic things to do in Fort Wayne, IN, for couples; however, there are also some great couples day and weekend trip destinations nearby, like Indianapolis. You can reach the state capital of Indiana in only two hours when driving from Fort Wayne.
When you arrive, you can choose from many Indianapolis couples activities, like seeing a show at the Indiana Repertory Theatre or exploring Eagle Creek Park. You could also join an Indianapolis tour or excursion, such as a sightseeing tour or downtown food tour.
Go to Lafayette for the day
Lafayette is another day trip destination in Indiana that's located only two hours from Fort Wayne. While a slightly lesser-known city, you'll find many fun things to do in Lafayette. Activities to enjoy range from sipping local wine at Wildcat Creek Winery to kayaking on the Wabash River or admiring the floral displays at the Jerry E. Clegg Botanic Gardens.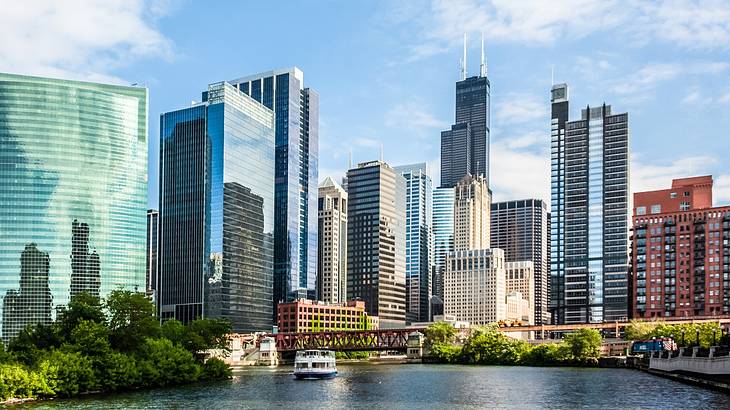 Spend the weekend in Chicago
Chicago is one of the most well-known cities within driving distance of Fort Wayne and is worth visiting for a weekend getaway. You can drive to the Illinois city in around three to four hours, depending on traffic.
Conveniently, you'll find an array of date activities to enjoy in Chicago, from strolling through the Garfield Park Conservatory to taking a river cruise on the Chicago River. You can also book a unique Chicago tour, and there's lots to do at night, like watching the fireworks at Navy Pier or seeing the Chicago Symphony Orchestra perform.
Plan a trip to Columbus
If you want some more options for a couples trip, consider Columbus, Ohio. Located approximately three hours away, the city has something for everyone!
Date ideas in Columbus range from viewing artworks at the Columbus Museum of Art or getting food at North Market Food Hall to tackling an escape game or hanging out with cats at Kitty Bubble Cafe & Bar.
In Conclusion
Whether you're visiting the city or living there, you'll find no shortage of things to do on a date in Fort Wayne. From listening to live music or relaxing at the spa to looking around fascinating museums, there's something for every couple!
Give us feedback about this article
More articles about Indiana:
Read more articles about the United States:
More articles about date ideas:
---
---
Want to keep exploring?
Subscribe for discounts on tickets and hotels and our latest guides.
Thank you for subscribing
We will be in touch soon with discounts on tickets and hotels and our latest guides.
Want to keep exploring?
Subscribe for discounts on tickets and hotels and our latest guides.
Thank you for subscribing
We will be in touch soon with discounts on tickets and hotels and our latest guides.
Related Articles