20 Best Date Night in Orlando Ideas You Must Go On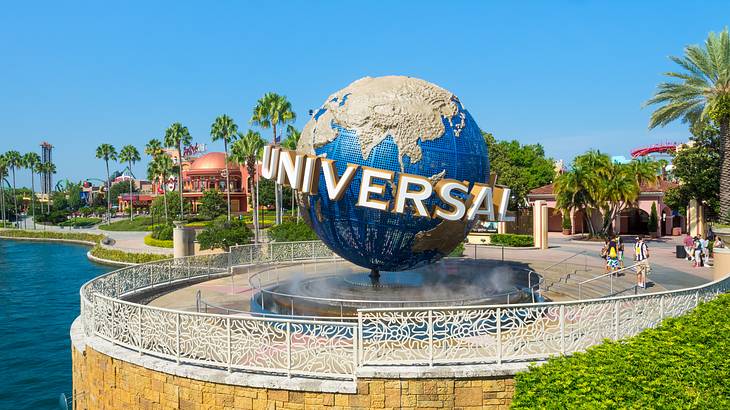 Orlando is a city known for its theme parks, but there's much more to this central Florida gem. While these parks can and do make a great date night in Orlando, this list will show you just how many other places and activities around the city are ready to show you a romantic evening.
No matter what you're into, or whether this is your first date or one-hundredth, you can find something in this Orlando date night guide to get you out of the house and sharing in some fun. Continue reading to learn more!
Disclosure: Destguides may receive commission for purchases made through hyperlinks in this article at no cost to you.
20 Orlando Date Night Ideas
Orlando Map
A map of Orlando. Use the map to explore all the date ideas.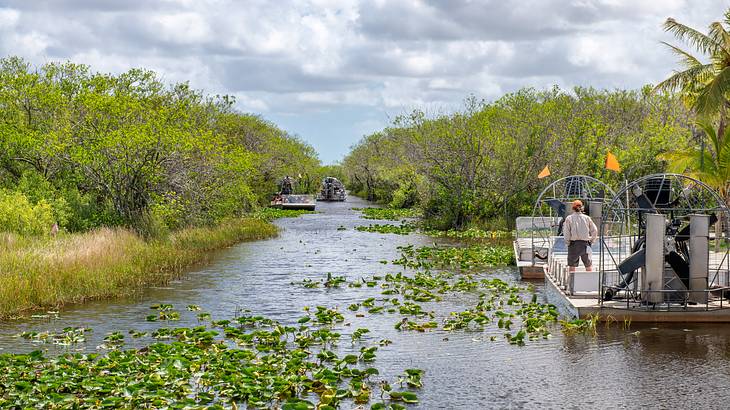 Take an airboat ride and safari drive-thru at Wild Florida
If you want to literally blow someone's hair back with your Orlando date ideas, book a tour for an Everglades airboat excursion and alligator encounter with Wild Florida Airboats and Wildlife Park. It is one of the best national parks on the East Coast and a famous world landmark after all!
Keep your eyes peeled for alligators, turkeys, and wild boars among the marshes and rivers of the 4,200-acre swampland. Back at Wildlife Park, catch the alligator-handling show before heading out on a safari to see giraffes, zebras, and other exotic animals roaming free.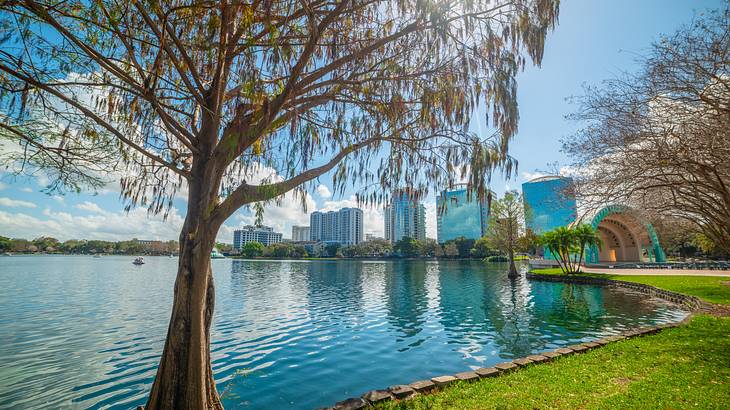 Paddle a swan boat around Lake Eola
Lake Eola in Downtown Orlando is a great place for a relaxed date. It has a nearly one-mile pathway allowing you to walk hand-in-hand around the lake's perimeter.
If you want to really crank up the romance (or at least aim for charmingly cheesy), you can rent a swan-shaped paddle boat and go out onto the lake. There are actual swans to mingle with, though you're unlikely to be confused as one of the flock.
Have "Beyond a Picnic" set you up in style
The age-old tradition of a romantic picnic is still a powerful date idea. However, to truly set an ambiance requires a lot of planning and logistics that can become overwhelming.
Orlando's Beyond a Picnic can help take your picnic to the next level by providing blankets, pillows, canopies, low tables, and charcuterie boards. You can even arrange for painting canvases or a movie screening to turn your spot in the park into one of the most romantic places in Orlando.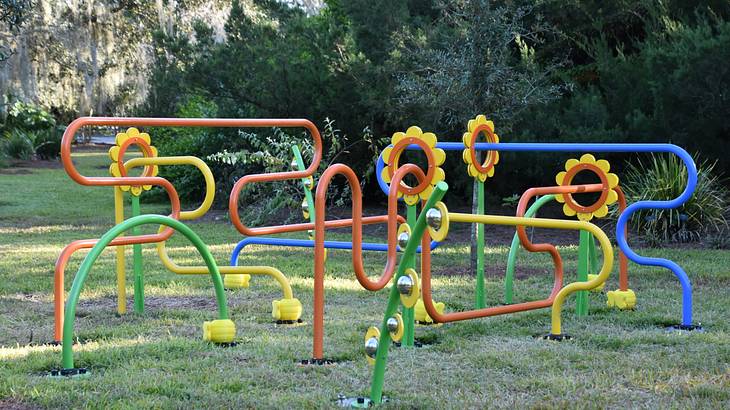 Catch an outdoor movie in Leu Gardens
Head to Leu Gardens for a colorful and aromatic stroll among the azaleas, rose bushes, and flowering trees. If you begin to work up too much of a sweat under the Florida sun, you can cool off in the shade of the elms and oaks that dot the park.
As long as it's not raining, Leu Gardens also hosts regular movie nights in the park, so check their schedule before going out.
Enjoy farm-to-table dining at Bountiful Farms Bistro
Take a beautiful afternoon drive to reach Bountiful Farms Bistro, about an hour drive from Orlando. This family-run culinary operation uses fresh, organic produce directly from their farm in all their dishes.
Ingredients and quality matter here, and they serve fresh-baked bread and pies from local bakers to complete the home-cooked, outdoor dining experience. You and your date will leave with full stomachs and fuller hearts.
Revive chivalry at Medieval Times
For a bit of nerdy fun, head to Medieval Times to be transported to a world of kings, queens, and the chivalrous knights who honor them. While perhaps not always historically accurate, it's a whole lot of fun.
You'll feast on roasted chicken while cheering your jousting champion, determined at random by the color of the crown given to you at admissions. By royal edict, Her Majesty's kitchen has vegan, vegetarian, and gluten-free fare in case you or your date prefer other options.
Ignite each other's imagination at Epcot Center
Disney's Epcot Center is a playground for grownups, and a date here is one of the most fun things for couples to do in Orlando. The iconic silver sphere of Spaceship Earth (aka the giant golf ball) journeys you through the past as it details humankind's technological advances.
Outside, World Showcase shows the world at present and lets you stroll through Bavaria before finding yourself among Japanese pavilions without ever hopping on a plane. To round out the theme, the Future Worlds exhibits will let you peer together into what may yet be in store for humanity.
Put your heads together in an escape room
Escape rooms are a way to have some brainy fun with a date, and Orlando has plenty to choose from.
You can try to launch your ship from Mars before being destroyed by a cosmic storm, survive a zombie apocalypse, or help to hatch a Loch Ness monster and smuggle it out of a lab.
Chill out in ICEBAR Orlando
If you've been in central Florida for very long, chances are that you're looking for ways to stay cool. ICEBAR will help shake the subtropical sweats and give you a chance to cuddle up to stay warm.
You can rent a parka and some gloves to stay warm while you marvel at the seventy tons of carved ice, and there's an accompanying Fire Lounge in case you start to miss the warmth.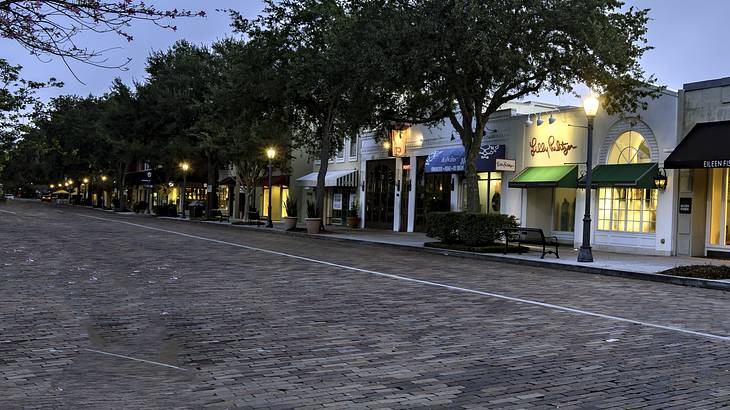 Stroll through a botanical garden in Winter Park
Winter Park started as a resort town for people fleeing the frigid north, but its upwards of seventy parks have captured the attention of locals as well.
Mead Botanical Garden in Winter Park boasts a range of beautiful flora and a butterfly garden, making it one of the most romantic things to do in Orlando for couples. After your walk, head to Park Avenue to peruse boutique shops and find a good place to eat.
Splurge on each other at Disney Springs
Disney Springs, sometimes called Downtown Disney, is a town that no one lives in. That doesn't mean you'll be alone on this date, as its population consists of throngs of day visitors, weekend trippers, and week-long vacationers. It is often included on an Orlando itinerary!
In place of homes, you'll find restaurants, shops, and entertainment that will transport you and your date into the many worlds of Disney. You can buy authentic Disney products and costumes (or show up in them), get a drink from a margarita shack, or stargaze in style at Planet Hollywood Observatory.
Spend a whole evening at Enzian Theater
If your date is a movie buff, they will love spending an evening with you at Enzian Theater. It screens one or two arthouse flicks or cult classics each day, and you can check their calendar to find their filmmaker events and other experiences, such as meeting Tommy Wiseau of "The Room" notoriety.
The movies aren't the only thing; you can have dinner and drinks at Eden Bar if you want a little more time to mingle.
Feel like a kid again at Nona Adventure Park
Nona Adventure Park will make you and your date feel like kids again. You can go splashing around in the inflatable aqua park, attempt an obstacle course, try out wakeboarding, or defy heights on a ropes course.
You can also take a break and relax with food and a beachy beverage at Splashes Bistro. All in all, this ranks as one of the most fun date ideas in Orlando for its mixture of exhilaration and relaxation.
Take a couples cooking class
Create something delicious with your date by signing up for a cooking class. Not only will you get a great dinner out of it, but you'll build your skills for date nights at home.
In Orlando, popular options are Publix Aprons Cooking School, Truffles & Trifles, and Tapa Toro.
Tickle your funny bones at SAK Comedy Lab
There's no better feeling than laughing until your cheeks hurt, except maybe getting to share that with someone else. Orlando's SAK Comedy Club can give you, and your date laughs and inside jokes for months and years to come.
If you can't catch a show, you can also learn to make each other laugh by signing up for comedy and improv classes. You can even try it out online if you want to have a date night at home.
Go ice skating in RDV Ice Den
Take your date ice skating at RDV Ice Den for a refreshing afternoon or evening out of the sun. You and your date can hold hands (for romance, support, or both) while you glide around the rink listening to music at a public skate session.
They also host hockey games and skating performances, so check the calendar to see if anything is going on for your date night.
Cruise Disney's boardwalk on a surrey bike
Located near Epcot, Disney's boardwalk offers a carnival atmosphere that makes for one of the most enchanting and memorable date ideas in Orlando. You can rent a two-person surrey bike and pedal past juggling buskers and musical performances while enjoying the sounds and smells of the shore.
You can also disembark and try your luck in the boardwalk games lining the way. If you're successful, there's plenty of room in the surrey for an oversized teddy bear.
Have some grown-up fun in Thornton Park District
Called Downtown for Grownups, Thornton Park District is part of the Main Street America program. It's been revamping itself since 2012 as a neighborhood commercial district promoting the overall health and well-being of its urban residents.
The result is a pedestrian area near Downtown Orlando with shops, restaurants, nightlife, and regular events. It's a great place to bring a date for spontaneity, choosing your own adventure as you wander around.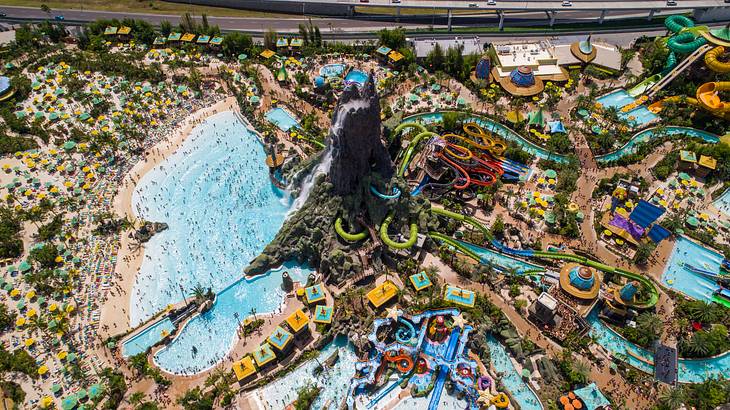 Get a bird's-eye view of Orlando from a helicopter
If you are really aiming to impress your date (and they don't have a known fear of heights), you can sign up for a helicopter tour.
Tours run either day or night, and give passengers views of Orlando's city skyline and its many theme parks.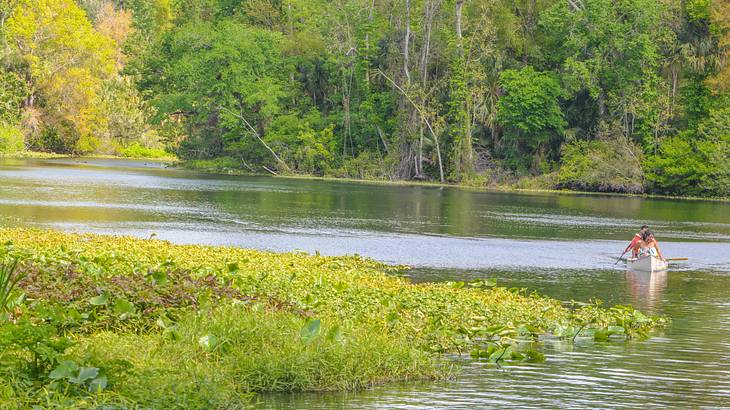 Take an eco-tour in Wekiwa Springs State Park
Kayaking is already an amazing way to see nature, but this eco-tour lets you experience the natural beauty both above and below the water.
The water of Rock Springs Run in Wekiwa Springs State Park, one of the best natural springs near Orlando, turns clear and shadow at a point called the Emerald Cut. This makes it ideal for this two-hour guided tour. You and your date can have a wildlife competition as you look for colorful fish, turtles, and small alligators.
Conclusion
This list of date ideas in Orlando should have something for everyone and hopefully has given you some inspiration for more than one date night in the near future.
Adventurers, foodies, and romantics can find some common ground, share some laughs, and make some memories with a date who's the right kind of weird.
This article was edited by Loredana Elena.
Give us feedback about this article
For more interesting articles about United States, read:
For some great articles about date ideas, check out:
---
---
Want to keep exploring?
Subscribe for discounts on tickets and hotels and our latest guides.
Thank you for subscribing
We will be in touch soon with discounts on tickets and hotels and our latest guides.
Want to keep exploring?
Subscribe for discounts on tickets and hotels and our latest guides.
Thank you for subscribing
We will be in touch soon with discounts on tickets and hotels and our latest guides.
Related articles