25 Famous Landmarks in Hawaii to Visit
Destguides may receive commissions from purchases made through affiliate links in this article.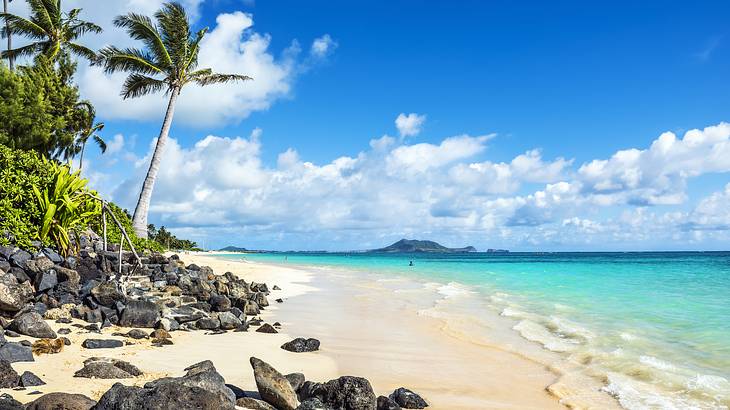 As a U.S. state made up of 8 main islands, there are many famous landmarks in Hawaii that should be at the top of your Hawaii bucket list.
While politically in North America, geographically Hawaii is part of Oceania, which means that you get the best of both worlds when you visit - American brands and customs blended with exotic sights and rich culture.
Hawaii is notorious for breathtaking national parks. There are several dotted across the islands, and they are all protected by the National Park Service that is in place across the United States.
This Polynesian archipelago promises sparkling waters and luscious backdrops, with various incredible green spaces and volcanoes to explore.
You will also find lots of cultural sites across the islands, where you can learn more about the ancient sacred rituals still important to Hawaiians today. Continue scrolling to find out more!
25 Famous Hawaii Landmarks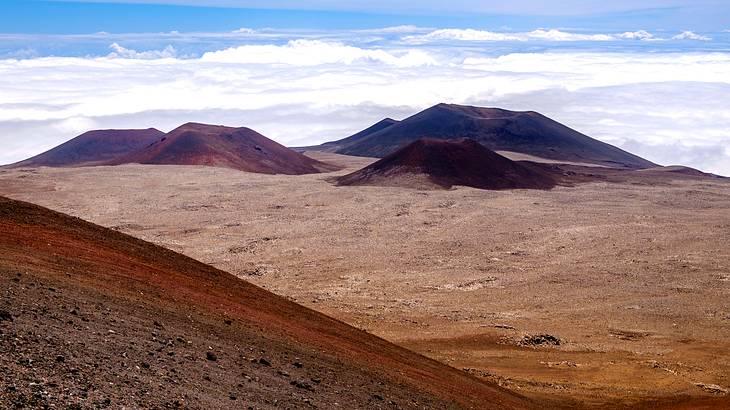 Mauna Kea, Island of Hawaii
Peaking at 4,207.3 m (13,803 ft) above sea level, Mauna Kea is a giant dormant volcano and the highest point in Hawaii.
If you start at the visitor center, it will take around 8 hours (for a round trip) to climb this volcano. While it can be dangerous in bad weather, it is relatively easy to reach the peak. Visiting with a guide is recommended.
While the volcano does not have any visible craters, you may be able to notice cinder and pumice cones near the summit if you look closely.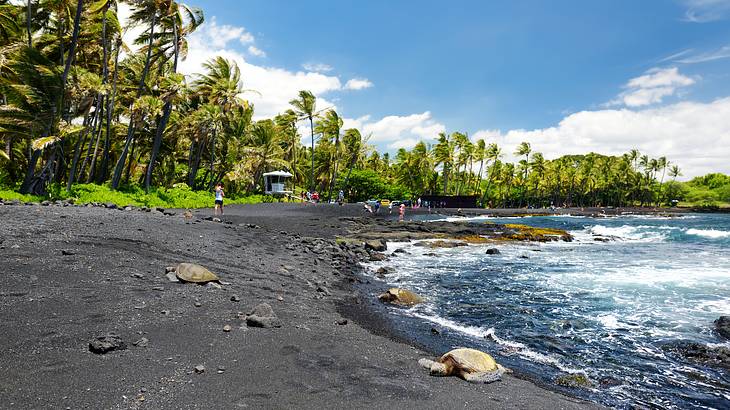 Punalu'u Beach, Pahala, Island of Hawaii
Situated on the south side of The Big Island of Hawaii, Punalu'u Beach is a unique Hawaii landmark known for its black sand and green turtles.
There are lots of things to do on this black sand beach. You can go swimming and snorkeling, take a hike along the vast coastline, or even get a permit that allows you to camp nearby.
The sand is actually made from tiny fragments of lava. Be warned that this sand gets extra hot, so make sure to relax under the shade of the coconut palms during the midday heat.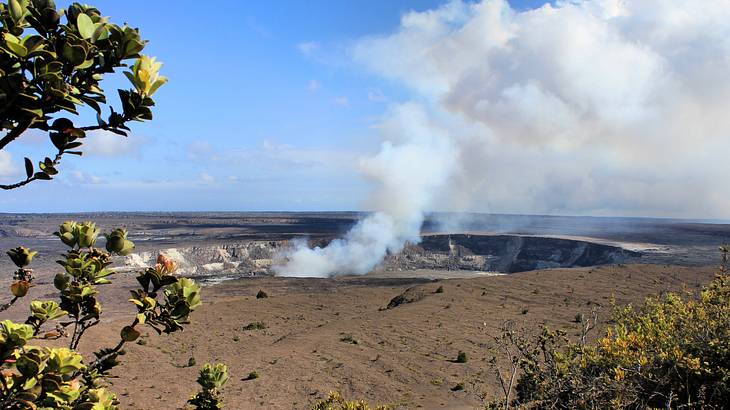 Hawai'i Volcanoes National Park, Island of Hawaii
Hawai'i Volcanoes National Park is one of the most famous landmarks in Hawaii. The park is known for protecting some of the most unique geology in the world. The area contains the summits of the two most active volcanoes in Hawaii (and the rest of the world): Kīlauea and Mauna Loa.
You can hike along one of the many paths here, or take a driven crater tour along the slopes of the national park. You can also take the Crater Rim Drive, which passes steam vents and The Jaggar Museum, which is home to many volcanic exhibits.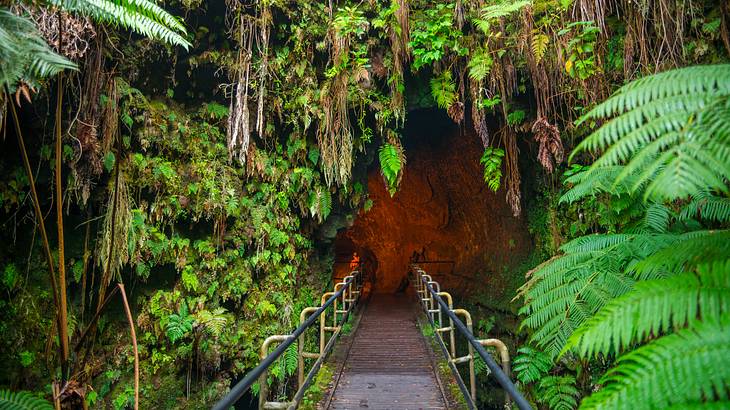 Nahuku Thurston Lava Tube, Volcanoes National Park, Island of Hawaii
One of the most important historical landmarks in Hawaii is the Nahuku Thurston Lava Tube, which is located inside the Volcanoes National Park. The lava tube is a subterranean cave that was formed by ancient flowing lava. It is an impressive landmark to witness.
When the tube was first discovered in 1913, it had droppings that had formed from dripping lava. However, these were taken from the cave by overenthusiastic collectors. It's a scenic hike to the lava tube and a vital landmark that is part of the Volcanoes Park that you should not miss.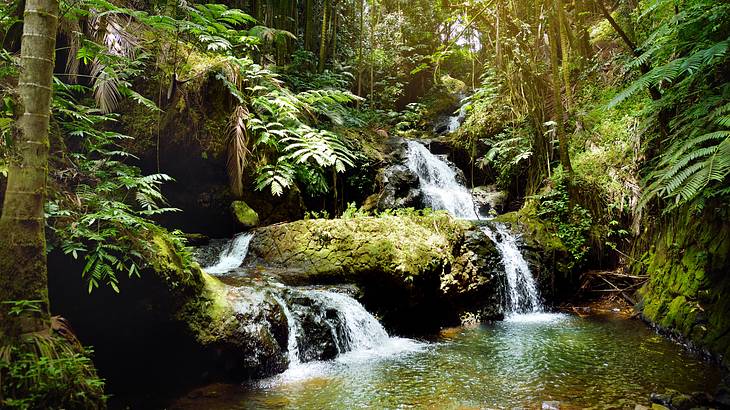 Hawaii Tropical Bioreserve & Garden, Papaikou, Island of Hawaii
Scientists, photographers, and tourists from all over the globe make the journey to the Hawaii Tropical Bioreserve & Garden to view its beauty. Because of this, it is one of the most important landmarks in Hawaii.
The garden features over a mile of biodiverse habitats and wildlife. It is also notoriously beautiful, so prepare to snap a lot of photos during your visit.
Most of the ticket revenue for the bioreserve goes towards sustainability eco-projects. This is a very worthy cause that aims to protect the natural environment in Hawaii.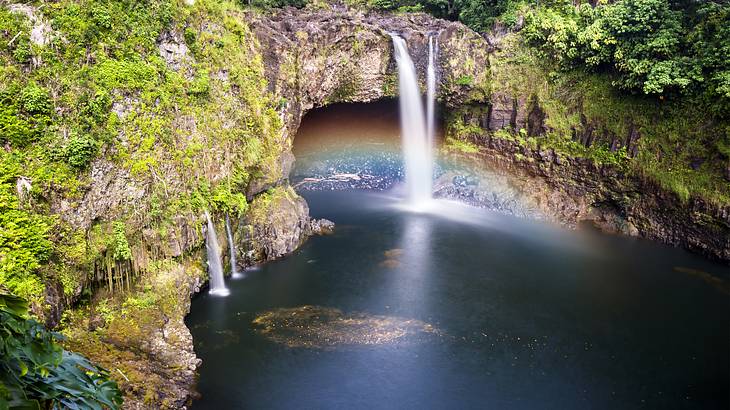 Rainbow Falls, Hilo, Island of Hawaii
Just a short distance from the town of Hilo on the main island, Rainbow Falls is a wide waterfall famous for the rainbow colors that shine through on sunny days. The waterfall is located in the Wailuku River State Park, and it takes around 5 hours to hike to the waterfall and back.
While it is not safe to swim in the water, these falls should be visited. For the best views of the Rainbow Falls, head to the viewing platform on a clear, sunny day, and you will be blessed with an incredible photo opportunity.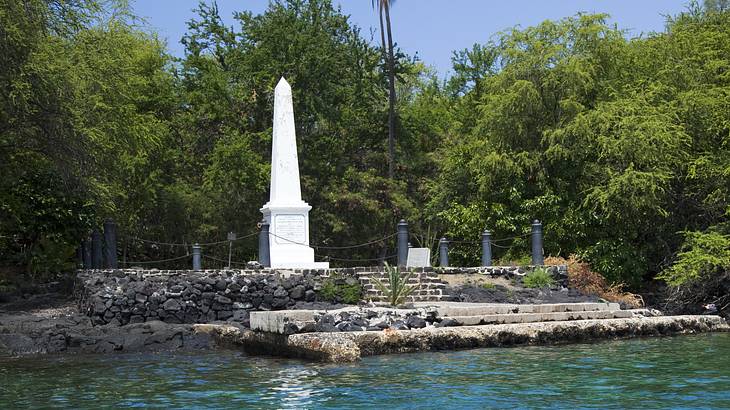 Captain Cook Monument, Captain Cook, Island of Hawaii
Located on the Island of Hawaii, the Captain Cook Monument is a 27 ft obelisk dedicated to the explorer Captain James Cook. It is one of the most famous Hawaiian monuments.
Cook and his crew first landed in Kealakekua Bay in January 1779 after repairing the mast on their boat. Despite Captain Cook's reputation for being rocky, he was said to have interacted positively with the locals.
The monument marks the rather bleak spot where Captain Cook was killed in 1779. You can reach it by boat or by a scenic hike through the national park. You can also kayak to the monument, which is just one of the many fun things to do in Kona.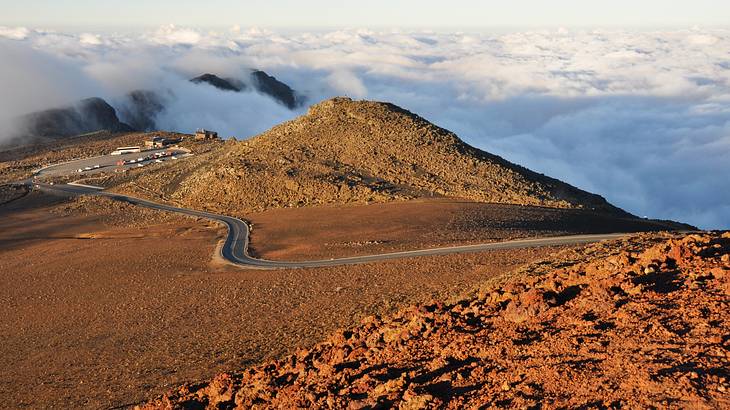 Haleakala National Park, Kula, Maui
Located on the island of Maui, Haleakala National Park is a huge area perfect for hiking up to Maui's highest peak. The sweeping views of Hawaii from here are spectacular, and the land is considered sacred by locals who regard Haleakala National Park as a highly special place. It is a must on any Maui itinerary!
One of the unique things to do in Maui is trying to catch the incredible sunset in the early hours of the morning. You will need to make a reservation in advance to ensure entry into this famous landmark in Maui!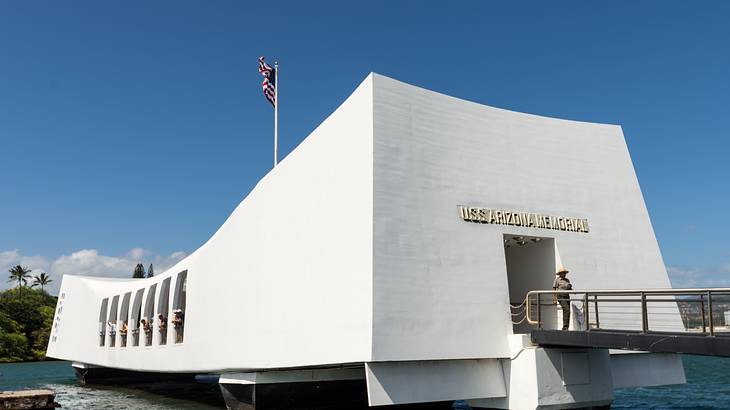 USS Arizona Memorial, Honolulu, Oahu
Also known as Pearl Harbor Memorial, this is a somber spot and one of the most famous historical landmarks in Hawaii. This spot attracts thousands of U.S. tourists each year looking to learn more about the nation's history.
The memorial stands to remember the Americans who lost their lives in the bombing at Pearl Harbor, one of the most influential moments in U.S. history. You can wander around the museum and learn more about the tragic event at the visitor center.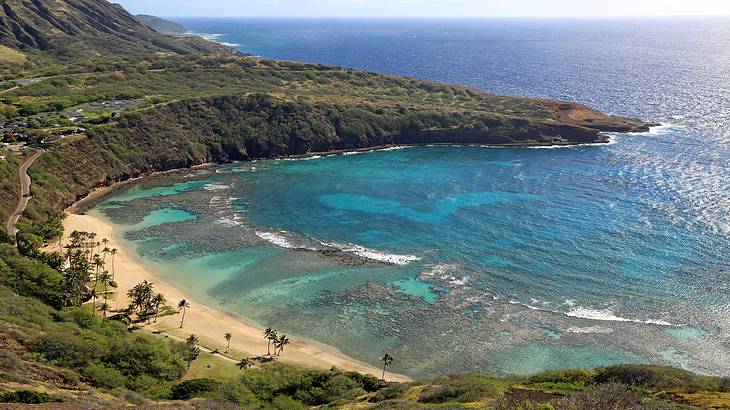 Hanauma Bay, Honolulu, Oahu
When it comes to protecting the environment, Hanauma Bay is one of the most important landmarks in Hawaii. Located to the east of Honolulu in the Hawaii Kai neighborhood, this is a really special beach area.
Rather than a regular beach park (of which Hawaii has many), Hanauma Bay is a nature reserve dedicated to marine life conservation.
You can still do most of the things you would expect on a regular beach, including snorkeling, surfing, and kayaking, but the activities are carefully planned, so they do not cause any damage. Also, any fees associated with the activities go towards protecting the animals.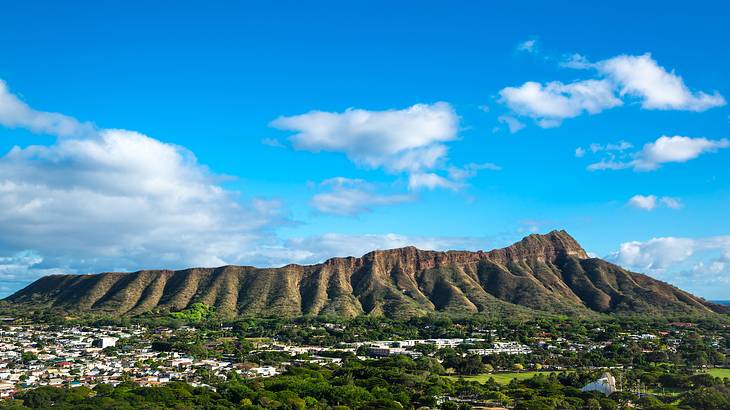 Diamond Head State Monument, Honolulu, Oahu
Hawaiians lovingly call this monument Lēʻahi because it resembles the dorsal fin of a tuna fish. The Diamond Head State Monument in Honolulu is a volcanic cone inside one of the most famous Hawaiian state parks.
The most popular thing to do here is to hike to the 300,000-year-old crater, where you will be blessed with 360 views of Honolulu and the other stunning islands that make up Hawaii. This area was also home to Hawaii's first military base, with some of the installations remaining visible today.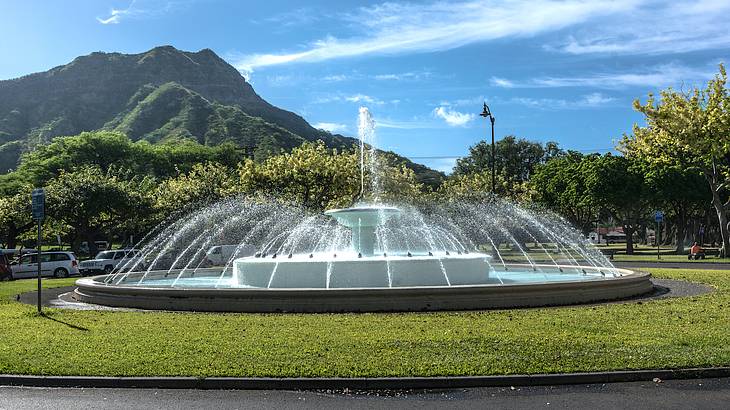 Kapiʻolani Regional Park, Honolulu, Oahu
Located in Waikiki, Queen Kapiʻolani Regional Park is one of Hawaii's oldest and largest public parks. It first opened in 1877 after being home to a horse racing track and is one of the popular landmarks in Waikiki.
The park boasts the Honolulu Zoo as well as the Waikiki Shell, a live music venue that hosts a number of concerts throughout the year. There are also several sports courts where you can get involved in basketball and tennis, as well as many spots to relax with a picnic under the sun.
Honolulu Zoo, Honolulu, Oahu
Honolulu Zoo is one of the major landmarks in Hawaii, loved and visited by both tourists and locals. The park first opened in 1947, although the administrator Ben Hollinger had been collecting animals to eventually show there since 1914.
Interestingly enough, it's the only zoo in the entire United States to be commissioned by a sovereign monarch. It is built on a 42-acre site in the Royal Queen Kapi'olani Park. This alone makes it worth a visit, but you're also getting to see some of the rarest creatures in the world, including the Galapagos Tortoise and the Gharial.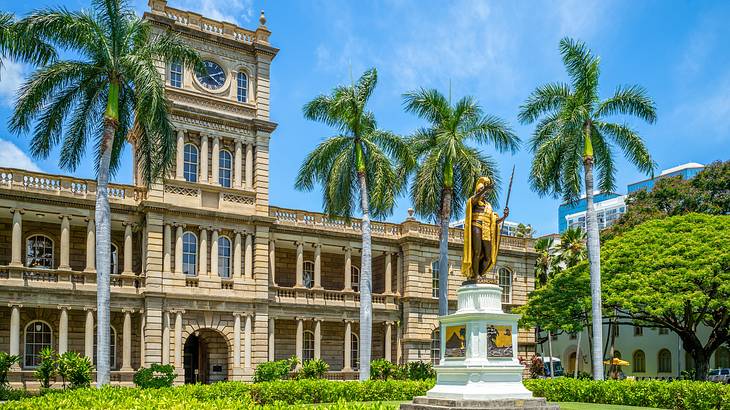 Iolani Palace, Honolulu, Oahu
Iolani Palace is one of the most important historical places in Hawaii. It was previously home to some of the most famous royal rulers of the Kingdom of Hawaii, including King Kamehameha and his family, and more recently, Queen Liliʻuokalan.
You can book a guided tour of the palace, which will give you unlimited access and behind-the-scenes knowledge. Or, tour Iolani Palace at your own pace to discover the many royal secrets that this residence holds.
A statue is dedicated to King Kamehameha opposite the palace, which you should also visit while you are nearby. Do consider visiting this popular Honolulu landmark when in the area!
Honolulu Museum of Art, Honolulu, Oahu
The Honolulu Museum of Art (HoMA) is the best place to view some of Hawaii's greatest artistic talents. This is the largest art museum in the state, founded in 1922 by Anna Rice Cooke. Work on show here includes an extensive collection of Japanese art and Mediterranean pieces.
The HoMA also hosts many special events throughout the year, including summer nights with pizza and live DJs and exclusive showings at the attached Doris Duke Theatre. This theatre is Hawaii's main arthouse cinema.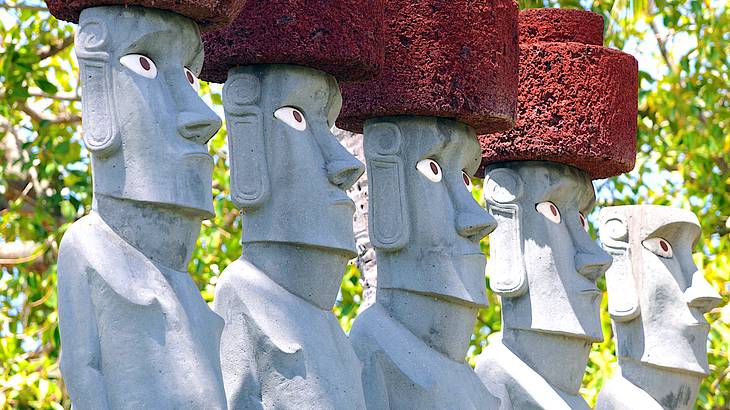 Polynesian Cultural Center, Laie, Oahu
The Polynesian Cultural Center is next on this list of famous Hawaiian landmarks, and it is particularly fascinating for tourists to visit. It is more of a theme park, but the center allows visitors to explore Hawaii's rich heritage and the important cultural traditions still present on the islands today.
Start the day by exploring the different cultures in the authentic replica villages with the locals, and end your journey with a traditional Luau celebration while eating delicious Hawaiian cuisine. If you want to learn more during your trip about Hawaiian culture, this is a brilliant place to start.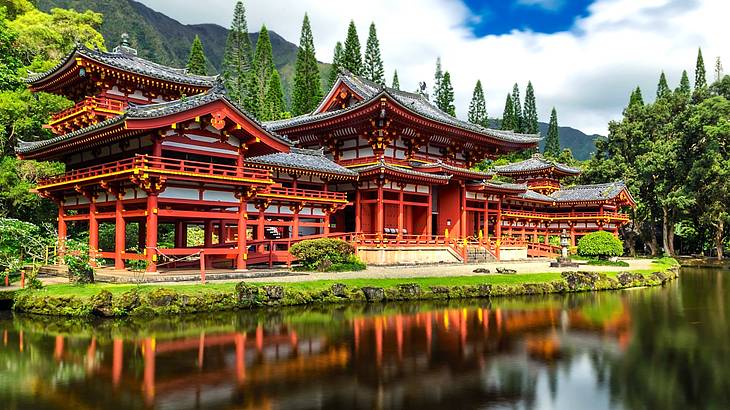 Byodo-in Temple, Kaneohe, Oahu
Byodo-in Temple is among the many unique places to visit in Hawaii and is located on the island of Oahu. In 1968, this Buddhist temple was opened to celebrate the 100th anniversary of the first Japanese immigrants that came to Hawaii. It's still used by the Buddhist population of Hawaii today.
This temple is seriously beautiful and unlike any of the other famous landmarks in Hawaii. Visitors can appreciate the temple's architecture and gardens, soaking in the area's serenity.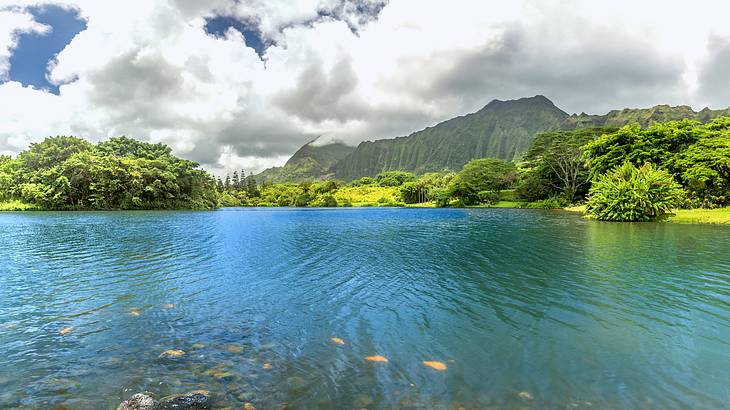 Ho'omaluhia Botanical Garden, Kaneohe, Oahu
Perhaps one of the most breathtaking Hawaiian landmarks is the Ho'omaluhia Botanical Garden. Verdant green landscapes line the park, which is filled with thousands of species of plants and trees and plenty of fish in the many ponds and lakes scattered throughout it.
You can even camp in the botanical garden, which is a magical experience, although you will need to book your campsite before you go. For some much-needed relaxation away from the hordes of tourists, pay a visit to the Ho'omaluhia Botanical Garden in Oahu.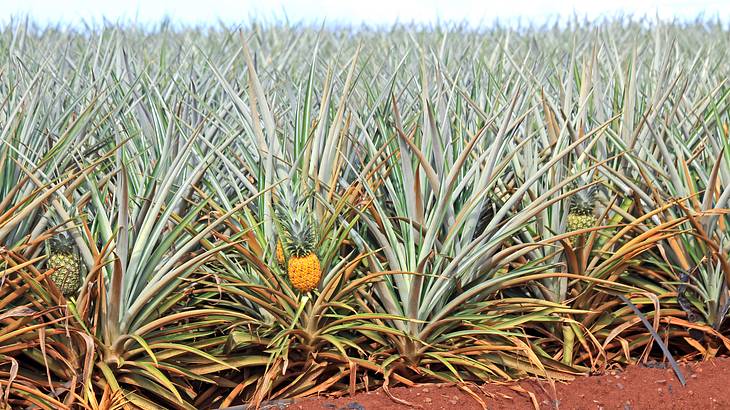 Dole Plantation, Wahiawa, Oahu
Located on the island of Oahu is one of the more unique places to visit in Hawaii. The Dole Plantation is dedicated to all things pineapple and is a brilliant place for families to visit.
Since 1989, the iconic Dole Plantation is a popular tourist hotspot, with the largest maze in the world and a fun train ride through the pineapple-lined fields.
You should also pay a visit to The Plantation Grille, where you can grab some traditional Hawaiian food. And, of course, you must have a Dole whip when you visit this top attraction in Oahu.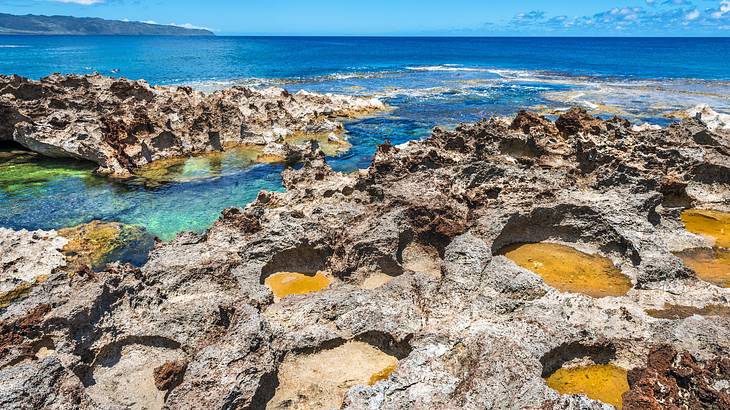 Shark's Cove, Pupukea, Oahu
On the northern edge of Oahu, Shark's Cove is one of the best places to scuba dive in the whole of Hawaii. This rocky coastal area is named after its shark-like appearance from above, and the many rock pools and clear waters make it the perfect place to go rock fishing or take part in other water sports.
The beach is very rocky, so if you are looking to relax on the sand, you should head to Lanai. But those who want to have an active experience will love visiting this popular Hawaiian landmark.
Paradise Cove Luau, Kapolei, Oahu
While some people may say that this is a slight tourist trap, for those visiting Hawaii for the first time, there is no better experience than the one at Paradise Cove Luau.
Spend an evening on the islands eating delicious Hawaiian cuisine, watching a traditional Luau show complete with fire eaters and dancers, and celebrating Hawaiian culture.
Although packages for the nighttime spectacular may seem expensive, this is an unforgettable Hawaiian evening of fun with plenty of add-ons included. For those who want to experience Hawaiian culture in its entirety, give this a go.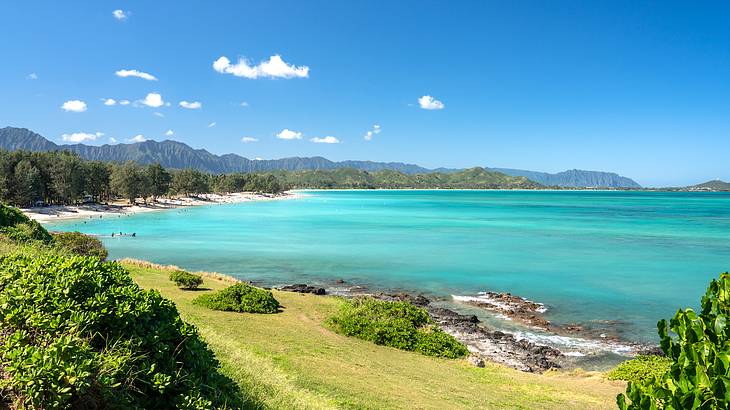 Kailua Beach Park, Kailua, Oahu
A fun thing to do in Oahu is to visit Kailua Beach Park and spend an afternoon exploring the two-and-a-half-mile-long beach. The neighboring Lanikai often overshadows this beach, but it is just as pretty and usually less busy.
Kite and windsurfing are very popular here, and there are plenty of companies that will take you out on the water so you can experience these fun sports.
This beach also has picnic benches and changing and restroom facilities, so it's a brilliant place to bring the whole family. Relaxing at this stunning outdoor space will help you understand why the Hawaii nickname Paradise of the Pacific was created!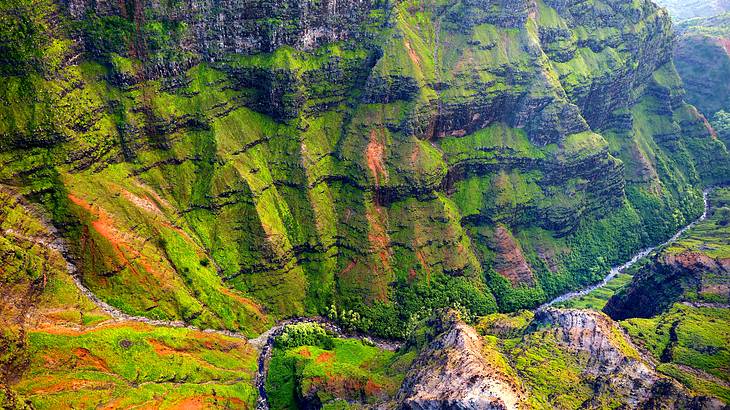 Waimea Canyon State Park, Waimea, Kauai
Enter the large Waimea Canyon State Park on Kauai island and experience one of the most popular natural landmarks in Hawaii. It really is one of the most magnificent places to hike in the whole of the Hawaiian archipelago.
With a vast mountain-top gorge and impressive canyon views, it's no wonder that this place is often referred to as the 'Grand Canyon of the Pacific'. The road to the canyon is beautiful and winding, so make sure to stop and take lots of pictures along the way.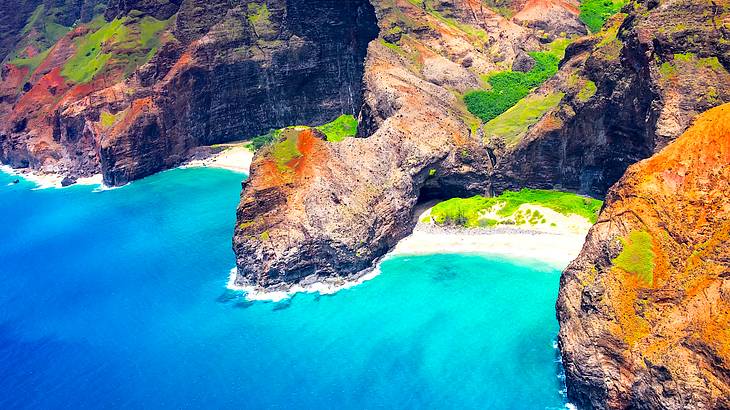 Nāpali Coast State Wilderness Park, Wainiha, Kauai
Nāpali Coast State Wilderness Park lies on the northwestern edge of Kauai Island. It is another of the many state parks that Hawaii boasts and is one of the most famous landmarks in Kauai.
Sixteen miles (26 km) of coastline stretches across this part of Kauai, between the beaches of Polihale and Kee. As one of the most beautiful coastlines in the world, it features picture-perfect beaches, dramatic clifftop views, and valleys with cascading waterfalls.
The best thing to do here is to take a 2-mile hike to the beauty that awaits at Hanakapiai Falls, or spend some time in Kalalau Valley.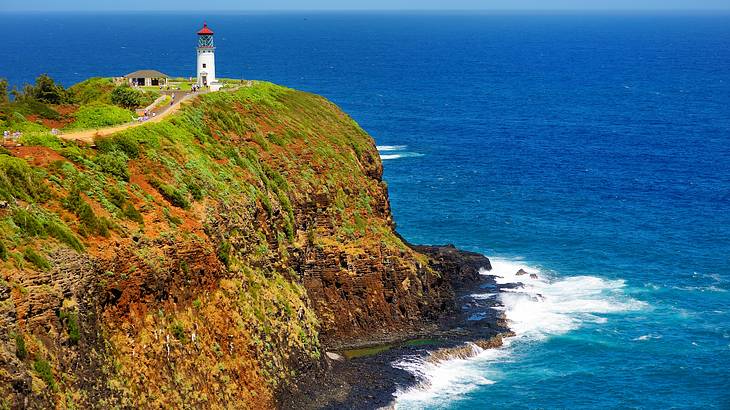 Kīlauea Lighthouse, Kilauea, Kauai
Located on the most northern point of Kauai, Kīlauea Lighthouse is a centuries-old lighthouse and now a popular tourist attraction that you must visit when in Hawaii.
It was initially built in 1913 when many lighthouses were commissioned across the US. It was later dedicated to Senator Inouye, who was a key campaigner for getting the funds to fully restore the lighthouse.
Today, it's a brilliant photo opportunity located in a really tranquil area of Hawaii. The beach nearby is a great spot to relax on too.
In Summary
These are the 25 most famous landmarks in Hawaii that you should explore when you visit the state. With impressive national parks, important monuments, and fun tourist spots, it's no wonder that around 10 million tourists visit Hawaii each year.
Make sure that you add these impressive Hawaiian landmarks to your bucket list when visiting the magical Islands of Aloha.
Give us feedback about this article
More visual stories related to this article:
---
---
Want to keep exploring?
Subscribe for discounts on tickets and hotels and our latest guides.
Thank you for subscribing
We will be in touch soon with discounts on tickets and hotels and our latest guides.
Want to keep exploring?
Subscribe for discounts on tickets and hotels and our latest guides.
Thank you for subscribing
We will be in touch soon with discounts on tickets and hotels and our latest guides.
Related Articles