Best Time to Visit Hawaii for Weather, Prices, and Crowds
Destguides may receive commissions from purchases made through affiliate links in this article.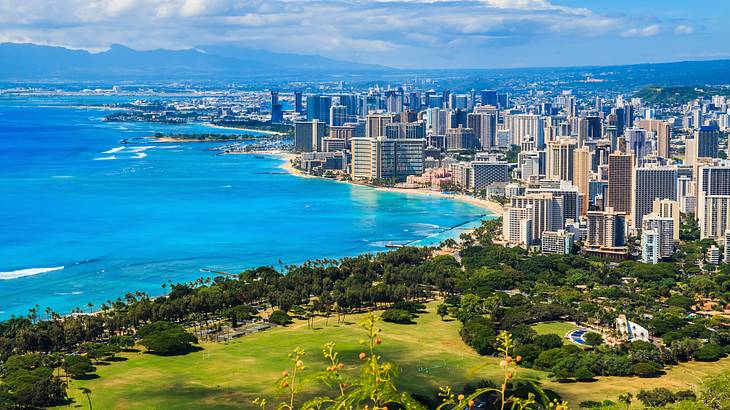 Once you've set your mind on a tropical vacation to these beautiful islands, you'll probably want to know when the best time to visit Hawaii is. Unfortunately, there's no cut-and-dried answer because it depends so much on your preferences as a traveler.
The warmer months are easily the best time to visit when considering the weather, but these are also some of the most crowded times on the islands. The off-seasons when school is in session have fewer tourists and some of the best prices, but the weather can be more unpredictable.
There's a lot to consider when assessing what time of year you'll be heading to Hawaii. You don't have to worry, though; just keep reading this article to learn everything you need to know to decide when's the best time of year for your Hawaiian vacation.
Hawaii Travel Tips
Hawaii Best Time to Visit Tips Video
Check out our highlights video of Hawaii best time to visit tips.
Hawaii Vacation Planning Questions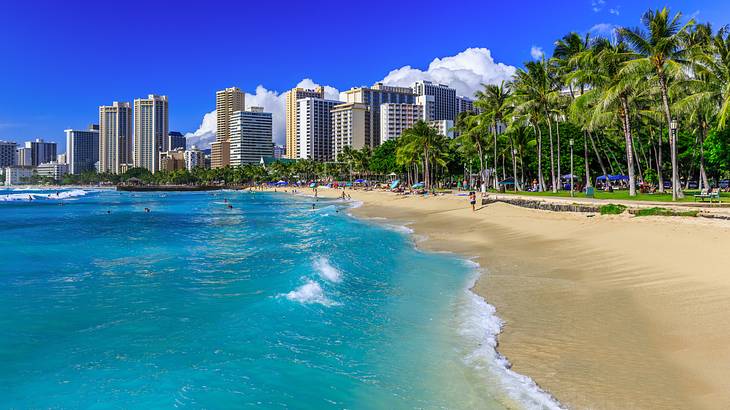 When is the best time to visit Hawaii?
For many people, the best time to go to Hawaii is during the spring and summer seasons between March and September. That's because these months have the best weather.
Temperatures rise steadily during spring and summer and usually reach a peak in August before slowly falling again. Keep in mind, since Hawaii is located in the tropics so the warm temperatures also come with humidity which can be draining for some.
It's worth noting that Hawaii generally has warm temperatures all year, including during the winter. That's part of what makes the Hawaiian islands popular Christmas vacation getaway spots. If there are any particular events you'd like to see, for example, the Shinnyo Lantern Floating Hawaii at the end of May, that will affect the timing of your visit.
When is the cheapest time to go to Hawaii?
The cheapest time to go to Hawaii is during the low tourism seasons which occur in spring from the end of March through the beginning of June and again in the fall, from the end of September through the beginning of December.
Visiting Hawaii, unfortunately, isn't cheap, but there are ways to cut costs. Usually, your biggest expenses during your trip will come from travel and lodging.
Since Hawaii isn't part of the continental US, you can either take a boat to the islands or fly. Most people will choose to fly because it's faster. However, both boat and plane tickets can be expensive.
When is the cheapest time to fly to Hawaii?
If you're trying to save money on your flight, the best time to travel to Hawaii is during February and March. That might surprise you since most of this time still falls under the Hawaiian winter tourist season.
During February and most of March, it's not ideal for families to travel since school is back in session. To entice people to continue taking vacations throughout the winter, and to avoid a sudden drop in ticket sales after January, airlines routinely lower their prices around this time.
On the other hand, the most expensive flights to the "Aloha State" come right before this period. December and early January are, on average, the priciest times to fly to Hawaii.
When is tourist season in Hawaii?
Due to Hawaii's year-round nice weather, you could say that it's always "tourist season" on the islands. However, there are seasons that see more visitors than others.
The "high season" for tourism occurs twice during a typical year. The first influx of tourists happens in the summer, usually from mid-June until mid-September. The second happens around the winter holidays, from mid-December until the end of January.
February is also a busy month on the islands because flights usually start to go down in price, making the trip more affordable. March and April can also bring a lot of tourists to the area depending on when Easter falls during the year.
When is the rainy season in Hawaii?
As far as the weather is concerned, there are only two main Hawaii seasons you should know about--summer, which lasts from May until October, and winter which lasts from November until April.
The summer months tend to have the best weather. Temperatures are warm and, usually, the sun will shine daily. The winter months make up the rainy season in Hawaii.
However, just because it will probably rain if you visit during winter doesn't mean your plans will be ruined. There's a saying that if you don't like the weather in Hawaii, just wait ten minutes. Rain is usually localized, so while a shower might suddenly come from nowhere, it will go away just as quickly.
When is the best time to avoid crowds in Hawaii?
Unfortunately, in Hawaii, there's never a time when you'll be among only a handful of tourists. After all, it's a fun Hawaii fact, but not a surprising one that millions of people visit each year throughout the year. However, there are times when you'll find more crowds than others.
Hawaii's busiest seasons for tourists are during the summer and winter. From late July until mid-late September and around Christmas and from the second week of December until the end of January, children are usually on winter break so a lot of families can travel.
In general, any major US holiday that could lend itself to an extra few days off from school or work, like the 4th of July, Christmas, or Easter, will usually be a busy period in Hawaii.
To avoid large crowds, it's best to plan your trip between the end of February through the end of April; just make sure you avoid Easter. There will likely be spring break tourists, but overall there will be lower crowd levels. Alternatively, you can visit between the end of September and early December.
Best Time To Visit Each Hawaii Island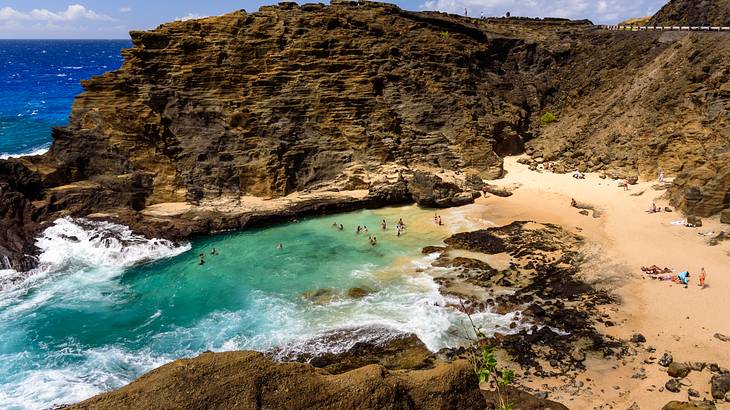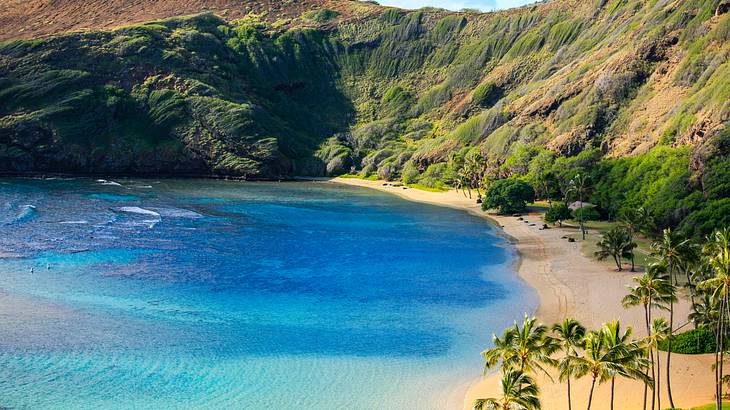 Which is the best island to visit in Hawaii for first-time visitors?
Once you've decided when to visit Hawaii, you'll want to choose which island or islands to travel to. If this is going to be your first time on the islands, the decision might feel a little daunting.
There are eight major islands in Hawaii, all of which have long lists of reasons why you should visit them. However, when it comes to getting your first taste of what the islands have to offer, most people agree Oahu is the best place to go.
Oahu is the third-largest of Hawaii's islands, and it's where you'll be able to learn more about Honolulu, the capital. It offers the best mix of local culture, activities, and amenities for visitors. So, if you don't have anything drawing you to one of the other islands, Oahu should top your list.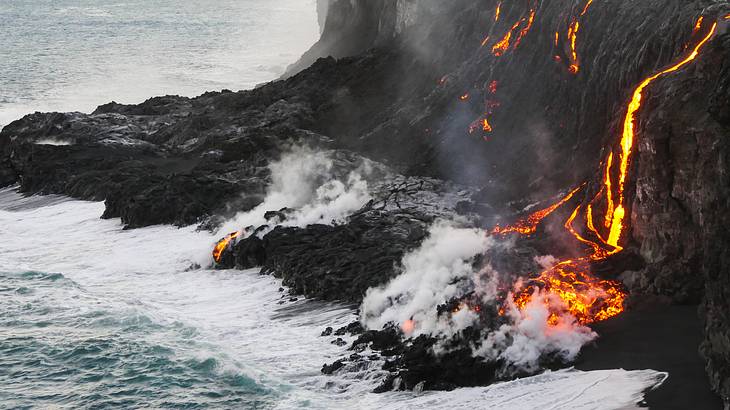 When is the best time to visit Big Island Hawaii?
As its name would lead you to believe, Big Island is the largest island in Hawaii. Visitors have ample opportunity to participate in loads of fun activities like snorkeling with Manta Rays and touring the Volcano National Park.
Most people recommend setting aside at least five days to visit Big Island. However, that length of stay could change depending on when you visit.
The busiest times to travel to the island are July, December, and January. Yet just because those are the busiest periods doesn't mean they're the "best."
According to the locals, April, May, August, September, and October are ideal times to visit, especially if don't want to encounter large crowds of tourists but you still want to take advantage of Hawaii's summer weather.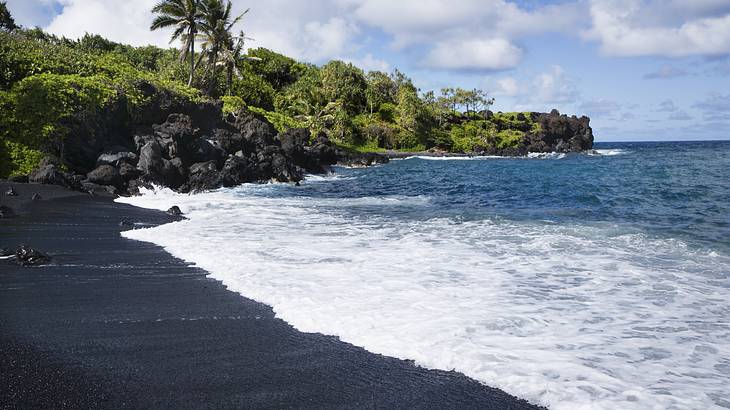 When is the best time to visit Maui?
Any list of Maui's fun facts or destinations mentions its beaches and wildlife. It's often the island that comes to mind when thinking about a Hawaiian paradise and it's typically used in promotional images of Hawaii.
It would be difficult to find a bad time to visit Maui, but you might find certain periods of the year to be more ideal than others. That's especially true if you don't want to deal with a lot of crowds.
Locals recommend coming to the island between April and June. During those months, the weather is warm, but it's not sweltering, which also makes the humidity easier to tolerate. During this time, many visitors go on a snorkeling tour of Molokini, a small volcanic crater that is partially submerged in the ocean. You'll likely encounter some crowds during this time, but they won't be as bad as during the July-September and late December-February seasons.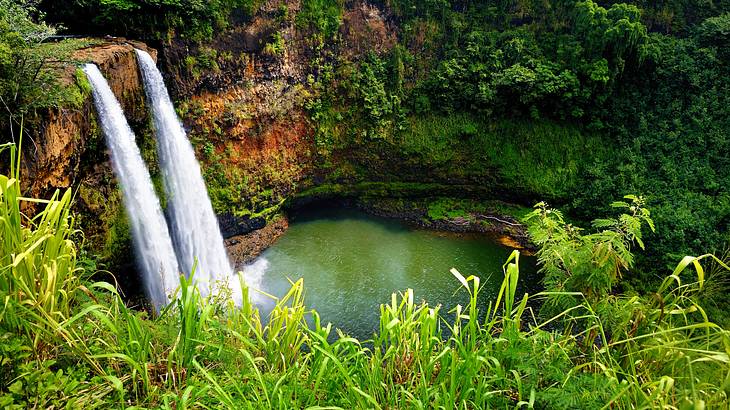 When is the best time to visit Kauai?
There's some overlap between the best time of year to visit Hawaii in general and the best time to plan a Kauai itinerary. Since the island is known for its scenery, and many of its main attractions are outdoors, visiting when the local flowers are in bloom is a top priority for many tourists.
If going during the summer stretches your budget, don't worry. There are a lot of free things you can do on the island, like whale watching from the beach.
However, you don't have to go to Kauai during the height of the summer season to enjoy the views. There are still vibrant colors and lush greenery to see during the fall and spring as well as plenty to do during your Kauai excursions (such as to Na Pali for a snorkeling adventure).
Between April and June, the island's plant life will come into its peak season. Between September and early December, the seasonal rains will start which will make the island lusher before becoming more frequent towards the end of December.
The April-June and September-December months also have the advantage of being "less popular." Accommodation on the island is typically cheaper, and there are fewer crowds. These spring and fall seasons usually mean fewer crowds at the island's more unique attractions, like Wailua Falls.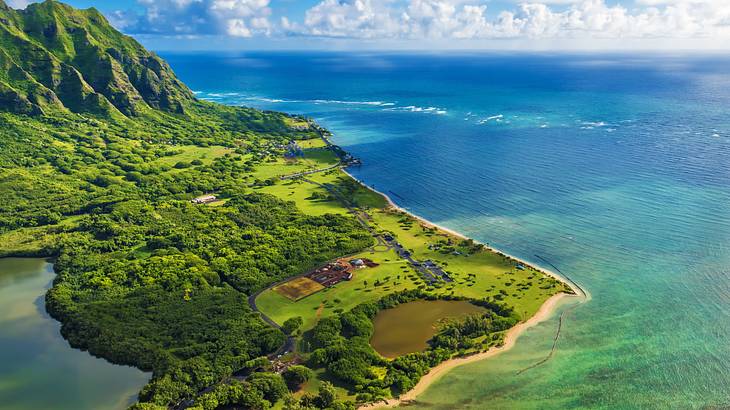 When is the best time to visit Oahu?
Oahu is one of the most popular vacation destinations in Hawaii. It blends Polynesian culture and modern luxuries in a seamless way that makes it a unique and ideal place for a getaway.
If you've read enough fun facts about Oahu to put it at the top of your list of places to see, there are a few things to consider before you book your trip. It's one of the bigger islands in Hawaii, so it's already going to be a bit more overrun by the locals, so you might want to avoid adding tourists to the mix when you're planning your Oahu Itinerary.
Avoiding the tourist season also lowers the cost of your accommodation, and flights usually aren't at their peak prices. If that sounds like your type of vacation, consider booking in the April-May or September-October periods.
The April-May and September-October periods also mean fewer crowds in the Hawaiian capital, Honolulu. Not only does that make your days less hectic, but it also means you can participate in the city's nighttime attractions more easily.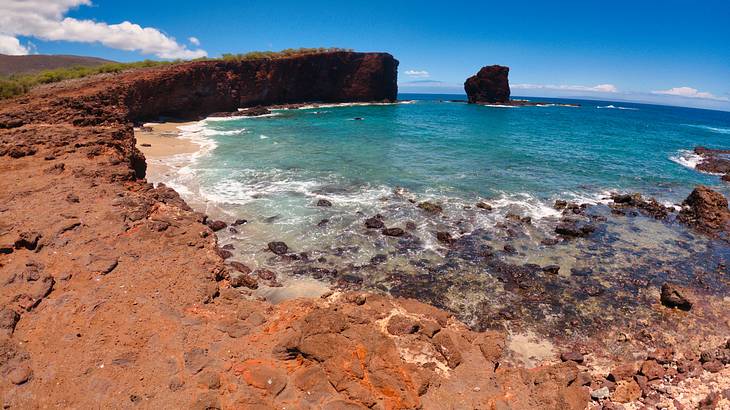 When is the best time to visit Lanai?
Since Lanai is close to Maui, many people decide to split their Hawaiian vacation between the two islands. So, the easy answer to this question would be to simply say "Whenever you go to Maui!"
However, there are a few Lanai-specific things to consider as well. For one, Lanai is a smaller island, so a lot of people do day-trip excursions there. That means that during the day there can be an influx of people, but the crowds tend to thin out towards the evening all year round.
If you decide to stay on the island, you're less confined by the off-season September-early December and April-June periods, and you can consider other things like the weather. Between June and November, there's less rain and the higher temperatures people expect from Hawaii.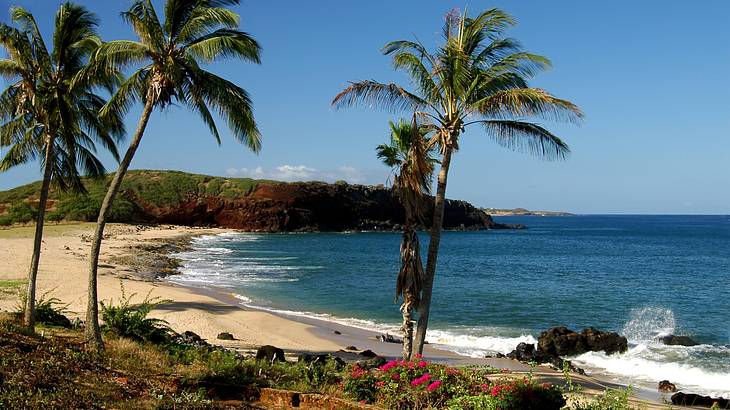 When is the best time to visit Molokai?
The best months to visit Hawaii coincide with some of the best months to visit Molokai. June through September is warm without being swelteringly hot because the island is hit by the trade winds, which keep it cooler.
Molokai's landscape is largely untouched by development, so going when the weather is nicest will give you the best opportunity to take in the sights. However, that's also when travel costs and crowd levels will be at their highest.
If you don't want to deal with milling crowds or you're on a tight budget, don't worry. Molokai is still beautiful during the fall, winter, and spring as well. You'll just have to be prepared for more rain and cooler temperatures.
Weather, Prices, and Crowds in Hawaii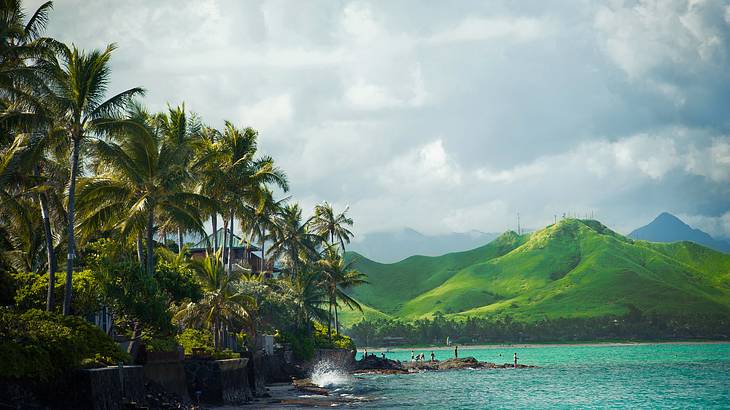 Hawaii in January
Traveling in January can be a smart choice for many reasons. The average temperature tends to hover around 80 degrees Fahrenheit during the month, so it's pleasantly warm, especially if you're visiting from somewhere cold.
Depending on when you visit during the month, prices might start to be more affordable as well. The first half of January is part of the winter peak season, but you can sometimes find hotel or flight deals starting to appear towards the end of the month.
Most children are back in school by the middle of January, so there are usually fewer tourist families on the islands. It's also too early for spring break vacationers, which also lowers crowd levels.
Hawaii in February
Hawaiians love when February comes around because it means fewer crowds to deal with compared to the holiday season. This also makes it an ideal time to go to the islands if you don't want to deal with everywhere you go being busy.
The reduced crowds are also better for people traveling on a budget. To encourage people to travel, airlines often offer some of their lowest prices around February making it the cheapest time to visit Hawaii.
The weather during February isn't the "best," but in Hawaii, that still means you'll have plenty of sunshine. You'll need to be prepared for sudden rain showers and misty precipitation that will last for a few minutes at different times throughout the day.
Hawaii in March
March is one of the best months to travel to Hawaii if you're looking for a good deal. To compete with other spring break locations, prices for flights are usually a little lower than in warmer weather months.
However, since March is considered fairly budget-friendly and it coincides with spring term vacations at many schools, there will be more crowds. However, you won't find as many families around this time either unless Easter falls earlier in the year.
If you're ready for beach parties at hotels and pools around the larger islands, March is a great time to visit. However, if you want more rest and relaxation, you should plan to go during the less busy April.
Weather-wise, there are fewer showers and March temperatures usually hover between 77 and 83 degrees Fahrenheit.
Hawaii in April
If you're looking for the lowest Hawaii hotel prices, April is, in general, going to be the best time for you to visit. It's between tourist seasons, so prices are lower to encourage crowds to spread their visits to span a longer period.
Since families with kids in school can't take advantage of April's prices, most tourists during this time are couples or people visiting on spring break. In general, attractions aren't too busy during this time of year, but there is a notable increase in crowds compared to February and March.
The weather is also ideal during April. Temperatures are warm, but the humidity index is bearable. The ocean starts to warm up during April, so you can swim comfortably.
While each island's weather can vary slightly, April tends to be a pretty dry season. That makes it the perfect month for outdoor activities like seeing Oahu's sunsets or exploring Kono.
Hawaii in May
May is, in general, part of the low season in Hawaii, but things on the islands can change drastically from week to week. The first and last week of May tend to be the busiest with the middle of the month being less frenetic.
The first week of May closes out the tail-end spring break tourists. Instead, the last week of the month sees the first families invading the Hawaiian islands at the end of the school year. During these mid-month weeks, the popular islands get busier, but the periods before and after are more peaceful.
Costs during May will also vary similarly, though prices will start steadily rising with fewer deals than you'll find in earlier winter or spring months like February or April.
The weather is the main reason why people come to Hawaii in May. Even though temperatures start warming up during the month, Hawaii's summer is in full swing with bright, sunny, and warm days. It's one of the most recommended times for hiking, especially if you're planning to see natural landmarks like Maui's waterfalls.
Hawaii in June
June is widely regarded as the best month to visit Hawaii if you're dead set on going during the summer. Though there are still crowds and you won't find the cheapest deals, it's still considered manageable compared to later in the season.
Since the tourism industry knows it can count on a steady stream of travelers during June, there are fewer deals, but the prices haven't reached their all-time peak yet and you could be lucky and find a canceled cheap flight or hotel room.
Depending on your crowd tolerance, June might be an ideal or a poor time for you to visit. There are more events and beach parties, so that's great if you like to be where the action and excitement are. You might encounter tourists who have come to celebrate King Kamehameha Day on 10 June. However, none of the islands are too overcrowded, yet.
June also has the best weather in Hawaii. Temperatures are warm, but nights cool off and it's breezier. Of the summer months, it's the mildest for heat and humidity, and that's often considered a good thing.
Hawaii in July
July is one of the busiest tourism months in Hawaii. Crowds start to pick up around Independence Day on the 4th and stay steady through the end of the month.
The increase in tourists is largely due to the US summer vacation permitting more families the opportunity to travel. There are many attractive child-friendly activities on Kauai, Oahu, and the other islands. There's usually very little rain and the ocean is warm enough to swim, surf, or snorkel. This is a big drawcard for Americans and global travelers.
As you might have guessed, July isn't a good month for cheap travel to Hawaii. It's one of the most expensive months for both flights and hotel rooms. You might be able to find a deal if you can book well in advance or at the very last minute, though.
Hawaii in August
Along with July, August is the busiest time to visit Hawaii. Summer is in full swing during this month and many people are taking advantage of the last few weeks of the season to travel before fall arrives.
August is also one of the months with the most events which draws even more visitors to the islands. For example, surfers and athletes from around the world flock to Oahu for the Duke's Oceanfest at the end of August when the waves are consistent and the water is warm. Though you can visit the statue in Duke's honor for free all year.
Since so many people are coming to the island in August, it's one of the most expensive times to travel. So, be prepared to spend more on your flight and a room with basic amenities.
The weather in August is generally pretty close to perfect, but it's also the hottest month with temperatures in the high-80s every day. So, if you're not someone who does well with the combination of heat and humidity, this might not be the right time for you to visit. It is, however, the best time to go if you plan to take advantage of some of the best snorkeling spots in Oahu.
Hawaii in September
Right after the huge crowds of August have left, you'll find some of the cheapest Hawaii hotel prices around. By the middle of September, Hawaii usually heads into one of its slower seasons for tourism.
Prices for hotels are lowered during September to entice single people or couples to come to the islands after school starts for families and college students. Though flights will typically be around mid-range in price, you can still potentially save a lot by traveling during this month.
September also gives you a chance to visit the Aloha Festivals that take place around the islands throughout the entire month and celebrate Hawaiian culture. You'll even see a mix of tourists and locals at these events.
The weather is pretty mild during September. Temperatures will slowly start to drop during the month and you might notice more frequent showers.
Hawaii in October
October is quickly becoming the best month to travel to Hawaii. It's perfectly placed in the year to offer you good weather, good prices, and events that aren't overwhelmingly crowded.
Since Hawaii's average temperature rarely drops below 70 degrees Fahrenheit during the daytime, you never have to seriously worry about being cold. So, even though October is cooler than the summer months, you'll still be warm. Better yet, the water will still be warm if you want to swim or dive.
Hawaii's October prices are also pretty reasonable. You won't find the cheapest flights or hotel rooms across the board, but they also won't skyrocket. You'll also be able to shop around calmly and look for deals because places won't sell out instantly.
Many of the cultural events that take place during the month tend to have an even more authentic feel to them because they're aimed at locals more than tourists. The Emalani Festival on Kauai in early October, for example, is one of the most important events on the island for the locals.
Hawaii in November
Even though November is getting close to the holiday season, a notoriously busy time in Hawaii, it's one of the quietest months in Hawaii. Trends show that not many people take extended trips in November, to save money for the upcoming silly season.
Hotel prices stay pretty steady and affordable throughout the entire month while flights are usually mid-range. If you're debating visiting in November or December and your budget is a large factor, November might be a better time for you.
Since there are fewer out-of-towners in Hawaii during November, events will also be less crowded. There are food festivals on all the islands during the month, with one of the most famous being the Kona Coffee Cultural Festival on the Big Island in early November.
November marks the official beginning of Hawaii's rainy season, though. While temperatures will still be warm, there's also a noticeable rise in rainfall and humidity.
Hawaii in December
Millions of people go to Hawaii's islands every December to escape the cold. The weather is warm, the rainfall doesn't last long, and people can keep their summer tan a little bit longer.
Having a tropical haven while much of the world is heading into a cold winter comes at a cost, though. December is one of the most expensive times to travel to Hawaii. The demand for flights and accommodations outweighs the supply, so prices rise drastically.
On top of people trying to escape the cold, winter breaks from schools start in December meaning families and students can travel without missing classes. So, they might be more inclined to take a trip over this break.
Keep in mind that while the weather is pretty stable during the entire month, crowd levels and costs aren't. The first week of December is usually pretty quiet when it comes to crowds and prices are just a little higher than they are in November but that changes closer to Christmas and New Year.
In Summary
Going to Hawaii is a dream vacation for many people, and it's easy to see why. The weather is warm, the beaches are beautiful, and there's always something to do.
Hawaii is a great travel destination all year, but your preferences will affect the timing of your trip. From one month to the next, the weather, prices, and crowd levels can fluctuate drastically.
Hopefully, the information above will help you to decide on the best time to visit the Islands of Aloha. So, what are you waiting for? Get planning!
Want to keep exploring?
Subscribe for discounts on tickets and hotels and our latest guides.
Thank you for subscribing
We will be in touch soon with discounts on tickets and hotels and our latest guides.
Want to keep exploring?
Subscribe for discounts on tickets and hotels and our latest guides.
Thank you for subscribing
We will be in touch soon with discounts on tickets and hotels and our latest guides.